My mid-week morning train WFH reads:
• Collapse of a Sector: Over the past 40 years, energy stocks went from 30% -> 3% of the S&P 500. They now make up none of the top 10 biggest stocks (A Wealth of Common Sense)
• The Pandemic Financial Terms You Should Know Right Now (Businessweek)
• The 'Undertaker Of Silicon Valley' Stays Busy As Startups Lay Off Thousands (NPR)
• Who Feels Rich Really? (Of Dollars And Data)
• The Death of the Department Store: 'Very Few Are Likely to Survive' (New York Times)
• David Dunning: The Dangerous Rise of COVID-19 Influencers and Armchair Epidemiologists (Inside Hook)
• Make America Protest Again (Popular Information)
• The World's Bad Actors See Coronavirus as an Opportunity (Bloomberg)
• Meet the minds behind the bizarre, truth-bombing Steak-umm Twitter account (Washington Post)
• Drops tonight: 'Beastie Boys Story' on Apple TV Plus: Film Review (Variety)
Be sure to check out our Masters in Business interview this weekend with James Montier, member of GMO's Asset allocation team and author of numerous investing books, including The Little Book of Behavioral Investing: How not to be your own worst enemy.
More than 80 listed US public companies took small business rescue funds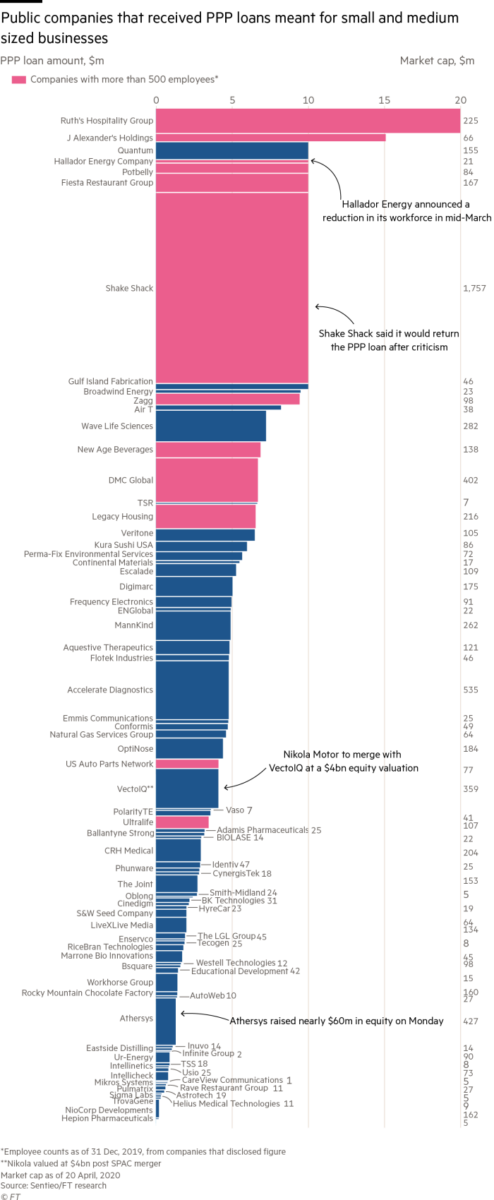 Source: Financial Times
Sign up for our reads-only mailing list here.

Original Source