By Lambert Strether of Corrente.
#COVID19
At reader request, I've added this daily chart: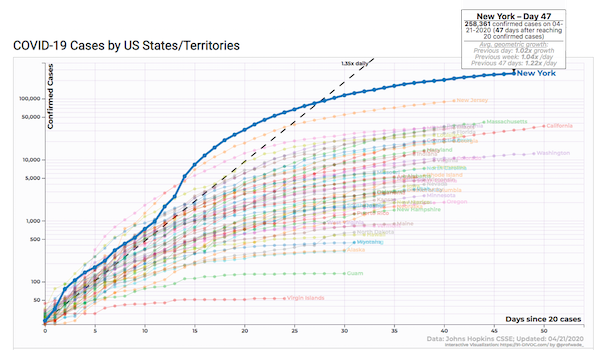 The data is the John Hopkins CSSE data. Here is the site. I have changed to a logarithmic scale for US States and territories, adjusted for population.
* * *
See Vice, "How to Read the Coronavirus Graphs":
Quantities that grow exponentially, when depicted on a linear scale, look like curves that bend sharply upward, with the curve getting constantly steeper. On a log scale, exponentially growing values can be depicted with straight diagonal lines.

That's the beauty of plotting things on log scales. Plots are meant to make things easy to understand, and we humans are much more adept at understanding linear, straight-line behavior. Log plots enable us to grasp exponential behavior by transferring the complexity of constantly steepening curves into the simplicity of an exponentially increasing scale.

On a log scale, we want to constantly be making the line more and more horizontal. The general concept of "flattening" is still a good one, but it's never going to curve down. And so what we should be looking, and hoping for is a trend toward horizontal.
Politics
"But what is government itself, but the greatest of all reflections on human nature?" –James Madison, Federalist 51
"They had one weapon left and both knew it: treachery." –Frank Herbert, Dune
"They had learned nothing, and forgotten nothing." –Charles Maurice de Talleyrand-Périgord
* * *
2020
Biden (D)(1): "From a return to normal to sweeping change: Biden shifts message as general election begins" [McClatchy]. "Although top Biden officials acknowledge the new rhetorical focus will help win over the progressive diehards who supported Bernie Sanders in the short term, they insist it's a message they will continue preaching through the fall — especially during the fallout of a coronavirus pandemic they say is highlighting the deep inequities many Americans face. 'The fundamental premise of Joe Biden's public service has been that a basic bargain was broken with working people in this country and it is our responsibility to rebuild a stronger, fundamentally more inclusive middle class that this country has never seen before,' said Stef Feldman, the Biden campaign's policy director. "That certainly has been the launching pad for his candidacy." • "Honey, I swear I won't tack right in the general!" More:

Biden Tonight: "Amid Covid, people are realizing, My Lord. Look at what is possible. Look at the institutional changes we can make without us becoming a socialist country or any of that malarkey."

Hey @JoeBiden, a lot of us want democratic socialism.

Do you want our votes?

— Ryan Knight 🌹 (@ProudResister) April 22, 2020

What "institutional changes' can Biden be talking about? Shoveling trillions to the already rich isn't an institutional change, after all; it's what liberal Democrats love to call a "norm."

Biden (D)(2): "Biden's Incoherent, China-Bashing Attack on Trump" [The New Republic]. "Instead of telling a simple story of how Trump's incompetence (combined with his administration's rapaciousness and corruption) completely sabotaged the nation's response to the virus, the Joe Biden campaign—seemingly determined to play the election on Hard Mode—has decided to run with a much more complicated explanation. Ah, but it is not only more complicated; it also lacks any sort of connection to the negative traits the unpopular president is already associated with in the minds of most voters. Biden has chosen to level an accusation that doesn't track at all with anyone's understanding of Trump's character and motivations. That's right: It's time to get serious about China. The Biden campaign, after telegraphing a plan to accuse Donald Trump of having "rolled over for the Chinese," released an ad this week accusing Trump of doing just that, mainly by tweeting complimentary things about the Chinese government (which had no material effect whatsoever on our own country's handling of the coronavirus).

UPDATE Biden (D)(3): "Internal Biden campaign rift opens over how to compete with Trump online" [Politico]. "Joe Biden's campaign leadership is clashing over the future of its digital operation — a rift that comes as campaigning has moved largely online and as Biden faces a yawning deficit against President Donald Trump's massive digital operation. The disagreement among Biden's top advisers centers on whether to hire most of its digital team internally or to rely on the firm Hawkfish, which is backed financially by billionaire Mike Bloomberg and ran the digital operation for his presidential campaign." • Bloomberg won American Samoa, so what's the issue? More: "The internal argument over Hawkfish — detailed by 10 Democratic officials, including several who have spoken with the campaign — has stalled Biden's hiring just as his new campaign manager, Jen O'Malley Dillon, settles into her role. Since the coronavirus shutdown began last month, the campaign has not added any digital staffers." • It's almost like there's a vacuum at the top of the campaign, isn't it?

UPDATE Biden (D)(4): "Can Star Strategist Symone Sanders Help Biden Win a Virtual Campaign?" [Vogue]. "'She's a star,' says Lis Smith, former senior advisor for Mayor Pete Buttigieg's 2020 presidential campaign. 'She's ruthlessly confident, wildly charismatic, and an example of the kind of disruptor we need right now in politics. There have always been these characters in American politics and they've always been men, men who are unapologetically who they are, who aren't afraid to brag about their accomplishments. She embodies that spirit.'" • "Always been men." That's odd. I didm't know Nina Turner was a man….

UPDATE Cuomo (D)(1): "Emergency Responder" [New York Review of Books]. "Cuomo's most crucial quality was his managerial expertise, his relentless focus during the most unpredictable weeks of the crisis on the acquisition of ventilators, hospital beds, health care staff, and personal protective equipment such as gowns, face shields, and masks to keep New York's hospital system from collapsing. Yet it had taken him far too long to put that expertise into action or even to articulate a coherent response to the pandemic. As late as March 13 his message was confused and contradictory. 'Prepare yourself,' he said. '[This is not going to be a quick situation. This is months. We can't control this.' He reminded us that 'you don't know where the person sitting next to you on the bus has been.' But he didn't suggest staying off the bus and seemed obtusely more anxious about people getting more worried 'than the facts may justify.' His dire warnings were at odds with his executive actions: the only mandatory restriction at this point was a prohibition on gatherings of more than five hundred people. He seemed annoyed with localities in the state that had closed their schools 'out of anxiety': 'We don't know if closing schools will slow the spread. It may increase the spread. We don't know. We don't feel we should close schools as of now.' And he engaged in his usual parochial skirmishes with New York City mayor Bill de Blasio over who had ultimate authority over the city."

Sanders (D)(1): "Warnings of 'Suspension of Democracy' in New York as State Officials Weigh Removing Sanders From Primary Ballot" [Common Dreams]. "New York state election officials are poised to remove Sen. Bernie Sanders from the ballot in June's primary election, a move that would deny the Vermont lawmaker's supporters the chance to cast a vote for him as president and would harm his chances of using his delegate count to influence the party's direction and push for reforms…. Board of Elections co-chair Douglas Kellner and commissioner Andrew Spano, both Democrats, will meet Wednesday to decide on whether or not to remove Sanders' name from the ballot…. Under Kellner's interpretation of the statute, Sanders, who suspended his campaign on April 8, falls under that category. 'It's not very controversial that Bernie Sanders has suspended his campaign,' Kellner told HuffPost. 'I anticipate that we will be removing him.'" • That's today!

UPDATE Sanders (D)(2): "David Sirota, Former Bernie 2020 Senior Advisor, Discusses What Happened" (video) [The Nomiki Konst Show].

UPDATE Sanders (D)(3): "Bernie's Campaign Strategy Wasn't the Problem" [Jacobin]. "More fundamentally, however, these pieces adopt a myopic view of the political theory that grounded Bernie's campaign. While they are correct that it centers on class conflict, both Beauchamp and Atkins treat Bernie's class politics as being fundamentally about winning an election. But the politics at the heart of the campaign — the need to build a mass working-class movement to challenge the power of the billionaires — was never first and foremost a vision of winning an election. Its horizon was always larger, concerned with how to pass far-reaching redistributive policies. Bernie took as his starting point that any president is going to face determined opposition from the ruling class, and that mass mobilization from below is the only way to overcome that opposition." • OK, fair enough. And having achieved mobilization sufficient to, at least, capture the fifth largest economy in the world, the movement now pivots to…. Bernie? Bernie? Bernie? Let's go!

Trump (R)(1): Where's the lie?

President Trump: "What happens if you're in a war and you have a supply chain where half of your supplies are given to you by other countries? Who are the people that thought of this? These are globalists — it doesn't work." pic.twitter.com/zs4hoXU7Sh

— The Hill (@thehill) April 20, 2020

* * *
Democrats in Disarray
Get ready for a round of austerity:

Coincidentally, the House, which could have passed a bill or bills addressing what Democrats claim are their priorities at any point, but mysteriously didn't, is led by someone who insisted on reinstating pay-go rules when she became Speaker again. https://t.co/ATjWAAE211

— 'Weird Alex' Pareene (@pareene) April 21, 2020

Strategic genius (1):

Is there anyone out there attempting to make a sincere and persuasive defense of Pelosi and Schumer's leadership right now? Where is the opposition party in this crisis? https://t.co/hxlQQcI58u

— Claire Sandberg (@clairesandberg) April 22, 2020

Strategic genius (2):

John Kerry: "We really need a President like Jack Kenney or Ronald Reagan who would sit there and say the buck does stop here." pic.twitter.com/Qh0pkewZyA

— The Hill (@thehill) April 22, 2020

Here's Reagan, the last President who lost his mind, on Iran-Contra, passing the buck from one of his hands to the other:

[REAGAN:] First, let me say I take full responsibility for my own actions and for those of my Administration. As angry as I may be about activities , I am still accountable for those activities. , I am still the one who must answer to the American people for this behavior. And as personally distasteful as I find secret bank accounts and diverted funds, well, as the Navy would say, this happened on my watch.

Let's start with the part that is the most controversial. A few months ago I told the American people I did not trade arms for hostages. .

And Reagan had Nooners working for him. When Biden gives a similar speech, it won't be nearly as good. Oh well. Appeals to suburban Republicans, I suppose. (And to counter this line of attack, all Trump has to do is don the mantle of Reagan. Help me.)

UPDATE Strategic genius (3): "The rule is, jam to-morrow and jam yesterday – but never jam to-day":

Schumer today: "There will be a big, broad, bold COVID-4 [bill]. For anyone who thinks this is the last train out of the station, that is not even close to the case …

It's going to have a lot of stuff — too long to list."

Cites rent freeze; elections $; USPS; state $

— Jeffrey Stein (@JStein_WaPo) April 21, 2020

But now McConnell is worried — by which I mean feigning concern — about the deficit. So Lucy took the football away again! It never gets old!

UPDATE Strategic genius (4): Good metaphor:

Ok so the obvious follow up to this is why wait until the next bill? If it's both arbitrary and inevitable why not make the stand on this bill since relief is clearly time sensitive? None of these reasons make any sense. It sounds like a hapless gambler negotiating w/ a loanshark https://t.co/zoHvRrwPA1

— Adam H. Johnson (@adamjohnsonNYC) April 22, 2020

Or it sounds like the Washington Generals playing with the Harlem Globetrotters, which is what it's sounded like for most of my adult life.

UPDATE Strategic genius (5): Where were you when all the unanimous votes were going down? Sherrod? Liz?

.@SenWarren and I have a message for Congress:

$1,200 isn't enough to keep Americans afloat. We need comprehensive relief for consumers in the next coronavirus stimulus package.

You can read our six proposals here👇https://t.co/48YirGC1lR

— Sherrod Brown (@SenSherrodBrown) April 21, 2020

"The next stimulus package." Oh, and "consumers." Consumers don't strike. I guess that's the point!

And yet there is hope:

"House Democrats dominate the cash on hand battle" [Politico]. "One of the biggest takeaways from the first quarter filing deadline: Vulnerable House Democrats had collectively banked nearly $100 million. That's a staggering sum that further hampers Republicans' chances of reclaiming the majority…. Nearly every one of the 42 members in the DCCC's Frontline program has twice as much cash on hand as their opponents, if not much more." • So that's the ice cream in Nancy's fridge!

UPDATE "Donna Shalala failed to disclose stock sales in 2019 in violation of federal law" [Miami Herald]. "Miami Democratic Rep. Donna Shalala, the lone House Democrat on the committee set up to oversee $500 billion in taxpayer money being used for coronavirus-related payouts to large businesses, violated federal law when she failed to disclose stock sales while serving in Congress. Shalala told the Miami Herald on Monday she sold a variety of stocks throughout 2019 to eliminate any potential conflicts of interest after she was elected to Congress in November 2018. But the transactions were not publicly reported as required by the STOCK Act, a 2012 law that prohibits members of Congress and their employees from using private information gleaned from their official positions for personal benefit and requires them to report stock sales and purchases within 45 days. ." • Oh.
Realignment and Legitimacy
Hope for the left:

Occupy activist-turned legislator (and DSA member) gets eviction moratorium signed into law.

Sanders lost the primary, which inspired some "whither the left" takes. But the long-term left strategy of building local/state beachheads gets results. https://t.co/CK3sSm5A5j

— Dave Weigel (@daveweigel) April 21, 2020

True, and DSA member Lee Carter has done well in VA. But we're working to deadline, here…..
Stats Watch
At reader request, I added some business stats back in. Please give Econintersect click-throughs; they're a good, old-school blog that covers more than stats. If anybody knows of other aggregators, please contact me at the email address below.
Coincident Indicators: "March 2020 Coincident Indices Finally Hit By Coronavirus" [Econintersect]. "The year-over-year rate of growth of various coincident indices was much worse than last month – all displaying the effect of the coronavirus pandemic. It should be obvious the economy entered a recession in March 2020."
* * *
Commodities: "Supertankers are the hottest business in the oil sector right now. The growing surplus of crude on world markets has traders scrambling for ships to use for storage, the WSJ Logistics Report's Costas Paris writes, pushing rates for the biggest vessels sharply higher even as oil prices dive to at a historic pace. Ship owners say daily freight rates for some very large crude carriers are reaching beyond $150,000, far beyond year-ago levels and that 'floating storage' is driving the market. Shipping brokers say they are also handling dozens of storage requests for smaller tankers. The demand comes as oil prices are crashing… Energy traders are betting that a rebound later this year will make the storage prices pay off, and shipping executives say they don't expect the rates will remain sky high."
Big Ag: "Tyson to Close Iowa Plant in Third Major U.S. Pork Shutdown" [Bloomberg]. "Tyson Foods Inc. is halting its largest pork plant, becoming the third major U.S. facility to shut as the coronavirus sickens workers, exacerbates livestock gluts and threatens supplies."
Retail: "Clothing retailers have tangible and very costly reminders of their lost sales piling up at warehouses and shuttered stores. Apparel and footwear companies are sitting on tens of billions of dollars of unsold merchandise… and the stocks are growing even as the retailers try ever-steeper online discounting to shed the inventory" [Wall Street Journal]. "Homebound shoppers simply aren't spending on clothing, at virtually any price. Online sales for apparel and footwear have declined each week since March 9, even with the discounts. The retailers are finding their usual outlets for unsold inventory, including discount chains, are either stumbling financially or hunkering down until stores can reopen." • Too bad we can't use the unsold clothing to soak up the unsold oil.
Shipping: "US import plunge inevitable as canceled sailings mount" [American Shipper]. "Volumes arriving at American seaports are inherently limited by the capacity of inbound container ships. That capacity can be determined well in advance through sailing schedules. Announced departure cancellations now extend until the end of July. It takes around 14-22 days for a container ship to transit from China to Los Angeles or Long Beach, California; it can take around 30-40 days for a transit from Asia to East Coast ports. To foresee the pace of U.S. import reductions, take the week of departures for canceled sailings, the TEU capacities affected, and add in the transit time. Nerijus Poskus, global head of ocean freight at Flexport, told FreightWaves that 13% of trans-Pacific sailings to the U.S. departing the week of April 6-13 have been canceled. The share of canceled sailings rose to 20% in April 13-19 and is 28% in April 20-26, 21% in April 27-May 3 and 26% in May 3-9. Tack on two to six weeks to those dates for transits and a significant decline in U.S. imports in May and June is guaranteed." • Hoo boy.
Shipping: "With light cash flow, limited reserves and uncertain access to credit, many smaller fleets are struggling under an upheaval in shipping markets… putting many at risk of collapse in fractured markets" [Wall Street Journal]. "Trucking companies with six or fewer trucks make up more than 90% of the carriers in the nearly $800 billion U.S. trucking field, and experts say they're the most exposed to the broad downturn in demand beyond markets for essential goods. One industry official says demand is 'falling off a cliff,' and load-matching group DAT Solutions says spot-market freight rates are tumbling.
Tech: "'Patreon For Porn': The Rise Of OnlyFans" [The American Conservative]. "One such fad is the sudden growth of OnlyFans, a monthly paid subscription content service, which has turned hefty chunks of the young female population into amateur pornographers. The premise is simple: start an account, set the price, and then drip-feed content to monthly-paying subscribers. The site doesn't exclusively host sex workers; home-baking mothers and some fitness and yoga businesses also use the platform to market their services. But its model is similar to that of once-popular social media site Tumblr; once the porn goes, it's finished. The platform has around 17.5 million global users and over 70,000 content creators, who have received over $150 million since its launch. The Huffington Post reported that it has enjoyed a 75 percent spike in new users during the COVID-19 shutdown." • Go long social distancing…
Manufacturing: "To Understand the Medical Supply Shortage, It Helps to Know How the U.S. Lost the Lithium Ion Battery to China" [Pro Publica]. "[T[he effort to establish a lithium battery manufacturing base in the U.S. largely failed, even after the Obama administration made it a keystone of its 2009 stimulus program, aiming to produce 40% of the world's lithium ion batteries for advanced vehicles by 2015. Today, that number stands at about 10%, largely because of Tesla's battery plant in Nevada. Most of the batteries used in a plethora of U.S. products are shipped in from China or other foreign suppliers. Despite its economic nationalist rhetoric, the Trump administration has done little to revive battery-making, proposing deep cuts to alternative energy research and favoring fossil fuels at every turn…. But the problem isn't only with government policy. In contrast to the patient, long-term view of investors in countries like Japan and South Korea, America's fast-churning capital markets tend to abandon companies that don't grow quickly enough. To fill that gap, [ Sridhar Kota, an engineering professor at the University of Michigan who served as assistant director for advanced manufacturing at the Office of Science and Technology Policy during the Obama administration], thinks governments should raise money for publicly managed, privately financed venture funds."
Today's Fear & Greed Index: 40 Fear (previous close: 40 Neutral) [CNN]. One week ago: 41 (Fear). (0 is Extreme Fear; 100 is Extreme Greed). Last updated Apr 22 at 12:24pm.
The Biosphere
"Photos: Wildlife roams as the planet's human population isolates" [ABC]. A compendium, with photos. My favorite: "Sea lions have taken over an Argentinian port, some seen sauntering up to a shuttered storefront." Can a sea lion really be said to "saunter"?
"As people stay home, Earth turns wilder and cleaner" [Associated Press]. "An unplanned grand experiment is changing Earth. As people across the globe stay home to stop the spread of the new coronavirus, the air has cleaned up, albeit temporarily…. The air from Boston to Washington is its cleanest since a NASA satellite started measuring nitrogen dioxide,in 2005, says NASA atmospheric scientist Barry Lefer. Cleaner air has been most noticeable in India and China. On April 3, residents of Jalandhar, a city in north India's Punjab, woke up to a view not seen for decades: snow-capped Himalayan peaks more than 100 miles away."
"Pandemic will drive biggest drop in CO2 emissions since WW II, World Meteorological Organization says" [CBC]. "The coronavirus pandemic is expected to drive carbon dioxide emissions down six per cent this year, the head of the World Meteorological Organization (WMO) said on Wednesday, in what would be the biggest yearly drop since World War II….. The WMO also published on Wednesday the final version of its report on the global climate, which confirmed a preliminary finding that 2015-2019 was the warmest five-year period on record, with the global average temperature having increased by 1.1 C since the pre-industrial period."
"How hot will Earth get by 2100?" [Nature]. "The new generation of scenarios, known as Shared Socioeconomic Pathways (SSPs), were not introduced until 2015. Only now, as the major climate-modelling centres around the world run their experiments for the 2021 IPCC assessment, are they taking centre stage in climate research….. Though based on the old [Representative Concentration Pathways (RCPs)], the new scenarios for the first time present fully fleshed-out narratives about how the world might evolve. Each provides a broad storyline about how the world might change, as well as numbers for key demographic trends — population, economic productivity, urbanization and education — in every country on Earth, which modellers then use to simulate emissions and planetary impacts…. [T]he teams that drafted the SSPs imagined a storyline that is very close to the path that the United States and other major powers are taking. The SSP3 scenario, called "regional rivalry — a rocky road", is defined by a resurgence of nationalism. It sees concerns about economic competitiveness and security lead to trade wars. As the decades progress, national efforts to lock down energy and food supplies short-circuit global development. Investments in education and technology decline. Curbing greenhouse gases would be difficult in such a world, and adapting to climate change wouldn't be any easier. Under this scenario, the average global temperature is projected to soar to more than 4 °C above pre-industrial levels."
"The world's wetlands are a haven for wildlife, but we need to learn to love them" [CNN]. "While musicians and movie stars campaign vocally to protect our rainforests and oceans, the world's wetlands rarely get the same level of public support. They are in many ways the planet's unglamorous, unsung heroes — yet by one estimate wetlands are disappearing three times faster than forests. Our rivers, lakes, marshes, mangroves and peatlands are home to countless species that can survive nowhere else — from beavers and freshwater turtles to waterfowl and thousands of kinds of fish. They're also a vital long-term store of carbon, helping protect the world from climate change. 'Inland wetlands are the biggest biodiversity hotspot in the world,' says William Darwall, head of the Freshwater Biodiversity Unit at the International Union for Conservation of Nature. But Darwall says these unique habitats are underappreciated. They're widely perceived as a waste of land, he says, better used for something more productive. As a result, vast areas of the world's wetlands are being converted to other uses."
Health Care
Plus ça change. Thread:
THREAD – History doesn't repeat itself, but it rhymes: a thread about the **Anti-Mask League** of 1919.

I'm not kidding I went HAM researching this

So, starting in Sept 2018 San Francisco suffered from Spanish Flu pandemic.

Initial mask wearing was good — around 80 percent

— Tim Mak (@timkmak) April 19, 2020
"Health care workers show up at 'Reopen PA' protest to urge people to stay home" [PA Post]. "'I'm sitting here and I'm looking at the signs saying open PA with no testing,' [Yetta Timothy, a certified nursing assistant in Harrisburg] said, crying. 'It's like they don't care about lives, the people around them or the people they love.'" • "The right to infect others shall not be infringed."
"Anti-Vaxxers and Lockdown Protesters Form an Unholy Alliance" [Daily Beast]. "The predominantly right-wing activists calling for states to reopen businesses amid the pandemic have also criticized vaccines in their online communities. On 'Michiganders Against Excessive Quarantine,' a Facebook group with more than 350,000 members that has become a hotbed for anti-social distancing protests in the state, thousands of members said they wouldn't take any future vaccine. Some posters pushed conspiracy theories that the vaccine would be the "mark of the Beast" or a tracking device used by billionaire Bill Gates. A user in 'Reopen Missouri,' another Facebook group devoted to rapidly reopening businesses, made a popular post that included a vow to never take any future coronavirus vaccine. 'I refuse to receive said vaccine to make others feel more safe,' it read. 'I won't set myself—or my children—on fire to keep you warm.'" • At a high level, I suppose the question becomes whether "our" Federal system scales to handle a pandemic. It's not clear to me that the answer is yes. If not, what then?
"The Social-Distance Vigilantes in a Massachusetts Senior Home" [The Atlantic]. "Brookhaven is an upscale community in Lexington, Massachusetts…. Last week, two more residents tested positive for COVID-19, bringing the total case count to four, half of whom are known to have ventured off campus…. "For the sake of our community, we are taking a drastic step," [Lucian Leape, a former public-health professor at Harvard] wrote in an email obtained by The Atlantic. "With this notice, we are asking everyone to confidentially report … the name of any resident whose behavior appears to be a threat to our safety." The group would then consult the reported resident to judge whether their behavior posed a threat and, if it did, urge them to stop. If the resident refused, the group would publish their name to the Brookhaven listserv so that other residents would know to avoid them…. Leape, for his part, thinks there comes a point when matters of life and death transcend privacy considerations. 'We've been dealing with this problem for more than a month, and we just finally said, 'You know, lives are at stake," he told me. 'The individual has a right to put their own life in jeopardy if they wish. We don't think they have a right to put our lives in jeopardy.'"
Games
"Gaming Sales Are Up, but Production Is Down" [New York Times]. "video game developers, as well as the large corporations behind the gaming consoles, have faced challenges adapting to a world in which offices and factories are closed and designers have children vying for their attention at home. Behind the scenes, questions linger as to how to tackle a crisis that could last weeks or months — particularly for those making games and gaming consoles that they hoped to release this year…. Another major logistical hurdle for video games in 2020 will be getting through certification, a process required by the three major console manufacturers, Nintendo, Microsoft and Sony. Before any developer can release a game on Switch, Xbox or PlayStation, those companies want to ensure that there are no game-breaking glitches. But certification testers at those companies are now working remotely, which has raised questions about security and productivity. Developers worry that with everything taking longer than it normally does, a backlog may emerge."
Class Warfare
"Two Americas: COVID & Community" [Sapienta]. Interview with Chris Arnade. "What I find particularly unsettling is the utter lack of commitment to a given place demonstrated by many with wealth in American society. By leaving Manhattan for a Long Island beach bungalow or Jersey City for a Hudson Valley home, they are denying any responsibility for acquaintances, neighbors, or friends and effectively refusing membership in a larger community–a community that serves them in good times. Compare this to the actions of people with lesser means than Arnade's elite. Struggling local restaurants prepare meals for overworked EMTs. Young people stand in long grocery store lines to pick up food for elderly neighbors. Volunteers stitch together face masks for sleep-deprived nurses. Arnade writes about 'front row' and 'back row' America and urges us to perceive the dignity and the worth of those sitting in the back row. But what does the COVID-19 pandemic tell us about front row Americans? Do they deserve our respect?"
"The Economy of Evil" [Historic.ly]. "Before the rise of Fascism, both Italy and Germany had a robust social safety net and public services. In Italy, the trains were nationalized, and they ran on time while serving rural villages in 1861. The telecom industry was nationalized in 1901. Phone lines and public telephone services were universally available. In 1908, the life insurance industry was nationalized. For the first time, even poor Italians could ensure that their family could be taken care of if they died a premature death…. Benito Mussolini became Prime Minister in October 1922. Nazis rose to power in 1933 in Germany. Mussolini convened a meeting of his cabinet and immediately decided to privatize all the public enterprises. On December 3, 1922, they passed a law where they promised to reduce the size and function of the government, reform tax laws and also reduce spending. … Hitler's economic policy was Mussolini's policy on steroids…. In 1934, Nazis outlined their plan to revitalize the German economy. It involved reprivatization of significant industries: railways, public works project, construction, steel, and banking. On top of that, Hitler guaranteed profits for the private sector, and so, many American industrialists and bankers gleefully flocked to Germany to invest. The Nazis had a thorough plan for deregulation. The Nazi's economist, stated," The first thing German business needs is peace and quiet. It must have a feeling of absolute legal security and must know that work and its return are guaranteed. The interferences in a business which occurred at first, perhaps as a result of too much zeal, have become intolerable.'"
News of the Wired
"The Philosophy of Anger" [Agnes Callard, Boston Review]. "Could it be rational for you to be just as angry on Thursday as you were on Tuesday? Moreover, could it be rational for you to conceive of a plan to steal from me in turn? And what if you don't stop at one theft: could it be rational for you to go on to steal from me again, and again, and again? … [W]e have been debating the wrong issue. The real debate concerns the three questions about anger and rationality [above], which are not rhetorical, and to which the answer might well be: yes, yes, and yes." • Very interesting. Timely, too.
"Three colours: Blue" [Homonculus]. "[Cennino Cennini[] shows us how deeply ultramarine blue was revered in the Middle Ages, writing that it "is a colour illustrious, beautiful, and most perfect, beyond all other colours; one could not say anything about it, or do anything with it, that its quality would not still surpass" … .As the name implies, it came from 'over the seas' – imported, since around the thirteenth century, at great expense from the Badakshan mines. Ultramarine was precious not just because it was a rare import, but because it was extremely laborious to make. Lapis lazuli is veined with the most gorgeous deep blue, but grinding it is typically disappointing: it turns greyish because of the impurities in the mineral. Those have to be separated from the blue material, which is done by kneading the powdered mineral with wax and washing the wax in water – the blue pigment flushes out into the water…. The best ultramarine cost more than its weight in gold in the Middle Ages, and so it was usually used sparingly. To paint an entire ceiling with the colour, as Giotto did in the Arena Chapel, was lavish in the extreme." • Fascinating about the materiality of pigment (also yellow; red). Now we have Photoshop, of course.
* * *
Readers, feel free to contact me at lambert [UNDERSCORE] strether [DOT] corrente [AT] yahoo [DOT] com, with (a) links, and even better (b) sources I should curate regularly, (c) how to send me a check if you are allergic to PayPal, and (d) to find out how to send me images of plants. Vegetables are fine! Fungi and coral are deemed to be honorary plants! If you want your handle to appear as a credit, please place it at the start of your mail in parentheses: (thus). Otherwise, I will anonymize by using your initials. See the previous Water Cooler (with plant)
here. Today's plant (SR):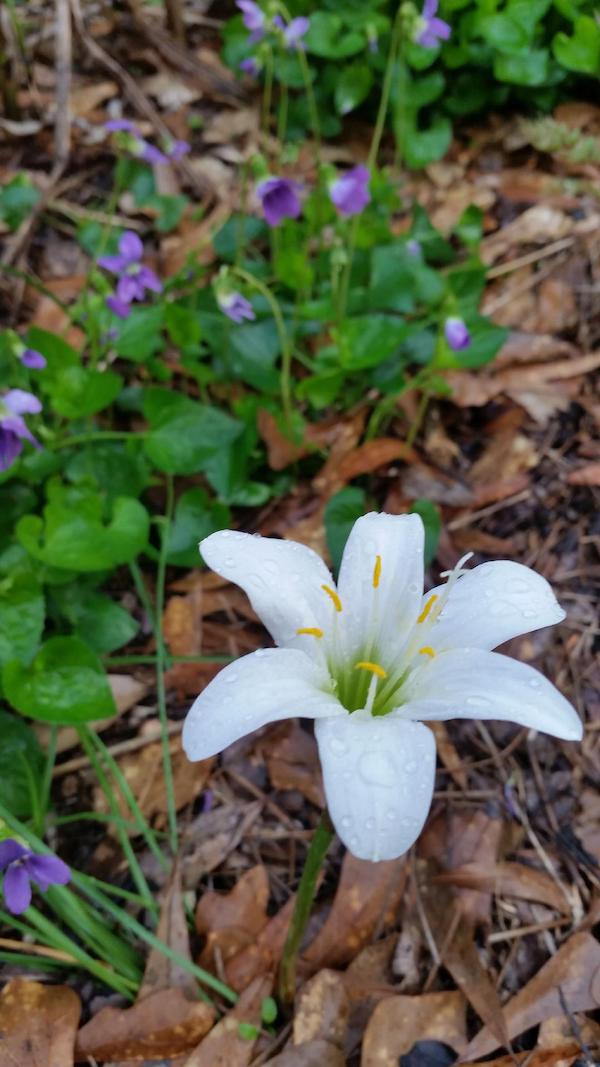 SR writes: "Zephyranthes atamasca, Atamasco-lily, Opelika, AL 3-25-2020. Native living happily in my yard." In my view the mulch in this photo — dead leaves and twigs — is the best mulch (and certainly not bark mulch). Because it rots in place, there's no work! I also find it aesthetically pleasing.
* * *
Readers: Water Cooler is a standalone entity
not covered by the annual NC fundraiser. So if you see a link you especially like, or an item you wouldn't see anywhere else, please do not hesitate to express your appreciation in tangible form. Remember, a tip jar is for tipping!
Regular positive feedback both makes me feel good and lets me know I'm on the right track with coverage. When I get no donations for five or ten days I get worried. More tangibly, a constant trickle of donations helps me with expenses, and I factor in that trickle when setting fundraising goals:
Here is the screen that will appear, which I have helpfully annotated.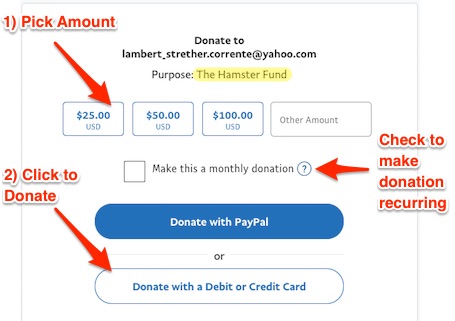 If you hate PayPal, you can email me at lambert [UNDERSCORE] strether [DOT] corrente [AT] yahoo [DOT] com, and I will give you directions on how to send a check. Thank you!

Original Source