By Lambert Strether of Corrente.
#COVID19
At reader request, I've added this daily chart: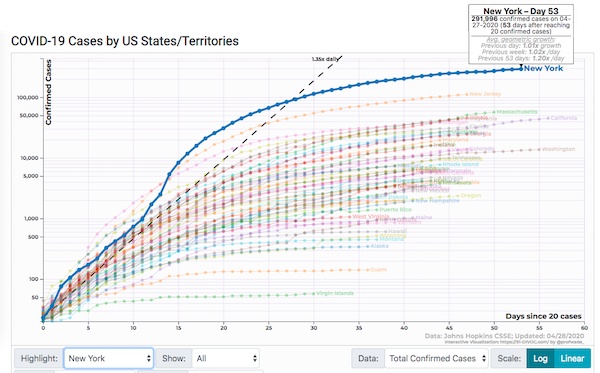 The data is the John Hopkins CSSE data. Here is the site. I have changed to a logarithmic scale for US States and territories.
New York's growth regresses from 1.02 down to 1.01.
* * *
See Vice, "How to Read the Coronavirus Graphs":
Quantities that grow exponentially, when depicted on a linear scale, look like curves that bend sharply upward, with the curve getting constantly steeper. On a log scale, exponentially growing values can be depicted with straight diagonal lines.

That's the beauty of plotting things on log scales. Plots are meant to make things easy to understand, and we humans are much more adept at understanding linear, straight-line behavior. Log plots enable us to grasp exponential behavior by transferring the complexity of constantly steepening curves into the simplicity of an exponentially increasing scale.

On a log scale, we want to constantly be making the line more and more horizontal. The general concept of "flattening" is still a good one, but it's never going to curve down. And so what we should be looking, and hoping for is a trend toward horizontal.
Politics
"But what is government itself, but the greatest of all reflections on human nature?" –James Madison, Federalist 51
"They had one weapon left and both knew it: treachery." –Frank Herbert, Dune
"They had learned nothing, and forgotten nothing." –Charles Maurice de Talleyrand-Périgord
* * *
2020
Biden (D)(1): Who did this:

Developments in allegations against Biden amplify efforts to question his behavior https://t.co/OWXvnKzvvN

— Post Politics (@postpolitics) April 28, 2020

"Developments in allegations against Biden amplify efforts to question his behavior" is galaxy-brained, challenging "the war situation has developed not necessarily to Japan's advantage" for obfuscatory supremacy.

Biden (D)(2): "The Biden Trap" [Rebecca Traister, New York Magazine]. The deck: "As the candidate faces credible assault allegations, his progressive female colleagues are being offered a poisoned chalice." More: "And part of what's sickeningly clear is that if Biden remains the Democratic nominee, whichever woman gets the nod to be his running mate will wind up drinking from a poisoned chalice. Because the promise to choose a woman ensures that whoever she is, she will be forced to answer — over and over again — for Biden's treatment of other women, including the serious allegations of assault leveled by Tara Reade. This double bind was already apparent this weekend, in advance of McHugh's reporting, when New York representative Alexandria Ocasio-Cortez confirmed once again that she would vote for Biden despite their sharp political differences." • The poisoned chalice is one that liberal Democrat "feminists" mixed for themselves and drank long ago. I mean, is Bill Clinton still a respected party elder, or not?

UPDATE Biden (D)(3): "Oppo dumps and behind-the-scenes lobbying: Biden's VP search heats up" [Politico]. "Biden, who has committed to picking a woman running mate, is expected to announce his vice presidential selection committee by May 1. But the selection itself may not come until July." • Shameless joclkeying, and every single one of them throwing Tara Reade under the bus, too.

UPDATE Biden (D)(4): "Why Joe Biden needs to personally address Tara Reade's allegations" [Chris Cilizza, CNN]. "At the core of Biden's messaging in this campaign is the need to bring respect and dignity back into the White House and the country, to rid America off the cynicism and hypocrisy of Trump's presidency, to expunge the idea that the President doesn't have to follow the rules…. Given both his pledge to do better than Trump — in every aspect of being president — and accusations of improper touching that have surfaced in the past, the allegations by Reade are not the sort of thing Biden can or should be allowed to deny via a senior female campaign staffer. Reade's allegation needs to be directly addressed by the candidate himself. And Biden needs to answer several questions including: a) Does he remember Reade at all? b) Did they ever interact? c) Had he ever heard of this allegation from her prior to a few weeks ago?" • d) Did Biden discuss Reade witih Obama before 2008, 2016, and — most importantly — before Obama staged his Night of the Long Knives for Biden in 2020? I'm guessing no. And Obama doesn't like people who make him look bad.

UPDATE Biden (D)(5): Nice timing:

Today I am announcing my endorsement of @JoeBiden for President of the United States.

VP Biden is a deeply dedicated public servant with the ability to unite the American people. I am moved by his compassion and ability to connect with people on the most human level.

— Pramila Jayapal (@PramilaJayapal) April 27, 2020

UPDATE Sanders (D)(1): "New York Democrats cancel 2020 primary, kicking Bernie Sanders off the ballot" [The Week]. "Sanders suspended his 2020 run last month and endorsed former Vice President Joe Biden, but still wanted his supporters to vote for him so his delegates could 'exert significant influence over the party platform and other functions' at the Democratic National Convention. But Doug Kellner, one of the two Democratic commissioners on the elections board in New York, concluded Sanders' suspension 'ended the real context for the primary election.' 'Joe Biden is the only candidate and therefore he is effectively the winner of the New York primary,' Kellner said, so holding the primary would be 'unnecessary and frivolous' during the coronavirus pandemic." • Leaving aside that Cuomo is mailing ballots to all New York residents, it would be foolish to think that Kellner and the other commissioner, Spano, made this decision all on their own, based on "rules" lol; the Cossacks work for the Czar. At the very least, they called Cuomo. And Cuomo gave either Biden or Obama a heads-up, or everybody knew the score already. (Cuomo could be nobbling Sanders in his own interest too, if he wants to run. It would be ludicrously arrogant of Cuomo to think he could run, but then Cuomo is ludicrously arrogant.)

UPDATE Sanders (D)(2): "New York Board of Elections strikes Sanders from ballot, cancels Democratic presidential primary" [CNBC]. Jeff Weaver: "No one asked New York to cancel the election. The DNC didn't request it. The Biden campaign didn't request it. And our campaign communicated that we wanted to remain on the ballot. Given that the primary is months away, the proper response must be to make the election safe — such as going to all vote by mail — rather than to eliminating people's right to vote completely." •  No one? Really?

UPDATE Sanders (D)(3): "New York Cancels Primary In Blow To Bernie Sanders" [Forbes]. "Earlier this month, after Sanders conceded the race to Biden, New York Governor Andrew Cuomo signed a budget bill with a provision allowing the state's Board of Elections to remove candidates who have suspended their campaigns from the ballot and, in effect, cancel the election." • Who put that provision in the billl? "No one"? Little elves?

Trump (R)(1): "Inside Trump's virtual 2020 campaign" [Axios]. "On a conference call on March 13, top Trump campaign officials decided they needed to move to an all-virtual campaign, according to two senior campaign officials. That decision affects more than 1,000 staff around the country, they said….. Carr had to move entirely to virtual in 24 hours because the campaign was heading into a 'national week of training.' The Trump campaign does a week of training volunteers each month and ends with a national 'day of action."… The campaign says it has signed up more than 275,000 new volunteers since the switch to all-virtual on March 13. A senior campaign official said this is significantly higher than normal." • And:

this week the trump campaign released their organizing app which should frighten everyone.

clearly reading from the bernie 2020 playbook on how to do mass volunteer organizing. pic.twitter.com/ApRVFvrhGQ

— Emily Isaac (@emily_isaac_) April 28, 2020

Ventura (G)(1): "Jesse Ventura says he's 'testing the waters' for Green Party bid for president" [The Hill]. "Jesse Ventura, who served as Minnesota governor as a member of the Reform Party, said Monday that he is "testing the waters" for a potential 2020 run for president on the Green Party ticket. In a pair of tweets, the former wrestling star, who has repeatedly floated a White House bid, said he endorses the Green Party's platform and had authorized a letter to the party signaling his interest in running for its presidential nomination…. If he entered the race, Ventura would be one of several declared candidates for the Green Party's nomination. The hopeful currently leading the pack is Howie Hawkins, a New York trade unionist and activist who co-founded the Green Party and is already endorsed by the Socialist Party, another third party…. 'If I do do it, Trump will not have a chance,' Ventura said in 2018. 'For one, Trump knows wrestling. He participated in two Wrestlemanias. He knows he can never out-talk a wrestler, and he knows I'm the greatest talker wrestling's ever had,' he said." • Certainly something to consider.

* * *
RussiaGate
UPDATE "Steele Claims Clinton Lawyer Provided Tip about Trump Campaign Contacts with Russian Bank" [National Review]. "Christopher Steele admitted in a court hearing last month that his claims of secret communication between the 2016 Trump campaign and a Russian bank were based on a tip from a lawyer representing the DNC and Clinton campaign. Steele claimed in his infamous dossier that the founders of Alfa Bank had "illicit" ties to Vladimir Putin and acted as undercover messaging channel between the Kremlin and the Trump Organization, but did not say where he had received the information. But under questioning from the lawyer of the bank owners, who sued him for defamation, Steele revealed that on July 29, 2016, he was told of the story by Perkins Coie lawyer and former DOJ official Michael Sussmann." • Oh.
Realignment and Legitimacy
Collapse of Federalism?

Regional compacts on #COVID19 (map is documented in the thread):

April 27: Nevada & Colorado formally join Western States Pact, county health officials on the Illinois-Missouri border work together since their governors won't, and Massachusetts now also coordinating with Vermont, Maine, and New Hampshire. 1/ pic.twitter.com/WrcosfLsS8

— Alfred Twu (@alfred_twu) April 27, 2020

As usual, Trump is catalyzing an existing tendency, in this case centripetal forces in the Union's regions (although now on rereading, that's a stirred and not shaken metaphor).

"California's Closed, Texas Open and States Go Their Own Way" [Bloomberg]. "The proliferation of plans, with their byzantine phases and conditions varying across regions — and even within states — reinforced just how divided the country remains on how and when to reopen the economy…. '50 flowers bloom' in absence of strong guidance from Trump."

And regional approaches are not, prima facie insane. Would trying to force a Federal solution be pushing on a string?

Super-weird: In California #SARSCov2 is an end-of-days apocalypse, but in Texas it's somewhat worse than the flu and life goes on. Must have to do with the Santa Ana winds or something.

— Alex Berenson (@AlexBerenson) April 27, 2020

There aren't just cultural and political differences between TX and CA, but climate and population differences as well. (Successes like South Korea, Taiwan, and New Zealand are not continental nations; two are islands, one is a peninsula with a single neighbor.)

UPDATE "'Calexit' May Be A Long Way Off, But Balkanization Won't Be" [The American Conservative]. "Every American Governor thinks his or her state is special, but only California Governor Gavin Newsom regularly refers to his as a 'nation-state.'….. The California roadmap is the latest in a long line of policies practically and symbolically distancing the Golden State from the rest of the country. California has long been the only state granted the right to maintain its own auto emissions standards. Since 2017 it has prevented state employees from traveling on official business to other states that, in the evaluation of its Attorney General, maintain legal "discrimination on the basis of sexual orientation, gender identity, or gender expression." California is a self-declared "sanctuary state" limiting the degree to which state and local law enforcement may cooperate with federal immigration officials. In 2019 it began covering certain illegal immigrants in its state Medicaid program, and this year created a state-based coronavirus relief fund specifically for residents who are in the country unlawfully. There is no doubt that California is both very peculiar and very large. Yet neither quality lends it the status of a nation, nor does it make California a state in the international legal sense of the term. Nonetheless one day it could become so, and the coronavirus pandemic is creating novel opportunities for California to travel down just such a path. The state already has the political infrastructure to begin entertaining independence." • This is a very interesting article, with parallels to the SNP in the UK. I would be interested to kniow what readers in any or all of these three entitites think of this article.

"Cuomo says NY has been bailing out other states for decades" [The Hill]. "New York Gov. Andrew Cuomo (D) said Monday that New York has been 'bailing out' other states for years as he pushes the Trump administration and Congress for federal assistance for state and local governments amid the coronavirus pandemic. Cuomo called it 'repugnant' to be discussing "dollars and cents" contributed by states, but said a tally would show New York repeatedly sending more money to the federal government than it receives." • I'd like to see how that nets out, considering how we keep having to bail out New York's extractive financial industry. It's also worth noting that the national #COVID19 figures would look at lot better if Cuomo and DiBlasio between them hadn't butchered the job. As long as one is fomenting a "house divided."

* * *

"Schumer to introduce legislation preventing Trump from signing stimulus checks" [Politico]. "The so-called "No PR Act" would prohibit the use of federal dollars toward any material that promotes the names or signatures of Trump or Vice President Mike Pence." • Raw courage. I like that in a politician.
Stats Watch
At reader request, I added some business stats back in. Please give Econintersect click-throughs; they're a good, old-school blog that covers more than stats. If anybody knows of other aggregators, please contact me at the email address below.
"Top ad firm outlines business sectors hit the most by the pandemic, and the ones that are faring better… for now" [CNBC]. "Advertising holding company Omnicom saw shares up more than 3% on Tuesday morning after reporting its first quarter results. The company said sectors like travel, lodging and entertainment; energy and oil and gas; non-essential retail and automotive have been more immediately impacted by the pandemic and are already postponing or reducing marketing spend. Meanwhile, healthcare and pharmaceuticals, technology and telecommunications, financial services and consumer products have fared better so far, the company said. But it noted that demand for marketing services will likely decline as marketers cut costs short-term because of economic uncertainty."
"How the Coronavirus Pandemic Has Affected Local Businesses Around the Country" [Yelp]. "The economic changes from the first quarter of 2020 were unlike anything we've ever seen. In a period of about 15 days as the nation reacted to the threat of the coronavirus pandemic, the economy transformed as much as it had in Yelp's prior 15 years of operation, combined…. The first quarter of 2020 has been unlike any other: Businesses closed their doors nationwide, with closure rates abruptly increasing by 200% or more in metros and states around the country; consumer interest in all local businesses plummeted, by 50% or more in many categories, in a matter of a week or two… As of April 19, more than 175,000 businesses have shut down – temporarily or permanently – with the Los Angeles metro area hit the hardest with the largest number of closed businesses since March 1, followed by New York and Chicago. Seattle and San Francisco have the highest rate of business closures, as a share of all businesses, among major metros, while Philadelphia and Miami have the lowest rate of business closures among major metros. Every type of business was affected. The businesses marked as closed include more than 48,000 shopping establishments, 30,000 restaurants, and 24,000 spas and other beauty businesses." • That's a lot of demand for monopolies who can weather the storm to snap up.
* * *
Commodities: "Oil Crisis Prompts Call to Bolster World's Top Carbon Market" [Bloomberg]. "The oil market collapse is opening a new debate in Europe about strengthening the carbon market, a key tool in the region's bid for climate neutrality. European Union energy ministers on Tuesday discussed security of supplies and the role of industry in a plan for economic recovery from the coronavirus pandemic. Energy Commissioner Kadri Simson called on national governments to keep the Green Deal the centerpiece of the rescue packages…. France [urged] bolstering the bloc's carbon market through measures including a floor price."
Big Ag: "Avocados Are In, Pork Bellies Out in Era of Pandemic Eating" [Bloomberg]. "The pandemic has totally transformed the way the world eats. There is no trend, exactly, other than this: People want comfort. They also want to eat their way to stronger immune systems. They're stress baking, but they're also eating healthier than they would have at restaurants. Avocados are in. Pork belly out. Frozen pizzas and instant noodles are selling out. And these seemingly conflicting and converging buying patterns are upending agricultural markets, sending prices for avocados surging more than 60% from early March, while butter is tumbling because of the loss of restaurant demand."
Manufacturing: "Boeing CEO says 'it will be years' until global aviation returns to pre-pandemic levels" [MarketWatch]. "Air traffic may not bounce back for two or three years, Boeing Co. BA-0.69% Chief Executive David Calhoun said, outlining the tough outlook for global aviation to the plane maker's shareholders on Monday. 'The health crisis is unlike anything we have ever experienced,' Mr. Calhoun said at the annual meeting. 'It will be years before this returns to pre-pandemic levels.' Mr. Calhoun laid out the coronavirus pandemic's toll on the industry: Global airline revenues set to drop by $314 billion this year. In the U.S., more than 2,800 planes idled. Passenger demand is down 95% from last year. 'We are in an unpredictable and fast-changing environment, and it is difficult to estimate when the situation will stabilize,' he added. 'But when it does, the commercial market will be smaller and our customers' needs will be different.'"
The Bezzle: "Teslas can now see and slow for traffic lights and stop signs" [The Verge]. "Tesla is rolling out a software update to some of its newest cars that will allow them to see and respond to traffic lights and stop signs, a feature that CEO Elon Musk has teased for years…. Tesla also stresses in the software update release notes that the Traffic Light and Stop Sign Control feature is in 'beta,' and that it 'may be conservative and slowdown often at first.'" I think this is humor:
Good morning to the people who think automatically stopping at a green light is a "safety feature" and nobody else pic.twitter.com/TEvFGMmLVX

— E.W. Niedermeyer (@Tweetermeyer) April 26, 2020
The Bezzle: "Autos Are Driving in the Chip Industry's Blind Spot" [Bloomberg]. "For years, technologists have been talking about smarter cars packed with sensors, chips and supercomputers that can replace human drivers. That was enough to get investors excited about the future of automotive semiconductors…. with a global recession on the way, you'd have to be Elon Musk to believe that the auto sector, and the chipmakers that supply them, are going to survive with only minor bruising."
Tech: "Want to Find a Misinformed Public? Facebook's Already Done It" [The Markup]. "Facebook was allowing advertisers to profit from ads targeting people that the company believes are interested in "pseudoscience." According to Facebook's ad portal, the pseudoscience interest category contained more than 78 million people. This week, The Markup paid to advertise a post targeting people interested in pseudoscience, and the ad was approved by Facebook…. We reached out to Facebook asking about the targeting category on Monday morning. After asking for multiple extensions to formulate a response, company spokesperson Devon Kearns emailed The Markup on Wednesday evening to say that Facebook had eliminated the pseudoscience interest category." • Makes you wonder what they replaced it with.
Concentration: "Is the Coronavirus going to take down any big companies?" [Francine McKenna, The Dig]. "The fix is already in. The Securities and Exchange Commission and the [Public Company Accounting Oversight Board (PCAOB)] have already huddled with the Big 4 audit firms more than once to discuss, together, how to address the risk the coronavirus pandemic has on their opinions on the financial statements of almost all of the public companies listed on U.S. exchanges…. — as they likely did in secret here in the U.S. during the financial crisis of 2008-2009, and as we found out that the the U.K government did."
Concentration: "Tech giants are profiting — and getting more powerful — even as the global economy tanks" [WaPo]. "[T]he global coronavirus pandemic is prompting a dramatic reversal of fortune for the tech giants. Amazon and Facebook are capitalizing on the fact that they are viewed as essential services for a public in lockdown, while Google and Apple are building tools that will enable state health departments to provide a critical public service, tracing the course of potential new covid-19 infections. The pace of the probes against these companies has slowed as regulators and lawyers are forced to work from home…. And while the global economy faces potential unemployment and contraction not seen since the Great Depression, the tech giants — and a handful of medium-size tech firms — are already benefiting from new consumer habits initiated during the lockdowns that analysts believe will turn into longer-term shifts in how people shop, work and entertain themselves…. The tech giants' deep pockets will enable them to withstand the coming global economic recession, a stark contrast to what industry insiders and analysts expect to be the biggest shake up of the tech landscape in years. As many start-ups collapse, tech giants will expand on the power they've accumulated using the playbook of the last decade: snapping up talent, buying or copying rivals, and eroding traditional industries."
Concentration: "Sen. Josh Hawley calls for a criminal antitrust probe into Amazon" [The Verge]. "In his letter to Attorney General William Barr, Hawley presses the Justice Department to open an investigation into Amazon's data tactics that were detailed in a report from The Wall Street Journal last week. In this report, the Journal outlined several instances in which Amazon employees peered into the sales data from independent sellers in order to develop its own competing, private label products. 'These practices are alarming for America's small businesses even under ordinary circumstances,' Hawley wrote. 'But at a time when most small retail businesses must rely on Amazon because of coronavirus-related shutdowns, predatory data practices threaten these businesses' very existence.'" • Well, a sternly worded letter isn't impressive. Hold hearings! That said, Stoller would ask where the left is on this. And he would be correct.
Mr. Market: "Stock Markets That Never Fall Are Up to No Good" [Bloomberg]. "It's possible that stock market investors simply expect the economic recovery after the end of lockdowns to be swift and robust. But that's looking increasingly unlikely. The U.S. has failed to suppress the epidemic, and lifting lockdowns is unlikely to bring people out of their houses as long as the threat of the virus remains. Meanwhile, business closures, mass unemployment and the collapse of global trade will weaken the economy for years to come. A more disturbing possibility is that investors have decided that the U.S. government will prioritize preserving stock market valuations regardless of what happens to the rest of the economy." • But–
* * *
Today's Fear & Greed Index: 43 Fear (previous close: 43 Fear) [CNN]. One week ago: 40 (Fear). (0 is Extreme Fear; 100 is Extreme Greed). Last updated Apr 28 at 12:13pm.
The Biosphere
"This fragile Earth, our island home" (from the Episcopal "Star Trek" service):
On April 5, 2008, the Japanese spacecraft Kaguya captured this full Earth-rise over the Moon limb in high resolution [source: https://t.co/LNwJgBbX3S] pic.twitter.com/8T1ABpqdjO

— Massimo (@Rainmaker1973) April 26, 2020
"How economists are destroying life on Earth" [Steve Keen, Medium]. Keen: "We don't just have a climate change threat to humanity. Neoclassical economics itself is an existential threat." • Well worth a read.
A water feature thread:
— semper bufo (@spindlypete) April 27, 2020
Health Care
"Prevalence of SARS-CoV-2 Infection in Residents of a Large Homeless Shelter in Boston" [JAMA]. From the abstract: "A total of 147 participants (36.0%) had PCR test results positive for SARS-CoV-2. Men constituted 84.4% of individuals with PCR-positive results and 64.4% of individuals with PCR-negative results. Among individuals with PCR test results positive for SARS-CoV-2, cough (7.5%), shortness of breath (1.4%), and fever (0.7%) were all uncommon, and ." • An interesting Petri dish.
"Characteristics of SARS-CoV-2 patients dying in Italy Report based on available data on April 23th , 2020" (PDF) [Istituto Superiore di Sanita]. "Table 1 presents most common comorbidities diagnosed before SARS-CoV-2 infection. Data on diseases were based on chart review and was available on 2,041 patients dying in-hospital for whom it was possible to analyse clinic charts. Mean number of diseases was 3.3 (median 3, SD 1.9). Overall, 3.6% of the sample presented with a no comorbidities, 14.4% with a single comorbidity, 21.1% with 2, and 60.9% with 3 or more."
"Exclusive: U.S. medical testing, cancer screenings plunge during coronavirus outbreak – data firm analysis" [Reuters]. "Diagnostic panels and cancer screenings typically performed during annual physician visits fell by as much as 68% nationally, and by even more in coronavirus hotspots. These tests, office visits, surgeries and other medical care tied to them, are key sources of revenue for hospitals and healthcare systems that had to curb lucrative elective procedures to assure room for a crush of patients with COVID-19, the illness caused by the new coronavirus. Millions of patients postponed tests considered crucial for detecting early signs of disease, monitoring its progression and improving patient outcomes, according to Komodo, which has one of the nation's largest medical claims data bases and provided its new findings exclusively to Reuters. Cervical cancer screenings were down 68%, cholesterol panels fell by 67% and the blood sugar test to detect diabetes were off 65% nationally. This could all prove very costly down the road."
Black Injustice Tipping Point
"Psychiatry under the shadow of white supremacy" [Nature]. "How does a culture that enslaved people, encouraged lynching and developed racial segregation decide who is and is not sane?… As part of their treatment [in Georgia's infamous Milledgeville hospital for people with mental illness], white men worked as gardeners; black men had to labour on the institution's farm. White women were seamstresses; women of colour worked in the laundry. Segrest uses the asylum's archive to show that luxuries such as writing supplies, slippers, soap and carpets were allocated much more generously to white patients, whereas black patients faced daily discrimination and neglect. Many died soon after arrival, reflecting both their poor health and the deplorable conditions they had to endure.
Class Warfare
In the UK. Nevertheless:
THIS IS NOT A JOKE. In case anyone was wondering what my company were giving employees as a thank you for all our hard word during covid19…. This is it…. pic.twitter.com/h22JURHCMg

— Shevvy #StayHomeSaveLives (@GeekyShev) April 27, 2020
And since it's after Easter, they got the eggs at a discount.
Moralizing:
This is bonkers:

Roughly half of all U.S. workers stand to earn more in unemployment benefits than they did at their jobs before the coronavirus pandemic brought the economy to a standstill. https://t.co/sXDmXH0PJ3

— Neil King (@NKingofDC) April 28, 2020
First, it's not bonkers if your goal is to pay people to stay home, possibly saving their lives and the lives of others. Second, maybe this is a management problem, and the wages are too low?
"Who was Jack Tar?" [Aeon]. "Yet maritime history is not simply Nelson and Trafalgar…. The common seamen, those who went aloft to set their ships on a course to victory, riches or discovery, are virtually anonymous. The simple name 'Jack Tar' serves as a label for the entire tribe. The age of sail has broad terms of definition, but a reasonable range is from 1740 to 1840. This was the century when Britain became the world's leading power. In this process, Jack – with numbers that peaked in the Napoleonic Wars at 147,000 naval hands and 115,000 in the mercantile sector – was an essential factor. He would have been the last to see it that way, but it is reasonable to suggest that the engine of progress up to the Industrial Revolution was the plain sailor…. He was, simply, the most successful fighting man produced by his native land which, with its taste for booty, pugilism and foreign adventure is saying quite something. So profoundly did he believe in himself, and so deeply did he awe the enemy, that defeat was never contemplated and rarely experienced. His spirit earned him the respect, the admiration and, sometimes, even the love of his officers." • As fans of the Aubrey and Maturin saga know, viviid though the officer protagonists are.
News of the Wired
"How Sailor Moon's Aesthetic Influenced the Worlds of Fashion and Beauty" [Teen Vogue]. "The series follows Usagi Tsukino, a clumsy 14-year-old who's bad at math and is terrified of monsters. She's also a reincarnated Sailor Senshi (or soldier), known as Sailor Moon, who's tasked with leading a group of other Sailor Senshi to fight the aforementioned terrifying monsters. Though she doesn't have the ideal skill set to battle evil, Usagi proves time and time again that, despite her fears, she will fight any foe, especially when her friends are in danger. She is an unlikely hero, but it's Usagi's vulnerabilities that make her so relatable to fans across the world; it's what made her relatable to me. Before I watched Sailor Moon, I had been taught that you had to be fearless to be a hero, but Usagi showed me that being scared isn't a flaw if you can be brave when it counts." And: "In addition to Sailor Moon's themes of love, friendship, and empowerment, the show is known for its fashion. Since it takes place in the '90s, there are plenty of pastels, overalls, high-waisted skirts, and denim-jacket ensembles that still look fashionable today, because the #90sanimeaesthetic is a real thing." • It all seems quite benevolent. Surely there's a dark side?
"26 words that don't translate into English: foreign vocab to take home from holiday" [South China Morning Post]. "The colloquial Hindi word rimjhim roughly translates as the sound of light rain or drizzle but also describes the sense of happiness, relief even, associated with the coming monsoon. Rimjhim has appeared in numerous Bollywood productions, usually in a romantic context." • I know the same feeling for on-coming snow, a fresh smell without odor. But there's no word for it!
No:
The more I look at this the more confused I get pic.twitter.com/yLVLtfep2k

— David Harvey (@davidharvey) April 27, 2020
* * *
Readers, feel free to contact me at lambert [UNDERSCORE] strether [DOT] corrente [AT] yahoo [DOT] com, with (a) links, and even better (b) sources I should curate regularly, (c) how to send me a check if you are allergic to PayPal, and (d) to find out how to send me images of plants. Vegetables are fine! Fungi and coral are deemed to be honorary plants! If you want your handle to appear as a credit, please place it at the start of your mail in parentheses: (thus). Otherwise, I will anonymize by using your initials. See the previous Water Cooler (with plant)
here. Today's plant (JA):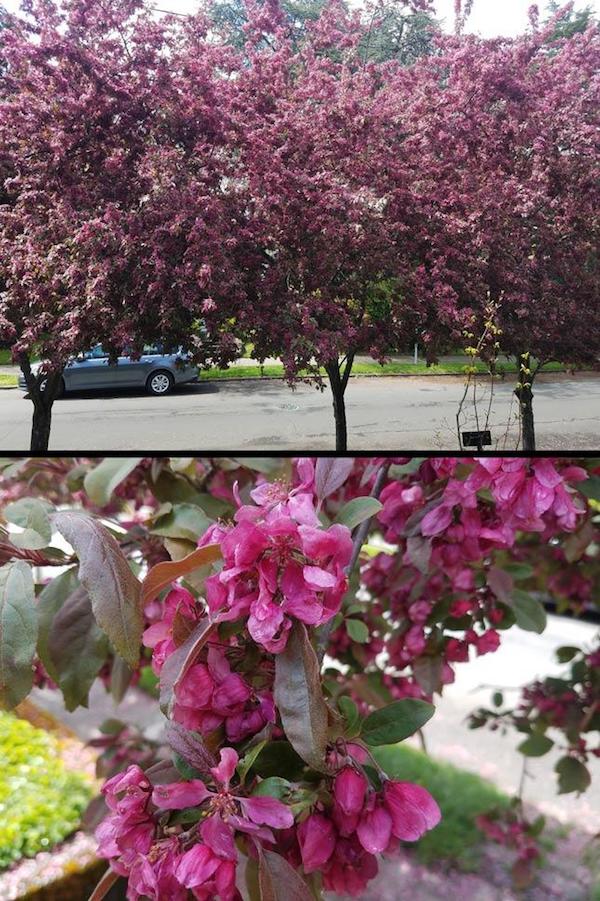 JA writes: "I have three plum blossom trees out along the sidewalk in front of my house here in Seattle, and just a few days ago they all popped open. In just a few more days, especially if we get a little wind, they'll turn the whole sidewalk red. I wanted to show off both the full field of view (or at least most of it) and also a closeup of the blossoms, and the only way I could think of doing that was to give you as split screen view." The blossoms are gorgeous, but I confess I have little fondness for split-screen photos unless the split screen photo is composed as a single unit, like this triptych from the late NC reader Isolato. So there is a challenge for you NC photo mavens,
* * *
Readers: Water Cooler is a standalone entity
not covered by the annual NC fundraiser. So if you see a link you especially like, or an item you wouldn't see anywhere else, please do not hesitate to express your appreciation in tangible form. Remember, a tip jar is for tipping!
Regular positive feedback both makes me feel good and lets me know I'm on the right track with coverage. When I get no donations for five or ten days I get worried. More tangibly, a constant trickle of donations helps me with expenses, and I factor in that trickle when setting fundraising goals:
Here is the screen that will appear, which I have helpfully annotated.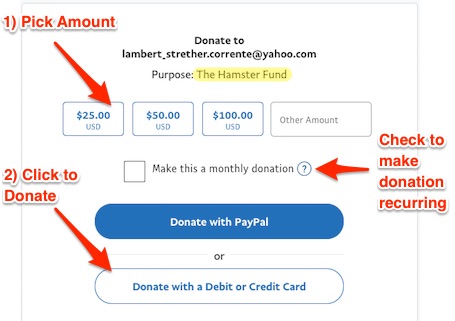 If you hate PayPal, you can email me at lambert [UNDERSCORE] strether [DOT] corrente [AT] yahoo [DOT] com, and I will give you directions on how to send a check. Thank you!

Original Source