By Lambert Strether of Corrente.
#COVID19
At reader request, I've added this daily chart: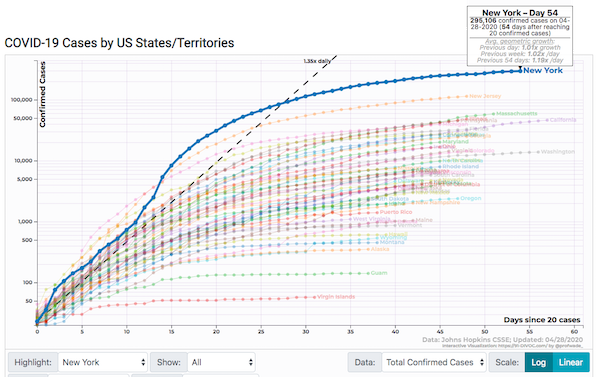 The data is the John Hopkins CSSE data. Here is the site. I have changed to a logarithmic scale for US States and territories.
New York's geometric growth down to 1.0 from 1.01. Yay!
* * *
See Vice, "How to Read the Coronavirus Graphs":
Quantities that grow exponentially, when depicted on a linear scale, look like curves that bend sharply upward, with the curve getting constantly steeper. On a log scale, exponentially growing values can be depicted with straight diagonal lines.

That's the beauty of plotting things on log scales. Plots are meant to make things easy to understand, and we humans are much more adept at understanding linear, straight-line behavior. Log plots enable us to grasp exponential behavior by transferring the complexity of constantly steepening curves into the simplicity of an exponentially increasing scale.

On a log scale, we want to constantly be making the line more and more horizontal. The general concept of "flattening" is still a good one, but it's never going to curve down. And so what we should be looking, and hoping for is a trend toward horizontal.
Politics
"But what is government itself, but the greatest of all reflections on human nature?" –James Madison, Federalist 51
"They had one weapon left and both knew it: treachery." –Frank Herbert, Dune
"They had learned nothing, and forgotten nothing." –Charles Maurice de Talleyrand-Périgord
* * *
2020
Biden (D)(1): The Biden campaign has signed up possibly the most disgusting email fundraiser ever, the National Democratic Training Committee (NDTC). I know, because I subscribe to them, which I recommend. They're really entertaining! Here's their latest:

NTDC's mailer consultant is Mothership Strategies, and as you can see, they have a very distinctive style. From WaPo: "But its lightning-quick rise also has sparked consternation in Democratic circles, where Mothership is sometimes derided as the "M-word" because of its aggressive and sometimes misleading tactics, such as claiming in fundraising appeals that President Trump is preparing to fire the special counsel. Some critics call its approach unethical, saying the company profits off stoking fear of Trump and making the sort of exaggerated claims they associate with the president." (You can see how Mothership was positioned to profit from, e.g., RussiaGate.) The Founders, as one might expect, worked for the DCCC. "Public records show that in the second half of 2017, all three men purchased homes worth more than $1 million each in snazzy Washington neighborhoods not far from Mothership's offices." Lovely people. As you can see, BIden's mailers are an online update of the direct mail physical mailed designed to prey on elders — Biden voters skew old — by extracting multiple donations; Richard Vigurie would recognize this mail right away, especially the multiple appeals.

Biden (D)(2): "Why Have Women's Groups Gone Dead Silent on Biden Sex-Assault Accusation?" [The Daily Beast]. "The Daily Beast contacted 10 top national pro-women organizations for this story, including Emily's List, Planned Parenthood Action Fund, NARAL Pro-Choice America, and the National Organization for Women. Most organizations did not respond to a detailed request for comment about the allegation by Tara Reade, a former staff assistant in Biden's Senate office who has accused the former vice president of forcibly penetrating her with his fingers in the early 1990s. Others replied and did not provide a statement. One prominent women's political group cited a scheduling conflict and asked to be kept "in mind for other opportunities!" When pressed if the following day would work better, an associate said it would not, citing another scheduling conflict. The near-total lack of acknowledgement from nearly a dozen leading pro-women organizations comes as new corroboration has emerged with respect to the allegation, which the Biden campaign has categorically denied. Neither the Biden campaign nor Reade responded to requests from The Daily Beast for comment Tuesday. It also is taking place as prominent elected women in the Democratic Party rally to Biden's side." • Natalie Shure comments: "[R]emember all the performative outrage over Sanders saying the political arm of Planned Parenthood was "part of the establishment?" Euthanize the NGOs, say I. (This also shows that these supposedly independent organizations are in reality part of the Democrat Party.)

Biden (D)(3): "Democrats Will Have To Answer Questions About Tara Reade. The Biden Campaign Is Advising Them To Say Her Story "Did Not Happen.'" [Buzzfeed]. "The Biden campaign circulated talking points among top Democratic supporters shortly after the New York Times published a story earlier this month about the allegation by Tara Reade, a former staff assistant in Biden's Senate office who says he assaulted her in 1993….. Biden's campaign's talking points say the Times story served as proof that Reade's allegation "did not happen" — but the story did not conclude this, nor did it conclude that an assault definitively did happen." • Oddly, the name "Anita Dunn," top Biden advisor and Harvey Weinstein defender, does not appear.

Biden (D)(4): "Stacey Abrams on sexual assault allegation against former VP: 'I believe Joe Biden'" [CNN]. • One has to admire Abram's tenacity and focus.

Biden (D)(5): "Former Democratic Nominee Hillary Clinton Endorses Joe Biden" [NPR]. Clinton: "Just think of what a difference it would make right now if we had a president who not only listened to the science, put facts over fiction, but brought us together, showed the kind of compassion and caring that we need from our president, and which Joe Biden has been exemplifying throughout his entire life."

Sanders (D)(1): "Sanders advisors form super PAC to back Biden and push him left" [Los Angeles Times]. "Announced Tuesday, the political action committee called A Future to Believe In [seems familiar] will be headed by Sanders' longtime senior strategist Jeff Weaver and include the senator's top aide on Latino outreach, Chuck Rocha. Also helping lead it is Tim Tagaris, a veteran of Sanders' presidential campaigns in 2016 and 2020 who was instrumental in building his formidable fundraising operation by bringing in small but consistent donors nationwide." • I think I just threw up a little in my mouth. And I'm not the only one:

Nothing like draining the social capital out of a senior citizen who has spent the past 40 years fighting to end poverty with a political sleight of hand just to collect a few six figure checks to keep the hustle moving. Charming. https://t.co/hnvYHDlVNf

— Fred (@WaywardWinifred) April 28, 2020

Note the source.

Sanders (D)(2): Sanders helld an online "Thank you" meeting with supporters yesterday at IIRC 8:00PM. No media coverage, but screen shots are leaking out:

— Biden's Hairy Leg 🦵🦺🚩 (@BernieWon2016) April 29, 2020

Good news, that. If anybody attended virtually, I'm sure readers would like to hear about it.

Sanders (D)(3): I haven't had a chance to look at this, but:

NEW: Bernie has launched a website with a list of organizations and key races for supporters to get involved in post campaign. It includes many orgs and reps who endorsed him.

Link: https://t.co/PNVo7DrR3b pic.twitter.com/5WFfV253Zn

— Jack Califano (@jackcalifano) April 29, 2020

Bernie should be funding strikers. At this historical ocnjuncture, as one might say. That said, DSA is said to be listed, so interesting.

Yang (D)(1): "Andrew Yang Sues Over New York's Cancellation of Democratic Primary" [Newsweek (urblintz)]. "The lawsuit, filed on Monday, argues that Yang should be kept on the ballot as he has met all the requirements and did not ask to be removed. Yang and seven other New Yorkers who filed to serve the former candidate as delegates to the Democratic National Convention (DNC) are the plaintiffs of the suit, as well as Jonathan Herzog, a longshot contender running against Democratic New York Congressman Jerry Nadler. Yang's removal 'denies voters due process and denies voters the right to vote, and therefore must be invalidated removing the authority for the Defendant to take the actions complained of herein,; they wrote in the suit." • As I understand it, there is no Constitutional right to vote. Nor do Democrat voters have any right to due process. I mean, obviously. But good for Yang anyhow.

* * *
Our Famously Free Press
"POLITICO's reporting on President Trump and the Bank of China" [Editor's Note, Politico]. "POLITICO published an article Friday morning on President Donald Trump's business dealings with China. ('Trump owes tens of millions to the Bank of China – and the loan is due soon.'… On Friday evening, POLITICO received a statement from a representative for Bank of China USA, which had not been contacted beforehand, that the bank had sold off, or securitized, its debt shortly after the 2012 deal. A spokeswoman said the bank has no current financial interest in any Trump Organization properties. We updated the body of the article to take account of the bank's statement. The original headline was changed to 'Trump owed tens of millions to the Bank of China.'" • Oh.

"How a Digital Ad Strategy That Helped Trump Is Being Used Against Him" [New York Times]. • A beat sweetener on Acronym which oddly, or not, fails to mention Acronym's stellar success in denying Sanders a bounce from victory in Iowa, thereby giving Buttigieg millions of dollars in "earned media."
Realignment and Legitimacy
"The Coronavirus Is Showing Members of the Professional Class That the Government Doesn't Work for Them Either [Slate (Chris)]. "[G]overnment programs in the United States—even those supported by the purportedly pro-government party—are not designed to solve problems. Rather, they are designed to solve a given problem only to a degree—and that degree can't require an amount of spending that would necessitate financial sacrifice on the part of high-income taxpayers. This is not a leftist conspiracy theory, but the overt position of the party's leaders, who believe they will not be able to achieve crucial voting margins in upscale suburbs if they authorize too much taxation and spending." • Remember Pelosi's "Get our money's worth comment" on UBI? I don't know what's come over Slate; this is a good article.
Stats Watch
At reader request, I added some business stats back in. Please give Econintersect click-throughs; they're a good, old-school blog that covers more than stats. If anybody knows of other aggregators, please contact me at the email address below.
Home Sales: "March 2020 Pending Home Sales Crash Due To Coronavirus" [Econintersect]. "The year-over-year growth is in NEGATIVE territory. I believe the housing industry will reset due to the coronavirus – and I suspect housing will slump until a permanent fix for the pandemic is realized."
Honey for the Bears: "Advance Estimate 1Q2020 GDP Quarter-over-Quarter Growth Now In Contraction Due To The Coronavirus" [Econintersect]. "The coronavirus lockdown is the reason for the decline – and pushed GDP into contraction. No doubt the U.S. economy is in a recession. I am not a fan of quarter-over-quarter exaggerated method of measuring GDP – but my year-over-year preferred method showed a significant decline from last quarter."
Honey for the Bears: "April 2020 Chemical Activity Barometer Again Declines And Consistent With A Recession" [Econintersect]. "The Chemical Activity Barometer (CAB) fell 5.5 percent in April on a three-month moving average (3MMA) basis following a downwardly revised 2.9 percent decline in March. On a year-over-year (Y/Y) basis, the barometer fell 7.3 percent in April."
* * *
Real Estate: "Icahn's 'Beautiful Trade' Pays Off Early With Malls Shut" [Bloomberg]. "With the Covid-19 pandemic forcing stores to remain closed, some of them aren't paying landlord Wilmorite, a family-owned real estate developer. Wilmorite, in turn, missed about $820,000 of mortgage payments due in April, filings show…. While similar stories are unfolding across the U.S., what makes Eastview's stand out is its role in one of Wall Street's most closely watched trades, with billions of dollars on the line…. The $210 million loan is one of the largest in deals referenced by the CMBX 6, a derivatives index that investors use to bet on the future of brick-and-mortar retail in the country. With businesses shuttered from Maui to Maine, the CMBX has cratered…. 'We have billions and billions of dollars on the short side of this,' Icahn said last week in an interview with Bloomberg Television. 'It really is a beautiful trade on a risk-reward basis.'"
Manufacturing: "Boeing to cut staff, plane output after big Q1 loss" [Agence France Presse]. "[CEO David] Calhoun said the belt-tightening was needed to maintain adequate liquidity at a time its revenues are depressed, adding that the company is 'exploring potential government funding options' in the wake of COVID-19. Boeing has previously called for $60 billion in government support for the US aerospace industry. Federal relief legislation includes $17 billion aimed at Boeing. Calhoun has previously balked at the idea of the US taking a stake in Boeing. The loss reflected 'abnormal production costs' connected to the temporary suspension of Puget Sound manufacturing operations due to COVID-19 and due to the suspension of production of the 737 MAX, which remains grounded following two deadly crashes…. 'We have done a tremendous job of increasing our production rates and services offerings in recent years,' Calhoun said. 'But the sharp reduction in our demand for our products and services simply won't support the higher levels of output.'" ¨• Hopefully there will be money for the 737 MAX payouts…..
Mr. Market: "Gilead Virus-Drug Trial Signals Hope, and Fauci Sees 'Good News'" [Bloomberg]. "Gilead Sciences Inc. said early results from a U.S.-government-run study showed its experimental drug to treat coronavirus helped patients recover more quickly than standard care, suggesting it could become the first effective treatment for an illness that has turned modern life inside-out…. The company issued a news release early Wednesday commenting on the study from the U.S. National Institute of Allergy and Infectious Diseases without providing details of the results. Anthony Fauci, the head of NIAID and the government's top infectious-disease specialist, said at a White House meeting with President Donald Trump and Louisiana Governor John Bel Edwards that the trial showed a significant positive effect on the virus and that the results 'were quite good news.' Fauci called the study the 'first truly high-powered randomized placebo-controlled trial' of remdesivir."
Mr. Market: "S&P 500 clears 2,900 hurdle as drug maker Gilead says trial for coronavirus treatment has met initial goal" [MarketWatch]. "Stocks traded sharply higher Wednesday as reports that a drug manufacturer's clinical trial for a treatment to help patients recover more quickly from the COVID-19 disease helped to offset news of a plunge in U.S. first-quarter gross domestic product…. The news helped to outweigh the bearish impact of a sharp slump in U.S. economic growth in the first quarter, gross domestic product shrinking by 4.8% on an annualized basis." • Seems a little detached from the real economy?
Fodder for the Bulls:
One way Morgan Stanley is tracking the industrial recovery in China is by measuring how fast air quality turns to crap again pic.twitter.com/Ld2H6tR5gZ

— Joe Weisenthal (@TheStalwart) April 29, 2020
* * *
Today's Fear & Greed Index: 45 Neutral (previous close: 42 Fear) [CNN]. One week ago: 40 (Fear). (0 is Extreme Fear; 100 is Extreme Greed). Last updated Apr 29 at 12:44pm. Holy cow! Back to neutral?
The Biosphere
"Deadly virus turns honey bees into Trojan horses" [Science]. "Social distancing is nothing new to honey bees. When a colony is infected with the deadly Israeli acute paralysis virus (IAPV), bees are less likely to touch or feed their sick nest mates, according to a new study. But the virus appears to have an alarming counterattack: When sick bees try to enter a new colony, they do a better job of getting past the guards than uninfected bees… Honey bees are particularly vulnerable to infectious diseases: They live in crowded conditions, and they touch each other all the time. Moreover, their immune systems are weak compared with other insects. They depend instead on hygienic behaviors, such as grooming or removing sick larvae…. When Dolezal and colleagues took IAPV-infected bees and placed them outside another colony, the guards let about 30% of them enter, compared with about 15% of healthy foreign bees that were allowed in…. The researchers aren't sure why IAPV is so successful at deceiving the guards… The sick bees were also more submissive when challenged by guards and more likely to offer them food, and those behaviors may also help them spread the disease. "
Health Care
This is astonishing:
This is stunning: Nearly half of the Q1 decline in GDP can be attributed to healthcare, which is presumably delaying of elective procedures.

It's a strange reality that in the midst of a pandemic, we have a healthcare-led recession. pic.twitter.com/G3IezQkEzX

— Justin Wolfers (@JustinWolfers) April 29, 2020
Half of GDP decline from the cessation of elective procedures? Can that be true? What does it say about "our economy" if it is true?
Class Warfare
"Hero" propaganda is global:
Chinese delivery men, high-speed train mechanician, hydrologists… You may not see them in everyday life, but they are here. These "invisible" workers are true guardians of ordinary people, especially amid the coronavirus outbreak pic.twitter.com/bJ4uhm0pWs

— China Xinhua News (@XHNews) April 29, 2020
"Coronavirus Is Creating a New Class Divide That Threatens Us All" [Robert Reich, Newsweek]. "The pandemic is putting America's deepening class divide into stark relief. Four classes are emerging. The Remotes These are professional, managerial and technical workers—an estimated 35 percent of the workforce—who are putting in long hours at their laptops. The Essentials They're about 30 percent of workers, including nurses, home care and child care workers, farm workers, food processors, truck drivers, warehouse and transit workers, drug store employees, sanitation workers, police officers, fire fighters and the military. The Unpaid They're an even larger group than the unemployed—whose ranks could soon reach 25 percent, the same as in the Great Depression. Some of the unpaid are furloughed or have used up their paid leave. The Forgotten This group includes everyone for whom social distancing is nearly impossible because they're packed tightly into places most Americans don't see—prisons, jails for undocumented immigrants, camps for migrant farmworkers, Native American reservations, homeless shelters and nursing homes." • Trivially, the Forgotten are the other "classes" at different lge stages; once a warehouse worker, now a nursing home patient or prisoner. Less trivially, from a high level, there are two classes: Those who sell their labor power to survive*, and those who don't. Even less trivially, and amazingly, or not, Reich completely erases a fifth class: The capitalists, who buy labor power, also know as the 1%, "the rich," etc. Come on, man.
"The Corporate Right Is Giving Us Two Choices: Go Back to Work, or Starve" [Jonathan Schwartz, The Intercept]. "There are two paths forward during this pandemic. The U.S. could rationally follow the science about the novel coronavirus, as complicated and incomplete as it is. This would necessitate putting much of the economy in hibernation until we have the capacity to immediately find anyone with Covid-19 and provide them with a safe place to stay in quarantine, while doing our best to keep everyone who has to work safe. For regular people to survive, we would need government action along the lines of that proposed by Sen. Bernie Sanders, I-Vt., and Rep. Pramila Jayapal, D-Wash.: guaranteeing no one goes hungry, direct emergency cash payments to everyone, Medicare covering all health costs. Alternately, we can follow the heart's desire of the corporate right, and shove everyone back to work as soon as possible. The problem for the corporate right is that the force-everyone-to-risk-death concept is unpopular." • Nonsense (albeit in good faith). Wage workers must sell their labor power to acquire the means of subsistence and reproduce their labor power (by, e.g., eating). The "go back to work or starve" is the choice built into wage labor. The issue is not "the corporate right," but capital as such. What the corporate right is doing is removing the ameliorations. Although I am sure Schwartz would agree this is the problem: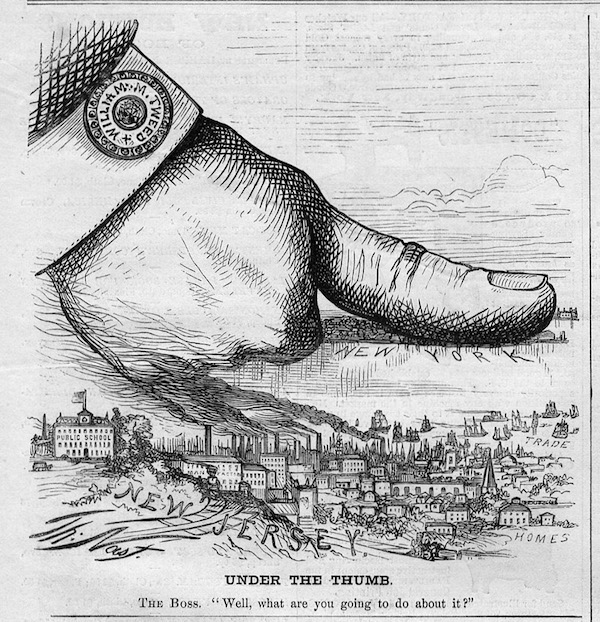 "What are you going to do about it?" Same with Cuomo throwing Sanders off the ballot in New York, if it comes to that.
News of the Wired
"Bad WiFi is slowing you down. Fix yours without spending a dime" [WaPo]. • Pretty good, but it does show how ridiculously complex home internet still is. It's a lot like setting up a model train layout, except not fun.
"Sword-wielding scientists show how ancient fighting techniques spread across Bronze Age Europe" [Science]. "Bronze swords have been found by the thousands in graves, rivers, and bogs all across Europe. But because the alloy is so soft—and easy to mangle compared with later iron weapons—historians have long wondered whether these swords were battlefield tools or mere status symbols. Now, a team of archaeologists has staged modern fights with bronze swords to measure the resulting microscopic dings and dents. Sword-on-sword contact was a 'big part' of Bronze Age fighting, they found, done with specific, artful moves that spread from region to region over time. Unlike axes, spears, or arrows, 'swords are the first objects invented purely to kill someone,' says University of Göttingen archaeologist Raphael Hermann, who led the new study. … While a graduate student at Newcastle University, he recruited members of a local club devoted to recreating and teaching medieval European combat styles, and asked them to duel with the replicas, using motions found in combat manuals written in the Middle Ages. After recording the combat sequences using high-speed cameras, the researchers noted the type and location of dents and notches left after each clash. The team assigned characteristic wear patterns to specific sword moves and combinations. If the motions left the same distinctive marks found on Bronze Age swords, Hermann says, it was highly likely that Bronze Age warriors had also used those moves." • I wonder if anybody has compared the moves to those described in The Odyssey.
"Letter to the Editor: Why These Agents Argue Books Aren't Essential" [Publisher's Weekly]. "A book is a product, not a person—and in a moment when publishing is laying off workers who were already significantly underpaid and overworked, the expression, even coming from an industry periodical, feels almost callous: the product is considered essential, but the people who make it are not…. The natural endpoint of an industry treating the sale of its product as essential but its workers as expendable is already visible: we need only to look at the horrors occurring in Amazon warehouses and fulfillment centers. In this light, how can we even consider a book to be truly essential in the context of a pandemic response? Information, expression of free speech, and art are all "essential" to a society, certainly, but publishing as an industry is not equivalent to those concepts; it's just one means of packaging and selling them. People are reading a lot under quarantine, which does present an opportunity for the industry, but we must keep that opportunity in context. This industry has the chance to honor the ideological merits of the books we're making by responding radically, compassionately, and creatively to the difficulties our human workers are experiencing. For instance, we should be protecting our warehouse workers by pushing electronic and audio formats in order to lessen the strain on filling physical orders, and reduce the consumer expectation of lightning-fast shipping times. We can help our indie bookstores do business safely by making them less reliant on their physical presences through something as simple as changing a promotional link from Amazon to Bookshop or LibroFM."
* * *
Readers, feel free to contact me at lambert [UNDERSCORE] strether [DOT] corrente [AT] yahoo [DOT] com, with (a) links, and even better (b) sources I should curate regularly, (c) how to send me a check if you are allergic to PayPal, and (d) to find out how to send me images of plants. Vegetables are fine! Fungi and coral are deemed to be honorary plants! If you want your handle to appear as a credit, please place it at the start of your mail in parentheses: (thus). Otherwise, I will anonymize by using your initials. See the previous Water Cooler (with plant)
here. Today's plant (HH):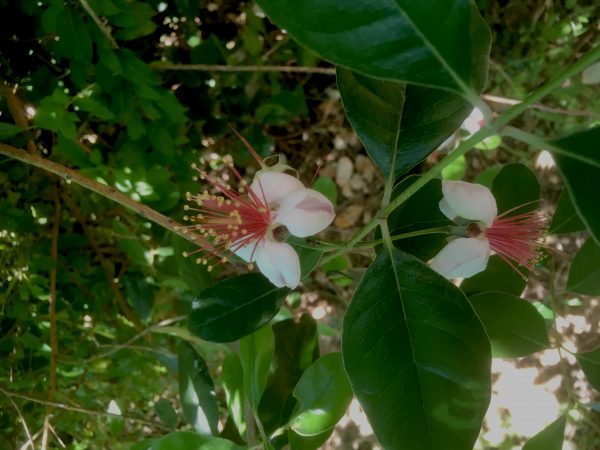 HH writes: "Pineapple guava in flower, Pflugerville, TX just northeast of Austin city limits." Encouraging news from Texas, but backlight is challenging!
* * *
Readers: Water Cooler is a standalone entity
not covered by the annual NC fundraiser. So if you see a link you especially like, or an item you wouldn't see anywhere else, please do not hesitate to express your appreciation in tangible form. Remember, a tip jar is for tipping!
Regular positive feedback both makes me feel good and lets me know I'm on the right track with coverage. When I get no donations for five or ten days I get worried. More tangibly, a constant trickle of donations helps me with expenses, and I factor in that trickle when setting fundraising goals:
Here is the screen that will appear, which I have helpfully annotated.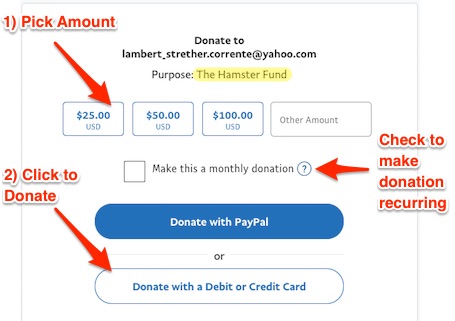 If you hate PayPal, you can email me at lambert [UNDERSCORE] strether [DOT] corrente [AT] yahoo [DOT] com, and I will give you directions on how to send a check. Thank you!

Original Source