Yves here. Some readers have asked for more positive stories on how to move forward with agendas that advance the interests of citizens at large, as opposed to corporations and the super wealthy. Given the ongoing and too often successful efforts to privatize water supplies, Catalonia is an important case study of how to reverse this tendency.
One reasons we don't feature much in the visionary future-oriented category is that a lot of the proposals show a lack of understanding of the complexity of the issues, and address only part of the problem (and then often the easiest part). Or they make a decent enough stab at defining the terrain, but then engage in "Assume a can opener" level remedies.
Having said that, while this post on water is useful, I wish it had spent more time describing how the various activists were able to achieve this win. And I'd very much like to get comments from readers in Spain as to how it works. The administrative structure looks complex, and that may be a deliberate choice to impede capture by the professionals who will run the water works. That may not be a bad thing with a utility, since there should not be that many decisions to make on a daily or even monthly basis.
By Míriam Planas, an activist with Engineering Without Borders in Catalonia and spokesperson for L'Aigua és Vida (Water is Life), an organisation that campaigns to remunicipalise water in the Barcelona region and bring it back into public control, and Juan Martínez, a member of the Taula de l'Aigua de Terrassa and becomes the president of the Terrassa Water Observatory, designated by the Plenary. Originally published at openDemocracy
Despite being a public good, water is often treated as a commodity. While some argue that privatisation of water increases efficiency and improves the quality of water services, the negative effects in terms of loss of accountability, poor performance, and elevated utility costs are well documented. As the corona virus makes its way into poor and vulnerable communities, we are yet again reminded of the devastating impact that these have on people's lives. When your ability to protect yourself from infectious disease is determined by your access to safe and affordable water, water service provision is not a matter of convenience – it is a matter of life and death. Worldwide, civil society organisations (CSOs) and grassroots movements therefore argue that water management should not be handled by private companies. Instead, water services and policy need to be democratised and placed under public control.
This is not always an easy task, but in Catalonia, years of hard work has paid off. The movement to remunicipalise water supply in the region has grown slowly and steadily over the past decade, thanks to the Aigua és Vida(Water is Life) platforms that many local groups set up since 2011. Local platforms such as Aigua és VidaGironaand Tauladel'AiguadeTerrassahave also emerged. After successful remunicipalisation, the Terrassa Water Observatory was established in 2018 – a dedicated citizen organisation that guides strategic decisions affecting Terressa's water management. The Observatory has now become a point of reference for other municipalities that wish to build new forms of water governance.
Recovering Ownership of Water Services in Terrassa
Terrassa is a relatively large municipality (more than 200,000 residents) located some 20 kilometers away from the city of Barcelona. Although its water supply services are now managed by a public enterprise that is 100 per cent owned by the municipal government, the municipality's support of public water ownership is quite recent. Before 2016, the water supply services in Terressa were managed by the private company MinaPúblicadeAguasdeTerrassa,S.A. This company was awarded its concessions in 1941 and had thus run the water services for over seven decades before the pro-public platform Tauladel'AiguadeTerrassastarted to push for a non-renewal of the concessions in 2013.
Together with other local networks,Tauladel'AiguadeTerrassalaunched a 2015 campaign called 'Social Pact for Public Water' that focused on public, participatory management of the entire water cycle. The campaign was a great success. In 2016, the Terrassa City Council decided to reclaim control over the water supply not only by creating a new public enterprise, but also by establishing a whole new water management body – the Terressa Water Observatory (Observatorio del Agua de Terrassa). What is the Observatory? It's for water management to be truly participatory and to ensure citizen decision-making power. Users can discuss their water concerns and make collective recommendations to the public water company – Taigua, Aigua Municipal de Terrassa.
The Observatory as a Forum for Collaboration
The Terrassa Water Observatory was based on the model of the Citizen Parliament of Terrassa, a forum that promotes debate and agreements pushed by citizens for consideration by local government. As an autonomous organisation, the Observatory is responsible for carrying out studies and advising the Terressa City Council on all matters related to municipal water management.
The Observatory's highest governing body – the Plenary – is composed of representatives from each political group in the municipality and representatives of technical staff, business, community groups, and unions. Both the elected president and the Plenary itself can invite people from outside the Observatory (with no voting rights) to enrich the debate and discussion on any specific issue. In addition to this, there are six working groups and three collaborative boards that work to implement the Plenary's work plan. The working groups are open to everyone from civil society who wishes to contribute. The three boards (on education, research and citizenship) act as interest groups and help strengthen the Observatory's role and influence by being the central point of communication between community groups, universities, and the Observatory. Although its organisational structure is quite complicated, it also enhances its consensus-building capacity and gives it a high level of legitimacy.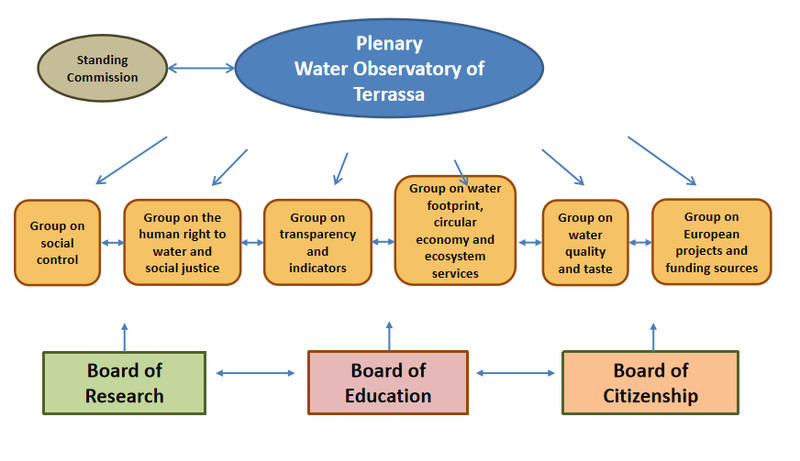 Moving Forward – A Model for Management?
Since the Observatory water management model is relatively new, there is still a lot to tease out. There is significant public support for the Observatory in Terressa, but also ongoing debates about the different actors' involvement: what are the roles and responsibilities of the local government and the public water operator? How should information be managed? Where and how does coordination take place?
Answering these questions will require time and effort coupled with a good portion of patience. Building collaborative water governance is not done in a trice. However, in a region where eighty-four per cent of people depend on a private company for their water supply, the Terrassa Water Observatory represents more than a body that ensures that citizens have a say in the production of policy. It also represents a new political culture, where recovering public water management means actively fostering social empowerment. This is clear when looking at the tangible results such as training proposals for educational activities within schools that the Observatory has produced in only a matter of months.
Evidently, the Observatory's work both depends on and strengthens people's level of engagement. Promoting active citizenship, this provides yet another reason why we should look to Terrassa. In a time of crisis, we are now more than ever in need of good examples of how citizens can take the lead in the management of common goods.

Original Source