Alarm over deaths of bees from rapidly spreading viral disease Guardian (resilc)
Tumbleweed tornado BoingBoing
Microplastics inhibit a hermit crab's ability to choose shell TreeHugger (resilc)
Seafloor Discovery Shows The Ocean's Undergoing a Change Not Seen in 10,000 Years Science Alert (Kevin W)
Creep Collared For Using His Hands To "Talk" To Female Walmart Shopper Smoking Gun. Resilc: "DNC should run this guy for an office in Florida….."
New Model Predicts Sudden Rogue Waves Scientific American
#COVID-19
From 9/11 to 2008 and COVID-19: Signs and Wonders of a Collapsing Global (Dis)order Zero Anthropology. UserFriendly: "This is part 1 of 5.  Part 1 is good.  Part 2 is Great!!! Shredding globalization and neoliberal individualism. Part 3 is a much deserved smack down of America. Part 4 gets a bit existential.  Part 5 looks towards the future.
Science/Medicine

Map and charts showing the spread of the novel coronavirus Reuters (resilc)

Editorial: Nicotine and SARS-CoV-2: COVID-19 may be a disease of the nicotinic cholinergic system ScienceDirect (dd)

It will probably take longer than 12 to 18 months to get a vaccine. Slate. Should come as no surprise, but this is finally getting out into the MSM.

'False Dawn' Recovery Haunts Virus Survivors Who Fall Sick Again Bloomberg (JTM). Stories like this drive me crazy. It's as if they are setting out to make readers stupid. They push the idea of "herd immunity" and then point out it may not be attainable: "…Kentaro Iwata, a professor of infectious diseases at Japan's Kobe University. 'Development of antibody inside the body is not necessarily development of immunity against this disease.'"

US germ warfare research leads to new early Covid-19 test Guardian. Resilc: "The GILD ceo was on the today show this AM pumping his stock."

British Doctors Say Ventilators Purchased From China Could Kill Coronavirus Patients Newsweek (furzy)

'This is a potential public health disaster:' COVID-19 results from TestUtah.com are raising questions Salt Lake Tribune (Erik S)

Serfs Revolt

Immigrants Making PPE Strike After a Co-Worker Dies of COVID Mike Elk

May 1 "general strike" at Amazon: A failed adventure by the Democratic Party and the unions WSWS (Micael)

French workers 1-0 Amazon: Interview with Stéphane Enjalran on the Covid-19 Court Victory Brave New Europe (Micael)

UK/Europe

EU's Ursula von der Leyen wants billions for COVID-19 vaccine, meds DW

The Greek tragedy: Act Three CADTM (Micael)

US

Ha! Ha! My husband knows my running joke is we'll know what retail establishments are in the cash laundering business when they are the first to re-open after the shutdowns. Apparently it's not such a joke. https://t.co/LGRzZvApQO

— (((Helaine Olen))) (@helaineolen) April 30, 2020

Political Responses

White House blocking Fauci from testifying before Congress about coronavirus response NBC (furzy). "But the White House will let him testify before the Senate Health Committee the following week."

GOP divided over state aid during coronavirus pandemic The Hill

While Trump was estimating that only 60,000 Americans would die from the coronavirus, the federal government ordered more than 100,000 body bags Business Insider (Dr. Kevin)

Finance/Economy

Big Mac at a distance: Dutch McDonald's trials virus-proof restaurant Reuters (resilc)

Long lines, lots of kids, and plenty to touch: How does Disney reopen its parks? Reuters. Get everyone to suit up. We ran this before and I want one. But too pricey.
After rumours about health, North Korea state media report Kim Jong Un appearance Reuters. Furzy: "Reuters could not independently verify the KCNA report."
Canadian PM Trudeau Bans All Assault-Style Firearms NPR (furzy)
Syraqistan
Liberal Jewish orgs stay in Islamophobic umbrella group, for the sake of Israel Mondoweiss (Chuck L)

Iran Is Hauling Gold Bars Out of Venezuela's Almost-Empty Vaults Bloomberg
Big Brother is Watching You Watch
Utah company Banjo is building a massive surveillance system with the help of the state's attorney general Salt Lake Tribune (Erik S). From early March, still germane. Ugh.
Imperial Collapse Watch
Navy Picks Wisconsin's Fincantieri Marinette Marine to Build New Frigate Defense One (resilc)
Trump Transition
Trump: Protesters with guns in Michigan Capitol are 'very good people' Business Insider (resilc)

Trump Campaign Orders Red 'Trump-Branded' Face Masks New York Magazine

"Records show [Stone] exchanged messages with Mr. Assange in June 2017, seven months *after* Mr. Trump's election victory." 😱

Maybe they colluded in 2017 & then hopped in a time machine back to 2016? 🧐 https://t.co/hVq0UbNjgr

— Aaron Maté (@aaronjmate) May 2, 2020

Michael Flynn's indictment exposes Trump team's collusion with Israel, not Russia Grayzone (Chuck L)
2020
It is incredible that Tara Reade – a Warren supporter who refuses to go on Fox so as not to help the right – is now being smeared as a liar and Russian agent by people who can't respond to the holes in Biden's story.

— Gravel Institute (@GravelInstitute) May 1, 2020
Powerful House committee demands Jeff Bezos testify after 'misleading' statements TechCrunch (Kevin W)
Oil traders turn to salt caves and train cars in storage crisis Financial Times (BC)
New Jersey Likely to Cut Pension Contributions, S&P Global Says Chief Investment Officer (jpr). NJ only 40% funded due to deliberate underfunding starting under Christie Todd Whitman.
Judge Vacates Oil and Gas Leases on 145,000 Acres in Montana New York Times (David L)
NASA selects Elon Musk and Jeff Bezos to design moon landers for 2024 mission dezeen
Bezos to the Moon: Blue Origin joins SpaceX and Dynetics in a three-horse lunar lander race Register (Kevin W)
Class Warfare
In pictures: May Day protests around the world BBC (resilc)
Antidote du jour. Shiela M:
Jesse (of "Jesse's Cafe Americain") suggested I send you an upbeat anecdote about 3 kittens, Amor, Ashley, and Aspen, were found on Staten Island and wound up in NYC's animal shelter, ACC (Animal Care Center).

They were deemed unadoptable, because they flunked out of ACC's Tiny Tigers Socialization Program, and became candidates for the Working Cats Program, which places semi-feral cats in jobs (shops, offices, etc).

Amor, Ashley and Aspen are now gainfully employed at a Brooklyn microbrewery, Five Boroughs Brewing Co., where they are much loved and busy guarding the grain and patrolling the brew area, can line, and taproom.

Here are some pictures and a link to Five Boroughs Brewing Instagram account.
https://www.instagram.com/p/B-X3sCRph6S/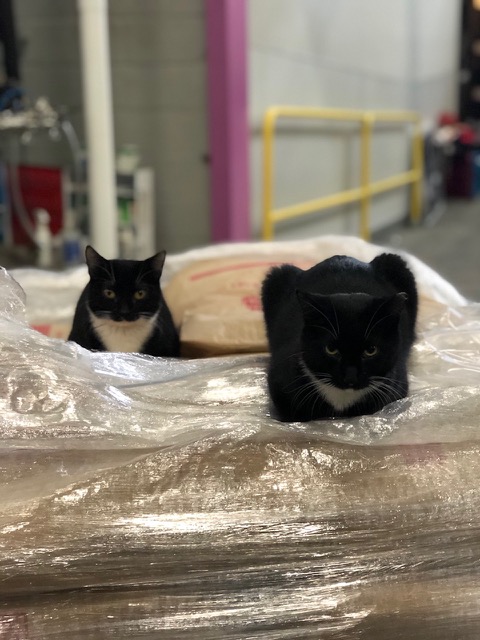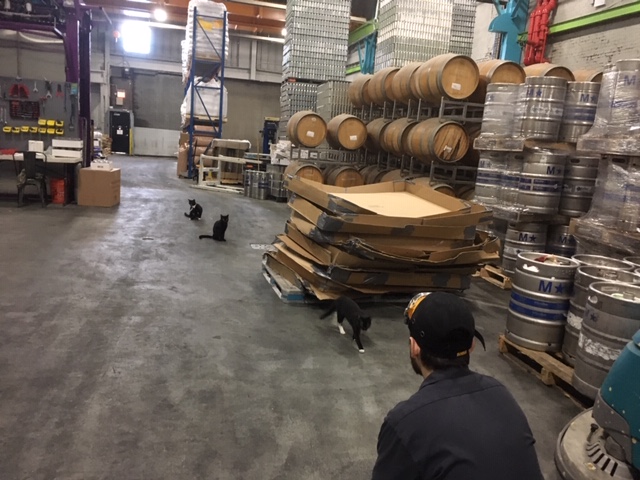 See yesterday's Links and Antidote du Jour here.

Original Source