By Lambert Strether of Corrente.
Patient readers, I got started in good time, and for some reason had an attack of the slows. I'll add a bit more shortly. –lambert UPDATE All done. There's a very nice link for soil fans under Biosphere.
#COVID19
At reader request, I've added this daily chart: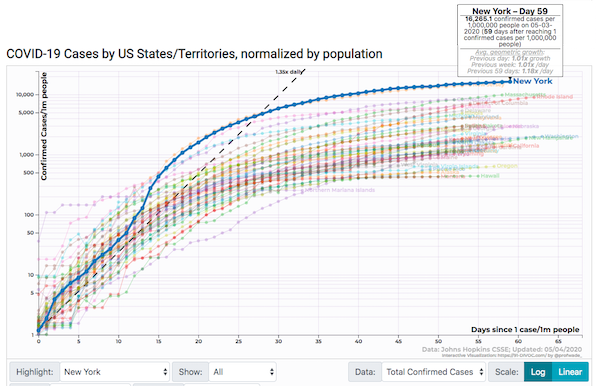 The data is the John Hopkins CSSE data. Here is the site. I have changed to a logarithmic scale for US States and territories.
New York's geometric growth continues at 1.01. Needless to day, this isn't even flat, let alone the vaguely bell-shaped curve we were told to expect. The linear view may reinforce this: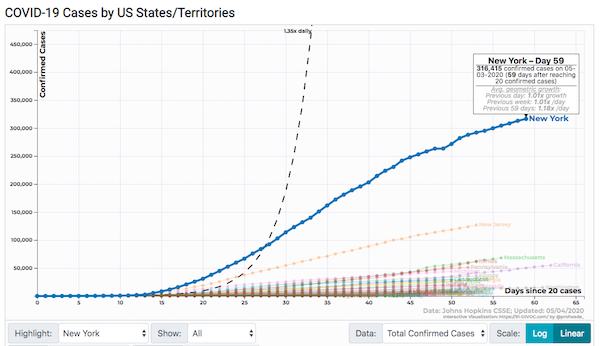 And speaking of vaguely bell-shaped curves:
Well that's a fascinating way to present it… pic.twitter.com/zwIFMyzGoN

— Scientists for EU (@Scientists4EU) May 3, 2020
* * *
See Vice, "How to Read the Coronavirus Graphs":
Quantities that grow exponentially, when depicted on a linear scale, look like curves that bend sharply upward, with the curve getting constantly steeper. On a log scale, exponentially growing values can be depicted with straight diagonal lines.

That's the beauty of plotting things on log scales. Plots are meant to make things easy to understand, and we humans are much more adept at understanding linear, straight-line behavior. Log plots enable us to grasp exponential behavior by transferring the complexity of constantly steepening curves into the simplicity of an exponentially increasing scale.

On a log scale, we want to constantly be making the line more and more horizontal. The general concept of "flattening" is still a good one, but it's never going to curve down. And so what we should be looking, and hoping for is a trend toward horizontal.
Politics
"But what is government itself, but the greatest of all reflections on human nature?" –James Madison, Federalist 51
"They had one weapon left and both knew it: treachery." –Frank Herbert, Dune
"They had learned nothing, and forgotten nothing." –Charles Maurice de Talleyrand-Périgord
* * *
2020
Biden (D)(1): "The Committee to Save the Rich" [Jacobin]. "Earlier this month, a coalition of progressive groups published an open letter to Joe Biden concerned with how he might earn young people's support… Among the most concrete (and easily realizable) demands the groups offered had to do with staffing — specifically a pledge they hoped Biden would make to "appoint zero current or former Wall Street executives or corporate lobbyists, or people affiliated with the fossil fuel, health insurance, or private prison corporations" to his transition team, advisory roles, or to cabinet. Barely two weeks later, Biden as good as replied when it emerged he'd appointed none other than Larry Summers to advise him on economic policy…. There are certainly other, less ideological reasons to be angry about Summers's appointment. Just as the Biden campaign evidently has no regrets about hiring Harvey Weinstein's PR flunky Anita Dunn, it apparently doesn't think Summers's track record of misogyny or dubious connections are any kind of liability (or, perhaps, just plain doesn't care). As president of Harvard, Summers cultivated a close personal and professional relationship with now-deceased sex criminal Jeffrey Epstein — a relationship that continued after Epstein's initial conviction for soliciting sex from a minor. He was eventually forced to resign the presidency at Harvard amid a controversy prompted by remarks about female aptitude in math and science." • So Larry fits right in?

Biden (D)(2): "Democrats, It's Time to Consider a Plan B" [New York Times]. "Ms. Reade's account is not nearly as incredible as some have argued. In the course of my reporting, I have worked closely with many survivors of sexual assault. It isn't unusual, in my experience, for survivors to exhibit behavior that seems unstable or erratic to others. They may initially disclose to investigators or journalists only a fragment of what happened, and then reveal more over time — some even falsely recant, either because they sense the police don't believe them, or because they fear the consequences of pressing their claims. And victims often maintain relationships with their attackers or harbor mixed feelings about them…. [I]t is also possible that this won't just go away, and that it will demoralize voters and place Mr. Biden at a disadvantage against Mr. Trump in the general election, despite the fact that Mr. Trump has a damning list of accusers alleging sexual offenses. For a candidate mainly favored for his presumed electability and the perception of empathy and decency, that's a serious liability." • 

Biden (D)(3):

Luckily for Biden there's already an Upworthy headline generator he can use. https://t.co/BcyyywHSAq https://t.co/NGFcb9z5Zy

— Ryan Grim (@ryangrim) May 4, 2020

This is the Upworthy generator, but sadly Biden-specific keywords cannot be incorporated.

UPDATE Biden (D)(4): Coincidence? You be the judge:

well this certainly doesnt it make it feel like a campaign messaging blast pic.twitter.com/xSYg8YVdAS

— anonymous account (@jackallisonLOL) May 2, 2020

UPDATE Cuomo (D)(1): "Andrew Cuomo may be the single most popular politician in America right now" [Chris Cilizza, CNN]. "Cuomo's stratospheric numbers are driven by remarkable bipartisan support. Yes, 90% of Democrats view him favorably. But 73% of independents say the same as do a majority (53%!) of Republicans. And, they represent a stunning turnaround for Cuomo who, as recently as February, had an overall job approval of just 36%. Cuomo's handling of the coronavirus has, without exaggeration, flipped public opinion about him in, roughly, six weeks. In fact, it's a turnaround that not even George W. Bush experienced in the immediate aftermath of the September 11 terrorist attacks…. Cuomo's daily press briefings on the state of the state's fight against the virus have become must-see TV — as Cuomo ranges from stern father to loving counselor to frank friend and back… All of which begs the question of what's next for Cuomo. After all, he is only 62 years old — 15 years younger than presumptive Democratic presidential nominee Joe Biden! — and in the middle of his third term as governor of the Empire State…. Cuomo has been, to date, definitive about his lack of interest in running for president — ever." • Amazing to me that Trump is leaving Cuomo alone.

Trump (R)(1): Owning the libs, who richly deserve to be owned:

The new Trump ad specifically targets the hypocrisy of liberals who touted "believe women" for years and who're now rallying around Biden pic.twitter.com/z2xUN5CsPU

— keyvan (کیوان) (@shafieikeyvan) May 1, 2020

UPDATE Trump (R)(2): "How Greenwich Republicans Learned to Love Trump" [The New Yorker]. "How did America's country-club Republicans, the cultural descendants of Prescott Bush, learn to love Donald Trump? They don't have much in common with the clichéd image of his admirers: anxious about losing status to minorities, resentful of imperious élites, and marooned in places where life expectancy has fallen. But the full picture has never been that simple. As early as May, 2016, exit polls and other data showed that Trump supporters earned an average of seventy-two thousand dollars a year, while supporters of Hillary Clinton earned eleven thousand dollars less. Two-thirds of Trump's supporters had incomes higher than the national median—sometimes, as in Greenwich, much higher." • Class interest, class solidarity.

* * *

From the world's ugliest email operation, Mothership Strategies, Fauci as a fund-raiser:

I happen to agree with Fauci on social distancing. But I'd have less difficulty participating in the Fauci love fest if he weren't ramping Gilead like a penny stock (something that could end up killing a lot more people than, well, bleach).
2016 Post Mortem
A new trope:

No makeup? No pantsuit? No problem.

I've got the must-have accessory for spring.

I'm wearing a mask (and voting!) for my country, my community, and my grandchildren. #MaskingForAFriend @PandemicAction pic.twitter.com/68t8us5K1D

— Hillary Clinton (@HillaryClinton) May 2, 2020

I'm sure this will shift votes in swing states….
Rehabilitating Bush
Words really fail me on this effort, which emanates from both Republicans and Democrats. It's Orwellian, as in "down the memory hole." Here's Bush's latest video:

A Message from President George W. Bush@TheCalltoUnite pic.twitter.com/FIn9wuOPTF

— George W. Bush Presidential Center (@TheBushCenter) May 2, 2020

And a supporting effort, "The Lincoln Project":

📺 NEW VIDEO @realdonaldtrump's failed presidency has left the nation weaker, sicker, and teetering on the verge of a new Great Depression.

There's mourning in America. pic.twitter.com/QoEWJVNEXc

— The Lincoln Project (@ProjectLincoln) May 4, 2020

Scroll down for the personnel, notably John Weaver of Bush, McCain, and Kasich. I suppose this all took off when Bush give Michelle candy. Apparently, the Democrat hive mind has been meditating this for some time.

UPDATE The erasure is really unseemly. From the Times' White House correspondent:

Bush handled post-Katrina by asking his father and Bill Clinton to help. The current president has been uninterested in asking his predecessors to get involved as the country deals with Covid. And the video is striking given how relatively quiet Bush has been post-presidency https://t.co/2YmvzLB2QN

— Maggie Haberman (@maggieNYT) May 3, 2020

Anybody here from New Orleans who remembers how Bush really handled Katrina?

UPDATE "We need to look forward as opposed to looking backwards":

I think my favorite of the George W Bush presidency was when he took the two psychologists who taught Americans how to endure torture and had them use their skills to develop our torture program. And paid them millions to do it. https://t.co/CqXKai1Lvb

— Dave "Alive" Anthony (@daveanthony) May 3, 2020

UPDATE "George Bush Is Bad. Just Stop." [David Sirota, Too Much Information]. "This weekend, George W. Bush released a video calling for national unity during the coronavirus emergency. This video, which has gotten almost 6 million views, prompted an outpouring of praise for Bush by those who pine for his presidency in comparison to our current leader. Donald Trump deserves a lot of criticism right now. A lot. However, there are ways to rightly and righteously criticize Trump without touting the alleged honor, decency and humanity of George Bush, who was one of the most dishonorable, indecent and inhuman presidents in the history of our country. I actually can't believe I even felt the need to type out that last sentence. It should be basic, innate, reflexive knowledge for those who aren't goldfish forgetting their entire world every 15 minutes." • Come on, man. The point of sucking up to Bush is to appeal to suburban Republicans. This has nothing to do with "knowledge," or "forgetting." Those aren't even relevant.

UPDATE Get ready:

Biden selects George W. Bush as VP, liberals praise "unity ticket" pic.twitter.com/hfHnnhBlBu

— MSDNC – Commentary & Satire (@MSDNCNews) May 4, 2020

Why not?
Realignment and Legitimacy
"Two Weeks of Democrats' Pathetic Attempts at Opposition" [The New Republic]. Following a bill of particulars of the Democrats ridiculous last two weeks: "The most puzzling thing about the Democrats' most recent spell of turning Republican is that GOP policies are more unpopular than they've been in a long while, and the president remains largely distrusted by the American public. Why wouldn't the Democrats take advantage, for instance, of the current enthusiasm for Medicare for All to create a better-functioning health care system both for the current crisis and beyond, rather than dangling a tepid plan to dump yet more money into the hands of private insurers? Perhaps, after all, there's still one crucial difference between the two parties, captured perfectly by the old aphorism: Republicans fear their base, and Democrats hate theirs." • I'm not sure that's true anymore. The working class is not the Democrat base, and the Democrat Establishment wants to get rid of it entirely, and make suburban Republicans part of their base.

""China Was Right": Academics and Democratic Leaders Call For Censorship Of Social Media and The Internet" [Jonathan Turley]. "The only thing spreading faster than the coronavirus has been censorship and the loud calls for greater restrictions on free speech. The Atlantic published an article last week by Harvard Law School professor Jack Goldsmith and University of Arizona law professor Andrew Keane Woods calling for Chinese style censorship of the internet. While Goldsmith and Keane are obviously not calling for authoritarian abuse, they are advocating control over the Internet to regulate speech — crossing the Rubicon from free speech to censorship models. They declared that 'in the great debate of the past two decades about freedom versus control of the network, China was largely right and the United States was largely wrong' and 'significant monitoring and speech control are inevitable components of a mature and flourishing internet, and governments must play a large role in these practices to ensure that the internet is compatible with society norms and values.'" • All the while raising the banner against the Fascist Trump administration, of course. Here at NC, we know that this means, WaPo and PropOrNot already tried to drive us out of business once.

"The anticapitalist streaming service taking on Netflix: This is Means TV" [Huck]. "The platform launched earlier this year (February 26) with a roster of documentaries, films, cartoons and podcasts; all of which are available to its thousands of subscribers for just $10 a month. Popular series include their flagship broadcast, Means Morning News, and Sprinkles & Wrinkles – an animation about two Marxist cats on a mission to overthrow their owner. The Detroit-based couple behind the site, Naomi Burton and Nick Hayes, made their first foray into leftist media as 'Means of Production', with a campaign video for then little-known democratic candidate, Alexandria Ocasio-Cortez. 'We came to AOC with the story arc and pitch for the video,' Burton explains, 'and then she really helped us develop the narrative elements that spoke to her experience.' The video was an instant viral success, and paved the way for a new genre of campaign films. 'AOC had this special kind of energy,' recalls Hayes, 'but we'd never really seen a campaign video blow up like that before her.'"
Stats Watch
At reader request, I added some business stats back in. Please give Econintersect click-throughs; they're a good, old-school blog that covers more than stats. If anybody knows of other aggregators, please contact me at the email address below.
No stats of interest today.
* * *
Shipping: "Prices to move oil around the world are soaring as demand to store fuel on ships takes on a bigger role in energy markets. Charter prices for vessels that transport refined oil products have nearly quadrupled since the start of March… and the Baltic Clean Tanker Index measure of freight rates hit a record high late last month before slipping back" [Wall Street Journal]. "The surging prices show how the demand for 'floating storage' for crude has spilled into broader fuel transport business. With global stockpiles of petroleum forecast to grow by around 550 million barrels this quarter, a race is under way to store surplus gasoline, diesel and jet fuel at sea. The number of available tankers that handle refined petroleum products has plummeted."
Shipping: "Coal volumes are evaporating from U.S. rail networks and they don't appear to be coming back. Electricity generation from coal-fired power plants is forecast to decline 20% in 2020 from a year ago…, and one analysis suggests renewable sources topped coal for the first time on a quarterly basis in the first three months of the year" [Wall Street Journal]. "U.S. coal production is sliding and the upheaval in energy is accelerating as electricity demand declines under coronavirus restrictions. Freight railroads are feeling the impact in the sector's single biggest market by volume. Coal loads are down 21.4% so far this year."
Shipping: "Gauges of construction industry sentiment are turning downward, with measures for billings by architects and new orders for construction equipment makers both at weak levels. The weakness is hitting supply chains. Load-matching service DAT Solutions says the ratio of available loads to trucks in the spot market for construction-heavy flatbed trucking plummeted nearly 77% from March to April" [Wall Street Journal]. "K&D Industries of NY says it lost three-quarters of its jobs hauling materials for construction sites when New York idled most construction work in March forcing the company to defer payments on a bank loan and other bills."
Petri Dishes: "Carnival's stock swings higher after plan to 'phase in' resumption of cruises this summer" [MarlketWatch]. "Shares of Carnival Corp. swung to positive territory Monday, after the cruise ship operator announced its plan to 'phase in' a resumption of its North America service, beginning Aug. 1…. The company said operations will resume with eight ships, Carnival Dream, Carnival Freedom and Carnival Vista from Galveston, Texas; Carnival Horizon, Carnival Magic and Canrnival Sensation from Miami, Florida; and Carnival Breeze and Carnival Edison from Port Canaveral in Florida. The company said all other cruises will be cancelled through Aug. 31."
Infrastructure: "Workers set to leave Maryland's Purple Line project" [RT&S]. "Frustrated by one delay after another, the builders currently working on Maryland's Purple Line project say they will leave the project because the state is not paying for the delays and cost overruns. The project currently costs $2 billion." • Our failed state can't even build a 16-mile light railway line.
Today's Fear & Greed Index: 44 Fear (previous close: 43 Fear) [CNN]. One week ago: 43 (Fear). (0 is Extreme Fear; 100 is Extreme Greed). Last updated May 4 at 12:21pm.
Rapture Index: Closes unchanged [Rapture Ready]. Record High, October 10, 2016: 189. Current: 186. Remember that bringing on the rapture is a good thing.
The Biosphere
UPDATE "Scientists Waited Two and a Half Years to See Whether Bacteria Can Eat Rock" [Scientific American] (original). "After 30 months, they put their samples under the microscope. The minerals incubated with microbes appeared ragged or pitted — as if they had been dipped in acid, not bacteria — after their 864-day incubation. The sterile control minerals, by contrast, retained sharp, smooth edges…. The scientists also detected abundant ATP in the mixtures that included microbes, indicating feasting. And remember: there was absolutely nothing to feast on except crushed rock. Another mystery remained: who was eating the rocks? When the scientists checked the DNA of the microbes in their samples, they found almost exclusively bacteria. Missing from the cultures, surprisingly, were fungi…. The lithotrophic bacteria they did find have a special power: the ability to harvest electrons from iron atoms outside their bodies. That is, they can eat without swallowing their food. The bacteria "ingest" the electrons in a technique called external electron transfer….. So, bacteria indeed appear able to initiate and accelerate the dirt-making process. On land, dirt supports plants, which support most everything else." • Well, let's hope we don't kill those bacteria off. Because that would be bad.
Health Care
"Public Health Across the Pacific" (podcast) [Christopher Lydon, Open Source]. With Jim Yong Kim (on Korea) on the East Asia response, and Warwick Anderson (on Australian). Anderson remarks, in passing, that the United States is a failed state. I highly recommend this level-headed and quietly devastating episode, which is followed by "Questions of Leadership," a disgraceful extended Cuomogasm. (Holy moley, the guy slashed $400 million from Medicaid, worked for years with Republicans in the State legislature to stymie "progressive" legislation, has a terrible record on #COVID-19 (especially compared to California and Washington), and liberals are hailing him as a "leader" because he gives a good briefing on TV? There are far worse problems here than lack of "leadership."
"Most major health insurers aren't charging patients for coronavirus treatment — but there's one big catch" [MarketWatch]. "The nation's largest insurers — including Aetna, Anthem, Blue Cross Blue Shield, Cigna, Humana and UnitedHealthcare — are 'waiving cost-sharing' for coronavirus treatment. That means they're not making patients pay deductibles, copays, coinsurance and other charges if they're hospitalized with COVID-19, which had killed more than 63,000 Americans as of Friday. (See a full list of what insurers are doing here.)… So if your health insurer is waiving cost-sharing, does it mean you won't be charged at all if you're hospitalized for coronavirus? No. 'There's always a catch,' [Karen Pollitz, a senior fellow at the Kaiser Family Foundation] said. 'You still could have out-of-pocket costs even if your insurer says they're going to waive all the cost-sharing.'… Even though health-insurance companies are waiving cost-sharing for their members, people who get health insurance through their jobs may still end up having to pay for treatment. That's because employers with "self-funded" or "self-insured" health plans can opt out of waiving cost-sharing for their employees. A self-funded or self-insured health plan means the insurance company administers the plan and the employer pays the claims. So even though your health insurance card may say Aetna on it, your employer could be footing the bill. Most people who get their health insurance through their job are in a self-funded or self-insured plan, Pollitz said. If you have health insurance through your job and want to know if your employer is self-funded and whether it's waiving cost-sharing for coronavirus treatment, call your human-resources department or whoever handles your employer's health insurance to find out."
Testing is not only a technical problem:
Michael Santos went to the hospital to get checked out for the coronavirus. He wound up with a $1,689 bill. https://t.co/DOm3sNjlIo via @businessinsider #SinglePayerSunday

— Medicare for All (@AllOnMedicare) May 3, 2020
If people get $1500 bills for testing, it's not gonna happen. Duh.
"Coronavirus cases drop by up to 44% due to shelter-in-place orders, study drawing on CDC data shows" [MarketWatch]. "The number of COVID-19 cases fell by up to 43.7% roughly three weeks after the implementation of a shelter-in-place order, according to a working paper distributed Monday by the National Bureau of Economic Research. The paper was authored by researchers at Bentley University, San Diego State University and the University of Colorado Denver. Researchers analyzed social-mobility data from SafeGraph, a geospatial data company, which represents the movements of roughly 45 million smartphone devices. To produce their estimates of the effects of the shelter-in-place orders on health outcomes they drew on data regarding COVID-10 cases collected by the Centers for Disease Control and Prevention and made public by the Kaiser Family Foundation. However, some states will see more success from their shelter-in-place orders (SIPOs) than others, the researchers wrote. 'The earliest adopters of statewide SIPOs saw the largest declines in the rate of coronavirus cases, including declines in the rate of COVID-19-related mortality,' they said. 'In addition, more densely populated states also appear to reap relatively larger health benefits from their SIPOs.'"
"Baltimore Healthcare Workers Criticize Military Flyovers 'Honoring' Them" [Baltimore Beat]. "'America Strong' military flights over some of the United States' hardest hit cities offered as 'tribute' to beleaguered healthcare and essential workers have been met with outrage and ridicule by healthcare workers. 'Instead of spending $60,000 per flight hour on a showy attempt at solidarity, please spend that money housing homeless and incarcerated people in safe places where they can be socially distanced,' said Kate Dunn, a registered nurse in Baltimore. 'For me, that is what actual support and solidarity would look like. And I would sleep better at night knowing my patients were at less risk.'"
Class Warfare
"Bye, Amazon" [Tim Bray]. ". And at the end of the day, the big problem isn't the specifics of Covid-19 response. It's that Amazon treats the humans in the warehouses as fungible units of pick-and-pack potential. Only that's not just Amazon, it's how 21st-century capitalism is done…. At the end of the day, it's all about power balances. The warehouse workers are weak and getting weaker, what with mass unemployment and (in the US) job-linked health insurance. So they're gonna get treated like crap, because capitalism. Any plausible solution has to start with increasing their collective strength." This is a must read, given Bray's position at Amazon and his technical reputation.
"I am sorry but we are going to talk about woody allen" [Reading the Tarot (DG)]. "I'm saying, when we talk about morality and platforming and so on, we are mostly talking about one very narrow moral concern: 'hate.' Basically, the moral offences that a small segment of the population finds the most objectionable are the ones that are organized against. These moral concerns come mostly out of university culture. People who, say, live in dangerous areas with high murder rates might find other things more pressing. People who live in places where suicide rates are skyrocketing or overdoses just keep steadily happening might find other things more pressing. That narrowness in concern within publishing and other cultural industries happens because at the moment the industry is overwhelmingly populated with people who are expensively educated, people from the coasts, and people who have the financial support of others in order to be able to afford living on $31,000 a year as an editorial assistant in New York City. This is a very small demographic, and it dominates the literary world, the art world, and so on. Because of their shared socioeconomic background and their shared educational histories, they are a more homogeneous group than they probably want to admit… [W]e need to have a serious talk about cultural production and why we refuse to hear from a growing segment of our population."
"The class war against front-line workers" [E.J. Dionne, WaPo]. "When social solidarity is essential, it's common to hear pious sermons against class warfare. Unfortunately, there is a class war. And its victims, so many of them front-line workers, didn't start it." • Dionne seems to think that only Republicans are waging class war against workers. Odd.
Simple: we've concluded the people who are at risk are the people we don't care about, and haven't for awhile. pic.twitter.com/R1Z44WxksU

— Marshall Steinbaum 🔥🍉 (@Econ_Marshall) May 4, 2020
When I wrote that post back in 2014, I had no idea how close to the bone it would cut.
"We're on the Brink of Cyberpunk" [Slate]. "As the COVID-19 pandemic sweeps through the world, it collides with governments in the West that have spent decades deliberately shedding power, capability, and responsibility, reducing themselves to little more than vestigial organs that coordinate public-private partnerships of civic responsibility. This hollowing of the state began in earnest in the 1980s, and the science fiction of that time—the earliest texts of cyberpunk—imagines what happens when that process is complete. Cyberpunk is a genre of vast corporate power and acute personal deprivation. The technologies at the center of it are all means of control, control bought by the wealthy or broken by criminals. Where recourse is available, in whatever small way, it's through direct action." • The connection to Gibson, which the author makes, is quite direct.
Typo: "Lensing," not "lending." Another autocorrect pratfall:
Very large quantities of concentrated capital can bend truth rays and warp epistimology and ontology. There is a financial lending effect by which you can detect the presence of large cold masses of money that otherwise can't be seen

— Venkatesh Rao (@vgr) May 3, 2020
Interesting methodological suggestion….
News of the Wired
"The "Queen of Consciousness" Driving Psychedelic Study and Advocacy" (interview) [Amanda Feilding, Filter Magazine]. Feilding: "Psychedelics and the knowledge that you can alter your consciousness should be part of the fabric of society—it's not what the naughty boy does before he commits a crime. Psychedelics do not encourage crime, they increase connectivity with nature, which is good for the environment and your passion for people and openness. These are all good human qualities that should be nurtured with the careful use of psychedelics. Psychedelics used to be called "fruit of the gods." They make us more god-like. They make us more ourselves—our better selves—if used well. The only way we can drag psychedelics out of the "naughty box" is to prove that they have better efficacy than any other medicine that's being offered to treat psychological illnesses. We did a study of overcoming nicotine addiction using psychedelics with Johns Hopkins, and it had an 80 percent success rate—this was a pilot study a few years ago." • Let's check with Big Pharma on that, shall we?
History of "Blondie," the comic strip:
The comic strip is named -Blondie- because she was the original protagonist. Dagwood was originally just one of her several love interests. https://t.co/8rLnMlK3b4 pic.twitter.com/WIODzhGllK

— Neocon Sally Rooney stan account 🌐 (@NeoconMaudit) May 3, 2020
"I was never more determined."
Zeitgeist watch?
Six weeks ago the #CatNamesWorldCup started with 128 entires – now just one remains.

Ladies and gentlemen, cats and kittens your winner is…
CHAIRMAN MEOW!

Thank you to everyone for taking part x

— Larry the Cat (@Number10cat) May 3, 2020
* * *
Readers, feel free to contact me at lambert [UNDERSCORE] strether [DOT] corrente [AT] yahoo [DOT] com, with (a) links, and even better (b) sources I should curate regularly, (c) how to send me a check if you are allergic to PayPal, and (d) to find out how to send me images of plants. Vegetables are fine! Fungi and coral are deemed to be honorary plants! If you want your handle to appear as a credit, please place it at the start of your mail in parentheses: (thus). Otherwise, I will anonymize by using your initials. See the previous Water Cooler (with plant)
here. Today's plant (ChiGal):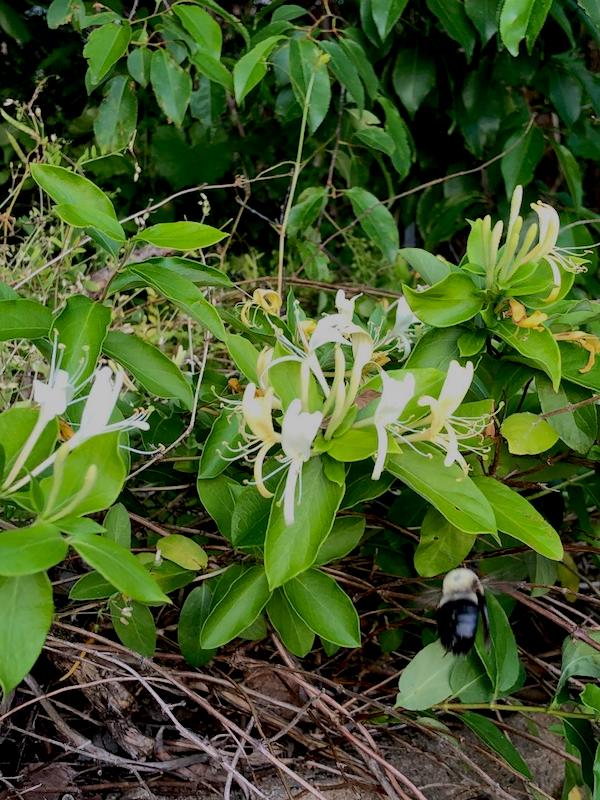 ChiGal writes: "Motivated myself to take a walk today with the idea of searching out the lovely scent of honeysuckle before it's gone — looks like someone else had the same idea!"
* * *
Readers: Water Cooler is a standalone entity
not covered by the annual NC fundraiser. So if you see a link you especially like, or an item you wouldn't see anywhere else, please do not hesitate to express your appreciation in tangible form. Remember, a tip jar is for tipping!
Regular positive feedback both makes me feel good and lets me know I'm on the right track with coverage. When I get no donations for five or ten days I get worried. More tangibly, a constant trickle of donations helps me with expenses, and I factor in that trickle when setting fundraising goals:
Here is the screen that will appear, which I have helpfully annotated.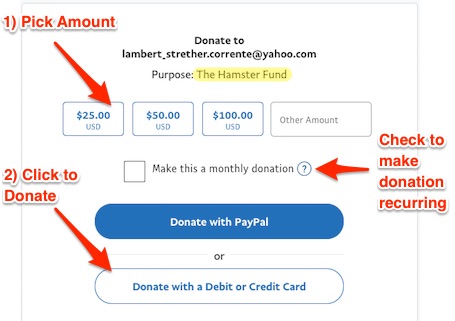 If you hate PayPal, you can email me at lambert [UNDERSCORE] strether [DOT] corrente [AT] yahoo [DOT] com, and I will give you directions on how to send a check. Thank you!

Original Source