By Lambert Strether of Corrente.
#COVID19
At reader request, I've added this daily chart: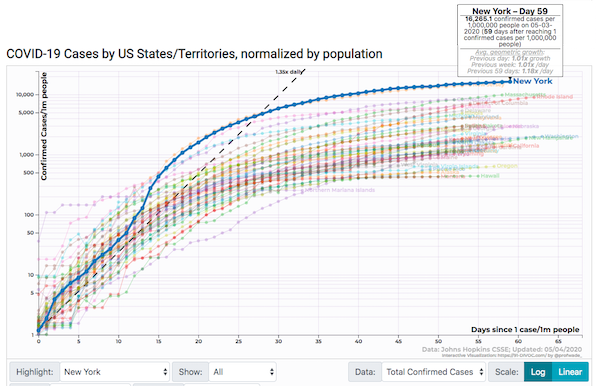 The data is the John Hopkins CSSE data. Here is the site. I have changed to a logarithmic scale for US States and territories.
New York's geometric growth continues at 1.01. Nevertheless, remember this chart?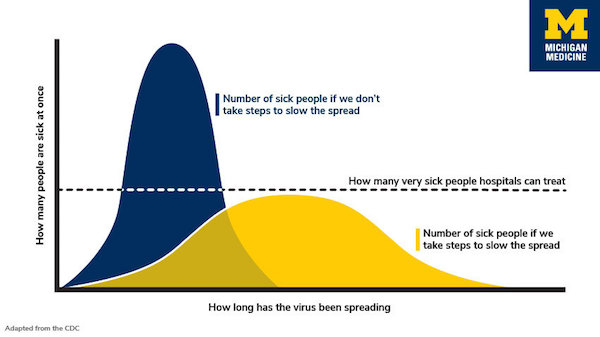 Or this one?
Tomas Pueyo speaks again— here this loud and clear!! Coronavirus: The Hammer and the Dance #Covid_19 https://t.co/QOC0Il9HuP

— Felicia Goodrum (@goodum_viruslab) March 21, 2020
Now, "flattening the curve" and "the hammer and the dance" both went, er, viral. But things seem not to have worked out. We seem not to be getting to the flattening part. And the political class — not just Orange Hitler, but the political class as a whole — seems to have given up on that. It would be hard to find a clearer indication that the United States is a failed state. Of course — "And suddenly, a miracle occurs!" — there's always the possibility of a vaccine, but right now all we're seeing is an enormous subsidy for Big Pharma to build production lines for products that more likely than not will fail. Better than paying people to dig holes in the ground and then fill them up, I suppose. At least there's some upside potential.
* * *
See Vice, "How to Read the Coronavirus Graphs":
Quantities that grow exponentially, when depicted on a linear scale, look like curves that bend sharply upward, with the curve getting constantly steeper. On a log scale, exponentially growing values can be depicted with straight diagonal lines.

That's the beauty of plotting things on log scales. Plots are meant to make things easy to understand, and we humans are much more adept at understanding linear, straight-line behavior. Log plots enable us to grasp exponential behavior by transferring the complexity of constantly steepening curves into the simplicity of an exponentially increasing scale.

On a log scale, we want to constantly be making the line more and more horizontal. The general concept of "flattening" is still a good one, but it's never going to curve down. And so what we should be looking, and hoping for is a trend toward horizontal.
Politics
"But what is government itself, but the greatest of all reflections on human nature?" –James Madison, Federalist 51
"They had one weapon left and both knew it: treachery." –Frank Herbert, Dune
"They had learned nothing, and forgotten nothing." –Charles Maurice de Talleyrand-Périgord
* * *
2020
Biden (D)(1): "Secretary of Senate declines to disclose information on Tara Reade complaint against Biden" [The Hill]. "The Secretary of the Senate has informed former Vice President Joe Biden that it has 'no discretion to disclose' the existence of former aide Tara Reade's complaint of sexual assault against the then-senator in 1993…. On Friday, he wrote to Secretary of the Senate Julie Adams asking 'that you take or direct whatever steps are necessary to establish the location of the records of this Office, and once they have been located, to direct a search for the alleged complaint and to make public the results of this search.'" • Lol, as if whoever is operating Biden didn't already know that the answer to this request would be "no." Come on, man.

Biden (D)(2): "I Believe Tara Reade. And You Should, Too" [The Nation]. "[Reade's neighbor's] evidence supplements several other accounts that corroborate elements of Reade's story—from her brother, two anonymous friends, a former colleague, and footage from Reade's late mother, who called into Larry King Live a few months after the alleged incident in 1993 to seek advice on behalf of her daughter. Given this strong evidence, why are many people still refusing to believe Tara Reade? Among the primary reasons: an unwillingness to believe that Biden is 'the type' and sheer political inconvenience… We know, alas, that Biden is the type." Did whoever "vetted" Biden not know how to search for photos and videos? More: "We may want to believe in him for a litany of reasons: because we know him, because we like him, or because—as is the case here—we feel we need him to be innocent. But these reasons add up to little more than the basis for highly motivated reasoning: post hoc rationalizations for the foregone conclusion that of course he didn't do it."

Sanders (D)(1): "Ex-Sanders aide criticizes Super PAC formed by senator's former staffers" [The Hill]. "Nina Turner, former co-chairwoman of Sen. Bernie Sanders (I-Vt.) presidential campaign, on Thursday said that she does not support her former colleagues who are creating Super PACS to support Democrats in the upcoming general election. Jeff Weaver, a former senior aide of the Sanders campaign, announced Wednesday the launch of a Super PAC aimed at rallying progressives behind former Vice President Joe Biden. One of the major pillars of the Sanders campaign was its rejection of big-dollar donations and PAC money. 'I don't support the creation of that Super PAC; the senator certainly does not support the creation of that Super PAC either,' Turner said on Hill TV's "Rising" Thursday. The Super PAC will include Chuck Rocha, a senior Sanders adviser who led the campaign's Latino outreach, Tim Tagaris, who was in charge of Sanders's digital fundraising operations, and Shelli Jackson, the Sanders campaign's deputy director in California." • So the professionals were the scorpions in the fable of the Scorpion and the Frog: "It's my nature." I had also been assiuming that the infrastructure of the Sanders movement was unitary, and could simply be adapted to new purposes; e.g., supporting strikers. But it seems that the Sanders movement, insofar as it is or was embodied in a campaign, was riven by an enormous contradiction between those driven by principle and, well, mercenaries. Big lesson there; the campaign model is not suitable.

Sanders (D)(3): "Find Berniecrat candidates and chapters in your state here!" [Local Berniecrats]. "Current total candidates listed for 2020: 248."

Trump (R)(1): "Trump's Covid-19 Reckoning Is Only the Beginning" [The Nation]. "Finally, the relationship between the federal government and the states is now in tatters. As The Washington Post reports, 'Trump's interactions with the states during the time were jarringly inconsistent. One day, he called himself a wartime president with total authority; the next day, he said he was merely President Backup, there to help states as he deems necessary.' Former Kansas governor Kathleen Sebelius told the newspaper, 'The administration seems to have washed their hands of it and said [to governors], we're out of it. You're on your own. Figure it out.'" • If Trump had ordered New York to shut down early, would Cuomo and DiBlasio have obeyed? More: "[B]eyond partisan recrimination, there's much in the Covid-19 crisis that implicates the entire political class, including Democrats. Oxford University sociologist Gina Neff notes that the three major sites of Covid-19 clusters are 'prisons, meat packing plants and nursing homes.'… There was never a real reckoning with the policy failures that led to 9/11. A major task for progressives in the coming years will be to make sure that mistake isn't repeated with the pandemic." • No, it won't.

Trump (R)(2): "How Trump has broken the polls" [Harry Enten, CNN]. "The polls clearly show that Biden is ahead and by a larger margin than Hillary Clinton was on the eve of the 2016 election. You might think that would make people believe that Biden is more likely to win, even if it were far from a certainty.. Yet, the evidence suggests that Trump's surprising 2016 victory has warped people into believing that Trump has some magic up his sleeve. They don't believe he will lose. An average of recent polls finds that a majority of voters (about 55%) believe that Trump will defeat Biden in the election. Trump's edge on this question has remained fairly consistent over time." • Interestingly, in 2018, the polls predicted the Democrats would do well. Voters didn't believe it. I made a bad call — but I was where the voters were!
Stats Watch
At reader request, I added some business stats back in. Please give Econintersect click-throughs; they're a good, old-school blog that covers more than stats. If anybody knows of other aggregators, please contact me at the email address below.
Manufacturing: "US, Global Manufacturing Undergoes Sharpest Contraction since 2009" [Industry Week]. " the Institute for Supply Management said its Purchasing Manager's Index for manufacturers fell to 41.5% in April, down 7.6 points from March's reading of 49.5%. Chair of the ISM Manufacturing Business Survey Committee Timothy Fiore noted that comments from the panel of surveyed manufacturing executives were "strongly negative regarding the near-term outlook, with sentiment clearly impacted by the coronavirus pandemic and continuing energy market recession. This marks the third straight month of the ISM's PMI contracting, and it is currently contracting faster than previously…. Contraction was spread out evenly among almost every manufacturing division… Two new reports from IHS Markit on global and domestic U.S. manufacturing feature similar results. They also show manufacturing production at its lowest output since the 2008/2009 financial crisis." • Then I suppose we've got some way to go before we hit bottom.
* * *
Retail: "At Overloaded Thrift Shops, Coronavirus Is Wreaking Havoc" [Bloomberg]. "If one thing has seemed to unite Americans during the coronavirus pandemic, it's spring cleaning. With stay-at-home orders in effect, a long-delayed clearing-out of basements, closets, back bedrooms and desk drawers has become a popular way to pass the time. One result is that America's thrift stores are informally reporting unprecedented volumes of donations. And that's creating a problem that goes far beyond finding a loving home for your old sweaters. The thrift industry is more important than most Americans realize. Largely out of sight, it employs tens of thousands of people and generates at least $18 billion in annual revenue. It keeps an enormous amount of used stuff out of landfills, and contributes billions each year to social-service and job-training programs that are crucial to communities nationwide. Those services are more important than ever in a pandemic. But to sustain them, Americans will have to take more care in donating their used stuff." • I don't want to be too ghoulish, but "spring cleaning" isn't the only reason I can think of to clear a house of its possessions….
Shipping: "Container shipping lines are operating in a financial holding pattern in hopes of outlasting the coronavirus-driven global trade downturn. Capacity cuts have so far helped carriers limit the damage, but Hapag-Lloyd AG Chief Executive Rolf Habben Jansen [says] that some top 10 shipping lines may not survive if a recovery in freight demand doesn't begin in the third quarter" [Wall Street Journal]. "The outcomes could include outright collapse of a carrier, although an ongoing economic decline would more likely lead to a revival of the consolidation that narrowed the list of the world's biggest shipping lines in recent years. Carriers so far are cutting costs by holding down capacity, helping keep freight rates steady even as volumes decline. Shipping analyst Peter Sand of BIMCO said in a report that the tactic is only masking the disastrous effect that the coronavirus is having on their bottom lines."
Shipping: "How canceled sailings will impact US ports – and when" [American Shipper]. "Container lines have "blanked" (canceled) an unprecedented number of sailings to bring capacity in line with coronavirus-stricken cargo demand. Blank-sailings data is a key leading indicator for U.S. ports, cargo shippers, truckers and railways. A container ship that doesn't depart from Asia equates to a container ship that doesn't arrive on the U.S. West Coast two to three weeks later, or on the East Coast four to five weeks later. What matters to American businesses is U.S. port arrivals, not foreign departures. American businesses want to know exactly how much arrival capacity will be reduced, exactly when it will be reduced, and how this reduced capacity will compare year-on-year…. Simon Sundboell, founder and CEO of eeSea, told FreightWaves, '. 'The carriers already know what sort of [cargo] orders they have today, for example, for a ship leaving from Singapore three months from now, and they also know the capacity utilization they should be at for that ship three months before departure,' he said. If current bookings stay too low compared to historical norms, carriers increase blank sailings to compensate. 'This is why blank sailings are a hugely important leading indicator," said Sunboell, who likened the data to a purchasing manager's index for container-line purchasing managers.""
Shipping: "At least five workers at FedEx Corp.'s Newark, N.J., air hub have died of complications from the virus… prompting queries from New Jersey Sen. Cory Booker over working conditions at the ai-express facility. The deaths along with those of two United Parcel Service Inc. workers in Louisville are a sign of the toll the outbreak is taking on delivery workers and the challenges companies face as they begin to reopen businesses in some U.S. states" [Wall Street Journal]. "FedEx says it has diverted some freighters from Newark to reduce the number of people needed to work there and is taking steps including use of protective equipment to protect workers at a hub that sits at the heart of a region with a large coronavirus outbreak."
Supply Chain: "Rotting food. Hungry masses. Chaotic supply chains. Coronavirus upends the U.S. food system" [Los Angeles Times]. "In less time than it takes a farmer to plant and harvest a head of lettuce, the nation's entire food industry has been flipped on its head by the COVID-19 pandemic. An intricate system for matching supply with demand, established over decades, has been thrown out of whack just as unemployment and food insecurity are skyrocketing among families…. 'The whole world is trying to figure out how to rebalance the supply and demand,' said Chris Tang, a supply chain expert and professor at the UCLA Anderson School of Management. 'We have so much food being wasted. The question is, how do you reduce the food waste so that the food will actually get to the people in need?'… [Tang] sees a new, nationwide online platform where those with food can immediately be paired up with those who need it." • Uber for food! (In retrospect, the stability of the supply chain reminds one of the Great Moderation, and its handmaiden, The End of History.)
Supply Chain: "SUVs Get Parked in the Sea, Revealing Scope of U.S. Auto Market Glut" [Bloomberg]. "There are gluts of all shapes and kinds forming in the U.S. nowadays, a testament to the scope of the economic pain the coronavirus is inflicting. Slaughterhouses are killing and tossing out thousands of pigs a day, dairy farmers are pouring away milk, oil sellers were paying buyers to take barrels off their hands last week, and now, brand-new cars are being left adrift at sea for days."
Tech: "An Amazon VP's resignation shows internal unrest is rising to the top" [Recode]. "Tim Bray, a veteran technologist and top engineer in Amazon's AWS division, referred to the firing of activist insiders — which include multiple warehouses workers and white-collar employees — as 'chickenshit' and 'designed to create a climate of fear.' '[R]emaining an Amazon VP would have meant, in effect, signing off on actions I despised,' he wrote on his blog. 'So I resigned.' Vice president is one of the top job titles at Amazon — only senior vice president and CEO are higher — so Bray's decision is noteworthy. Tech workers can spend more than a decade at Amazon and never reach the VP level because, unlike in much of corporate America, the title signifies much more than middle management. Executives who oversee all of Amazon Prime, or all of Amazon's grocery delivery services, also carry the VP title. Typically, this level of management never speaks out of line publicly." • And now that Bray has left, probably none of those remaining will.
Manufacturing: "Find a vaccine. Next: Produce 300 million vials of it." [Baltimore Sun]. "Here in the United States, more than 300 million people may need to be inoculated. That means at least as many vials and syringes — or double that amount, if two shots are required. To meet that demand, companies will have to ramp up manufacturing; products that doctors give little thought to now could easily become obstacles to vaccine delivery in the future. 'We're thinking about the vaccine, but what if the vials it is stored in, or rubber stoppers in the vial or the plungers in the syringes become the constraint?' said Prashant Yadav, who studies health care supply chains at the Center for Global Development in Washington, D.C. Timing the orders of medical products like syringes and all the raw materials required to make them will be essential. Medical device manufacturers could increase inventory or find alternative supply chains for products that are running low, but everything will need to be systematically planned. Adding the capacity to make millions more syringes could take a manufacturer as long as 18 months, for example…. A handful of manufacturers are based in the U.S., but many still have to import the glass tubing for vials, polypropylene for syringes and rubber or silicone for small parts like the stoppers and plungers in these devices. Becton Dickinson & Co., one of the world's largest manufacturers of needles and syringes, said it made nearly all components of its needles and syringes in-house in the United States. Other companies may source from their factories and partners located largely in China and India, where lockdowns and export bans have already decreased production and exports. Although syringe manufacturing is mostly automated, with parts like the barrel and plunger made from a mold and put together on an assembly line, Yadav said manufacturers in India had told him fewer employees were able to work than needed for full capacity. At least 69 countries have also banned or restricted the export of medical devices, medicines and protective equipment, according to the Global Trade Alert project at the University of St. Gallen in Switzerland, because of their own needs during the pandemic." • Sounds like a case for centralized planning.
Today's Fear & Greed Index: 44 Fear (previous close: 44 Fear) [CNN]. One week ago: 42 (Fear). (0 is Extreme Fear; 100 is Extreme Greed). Last updated May 5 at 12:40pm.
The Biosphere
Mountaintop removal:
Even when America's economy recovers from the pandemic, housebuilding may not https://t.co/R3cigRWOzU

— The Economist (@TheEconomist) May 3, 2020
"Future of the human climate niche" [PNAS]. The abstract:
All species have an environmental niche, and despite technological advances, humans are unlikely to be an exception. Here, we demonstrate that for millennia, human populations have resided in the same narrow part of the climatic envelope available on the globe, characterized by a major mode around ∼11 °C to 15 °C mean annual temperature (MAT). Supporting the fundamental nature of this temperature niche, current production of crops and livestock is largely limited to the same conditions, and the same optimum has been found for agricultural and nonagricultural economic output of countries through analyses of year-to-year variation. We show that in a business-as-usual climate change scenario, the geographical position of this temperature niche is projected to shift more over the coming 50 y than it has moved since 6000 BP. Populations will not simply track the shifting climate, as adaptation in situ may address some of the challenges, and many other factors affect decisions to migrate. Nevertheless, . As the potentially most affected regions are among the poorest in the world, where adaptive capacity is low, enhancing human development in those areas should be a priority alongside climate mitigation.
Health Care
"'The new normal': Ex-FDA chief warns U.S. may not be able to lower coronavirus infection rate" [NBC News]. "The U.S. is still experiencing a "high level of infection," Gottlieb said, and has been on a sustained plateau for about 30 days, with about 30,000 new COVID-19 cases a day and sometimes 2,000 deaths per day. While he said New York has seen a sustained decline in cases, they are increasing around the rest of the country…." • If all the United States, as a failed state, can achieve is a plateau, the obvious response from other countries would be travel restrictions on U.S. citizens, since the U.S. will have become a reservoir of infection. So much for globalization, although doubtless there will be the medical equivalent of TSA Clear for the rich and high status professionals.
"When Did COVID-19 Arrive and Could We Have Spotted it Earlier?" [Medpage Today]. "Patricia Dowd's death is currently being cited as the first known case of a COVID-19 death from community spread in the U.S…. Is it possible, then, that the COVID-19 virus was on U.S. soil earlier than January — maybe even as early as November? It's not just possible; it's likely." [Dowd's heart was damaged, and] heart muscle tissue doesn't break down and get weakened to the point of rupture until weeks after it's first been infected. More: "Given the time course of COVID-19 (>90% of people are symptomatic within 2 weeks of infection, with fatalities occurring on average 2 weeks after that), Patricia Dowd was likely infected with COVID-19 in early January — when, as it turns out, family members report her being laid up with flu-like symptoms. Dowd was a frequent traveller, and she …. Is it possible, then, that the COVID-19 virus was on U.S. soil earlier than January — maybe even as early as November? It's not just possible; it's likely. Is there a way to find out? There is. Epidemiologists can get it started. They need to (higher than the seasonal averages for past years) in U.S. regions that have close industry relationships with Wuhan: (which includes Santa Clara County), , the , and ." • If this pans out — or is allowed to pan out — my call was very early: "Globalizers were vectors for the disease's spread" in the United States.
Guillotine Watch
"The pandemic is yet to dampen demand for luxury goods resales" [FT Alphaville]. "For most of us, staying at home has meant donning leggings and hoodies. It's different for the 1 per cent. Eager to impress on Zoom, sales of statement jewellery have shot up. The RealReal, an online luxury goods retailer, reported a 40 per cent rise in earnings from Cartier earrings and sales of gold necklaces up 72 per cent month on month. Auction house Sotheby's, meanwhile, set a new record for a jewellery piece sold online, selling a Cartier bracelet from the 1930s for $1.34m." • Veblen would be pleased.
Class Warfare
"The extra $600 in unemployment insurance has been the best response yet to the economic shock of the coronavirus and should be extended" [Working Economics Blog]. "The modifications the CARES Act made to the nation's unemployment insurance (UI) system are an utterly crucial lifeline for tens of millions of American workers. Besides temporarily expanding the eligibility criteria for who qualifies for unemployment benefits through the end of the year and providing an additional 13 weeks of state UI benefits, the CARES Act also provided an extra $600 per week in UI payments through the end of July…. he modifications the CARES Act made to the nation's unemployment insurance (UI) system are an utterly crucial lifeline for tens of millions of American workers. Besides temporarily expanding the eligibility criteria for who qualifies for unemployment benefits through the end of the year and providing an additional 13 weeks of state UI benefits, the CARES Act also provided an extra $600 per week in UI payments through the end of July…. In an efficient labor market—where the playing field is level between workers and employers—the wage offers needed to get people to overcome their wariness and go to work in the face of coronavirus fears should be increasing." • Lol, "efficient labor market." Come on, man. You were doing great up to that point.
News of the Wired
I don't know what the Reddit thread's responses are (sometimes it's best not to know) but I think this is prima facie rather sweet. (Guy voice: "Sometimes… We're just a little slow.")
— relationships.txt (@redditships) May 5, 2020
"BREAKING: Millions Of Americans Sucked Out Into Space After NASA Accidentally Open Airlock Above Headquarters" [The Onion]. "'Earlier this morning, a computational malfunction opened the NASA Earth Airlock above our Washington D.C. headquarters, sending millions of individuals, cars, and livestock flying upwards into the sky and out into the reaches of outer space,' said agency administrator Jim Bridenstine."
* * *
Readers, feel free to contact me at lambert [UNDERSCORE] strether [DOT] corrente [AT] yahoo [DOT] com, with (a) links, and even better (b) sources I should curate regularly, (c) how to send me a check if you are allergic to PayPal, and (d) to find out how to send me images of plants. Vegetables are fine! Fungi and coral are deemed to be honorary plants! If you want your handle to appear as a credit, please place it at the start of your mail in parentheses: (thus). Otherwise, I will anonymize by using your initials. See the previous Water Cooler (with plant)
here. Today's plant (CR):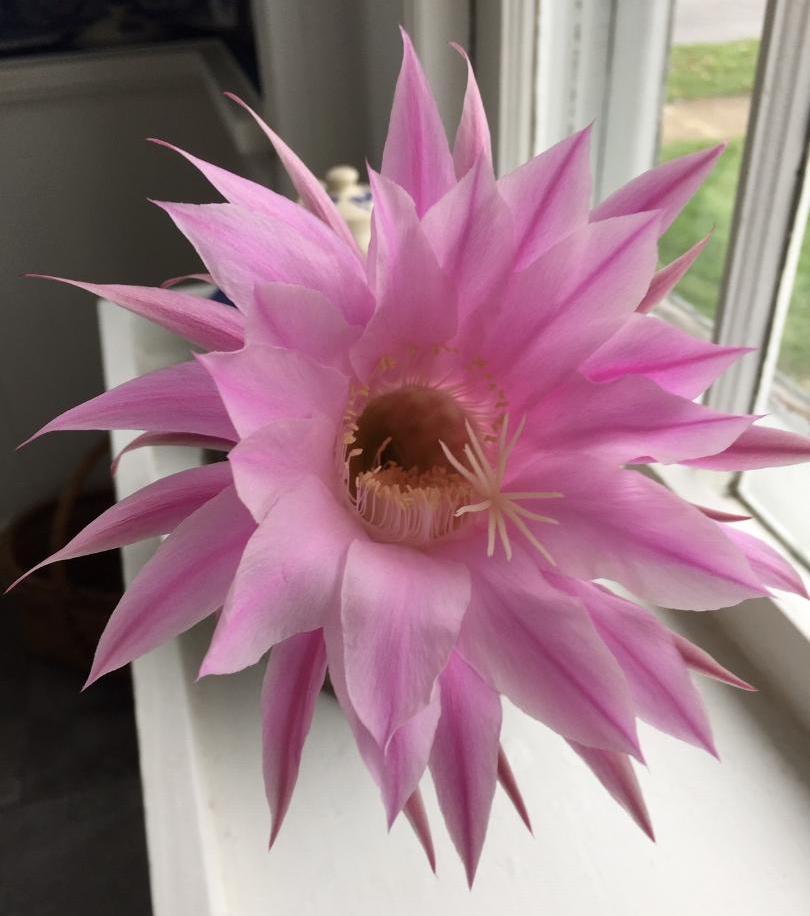 CR writes: "Once-a-year cactus bloomed today (3/27/2020). A 97-yr old friend potted up this cactus & gave it to me. She's gone now and I think of her very often, but I do regard the one day a year or the cactus blooms as Belle's day." I'm sorry I missed the anniversary, but I (mostly) go through plants in order submitted. (So if you have an anniversary, please mention it in the subject line, so I don't miss it.)
And here is a gardening project (AMM):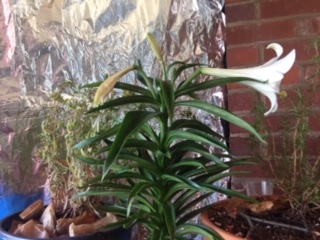 AMM writes: "Aluminum wall to reflect light on my herbs." This is a porch garden. So you can see it doesn't take a large space to conceive a project, execute it, and then monitor it for success.
* * *
Readers: Water Cooler is a standalone entity
not covered by the annual NC fundraiser. So if you see a link you especially like, or an item you wouldn't see anywhere else, please do not hesitate to express your appreciation in tangible form. Remember, a tip jar is for tipping!
Regular positive feedback both makes me feel good and lets me know I'm on the right track with coverage. When I get no donations for five or ten days I get worried. More tangibly, a constant trickle of donations helps me with expenses, and I factor in that trickle when setting fundraising goals:
Here is the screen that will appear, which I have helpfully annotated.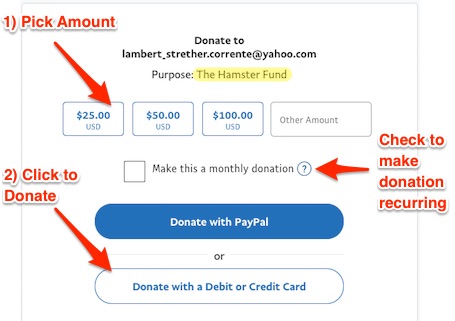 If you hate PayPal, you can email me at lambert [UNDERSCORE] strether [DOT] corrente [AT] yahoo [DOT] com, and I will give you directions on how to send a check. Thank you!

Original Source