By Lambert Strether of Corrente.
#COVID19
At reader request, I've added this daily chart: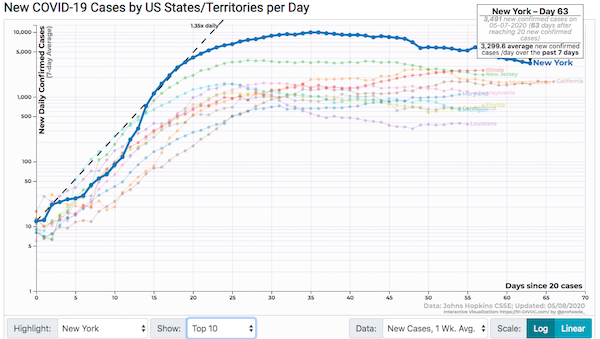 The data is the John Hopkins CSSE data. Here is the site. I have changed to a logarithmic scale for US States and territories.
Once again, "Default view is now new cases/day" which changes the graph, more optimistically, and perhaps more accurately. I can change this back to "Total Confirmed Cases" if readers prefer. I thought I'd pick the "Top 10" states, which are the worst off.
* * *
See Vice, "How to Read the Coronavirus Graphs":
Quantities that grow exponentially, when depicted on a linear scale, look like curves that bend sharply upward, with the curve getting constantly steeper. On a log scale, exponentially growing values can be depicted with straight diagonal lines.

That's the beauty of plotting things on log scales. Plots are meant to make things easy to understand, and we humans are much more adept at understanding linear, straight-line behavior. Log plots enable us to grasp exponential behavior by transferring the complexity of constantly steepening curves into the simplicity of an exponentially increasing scale.

On a log scale, we want to constantly be making the line more and more horizontal. The general concept of "flattening" is still a good one, but it's never going to curve down. And so what we should be looking, and hoping for is a trend toward horizontal.
Politics
"But what is government itself, but the greatest of all reflections on human nature?" –James Madison, Federalist 51
"They had one weapon left and both knew it: treachery." –Frank Herbert, Dune
"They had learned nothing, and forgotten nothing." –Charles Maurice de Talleyrand-Périgord
* * *
2020
Biden (D)(1): "Joe Biden hosted a virtual campaign rally in Tampa. It didn't go great." [Tampa Bay Times]. Holy ****!

Weeks after all but clinching the Democratic nomination, Vice President Joe Biden returned to the presidential trail Thursday with a pair of virtual events in Florida, home to 29 crucial electoral votes.

There were internet issues.

The first event featured a discussion with African American leaders from Jacksonville. That one was not broadcast. Considering what happened next in Tampa, that might have been a smart move.

The 5:15 p.m. "virtual rally" ostensibly set in Tampa streamed live on YouTube. Sort of.

iden's campaign tried to make the e-rally feel as close to a normal political celebration as possible. A Tampa DJ played warm-up music between speakers. A Jesuit High School student read the pledge of allegiance from what appeared to be his home.

But the livestream of the rally was beset by technological failures. Speakers, including U.S. Reps. Charlie Crist, Kathy Castor, and State Sen. Janet Cruz, appeared pixelated. Their feeds were visibly delayed as if they were transmitting from Afghanistan, not Tampa Bay.

At one point, the stream cut to black with no audio for several minutes.

Finally, 40 minutes into the rally, Biden was introduced. And what an entrance.

A full-seven seconds after his introduction, Biden appeared, not moving. As he leaned against a wall, Biden sported his trademark aviators.

He then walked up the camera, still wearing the shades. It sounded like he said "Just me?" as he looked off camera. Next, he walked up closer. "Now?"

Every so often, I think that the Biden campaign is running a "Rose Garden" strategy. Very clever and strategic. Then something like this happens, and I think that the Biden campaign is like the Clinton campaign, but more stupid.

Biden (D)(2): "'Clear warning signs': Focus group shows lack of enthusiasm for Biden among the young" [NBC]. "Joe Biden is in no danger of losing young voters to President Donald Trump. But he faces a lack of enthusiasm among Millennials and Gen Z voters with the potential to decide his fate if they stay home or vote for a third-party candidate. Many of these voters preferred Bernie Sanders in the Democratic primary and perceive Biden as a blank slate. They aren't sure that he's a change agent or that his policies match the scale of their problems. Some worry about his age and fitness. Most seem open to supporting Biden to stop Trump but need to hear more from him. That's the conclusion of new focus groups that delve into the mindset of Millennial and Gen Z voters who self-identify as Democrats or independents in 11 battleground states. They were conducted in late and mid-April by the political consulting firm Global Strategy Group on behalf of NextGen America, a youth-focused progressive advocacy group." • Ugh. Some horrid NGO.

UPDATE Biden (D)(3): "Penn Students Toss Out Penn Dems For Endorsing Joe Biden In Light Of Assault Allegations" [Jonathan Turley]. "There is no reason that Biden would not waive access to any and all papers, including those at the University of Delaware, on any allegations of sexual harassment or sexual assault by anyone. He has already denied any such prior allegations. If that it true, all that will happen is that an independent review will find that no one has made such allegations against him. Instead, Biden (after weeks of delay) first assured the public that any such material would be found at the National Archives, which the Archives said was untrue. He then called for release of any documents from the Senate, which the Senate said was not possible. The only consistent position is that Biden has steadfastly refused to open up his papers at the University of Delaware."

UPDATE Biden (D)(4): "Biden should step aside. We can't sacrifice another woman for political gain." [Lyz Lenz, WaPo]. "Before Reade went public with her allegations, I had been committed to voting for the Democratic nominee, even if that person wasn't my preferred candidate. And I intended to vote for Biden despite having had an unpleasant experience with him on the campaign trail. In September 2019, in my role as a columnist for the Cedar Rapids Gazette, I moderated a forum on LGBTQ issues with several presidential candidates. At the forum, I asked Biden about his history of voting for the military policy known as 'Don't ask, don't tell,' and he replied, sarcastically, "Well, aren't you nice?" I replied, 'Just asking what people want to know.' The audience applauded. Later, as we walked off the stage, he walked by me and said, dryly, 'Well, aren't you a real sweetheart.' I tweeted the exchange and it went viral. I spent that weekend hiding in my house from the harassment and death threats — people accusing me of making it up, of misunderstanding him, of attacking him. He never apologized. I bring this up not just for transparency, but because I know, in a very small way, what it's like to be part of an inconvenient political narrative." • Biden doesn't seem to handle criticism well, at least from his social inferiors on the trail.

UPDATE Biden (D)(5): "Biden's VP Pick Charts the Future Course for the Democratic Party" [Cook Political Report]. "To put it another way, Biden's pick matters more in terms of where the party is heading over the next few years than in terms of who wins this year. Five of the last 13 vice presidents (Harry Truman, Lyndon Johnson, Richard Nixon, Gerald Ford, and George H.W. Bush) have gone on to become president. Two assumed the highest post after the death of a president (Truman and Johnson), one assumed office after a resignation (Ford), one was elected at the end of eight years as vice president (Bush), and another was elected eight years after leaving the No. 2 post (Nixon). As Jonathan Martin and Alexander Burns pointed out in The New York Times on Sunday, 'The ramifications of Mr. Biden's choice will be profound. Even if he loses in November, his decision will all but anoint a woman as the party's next front-runner, and potentially shape its agenda for the next decade, depending on if she is a centrist or someone more progressive.'" • Warren: 74 years old in 2024. Harris: 59 years old in 2024. Abrams: 50 years old in 2024. A fun game to play!

UPDATE Biden (D)(6): "Joe Biden is looking for a running mate. Many Democrats have strong ideas — and few agree." [WaPo]. "'Senator Sanders and his team are not advising the Biden campaign's vice-presidential selection process in any way, shape or form,' said Sanders spokesman Mike Casca, who said the senator's priority remains the party platform." • There are limits….
Obama Legacy
2010….

what a moron https://t.co/0qYZgW402p

— ryan cooper (@ryanlcooper) May 7, 2020
Realignment and Legitimacy
"The full-spectrum failure of the Trump revolution" [Damon Linker, The Week]. "Nearly three-and-a-half years into the Trump era, it's possible to take stock of the populist revolution Trump promised to lead, and the fact is that it has been a full-spectrum failure. The 45th president has been an immigration hardliner and he started a series of trade wars that have accomplished little beyond raising prices for imported goods. But beyond that, what do we have? Flagrant corruption, conflicts of interest, nepotism, inconstancy, incompetence, and a complete incapacity to speak and act as head of state — combined with harsher and dumber versions of the same policies any Republican elected in 2016 would have pursued…. "

"Knock, Knock, Who's There? No Political Canvassers, for the First Time Maybe Ever" [New York Times]. "For decades, showing up on a voter's doorstep has been one of the most reliable ways to get people to the polls. Now political parties and candidates that put tens of millions of dollars into training and deploying door knockers are grappling with costly, consequential and imminent decisions about whether they should even invest in traditional brick-and-mortar infrastructure that powers such operations." • Go long social distancing, in another context. Yglesias:

This will hopefully be the pretext Democrats need to recognize that labor intensive field operations don't come close to passing cost-benefit scrutiny in presidential or statewide races. https://t.co/wFdRm9QI1s

— Matthew Yglesias (@mattyglesias) May 7, 2020

It's not clear to me that Sanders could have California any other way.

DSA watch:

Everybody's arguing about this person's age, innocence, and the impropriety of roasting her instead of the fact that fully adult ppl who think *exactly like her* completely took over DSA, the broader online left, and now constitute the public face of "socialist" politics. pic.twitter.com/Tnyx8yh9fE

— Dorf on Gough Whitlam (@htmlmencken) May 7, 2020
Stats Watch
At reader request, I added some business stats back in. Please give Econintersect click-throughs; they're a good, old-school blog that covers more than stats. If anybody knows of other aggregators, please contact me at the email address below.
Employment Situation: "April 2020 BLS Jobs Situation – Worst Report Ever" [Econintersect]. "The headline seasonally adjusted BLS job growth showed the worst ever job loss ever with the U-6 unemployment rate at 22.8% (headline unemployment was 14.7 %)…. today's job report has wiped out all the jobs gain this century." • And those jobs weren't that great. And whaddaya know:
This shock is aimed straight at working class people, with disparate impacts by education and occupation and dramatically lower impact on college grads who sit in offices.. pic.twitter.com/kBLIHBYrqz

— George "Grants To State & Local Gov NOW" Pearkes (@pearkes) May 8, 2020
Containers: "Port of Los Angeles Container Volume Falls Six Percent" [Maritime Executive]. "Container volume increased in The Port of Los Angeles during the month of April, but volume is down significantly year-over-year as the port and shipping lines operating from Los Angeles continue to feel the impact of the coronavirus pandemic…. Port Executive Director Gene Seroka announced that the Port of Los Angeles moved about 690,000 TEU in April 2020. This volume represents a 53 percent increase over March 2020, but is a decrease of about six percent compared to April 2019."
Rail: "Rail Week Ending 02 May 2020 – Rail Contracted 21.2% In April" [Econintersect]. "Total rail traffic has been mostly in contraction for over one year – and now is taking a hit from coronavirus. The carloads intuitive sector's rolling average again worsened this week and now is historically low. Intermodal has a serious contraction due to the logistic headwinds of the coronavirus…. Intermodal and carloads are under 2013 levels. Whilst container exports from China are now recovering, container exports from the U.S. continues to slow."
* * *
Bailouts: "Inside a 1099 contractor's journey to coronavirus relief" [Banking Dive]. "The Small Business Administration (SBA) didn't open its PPP loan portal to applications from 1099 filers until a week into the window. And by then, it was too late for many. 'The SBA didn't open up apps until April 10 for 1099 contractors, and didn't give any lender guidance for how to process these applications until April 15, and then the funds ran out the next day,' a spokesperson at online lender Kabbage said. '1099 contractors had very little opportunity across the board and across the country.'"
Finance: "Businesses, Consumer Groups Push To Keep Cash Alive" [PYMNTS.com]. "The Consumer Choice in Payment Coalition (CCPC), made up of numerous businesses and consumer representatives, aims to protect the use of cash against the encroaching tide of digital pay. The Coalition will first be pushing HR 2650, or the Payment Choice Act of 2019. That bill, introduced by Rep. Donald M. Payne Jr. (D-NJ), would maintain cash as a valid method of payment nationwide, going against some places phasing it out as a source of payment. Preserving cash has proved popular among several states, including New Jersey and cities like New York, San Francisco and Philadelphia, which have all passed laws mandating that cash be accepted everywhere." • Sanity?
Retail: "Dollar General is thriving. But workers say they pay the price" [NBC]. "Since the mid-1950s, Dollar General's beaming yellow-and-black signs have flourished across the country in some of the most rural areas. The company operates 16,000 stores nationwide, selling brand names at steep discounts in predominantly low-income areas that are too small for Walmart or other large grocery stores…. Even in the midst of the global coronavirus pandemic, Dollar General is still growing. Its stock price reached a record high last month, as consumers lean on its stores to stock up on essential items. It announced it will hire 50,000 people to support the influx of shoppers…. Stores are open for business with rodent infestations, rotting food, exposed electrical wires and broken toilets, according to an NBC News review of health inspection reports and interviews with more than a dozen current and former Dollar General workers. Employees say they have been stabbed, shot, held at gunpoint, punched and pistol-whipped on the job. Some have been made to work by flashlight during regional electrical blackouts. Some are left alone in stores for hours, working under a payroll system so tightly controlled that managers say they work overtime stocking shelves, a cost-cutting measure that has led to multiple class-action lawsuits against Dollar General."
Retail: "Sephora Makes Plans to Reopen" [Dissent]. Holy moley:
But the thing that made the employee reach out to a reporter was the store's plan to reopen, which did not strike them as safe. They were told that they would be expected to return to work as soon as the city allowed them to reopen. "They're claiming that there will be [PPE] available," they said. "Our CEO's communications that go out to all employees said that Sephora employees would be taken care of through the end of May or until stores opened, whichever comes sooner. If the stores don't open, we all get fired. And if the stores do open, we have our health put on the line for people who want to return makeup."

The workers, they said, have been told to expect a lot of returned products, as customers would be trying to save money.

They plan on taking returns from clients, but that physically puts workers, especially in cashier positions, in danger, because we know the virus can live on surfaces for x number of days or x number of hours, and it's not like they're going to scan a barcode and then throw it in the garbage outside. There'll be multiple people in our operations team handling these and our cash wrap team handling these. Even with PPE, we just don't have the resources for everyone to stay physically safe from harm.

Returns, the worker said, normally go in the trash if it cannot be verified that the product has not been opened. "In this case, they have said that everything will be thrown out. But they've also said that there will be testers made. And that when we go back to stores, a lot of our work will be making testers"—communal samples for customers to use in-store.

At the best of times, makeup testers are, the worker noted, "pretty gross. You can't trust anything that anyone else has handled." But in this situation, they noted, "For the safety of employees, for the safety of clients, it's unconscionable."
Shipping: "Deluge of medical cargo cripples Shanghai Pudong airport" [Freight Waves]. "Freight gridlock at Shanghai Pudong International Airport is so bad that some cargo planes are being forced to leave nearly empty and logistics companies are recommending ocean transportation as a faster option. Airfreight professionals describe an operational meltdown, with trucks stuck in queues for two to three days to drop off shipments and boxes piling up in warehouses unable to get put on aircraft because Chinese customs officials and ground handlers are overwhelmed by the surge in export demand for face masks and other medical supplies. The volume of hospital gear, resumption of e-commerce and other trade following China's coronavirus quarantine and new export restrictions are blamed for the massive backlog, which was compounded by factories rushing out extra shipments before closing for the May Day holiday. 'In my 20 years, I have never experienced this level of congestion at any airport. And there are no signs of this alleviating in the next week to 10 days,' especially with factories reopening again, Neel Jones Shah, the global head of airfreight at San Francisco-based Flexport, said in an interview."
Shipping: "The world's main maritime regulator wants governments to help shipping companies unravel a logistics nightmare that has left thousands of seafarers stranded. The International Maritime Organization says the inability to change crews because of coronavirus travel restrictions has emerged as the biggest challenge facing ship operators" [Wall Street Journal]. "The problem worsened in recent days when the Philippines suspended international flights, a sharp blow in a country that provides about a quarter of the world's 1.6 million seafarers. That has potential replacement crew members stranded, adding to problems that have arisen at ports that have barred ship crews from disembarking out of concerns over the spread of coronavirus. One crewing company says it has more than 11,000 sailors on ships who have gone three months beyond their service contracts."
The Bezzle: "The Results Are In for the Sharing Economy. They Are Ugly." [New York Times]. "The coronavirus pandemic has gutted the so-called sharing economy. Its most valuable companies, which started the year by promising that they would soon become profitable, now say consumer demand has all but vanished. It is not likely to return anytime soon. In earnings reports this week, Uber and Lyft disclosed the depth of the financial damage. The companies said their ride-hailing businesses all but collapsed in March, the last month of the first quarter, as shelter-in-place orders spread through Europe and the United States. The red ink extends beyond ride hailing. The home-sharing company Airbnb, which investors valued at $31 billion, had planned to go public this year. … The companies, founded on the notion that they should become as big as possible as quickly as possible and worry about making a profit somewhere down the line, now face an uncertain future. And their timelines for turning a profit appear — for now — to have been tossed aside." • That's a damn shame.
The Bezzle: "Rent The Runway Is Risking Workers' Lives To Ship Designer Dresses In A Pandemic" [HuffPo]. "Rent the Runway's warehouses are distributing shipments of high-end fashion apparel to be rented and worn in isolation. Although Rent the Runway has given its customers the option to pause their rental subscriptions during this time, many have rejoiced at the chance to take photos of themselves wearing items from luxury brands that would normally be unavailable, as Refinery29 noted in its April 15 essay, 'I'm Still Using Rent the Runway — Here's Why.' The company told HuffPost that it is considered to be an essential business under the fulfillment center carve-out and that it is providing 'continued employment opportunities while ensuring the short and long term future of our business.' To make sure its operations are not disrupted, it has even drafted documentation for certain Secaucus warehouse employees to carry around in case police officers or government officials question them about the nature of their work: 'Our operations are not covered by New Jersey Executive Order 107 and this employee is needed to provide on-site services," those letters claim. 'They found a loophole they could take advantage of,' Randy, a 58-year-old clothing cleaner, said of his employer. 'It was very sneaky of the company to remain open in the middle of the COVID-19 pandemic so that women could order dresses and wear them for mirror selfies.'" • What a great warehouse job, cleaning used clothing during a pandemic.
Tech: "Surge in Zoom support requests was 'unexpected', says tool team as it turns taps down" [The Register]. "Video conferencing darling of the hour, Zoom, has tightened up support rules in order to 'better serve' users. Word came to Vulture Central from Register reader Michael, who had had a couple of support tickets abruptly closed without action. He received only a terse statement from the company that some users would need to roll their own solution with Zoom's online resources. While boasting that the Zoom Support Center has maintained 24×7 operations, the company said in its new, updated Support Guidelines that: 'Given increased usage from businesses small and large and exponentially growing demand from the education and healthcare sectors, we have experienced an unexpected surge in support requests.' The consequence is that the taps have been turned off for free accounts, which is understandable. However, end users of any account (notably the ones that Zoom charges for) are also affected as the company deals with the 'unprecedented period.'"
Manufacturing: "Makers of consumer staples like toilet paper and hand sanitizer are finally catching up with soaring demand during the coronavirus pandemic. … Clorox Co. and Lysol maker Reckitt Benckiser Group PLC are still far behind the consumer demand after sales of sanitizing wipes more than doubled in the past two months" [Wall Street Journal]. "The challenge is a lesson in the limits of flexibility in supply chains. While many companies have reset operations to meet demand for cleaning products, disinfectant wipes simply can't be made as readily as hand sanitizer. Clorox is moving to increase production of disinfectant products that has already grown by 40% this year and it's investing in expansion, with the expectation that demand for cleaning products will remain high for the foreseeable future."
Honey for the Bears: "The U.S. Labor Market During the Beginning of the Pandemic Recession" (PDF) [Becker Friedman Institute]. Business failures:
While the majority of the employment decline occurred among continuing businesses, measured business exit—or temporary suspension of operations—plays a substantial role in the overall collapse, particularly among smaller businesses. This is an alarming pattern which may have relevance for the pace of recovery. . From the perspective of business owners, the failure of a business means the loss of income and probably a large share of household assets. From the perspective of the macroeconomy, business failures mean the destruction of intangible capital and even the loss of some physical capital, particularly in light of costly capital reallocation. From the perspective of communities and neighborhoods, business failure means dramatic, sometimes irreversible changes to the local physical economic landscape. While some recessions see elevated failure of low-productivity businesses (thereby enhancing aggregate productivity), we have no reason to expect exit selection to function constructively in the current environment, where business revenue losses are determined by the rapid onset of a health crisis.
So much for "reconstituting [our] communities of engineering practice"….
Mr. Market: "Why the stock market is up even with historic job losses" [CNBC]. "A record number of Americans just lost their job, and yet stocks are moving higher. This seems paradoxical given the economic toll — to say nothing of the emotional toll — on millions of people across the country without a job. While some say this is further indication that the stock market has become decoupled from reality, others say there are clear reasons why stocks have rebounded, and can continue to move higher. For one, the jobs data in and of itself is backward-looking. The April figures — which saw a record 20.5 million Americans lose their job — is from the height of the crisis. Since then, economies have begun to reopen. There is still a long way to go, of course, but the market is discounting what's going to happen six months from now, when most states will be getting back to business. Strategists also point out that the losses have been somewhat concentrated in the leisure and hospitality sector, whose underperformance has overshadowed strength in other areas of the market. And with the government and federal reserve providing record stimulus measures, some argue that once businesses do get back up and running, the recovery will be swift."
Mr. Market: "The Unemployment Rate Is 15 Percent. Here's Why the Stock Market Doesn't Mind." [Eric Levitz, New York Magazine]. "The rally in equities over the past few weeks has had plenty of detractors. Bears insist that investors are deluding themselves about the plausibility of a "V-shaped recovery," and/or the insulation of major firms from the consequences of mass bankruptcies. And yet, a growing number of Wall Street investors and analysts have made peace with the dissonance between the markets' fortunes and their own. In their view, capitalists haven't lost touch with reality — equity values simply no longer depend on the functioning of society. The bulls' case goes roughly like this: For years now, America's corporate sector has been preparing for an economy fueled by the consumption of white-collar shut-ins, the labor of disempowered service workers, and the human-proofing of various industrial processes — without quite realizing that it was doing so…. The market isn't the economy. Capitalists don't need it to be safe for you to leave your house — or possible for 30 million unemployed Americans to find jobs — in order to make healthy profits. The next industrial revolution will be livestreamed. Come on in, the S&P 500's fine."
Today's Fear & Greed Index: 44 Fear (previous close: 40 Fear) [CNN]. One week ago: 43 (Fear). (0 is Extreme Fear; 100 is Extreme Greed). Last updated May 8 at 12:47pm.
The Biosphere
"Pipeline loses permit, but construction continues" [Native Sun News Today]. "Even after a federal judge here revoked permission for the Keystone XL Pipeline construction across unceded 1868 Ft. Laramie Treaty territory in mid-April, the Canadian builder of the private hazardous materials infrastructure was still proceeding with work in May all along the route across Montana, South Dakota and Nebraska…. Pipeline watchdogs documented truckers and contractors working at construction sites, stockpiling apparently weathered pipe sections, in South Dakota and Nebraska."
Health Care
"Structural Basis for Potent Neutralization of Betacoronaviruses by Single-Domain Camelid Antibodies" (PDF) [Cell]. "Using llamas immunized with prefusionstabilized betacoronavirus spike proteins, Wrapp et al. identify neutralizing cross-reactive single-domain camelid antibodies, which may serve not only as useful reagents for researchers studying the viruses causing MERS, SARS, and COVID-19, but also potential therapeutic candidates." • Yay, llamas!
Virology is pleasingly contentious, it seems:
Three rebuttals published in response the that terrible "A, B, C" paper in @PNASNews on the same day! Maybe just retract it? pic.twitter.com/SdsVahzbZW

— Nathan Grubaugh (@NathanGrubaugh) May 7, 2020
"This article has letters." Those are the rebuttals, linked to below in the thread.
The 420
"Marijuana May Not Lower Your IQ" [Scientific American]. "With epidemiological twin studies, a researcher is able to look across an entire sample and summarize all the relevant effects. Two such researchers are Nicholas Jackson of the University of Southern California and William Iacono of the University of Minnesota, who worked with their colleagues to examine data from two longitudinal studies of adolescent twins in California and Minnesota. The researchers measured the twins' intelligence between nine and 12 years of age, before any drug use, and did so again between ages 17 and 20. Exactly as in the Dunedin study, marijuana users had lower test scores and showed notable reductions in IQ over time. But in Jackson and Iacono's analysis, marijuana use and IQ were completely uncorrelated, and IQ measures fell equally in both the users and abstainers. Subsequent twin studies, including one performed with U.K. data by the Dunedin team, corroborated these findings of no relationship between marijuana use and a falling IQ. How can we explain these discrepancies?" • To which the answer is: We haven't.
Our Famously Free Press
"Are you there God, it's me, Jed? w/Very Special Guest David Sirota" (podcast) [The West Wing]. • Yes, there is an entire podcast from two screenwriters devoted to demolishing critiquing "The West Wing." For those who, like me, have never seen the television series, and yet keep hearing that The West Wing forms an essential part of the liberal Democrat weltanshauung, this could be useful. It is funny.
"The Leftist Podcast Strikes Back: Current Affairs Promotes True Ant Content" [Daily Ant]. "Just a few weeks ago, we penned an editorial taking alleged leftists Katie Halper and Matt Taibbi to task for the egregiously anti-ant content on their podcast. Today, we have much more uplifting news to share: A genuine leftist outlet, Current Affairs, hosted a live stream discussion among their editorial and writing staff, and chose to open their chat with an exciting story about ants! Unlike the charlantans Halper and Taibbi, the Current Affairs crew prove their myrmeco-friendly bona fides with an exemplary display of ant empathy."
Games
"Nintendo profits soar 41%, mainly from 'Animal Crossing'" [CNN]. "Nintendo (NTDOF) said on Thursday that it made 352 billion yen ($3.3 billion) in operating profit for the fiscal year ended in March — a 41% surge from a year ago, and the highest in nine years. Profit in the three months to March more than tripled compared with the previous quarter. Sales were driven this spring in large part by the breakout success of 'Animal Crossing: New Horizons,' a game set on an island utopia. The company sold more than 13 million units of the game in its first six weeks of release. 'Animal Crossing' and the hardware it runs on, the Nintendo Switch game console, have been in high demand as people worldwide remain stuck indoors because of efforts to contain the spread of the coronavirus. The Switch, which was first released in 2017, has sold out on several websites."
"Giant Leak Releases Nintendo Source Code Into the Wild" [Popular Mechanics]. "Insiders say two terabytes of legacy Nintendo secrets have leaked online. Nintendo guards its proprietary information with notoriously tight fists, but the leak is said to have come from a third-party company's servers…. The leaked information presents a threat to one specific kind of Nintendo business: rereleases and ports of the company's own old titles. With source code from the N64, GameCube, and Wii, people will be able to turn old games into emulation files, or ROMs, that users can download and play on computers and even specially rigged consoles. Because consoles are proprietary and have optimized hardware for graphics, the files get more complex and harder to crack and then emulate…. Nintendo has rereleased very few old games on the Switch, compared with the Virtual Console on the Wii. Now, with real N64 source code in hand, the world is our emulated oyster."
Groves of Academe
"The Pandemic Is the Time to Resurrect the Public University" [Cory Robin, The New Yorker]. This is an excellent article, as one expects of Robin. Robin works at CUNY: "for all the talk of the poor and students of color at the Ivy League, the real institutions of mobility in the United States are underfunded public universities. Paxson may believe that 'a university campus is a microcosm of any major city in the U.S.,' as she told NPR, but cuny is no microcosm. With nearly two hundred and seventy-five thousand students and forty-five thousand staff—a population larger than that of many American cities—it is what the Latin root of the word "university" tells us higher education should be: the entire, the whole. " I had no idea CUNY was so enormous. And here's a telling detail: "At cuny, even in the best of times, we often don't have soap in our bathrooms. We also still have push faucets. To wash one hand, I must use the other to twist and hold one of the sink's two handles, hard and continuously. This produces water of a single temperature—cold—leaving me, always, with one hand that's touched a surface and must remain unwashed. It's hard to imagine coronavirus tests when washing both hands is nearly impossible."
"The Anatomy of a Failing University" [Counterpunch]. "The reasons for failing are many." • Here follows a long and accurate list. Concluding: "With Covid-19, [the university] is facing an existential threat that has accelerated the problems it has faced for years. Now the trustees, administrators, and faculty sit around in meetings and wonder why the university is failing. Perhaps they need to hire an expensive consultant to figure it out."
Class Warfare
"The Makings of A Capitalist Dystopia" [Black Agenda Report]. "The uncritical and unquestionable belief of science as objective coupled with desperate hysteria has made it significantly easier for the state to use this crisis to criminalize everyday citizens, specifically colonized people. State officials have not gone through much of the same lengths to ensure proper protective gear, resources, and/or even testing for the people as they have locking-down the state. Instead, these last weeks have been met with "stay at home" (self-quarantine) orders coupled with curfews and mandatory masks orders (during a publicized mask shortage) that have been enacted in multiple states under the guise of flattening the curve."
News of the Wired
"The Difference Between a 'Karen' and a 'Becky,' Explained" [The Root (MJS)]. "A 'Karen' is basically a graduated Becky who's extremely aware of her privilege and weaponizes it. A Becky convinces herself—and attempts to convince others—that her whiteness doesn't matter. A Karen doesn't even bother to fake it. She knows it's her Big Joker and plays it whenever necessary." • Thanks to MJS for this clarifying link!
* * *
Readers, feel free to contact me at lambert [UNDERSCORE] strether [DOT] corrente [AT] yahoo [DOT] com, with (a) links, and even better (b) sources I should curate regularly, (c) how to send me a check if you are allergic to PayPal, and (d) to find out how to send me images of plants. Vegetables are fine! Fungi and coral are deemed to be honorary plants! If you want your handle to appear as a credit, please place it at the start of your mail in parentheses: (thus). Otherwise, I will anonymize by using your initials. See the previous Water Cooler (with plant)
here. Today's plant (MG):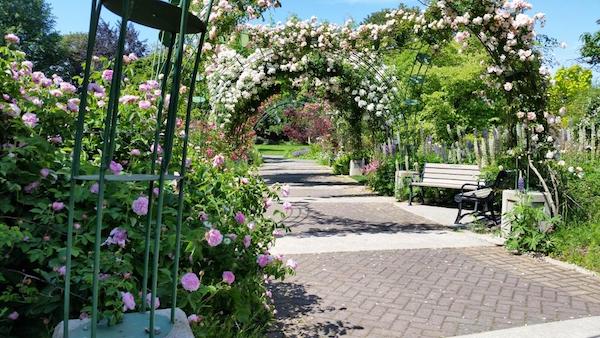 MG writes: "Taken a few years back, at our local public rose garden. It came up on my
PC's wallpaper rotation after a number of snowy or more somber scenes, and
as it is a rainy, grey day today . .. well when it came up it hit my eyes
like a 100-watt lamp. Hope it at least brightens your day. And I hope you and all our much-appreciated NCers are well. Make a special hello to Jules who is mostly behind the scenes and obviously quite a trooper."
* * *
Readers: Water Cooler is a standalone entity
not covered by the annual NC fundraiser. So if you see a link you especially like, or an item you wouldn't see anywhere else, please do not hesitate to express your appreciation in tangible form. Remember, a tip jar is for tipping!
Regular positive feedback both makes me feel good and lets me know I'm on the right track with coverage. When I get no donations for five or ten days I get worried. More tangibly, a constant trickle of donations helps me with expenses, and I factor in that trickle when setting fundraising goals:
Here is the screen that will appear, which I have helpfully annotated.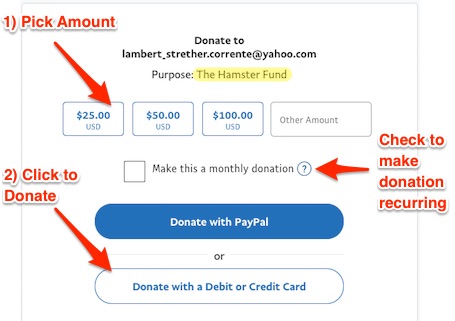 If you hate PayPal, you can email me at lambert [UNDERSCORE] strether [DOT] corrente [AT] yahoo [DOT] com, and I will give you directions on how to send a check. Thank you!

Original Source