By Lambert Strether of Corrente.
#COVID19
At reader request, I've added this daily chart: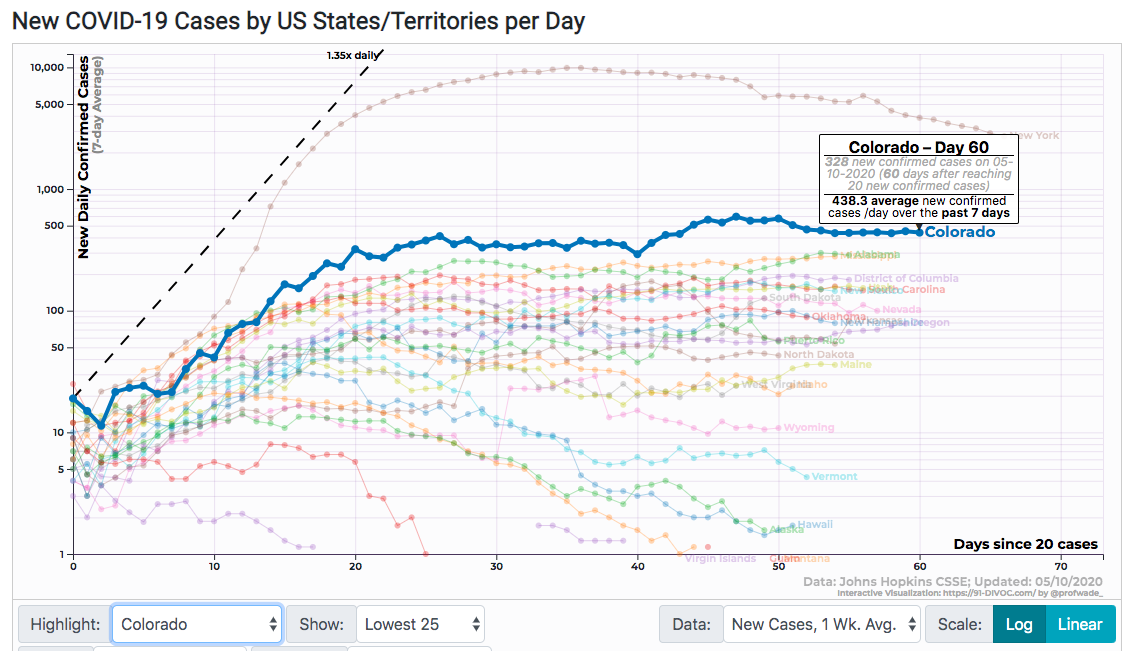 The data is the John Hopkins CSSE data. Here is the site. I have changed to a logarithmic scale for US States and territories.
Once again, "Default view is now new cases/day" which changes the graph, more optimistically, and perhaps more accurately. I can change this back to "Total Confirmed Cases" if readers prefer. I thought I'd pick the "Bottom 25" states, which are the best off, highlighting Colorado, home of Castle Rock restaurant. Here is the latest New York Times map of re-opening (and not re-opening) states"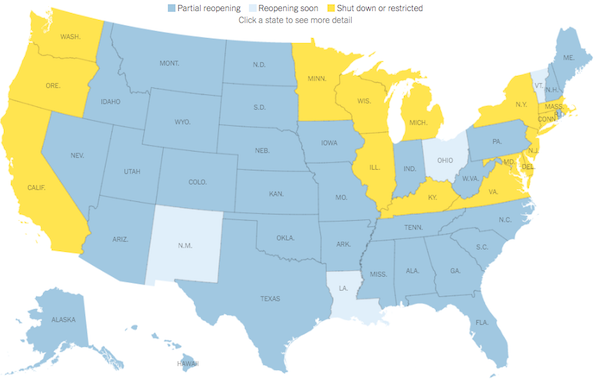 * * *
See Vice, "How to Read the Coronavirus Graphs":
Quantities that grow exponentially, when depicted on a linear scale, look like curves that bend sharply upward, with the curve getting constantly steeper. On a log scale, exponentially growing values can be depicted with straight diagonal lines.

That's the beauty of plotting things on log scales. Plots are meant to make things easy to understand, and we humans are much more adept at understanding linear, straight-line behavior. Log plots enable us to grasp exponential behavior by transferring the complexity of constantly steepening curves into the simplicity of an exponentially increasing scale.

On a log scale, we want to constantly be making the line more and more horizontal. The general concept of "flattening" is still a good one, but it's never going to curve down. And so what we should be looking, and hoping for is a trend toward horizontal.
Politics
"But what is government itself, but the greatest of all reflections on human nature?" –James Madison, Federalist 51
"They had one weapon left and both knew it: treachery." –Frank Herbert, Dune
"They had learned nothing, and forgotten nothing." –Charles Maurice de Talleyrand-Périgord
* * *
2020
Biden ((D)(1): [heavy sigh]:

Hillary is selling tickets to a zoom call with Biden and Perez for $100,000 . This is NOT A JOKE, and they wonder why they lose.

LMAOOOOOOOOO pic.twitter.com/FdRwJ5H6qc

— Sāvion For Congress (@SavionForUS) May 9, 2020

You know that liberal Democrats believe that Sanders running a small-donor based campaign at scale was the most important thing about his candidacy. How? They never talk about it.

Biden (D)(2): [puts head in hands]:

I have a better idea: give people coronavirus economic relief and don't hold their hard-earned benefits hostage. https://t.co/b8cT22xGfd

— Joe Biden (@JoeBiden) May 11, 2020

That's not an idea. Does everyone know about the Biden Insult Bot?

You jackknifed the wrong turnip truck, ya shin-crackin' bellywobbler

— Joe Biden Insult Bot (@BidenInsultBot) May 11, 2020

It looks like there's a Biden Platitude Bot, too, and whichever intern is running the Biden Twitter account is pinging it.

Biden (D)(3): "Should democratic socialists endorse Joe Biden?" [NJ.com]. "Good politics meets people where they are, not where you want them to be. DSA is a socialist organization, and as such, it will not and need not formally endorse Joe Biden, whose campaign merchandise proudly features 'socialist' crossed off alongside 'plutocrat,' as if they are equivalent. But defeating Trump and, more importantly, Trumpism are strategic DSA priorities, and to that end, we urge everyone to make more compelling arguments here by addressing left concerns. Instead of vote-shaming the left, which might feel good but demonstrably does not work, those concerned about a Biden win might show that they are pushing Biden in more progressive directions. The COVID-19 pandemic is not just a medical crisis but a political one, ravaging communities already suffering from inequality. It shows clearly the need for much of the Sanders platform. We believe swing state leftists should vote Biden, not because he deserves it but because a Democratic administration offers more fertile ground for the left than a Republican one, where we desperately scramble to fight for basic union, reproductive, immigrant, and queer/trans rights. For those seeking to build third-party power, we'll do better under a Democrat as well, since Trump generates a false sense of 'resistance' unity that obscures the deep divisions within the Dems." • I'm not sure I agree. For one thing, there's no reason for a DSA member to feel "resistance" unity; DSA members don't do brunch. I think. For another, Democrats are expert at decapitating the left, either by sucking them into NGOs or simply arresting them (see Occupy and Black Lives Matter). So why does "a Democratic administration [offer] more fertile ground for the left than a Republican one"? Sort of amazing to see a headline like that in a mainstream venue, though.

Cuomo (D)(1): "NY's Cuomo criticized over highest nursing home death toll" [Associated Press]. "Cuomo faced criticism at a recent briefing for saying that providing masks and gowns to nursing homes is "not our job" because the homes are privately owned…. One key criticism is that New York took weeks after the first known care home outbreaks to begin publicly reporting the number of deaths in individual homes — and still doesn't report the number of cases. By the time New York began disclosing the deaths in the middle of last month, the state had several major outbreaks with at least 40 deaths each, most of which were a surprise to the surrounding communities and even some family members." • To the ice floes!

Cuomo (D)(2): "New York Gov. Cuomo enlists former Google CEO to head commission to 'reimagine' the state after COVID-19" [MarketWatch]. "New York Gov. Andrew Cuomo said Wednesday he has enlisted Eric Schmidt, former chief executive of Google Inc. and Novell Inc., to head a blue-ribbon commission tasked with "reimagining" New York state in the wake of the coronavirus pandemic. Cuomo has been pushing for the state to consider using the crisis to make changes and improvements to how it handles such issues as public health care, education and housing at his daily press briefings on the virus. Schmidt, who headed Google from 2001 to 2011 before it came under the umbrella of Alphabet Inc., appeared briefly by webcast to say he would focus on issues such as telehealth, remote learning and expanding broadband access." • I wonder how Schmidt feels about public broadband?

Sanders (D)(1): "Voters Have a Right to Know in 2020: CLC Files FEC Complaint Against Secretive Group" [Campaign Legal Center]. "Campaign Legal Center (CLC) filed a complaint with the Federal Election Commission (FEC) against "The Big Tent Project" for illegally hiding the identity of the donors who bankrolled over $4.8 million on ads in the Democratic presidential primary…. Big Tent Project formed the day after Sanders won the New Hampshire Democratic presidential primary, and one week after Sanders finished in a virtual tie in the Iowa caucuses. Its executive director, Jonathan Kott, said he created the group after being approached by wealthy donors concerned about Sanders' rise." • Oh.

* * *

"Democrats to unveil 'Rooseveltian' COVID-19 relief bill" [FOX]. • I heard the word "Rooseveltian." I shiver with… anticipation:

I worked with House leadership on the CARES bill and was firmly against their plan for $1200 and income phaseout starting at $75,000. I believed the payment should have been $1400 with the phaseout beginning at $80K

— Atrios (@Atrios) May 10, 2020

Still got the means-testing details on the slab, no doubt….

A rising star:

Not a single patient should be forced to fight off medical bankruptcy in the midst of a global health pandemic without a lawyer by their side.

— Rep. Joe Kennedy III (@RepJoeKennedy) May 8, 2020

"Without a lawyer by their side." Twice repeated!
Realignment and Legitimacy
"Hillary Never Married Bill" [Frank Bruni, New York Times]. • Oy.
Stats Watch
At reader request, I added some business stats back in. Please give Econintersect click-throughs; they're a good, old-school blog that covers more than stats. If anybody knows of other aggregators, please contact me at the email address below.
No stats of interest today.
* * *
Commodities: "Carmakers Urged to Invest in Mines to Avoid Battery Metal Pinch" [Bloomberg]. "Mine developers scrambling to fund projects to meet forecast demand for battery metals see the threat of looming supply crunches as a trigger for electric-vehicle makers to step in with investments. An already tough environment to raise project finance for the mines is being made worse by the impact of the coronavirus pandemic and plunging global auto sales. It's a scenario that's threatening to slow a pipeline of operations planned to supply lithium, nickel and cobalt materials…. 'I scratch my head and wonder where is all this metal going to come from,' Clean TeQ's Riggall said. 'The risks to the automotive sector are very, very large unless they secure their raw materials supply chain.'"
Commodities: "America's meat shortage is more serious than your missing hamburgers" [Recode]. "Sick workers mean meatpacking plants are shutting down, and these closures are contributing to a deeply disruptive breakdown in the meat supply chain. The vast majority of meat processing takes place in a small number of plants controlled by a handful of large corporations, namely Tyson Foods, Smithfield Foods, JBS USA Holdings Inc., and Cargill Inc. More than a dozen of these companies' beef, chicken, and pork plants closed in April, and despite an order by President Trump to reopen the plants, managers fear that doing so will put lives at risk so facilities continue to close…. The plight of these workers is just the starting point in a chain of crises the coronavirus is creating in America's food supply. The shuttered meatpacking plants have created a bottleneck in the system through which most meat in the United States must flow in order to get ground beef to Wendy's, chicken breasts to your local grocery stores, bacon to the nearby diner now trying to run a takeout business, and so on. Things get really tricky on the other side of that bottleneck, where thousands of farmers have planned the lives of their animals around a schedule that terminates at those meatpacking facilities. If those plants aren't operating, it's not like they can just keep the cows, chickens, or pigs in a nearby field. Now imagine this at scale. According to Jayson Lusk, an agricultural economist at Purdue University, the meat processing capacity in the United States is down by about 40 percent. In the pork industry alone, that amounts to 200,000 pigs that won't get sent to slaughter, because the meatpacking plants that would process them are closed or otherwise unavailable. If nothing else changes, those 200,000 excess pigs a day become a million pigs a week with nowhere to go but a mass grave."
Shipping: "Tanker veteran warns on rates: The storm is coming" [Freight Waves]. "Diamond S CEO Craig Stevenson and his CFO Kevin Kilcullen did not mince words about the trouble they see ahead — as soon as the third quarter, earlier than implied by tanker executives on prior calls. Stevenson is veteran of the tanker industry and the former CEO of OMI Corporation, the company that famously sold its entire fleet in 2007 for $2.2 billion at the very peak of the boom, leaving buyers Teekay Corporation and Torm holding the bag when the financial crisis struck….. In the current cycle, the future rate trough — which will come about when floating storage is unwound — is clearly visible, even if exact timing is unknown. This visibility makes charterers less likely to agree to charters of a year or more in duration at rates acceptable to vessel owners, because charterers expect future spot rates to fall."
Shipping: "The urgent demand to get staple goods to consumers isn't compensating for the sharply-contracting U.S. economy's impact on transportation and logistics employment. Trucking companies slashed payrolls by 88,300 jobs in April and warehouse operators cut 74,100 jobs… leaving package-delivery companies as the only transportation sector boosting employment" [Wall Street Journal]. "The loss of 2.36 million jobs in goods-producing sectors, including 1.33 million manufacturing jobs, shows why many truckers say the added business moving cleaning supplies and other high-demand products pales next to the lost trade from industrial-scale operations."
Manufacturing: "A swath of manufacturing won't resume production even as states ease coronavirus-driven restrictions. Factory furloughs across the U.S. are becoming permanent shutdowns…. in a sign that the pandemic's heavy damage to the industrial economy won't be repaired quickly" [Wall Street Journal]. "Makers of dishware in North Carolina, furniture foam in Oregon and cutting boards in Michigan are among companies that have shut factories, and boat-and-motorcycle-maker Polaris Inc. and tire maker Goodyear Tire & Rubber Co. also plan to close U.S. plants. The shutdowns will further erode an industrial base that has been shrinking as a share of the overall U.S. economy for decades and likely will help redraw the country's distribution maps. Factories have raised output in recent years through automation, but manufacturers' capital spending since the pandemic has cratered, and plants that haven't invested are less likely to rapidly resume operations."
Manufacturing: "Washington in talks with chipmakers about building U.S. factories" [Reuters]. "Intel Corp is in discussions with the United States Department of Defense over improving domestic sources for microelectronics and related technology, Intel spokesman William Moss said in an emailed statement… Taiwan Semiconductor Manufacturing Co., on the other hand, has been in talks with the U.S. Department of Commerce about building a U.S. factory but said it has not made a final decision yet…. The [Wall Street Journal] had also reported that U.S. officials are looking at helping South Korea's Samsung Electronics Co., which has a chip factory in Austin, Texas, to expand its contract-manufacturing operations in the United States."
Mr. Market: Confidence Called Key Ingredient for Robust Post-Covid Economy" [Bloomberg]. "'I would love to see robust economy, but that would require a breakthrough in vaccines, a breakthrough in widespread testing, a breakthrough in therapies to give all of us confidence that it's safe to go back,' Kashkari said on ABC's 'This Week.'" • Well, er….
Mr. Market: "Why the stock market rally is actually signaling an 'abnormal' economic recovery, not a V-shaped coronavirus rebound" [MarketWatch]. "Investors are reading the stock market's breakneck bounce off the March 23 lows all wrong, says one prominent Wall Street analyst…. There's a widely held perception that the rally reflects expectations the COVID-19 pandemic will have a piercing but short effect on the economy, with growth rebounding sharply later in the year once the outbreak is corralled, workers return to their jobs and the economy begins humming again…. That isn't the case, said Tony Dwyer, chief market strategist at Canaccord Genuity, in a Monday note. 'In our view, it hasn't spiked on the anticipation of a strong economic rebound, but has ramped based on the coronavirus impact and a probable abnormal economic recovery,' he wrote. It's 'abnormal' because the sectors that usually lead the stock market out of a recession-induced downturn aren't doing so. Instead, leadership has come largely from big tech stocks and pharmaceuticals rather than financials and cyclical sectors that closely track the ups and downs of the economy, such as industrials and consumer discretionary stocks."
Today's Fear & Greed Index: 45 Neutral (previous close: 44 Fear) [CNN]. One week ago: 44 (Fear). (0 is Extreme Fear; 100 is Extreme Greed). Last updated May 11 at 12:40pm.
Rapture Index: Closes down one on Satanism. "The lack of activity has downgraded this category" [Rapture Ready]. Record High, October 10, 2016: 189. Current: 186. Remember that bringing on the rapture is a good thing.
The Biosphere
"What You Need to Know to Start Backyard Beekeeping" (interview) [Hilary Kearney, Modern Farmer]. Beekeeper Kearney: "The best beekeepers are the ones that have developed a love of honeybees and the love of learning about them. Focus on understanding how these bees live without a beekeeper to get a good understanding of their behavior and their biology. And know what actually goes on inside the beehive before you start focusing on beekeeping techniques. If you can grasp an understanding of the honeybee first, you're going to be a lot more successful."
Health Care
"Coronavirus Came From Bats, Can Infect Cats, Ferrets, WHO Says" [Bloomberg]. "The novel coronavirus comes from a group of viruses that originate or spread in bats, and it's still unclear what animal may have transmitted the disease to humans, Peter Ben Embarek, a WHO expert in animal diseases that jump to humans, said Friday in a briefing with reporters. The virus probably arrived in humans through contact with animals raised to supply food, he said. Recent studies showed that cats can transmit the virus to other cats and the WHO is aware of instances of pets of Covid-19 patients being infected, it said in a statement Friday. While precautions should be taken to avoid the infection of pets from close contact with Covid-19 human cases, further evidence is needed to understand if animals and pets can spread the disease. It's important to find out which animals can get infected to avoid creating a 'reservoir' in another species, Ben Embarek said…. WHO scientists are considering a new mission to China to get more information about the virus's animal origin, Maria van Kerkhove, one of the agency's top epidemiologists, said at a press briefing Wednesday."
An important thread on the social determinants of health:
In med school, I took an elective called "Stress", foolishly thinking I was going to learn about meditation and yoga. Instead the professor spent 6 weeks proving that being poor or a minority literally destroys your health on a molecular level, and I think about that every day.

— Jocelyn J. Fitzgerald, MD (@jfitzgeraldMD) May 10, 2020
"Non-Pharmaceutical Interventions and Mortality in U.S. Cities during the Great Influenza Pandemic, 1918-1919" [Robert Barro, NBER]. The abstract: "Non-pharmaceutical public-health interventions (NPIs) were measured by Markel, et al. (2007) for U.S. cities during the second wave of the Great Influenza Pandemic, September 1918-February 1919. The NPIs were in three categories: school closings, prohibitions on public gatherings, and quarantine/isolation. Although an increase in NPIs flattened the curve in the sense of reducing the ratio of peak to average deaths, the estimated effect on overall deaths was small and statistically insignificant. ."
Screening Room
Spending too much time indoors:
A Gingerbread rendition of Hitchcock's Bates Motel.
(By Aaron Keeling https://t.co/kzrhuTvK2m) pic.twitter.com/QWvjPxqePp

— Diane Doniol-Valcroze (@ddoniolvalcroze) May 9, 2020
Class Warfare
"The Way Out — William A. Peffer" [Medium]. From 1890: "The proper function of money is to serve a public use…. he money power is the most dangerous foe to republican liberty at this hour; it must be disabled. Fortunately this can be done justly and peaceable, injuring none, benefiting all. The remedy is to take money out of the list of commodities which may be bought and sold for gain, and limit its use to its proper function of serving the people in the conduct of their everyday affairs."
"'Can People Pay Rent This Month?' The Consensus Was No" [Jacobin]. "The rising cost of housing has been a dire issue for working people in the United States for decades. But the arrival of COVID-19 has brought this crisis to a head, throwing millions out of work and leaving them unable to afford rent. The call for some kind of rent forgiveness legislation is growing; politicians like Ilhan Omar have introduced legislation to forgive rent and mortgages, while state representatives such as New York state senator Julia Salazar have brought similar measures to state bodies. But none of these laws have yet been enacted. While New York has passed a temporary eviction moratorium and a temporary suspension of some mortgages, no action on suspending rent has occurred. In the meantime, renters are taking matters into their own hands."
Teen Vogue should review this:
Madison Avenue: There is a problem. Young women are into socialism.

Overpaid young guys: Let's sell capitalism as feminist by making it into a game for girls.

Outcome: pic.twitter.com/jIFXwvZBlp

— melissa CANCEL ALL STUDENT DEBT NOW byrne (@mcbyrne) May 9, 2020
News of the Wired
Crapfication:
modernity has failed us pic.twitter.com/8xKMV1YqhN

— Liso. (@Lisoceza) May 8, 2020
A maze of sans-serif characters, all alike.
Get me rewrite:
What a marvellously poorly-written sentence. Thank you, @DailyMirror – a genuine LOL moment. https://t.co/wIOEkHs35Q pic.twitter.com/8m3CdS0K2O

— Tom Richards (@teorichards) May 8, 2020
* * *
Readers, feel free to contact me at lambert [UNDERSCORE] strether [DOT] corrente [AT] yahoo [DOT] com, with (a) links, and even better (b) sources I should curate regularly, (c) how to send me a check if you are allergic to PayPal, and (d) to find out how to send me images of plants. Vegetables are fine! Fungi and coral are deemed to be honorary plants! If you want your handle to appear as a credit, please place it at the start of your mail in parentheses: (thus). Otherwise, I will anonymize by using your initials. See the previous Water Cooler (with plant)
here. Today's plant (pq):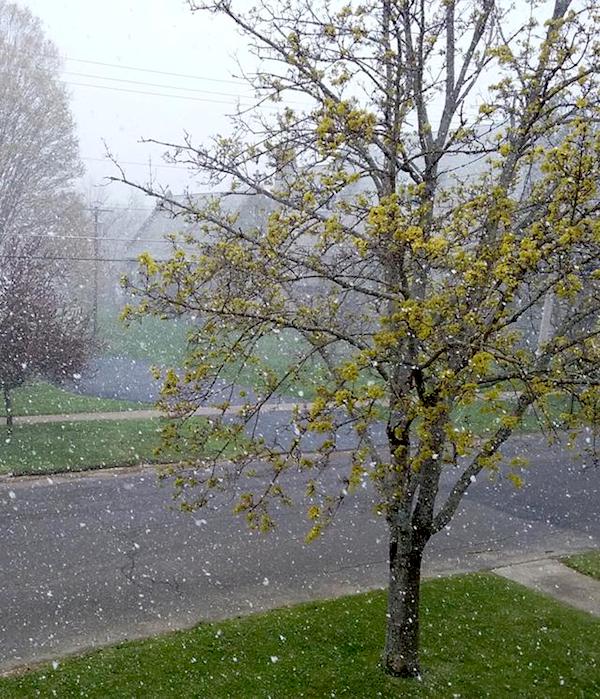 pq writes: "Maple tree leafing out in a May snowstorm, Upstate New York. This is day two, one more in the forecast for tomorrow (May 10)." Thought I'd let something newsy jump the queue!
* * *
Readers: Water Cooler is a standalone entity
not covered by the annual NC fundraiser. So if you see a link you especially like, or an item you wouldn't see anywhere else, please do not hesitate to express your appreciation in tangible form. Remember, a tip jar is for tipping!
Regular positive feedback both makes me feel good and lets me know I'm on the right track with coverage. When I get no donations for five or ten days I get worried. More tangibly, a constant trickle of donations helps me with expenses, and I factor in that trickle when setting fundraising goals:
Here is the screen that will appear, which I have helpfully annotated.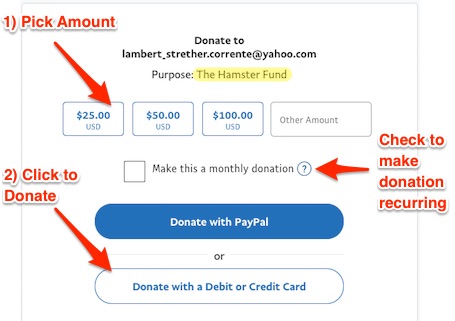 If you hate PayPal, you can email me at lambert [UNDERSCORE] strether [DOT] corrente [AT] yahoo [DOT] com, and I will give you directions on how to send a check. Thank you!

Original Source