By Lambert Strether of Corrente.
#COVID19
At reader request, I've added this daily chart: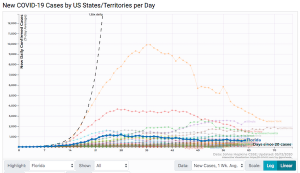 The data is the John Hopkins CSSE data. Here is the site. I have changed to a logarithmic scale for US States and territories.
As an exercise in graph reading, I changed the log scale to a linear scale. What leaps out at me is the narrative that I could — were I so minded — construct: This is a Blue State crisis, primarily in New York, secondarily in California — and that "real America" has the virus pretty much under control. (I dom't believe this, because of geometric growth given a hotspot, because public health needs to be considered at the national level, and also because #COVID19 looks like an extremely nasty way to go, but this narrative would not be hard to construct for a feral, competent political campaign.)
* * *
See Vice, "How to Read the Coronavirus Graphs":
Quantities that grow exponentially, when depicted on a linear scale, look like curves that bend sharply upward, with the curve getting constantly steeper. On a log scale, exponentially growing values can be depicted with straight diagonal lines.

That's the beauty of plotting things on log scales. Plots are meant to make things easy to understand, and we humans are much more adept at understanding linear, straight-line behavior. Log plots enable us to grasp exponential behavior by transferring the complexity of constantly steepening curves into the simplicity of an exponentially increasing scale.

On a log scale, we want to constantly be making the line more and more horizontal. The general concept of "flattening" is still a good one, but it's never going to curve down. And so what we should be looking, and hoping for is a trend toward horizontal.
Politics
"But what is government itself, but the greatest of all reflections on human nature?" –James Madison, Federalist 51
"They had one weapon left and both knew it: treachery." –Frank Herbert, Dune
"They had learned nothing, and forgotten nothing." –Charles Maurice de Talleyrand-Périgord
* * *
2020
Biden (D)(1): "Biden denies he's 'hiding,' defends staying off campaign trail in person" [NBC]. Not the kind of headline your campaign manager wants to see. ""We're on the campaign trail now,' Biden said. 'Everybody says, you know, 'Biden's hiding.' Well, let me tell you something, we're doing very well. We're following the guidelines of the medical profession. We're following the guidelines of the experts.' ',' he added. 'The president should follow the rules instead of showing up to places without masks and the whole thing.' Biden said his campaign is 'winning' according to recent polling data, although he said he's not sure how long his lead over President Donald Trump might last ahead of the November election. 'The idea that somehow we are being hurt by my and is absolutely bizarre,' Biden said. 'I reject the premise that somehow this is hurting us. There's no evidence of that.'" • "The docs"? I'm not sure how "following the instructions" is going to play out the authoritarian followers in Biden's base. That said, Biden is holding up in the polls — as mysteriously as he did before The Night of The Long Knives. I can't decided whether the Biden braints trust is galaxy-brained or idiotic.

Biden (D)(2): "Joe Biden's Garbage Career: A Timeline" [Rampant]. "Joe Biden is not only a loyal soldier of neoliberalism, he has been the architect of much of today's hellish political landscape. The last fifty years of ruling class ascendancy is a timeline studded with Creepy Joe's despicable actions." • Quite a bill of particulars, with lots of linky goodness.

Biden (D)(3): The Biden Platitude Generator, still being cranked:

Here's the deal: We can choose who our country works for. We can choose whether it works for just the wealthy — or everyone else as well.

That's the choice we must make — all of us together — this November.

— Joe Biden (@JoeBiden) May 12, 2020

Yeah, how'd that happen?

Sanders (D)(1): "Beyond Bernie: a Statement from the DSA National Political Committee" [DSA]. "The Democratic Socialists of America will not be endorsing Biden. We fully agree with Senator Sanders that taking on the reactionary, racist, and nationalist right wing represented by Donald Trump is imperative for the survival of millions of working-class people across the country and the world. We believe that the only way to beat the radical right once and for all is through a socialist movement that draws millions of disillusioned working-class people, here and abroad, into the political arena. We will continue to welcome the millions of people who supported Bernie's platform and are looking for a political home. We also recognize this moment to strategically strengthen our movements and power. We will fight like hell against the Trump agenda by running pressure campaigns, engaging in mutual aid, helping to build strong, democratic unions, building coalitions with those organizing against capitalism, acting in solidarity with immigrants and incarcerated people against deportation and detention, working to protect tenants and unhoused people, organizing to expand voting rights, locations, and the right to vote by mail."

Trump (R)(1): "Trump's Odds of Winning Reelection Are Higher Than You Think" [Eric Levitz, New York Magazine]. "We're more than one month into America's worst economic crisis in 80 years and Trump's approval rating is still considerably higher than it has been for most of his presidency…. [A] Reuters/Ipsos poll released last week found Trump in a statistical tie with Biden on the question of which candidate would be better at leading America's coronavirus response, while voters deemed the president "better suited to create jobs" by a margin of 45 to 32 percent. To be sure, approval of Trump's handling of the pandemic is trending down in most surveys. But it isn't acting as an anchor around his overall popularity yet…. Due to the overrepresentation of heavily Republican, white, non-college-educated voters in battleground states, Biden will likely need to win the popular vote by roughly three points to secure an Electoral College majority. Further, as the New York Times's Nate Cohn notes, most national polls are of registered voters, not likely ones. And since the GOP's older voting base still turns out more reliably than the Democrats' younger one, 'a reasonable estimate is that Mr. Biden is performing four or five points worse among likely voters in the critical states than he is among registered voters nationwide.'…. For Democrats, none of this is that concerning so long as one posits that Trump's crisis halo is in the process of wearing off and the well-established correlation between economic conditions and incumbent approval will soon resurface. But what if that correlation is an artifact of a less polarized time in American politics? Counting on the universe to give Donald Trump what he deserves may not be the safest bet." • Again, Trump has form: Over and over again, he has escaped from impossible situations. This time we've got him!

* * *

"Biden, Sanders announce AOC, Kerry, Jayapal as co-chairs of unity task forces" [ABC]. "Former vice president Joe Biden and Sen. Bernie Sanders announced the members of six joint unity task forces Wednesday morning, which will 'explore possible policy initiatives'–another notable step by the Democratic leaders trying to unite their party ahead of the November election. The eight member groups include a blend of members from progressive and establishment viewpoints to fill out the groups that were first announced along with Sanders' endorsement of Biden back in April, and will focus on climate change, criminal justice reform, the economy, education, health care, and immigration policy. While Biden became the party's presumptive nominee much earlier than in recent cycles, the former vice president has faced the challenge of appealing to Sanders supporters who fervently backed his progressive policies." • Here are the members, with some not unimpressive names:

NEW: @JoeBiden & @BernieSanders announce the members of their unity task forces, who'll "explore possible policy initiatives" on climate, criminal justice, economy, education, health care, & immigration

Co-chairs include:@JohnKerry @RepJayapal @AOC @mlfudge @vivek_murthy pic.twitter.com/wxpiU259OU

— Molly Nagle (@MollyNagle3) May 13, 2020

It's hard to imagine Stephanie Kelton, say, getting rolled. Or Darrick Hamilton. Nevertheless, the Democrat Establishment has form: They are expert at decapitating left movements. So, very sadily, I would expect to hear a lot of heads thunking into baskets as this effort moves on.

* * *

"Ocasio-Cortez Commits Re-election Gaffe, Losing a Progressive Ballot Line" [New York Times]. "But Ms. Ocasio-Cortez will not be appearing on the Working Families Party ballot line in the November general election because she failed to collect the required number of signatures — 15… Ms. Ocasio-Cortez was found to have only 13 valid signatures after her petitions were challenged by lawyers for one of her opponents in the Democratic primary, Michelle Caruso-Cabrera, a former anchorwoman for CNBC." • Sloppy and bad. After 2016 and 2020, AOC thought the Democrat Establishment played softball? Pelosi would be very glad to store AOC's head in her fridge. She could be it as a centerpiece for wine cave parties.
Realignment and Legitimacy
"Unpacking the Left's Cultural Baggage" [The Bellows]. "The Left doesn't quite know what to do with liberalism. On the one hand, we're keen to critique certain aspects of liberal nonsense, like "lean-in" feminism or the absurdities of The New York Times. But we've also strangely accepted the contemporary culture of liberalism as having moral authority, as if it somehow floats free from liberals' general political interests. This 'cultural liberalism,' which demands intersectional thinking and deferential behavior in accordance with reified social identities, dominates progressive activist circles. …The Left has traditionally affirmed liberalism's commitment to freedom from discrimination and protected rights for all, while skewering liberals for failing to back the economic program necessary to realize those ideals as positive freedoms. It should be possible for us to fight against racism, sexism, and any form of discrimination while also spurning an obsession with identity, privilege-checking, and the increasingly demanding expectations around "correct" speech and action as offputting manifestations of a decadent liberalism. But instead, we've seen a program of universal demands wrapped in the unappealing packaging of liberal rhetoric and "values." There are theoretical problems with "intersectionality" and the ascriptive hierarchies upon which it relies, but my concern here is practical, not academic. If we're to accept the polls, the adoption of cultural liberalism has devastating political consequences. The broad majority of people in America are on board with the Left's economic policy (Medicare for All, tuition-free public college, workplace democracy, a living wage) and support liberal social ideals (LGBTQ+ rights, reproductive freedom). Most people really like the substance of what the Left champions, and that should be a very encouraging sign. As advertised, Bernie 2020 was about Us, and we'd do well to reflect more on that fact. But what they really don't like—and I mean really don't like—are the many forms of cultural policing rooted in identitarian thinking. This is because they take intersectional moralizing to reflect 'not so much genuine concern for social justice as the preening display of cultural superiority.'"

Stats Watch

At reader request, I added some business stats back in. Please give Econintersect click-throughs; they're a good, old-school blog that covers more than stats. If anybody knows of other aggregators, please contact me at the email address below.

Inflation: "April 2020 Producer Price Final Demand Year-over-Year Growth Now In Contraction" [Econintersect]. "The Producer Price Index (PPI) year-over-year inflation slowed from 0.7 % to -1.2 %, The monthly decrease is the largest since the index began in December 2009. Year-over-year inflation pressures again declined this month. This may be the beginning of a deflationary cycle – we will know only in hindsight."

Containers: "April 2020 Sea Container Counts For Imports Improve But Remain In Contraction" [Econintersect]. "The container counts for the Ports of Los Angeles and Long Beach are deep in contraction – but imports were not as bad as last month whilst exports worsened…. A significant reason for the soft import container counts is the effects of the coronavirus both in the U.S. and internationally. This is on top of a trade war. The world is in a recession…. Some pundits think that the new Panama Canal locks have affected the West Coasts container counts – our analysis is that there is little impact. Many do not understand that the new locks are more expensive per ton. HOWEVER, a new trend is developing where the Suez Canal is being used more for shipments to the U.S. east coast. Imports container counts give an indication of the U.S. economy's state and the soft data continues to indicate a weakening U.S. economy."

Coincident Indicators: "12 May 2020 New York Fed Weekly Economic Index (WEI): Index Decline Continues Well Below Great Recession Levels" [Econintersect]. "This data set should be considered a high-frequency coincident indicator on a par with the Aruoba-Diebold-Scotti Business Conditions Index produced by the Philly Fed – and both show conditions caused by the coronavirus pandemic are already worse than the Great Recession. Simply the economy is in a recession and is still worsening."

* * *

Shipping: "Maersk: Container volumes could fall 25%" [Freight Waves]. "Container volumes will drop sharply in the second quarter but the industry is in better position to manage the coronavirus crisis than previous downturns, according to Soren Skou, chief executive officer of A.P. Moller-Maersk, the owner of the world's largest container line…. Maersk Line predicts second-quarter container volumes will fall 20%-25% year-on-year…. Maersk Line "blanked" (cancelled) more than 90 sailings in the first quarter to reduce variable costs, bringing deployed capacity down 3.5% year-on-year. Its loaded volumes fell from 3.15 million forty-foot equivalent units (FEU) in the first quarter of 2019 to 3.048 million FEU in the most recent period, a decline of 3.2%. Maersk expects to blank close to 140 of its sailings in the second quarter."

Commodities: "Soybean farmers are preparing to reclaim their place in U.S. export markets. Some farmers are shifting acres from corn to soybeans this year… a reversal that reflects the coronavirus pandemic's broad impact on demand for many agricultural products" [Wall Street Journal]. "The switch comes as demand for ethanol, which is made from corn, evaporates under weaker energy prices. That has farmers who had curbed soybean plantings during the trade war with China switching back. U.S. officials expect soybean exports to rise by 375 million bushels to over two billion bushels. That demand appears to already be ramping up, with Chinese state-run buyers purchasing more than 1 million metric tons of soybeans in the past two weeks." • I should really file ethanol under "The Bezzle," though.

The Bezzle: "[Uber Technologies Inc.] ss looking to acquire Grubhub Inc. in a deal that would unite two of the biggest players in meal delivery… in a move that would reshape a market that has grown more prominent under the coronavirus-driven lockdowns" [Wall Street Journal]. "Grubhub's strength has been its corporate customers, however, and that market has receded under the pandemic. Food-delivery through its Uber Eats business has been positive for Uber, however, and the companies together represented nearly half the market last month. Putting them together would give Uber the critical scale it hasn't been able to reach on its own." • For "critical scale," read "monopoly power."

The Bezzle: "Volvo and Lidar-maker Luminar to Deliver Hands-free Driving by 2022" [IEEE Spectrum]. "The race to bring self-driving cars to showrooms may have a new leader: Volvo Cars said it will partner with Silicon Valley-based lidar manufacturer Luminar to deliver genuine hands-free, eyes-off-the-road highway driving beginning in 2022. That so-called 'Level 3' capability would be an industry first, as companies from Tesla to Uber thus far have failed to meet lofty promises to make autonomous driving a reality." • Oh, level three….

The Bezzle: "Why Elon Musk disobeyed government orders and reopened a Tesla factory" [Recode]. May 12: "How local officials, who maintain they're still negotiating with Tesla on how to reopen safely, ultimately respond will reveal in enforcing social distancing and stay-at-home measures. After all, Tesla coming away unscathed could set a concerning precedent for local officials that will need to push back against influential companies eager to resume production and manufacturing. Plenty of people have been caught violating rules instituted by the pandemic, and some — disproportionately black and brown people — have been arrested. But Musk is quite literally one of the richest men alive and, thanks in part to his fervent fan base, seems to believe that Tesla will not be penalized, despite the order. In fact, he's already warned that the manufacturing currently done in Fremont could potentially be moved elsewhere." • So, how much power does local government have?

The Bezzle: "California Officials Capitulate To Elon Musk, Allow Tesla Plant To Reopen" [CBS]. May 13: "Alameda County gave Tesla its blessing on the condition that it maintain "minimum business operations" and implement additional safety recommendations, according to a company statement that was released on Tuesday. The county said Tesla could possibly re-open as soon as next week, though despite coronavirus concerns, according to Tesla CEO Elon Musk…. The Alameda County health department said it would allow additional approved activities for Tesla and other local businesses before Monday as long as they show progress towards complying with their Covid-19 indicators." • Oh, "show progress." File this under Failed State Watch. Now nobody else needs to obey local officals in Alameda County either. Why would they?

Today's Fear & Greed Index: 42 Fear (previous close: 44 Fear) [CNN]. One week ago: 43 (Fear). (0 is Extreme Fear; 100 is Extreme Greed). Last updated May 11 at 12:40pm

The Biosphere

"Is This a Dress Rehearsal?" [Bruno Latour, In The Moment (DG)]. "There is a huge gulf between the state that is able to say 'I protect you from life and death,' that is to say from infection by a virus whose trace is known only to scientists and whose effects can only be understood by collecting statistics, and the state that would dare to say 'I protect you from life and death, because I maintain the conditions of habitability of all the living people on whom you depend.'"

Health Care

"COVID-19 Continues to Waylay Healthcare Workers" [MedPage Today]. "Of 763 respondents in a MedPage Today survey — 86% of whom were physicians — 4.91% reported they had or currently have COVID-19…. The majority of respondents, 56%, still rated their access to COVID-19 testing as fair or poor, representing an improvement from the 67% fair-to-poor rating of 2 weeks ago. 'It is still very difficult. We still predominately test if you are being admitted or, now, if you need an elective surgery or admission to a skilled nursing facility. Outpatient is still chaos,' wrote an infectious disease specialist. 'Only admitted patients get tested,' noted a cardiologist in New York City. 'The hospital is not routinely testing staff workers who want testing,' another New York physician said." • Good data, worth a read.

"Get Ready for a Vaccine Information War" [New York Times]. "I've been following the anti-vaccine community on and off for years, watching its members operate in private Facebook groups and Instagram accounts, and have found that they are much more organized and strategic than many of their critics believe. They are savvy media manipulators, effective communicators and experienced at exploiting the weaknesses of social media platforms. (Just one example: Shortly after Facebook and YouTube began taking down copies of "Plandemic" for violating their rules, I saw people in anti-vaccine groups editing it in subtle ways to evade the platforms' automated enforcement software and reposting it.) In short, the anti-vaxxers have been practicing for this…. And years of battling states and school districts over mandatory vaccine policies have given them a playbook for creating a tangle of legal roadblocks and damaging publicity campaigns."

"The online competition between pro- and anti-vaccination views" [Nature]. "Distrust in scientific expertise is dangerous. Opposition to vaccination with a future vaccine against SARS-CoV-2, the causal agent of COVID-19, for example, could amplify outbreaks, as happened for measles in 2019. Homemade remedies and falsehoods are being shared widely on the Internet, as well as dismissals of expert advice. There is a lack of understanding about how this distrust evolves at the system level. Here we provide a map of the contention surrounding vaccines that has emerged from the global pool of around three billion Facebook users. Its core reveals a multi-sided landscape of unprecedented intricacy that involves nearly 100 million individuals partitioned into highly dynamic, interconnected clusters across cities, countries, continents and languages. Although smaller in overall size, anti-vaccination clusters manage to become highly entangled with undecided clusters in the main online network, whereas pro-vaccination clusters are more peripheral. Our theoretical framework reproduces the recent explosive growth in anti-vaccination views, and predicts that these views will dominate in a decade." • "The right to infect others shall not be infringed" doesn't sound like a recipe for anything other than a Mad Max future. On the other hand, blanket acceptance of scientific expertise? Really? Ugh, what a horrid problem.

"Jury still out on drugs touted by Donald Trump in coronavirus treatment, study finds" [South China Morning Post]. • An even-handed wrap-up of hydroxychloroquine solutions. Conclusion: "'Certainly we have very limited options as far as what we have seen work for this infection so anything that may work is very exciting,' Joseph Rahimian, the corresponding author of the NYU study, told news channel Spectrum News NY1 on Tuesday." Yep.

"COVID-19 Targets the Elderly. Why Don't Our Prevention Efforts?" [David Wallace-Wells, New York Magazine]. "But one observation from the early days of the pandemic has been confirmed again and again, in country after country: The lethality of the virus rises sharply with age. In the United States, we have spent much of the last few months enacting and debating uniform, universal public-health measures, which treat each citizen equally for the purposes of applied policy: social-distancing measures; "stay at home" or "shelter in place" guidelines; modified guidelines for essential workers, all 50 million of them; possible testing regimes, including "test, trace, and isolate"; and now a gradual reopening of those measures, typically state by state. Our policy, by and large, has treated every person as equally at risk, but the disease doesn't treat us all equally… But noting that different groups are differently vulnerable is only an argument for throwing up your hands and "letting it rip" in a political and social environment in which you only have two options: total lockdown or total indifference. Strangely, that has been, for the most part, how the U.S. has chosen to fight this disease, embracing "stay at home" and "shelter in place," which are effective quarantines, all across the country without even attempting to impose, in most parts of the country, less invasive social-distancing measures and without rolling out anywhere in the U.S. anything like the expansive testing programs that have allowed many countries, particularly in Asia, to avoid the need for extended lockdowns…. So what would a more targeted public-health approach look like? Let's take just the age-skew data and rewind to late February, when the first two residents of the Life Care nursing home in Kirkland, Washington, died from COVID-19. At that point, given the striking clarity of the data as it was coming out of China, a national effort to focus on protecting the health of the country's elderly could have begun in earnest." • Maybe with global warming, we don't have any ice floes? (Or, more plausibly, the situation in the for-profit nursing home industry is so appalling that there was little to be done.) An excellent article, well worth a read, especially for this old codger.

Class Warfare

"Coronavirus likely forced 27 million off their health insurance" [Axios]. "Roughly 27 million people have likely have lost job-based health coverage since the coronavirus shocked the economy, according to new estimates from the Kaiser Family Foundation." • The health insurance they loved [wipes tear]. Obviously, employment-based insurance is a demented system. The thing is, giving people #MedicareForAll might get them thinking. Why, after all, should anything be employment-based, given these darned crashes that keep happening? Why is housing employment-based? Food?

News of the Wired

I think if I understood this, it would be very funny. It's certainly retro!

Brand new episodes of Art House Politics! 🎨🏠🏛️

Now streaming on Means TV.

Watch the series: https://t.co/7mI4ceWYND pic.twitter.com/DKJekgEZDw

— MEANS TV (@means_tv) May 11, 2020

* * *Readers, feel free to contact me at lambert [UNDERSCORE] strether [DOT] corrente [AT] yahoo [DOT] com, with (a) links, and even better (b) sources I should curate regularly, (c) how to send me a check if you are allergic to PayPal, and (d) to find out how to send me images of plants. Vegetables are fine! Fungi and coral are deemed to be honorary plants! If you want your handle to appear as a credit, please place it at the start of your mail in parentheses: (thus). Otherwise, I will anonymize by using your initials. See the previous Water Cooler (with plant) here. Today's plant (AM):

AM writes: "From my daily walk – Temple of Music, Roger Williams Park. Rain and wind makes social distancing a snap!" A very pleasant, restful prospect. And I encourage walks!

* * *
Readers: Water Cooler is a standalone entity not covered by the annual NC fundraiser. So if you see a link you especially like, or an item you wouldn't see anywhere else, please do not hesitate to express your appreciation in tangible form. Remember, a tip jar is for tipping! Regular positive feedback both makes me feel good and lets me know I'm on the right track with coverage. When I get no donations for five or ten days I get worried. More tangibly, a constant trickle of donations helps me with expenses, and I factor in that trickle when setting fundraising goals:

Here is the screen that will appear, which I have helpfully annotated.

If you hate PayPal, you can email me at lambert [UNDERSCORE] strether [DOT] corrente [AT] yahoo [DOT] com, and I will give you directions on how to send a check. Thank you!
Original Source