By Lambert Strether of Corrente.
I had so much odd political material I couldn't mentally process it. The news flow seems to be changing, perhaps as a result of "re-opening." More in a bit. –lambert UPDATE All done!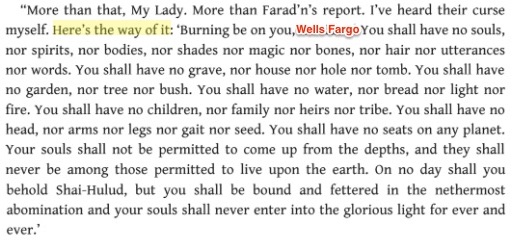 #COVID19
At reader request, I've added this daily chart: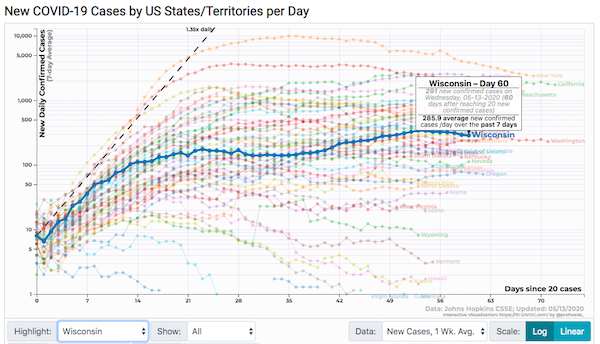 The data is the John Hopkins CSSE data. Here is the site. I have changed to a logarithmic scale for US States and territories.
Back to the log scale, with the highlight on Wisconsin (because of the recent court case: "Less than an hour after the ruling was released, the Tavern League of Wisconsin told its members they could greet customers again in their bars and urged them to adopt safety guidelines." So I guess we'll check back in two weeks and see what the numbers do.
* * *
See Vice, "How to Read the Coronavirus Graphs":
Quantities that grow exponentially, when depicted on a linear scale, look like curves that bend sharply upward, with the curve getting constantly steeper. On a log scale, exponentially growing values can be depicted with straight diagonal lines.

That's the beauty of plotting things on log scales. Plots are meant to make things easy to understand, and we humans are much more adept at understanding linear, straight-line behavior. Log plots enable us to grasp exponential behavior by transferring the complexity of constantly steepening curves into the simplicity of an exponentially increasing scale.

On a log scale, we want to constantly be making the line more and more horizontal. The general concept of "flattening" is still a good one, but it's never going to curve down. And so what we should be looking, and hoping for is a trend toward horizontal.
Politics
"But what is government itself, but the greatest of all reflections on human nature?" –James Madison, Federalist 51
"They had one weapon left and both knew it: treachery." –Frank Herbert, Dune
"They had learned nothing, and forgotten nothing." –Charles Maurice de Talleyrand-Périgord
* * *
2020
Biden (D)(1): "Democratic Women Urge Stronger Biden Response in Tara Reade Case" [Bloomberg]. "

Democratic activists and women's groups say they saw a familiar and distressing playbook unfolding when Joe Biden addressed the sexual assault allegation against him by denying them and largely moving on. Now, they're trying to convince Biden that if he doesn't continue to address the issue head on, he risks depressing turnout of women voters, potentially giving a boost to President Donald Trump…. With no simple resolution and the implausibility of Biden's removal from the ticket, [said Shaunna Thomas, co-founder of UltraViolet, a women's rights advocacy group] said Biden should give a major speech on the issue of sexual misconduct and detail the steps his administration would take to combat the problem, among other steps to show sustained engagement." • I've seen that the Reade matter isn't clogging my Twitter feed any more, and assumed that was because the Democrat Establishment simply refused to entertain the issue. But it still seems to be bubbling away. The Republican ads should be entertaining.

Biden (D)(2): "Don't Pretend Joe Biden Is Actually Moving Left" [David Sirota, Jacobin]. "Joe Biden's new policy 'task forces'… are a mix of party dinosaurs, corporate zombies and some terrific progressive voices like Rep. Alexandria Ocasio-Cortez and Association of Flight Attendants president Sara Nelson — and we are asked to earnestly evaluate and applaud the complexion of the task forces, as if they are a genuine endeavor. As if they are something truly real. There is already handwringing and celebration about who is and isn't on these task forces, but step back from that and consider the bigger picture. Consider how condescending, how mocking, the entire 'task force' dance really is. It's as if the Biden campaign went into the basement of the DNC, dusted off a three-ring binder from 1983 titled 'How To Run Campaigns,' and turned to page 863b for the section entitled 'Post-Primary Unity Blueprint' — and we are all expected to pretend that this is something real." • All this is true. I am more sanguine. I view task force participation by Sanders allies as a reward, much like keeping staff on their health care plans. "Never be too proud to be present," as an experienced bureaucratic infighter remarked somewhere in C.P. Snow's Strangers and Brothers series. More generally, I think it's dusty three-ring binders all the way down. That is, we should not make the assumption tthat somewhere in the elite there is a small cabal of really smart people makiing decisions. The ruling is done, as it were, behind out backs. Events like Obama's Night of the Long Knives are rare and occur in moments of acute crisis.

UPDATE Biden (D)(5): "Biden's campaign rushes to blunt Trump's digital advantage" [CNN]. "Biden's campaign on Friday said it had hired three new top digital staffers: Caitlin Mitchell, who was Elizabeth Warren's chief mobilization officer and will advise the campaign on digital strategy and scaling up its in-house teams; Robyn Kanner, a Beto O'Rourke alum who will lead the campaign's design, branding and web efforts; and Andrew Gauthier, a former Kamala Harris staffer who was previously executive producer of BuzzFeed Video." • Warren, O'Rourke, Harris. Alrighty, then. I pulled out the material re: Trump below.

UDPATE Biden (D)(6): Thinking laterally:

Vascular dementia, if I had to hazard a guess. One can only hope DNC is figuring out how to swap him out for someone else. They could do worse than Al Gore, he's 5 yrs younger than Biden and can bridge the divide b/w the single payer & sexual harasser wings of Democratic Party. pic.twitter.com/AJRZ7yMrQz

— Carlos Mucha (@mucha_carlos) May 13, 2020

Since Mucha sparked #MintTheCoin he does indeed quality as a lateral thinker.

UPDATE Biden (D)(7): Biden the hair-sniffing genial meat puppet figurehead:

There is no voting for Biden. There's voting for a Biden administration. Any talk of what Biden thinks, believes, intends to do, etc is all illusory.

IMHO

— Rebecca Bitton (@rebeinstein) May 13, 2020

You're not just voting for Biden; you're voting for the entire, wonderful ensemble cast of the West Wing.

UPDATE Obama (D)(1): "Obama emerges as central figure in 2020 presidential race" [Associated Press]. "Democrats are eagerly embracing Obama as a political wingman for Joe Biden, who spent two terms by his side as vice president. Obama remains the party's most popular figure, particularly with black voters and younger Democrats, and Biden's presidential campaign is planning for him to have a highly visible role in the months to come…. Trump's emphasis on Obama also comes as the former president begins to emerge from a three-year period of political restraint as he prepares to embrace his role as leading surrogate for Biden. Last week, Obama told a large gathering of alumni from his administration that DOJ's decision to drop the Flynn case put the 'rule of law at risk.' He also criticized the Trump White House's handling of the coronavirus pandemic." • I think the Rule of Law is still hiding somewhere under Eric Holder's desk.

Sanders (D)(1): "Bernie Sanders Hates That His Staff Launched a Super PAC, So They're Changing the Name" [Vice]. "When a bunch of Bernie staffers formed a super PAC name-checking his old slogan "Future to Believe In," he was none too pleased given his well-known hatred of groups that skirt campaign finance limits. So, they changed the name. 'The senator was informed about the creation of the super PAC before the paperwork was filed, and he was not happy about it,' Sanders political spokesman Mike Casca told VICE News. Numerous other Sanders staff used more colorful language to describe Sanders' reaction to the group. 'He didn't authorize it, he doesn't like Super PACs and doesn't want it to exist.' said one senior former Sanders staffer familiar with Sanders' feelings about the group. 'Bernie's pissed off,' said another."

UPDATE Sanders (D)(2): "Leftists Jump the Corporate Democratic Ship, Leaving Sanders Behind" [Black Agenda Report]. "History may record that the corporate duopoly dike was finally broken in the Time of Plague, with the defection of Bernie's former sheep from the Democratic Party." • Or perhaps — hear me out — they were never sheep in the first place? Based on their actions? And perahps it's time to stop flogging this dead trope? More: "The leftish exit from the two-corporate-party electoral racket has finally begun. Nearly three-quarters of the 10,000-strong Los Angeles chapter of Our Revolution , the mass organization birthed during Bernie Sanders' 2016 presidential bid, voted to leave the Democratic Party and join the Movement for a People's Party, also founded by operatives from Sanders' 2016 campaign." • We'll see how this goes. In particular, I'd like confirmation on "three-quarters of the 10,000-strong," if such a thing can be accomplished these days. Do we have any readers who attended this meeting?

UPDATE Sanders (D)(3): "Accusations of socialism have lost their bite" [WaPo]. "For decades, the shadow of McCarthyism has lingered and made it easy to marginalize critics with the socialist charge. Sanders confronted it head-on and weakened the tactic's power. Whatever you think of Sanders himself, it's a big reason to appreciate his two campaigns." • I commend Sanders for this, but I think people, especiallly not the comfortable in either party, were also ready for this message, independent of Sanders.

Trump (R)(1): "Trump Embraces Snapchat as Battle for 2020 Youth Vote Heats Up" [Bloomberg]. "The day the U.S. Senate acquitted Donald Trump of impeachment charges, his re-election campaign staff posted a video on Snapchat, where they knew young voters would see it. 'Liberals tonight:' it starts. A woman falls to her knees and screams a guttural "NO!!" as newscasters announce Trump's 2016 presidential win. Then, a spoof cover of Time Magazine shows signs for TRUMP 2028, TRUMP 2032, and so on until a final flourish: 'TRUMP 4EVA.' The clip is one of Trump's most popular Snapchat posts, according to the campaign. It pushes the right social-media buttons, coming across more like an internet meme than a traditional political message. Videos like this have helped Trump's Snapchat following nearly triple to over 1.5 million in about 8 months, far exceeding rival Joe Biden's audience on the app. But the former vice president is starting to invest in the app, too: On Wednesday, he's giving an interview on Snapchat's political news show, Good Luck America." • "Good luck, America." Oh my. Trump, from the videos I have seen, has an excellent digital operation. Look out, Dems.

Trump (R)(2): Every so often, I've muttered that candidates should be leveraging games. Guess who did:

Just saw a Trump ad in a game I was playing. He's already hitting Biden on his many attempts to cut Social Security.

🤔 If only someone could've predicted this. Oh wait. Never mind. pic.twitter.com/L9UFoJ4rT0

— Becca 🐾🌲👣🌎 (@Becca2400) May 14, 2020

Again, an excellent digital operation.

UPDATETrump (R)(3): "Biden's campaign rushes to blunt Trump's digital advantage" [CNN]. The Trump part of the piece also linked to above: "The Trump campaign's digital operation, which includes more than 100 staffers, has excelled at raising money, helping the Trump campaign raise hundreds of millions of dollars for the 2020 effort, while also giving supporters endless ways to connect with the campaign online….. Trump's digital operation has launched an app that gives supporters a one-stop venue for all Trump's content. Not only can supporters sign up to make calls on Trump's behalf and register for events, but the app also includes the campaign's nightly broadcasts, which aides say have been viewed more than 300 million times since the start of April…. 'What they're realizing is this is not a political thing they're doing, what they're doing is a cultural thing,' [Lis] Smith said. 'So, if you find identity in being a Trump supporter and then you find yourself in a community with people who are like that … now you're incentivized to stay in the ecosystem. It's like Candy Crush.'"

UPDATE Trump (R)(4): "Trump's 'I'm Rubber, You're Glue' Campaign Plan" [The Atlantic]. "COVID-19 has shattered the basic economic rationale President Donald Trump had put forward in running for reelection and forced him to come up with another: Joe Biden's handling of the catastrophe would be worse…. Yet Trump is betting that he can stoke enough doubts about Biden's leadership that his own record looks preferable by comparison. Trump wins if voters view the race as a clear choice between Biden and him, but if "the election becomes a referendum on Trump, it's a much closer call," one senior Trump-administration official told me. "This race has to be a contrast," says John McLaughlin, a Trump pollster. Deflecting attention to Biden mirrors a tactic that Trump has long deployed when he's under pressure: He seizes accusations against him and flings them back." • It would be helpful if the Democrat Establishment, in selecting Biden, did not make that so very easy to do.

UPDATE Trump (R)(5): "Why Trump needs the pandemic to be polarized" [WaPo]. "in Pew Research Center polls, the number of Republicans saying the novel coronavirus is a major threat to the health of the U.S. population as a whole dropped from 52 percent in April to 43 percent in May… Even more striking: In a CNN poll, by 71 percent to 26 percent, Republicans said the worst of the pandemic is behind us, while Democrats said the worst is yet to come by 74 percent to 23 percent.'… To repeat, opinion on the pandemic has not yet become completely polarized. The number of Americans rushing to defy stay-at-home orders is still small. But it isn't hard to imagine that before long, it could become widely accepted that to be a Republican in good standing, one must agree that the death count is overstated, the pandemic has been defeated, economic activity must resume immediately whether testing is in place or not and, of course, that Trump has done an absolutely masterful job handling this crisis." • The difficulty, as usual, is that the Republicans have a clear message ("economic activity must resume") while Democrats have muddled one ("economic activity must resume, but not yet, and in the meantime you may or may not get a check for the rent, and if you jump through a series of hoops you may or may not be able to get treatment for the deadly disease we shut the economy down for in the first place"). In other words, Republicans outright support C-M-C', and Democrats refuse to challenge it by provisioning sufficient public goods. So, we'll see whether brutal clarity trumps mixed messages about "the soul of America."

* * *

On the "HEROES" Act and NGOs, a thread:

House Dems' proposed bailout for lobbying groups and dark money spenders is even worse than we thought. It looks like *every* nonprofit would be eligible for PPP funds – and Dems are hilariously calling the biggest corporate lobbies in the country "small nonprofits." (1/5)

— Democratic Policy Center (@DemPolicy) May 13, 2020

(My slogan is "euthanize the NGOs" because the NGOs are weak substiutes for a functional state and functional parties, primarily because they are, at bottom, vanity projects for the rich.) At this point we recall that the Democrat Party, blob-like as it is, is also embedded within/composed of a dense network of NGOs, into and out of which electeds, staff, and lobbyists are constantly shuttling. So this is Democrat Party giving money to itself. (Perhaps Republiican think tanks too, if the two parties want to hold hands and jump over the cliff together.
Realignment and Legitimacy
"Our Democracy Will Survive This Pandemic" [The Atlantic]. Deck: "To combat the coronavirus, the state has grown more powerful. What does that mean for liberty and the democratic norms that protect us?" More: "We are only just beginning to see the array of trade-offs and choices we may soon be forced to make, in order to ensure we are tolerably free and tolerably safe. How is a society to ensure that new classes are not created—the sick and healthy, vulnerable and invulnerable, old and young, salaried and self-employed? How can we ensure that freedom guaranteed equally under the law is not abandoned in the race to reestablish a sense of normality for the majority? What if there is no vaccine? How do we ensure that established patterns of emergency behavior do not become normalized powers left in the statute book, free to be abused in an unrelated crisis?" • I think the Norms Fairy already missed the part about not creating new classes.

"Is 2020 The Year Texas Becomes A Battleground State?" [Texas Standard]. "Urbanization, demographics, and economics are combining to make the Lone Star State more competitive than it's been in decades." • We've been hearing that for years, but maybe this time it will be different.

UPDATE Nice metaphor:

Ignoring the complex and messy process of persuading fallible and emotional human beings and instead relying on science to do the work that politics should be doing is like continuing to twist a screw that is already too tight – you'll just strip it and render it useless.

— Jason Segedy 🇺🇲🇭🇺🇮🇹 (@JasonSzegedi) May 14, 2020

An example–

UPDATE "The Time To Prepare for a Second Covid-19 Wave is Now" [Andy Slavitt, Medium]. "With all that we have to do, why prepare for a second wave now? If we are going to tempt fate and then relax social distancing, we better prepare. Save every life possible…. It is important for every political leader to think about how to build and maintain the political capital needed to take quick action. Start communicating now about the likely need for action. If you can't handle the leadership that is required, consider resigning." • Which all sounds great, until you remember that Andy Slavitt is collecting a lot of money from the health insurance industry to prevent #MedicareForAll, and thinks the health care system should look like this:

The whole diagram reminds me of the famous woodchipper in Fargo. So what's this about "save every life possible"?
Stats Watch
At reader request, I added some business stats back in. Please give Econintersect click-throughs; they're a good, old-school blog that covers more than stats. If anybody knows of other aggregators, please contact me at the email address below.
Employment Situation: "09 May 2020 Initial Unemployment Claims 2,981,000 This Week" [Econintersect]. "The pandemic has so far caused a 36,774,000 job loss."
Imports: "April 2020 Import Year-over-Year Inflation Declined To -6.8%" [Econintersect]. "Year-over-year import price indices inflation slowed and are now deeper in contraction…. The main reason for the decline in imorts is lower fuel prices but most all prices were soft."
* * *
Shipping: "ICAO calls for sanitary sky corridors to expedite critical cargo flights" [American Shipper]. "Governments should follow harmonized hygiene standards for crews, aircraft and airport facilities so authorities have the confidence to freely allow passage of air cargo flights with essential medical supplies and food, the International Civil Aviation Organization (ICAO) said Wednesday. Currently such flights face severe delays because of inconsistent border restrictions. The United Nations agency, with responsibility for managing the administration of international aviation law, is publishing guidelines to ensure COVID-free aircraft, crews, passengers and airports, saying widespread adoption would create sanitary corridors for essential trade and travel. The first set of 'clean' standards addresses flight crews for cargo aircraft. A group of public health and aviation officials convened by ICAO also developed a COVID status card for crew members that can help in getting through customs and immigration checkpoints." • And for passengers?
Rail: "AAR: "Railroads Have Experience Weathering Difficult Times, and They'll Weather This One" [Railway Age]. "The Association of American Railroads (AAR) reported U.S. rail traffic for the week ended May 9, 2020, and, for this week, total U.S. weekly rail traffic was 412,549 carloads and intermodal units, down 22.1% compared with the same week last year; total carloads were 185,144 carloads, down 28.4% compared with the same week in 2019; and U.S. weekly intermodal volume was 227,405 containers and trailers, down 16% compared to 2019…. "In terms of total carloads, last week was the second lowest since our data began in 1988," [said AAR Senior Vice President John T. Gray]. "Railroads have lots of experience weathering difficult times, and they'll weather this one. That said, they're hopeful that the efforts now underway to find effective ways to combat the pandemic will bear fruit and our economy can first recover and then return to growth mode."
Travel: "Delta, others wrestle with too many planes, too many pilots" [Reuters]. "Delta Air Lines (DAL.N) moved to retire its Boeing Co (BA.N) 777 fleet and reduce its pilot ranks on Thursday as it joins other airlines wrestling with the need to shrink their operations to match reduced air travel due to the coronavirus crisis. After announcing that it would no longer fly its 18 wide-body 777s, Delta told its 14,500 pilots that it expects to have 7,000 more than it needs in the fall, according to a memo to flight operations employees first reported by Reuters." • Yikes.
The Fed: "In nod to grim U.S. outlook, Fed's Powell calls for more fiscal support" [Reuters].
Today's Fear & Greed Index: 36 Fear (previous close: 39 Fear) [CNN]. One week ago: 40 (Fear). (0 is Extreme Fear; 100 is Extreme Greed). Last updated May 11 at 12:40pm
The Biosphere
"Pollution returns to Houston as coronavirus restrictions loosen" [Houston Chronicle]. "Houston's air pollution is returning to normal levels, following a period of cleaner skies during the stay-at-home orders put in place to slow the spread the coronavirus. Ozone levels have now surpassed legal limits five times since April 20 after staying unusually low for more than a month. Nitrogen oxide emissions — a key contributor to smog — are back near where they were before the coronavirus shutdowns began, said Daniel Cohan, an environmental engineering professor at Rice University."
Health Care
"Face Shields and Containment of COVID-19" [JAMA]. "[F]ace shields appear to significantly reduce the amount of inhalation exposure to influenza virus, another droplet-spread respiratory virus. In a simulation study, face shields were shown to reduce immediate viral exposure by 96% when worn by a simulated health care worker within 18 inches of a cough. … no studies have evaluated the effects or potential benefits of face shields on source control, ie, containing a sneeze or cough, when worn by asymptomatic or symptomatic infected persons. However, with efficacy ranges of 68% to 96% for a single face shield, it is likely that adding source control would only improve efficacy, and studies should be completed quickly to evaluate this…. Face shields, which can be quickly and affordably produced and distributed, should be included as part of strategies to safely and significantly reduce transmission in the community setting." • Face shields could also become fashion items, molded to represent superheroes, for example (as with Halloween masks), or painted, or decorated with appliqué.
"Coronavirus: Officials warn some N95 masks not effective against spread" [San Francisco Chronicle]. "While standard N95 respirators, when worn properly, can reduce the wearer's exposure to 95% of airborne particles and protect those around them from potentially infected coughs, sneezes and other respiratory droplets; — or one-way vent — pose a potentially serious issue. While these types of masks protect the wearer, they do not protect others from a potentially infected cough or sneeze due to their ability to release large respiratory droplets into the air."
A thread on entry into Hong Kong by air (with extensive documentation):
I've landed in Hong Kong after flying from Paris CDG, via London Heathrow. I now have to wait ~8 hours before I get my #COVID19 test results and thus have ample time to tweet about my experience. pic.twitter.com/jCDPuwrTzL

— Laurel Chor (@laurelchor) May 14, 2020
"State will offer free COVID-19 tests to all Vermonters who want one at pop-up clinics" [Burlington Free Press]. "Vermonters without symptoms of COVID-19 will now be able to get tested for free at pop-up clinics across the state. The announcement came Tuesday in a daily update from the Vermont Department of Health. No referral from a medical professional or health care provider is needed for the new pop-up clinics, however Vermonters with mild or acute symptoms are still being asked to call their primary care doctor or 2-1-1." • Civilized. Now about avoiding banktruptcy after treatment….
Class Warfare
"Current Economic Issues" [Chair Jerome H. Powell, Board of Governors of the Federal Reserve System]. "Among people who were working in February, almost 40 percent of those in households making less than $40,000 a year had lost a job in March.1 This reversal of economic fortune has caused a level of pain that is hard to capture in words, as lives are upended amid great uncertainty about the future." • In contrast:
There is no class or culture war over coronavirus.

Support for staying at home as much as possible:

Rural voters: 77-23
Noncollege whites: 75-25

Say restrictions are "appropriate":

Rural voters: 64-20
Noncollege whites: 54-28

More here:https://t.co/MFvNKnv4HB

— Greg Sargent (@ThePlumLineGS) May 14, 2020
"There is no class… war over coronavirus." One hates to imagine what class war would look like, then.
"How the Coronavirus is Killing the Middle Class" [The New Yorker]. ""This is worse and weirder than anything I've ever seen," Heidi Shierholz, a director of policy at the Economic Policy Institute, said. Shierholz served as the chief economist at the Department of Labor from 2014 to 2017 and dealt firsthand with the slow recovery from the 2008 financial crisis. "We know how to wrap our brains around the bursting of an asset bubble of seven trillion dollars in the housing market, or the end of the dot-com boom," she said. "But we don't have practice in dealing with the fallout from this pandemic." We are beginning to see who will be most affected by the economic downturn. Women are losing jobs at a higher rate, because there are more of them in the service sectors most affected by the virus. The crisis has also been increasing racial economic disparities: black and Latino workers are more likely to work service-industry jobs—in restaurants, bars, hotels—and that sector was the first to shut down, and the least likely to fully reopen in the near term. "We always see this during recessions, but this one is likely to be worse," Shierholz told me." • Fascinatingly, despite the headline, "middle class" only appears only once in the story: "African-American middle class." "Working class" does not occur at all. Reread the Shierholz quote: liberal Democrats, whether in think tanks or the New Yorkers, will not, cannot concieve of the working class as a whole; only of differentially affected identities within that class. It's really astounding.
"Grocery stores and coffee chains gave workers hazard pay. Now they're taking it back" [Los Angeles Times]. "But this rise in wages — the "hero bonuses" and "appreciation pay" — is already subsiding, even with the number of new infections refusing to fall. With Starbucks reopening stores, those $3 raises will terminate at the end of May. So will Target's $2 hourly raise. Kroger-owned grocery chains such as Ralphs, QFC and Fred Meyer will stop paying an extra $2 per hour Sunday…. 'The pandemic isn't going away, coronavirus isn't going away, so why are they taking away these two dollars from us? It's absurd,' Ralphs cashier Dionna Richardson said." • Why? Because they can.
Further to the definition of "Karen" (a Becky who weaponizes her Becky nature, typically by "calling the manager"):
A Karen Goes Berserk at Red Lobster on Mother's Day (YORK, PA)

Woman upset that she has to wait 3 hours for food from Red Lobster on Mother's Day when the restaurant has a reduced staff. pic.twitter.com/gEnZI9vPh3

— iGrowCannabis🌱🗽 (@ArmoredGoat) May 12, 2020
There's a lot to unpack here, including the notion that anybody who waits three hours at a Red Lobster (!) instead of cooking at home isn't there for the food. They are there to be served.
News of the Wired
"My Brain Was Damaged. Making Art Helped." [The Riveter]. "Last August, I suffered a traumatic brain injury resulting from an accident I suffered while doing something I love — kitesurfing. It left me unable to tolerate bright lights, nearly any sounds, and the basic functioning of a normal life. I rode the subway wearing a baseball hat, sunglasses and headphones — sweating with the effort of being so close to other people…. Pre-injury, I wasn't a painter. And when I impulsively drove to an art store and bought hundreds of dollars in oil paints, brushes and canvases, I imagined it would be another wasted expense in the journey to heal. Yet, the first day as I swept the brush across the canvas and watched the rampage of colors swirl together, I felt a moment of deep intense relief. My headaches stopped. My brain exhaled. I cried….. Art will not stop trauma, but it can help us adjust to it. So, pick up a pencil. Find clay. Grab for a marker. Locate an empty page." •
"By no means without ability":
OTD 1977: my headmaster sent this letter to mum after I told him I'd joined a punk rock group and was quitting school so I could go on the White Riot tour. pic.twitter.com/qP2HtEaDNZ

— John Maher (@flyingmonkphoto) May 13, 2020
1977:
* * *
Readers, feel free to contact me at lambert [UNDERSCORE] strether [DOT] corrente [AT] yahoo [DOT] com, with (a) links, and even better (b) sources I should curate regularly, (c) how to send me a check if you are allergic to PayPal, and (d) to find out how to send me images of plants. Vegetables are fine! Fungi and coral are deemed to be honorary plants! If you want your handle to appear as a credit, please place it at the start of your mail in parentheses: (thus). Otherwise, I will anonymize by using your initials. See the previous Water Cooler (with plant)
here. Today's plant (GP):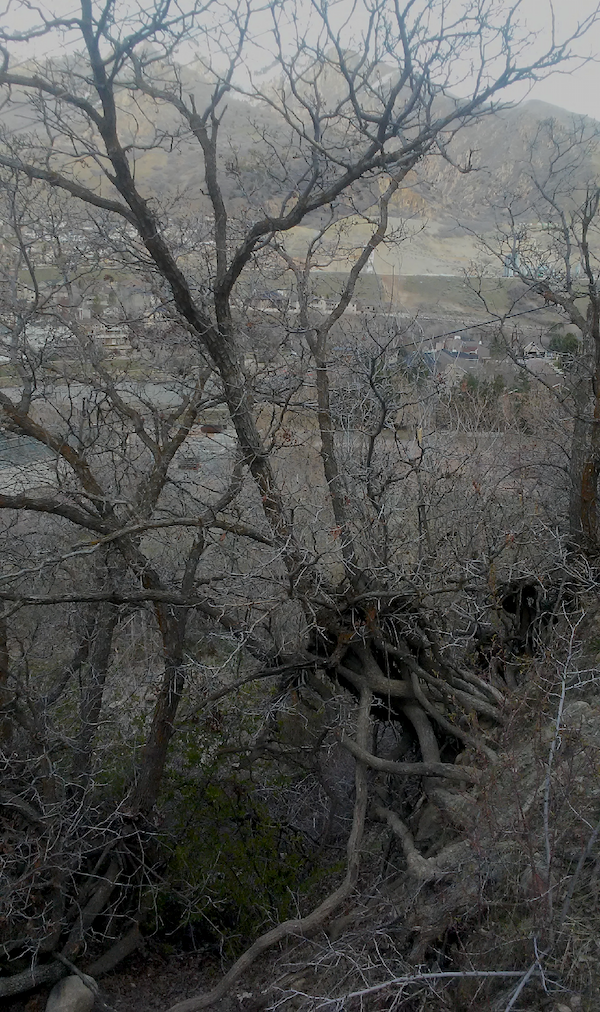 GP: "If you ever wondered what a scrub oak root system looks like. This hill got washed out but the tree just grew its roots down to the new ground level." Maybe like Sanders supporters?
* * *
Readers: Water Cooler is a standalone entity
not covered by the annual NC fundraiser. So if you see a link you especially like, or an item you wouldn't see anywhere else, please do not hesitate to express your appreciation in tangible form. Remember, a tip jar is for tipping!
Regular positive feedback both makes me feel good and lets me know I'm on the right track with coverage. When I get no donations for five or ten days I get worried. More tangibly, a constant trickle of donations helps me with expenses, and I factor in that trickle when setting fundraising goals:
Here is the screen that will appear, which I have helpfully annotated.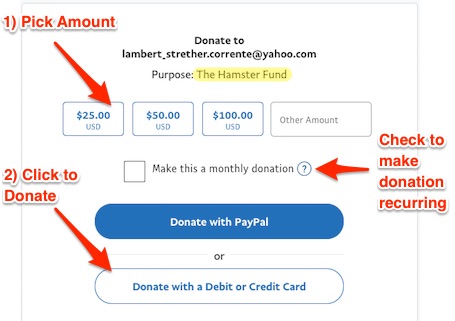 If you hate PayPal, you can email me at lambert [UNDERSCORE] strether [DOT] corrente [AT] yahoo [DOT] com, and I will give you directions on how to send a check. Thank you!

Original Source