By Lambert Strether of Corrente.
#COVID19
At reader request, I've added this daily chart: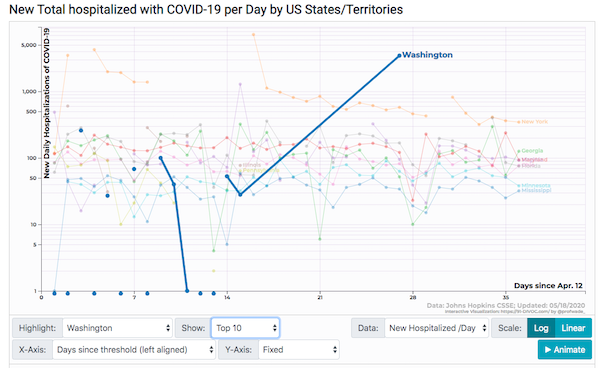 The data is the John Hopkins CSSE data. Here is the site. I have changed to a logarithmic scale for US States and territories.
Alert reader Richard played around with the chart and came up with the anomaly above. Looks like a data error to me, but do we have Wisconsin readers who know? (And are there any other Easter eggs like this?
More data work: "Interactive Map of Coronavirus Deaths in NYC by Zip Code" [Untapped New York (NoOneInParticular)]. Maps are interactive: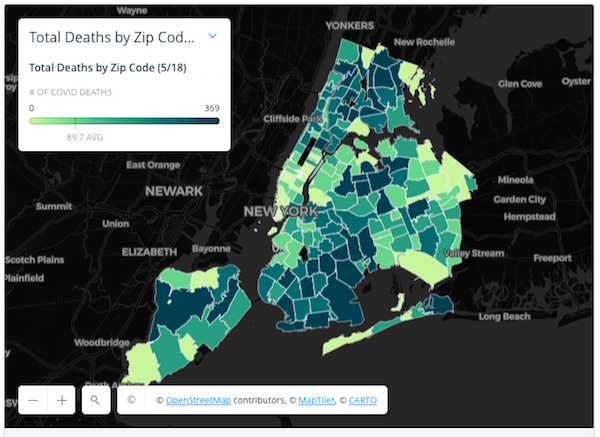 * * *
See Vice, "How to Read the Coronavirus Graphs":
Quantities that grow exponentially, when depicted on a linear scale, look like curves that bend sharply upward, with the curve getting constantly steeper. On a log scale, exponentially growing values can be depicted with straight diagonal lines.

That's the beauty of plotting things on log scales. Plots are meant to make things easy to understand, and we humans are much more adept at understanding linear, straight-line behavior. Log plots enable us to grasp exponential behavior by transferring the complexity of constantly steepening curves into the simplicity of an exponentially increasing scale.

On a log scale, we want to constantly be making the line more and more horizontal. The general concept of "flattening" is still a good one, but it's never going to curve down. And so what we should be looking, and hoping for is a trend toward horizontal.
Politics
"But what is government itself, but the greatest of all reflections on human nature?" –James Madison, Federalist 51
"They had one weapon left and both knew it: treachery." –Frank Herbert, Dune
"They had learned nothing, and forgotten nothing." –Charles Maurice de Talleyrand-Périgord
* * *
2020
Trump (R)(1): "'They don't give him enough credit': the voters who back Trump, even through the pandemic" [Guardian]. "Few people understand the terrible cost of the coronavirus like Lee Snover, a Republican party chair in one of the key swing counties that could determine whether Donald Trump is reelected as president in November. Snover, who helped deliver an upset victory for Trump in 2016 in Northampton county, Pennsylvania, lost her father to the virus this spring. Her husband fell critically ill, too, spending 17 days in an intensive care unit before recovering. Her mother, a cancer survivor, was also in intensive care for eight days before emerging. Trump stands accused of driving up the coronavirus death toll by downplaying the public health threat and urging the country to 'reopen' too quickly. But Snover does not see the president as having failed her family. 'I don't think people give him enough credit,' she said. 'If you think about what a businessman he was, and how much he loved that booming economy, do you know how hard it was for him to shut the country down? That was hard. So I give him credit for that.'" • Interesting interviews from Pennsylvania. A party chair, though? Really?

Trump (R)(2): "Are Older Voters Turning Away From Trump?" [Politico]. "In national head-to-head polls conducted since April 1, Trump is barely breaking even with most older Americans — and in some age groups, he's even trailing Biden by as much as 1.4 points (see 45- to 64-year-olds)…. The most startling shift, though, is among voters age 65 and older. Four years ago, Trump bested Hillary Clinton by 13 points, 55 percent to 42 percent, according to the Cooperative Congressional Election Study, a survey of more than 60,000 voters organized by Harvard University and administered by YouGov. But now Biden narrowly leads Trump 48 percent to 47 percent, based on an average of 48 national polls that included that age group." • The ice floes concentrate the mind wonderfully.

Trump (R)(3): "Swing-state Republicans warn Trump's reelection is on shaky ground" [Politico]. ""I think it still boils down to a referendum on the president. They'll beat up on Biden and they'll raise some concerns," said [Scott Walker, the] former two-term Republican governor of Wisconsin, who lost his seat in 2018. But in the end, if people felt good about their health and the state of the economy, Trump will probably carry Wisconsin. If not, Walker said, 'it's much more difficult' for the president. Walker is not alone among swing-state Republicans in his assessment of the president's political prospects. Interviews with nearly a dozen former governors, members of Congress, and other current and former party leaders revealed widespread apprehension about Trump's standing six months out from the election. Many fret that Trump's hopes are now hitched to the pandemic; others point to demographic changes in once-reliably red states and to the challenge of running against a hard-to-define Democratic opponent who appeals to a wide swath of voters." • I don't think Biden is all that hard to define; the Republicans have only harely started to do so.

Warren (D)(1): "My Brother's Death Didn't Have to Happen" [The Atlantic]. • Some tend to think of political figures as celebrities, and so wish to share their joys (and sorrows) vicariously. My personal view is that Joe Biden milking his son's death for votes and cash is disgusting and repellent, and that some things are best left private. (Biden also sells that narrative to a lazy and willing press in the same way that McCain, after the Keating Five scandal, reinvented and sold himself as a "maverick.") So, I find Warren's apparent imitation of Biden's ethos a little chilling; it's more than likely that it's part of her quest for the Vice Presidency, much as adopting #MedicareForAll was part of her quest of the Presidency. Biden and Warren now share, after all, a bond. If I am right and she succeeds, I'll throw up. My hands in admiration, and admit she was better at claiming power than I thought she was, and certainly better than Sanders. (To be fair, Buzzfeed's David Mack calls her account "heartbreaking and very real." "Very," as opposed to, say, partially?

* * *
Realignment and Legitimacy
"The Perpetual Impeachment: House Democrats Tell The Supreme Court That They Are Preparing For A New Impeachment" [Jonathan Turley]. "On Monday, the House Democrats filed a brief that with the Supreme Court that the House was actively pursuing new articles of impeachment against President Donald Trump including 'the possible exercise of improper political influence over recent decisions made in the Roger Stone and Michael Flynn prosecutions, both of which were initiated by the special counsel.' The argument is meant to justify the continued demand for redacted grand-jury material from the now closed Special Counsel investigation into the Russian collusion investigation…. The position of the House seems to be that we are able to claim the ultimate level of deference in such demands simply because we say that we have seeking a possible impeachment. This concern is magnified by the position of Speaker Nancy Pelosi, in long refusing an impeachment vote, that she could unilaterally trigger such powers in a simple press conference." • I can't even. Focusing the entire Beltway on impeachment worked out real great in January and February — a calendar driven by Pelosi herself — so what could possibly go wrong this time? In an election year… Anyhow, This time we've got him! (On Flynn, see material in today's Links.)

"Dominant religions in the U.S., county by county" [The Big Think]. "A map shows the dominant religion in each of the United States' counties. Evangelicals dominate the most areas geographically. Catholics are the majority faith in densely populated areas." Handy map:
Stats Watch
At reader request, I added some business stats back in. Please give Econintersect click-throughs; they're a good, old-school blog that covers more than stats. If anybody knows of other aggregators, please contact me at the email address below.
GDP: "GDPNow" [Federal Reserve Bank of Atlanta (Re Silc)]. "The GDPNow model estimate for real GDP growth (seasonally adjusted annual rate) in the second quarter of 2020 is -41.9 percent May 19, up from -42.8 percent on May 15. After this morning's new residential construction report from the U.S. Census Bureau, the nowcast of second-quarter real gross private domestic investment growth increased from -69.4 percent to -66.0 percent."
Construction: "April 2020 Residential Building Growth Hit By Coronavirus" [Econintersect]. "The effect of the coronavirus pandemic was significant this month. The backward revisions this month were small. It is always difficult to understand the trends as the backward revisions sometimes reverse trends month-to-month. The nature of this industry normally has large variations from month-to-month (mostly due to weather) so the rolling averages are the best way to view this series. In summary, the rolling averages say this sector is slowing with construction completions significantly slowing. We consider this report worse than last month."
Housing: "March 2020 CoreLogic Single-Family Rent Index: Rental Demand Plummeted In the Pandemic, Prices Could Follow" [Econintersect]. "The Single-Family Rent Index (SFRI), which analyzes single-family rent price changes nationally and among 20 metropolitan areas shows a national rent increase of 3% year over year, unchanged from March 2019. After three consecutive months of acceleration, March marked the first downshift in annual rent price growth. Rising unemployment and shelter-in-place directives left fewer people pursuing new residences. in the second half of March as the economy entered a recession and effects of the coronavirus (COVID-19) took hold."
* * *
Retail: "The state of the restaurant industry" [OpenTable]. n=20,000. " For year-over-year comparisons by day, we compare to the same day of the week from the same week in the previous year. For example, we'd compare Tuesday of week 11 in 2020 to Tuesday of week 11 in 2019. Only states or cities with 50+ restaurants in the sample are included. All such restaurants on the OpenTable network in either period are included." Handy chart: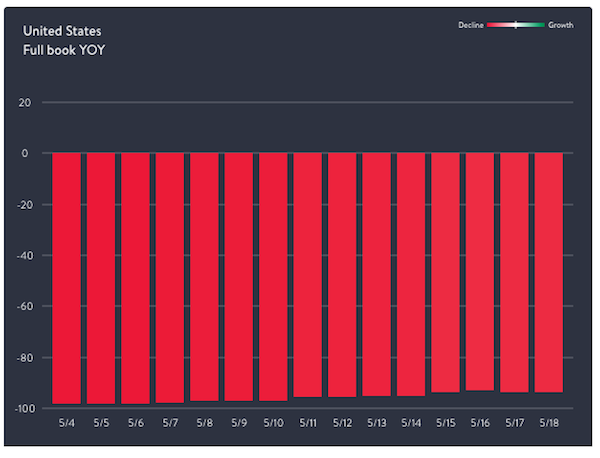 The word "carnage" comes to mind….
Shipping: "U.S. airlines add June capacity as passenger bookings inch back" [American Shipper]. "Airlines are beginning to show small signs that they've escaped the market's rock bottom and are attracting more customers as states begin easing coronavirus stay-home orders. The flickers of returning passenger demand are leading them to add back some capacity into their networks. The additional flights also will help shippers that need air transport for their goods….. In a U.S. Securities and Exchange Commission filing, [United Airlines] said it expects to increase passenger capacity in July to 25% of its 2019 level, compared to the 10% available in May and June. It will evaluate and cancel flights on a rolling 60-day basis until demand recovers."
Shipping: "Seaports are starting to reel from the coronavirus-driven upheaval in trade flows. The International Association of Ports and Harbors says in a new report that European ports have been the hardest hit so far…. with ship calls falling by up to 25% at two-thirds of the continent's gateways" [Wall Street Journal]. "The declining calls are the result of the enormous numbers of sailings that shipping lines have canceled in recent weeks as the earlier supply pullback in China has shifted into a demand downturn among locked-down Western nations. The capacity cuts are slicing into key revenue sources for ports. That raises the potential for aid at some ports that are absorbing the financial impact of the dimming business. Port volumes in the U.S. are sliding, with combined loaded container imports at the neighboring ports of Los Angeles and Long Beach off 8.1% in April.
Shipping: "Bulk Shipping 'At The Very Bottom' as Carrier Earnings Plunge" [Bloomberg]. "The Baltic Exchange Capesize Index, a measure of freight rates for bulk cargoes from coal-to-iron ore, has tumbled this year, with a short rebound in April petering out. The Baltic Dry Index, a broader gauge of vessel demand, plunged last week to the lowest since 2016."
The Bezzle: "Uber Freight has been growing rapidly, including a 57% revenue gain in the first quarter to $199 million. The growth came while revenue at major third-party logistics companies including freight brokers declined 8.5% in the first quarter, according to the Transportation Intermediaries Association" [Wall Street Journal]. "And Uber Freight's loss of $64 million in the quarter was the kind of result that has competitors questioning whether the business has a realistic path to profits even if its digital capability wins it more freight."
The Bezzle: "The State of the Self-Driving Car Race 2020" [Bloomberg]. "Meanwhile, the coronavirus has both strengthened the use case for robot drivers and shuttered labs and factories where the technology was being refined. There's never been a better time for groceries or medicines delivered by an algorithm on wheels, though near-term milestones will likely be delayed, and the economic fallout from the pandemic will undoubtedly force some companies to scrap their autonomous skunkworks." The fact of a business case doesn't, in and of itself, solve the technical problems: "Even before social distancing, self-driving engineers were quietly recalibrating expectations and pushing promised timelines back…. Weather has proved tricky, as have so-called edge cases, when someone else on the road—be it a driver, cyclist or electric scooter pilot—does something unexpected, as humans often do. The halting nature of development has delivered a large dose of humility to the world's whip-smart mobility experts, who are showing an increased willingness to form posses and work together. The treasure hunt for self-driving riches is now dominated by joint ventures. In some cases, a technology company's effort with an automaker is bankrolled by an institutional investor." • Weather?! There's no weather in Silicon Valley!
The Bezzle: "SoftBank Vision Fund Posts $17.7 Billion Loss on WeWork, Uber" [Bloomberg]. • That's a damn shame.
Today's Fear & Greed Index: 51 Neutral (previous close: 47 Neutra;) [CNN]. One week ago: 39 (Fear). (0 is Extreme Fear; 100 is Extreme Greed). Last updated May 19 at 12:51pm.
The Biosphere
"The Soil Talks Back" [Weizmann Institute]. "The narrow strip of soil around the plant's root teems with millions of microorganisms, making it one of the most complex ecosystems on earth. To determine whether the composition of this "root microbiome" triggers changes within the plant, postdoctoral fellow Dr. Elisa Korenblum and other members of a team headed by Prof. Asaph Aharoni of Weizmann's Plant and Environmental Sciences Department, created a hydroponic set-up in which they split the roots of tomato seedlings in two. In a series of experiments, the researchers placed one side of the split roots in vials, progressively diluting the soil suspensions several times. Each dilution altered the soil's microbial composition and reduced the diversity within the microbial community, so that the different suspensions ended up containing root microbiomes with high, medium and low diversity levels. The other side of the roots was submerged in a vial with a clean, soil-free solution. If the soil microbes communicate with the plant, one would expect to detect signs of their messages on both sides of the root system. That was exactly what the scientists found…. 'Our ultimate goal is to decipher to interact with one another,' Korenblum says. 'Azelaic acid is probably one of the 'words' of this language.'" • Must read, not just for soil fans!
Health Care
"It's So Hard to Know Who's Dying of COVID-19—and When" [The New Scientist (nvl)]. "Those data look precise but they are anything but. Epidemiologists are fond of saying that all models are wrong but some are useful. The same is true for mortality statistics. Public health officials have long battled with inconsistent and delayed reporting of deaths, even within different regions of the same country. And that long-standing issue now poses a problem for researchers trying to track the pandemic and understand its implications. 'Every country's vital registration system is different and no country's vital registration system is perfect,' says Mark Hayward, a sociologist at the University of Texas at Austin who advises the US Centers for Disease Control and Prevention on mortality statistics. 'They all have their own built-in quirks and lags.' The problems start with identifying the cause of death and attributing it—or not—to COVID-19. Countries such as the Netherlands count only those individuals who died in the hospital after testing positive for the virus. Neighboring Belgium includes deaths in the community and everyone who died after showing symptoms of the disease, even if they didn't undergo a diagnostic PCR test. To be included in a country's national count, each death must be registered locally and then recorded in a more centralized accounting system. Or systems. Different places do this in their own way too."
"You Don't Need Invasive Tech for Successful Contact Tracing. Here's How It Works." [Pro Publica]. "I can only imagine how I would feel if I got a call telling me that I had been in close contact with a COVID-19 patient — shocked, a little scared and possibly a bit in denial. But after spending a week talking to contact tracing experts across the country, and taking an online course as well, I think I'd also feel one more thing: empowered. Here's why." • I woudn't feel empowered if testing and treatment were not free, and if I had paid leave. What none of the test-and-trace people seem to be grasping is that alone in the world, the health care system in the United States is organized around making a profit.
MMT
Yikes:
So this is Nancy Pelosi saying her entire caucus supported boosting automatic stabilizers but decided against it based on an accounting technicality. Transcript is a little rocky, video at 19:55: https://t.co/YQFvDyXxZj pic.twitter.com/qrbsASYUjF

— Zach Carter (@zachdcarter) May 15, 2020
Class Warfare
"The Richest Neighborhoods Emptied Out Most as Coronavirus Hit New York City" [New York Times]. "The phone data shows New Yorkers primarily went to surrounding counties — east into Long Island's Nassau and Suffolk counties, west to Monroe County in Pennsylvania, south to Monmouth County in New Jersey, north to Westchester County, northeast to Fairfield County in Connecticut and farther afield in all directions. ." Handy map: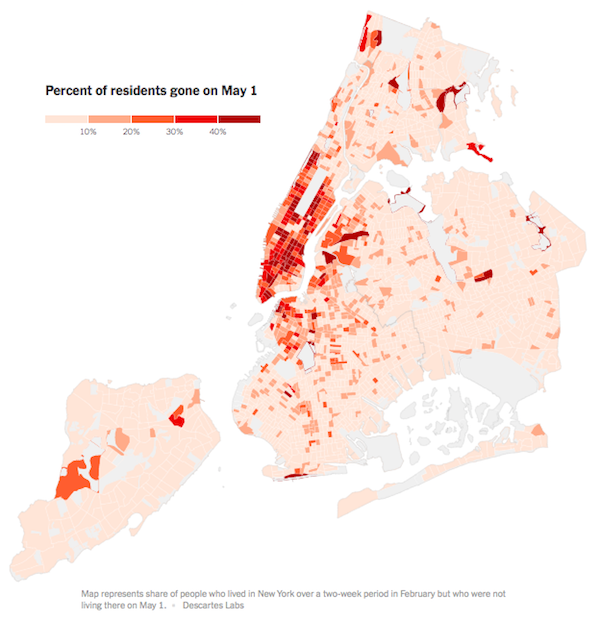 "The Left in Lockdown" [Jacobin]. "… the usual whirl of meetings that make up activist life…." • A lot to unpack there.
News of the Wired
"The Bioenergetics of Authoritarianism" [Peter Gabel, Tikkun]. "When we fully enter into each other's presence, when we fully recognize each other in our sacred humanity, we actually experience the energetic flow that connects us. We emit an invisible but palpable radiance linking the poles of our Being as we come into connection and experience one another as here, as here together embraced in each other's sight. This kind of encounter—occurring sometimes in two-person encounters and ubiquitously in the "rising" period of liberatory social movements as this mutual recognition ricochets into a powerful social force—is inherently egalitarian. No one is experienced as above or underneath anyone else, but rather we all experience each other as fully present together in the same space, on the same solid ground of Being. We form a real and felt "we", not an imagined "we" "out there" that we imagine we are a part of. ut when we cannot experience the true presence of the other because we have been conditioned to fear the other as a threat to our ontological integrity, when the other's gaze seems to carry the threat of some fundamental humiliation of our being that must be guarded against, we pool up our longing for authentic human connection behind a series of roles and performances that leave us starved for true community." • Woo woo? Or something here?
Zeitgeist Watch:
Illustration to "A Week of Kindness", 1934 #maxernst #ernst pic.twitter.com/dhObz6mTC8

— Max Ernst (@artisternst) May 18, 2020
I get a lot of pleasure from Twitter art bots.
* * *
Readers, feel free to contact me at lambert [UNDERSCORE] strether [DOT] corrente [AT] yahoo [DOT] com, with (a) links, and even better (b) sources I should curate regularly, (c) how to send me a check if you are allergic to PayPal, and (d) to find out how to send me images of plants. Vegetables are fine! Fungi and coral are deemed to be honorary plants! If you want your handle to appear as a credit, please place it at the start of your mail in parentheses: (thus). Otherwise, I will anonymize by using your initials. See the previous Water Cooler (with plant)
here. Today's plant (Alice & Erling):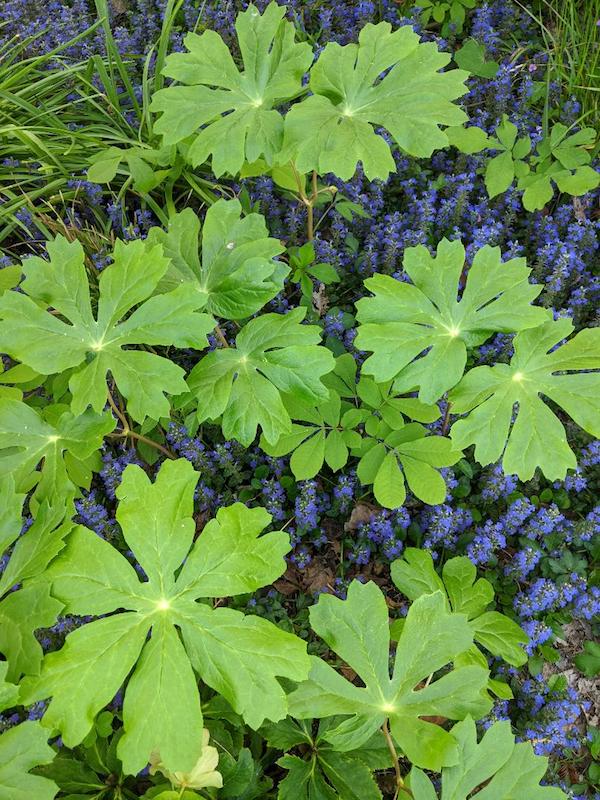 Alice & Erling write, from coastal SE North Carolina: "Lovely green Mayapples towering over purple Ajuga. Interesting to note that Mayapple roots were used as a cathartic by Native Americans." What a glorious tapestry!
* * *
Readers: Water Cooler is a standalone entity
not covered by the annual NC fundraiser. So if you see a link you especially like, or an item you wouldn't see anywhere else, please do not hesitate to express your appreciation in tangible form. Remember, a tip jar is for tipping!
Regular positive feedback both makes me feel good and lets me know I'm on the right track with coverage. When I get no donations for five or ten days I get worried. More tangibly, a constant trickle of donations helps me with expenses, and I factor in that trickle when setting fundraising goals:
Here is the screen that will appear, which I have helpfully annotated.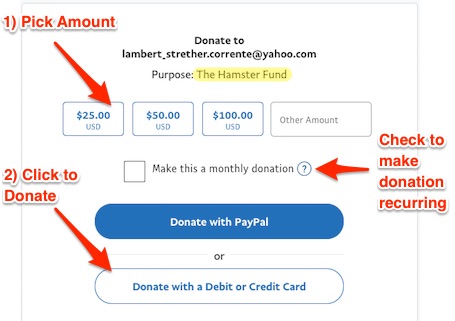 If you hate PayPal, you can email me at lambert [UNDERSCORE] strether [DOT] corrente [AT] yahoo [DOT] com, and I will give you directions on how to send a check. Thank you!

Original Source