By Lambert Strether of Corrente.
#COVID19
At reader request, I've added this daily chart: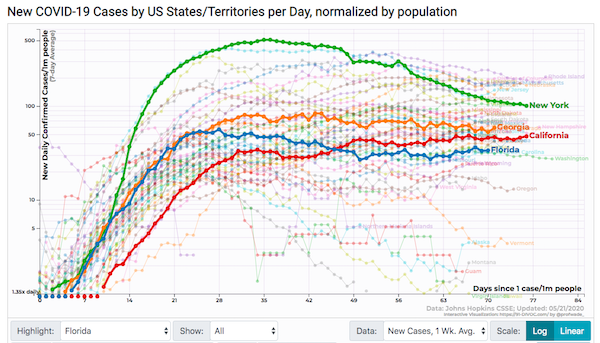 The data is the John Hopkins CSSE data. Here is the site. I have changed to a logarithmic scale for US States and territories.
Back to log form, with New York, California, Florida, and Georgia.
https://www.al.com/news/2020/05/montgomery-running-out-of-icu-beds-as-coronavirus-cases-double-in-may.html
* * *
See Vice, "How to Read the Coronavirus Graphs":
Quantities that grow exponentially, when depicted on a linear scale, look like curves that bend sharply upward, with the curve getting constantly steeper. On a log scale, exponentially growing values can be depicted with straight diagonal lines.

That's the beauty of plotting things on log scales. Plots are meant to make things easy to understand, and we humans are much more adept at understanding linear, straight-line behavior. Log plots enable us to grasp exponential behavior by transferring the complexity of constantly steepening curves into the simplicity of an exponentially increasing scale.

On a log scale, we want to constantly be making the line more and more horizontal. The general concept of "flattening" is still a good one, but it's never going to curve down. And so what we should be looking, and hoping for is a trend toward horizontal.
Trade
"No Clear Sign That Worst Is Over for Global Trade, Asian Data Shows" [Bloomberg]. "An early trade report from South Korea, a bellwether for global commerce, showed exports may be set to drop more than 20% in May for a second month. Meanwhile, Japan's overseas shipments also plunged by more than a fifth in April and a purchasing managers index showed manufacturing activity weakening further in May…. 'Double-digit exports decline will last for at least a couple more months,' said So Jaeyong, an economist at Shinhan Bank. 'The U.S. restarting its economy after China may provide a floor to the trade slump, but there are multiple risks ahead, including a wider second wave of infections.'" • Mr. Market doesn't seem to have noticed that China quaranteed another 100 million people just the other day.
Politics
"But what is government itself, but the greatest of all reflections on human nature?" –James Madison, Federalist 51
"They had one weapon left and both knew it: treachery." –Frank Herbert, Dune
"They had learned nothing, and forgotten nothing." –Charles Maurice de Talleyrand-Périgord
* * *
2020
Biden (D)(1): "Biden campaign focuses on diverse coalition building with new senior leadership" [ABC|. "With just over five months until the general election and facing a barrage of public advice on how to move forward with a campaign in the midst of a global pandemic, former Vice President Joe Biden's team is pushing ahead with a new strategy, focusing on hiring new leaders amid increased outreach to key, diverse voting groups they consider critical to build a winning constituency against President Donald Trump in November. The campaign, which has recently announced plans for a major expansion in the coming weeks, is aiming to revamp its team to reach communities of color, in particular Latinos, a group Biden struggled to court throughout the Democratic primary. Biden's campaign signaled they would be intensifying their outreach with new and diverse senior leadership, and announced Wednesday the hire of Karine Jean-Pierre, a former Obama administration official and the chief public affairs officer for MoveOn, a progressive public policy group." • Well, it's only May.

UPDATE Biden (D)(2): "Joe Biden: It Would Be an Insult to My Dead Son for Everyone to Have Healthcare" [Vice]. • From 2019, still germane. So does Warren believe that heatlh care for everyone would be an insult to her dead brother? Apparently so; see below. She certainly doesn't believe it would be a fitting memorial.

UPDATE Biden (D)(3): "Ukrainian lawmaker releases leaked phone calls of Biden and Poroshenko" [WaPo]. "A Ukrainian lawmaker who met with Rudolph W. Giuliani late last year released recordings of private phone calls several years ago between Vice President Joe Biden and Petro Poroshenko, then Ukraine's president, in a new broadside against the presumptive Democratic nominee for U.S. president that has raised questions about foreign interference in the 2020 election. Andriy Derkach, an independent member of Ukraine's parliament who previously aligned with a pro-Russian faction, said at a news conference in Kyiv on Tuesday that he had received the tapes — which consist of edited fragments of phone conversations Biden and Poroshenko had while still in office — from "investigative journalists." He alleged they were made by Poroshenko. Derkach has past links to Russian intelligence." • Big if true. It would be very like the Republicans to step on their own d**ks on ObamaGate with this thing. If so, thanks, Rudy.

Cuomo (D)(1): Come on, man.

"Is it true that when you were having the test administered, you inhaled and the doctor's finger went all the way up your nose and got stuck?"

CNN's Chris Cuomo pulls out massive cotton swab to tease brother Gov. Andrew Cuomo after live test https://t.co/BravZj8anz pic.twitter.com/kKbuJjiyOQ

— The Hill (@thehill) May 21, 2020

The nepotism! It b-u-u-u-r-r-r-r-n-s-s-s!!!!!!

Warren (D)(1): "Warren pivots on 'Medicare for All' in bid to become Biden's VP" [Politico]. • Spectacular performativity, albeit for a limited audience. I give it a 6.0, flawless both in technical merit and presentation.

* * *

Please stop (1):

Pelosi takes a jab at McConnell, who has ignored House Democrats' recent relief package:

"We have the Heroes bill. Others say, he has the zeroes bill."

— Sarah Ferris (@sarahnferris) May 21, 2020

>

Please stop (2):

Bipartisan group of 4 senators propose $4,000 refundable tax credit for skills training, apprenticeships, 2- and 4-year programs. We like it! https://t.co/d5kgLv2kr2 @amyklobuchar @CoryBooker @BenSasse @TimScottSC thank u!

— Jim Kessler (@ThirdWayKessler) May 20, 2020

All those jokes I've made about prying means-testing from liiberal Democrats' cold, dead hands…. .
RussiaGate
UPDATE "The Railroading of Michael Flynn" [Eli Lake, Commentary] (Lake's bio). This, as did the Greenwald YouTube the other day, puts together a coherent Flynn narrative. Here is a snippet: "Compare Flynn's treatment to McCabe's. Flynn was humiliated and bankrupted for allegedly lying to Pence and FBI agents over a phone call that advanced U.S. interests. Meanwhile, the Justice Department inspector general found in 2018 that McCabe "knowingly provided false information" in three separate interviews during an investigation into self-serving leaks published by the Wall Street Journal about an aborted investigation into the Clinton Foundation in 2016. That report also found that McCabe admonished more junior FBI agents for the leaks that he himself had authorized. Today, McCabe is a contributor at CNN. His opinions are still taken seriously at places like the esteemed Lawfare website. He remains in the good graces of the Trump resistance." • This doesn't look good for the Obama Alumni Association (which, horridly, is a real thing).
Realignment and Legitimacy
"America's Patchwork Pandemic Is Fraying Even Further" [The Atlantic]. "America spent much of April on a disquieting plateau, with every day bringing about 30,000 new cases and about 2,000 new deaths…. This pattern exists because different states have experienced the coronavirus pandemic in very different ways…. The U.S. is dealing with a patchwork pandemic. The patchwork is not static. Next month's hot spots will not be the same as last month's. … I spoke with two dozen experts who agreed that in the absence of a vaccine, the patchwork will continue. Cities that thought the worst had passed may be hit anew. States that had lucky escapes may find themselves less lucky. The future is uncertain, but Americans should expect neither a swift return to normalcy nor a unified national experience, with an initial spring wave, a summer lull, and a fall resurgence. "The talk of a second wave as if we've exited the first doesn't capture what's really happening," says Caitlin Rivers, an epidemiologist at the Johns Hopkins Center for Health Security. What's happening is not one crisis, but many interconnected ones. … A patchwork was inevitable, especially when a pandemic unfolds over a nation as large as the U.S. But the White House has intensified it by devolving responsibility to the states. There is some sense to that. American public health works at a local level, delivered by more than 3,000 departments that serve specific cities, counties, tribes, and states. This decentralized system is a strength: An epidemiologist in rural Minnesota knows the needs and vulnerabilities of her community better than a federal official in Washington, D.C. But in a pandemic, the actions of 50 uncoordinated states will be less than the sum of their parts. Only the federal government has pockets deep enough to fund the extraordinary public-health effort now needed. Only it can coordinate the production of medical supplies to avoid local supply-chain choke points, and then ensure that said supplies are distributed according to need, rather than influence… . New outbreaks will continue to flare and fester unless the country makes a serious effort to protect its most vulnerable citizens, recognizing that their risk is the result of societal failures, not personal ones." • A must-read.

"Lockdown Delays Cost at Least 36,000 Lives, Data Show" [New York Times]. "If the United States had begun imposing social distancing measures one week earlier than it did in March, about 36,000 fewer people would have died in the coronavirus outbreak, according to new estimates from Columbia University disease modelers." • I don't want to be cranky about this, but the headline is deceptive. Data don't show anything; the model does. More: "On March 16, Mr. Trump urged Americans to limit travel, avoid groups and stay home from school. Bill de Blasio, mayor of New York City, closed the city's schools on March 15, and Gov. Andrew M. Cuomo issued a stay-at-home order that took effect on March 22. Changes to personal behavior across the country in mid-March slowed the epidemic, a number of disease researchers have found. But in cities where the virus arrived early and spread quickly, those actions were too late to avoid a calamity." • I'm placing this here, and not under heatlh, so that it can be read in conjunction with the previous article.

I'm sure this Simpsons clip is familiar to many of you, but it was not to me:

Wow, the Simpsons predicted the 2020 election. pic.twitter.com/PX9VjTNslo

— Phil🌹 (@PhilG207) May 21, 2020

Ph'nglui mglw'nafh Cthulhu R'lyeh wgah'nagl fhtagn!

"After Charleston absentee ballots found in Maryland, SC considers cutting ties with printer" [Post and Courier]. "South Carolina election officials could have counties cut ties to a Minnesota printer after about 20 Charleston County absentee ballots were found in Maryland this week. The ready-to-mail ballots have since made their way to Charleston-area voters, state and county election officials said, but it is just the latest problem with SeaChange Print Innovations, which prints and mails absentee ballots for 13 S.C. counties. Some Greenville County voters received the wrong absentee ballots this year when the Democratic presidential primary and a special election for sheriff were held 10 days apart, S.C. Election Commission spokesman Chris Whitmire said. Some Charleston County voters received ballots that were folded in a way that could make them tougher to read by scanning machines, he said." • Oops.
Stats Watch
At reader request, I added some business stats back in. Please give Econintersect click-throughs; they're a good, old-school blog that covers more than stats. If anybody knows of other aggregators, please contact me at the email address below.
Employment Situation: "16 May 2020 Initial Unemployment Claims 2,438,000 This Week" [Econintersect]. "he pandemic has so far caused a 38,918,000 job loss….. (versus the 1510 % higher last week) — and is for this data set."
Leading Indicators: "April 2020 Leading Economic Index Declines Again – No Easy Path to Recovery" [Econintersect]. "The Conference Board Leading Economic Index (LEI) for the U.S.declined 4.4 % in April to to 98.8 (2016 = 100) – and the authors say 'The sharp declines in the LEI and CEI suggest that the US economy is now in recession territory.' … Because of the significant backward revisions, the current values of this index cannot be trusted. This index's value is the lowest since the Great Recession. My opinion is that the economy entered a recession in March." • I love the idea of backward revision of leading indicators.
Manufacturing: "May 2020 Philly Fed Manufacturing Survey Index Improves But Remains Below Great Recession Lows" [Econintersect]. "The Philly Fed Business Outlook Survey improved but remains deep in contraction…. Overall, this report was a little beter than last month's report with key elements in contraction." • "Noisy" and "sentiment-based."
Housing: "April 2020 Headline Existing Home Sales Significantly Declined Due To Coronavirus" [Econintersect]. "The [National Association of Realtors (NAR)] believes the drop in home sales is a temporary condition because of the coronavirus. Although it is possible the economy could spring back quickly – the depth of the economic contraction will have significant impacts down the line. We are now in the 'pandemic normal.' Home prices declined but maybe next month we will see a fuller effect from the coronavirus. We consider this report weaker than last month."
* * *
Shipping: "Tanker pitch goes back to basics as floating storage fades" [Freight Waves]. "Until very recently, the narrative in the tanker market went like this: The coronavirus has destroyed oil demand, excess oil will be forced into storage on tankers, a huge portion of the fleet will be tied up for an extended period, far fewer ships will be left in the spot market, ergo rates will rise. Sure, the lengthy and inevitable storage drawdown will be painful for rates, but that's the future. The near term looks great and tanker stocks are trading at a discount, so buy the stocks.The new tanker story goes like this: Oil demand is coming back fast, floating storage has peaked, oil already stored on tankers will be drawn down much quicker than predicted, rate pain during the drawdown period will be less prolonged than expected, market dynamics will revert to old-fashioned supply versus demand, demand will exceed constrained supply, ergo rates will rise." • That was fast!
Real Estate: "Target Corp. may be wondering if warehouses are really necessary to fulfill e-commerce demand. The retailer's strong 10.8% growth in comparable sales last quarter was built on a 141% surge in digital sales… and Target reaped big benefits from its recent investments in e-commerce fulfillment and distribution technology" [Wall Street Journal]. "The company handled about 80% of its e-commerce orders from stores, a big extension of its goal of using the retail sites as virtual warehouses. Other retailers, including Walmart, are turning to that strategy, and it's gotten a kickstart as merchants have pressed stores into e-commerce service under the recent lockdowns."
Manufacturing: "The Sputtering Road to Recovery" [Industry Week]. "[T]he world has never seen an economic collapse like this. After a first-quarter GDP contraction of 5%, economists forecast a second quarter downturn surpassing 30%, or three times as deep as the previous worst quarterly contraction in U.S. history. Some say it could even be more dire…. Getting back up to speed is further compromised if we experience a second wave of the virus this fall. That, in fact, is the biggest concern of about 45% of manufacturers – how to ensure operations can be sustained if infection rates start rising again…. Even before COVID, American manufacturing had yet to reach the levels of output attained prior to the Great Recession. With few underlying structural challenges prior to this recession, the sector should make steady progress on the road to recovery this year. But instead of sailing through the recovery, we'll have to row."
Manufacturing: "Ford Motor Co. stopped assembly lines at key factories in Chicago and Michigan for the past two days over new coronavirus concerns,… the latest sign of the risks to businesses and employees as they try to resume work in an uncertain environment. Ford also temporarily closed a pickup-truck plant in Dearborn, Mich., after a worker at the plant tested positive for Covid-19, while parts supplier Lear Corp., has idled a nearby factory for undisclosed reasons" [Wall Street Journal]. "The new closures come after Detroit's auto makers just began restarting their U.S. factories, which were idled around March 20, and as car plants in Europe have resumed production under tighter safety rules. ."
Manufacturing: "Rolls-Royce Will Lay Off 9,000 to Adjust to COVID-19 Impact" [Industry Week]. "Rolls-Royce announced May 20 they would lay off more than 17% of their global workforce as the company adapts to the 'medium-term impact' of the novel coronavirus. The London-based engineering company, which designs and manufactures luxury cars as well as airplane engines, is the latest aerospace manufacturer to lay off workers in the face of a crippled air travel economy. In a statement, CEO Warren East said governments cannot provide enough support to replace customer demand, making the reorganization necessary. The move will cut 9,000 positions from Rolls-Royce's 52,000 global workforce and cut plant, property, and capital spending."
Manufacturing: "Harley-Davidson Inc. is providing a glimpse of what supply chains may look like as companies restart production. The iconic motorcycle manufacturer is reopening its factories this week… but it will lower its production rates and send dealers a narrower range of motorcycles. The idea is to simplify production and distribution from components heading to factories to finished goods for the end market" [Wall Street Journal]. "Paring product lines has been an increasingly popular strategy for consumer-facing companies under the tough economic environment during the coronavirus pandemic. The idea is to get more efficient with core products to make supply chains more focused and flexible. For Harley that will mean steering away from expansive plans to stop a yearslong sales slide. Harley is warning dealers instead to prepare ',' with stocks of new motorcycles set to fall by 65%."
Tech: "Learning from COVID-19 Data Requests to Improve Platform Support for M&E" [Ushahidi]. "The most widely used data source remains the indefatigable SMS. The reasons why SMS is still so popular are many – it is simple to deploy and use, it is widely understood and is supported by all mobile phones without requiring an Internet connection. Finally, it is relatively cheap – or even toll-free. However, the short text format for sending messages to the platform often needs structuring for them to provide useful information l, an effort that becomes tedious when volumes are very high. One way to mitigate this is via USSD (Unstructured Supplementary Service Data). This standard, like SMS, can be used on all mobile phones. Its main advantage over SMS is that data structuring is built into the input process. However, the costs for USSD vary widely from country to country and range from slightly more expensive than SMS to many times the cost of SMS, leading many would-be deployers to consider other options." • Ushahidi is an interesting platform for data collection and disaster management, based in Nairobi.
Today's Fear & Greed Index: 52 Neutral (previous close: 52 Neutra;) [CNN]. One week ago: 38 (Fear). (0 is Extreme Fear; 100 is Extreme Greed). Last updated May 21 at 12:57pm.
The Biosphere
"'We've never seen this': wildlife thrives in closed US national parks" [Guardian]. "But traffic jams seem a distant memory as the '[Yosemite] closure approaches its two-month mark. Deer, bobcats and black bears have congregated around buildings, along roadways and other parts of the park typically teeming with visitors. One coyote, photographed by park staff lounging in an empty parking lot under a rushing Yosemite Falls, seemed to best capture the momentary state of repose. A handful of workers who have remained in Yosemite during the closures, who have been able to travel by foot and bike along the deserted roadways, describe an abundance of wildlife not seen in the last century. 'The bear population has quadrupled,' Dane Peterson, a worker at the Ahwahnee Hotel, told the Los Angeles Times. 'It's not like they usually aren't here … It's that they usually hang back at the edges or move in the shadows.'" • The old normal. Now, do any of these creatures have opposable thumbs?
"Mid-Michigan's catastrophic flooding adds to state's pandemic woes" [Detroit Free Press]. "In addition to days of downpours, two dams — Edenville and Sanford — in the center of Michigan's Lower Peninsula overflowed, an issue that Whitmer pledged that the state will be reviewing 'every legal recourse that we have' because the damage requires that we 'hold people responsible.' The timing of the flooding is especially precarious, coming amid a pandemic that has taken the lives of more than 5,000 Michiganders and left about a third of the state's workforce unemployed…. About 100 people slept at the shelter on cots and air mattresses spread across the basketball floor at Midland High School. The beds were kept 6 feet apart because of social distancing. A few people even slept in their cars to avoid catching coronavirus. In the shelter, people still had to maintain social distancing requirements. Everybody was required to wear masks. Three volunteers walked around the gym, continuously wiping down beds." • Natural disaster management in a pandemic. I just hope nobody in the shelter is shouting….
"Michigan dam that failed had its license revoked over safety issues in 2018: report" [The Hill]. "The Edenville dam, one of the two that failed, had its license revoked in 2018 with federal regulators citing the dam owner's failure to address safety issues, the Journal reports. Both the Edenville and Sanford dams, which were breached Tuesday, are operated by Boyce Hydro Power LLC, according to the Journal. The Federal Energy Regulatory Commission (FERC) said in a 2018 filing it was revoking the dam's license due to Boyce's 'longstanding failure to increase the project's spillway capacity to safely pass flood flows, as well as its failure to comply with its license, the Commission's regulations, and a June 15, 2017 compliance order,' according to the Journal. The Hill reached out to Boyce Hydro Power LLC for comment. Representatives for Boyce did not respond to the Journal's request for comment. The Michigan Department of Environment, Great Lakes and Energy took control over regulation of the dam after the license was revoked, according to the Journal."
Health Care
"Dr. Fauci revealed his fears of a 'surprise outbreak' back in 2017 and warned the upcoming Trump administration would face 'challenges' with infectious diseases in a Georgetown speech" [Daily Mail]. "Dr. Anthony Fauci, the White House's top infectious disease expert, warned of a 'surprise outbreak' in a speech given three years before the global COVID-19 pandemic. In his speech titled 'Pandemic Preparedness in the Next Administration,' Dr. Fauci told attendees at Georgetown University in January 2017 that the upcoming presidential administration would face 'challenges' with infectious diseases. At the time, President Trump had taken office that month. Fauci said: 'If there's one message that I want to leave with you today that is based on my experience… there is no question that there will be a challenge [for] the coming administration in the arena of infectious diseases.'"
"California is reopening, but anxious customers are slow to come back" [Los Angeles Times]. "So far, most of California's 58 counties have applied to move further into the second phase of Newsom's reopening plan, which allows retail shopping and restaurants to serve in-person patrons…. Yet the experiences of counties that reopened in recent weeks has been sobering. Even as customers are returning, business are hindered by the constraints of operating at reduced capacity to meet social distancing requirements and question ." • When a restaurant has 10 tables once seating four, now they have 10 tables now seating two. And the restaurant business is not a high-margin business. Of course, you can put plastic shields between the diners, and seat four again. Is that how people want to go out to eat?
"COVID-19 Digital Contact Tracing: Apple and Google Work Together as MIT Tests Validity" [IEEE Spectrum]. "In a rare act of cooperation, Google and Apple this month released specifications for software developers to build digital contact tracing apps for Apple and Google mobile operating systems, which jointly encompass the majority of smartphones around the world…. The two companies are being advised in part by the MIT-led Private Automated Contact Tracing, or PACT project, one of the international research teams pioneering the Bluetooth-based privacy protocol at the heart of Apple and Google's solution. The PACT system seeks to automate contact tracing by detecting and logging proximity between phones using Bluetooth signals, or "chirps," from phones within an approximate 6-foot radius and picked up for a particular duration of time."
"How Private Equity Is Ruining American Health Care" [Bloomberg]. "Back at [the California Skin Institute (CSI)], the company's front-office staff was working the phones, calling patients in some of the worst-hit areas and reminding them to show up for their appointments, even for cosmetic procedures such as Botox injections to treat wrinkles. During the videoconference, [CEO Greg] Morganroth argued that offering Botox in a pandemic wasn't so different from a grocery store allowing customers to buy candy alongside staples…. Morganroth's defense of pandemic Botox might seem odd, but it made perfect sense within the logic of the U.S. health-care system, which has seen Wall Street investors invade its every corner, engineering medical practices and hospitals to maximize profits as if they were little different from grocery stores. At the center of this story are private equity firms, which saw the explosive growth of health-care spending and have been buying up physician staffing companies, surgery centers, and everything else in sight… One paradox of the Covid-19 pandemic has been that even as the virus has focused the entire country on health care, it's been a financial disaster for the industry. And so, while emergency room doctors and nurses care for the sick—comforting those who would otherwise die alone, and in some cases dying themselves—private equity-backed staffing companies and hospitals have been cutting pay for ER doctors. These hospitals, like the big medical practices, make a large portion of their money from elective procedures and have been forced into wrenching compromises. For investors with capital, on the other hand, the economic fallout from the virus is a huge opportunity. Stay-at-home orders have left small practices more financially strained than they've ever been. That will likely accelerate sales to private equity firms." • A must-read, another example of how the pandemic is, well, sharpening the contradictions.
Our Famously Free Press
"'CBS Evening News' Will Be Back For West Coast Edition After Control Room Glitch Leaves East Coast Dark Tonight" [Deadline]. "'CBS News experienced technical difficulties tonight that prevented the CBS Evening News from airing at 6:30 pm, ET on the CBS Television Network,' CBS News said in a statement released at 5 PM PM, confirming the West Coast broadcast would still go ahead. 'The issue is being resolved, and the Mountain and West Coast versions of the CBS Evening News will air during the regular time slots at 5:30 PM/6:30 PM, MT/PT,' they added, with an exclusive billed interview with Facebook boss Mark Zuckerberg scheduled as the marquee item tonight.'" • Karma for Mark, but surely this isn't supposed to happen at a network?
Gunz
"Police: 3 shot at Westgate Entertainment District in Glendale, shooter in custody" [AZ Central]. • Arizona's stay-at-home order was lifted on May 15. Back to normal!
Class Warfare
UPDATE "Tipping Point: Thomas Piketty's new history of global inequality." [The Nation]. " One of the world's foremost critics of capitalism, Thomas Piketty was making the case for moderation, or as he put it, a more lasting 'radicality.' 'The false radicality of saying, 'We'll talk about it later, after the collapse of the current economic system' or 'We don't want any form of private property in the socialist or communist system we have in mind'—this is actually a very cheap radicality," Piketty insisted. 'It's a radicality that doesn't scare anyone. The elimination of very small types of private property doesn't at all correspond to what's being asked or what is desirable from the point of view of individual emancipation.' A socialist future that allows for small-scale bakeries and restaurants might not be so bad, Piketty argued." • Very interesting article. Historiographically, it reminds me a little of Time on the Cross…..
UPDATE "How big unions smooth the way for Amazon worker protests" [Reuters]. "Reuters spoke with 16 unions and labor groups targeting Amazon. They included established organizations such as the American Federation of Labor and Congress of Industrial Organizations (AFL-CIO), the United Food & Commercial Workers International Union (UFCW) and the Retail, Wholesale and Department Store Union (RWDSU), as well as newer worker advocacy groups like Warehouse Workers for Justice and Athena, a coalition of labor and social justice groups that have criticized Amazon's business practices. Most unions acknowledged their long odds at organizing Amazon using traditional tactics such as holding meetings and gauging interest. Legal hurdles to unionizing the company's workplaces and mounting elections are steep. For now, many groups said, they are showing workers how to harness public opinion to shame Amazon into granting concessions. The strategy proved effective in the national "Fight for $15″ campaign to raise the minimum wage." • 16. Why noit, well, "one big union"?
UPDATE "Dyson's UK staff revolt against order to return to work" [Guardian]. "Two emails sent by group chief executive Roland Krueger – and seen by the Guardian – confirm that all employees were informed they should start returning to work. The first was sent on Friday after work hours, leaving employees, including those with with vulnerable family members and children, with little time to prepare. It informed recipients that the company had "reopened our UK campus" and that staff would be divided into two rotating teams, alternating between home and office working. The proposal would have meant some staff having to travel to the firm's Wiltshire factories at Hullavington and Malmesbury, even if they were able to work from home. In an email sent by Krueger the next day, the company said it had 'reviewed the practicalities' and decided not to implement the proposal. 'Instead, those who can work as effectively from home should continue to work from home,' said Krueger. One staff member, who spoke to the Guardian on condition of anonymity, said the company had caved in after a furious reaction from its workforce." • More like this, please.
News of the Wired
Generally, obituaries are written well beforehand:
Now this is an obit. pic.twitter.com/VLdljoq2lh

— Warren Kinsella (@kinsellawarren) May 20, 2020
Wouldn't mind having one like this myself.
* * *
Readers, feel free to contact me at lambert [UNDERSCORE] strether [DOT] corrente [AT] yahoo [DOT] com, with (a) links, and even better (b) sources I should curate regularly, (c) how to send me a check if you are allergic to PayPal, and (d) to find out how to send me images of plants. Vegetables are fine! Fungi and coral are deemed to be honorary plants! If you want your handle to appear as a credit, please place it at the start of your mail in parentheses: (thus). Otherwise, I will anonymize by using your initials. See the previous Water Cooler (with plant)
here. Today's plant (RM):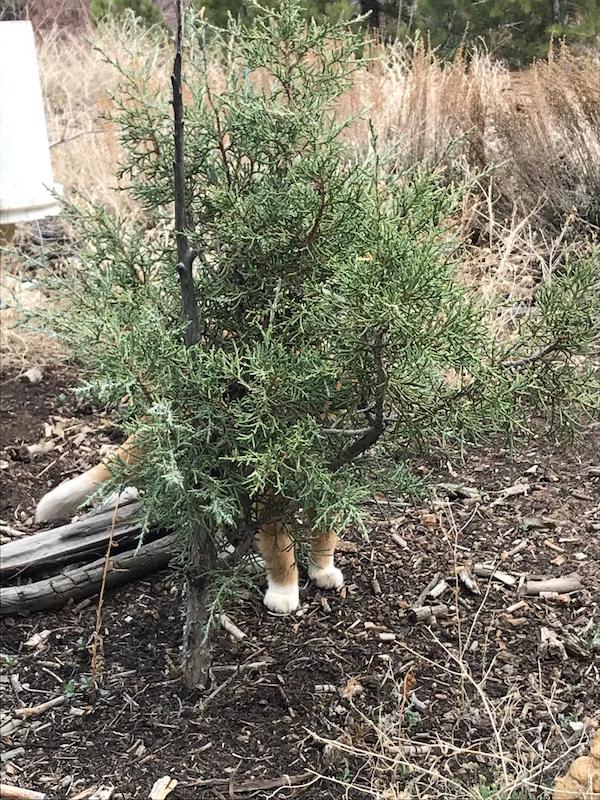 RM writes: "My daughter says it is a Junipurr cat tree."
* * *
Readers: Water Cooler is a standalone entity
not covered by the annual NC fundraiser. So if you see a link you especially like, or an item you wouldn't see anywhere else, please do not hesitate to express your appreciation in tangible form. Remember, a tip jar is for tipping!
Regular positive feedback both makes me feel good and lets me know I'm on the right track with coverage. When I get no donations for five or ten days I get worried. More tangibly, a constant trickle of donations helps me with expenses, and I factor in that trickle when setting fundraising goals:
Here is the screen that will appear, which I have helpfully annotated.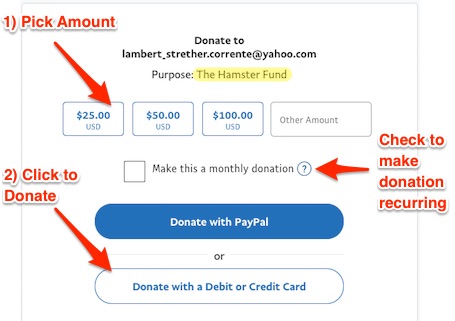 If you hate PayPal, you can email me at lambert [UNDERSCORE] strether [DOT] corrente [AT] yahoo [DOT] com, and I will give you directions on how to send a check. Thank you!

Original Source