By Lambert Strether of Corrente.
#COVID19
At reader request, I've added this daily chart: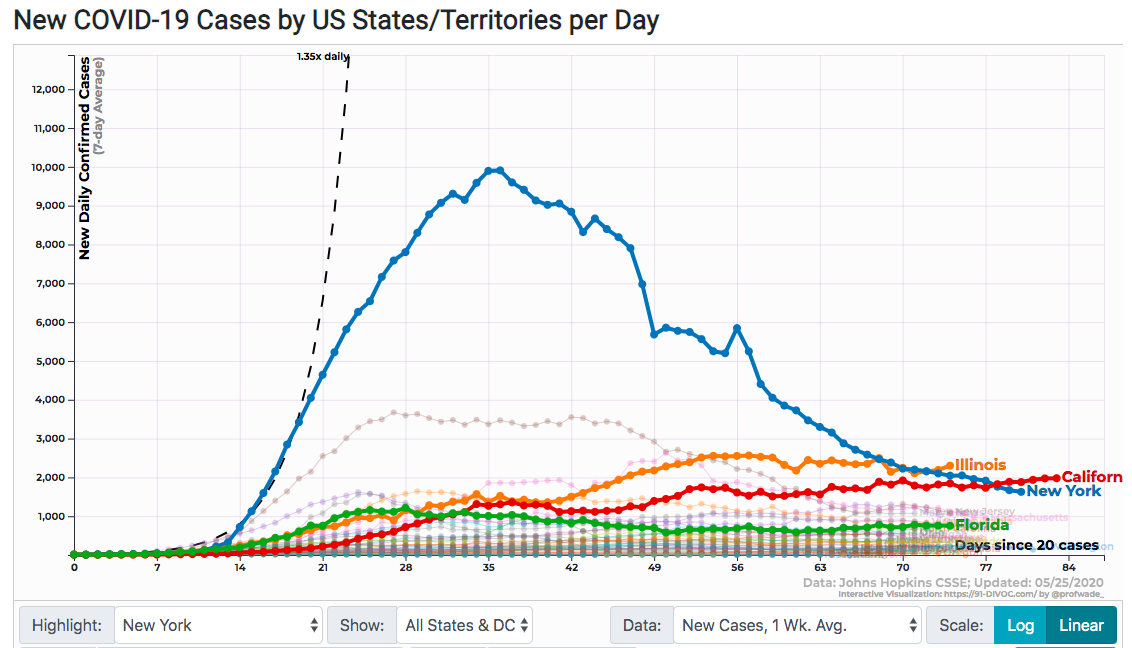 The data is the John Hopkins CSSE data. Here is the site. I have changed to a linear scale as a default for US States and territories (see below).
At some point, the enormous discrepancy between the course of the pandemic in New York and its course in every other state is going to have to be addressed and explained. We do have a slow acceleration in states like California and Illinois, which I suppose could be the start of a ruinous geometric acceleration, but that has not been the case so far. And states like Florida (and other Red States not highlighted), are chugging along at relatively lower levels — this after Florida began to reopen its beaches in late April. It's fair to say that different parts of the country have different reactions to the virus because they are experiencing the course of the pandemic differently. As a Federal system, we are conducting an enormous natural experiment. Is it too soon to ask for the results to be analyzed? From Statista: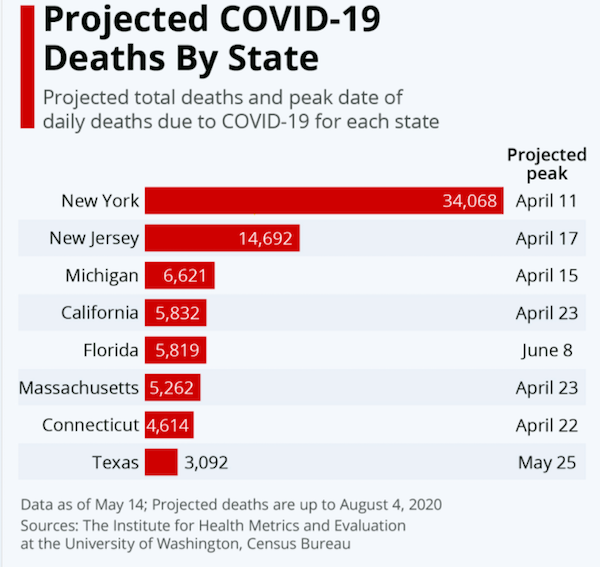 This table does not present complete data, but of the top eight listed here, 34068 + 14692 + 6621 + 5832 + 5819 + 5262 + 4614 + 3092 = 80,000 projected deaths. New York, New Jersey, Connecticut, and Massachusetts — all on the Northeast Corridor — account for 34068 + 14692 + 4614 + 5262 = 58,636, or 58636 / 80000 = 73% of the total. Why is this? (Could it possibly be that indoors is more dangerous than outdoors, and that the pandemic hit in the winter, when most of the Northeast is only shut up tight?)
Politics
"But what is government itself, but the greatest of all reflections on human nature?" –James Madison, Federalist 51
"They had one weapon left and both knew it: treachery." –Frank Herbert, Dune
"They had learned nothing, and forgotten nothing." –Charles Maurice de Talleyrand-Périgord
* * *
2020
Biden (D)(1): "Joe Biden as the Democratic Presidential Nominee: Teen Vogue Voter Committee Weighs In" [Teen Vogue]. • Lots of support for Stacey Abrams as VP. Good job, Neera! (No matches on "Reade." Odd.

Biden (D)(2): Tara Reade thread:

1/ Honestly I'm pretty disturbed about the Recent reactions to the Tara Reade stuff by some liberals. The evidence suggesting that is she is lying is pretty weak IMO, and the Evidence supporting her claim is fairly strong.

— jacob Hufstader (@HufstaderJacob) May 22, 2020

From a random small account, but a good wrap-up. Anita Dunn must be doing a great job!

Trump (R)(1): "Inside the Influential Evangelical Group Mobilizing to Reelect Trump" [The Intercept]. "United in Purpose [is] a low-key group that has quietly become a preeminent venue for leaders on the religious right to convene. UIP was crucial in connecting Trump to evangelical leaders in 2016, and it promises to be one of the most vital weapons in Trump's reelection arsenal this year…. the group, whose supporters include major donors to conservative causes, pastors, and political operatives with decades of winning elections, is serious about serving as the tip of the spear to maintain control of the White House. UIP's 2020 election plan — which it calls "Ziklag," a town referenced in the Bible — is a multipronged effort to connect Trump with evangelical leaders and increase support among minority voters through appeals to faith-based messages and church outreach… But the bulk of UIP's 2020 efforts, [Ralph] Reed explained on the call, is . To reach nontraditional faith-based voters, UIP is using an array of data-mining tools." • We'll see if this works for Trump any better than it did for Sanders.

Trump (R)(2): "Scoop: Inside the secret talks to overhaul the GOP platform" [Axios].

The president's son-in-law and top adviser has told confidants he wants to shrink the GOP's extensive platform of policy beliefs and principles down to a single card that fits in people's pockets. That's a huge change. The 2016 platform runs 58 pages — the product of extensive debate and heated negotiations. Kushner told colleagues he wanted 'something like the 10 principles we believe in,' per two sources familiar with his comments. He asked Stepien to find historical examples of Republican platforms that look more like a 'mission statement,' per a source familiar with one of their meetings.

* * *

"How the South is becoming a political powerhouse" [CNN]. "Now, the South is poised to again shift the balance of political power — although it's not entirely clear which party is positioned to reap the benefits. Here's why: According to new population numbers released by the US Census Bureau on Thursday, 10 of the 15 fastest-growing large cities in America over the last decade are in the South. ('Large' cities are ones with more than 50,000 residents.)… What that Southern population boom means in raw political terms is this: more congressional districts. And with more congressional districts comes not just more voting power in the House but also more electoral votes to give out in future presidential races…. While the so-called Deep South — Alabama, Louisiana, Mississippi, etc. — may still be off-limits to Democrats, there are signs of Republican slippage almost everywhere else in the region."

Swell optics (1):

BREAKING: H.R. 6697, the bill to bail out lobbying groups, gained another 10 cosponsors in the House yesterday. As we suspected, this bill has momentum and we need to work to stop it. https://t.co/7UVPxBr25X pic.twitter.com/NTW3aygl4A

— Democratic Policy Center (@DemPolicy) May 23, 2020

Swell optics (2): "Gavin Newsom's keeping it all in the family" [Orange County Register]. "A long-dominant geriatric quintet from the San Francisco Bay Area – Gov. Jerry Brown, Sens. Dianne Feinstein and Barbara Boxer and House Speaker Nancy Pelosi – has been slowly ceding power to younger political strivers. Moreover, Newsom is succeeding someone who could be considered his quasi-uncle since his inauguration continues the decades-long saga of four San Francisco families intertwined by blood, by marriage, by money, by culture and, of course, by politics – the Browns, the Newsoms, the Pelosis and the Gettys. The connections date back at least 80 years." • Maybe there's a word for this?
Obama Legacy
"Obama's airbrushed dreams" [The Critic]. "On 7 April, 2014, Zeituni Onyango died aged just 61 in Boston, Massachusetts, where she had been living a penurious existence in high-rise public housing. Her insistently upbeat demeanour had belied her modest circumstances, and she never spoke ill of her world-famous nephew despite his utter lack of interest in the recurring challenges she had faced. The New York Times reported that the president 'helped pay funeral expenses" but 'did not attend, as he was golfing.' Yet Zeituni's death also forced the Obama clan to tackle how to pay for returning her body to Kenya for burial, and, in [older brother, Abongo] Malik's telling one year later, when he visited Barack at the White House to ask for his assistance, their conversation did not go well. 'I told him that … she loved you very much and we need … around twenty thousand dollars and he said that was too much.'" • Well,, who doesn't love golf?
Realignment and Legitimacy
"The American ideology, on the left and the right, that props up inequality" (review) [James Kwak, WaPo]. "The Democratic Party is the most important political party in the world today. It is the only organization in a position to defend what was once the world's flagship democracy and economic power from a president who has re-engineered his own party to justify racism, misogyny and xenophobia. Yet the party of the donkey is hardly up to the task. Over the past decade, as Republicans have further embraced an ideology of resentment unmoored by facts, Democrats have lost hundreds of seats in state legislatures, 22 seats in the House of Representatives and control of the Senate — while losing the White House to the most toxic candidate in history. In his new book, "Capital and Ideology," economist Thomas Piketty explains why. The Democratic Party — like left-leaning parties throughout the world — failed to come up with a compelling response to the global conservative resurgence of the 1980s. Like New Labour in Britain and the Socialist Party in France, it abandoned the working-class voters who were once its base: "Improving the lot of the disadvantaged ceased to be its main focus. Instead, it turned its attention primarily to serving the interests of the winners in the educational competition." By 2016, according to the post-election surveys that Piketty analyzes in depth and across several countries, the Democrats were the party of not just the highly educated but even the highly paid." • One more book to read. Or I suppose I can just wait for the Obama Alumni Association — in the persons of genial figurehead Joe Biden and his faithful sidekick, Kamala Harris — to take over the government again, and work the same magic they worked in 2009.

Imperial College Says the Most Dangerous States Are the Ones That Are Reopening

https://www.bloomberg.com/news/articles/2020-05-24/demings-hedges-about-vice-presidential-slot-campaign-update?utm_content=politics&cmpid%3D=socialflow-twitter-politics&utm_source=twitter&utm_medium=social&utm_campaign=socialflow-organic

If Nancy Pelosi Is So Great, How Come Donald Trump Still Isn't Dead in the Water?
Stats Watch
At reader request, I added some business stats back in. Please give Econintersect click-throughs; they're a good, old-school blog that covers more than stats. If anybody knows of other aggregators, please contact me at the email address below.
There are no statistics of interest today.
* * *
Commodities: "Mining Billionaire Gets Help From Ex-Spies in Bitter Legal Fight" [Bloomberg]. "Black Cube, the private intelligence agency run by former Israeli spies, spent months setting up companies around the world. Offices, websites and employees were painstakingly put in place — all part of a sting targeting former executives at Brazilian mining giant Vale SA. The Black Cube operation, made public in a court filing Thursday and described by people familiar with it, represents the latest escalation in a bitter fight between Vale and mining billionaire Beny Steinmetz. What started in Guinea as a partnership in one of the world's richest mineral deposits has devolved into a globe-spanning dispute that sheds light on how fortunes can be made and lost in the world of African mining." • This was the world of Charles Asubonten, before he sought his fortune in California at CalPERS. No reason to think he was anything other than fringe, of course.
The Bezzle: "Kendall Jenner to Pay $90,000 to Settle Fyre Fest Promotion-Related Lawsuit, Emily Ratajkowski Settles, As Well" [The Fashion Law]. "Remember Fyre Festival? Well, three years after the "luxury" musical festival was slated to take place on an idyllic island in the Bahamas, Kendall Jenner, one of the many big-name models that helped to promote the fraudulent fest, has agreed to settle the lawsuit that she was facing in connection with the company's bankruptcy proceedings. The terms of the settlement will see the reality star-slash-supermodel pay back $90,000, after being sued in both in her personal and corporate capacities by a court-appointed bankruptcy trustee, who sought to claw back the $275,000 that she was paid by Fyre Media." • Lol, so everything nets out positive for Jenner!
Tech: "A feel-good ad from Facebook boasts [sic] a coronavirus group. But it's not quite what it seems." [Facebook]. "A commercial for Facebook that ran on national TV promoting its group feature in the time of the coronavirus pulls at the heartstrings. Backed by a somber piano score, the 60-second commercial features the Facebook group, 'Cheers For The Frontline!' and a montage of 16 posts seemingly plucked from the group in which users praised essential workers alongside dramatic photos of nurses, doctors, delivery drivers, grocery workers and janitors. The advertisement is part of a push by Facebook to boost its brand as a beacon of positivity during the pandemic. … But the Facebook ad seems to be misleading. None of the posts in the television ad appear in the actual Facebook group, according to an NBC News analysis of the private group, whose membership has grown in response to the national ad to more than 11,000. Many of the images can be found on various sources including public Facebook and Instagram posts, tweets, and stock photo collections, according to reverse image searches. The photos in the ads were mocked up as posts in the group.
* * *
Today's Fear & Greed Index: 50 Neutral (previous close: 52 Neutra;) [CNN]. One week ago: 39 (Fear). (0 is Extreme Fear; 100 is Extreme Greed). Last updated May 22 at 6:30pm.
Rapture Index: Closes unchanged [Rapture Ready]. Record High, October 10, 2016: 189. Current: 186. Remember that bringing on the rapture is a good thing.
The Biosphere
"CDC warns of 'unusual or aggressive rodent behavior' in search for new food sources" [The Hill]. • Mortgage servicers? Private equity?
Games
"Escape Room Owners Solve the Pandemic Puzzle" [Bloomberg]. "Billed as real-life adventure games, escape rooms combine a bit of mystery theater with puzzling, such as cracking a riddle or searching for a hidden key, to keep groups entertained and working together, making them popular for corporate team building…. For escape rooms, adapting to business during the coronavirus pandemic has meant finding ways to bring games online, such as placing webcams in rooms and creating puzzle graphics to share with players. Instead of the usual instructions, like telling players not to open things by force, hosts give tips on how to share screens and use Google Drive. In one escape room, the session begins with the host asking, "Can I offer you something to drink … from your own refrigerator?" • Not panic rooms, as I had thought. Unless corporate team building makes you panic.
Sports Desk
Accurate:
To be a baseball fan, one must always remember: The Yankees aren't the enemy. They're the opposition. Owners are the enemy.

— Mike Duncan (@mikeduncan) May 23, 2020
Screening Room
I believe such vehicles are called "technicals":
I'll never forget the feeling of seeing my war rig for the first time and realizing holy shit, George is not f*cking around. pic.twitter.com/LCD0SiIjRZ

— Charlize Theron (@CharlizeAfrica) May 14, 2020
Guillotine Watch
"Quandary for High Flyers: How to Travel Safely to Your Yacht" [Bloomberg]. The lead: "It's a modern quandary for the ultra-wealthy: a yacht awaits at harbor, but how to safely reach it without risking exposure to the germ-ridden masses?" • Catapult? Tunnel?
"Bill Gates Is the Most Interesting Man in the World" [Timothy Egan, New York Times]. "Gates is everywhere these days, a lavender-sweatered Mister Rogers for the curious and quarantined." • Whatever Bill Gates is, he's not a Mr. Rogers. It takes more than a sweater.
Handy, very handy:
My partner and I have been lamenting for months that we didn't get our knives sharpened before quarantine. A traveling knife-sharpening truck just pulled up on our block and rang a bell like a scene out of 1950. New York is magic.

— Emmy Bengtson (@EmmyA2) May 23, 2020
Class Warfare
"Some people are making more money by not working. For businesses looking to hire, this is a problem" [Boston Globe]. "For people who've been laid off during the pandemic, the extra $600 a week the federal government is doling out on top of unemployment is a godsend. But for restaurateurs and hotel owners around New England looking to staff up for the summer tourist season — what there is of it, anyway — the bump is anything but a blessing. While some workers are turning down jobs because they're worried about getting sick or infecting family members or because they don't have child care, others are flat-out telling employers they're making more money safe at home collecting unemployment. The generous benefit has been problematic for businesses all over, but it is especially acute for seasonal employers looking to make new hires ahead of the summer. ." • No!
"5 million student-loan borrowers may see their credit scores fall after CARES Act paused loan payments — 'It's another battle'" [MarketWatch]. "To find out her credit score inexplicably dropped in the middle of a pandemic that's already creating so much uncertainty, was unsettling, [Brooke Evans] said. The 28-year-old, who says she is currently sheltering in a temporary living arrangement, worries that any ding to her credit score could impact her search for affordable housing… Eventually, after sending messages on Twitter tagging the companies involved and eventually getting on the phone with her student-loan servicer, Great Lakes, Evans learned that her credit score decline was tied to the CARES Act, the $2.2-trillion stimulus bill that allowed student-loan borrowers to pause payments. She appears to be one of up to roughly five million borrowers whose score was dinged, despite instructions from Congress that the pause on student-loan payments shouldn't affect borrowers' credit scores. The situation highlights the challenges consumers are facing as they navigate pandemic-era relief programs. It also underscores the complex web of companies the hold sway over Americans' personal finances, companies that control how consumers are judged through a process that's poorly understood by the average person. A credit score is a crucial metric that lenders use to assess borrowers' eligibility for auto, home and other loans — and the price they pay for those loans — as well as renting apartments and other major purchases. In some cases, it's even used by employers to evaluate a potential new hire. But it's based on an algorithm that's often opaque to consumers and it relies on lenders reporting information to credit bureaus accurately." • Sounds like HAMP all over again.
"As The Coronavirus Tore Through Seattle, These Sex Workers Built a Hand Sanitizer Factory" [HuffPo]. "The team's pride in its recipe is palpable. Once you use it, the formulation goes through three stages: First it's wet ("everyone thought it was lube when we handed it out the first time," Lascelles said), then it's sticky, then it's gone. The liquid comes in vape-juice bottles ― Jensen knows where to get them and they're dirt cheap due to the collapse of that industry since the start of the pandemic." • This is, among other things, a supply chain story. If you want to make hand sanitizer in bulk, there's a lot of information here. Bringing manufacturing back to America!
News of the Wired
After an iOS upgrade, my mail server is now emitting mail I sent to myself in 2019. This tweet, for example:
paperless is now available online. https://t.co/drJ6eEpXCN pic.twitter.com/bDw6CbEo2d

— HyperCard Online (@HyperCardOnline) September 26, 2019
I loved HyperCard! Laugh at me if you will, but it was the first computing language I learned.
* * *
Readers, feel free to contact me at lambert [UNDERSCORE] strether [DOT] corrente [AT] yahoo [DOT] com, with (a) links, and even better (b) sources I should curate regularly, (c) how to send me a check if you are allergic to PayPal, and (d) to find out how to send me images of plants. Vegetables are fine! Fungi and coral are deemed to be honorary plants! If you want your handle to appear as a credit, please place it at the start of your mail in parentheses: (thus). Otherwise, I will anonymize by using your initials. See the previous Water Cooler (with plant)
here. Today's plant (MG):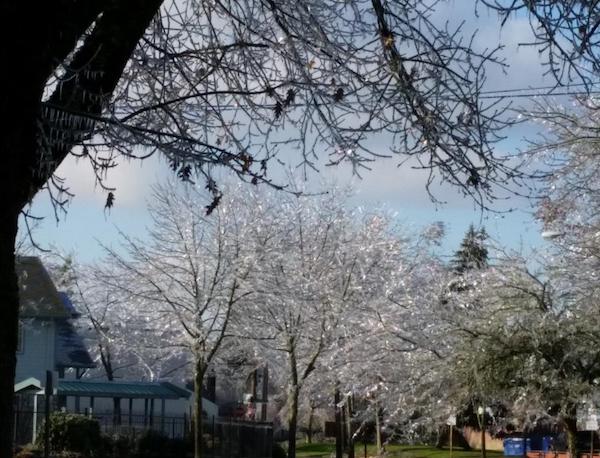 MG writes: "It may be difficult to tell once uploaded that these trees are covered with ice and sparkling…. I have been working from home since the last week of March so I have been on my laptop much more often than before and these backgrounds keep rotating in, and jogging my memory." Plenty sparkly, I think.
* * *
Readers: Water Cooler is a standalone entity not covered by the annual NC fundraiser. So if you see a link you especially like, or an item you wouldn't see anywhere else, please do not hesitate to express your appreciation in tangible form. Remember, a tip jar is for tipping! Regular positive feedback both makes me feel good and lets me know I'm on the right track with coverage. When I get no donations for five or ten days I get worried. More tangibly, a constant trickle of donations helps me with expenses, and I factor in that trickle when setting fundraising goals:
Here is the screen that will appear, which I have helpfully annotated.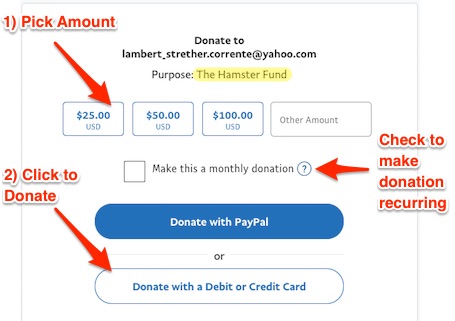 If you hate PayPal, you can email me at lambert [UNDERSCORE] strether [DOT] corrente [AT] yahoo [DOT] com, and I will give you directions on how to send a check. Thank you!

Original Source