Since this is Memorial Day weekend, our dedicated moderators have asked for those days off. Therefore, comment approval will be slow through Tuesday. Please be patient, and give us 24 hours! Thank you. –lambert
'Keeping seeds in our hands': the rise of seed activism Journal of Peasant Studies
Major tropical cyclones have become '15% more likely' over past 40 years Carbon Brief
Earth's Magnetic North Is Moving From Canada to Russia, And We May Finally Know Why Science Alert
Companies ditch commercial paper to lock in longer-term debt FT
#COVID19
The science:

Let's Remember That the Coronavirus Is Still a Mystery Nicholas Kristof. A good column from Kristof, so these really are the End Times. Here is a more technical thread on the same thing:

Here's a short list of things we do and don't yet know about #COVID19.

— Megan Ranney MD MPH 🇺🇲 (@meganranney) May 24, 2020

Simulated Sunlight Rapidly Inactivates SARS-CoV-2 on Surfaces Journal of Infectious Diseases. From the abstract: "The present study provides the first evidence that sunlight may rapidly inactivate SARS-CoV-2 on surfaces, suggesting that persistence, and subsequently exposure risk, may vary significantly between indoor and outdoor environments. Additionally, these data indicate that natural sunlight may be effective as a disinfectant for contaminated non-porous materials."

A Study on Infectivity of Asymptomatic SARS-CoV-2 Carriers Respiratory Medicine. "It is debatable whether asymptomatic COVID-19 virus carriers are contagious. We report here a case of the asymptomatic patient and present clinical characteristics of 455 contacts, which aims to study the infectivity of asymptomatic carriers…. No severe acute respiratory syndrome coronavirus 2 (SARS-CoV-2) infections was detected in 455 contacts by nucleic acid test…. [W]e conclude that the infectivity of some asymptomatic SARS-CoV-2 carriers might be weak." OK. n=1. Nevertheless.

* * *

Vaccines:

Exclusive: U.S. plans massive coronavirus vaccine testing effort to meet year-end deadline Reuters. Operation Warp Speed.

Did The Oxford Covid Vaccine Work In Monkeys? Not Really Forbes (Furzy Mouse). n=6.

Russian researchers test coronavirus vaccine on THEMSELVES, team leader says they now have antibodies Russia Today

Exclusive: big pharma rejected EU plan to fast-track vaccines in 2017 Guardian

What the development of penicillin tells us about developing a coronavirus vaccine Bulletin of the Atomic Scientists (Re Silc).

* * *

Spread:

Birx: 'I'm very concerned when people go out and don't maintain social distancing' The Hill

Coronavirus cluster traced to German church Deutsche Welle

CDC Advice On Surface Spread Of COVID-19 'Has Not Changed,' Agency Says NPR. And even if it did, science evolves or it would be science. If you expect everything to be right the first time, (a) never write a business plan, and (b) never pack a reserve parachute. Quite the little online flap about this one..

COVID-19 Tracker AEI

'This is what you signed up for.' Nursing home staff say safety concerns were dismissed as outbreak grew. Virginia Mercury

* * *

Masks:

Ohio Gov. DeWine is latest Republican to say wearing a mask isn't about politics CNN

* * *

Treatment:

Cuba Develops Effective Peptide Against COVID-19 Telesur

* * *

Political response:

GOP Wants Cuts to Social Security and Medicare in Next COVID Stimulus Package Truthout. Hey, maybe Joe Biden can craft a "Grand Bargain"!

FDA Announces Temporary Flexibility Policy Regarding Certain Labeling Requirements for Foods for Humans During COVID-19 Pandemic FDA

American violence in the time of coronavirus High Country News

* * *

Diplomatic reponse:

Trump places travel restrictions on Brazil Politico

Trump 'has a point' on WHO, German health minister says Politico

India, along with 61 other countries, seeks independent probe into WHO's response to Chinese coronavirus outbreak OpIndia

* * *

Business response:

Fa fa fa fa fashion, la-la-la-la la la la la la:

Gucci will go "season-less," according to creative director Alessandro Michele. https://t.co/HMKF0ASY98 pic.twitter.com/vqvgCfnnaS

— The Fashion Law (@TheFashionLaw) May 24, 2020

Wyndham Hotels Now Operating Near 50% Occupancy, CEO Says Bloomberg. The headline is deceptive. The claim only applies to "midscale" hotels: AmericInn, Baymont, La Quinta Inns & Suites, Ramada, Ramada Encore, Wingate, and Wyndham Garden. I would hazard a guess that this is business travel; readers, please correct me.

* * *

Reopening:

Reopening tension pits state, local officials against each other in sign of what's to come Politico

With masks, temperature checks and anxiety, California's retail economy gingerly reopens Los Angeles Times

* * *

Remedies and Ameliorations:

COVID-19 Sparks a Rebirth of the Local Farm Movement Yes!
Meet Rural Health Volunteers, the Unsung Heroes on Virus Frontline Khaosod Engish. Our health care system is so stupid and bad.
Coronavirus: Thousands to ignore Eid fatwa in Indonesia The Australian
Indonesian choreographers provide digital stage for dancers Associated Press
China?
Immortalised on #AnimalCrossing, which has fast become the only space for protest graffiti in Hong Kong. pic.twitter.com/dXdDTtUjcF

— Rachel Cheung (@rachel_cheung1) May 25, 2020
Military, diplomatic talks on with China to end stand-off Times of India
India
India among 10 worst-hit Covid-19 nations even as air travel resumes Straits Times

India's heartland states battle the worst locust attack in 27 years: What does it mean for the economy Times Now
Japan cautiously lifts last of virus emergency controls Japan Times
Over half of Japan pathologists' requests for postmortem coronavirus tests rejected: survey The Mainichi
UK/EU
UK coronavirus live: Boris Johnson says Dominic Cummings acted 'responsibly, legally and with integrity' – as it happened Guardian. BoJo presser leads to an enormous and entertaining Twitter meltdown, since immediately afterwards: Civil Service Tweet Goes Viral: 'Arrogant And Offensive. Can You Imagine Having To Work With These Truth Twisters?' Forbes. The tweet was up for all of ten minutes, during which time it garnered 30K likes:

Don't worry about them deleting the tweet. I've framed it. pic.twitter.com/kQUiKvLCrX

— Scott Bryan (@scottygb) May 24, 2020

An intern, one presumes. But are we sure?

Why Barnard Castle Craig Murray. Barnard Castle being one stop on Cummings' odd itinerary.

Swedish antibody study shows long road to immunity as COVID-19 toll mounts Reuters

Sweden 'wrong' not to shut down, says former state epidemiologist Guardian

Coronavirus, masks listed in mourning: today the virtual flash mob to commissariare Lombardia La Repubblica (DG). Original. DG comments: "Lombards are asking for the health service to be overseen and investigated. Lombardy has gone farther in privatization—you can thank La Lega, the local branch of the U.S. Republican Party."
Bolivian orchestra stranded at 'haunted' German castle surrounded by wolves New York Post
Syraqistan
Saudi Ramadan TV dramas invite scrutiny of Israel ties Agence France Presse
New Cold War
The US Navy returns to an increasingly militarized Arctic Defense News
RussiaGate
Federal judge hires high-powered D.C. attorney to defend his actions in Flynn case WaPo. A judge? Really?

Guccifer 2.0's Hidden Agenda Consortium News. A tick-tock!
Trump Transition
Space Force Asks Congress to Ease Rules on Buying New Hardware Bloomberg. Grifters gotta grift.
Health Care
Re-evaluating "performance" measurement and A futile quest: Why "performance" measurement is not working Kip Sullivan, Minnesota Physician
Groves of Academe
Why Public Universities Can't Take New Cuts: The Essential Charts Academe

How Stanford Lost Its Soul The Nation

The Work of Feelings in Public Schools Nonsite.org
Class Warfare
Poll: 37% of unemployed Americans ran out of food in past month Detroit News

The New York Renters Who Can't Pay May The New Yorker. Still waiting for the Sanders campaign to fundraise for strikers. Exclusively.

How to Fix Globalization—for Detroit, Not Davos (interview) Larry Summers, The American Interest. The lightbulb goes on, I suppose, if with agonizing slowness:

Someone put it to me this way: First, we said that you are going to lose your job, but it was okay because when you got your new one, you were going to have higher wages thanks to lower prices because of international trade. Then we said that your company was going to move your job overseas, but it was really necessary because if we didn't do that, then your company was going to be less competitive. Now we're saying that we have to cut the taxes on those companies and cut the calculus class from your kid's high school, because otherwise we won't be able to attract companies to the United States, and you have to pay higher taxes and live with fewer services. At a certain point, people say, "This whole global thing doesn't work for me," and they have a point.

"We." And "you."

Deirdre McCloskey on why Jeff Bezos and billionaires, even superbillionaires, should exist AEI
Presidential leadership:
What makes this photo so amazing is that it looks so ordinary. The man in the shorts waiting in line in this shop in Portugal is the President. pic.twitter.com/pOesad5olK

— Ben Phillips (@benphillips76) May 24, 2020
Antidote du jour (via):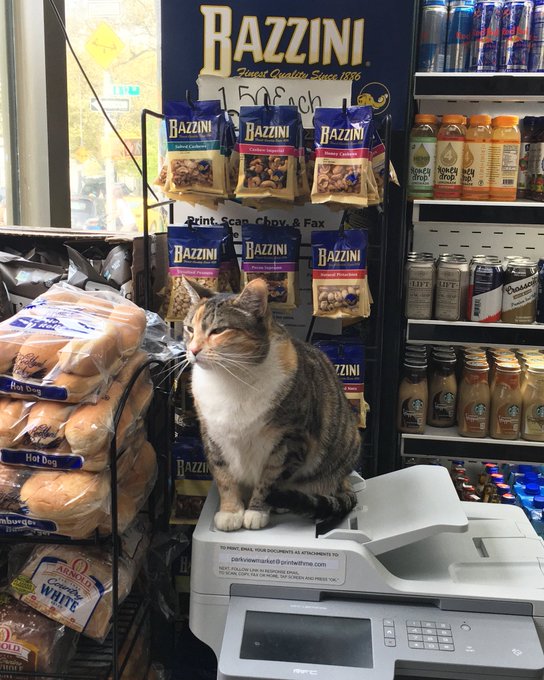 See yesterday's Links and Antidote du Jour here.

Original Source