By Lambert Strether of Corrente.
In a previous post, "Why I Am Worried About the Legitimacy of the 2020 Election Balloting Process," I wrote:
Any aware person who's been following United States elections since, oh, the year 2000 should have a chronic, low-grade worry about the legitimacy of the election results. I'm not talking about gerrymandering, or voter roll "purges," or ballot gaming, or discriminatory voter ID requirements, or even the electoral college, but rather that, for any given voter, it is not necessarily certain the ballot as cast is ballot as counted. The United States has a rich history of election fraud, and it has nothing whatever to do with "meddling" by foreigners; we can steal elections all on our own, right here. (See the Presidential elections of 2000 (Florida) and 2004 (Ohio); the Democrat Texas Caucus in 2008; the Democrat 2016 California primary; and doubtless other examples that readers will suggest. Note that the list just given is bipartisan, as are presumably the election fraudsters responsible). [In this post I will bring] us all up to date on the continuing "ballot marking devices" (BMD) debacle — because BMDs make election fraud undetectable.[1]
If you are not familiar with the issues with "Ballot Marking Devices" (BMDs) — whose ballots are not verifiable by voters and whose results cannot be audited, making them extremely vulnerable to election theft by insiders[2] — please reread that post, because everything I wrote then is still valid today. Today I am still worried, but for different reasons.
The big news of the week is that Biden "clinched" the Democrat Presidential nomination. The Associated Press describes these elections just past:
Biden reached the threshold three days after the primaries because several states, overwhelmed by huge increases in mail ballots, took days to tabulate results.
If we think of voting as a supply chain, we can see that the electoral system was, if not overwhelmed, at least challenged, by an unexpected glut caused by the COVID-19 pandemic, which caused people to mail in their ballots rather than vote in person, risking infecting others (and themselves). In this post, I will focus not on the effects of the pandemic, plus logistical and political issues at the United States Post Office.
First, let's do a general wrap-up of the primaries just past, which can be seen as a dry run for the general election in November. From The National Memo:
The results were a spectrum of well-run to more-problematic elections. Montana, which is used to voting by mail, had higher turnout than its 2018 fall midterm. But many voters who were not used to voting from home, especially in metro areas, did not get ballots as expected. They went to vote in person, but often found traditional polling places closed. They ended up in long lines and sometimes faced hours-long waits, where social distancing could be challenging, and, in the worst case—in Washington—police were telling voters to go home because of a curfew.

These trends, both better and worse, offer lessons and warning signs for the fall elections.

"Overall, this is a dry run for November," said Kristen Clarke, president and executive director of the Lawyers' Committee for Civil Rights Under Law, which runs the nation's largest Election Day hotline and fielded more than 5,000 calls for the primaries. "We're bracing for high turnout that we will see in the November general election, and lessons learned from this primary season must guide states… to ensure that every eligible voter can have their voice heard.".

"It is clear that the pandemic is having an impact on virtually every aspect of the voting experience," she said, noting that impact was apart from a curfew in Washington that was announced by a text alert on Election Day that "did not have an exception making it clear that voters can, indeed, continue to travel to cast their ballot."
(Presumably, we won't have curfews in November, but if we do, it's going to be an interesting day!) Reuters writes:
All of the states voting on Tuesday encouraged or expanded mail-in balloting as a safe alternative during the outbreak, and most sharply reduced the number of in-person polling places as officials struggled to recruit workers to run them.

That led to record numbers of mail-in ballots requested and cast in many states, along with complaints over not receiving requested ballots and questions about where to vote after polling places were consolidated.

Most in-person voting locations across the country featured extensive safety protocols – including masks, sanitizer and social distancing for lines.
A group of election officials from North Carolina give insight into their thinking about organizing voting in a pandemic. From the Charlotte News & Observer, "June runoff election in western NC previews voting problems the state will face in November." Leaving aside legal issues for validating mail-in ballots, these are some of the
We write as Republican and Democrat election officials in western North Carolina to sound the alarm about the urgent need to prepare for the fall election. We are eyewitnesses to the challenges presented by the COVID-19 pandemic because mail-in voting has now begun for the Congressional District 11 runoff in our region.

Conducting a fair, safe and secure election involves dozens of decisions long before the voter enters a polling place or requests an absentee ballot. We'd like to share some lessons from the past several weeks, as well as recommendations for policymakers.

First, based on our experience, we can anticipate a this fall…. Yancey, Macon, Mitchell and several other counties are for the June runoff because of building and staffing problems. Some regular polls are being used for emergency programs and some are too small to permit adequate social distancing. Officials need to start now to identify larger spaces and reserve them for early voting and Election Day.

[F]unds are needed for sanitation supplies, cleaning crews, curtains and plexiglass shields, masks, signage and other materials at each voting location. Finally, we must use about all the ways they can register and vote in these challenging times.
The difficulty here is that all these well-meant measures have the potential to discourage voting. Changing voting locations lead to voter confusion. Staffing shortages mean long lines. Cleaning and sanitation requirements, both for staff and voters, decrease throughput, and also lead to long lines. "Resources to educate voters" can intimidate if poorly designed. And of course choking off funding and space also leads to long lines (and is indeed a classic technique for voter suppression[3]). The Brennan Center writes in "Waiting to Vote":
Long lines and wait times have plagued several elections over the past decade. The consequences can be far reaching. For example, the Bipartisan Policy Center estimates that more than half a million eligible voters failed to vote in 2016 because of problems associated with the management of polling places, including long waits.
If 2020 is marked both by increased voter interest and turnout and nationwide bottlenecks in the voting supply chain — not just blips in a few precincts — then the entire election could turn out to be problematic (especially if there are problems in Swing States, which I'll get to in a moment).
Now, one could argue that there is a remedy for potential problems with in-person voting: Voting By Mail (VBM).[4] Unfortunately, VBM depends on a functional Post Office, and in this very strange year, that's not guaranteed. From the Pew Trust, "Postal Service's Struggles Could Hurt Mail-In Election":
An unprecedented shift in American democracy is underway, as more states and counties turn to voting by mail. But as jurisdictions prepare for a pandemic-riddled presidential election, the threat of a financial crisis at the U.S. Postal Service looms over that alternative to in-person voting.

If Congress does not pass a $75 billion bailout, the Postal Service says uninterrupted mail service may not last past September. That's when local election officials plan to send out mail-in absentee ballots, letters with polling place information, voting booklets, new voter cards and federally mandated voter registration confirmation postcards.

A federal bailout may be a longshot. Last month President Donald Trump called the agency a joke. He also blocked congressional efforts to infuse the Postal Service with needed cash, instead hinting he would consider only loans.

He has said the Postal Service should charge more to Amazon (whose owner, Jeff Bezos, also owns The Washington Post) and other major retailers. The administration has yet to approve a $10 billion loan to the agency that was included in the March stimulus package.

This week, Amazon and other retailers launched a $2 million ad campaign to convince Republican lawmakers to oppose Trump's proposal.

Meanwhile the president this week installed new leadership at the Postal Service, tapping one of his top donors, Louis DeJoy, as postmaster general.

This fall, , said Tammy Patrick, a senior adviser for the elections program at the bipartisan Democracy Fund.
There are good-faith measures to take:
Even so, Patrick emphasized the Postal Service deems mail-in ballots and other election-related mail essential.

"There might be some slight delays that might impact election mail," she said, "but it's not going to stop it."

There are several ways, Patrick said, to prepare for this situation: Voters should request their mail-in absentee ballots early and send them in as quickly as possible; local election officials should use existing best practices to design envelopes that are both easily sortable by mail carriers and trackable by voters; and state legislators should shape election laws that extend early voting periods to account for delays.
Assuming good faith, of course. On the one hand, I'm very taken with the picture of election officials working away in good faith; on the other hand, they should all be fighting BMDs tooth and nail, and they aren't.
Now let's turn our attention to the States where pandemic voting issues could really affect the outcome of the election: The Swing States. If (following 270 To Win's consensus) we regard Arizona, Florida, Michigan, North Carolina, Pennsylvania, and Wisconsin as the states to watch, let's first briefly return to BMDs. Here is a handy map of the Swing State and where they are used: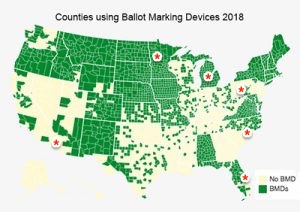 (Note: Confusingly Verified Voting's sloppy map is of counties that "use" BMDs. BMDs cannot be used exclusively, since people can request a paper ballot or vote by mail, but I find it impossible to accept that election officials would spend money on expensive machines and not try to use them as much as possibly. So I interpret the green counties as counties where BMDs are the dominant voting methods). So, as you can see, the dominant voting method in Florida, Michigan, North Carolina, Michigan, and Wisconsin cannot be validated by the voter and cannot be audited. That's not encouraging.
Turning to the Swing States themselves, let's look at their performance in the primaries just past. Not all states have problems, but any states that do have problems will need to fix them for the general, as of this writing only 149 days away, i.e., practically tomorrow when you consider requirements for ballot design, mailer design, printing, etc. I'll just go through them alphabetically:
Arizona: 2018 was a debacle, especially in Maricopa County, which contains Phoenix. Apparently, however, 80% of Arizonans vote by mail. So we'll hope that the USPS is allowed to continue its function as a public good. (That would mean that BMDs only affect 20% of the population, but that's still has the potential to swing an election.)
Florida: Amazingly, given Florida's rich tradition, though there are court challenges on felon voting and mail-in ballot rules, Florida's March primary vote seems to have gone reasonably well.
Michigan: In Michigan's March primary, long lines: "Tuesday presented the first statewide election in which voters could use same-day registration and no-reason absentee voting, which were secured through a voter-approved initiative in 2018…. The new options have shifted the dynamics of voting in Michigan and led to delays in both processing voters and tallying results."
North Carolina: North Carolina seems to have gone well (though it's a misnomer to call the product of a BMD a "paper ballot"; the actual ballot, that which is tabulated, is a barcode that is not human-readable).
Pennsylvania: Pennsylvania remains a problem child: "Philadelphia election officials stopped counting mail ballots Thursday and may not start again for days, warning that the outcomes of a number of races in Tuesday's primary won't be known for several weeks and that the city may miss a legal deadline for certifying the results. The delay is due to the large number of mail ballots voters requested in the last week before the deadline, Deputy City Commissioner Nick Custodio said. He said the commissioners, who run Philadelphia elections, stopped counting them so workers can check poll books to ensure nobody voted twice." And: "[Sara Mullen of the Pennsylvania Civil Liberties Union] said that thousands of voters in York and Allegheny counties did not receive ballots at all despite requesting them weeks in advance, describing Montgomery County's election administration as a "comedy of errors," including people getting ballots for the wrong party in the primary, people not receiving ballots at all due to their apartment numbers being cut off on the envelope, and some containing confusing instructions." And in Pittsburgh: "Polling Places Draw Long Lines, Report Few Problems, Amid Pandemic And Unrest." Long lines are a problem! They discourage voting!
Wisconsin: In Wisconsin's April election: "The report highlighted several issues with the postal service including , ballots not received by voters and ballots returned to clerks unopened, without explanation. The commission had few answers from the postal service, not even the status of an investigation sought by U.S. Sens. Tammy Baldwin, D-Wis. and Ron Johnson, R-Wis. concerning ballots mailed to the Oshkosh/Appleton area found in a distribution center after the election. [5]."
Naturally, I welcome any field reports from readers! It looks to me that, much like our public health system before the pandemic, we have an extremely decentralized and thinly resourced voting supply chain that's vulnerable to attack in all sorts of ways, including the collapse of its primary infrastructural elements, the USPS. And if the pandemic, as it has for every other institution it's infected, heightens neoliberalism's worst features the most, hold onto your hats.
* * *
Edward Isaac-Dovere summarized the state of play in The Atlantic in late may, "Why Americans Might Not Trust the Election Results," so I'm not the only one:
Americans are worried about all sorts of things that could affect the outcome in November: that they'll be risking infection to vote in a pandemic; that their absentee ballots won't be received; that others will submit fake absentee ballots; that there will be funny business in the counting process. Officials say there will be insufficient resources to pay for the staff and infrastructure needed to secure and tally the ballots.

And that's just voting by mail. People are also worried that polling places might not be adequately staffed in urban areas; that some voters may have to wait in line for hours, six feet apart, to vote in person; that dirty tricksters could advertise the wrong date for the election or stand, coughing, outside of polling places; that armed protesters will intimidate people trying to vote.
And Americans are right to be worried, Ia Suppose, on election day, a story like the pallets of bricks story goes viral, except this time its the extremely euphonious "pallets of ballots," which we've already seen in Wisconsin (OK, "tubs," but still). What then?
NOTES
[1] There is also the issue of whether an election can be officially delegitimized on the grounds of "foreign meddling." Obviously, that raises issues for the Constitutional order.
[2] Indeed, I believe that capability of election theft is the only unique selling proposition BMDs possess.
[3] See, e.g., the 2020 Michigan primary, where long lines disproportionately discouraged Sanders voters.
[4] I'm going to skip over the argument about whether mail-in ballots mean election theft. I know Oregon does well, but the national stakes are enormous, so the incentives are different. The key question for me is whether tabulation, especially central tabulation, can be gamed, say by zip, especially at the state levels, and most especially in swing states. But that's mere paranoid speculation on my part. I would, however, welcome anything readers have to say about how tabulation works, and any dark arts involved. The literature seems a little thin. Although there are items like this: For example: "The actual scanning of ballots is a rapid-fire process: The county has eight optical scanners capable of processing 300 ballots per minute. The most labor-intensive part of the process is removing ballots from their envelopes and smoothing them so they don't jam the scanners." Presumably there are observers from both, or rather all, parties. But still.
[5] Oh. Oh no. There's that word, "smart." Don't do that.

Original Source