By Lambert Strether of Corrente.
Patient readers, this Water Cooler is short because I'm feeling a bit under the weather. Hopefully I will be back to normal, or at least baseline, tomorrow. –lambert
#COVID19
At reader request, I've added this daily chart. The data is the John Hopkins CSSE data. Here is the site. Having done the South and the West last week, and the Midwest yesterday, here is the Northeast: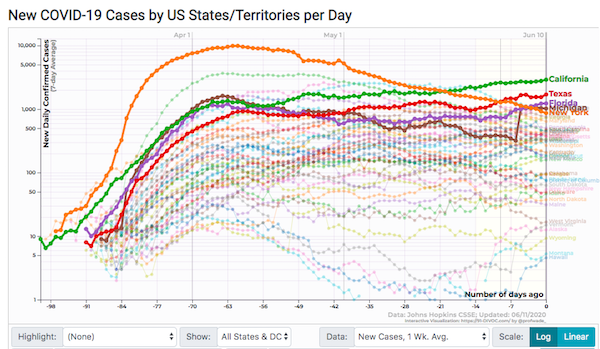 Here is the national data, all starting from the same date, in log form because the curves separate more nicely. Note carefully how y (vertical) axis works, and we are sorta in the mode where California on its worst day is New York on its best day (give or take a thousands or so). Nevertheless, the virus is most definitely not under control.
Politics
"But what is government itself, but the greatest of all reflections on human nature?" –James Madison, Federalist 51
"They had one weapon left and both knew it: treachery." –Frank Herbert, Dune
"They had learned nothing, and forgotten nothing." –Charles Maurice de Talleyrand-Périgord
Since we're getting closer to the election, maybe it's time to start looking at the electoral map, updated June 8 and unchanged today:
So, taking the consensus as a given, 270 (total) – 204 (Trump's) = 66. Trump must win 66 from the states in play: AZ (11), FL (29), MI (16), NC (15), PA (20), and WI (10) plus 1 to win not tie = 102. 102 – 66 = 36. So if Trump wins FL, MI, NC, and PA (29 + 16 + 15 + 20 = 80), he wins. That's a heavy lift. I think I've got the math right this time!
Here's another model:
Here's the electoral map as we start the year in earnest. The model thinks Joe Biden is favored to win about 331 electoral votes come November. pic.twitter.com/tSWt7sZEeY

— G. Elliott Morris (@gelliottmorris) June 11, 2020
Same states in play as above plus VA and GA.
* * *
2020
Biden (D)(1): All smiles on The View:

ABC – 6/10/2020 – @SymoneDSanders asked how do you get #BernieSanders supporters on board with Joe Biden pic.twitter.com/2ptfo3dM3O

— CaseStudyQB (@CaseStudyQB) June 10, 2020

Worth listening to in full; it's only two minutes.

Biden (D)(2): "Biden says military will escort Trump from White House if he loses and refuses to leave" [The Hill]. • Good to see the Democrats making the military the guarantors of "the institutional order of the Republic," since the intelligence community seems to have worked out so well.

Trump (R)(1): "Bannon tells Asia Times: US election is all about China" (interview) [Steve Bannon, Asia Times]. "Trump has been fighting in DC since the beginning against the managed decline of the country. And I think this is shaping up to be even more of a fight of the kind of nationalist versus globalist. I think China will be at the centerpiece of that. The Democrats could not have selected a worse candidate to make an argument to the American people than Joe Biden. So I think 2020 is really a continuation almost of 2016. We still have not worked through these issues. Remember, the campaign slogan was "Make America Great Again." I said that that is going to be a generational struggle. You're not going to wave a magic wand. I think 2020 is shaping up in the last 150 days to be just this classic counter of the globalism of Joe Biden and the Wall Street faction of the Democratic Party versus the economic nationalism and populism of Trump and potentially some slice of the Bernie [Sanders] contingent." • I'm not sure Trump can turn the ship in 150 days. Nice get for the Asia Times, though.

UPDATE Trump (R)(2): "Trump picks Tulsa on Juneteenth for return to campaign rallies" [NBC]. History of Tulsa; history of Juneteenth. This isn't so much a dog whistle as a dog trombone; it's arguably worse than Reagan launching his 1980 campaign at the Neshoba County Fair in Mississippi with a speech on "states' rights." The difference, I suppose, is that Reagan was "morning again in America." Trump, however, is a creature of the American twilight; Götterdtrümperung, as it were. Of course, nobody knows what the night or the next morning will bring.

UPDATE Trump (R)(3): "Trump Has a Message That Could Work. He's Just Not Interested in Making It" [National Review]. "Think about it, Democrats just gift-wrapped him the controversial proposal of "defunding or abolishing the police" and this morning, Trump chose to instead focus upon his belief that the 75-year-old protester shoved to the ground had it coming, his contention that his former Secretary of Defense James Mattis "was our country's most overrated general," as well as a "lap dog" and an "embarrassment to America." The president is incapable of prioritizing any message that is important to his reelection campaign over whatever irritates him at any given moment." • To fair, on generals who are "overrated," "lap dogs," and "embarassments to America," it's a crowded field.

UPDATE Trump (R)(4): "POLITICO Playbook: Trump's latest zigzag" [Politico]. • This is interesting, amazingly, but at the end: "TRUMP SEEMS SINGULARLY FOCUSED on economic indicators like the Dow Jones Industrial Average and the unemployment rate, and seems to have difficulty grappling with intangibles like whether people of color in this country feel valued and included." • "Feel valued and included." How about not getting whacked and making some money at a decent job, or getting your house back? Also Politico mentions Neshoba, but says nothing about the context (see above).

* * *

"New voter registrations plunge during pandemic" [The Hill]. "The number of people registering to vote for the first time has fallen dramatically in recent months as traditional venues for registrations were closed or banned during the coronavirus pandemic, according to a study released Wednesday. The report by the Center for Election Innovation and Research found that while voter registrations were running ahead of the 2016 pace in the early part of this year, new registrations collapsed in March and April, when the pandemic began raging across the United States. The study points to venues in which most voters typically register for the first time — the department of motor vehicles (DMV) or voter registration drives at big events and festivals — which were closed amid lockdowns. DMV closures are particularly harmful to voter registration in states that have automatic registration programs that enroll voters when they interact with government agencies." • Trump's first lucky break!

UPDATE "'Always some sneaky trick': Black voters in Georgia say the state's primary meltdown was no accident" [CNN]. "The long lines. Poll locations not opening on time. Workers flummoxed by new voting machines. For Bobby Fuse, a long-time Democratic activist from Americus, Georgia, the chaos that gripped Tuesday's primary felt familiar — and intentional. 'It's the same game that we were fighting 50 years ago,' said Fuse, a 68-year-old political strategist who attended his first civil rights march — a protest against the arrest of four black women for standing to vote in the line reserved for white women — as a 13-year-old in July 1965.' There's always some sneaky trick that's played,' Fuse told CNN. "This time, they had a whole bunch of sneaky tricks." • And at every stage of the voting supply chain, electronic voting systems (poll books and Ballot Marking Devices) make sneaky tricks easier. That's their unique selling proposition!
RussiaGate
"Senate Republicans authorize subpoenas in probe targeting former Obama officials" [Politico]. "The subpoena targets include former FBI Director James Comey, former CIA Director John Brennan, and former Director of National Intelligence James Clapper. Graham has said he plans to seek testimony from Mueller himself, "or an appropriate designee.' Graham's investigation is also expected to focus on alleged abuses of the Foreign Surveillance Intelligence Act, which were documented in a scathing Justice Department inspector general report that examined the surveillance warrants for former Trump campaign adviser Carter Page. That report also found that there was a proper foundation for the Russia investigation and that political bias did not play a role. The list of subpoena targets also includes officials who were involved in the initial investigation of former national security adviser Michael Flynn, who pleaded guilty to lying to the FBI. The Justice Department recently moved to drop the criminal case against Flynn, though the judge overseeing the case is seeking further judicial guidance."
Realignment and Legitimacy
"The Pessimistic Style in American Politics" [Thomas Frank, Harpers]. "It was somewhere in this bucolic setting [between Kansas City and Topeka] that the controversial word "populist" was invented. There are no historical markers to indicate exactly where the blessed event took place, but nevertheless it happened—in this stretch of green countryside, on a train traveling from K.C. to Topeka—one day in May 1891. Could they have peeked into the future, that group of Topeka-bound passengers would have been astonished by the international reach and malign interpretations of their deed. That they were inventing a noun signifying "mob-minded hater of all things decent" would have come as a complete surprise to them. By coining the word 'populist,' they intended to christen a movement that was brave and noble and fair—that would stand up to the narrow-minded and the intolerant. The People's Party was the official moniker of the organization these men nicknamed, and it was one of America's first great economic-political uprisings, a quintessential mass movement, in which rank-and-file Americans learned to think of the country's inequitable economic system as a thing they might change by common effort. The party offered a glimpse of how citizens of a democracy, born with a faith in equality, could react when the brutal hierarchy of conventional arrangements was no longer tolerable. It was also our country's final serious effort at breaking the national duopoly of the Republicans and Democrats." • Thomas Frank breaking his long silence!

"How 'Never Trumpers' Crashed The Democratic Party" [FiveThirtyEight]. "But 'Never Trumpers' are increasingly involved in the Democratic Party and have gradually shifted their tactics in that direction — effectively becoming a 'Never Trump' and 'Never Bernie Sanders' coalition. And they appear to be having more success shaping their new party than the one that many of them had been associated with for much of their lives." • Republicans most definitely did not crash the Democrat Party; they were invited, starting at least with the changes Obama made to the 2008 platform preamble, which (relying on memory here, I'm clear on the concept but I'm too lazy to find the wording) argued strongly that two parties were important. That's why Obama treated the Republicans as good faith bargainers on the ACA! That message morphed into "Leave the cray cray and join us!" from 2016 (replacing the "coalition of the ascendant" strategy that had previously been ascendant).

UPDATE "State Rep. Goes on Profanity-Laced Tirade After GOP Colleague Hid Positive COVID-19 Test" [Rolling Stone]. "A Democratic Pennsylvania state representative went on a righteous tirade in a 12-minute video after learning that the Republican speaker of the House informed his party but not Democrats that at least one member of his caucus tested positive for COVID-19. 'Every single day of this crisis this State Government Committee in Pennsylvania has met so that their members could line up one after one after one and explain that it was safe to go back to work,' Rep. Brian Sims said on Facebook Live on Wednesday night. 'During that time period, they were testing positive. They were notifying one another. And they didn't notify us.'"

"Controversial Photos Of Dem Leaders Wearing Kente Cloth Resurface From 3 Days Ago" [The Onion].

"Researchers on Atrocity Prevention Warn: US on Path to Widespread Political Violence" [JustSecurity]. "The United States remains on the precipice of widespread human rights violations against its own civilian population." • More:

There is a voluminous literature on the main risk factors indicating an increased likelihood of state-sponsored mass atrocities against civilians (see e.g. here and here). We are worried that key indicators are now evident, and in fact increasing, in the United States. Prime examples include:

On their own, of course, these factors might not trigger widespread violence, but when combined they significantly elevate the risk of atrocities against civilians. That so many of these elements are apparent in the United States today is profoundly troubling.

Then again, consider the source….
Stats Watch
At reader request, I added some business stats back in. Please give Econintersect click-throughs; they're a good, old-school blog that covers more than stats. If anybody knows of other aggregators, please contact me at the email address below.
Employment Situation: "06 June 2020 Initial Unemployment Claims 1,542,000 This Week" [Econintersect]. "According to the BLS: 'The COVID-19 virus continues to impact the number of initial claims and insured unemployment. This report now includes information on claimants filing Pandemic Unemployment Assistance and Pandemic Emergency Unemployment Compensation claims.' The pandemic has so far caused a 42,488,000 job loss.[some of this number now have jobs]." • Here is a breakdown of unemployment relief status of workers:
Here's a chart that pulls this all together, including the most epic note in the history of chart notes—a testament to how tricky these data are to interpret. 12/ pic.twitter.com/gxdz7iCdQn

— Heidi Shierholz (@hshierholz) June 11, 2020
Employment Situation: "U.S. Job Market Rapidly Healing in June, Fed Researchers Say" [Bloomberg]. Markets aren't organic, living beings. They do not heal. I hate that "heal" trope with the hatred of a million burning suns. That said: "The U.S. labor market has continued to heal at a relatively rapid rate through early June, St. Louis Federal Reserve researchers found, using real-time data that provides a more timely view than official government reports…. May unemployment unexpectedly declined to 13.3% as employers added 2.5 million workers to payroll, defying expectations for a Depression-style surge in joblessness and stoking optimism the economy is bouncing back from a virus-induced recession. The St. Louis Fed estimates show states are recovering at sharply varying rates as they slowly reopen after shuttering in March to limit the spread of Covid-19." • But Pavlina Tcherneva provides this useful chart: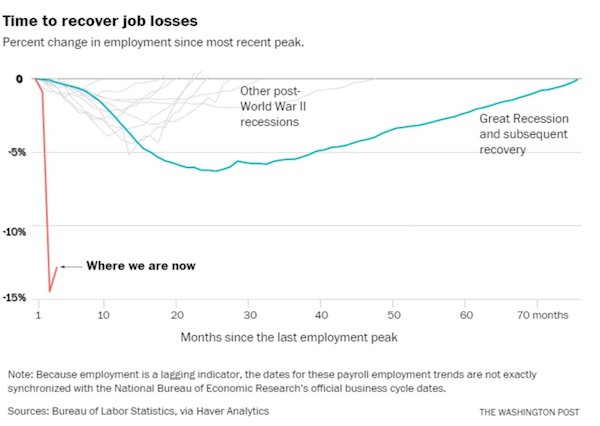 Employment Situation: "Buried in May's Jobs Data: Virus' Impact Spread Further to White-Collar Workers" [Barron's]. "Of the jobs added in May, 2.6 million came from a handful of sectors accounting for less than a third of pre-crisis employment: construction, dentists' offices, personal services such as barbers, retail, and, most importantly, restaurants. The rest of the economy continued to lose jobs or saw no growth. The biggest losses were at local governments, followed by passenger transportation, and media…. This shouldn't be a surprise. The government has failed to contain the economic impact of the virus, which means that it spread quickly from businesses where consumers would have risked infection—such as physical retailers, doctors' offices, restaurants, hotels, and airplanes—to everyone else. First, consumers cut their spending at immediately affected businesses. Deprived of revenues, those businesses were then forced to shed workers and cut their own spending on everything from online advertising to legal advice. Laid-off workers then cut their spending on everything from clothes to cars at the same time as businesses as diverse as tech companies, news publishers, and law firms started experiencing their own revenue squeeze, repeating the entire process. Meanwhile, state and local governments had to deal with a collapsing tax base, which meant cutting infrastructure investment and firing more workers. Everyone in society is linked one way or another."
Shipping: "May 2020 Sea Container Counts Remain Deep In Contraction" [Econintersect]. "The container counts for the Ports of Los Angeles and Long Beach remain deep in contraction – and exports continue to worsen…. A significant reason for the soft import container counts is the effects of the coronavirus both in the U.S. and internationally. This is on top of a trade war and the world is in a recession. Simply looking at this month versus last month – both exports and imports worsened. The three-month rolling averages for exports declined whilst imports improved modestly…. Container data is consistent with other transport data indicating a weak economy."
Producer Prices: "May 2020 Producer Price Final Demand Year-over-Year Growth Remains In Contraction" [Econintersect]. "Year-over-year inflation pressures remain soft as this index remains in contraction. This may be the beginning of a deflationary cycle – we will know only in hindsight."
* * *
Tech: "Remind us again, why work for AWS? Petty Amazon sues marketing veep after he defects to Google Cloud" [The Register]. Lots of squawking between the legal eagles, but this nuggest on Amazon's business practices is interesting: "Curiously, the court paperwork reveals some of AWS's inner workings, namely that . 'At Amazon, product development follows a concept known as 'working backwards',' AWS argued in its filing last month." • Not sure what to make of that, I confess.
Tech: "IBM will no longer offer, develop, or research facial recognition technology" [The Verge]. "'IBM firmly opposes and will not condone uses of any [facial recognition] technology, including facial recognition technology offered by other vendors, for mass surveillance, racial profiling, violations of basic human rights and freedoms, or any purpose which is not consistent with our values and Principles of Trust and Transparency,' [IBM CEO Arvind Krishna said in a letter to Congress today]. "We believe now is the time to begin a national dialogue on whether and how facial recognition technology should be employed by domestic law enforcement agencies.'"
* * *
Today's Fear & Greed Index: 57 Greed (previous close: 66 Greed;) [CNN]. One week ago: 62 (Greed). (0 is Extreme Fear; 100 is Extreme Greed). Last updated Jun 11 at 12:51pm.
The Biosphere
"Mine over Matter" [The Baffler]. "Canada dominates this industry: the majority of mining companies in the world have their headquarters in Canada, while 41 percent of the large mining companies in Latin America are Canadian, according to JCAP. These companies have also been mired in controversies in recent years. A landmark report JCAP published in 2016 found that twenty-eight of these companies were implicated in forty-four deaths, 403 injuries, and 709 cases of criminalization in thirteen Latin American countries over a fifteen-year period. The Canadian organization MiningWatch has suggested that the country's silence on state abuses in Chile is strategic: "Canadian mining interests might just be at the centre of this decision to turn a blind eye to some of the fiercest repression since the Pinochet dictatorship." According to Natural Resources Canada, there are more than forty Canadian mining companies in Chile, making it—alongside Mexico—the country with the second-most Canadian foreign direct investment after the United States."
Health Care
France is a First World country:
Had a minor biking accident the other day, an ambulance to the ER, three stitches and a couple of x-rays… cost me the equivalent of $38. That's without supplemental private insurance, just basic Social Security. I know this is normal in France but still sorta amazed by it.

— Cole Stangler (@ColeStangler) June 10, 2020
"Insurers limit which coronavirus tests they'll pay for" [Axios]. "Insurers have never typically covered medical services that aren't ordered by a health care professional, or that aren't considered medically necessary, and they say it's unclear whether they should be on the hook for such services now." • Oh.
"Covid-19 Testing Could Cost Insurers Billions of Dollars Yearly" [Bloomberg]. "Health insurers could have to spend as much as $25 billion per year for Covid-19 diagnostic tests and up to $19 billion per year for antibody tests, the industry's trade association said Wednesday. Diagnostic testing likely will cost $6 billion to $25 billion annually, and antibody testing could cost $5 billion to $19 billion annually, according to the study conducted for America's Health Insurance Plans by Wakely Consulting Group LLC." • How you gonna pay for it….
"Amazon Price-Gouging Crackdown Worsened Shortage of Sanitizer, Wipes" [Bloomberg]. This is amazing. Or completely normal, I can't decide:
When Americans couldn't find hand sanitizer, toilet paper and disinfecting wipes on Amazon.com Inc., many assumed the products had run out thanks to surging demand from home-bound shoppers. In fact, in some cases the products were available, but merchants had pulled them to avoid getting caught up in Amazon's price-gouging crackdown—even though they weren't raising prices.

Amazon began issuing vague warnings about price policy violations in March that extended through April, threatening to kick merchants off the site. The automated warnings followed glaring headlines about greedy opportunists, like the merchant trying to sell a two-pack of Purell hand sanitizer for $400. But Amazon's warnings didn't specify prices the company deemed fair. That left merchants playing a guessing game as they tried to determine if they could sell the items and still make a profit after accounting for their own costs, shipping and Amazon's commission, which typically runs about 15%.

Merchants had access to these products and knew Amazon shoppers wanted them, but they deliberately pulled them because the rules about selling them weren't clear and the consequences for violations could be devastating. In a heavily automated system with little contact between merchants and Amazon employees, it can take weeks or months to reinstate suspended accounts.
"The Unmasking of America: How the Trump Administration's Negligence Deprived Healthcare Workers of N95 Masks in a Pandemic" [Rolling Stone]. "As the pandemic loomed, the national stockpile of N95 masks — essential for preventing healthcare workers from catching COVID-19 — was all but empty, with less than one percent of 3.5 billion masks government models had long indicated would be needed in a pandemic…. This is the story of another avoidable tragedy in the Trump administration's bungling fight against the coronavirus. It draws from internal emails and memos, a federal whistleblower complaint, and congressional testimony by federal officials and private executives. That record provides a startling glimpse behind the scenes of an administration deaf to timely and dire warnings beginning in January about the need to accelerate N95 mask procurement and production to protect healthcare workers. Despite these urgent appeals the Department of Health and Human Services dragged its feet until the middle of March before signing contracts to buy significant quantities of masks. The president failed to use his powers under the Defense Production Act to require mask production until April — and even then in quantities far below the nation's need."
Police State Watch
As she concluded in her autobiographical reflections published shortly before she died in 2012:https://t.co/1Y4RnIWbFM

— aaron vansintjan🐙 (@a_vansi) June 9, 2020
https://www.annualreviews.org/doi/full/10.1146/annurev.polisci.090808.123259
Groves of Academe
"MIT, guided by open access principles, ends Elsevier negotiations" [MIT News]. "Standing by its commitment to provide equitable and open access to scholarship, MIT has ended negotiations with Elsevier for a new journals contract. Elsevier was not able to present a proposal that aligned with the principles of the MIT Framework for Publisher Contracts. … More than 100 institutions, ranging from multi-institution consortia to large research universities to liberal arts colleges, decided to endorse the MIT Framework in recognition of its potential to advance open scholarship and the public good. "
Class Warfare
Always look on the bright side of life. Thread:
This Day in Labor History: June 11, 1352. Trials were held against laborers from Wiltshire, England who had violated a 1349 ordinance that decreed that all laborers must accept the wages they had received in 1346. Let's talk about how the Black Death empowered surviving workers! pic.twitter.com/8Lnp9dndwr

— Erik Loomis (@ErikLoomis) June 11, 2020
News of the Wired
"Viewpoint: Who builds a house without drawing blueprints?" [Communications of the ACM]. "Architects draw detailed plans before a brick is laid or a nail is hammered. But few programmers write even a rough sketch of what their programs will do before they start coding. We can learn from architects…. The need for specifications follows from two observations. The first is that it is a good idea to think about what we are going to do before doing it, and as the cartoonist Guindon wrote: 'Writing is nature's way of letting you know how sloppy your thinking is.' We think in order to understand what we are doing. If we understand something, we can explain it clearly in writing. If we have not explained it in writing, then we do not know if we really understand it. The second observation is that to write a good program, we need to think above the code level."
I tend to think of topping statues as merely symbolic — one of the signs that the previous Black Lives Matter had been shoved into a ditch — but then again, waves of iconoclasm have happened repeatedly. So:
a statue of columbus at the bottom of a lake is actually historically interesting because nobody learned about columbus from the statue but you can learn a hell of a lot from why it's in a lake now

— SUN|DESTROYER|2020 (@bombsfall) June 10, 2020
* * *
Readers, feel free to contact me at lambert [UNDERSCORE] strether [DOT] corrente [AT] yahoo [DOT] com, with (a) links, and even better (b) sources I should curate regularly, (c) how to send me a check if you are allergic to PayPal, and (d) to find out how to send me images of plants. Vegetables are fine! Fungi and coral are deemed to be honorary plants! If you want your handle to appear as a credit, please place it at the start of your mail in parentheses: (thus). Otherwise, I will anonymize by using your initials. See the previous Water Cooler (with plant)
here. Today's plant (EG):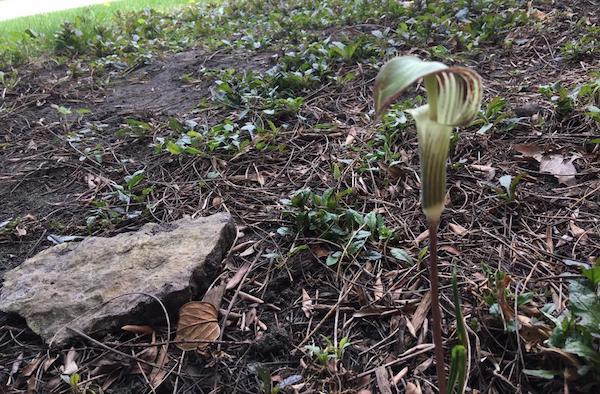 Jack in the Pulpit, for spring. I think I would rather see this plant in the woods, rather than on a lawn. Not sure why.
* * *
Readers: Water Cooler is a standalone entity not covered by the annual NC fundraiser. So if you see a link you especially like, or an item you wouldn't see anywhere else, please do not hesitate to express your appreciation in tangible form. Remember, a tip jar is for tipping! Regular positive feedback both makes me feel good and lets me know I'm on the right track with coverage. When I get no donations for five or ten days I get worried. More tangibly, a constant trickle of donations helps me with expenses, and I factor in that trickle when setting fundraising goals:
Here is the screen that will appear, which I have helpfully annotated.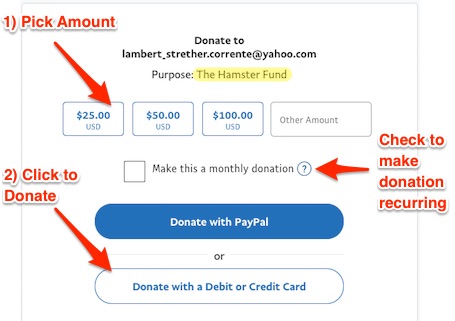 If you hate PayPal, you can email me at lambert [UNDERSCORE] strether [DOT] corrente [AT] yahoo [DOT] com, and I will give you directions on how to send a check. Thank you!

Original Source