By Lambert Strether of Corrente.
Readers, this, er, event, has been framed by some (well, Andy Ngo) as "an example of what the rioters did to Minneapolis" (wreck a former Sheraton). So far as I can tell, that's not it. See the whole thread, which is painful:
Minneapolis Sanctuary Hotel update pic.twitter.com/rwGnuGTQnz

— Max Nesterak (@maxnesterak) June 11, 2020
When I saw Ngo's tweet (which went viral, unlike the original) my reaction was that I knew very little. That's still my reaction. Readers, have you seen any protests/riots/insurgencies in your area? Can we get some field reports from the NC commentariat?
* * *
#COVID19
At reader request, I've added this daily chart. The data is the John Hopkins CSSE data. Here is the site. Here are the top 25 for the last four weeks: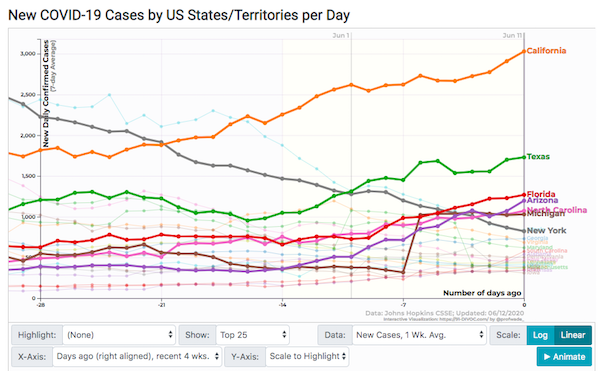 Linear scale. Something went wrong with the display when I switched to "last four weeks," but you can see the trends. California on the way up crossing New York on the way down is a little concerning.
Politics
"But what is government itself, but the greatest of all reflections on human nature?" –James Madison, Federalist 51
"They had one weapon left and both knew it: treachery." –Frank Herbert, Dune
"They had learned nothing, and forgotten nothing." –Charles Maurice de Talleyrand-Périgord
Since we're getting closer to the election, maybe it's time to start looking at the electoral map, updated June 8 and unchanged today:
So, taking the consensus as a given, 270 (total) – 204 (Trump's) = 66. Trump must win 66 from the states in play: AZ (11), FL (29), MI (16), NC (15), PA (20), and WI (10) plus 1 to win not tie = 102. 102 – 66 = 36. So if Trump wins FL, MI, NC, and PA (29 + 16 + 15 + 20 = 80), he wins. That's a heavy lift. I think I've got the math right this time!
* * *
2020
Biden (D)(1): Biden slips a cog (A):

There has been a sustained effort since last year to pretend that Biden is a regular candidate running a normal campaign, even though this is clearly not the case. The singular reason for this being that Dem elites and their corporate donors wouldn't contemplate the alternative. pic.twitter.com/m2l9S23eIf

— Luke Savage (@LukewSavage) June 11, 2020

This is not stuttering.

Biden (D)(2): Biden slips a cog (B):

Joe Biden said the killing of George Floyd in police custody is having a larger global impact than the Rev. Dr. Martin Luther King Jr.'s assassination in 1968. "Look at the millions of people marching around the world," he said. https://t.co/dkWjGLE7gY pic.twitter.com/p4lkaY7iAR

— The New York Times (@nytimes) June 12, 2020

This is not stuttering either. And what's with the dangling mask? To be fair, Trump doesn't wear a mask at all. To be even more fair, I'm sure similar clips of Trump, whose speaking style is, shall we say, discursive, ought to be circulating. Why isn't the Biden campaign doing that? Afraid of turning off the Republicans to whom they hope to appeal?

Trump (R)(1): "What Trump Will Do to Win" (interview) [Frank Rich, New York Magazine]. "Whatever happens to Trump in 2020, his white supremacist cause isn't going anywhere, and Cotton's rise fulfills my long-held nightmare that its next leader will be far more effective than his predecessor." • Good thing we're going into this battle under Joe Biden's generalship. A safe pair of hands.

Trump (R)(2): "Donald Trump's iron grip on the GOP: Why Republicans stick with him" [Los Angeles Times]. "Trump's grip on the Republican Party remains so strong that only a handful of GOP elected officials have publicly criticized him, fearful of bringing down the wrath of the president or his supporters…. 'Members of Congress are not afraid of Trump; ,' said [said Brendan Buck, a former aide to House Speaker Paul Ryan]. 'As long as he has a stranglehold on them and is able to communicate directly with them, this is not going to change.'" • I wish the Democrat leadership felt like that…

* * *

She seems nice:

Congratulations Charles on your fundraising. Now you will have the resources to actually provide health insurance to your staff and pay your interns $15/hr like we do. https://t.co/SbTSng2RIA

— Amy McGrath (@AmyMcGrathKY) June 12, 2020

Although the Trillbillies ask, and justifiably, why all the support for Booker from AOC, Sanders, etc., came only last week, at the last minute.
Realignment and Legitimacy
Euthanize the NGOs (DG):

the having conversations industrial complex is a loose assemblage of professional speakers, nonprofit organizations, panels and board rooms, politicians and lobbyists, whose job is to launch redundant investigations, waylay radical activists, legislate minute reforms, "discuss"

— hormonal jew (@degendering) May 25, 2020

The "having conversations" industrial complex. Think any of 'em have a sideline selling woke insurance?
Stats Watch
At reader request, I added some business stats back in. Please give Econintersect click-throughs; they're a good, old-school blog that covers more than stats. If anybody knows of other aggregators, please contact me at the email address below.
GDP:
While we were making today's GDP chart we were prototyping and I made an animated version pic.twitter.com/SaqNPunRIL

— Henry Lau (@henrylau_ONS) June 12, 2020
* * *
Mr. Market: "Dow up 500 points midday in bumpy trade, partially recovering Thursday's losses" [MarketWatch]. "U.S. stock benchmarks held in positive territory midday Friday, but traded well off their opening peaks, as Wall Street attempted to recapture losses from the sharpest selloff for the market since mid-March on Thursday…. Investors are assessing the state of the stock-market's 10-week rally, a day after equity indexes registered a bruising decline prompted by fears of a resurgence in the coronavirus pandemic in the U.S. and a bleak economic outlook from the head of the Federal Reserve." • So Mr. Market isn't sad, exactly; just in his feelings.
* * *
Retail: "Red Robin Gourmet Burgers cut 55 menu items due to coronavirus and doesn't plan to bring them back" [MarketWatch]. "Red Robin Gourmet Burgers Inc. cut 55 items from its menu due to the coronavirus outbreak, and now the restaurant chain said it won't be bringing those dishes back…. Rethinking the menu is one of the major considerations for restaurants post-coronavirus, said Joe Jackman, chief executive of customer engagement company Jackman Reinvents…. 'Restaurants have already had to adapt to supply challenges, new traffic patterns (no lunch rush while schools and offices are shut down), shifting desires (think comfort food), and the reality of delivery (certain food just doesn't travel well),' he said. Jackman compiled a list of suggestions for restaurants based on proprietary research." • Demand destruction?
Today's Fear & Greed Index: 53 Neutral (previous close: 55 Neutral;) [CNN]. One week ago: 66 (Greed). (0 is Extreme Fear; 100 is Extreme Greed). Last updated Jun 12 at 12:38pm.
The Biosphere
"Gone Camping!" [TreeHugger]. "TreeHugger is now part of the Dotdash team, and they are building us a whole new site from the ground up to be an all-round better experience no matter how you read it, light and fast and the way of the future. To make the change we have had to pack everything up and move it over. Right now it is all on the road, and we are all whining from the back seat 'Are we there yet?' The answer from the front seat is 'don't touch anything, we're almost there.' We will be pitching our new tents around the 16th of the month. Until then, happy camping!" • DotDash owns a number of "brands," including Investopedia. Although when I read "light and fast and the way of the future" I hear "mobile-optimized," which means garbage that's very inefficient to read, even on mobile.
Police State Watch
"Defunding the Police Is Not Nearly Enough" [Eric Levitz, New York Magazine]. "The activists and community organizers who've rallied behind "defund the police" are engaged in discrete struggles over fiscal priorities across a wide range of cities. As such, their focus on contesting police departments' outsize share of municipal budgets is appropriate. But the fight must not end there. We cannot provide disadvantaged communities with the social resources they deserve — nor, in all likelihood, the social resources necessary for guaranteeing their safety in the absence of conventional policing — merely by reallocating existing public funds. Rather, doing so will require massively increasing overall public spending on these communities. If the end result of the present agitation is to reduce funding for police services, without increasing overall social investment, then we will have made little progress towards becoming a nation whose policies affirm the value of black lives. And in the present context of widespread fiscal crisis, this outcome is more than possible. For these reasons, massive federal relief for cities today, and durable investments in social welfare and public employment tomorrow, must be understood as racial-justice issues. To "defund the police," we must refund the social state."
"64% of Americans oppose 'defund the police' movement, key goals: POLL" [ABC]. "Nearly two-thirds of Americans oppose calls for defunding police departments, compared to 34% who back the movement, and 60% specifically oppose reducing the budget for police to reallocate it to other public health and social programs, while 39% support that move. But black Americans land differently on the issue, though not overwhelmingly so. A majority of black Americans support the movement to "defund the police," (57%) and putting the money towards other community programs (64%), a departure from the other groups. Support among blacks for the "defund the police" movement is more than double that of whites (26%), and black Americans are nearly twice as likely as whites (33%) to back key tenets of the movement. An equal 42% of Hispanics support both." • Hence the Kente cloth, since appealing to Black voters and wealthy suburban Republicans is going to be a neat trick.
"US law enforcement surveilled protests with drones, spy planes" [Al Jazeera]. "US Customs and Border Protection (CBP) deployed a predator drone on May 29 over the city of Minneapolis, where Floyd, a Black man, was killed when a white police officer kneeled on his neck for nearly nine minutes. The FBI used a small plane equipped to collect mobile phone location data over Washington, DC on June 2, according to members of Congress and public reports. The FBI and US National Guard used a hi-tech RC-26 spy plane with infrared and electro-optical cameras over Washington, DC, and Las Vegas on the same day. The US Drug Enforcement Administration was authorised to 'conduct covert surveillance' of the protests. Attorney General William Barr told state governors the FBI's network of regional counterterrorism centres would be used to track protesters." • Awesome.
Cops blackmailing other municipal government departments:
Cop unions are unaware they need PR experts and I am 100% here for it https://t.co/78R97JHw59

— Dave "Alive" Anthony (@daveanthony) June 10, 2020
Out of control.
Games
"Meet 90-year-old Hamako Mori, the world's oldest video game YouTuber" [CNN]. "Hamako Mori, known as "Gamer Grandma" to her 250,000 YouTube subscribers, started gaming 39 years ago. Her YouTube channel launched in 2015, and she posts up to four videos a month. In her clips, she does everything from unboxing new consoles to broadcasting her gaming prowess. And now , is officially the world's oldest gaming YouTuber, according to Guinness World Records."
"In A Unionization Breakthrough, Paradox Interactive Signs Labor Agreement With Trade Unions" [Kotaku]. "The [collective bargaining agreement (CBA)] covers Paradox employees based in Sweden where it's headquartered. The agreement will help formalize existing benefits and make it easier to negotiate things like pay increases. The CBA, which Paradox says will be finalized before the end of the month, is with two separate trade unions, Unionen and SACO, and helps lock in current company policies around things like parental and sick leave so they can't be changed later on without being re-negotiated. 'The main thing is that we now have a mandate anchored in the law and in the collective agreement itself," Paradox programmer and Unionen union representative Magne Skjæran told Kotaku over instant message. 'It means that we have a right to negotiate, and Paradox has to come to the table. The formalization and anchoring strengthens any arguments we have.'"
"Game Publisher Cancels Contract With Developer, Then Tries to Poach Its Entire Team" [Bloomberg]. "One Friday evening last December, employees of game designer Star Theory Games each received the same unusual recruitment message over LinkedIn. It struck them as bizarre for two reasons. One, it came from an executive producer at the publishing company funding their next video game. Two, it said the game—in the works for the previous two years—was being pulled from their studio…. The LinkedIn message went on to say Take-Two was setting up a new studio to keep working on the same game Star Theory had been developing, a sequel to the cult classic Kerbal Space Program. Take-Two was looking to hire all of Star Theory's development staff to make that happen. 'We are offering a compensation package that includes a cash sign-on bonus, an excellent salary, bonus eligibility and other benefits,' Cook wrote." • "Poach" seems a little mild….
"The Last of Us Part II and Its Crisis-Strewn Path to Release" [Wired]. The creative process:
Since February 2017, Naughty Dog has been inviting scores of gamers to its offices to test out the active construction site that is the unfinished game. These playtesters, as they're called, consent to being filmed as they move through the game; then they fill out questionnaires and meet in groups to discuss what's working and what isn't. Back in the early stages of playtesting, Naughty Dog was troubleshooting the rough infrastructure of the game: how its world holds up, what people felt drawn to, where they got lost. Now, during this agonizing final stretch of development, [41-year-old director Neil Druckmann's team] is watching for players' minute responses to the narrative and emotional beats. In the videofeeds piped out of the playtesting room, the dev team logs and annotates every clench of the jaw and widening of the eyes. Druckmann has even taken to spying on the gamers live from his office.
One comment: "Ebert was right that games aren't art he just hadn't identified the real reason: aggressive product testing to optimize emotional response like you're creating a new flavor of coke." • If only Shakespeare had had a playtesting room…
MMT
"The scale of this crisis is unprecedented: now we need the radical thinking to address it" [Tax Research UK]. "In that case we are not going to get a V-shaped recovery, with a quick bounceback. We are, instead, going to see a fundamental change in the level of economic activity for some time to come. That is precisely why I do think radical thinking, including a Green New Deal and the processes of change implicit within it, is necessary now. It is why I also think we need to radically rethink our relationship with what is supposedly called government debt, which is why I have issued a myth buster on that issue this morning. And yet many on the left seem to have no understanding on this. For them affordability is constrained. And debt repayment remains paramount. One of the reasons why I felt down in the last week was the consequence of exchanges with supposed progressive economists a week or so ago. They were vehemently anti-MMT. This now appears to be a necessary sign of virility or acceptability in the left of centre think tank world. John Weeks appeared quite without shame in calling MMT a cult on Twitter yesterday. The economists in question suggested that the public were right to be worried about debt, and that the goal should be to constrain it. There were issues of 'sound finance' involved, one said. Another described the 'moral dimension' to debt and suggested it a sign of failure. These narratives play straight into the hands of the right. It is as if they wished for austerity. My belief that their comprehension of what debt really is, what it does, what its benefits are, and what it can do to deliver the economic transformation we require are exceptionally limited. But, I stress, these are people from the left, and I see the same attitudes in just about every left of centre think tank right now." • Ugh. And stuff like these tends to bleed across the Atlantic, too.
News of the Wired
"Research finds reading books has surged in lockdown" [Guardian]. "A new survey has revealed that people in the UK have almost doubled the amount of time they spend reading books since lockdown began, but instead of dystopian fiction readers are turning to the "comfort" of crime and thrillers…. Readers also revealed their tastes have changed since the outbreak of Covid-19, with their interest in crime and thrillers, and other popular fiction, increasing. There was "currently little appetite" for dystopian fiction, said [Nielsen Book]." • I'll bet. This is the UK. Some of our US readers expected to read more, and read less; that was my experience. Was it yours?
* * *
Readers, feel free to contact me at lambert [UNDERSCORE] strether [DOT] corrente [AT] yahoo [DOT] com, with (a) links, and even better (b) sources I should curate regularly, (c) how to send me a check if you are allergic to PayPal, and (d) to find out how to send me images of plants. Vegetables are fine! Fungi and coral are deemed to be honorary plants! If you want your handle to appear as a credit, please place it at the start of your mail in parentheses: (thus). Otherwise, I will anonymize by using your initials. See the previous Water Cooler (with plant)
here. Today's plant (ChiGal):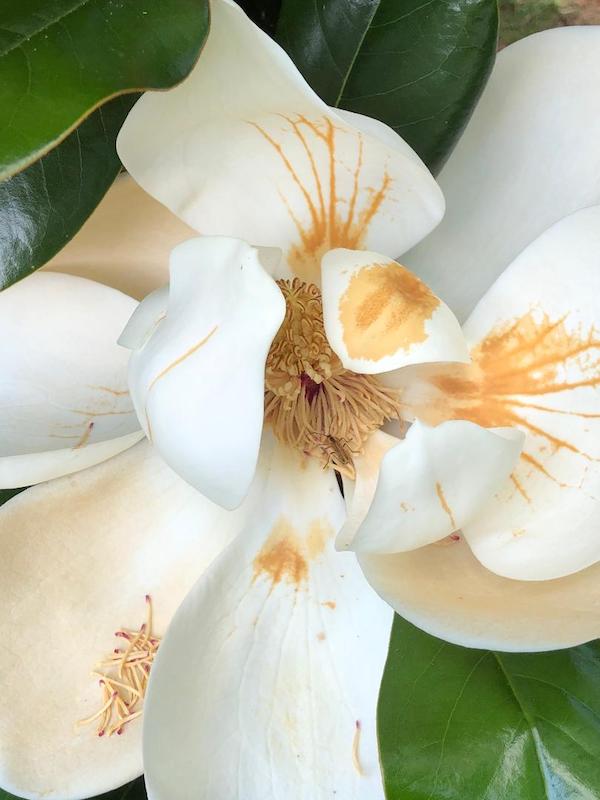 ChiGal writes: "Mother nature is an amazing painter—she does everything, from impressionistic flowers in a field to the precise detailing of Audobon."
Finally, let me say that I am feeling good today; it seems like I had a head-cold that lasted three days (and no other symptoms whatever). Not to go all hypochondriac, but the stress of waiting first for more symptoms, and then wondering how the heck I caught a cold when I'm all masked up was real. Surface contact, I suppose, though I'm good about washing my hands. What an odd week. And now it's Friday! –lambert
* * *
Readers: Water Cooler is a standalone entity not covered by the annual NC fundraiser. So if you see a link you especially like, or an item you wouldn't see anywhere else, please do not hesitate to express your appreciation in tangible form. Remember, a tip jar is for tipping! Regular positive feedback both makes me feel good and lets me know I'm on the right track with coverage. When I get no donations for five or ten days I get worried. More tangibly, a constant trickle of donations helps me with expenses, and I factor in that trickle when setting fundraising goals:
Here is the screen that will appear, which I have helpfully annotated.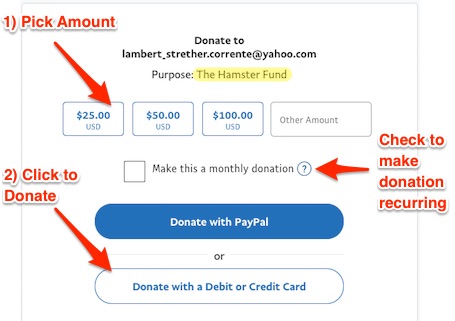 If you hate PayPal, you can email me at lambert [UNDERSCORE] strether [DOT] corrente [AT] yahoo [DOT] com, and I will give you directions on how to send a check. Thank you!

Original Source