Yves here. As one of those bad people who has flown since mid-March (three times! for good reason, as in search of medical treatment), I can add a couple of reasons why people aren't flying to the obvious ones like no reason to travel for business, Covid-19 airline fears, and caution about spending.
One is the airline schedules suck even more than in the old normal. For instance, I managed to book 2 of the 500 flights that Delta had reinstated and then cut for September, both nonstops. Within a week, I was baited and switched with Delta turning both into two-flight trips. One of them turned my NYC-Portland nonstop (an hour and a half flight) which left at the barely-tolerable-for-me hour of 9:00 AM to a six hour ordeal, departure at 6:00 AM, via Detroit. Oh, and they had the nerve to e-mail a schedule change saying you could only get an ticket credit if you cancelled (I was prepared to dispute the charge but Delta did issue a refund when I called).
Not that American, the other carrier that flies my routes, is better, it's just bad in different ways. Its schedules are more convenient and it seems less prone to schedule changes. But it's flying its planes as full as it can (thank God a reader sent me n95 masks), its gate agents and stewardess seem indifferent to promoting distancing (a few press hard to have passengers board and debark with adequate distancing, but they are a minority) and only lately seem to have gotten religion about mask compliance, and its overhead bins are enough smaller than Delta's on same-sized regional jets to make a difference with the luggage I normally haul.
Second is that despite promises about refunds and ticket credits, I've had horrors with both airlines. Literally five calls to Delta to get one flight booked and an old ticket credited to it, including to get them to undo repeatedly cancelling my return flight. American has failed to provide me a ~$400 coupon for the leftover value of a ticket American cancelled that I then applied to a cheaper flight. And I can't reach a live human to fix this, I am supposed to e-mail. Help me. This is not a way to generate loyalty (and I'm a million mile American customer!).
Putting my beefs aside, the reason this matters is a tremendous amount of activity keys off airline travel, not just airport operations and terminal retailers but all of the tourist and business travel spending. That's why governments continue to prop the carriers up. They still hope, despite evidence otherwise, that a decent sized rebound is not that far away.
By Wolf Richter, editor of Wolf Street. Originally published at Wolf Street
TSA checkpoint screenings, which track how many people enter into the security zones at US airports on a daily basis, were down -72.6% yesterday (Sunday) compared to Sunday in the same week last year, according to TSA data released this morning. This was a notch worse than Sunday last week (-71.7%). And this reversal has been playing out since early July.
The seven-day moving average, which irons out the day-to-day volatility particularly around the Independence Day weekend, has edged down to -74.5%, right back where it was on July 2. The peak, so to speak – the smallest decline from the same period last year – was on July 8: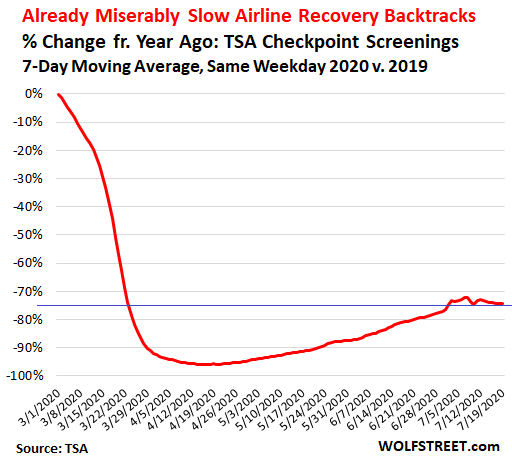 The miserably slow recovery for airlines in terms of ticket sales, from near-zero in late March and early April to some level above near-zero started backtracking in late June. United Airlines and Delta Airlines both issued early warnings about this industry-wide phenomenon that was not supposed to happen in this recovery, but is now happening.
Ticket sales today result in passenger traffic some days, weeks, or months later when these customers are actually walking into an airport to get on the plane. And those declining ticket sales that United had warned about with charts, using industry-wide data for all airlines and sales channels, is now translating gradually into declining passenger traffic into the security zones of US airports.
Sure, this is summer travel season, when traffic is always up seasonally compared to lower-traffic seasons. This year too, there has been a seasonal uptick. But these are year-over-year comparisons that eliminate the seasonality of air travel.
Both United and Delta cited the renewed outbreaks of Covid-19 as the primary cause for this reversal in the recovery – people not wanting to be in an airport with all the exposure this produces and not wanting to sit on a plane near people who might potentially be contagious. This is in addition to travel restrictions globally.
Airlines, which are in an existential crisis given this collapse in revenues – Delta's passenger revenues collapsed 94% in Q2 – have been promoting the theme that they're working hard to make flying as safe as possible. That may be true, except that, after having slashed capacity to match the collapsed demand, they're packing people like sardines into the few planes that are flying, which is not reassuring to everyone on these flights or to people contemplating to fly.
At around noon today, the WOLF STREET airline index of the seven largest US airlines – Alaska, American, Delta, JetBlue, Southwest, Spirit, and United – is down 3.7% from Friday's close and down 50% from the end of the Good Times in mid-January 2020, and down 60% from  January 2018 (market cap data via YCharts):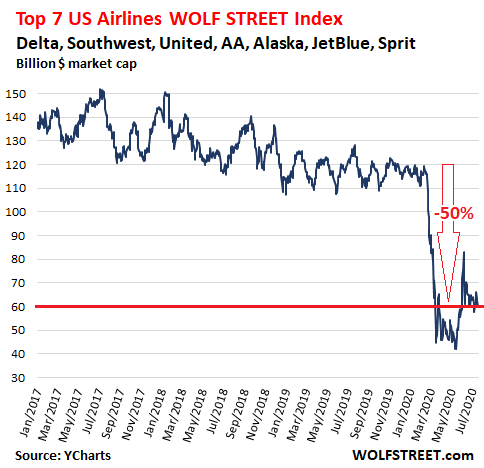 Airlines are in shrinkage-and-survival mode instead of V-shaped recovery mode. "It will be more than two years before we see a sustainable recovery": Delta CEO. Read… Delta's Passenger Revenue -94%. How it Plans to Stay Alive till "Demand Returns." Confirms United's Warning About Newly Waning Demand

Original Source