By Lambert Strether of Corrente.
Patient readers, I had an odd day where I couldn't ingest as much krill as I usually do. I will add more in a bit. –lambert
strong>#COVID19
At reader request, I've added this daily chart. The data is the Johns Hopkins CSSE data. Here is the site. Back to our top five problem states: Florida, California, Texas, Georgia, and Arizona, with New York for comparison: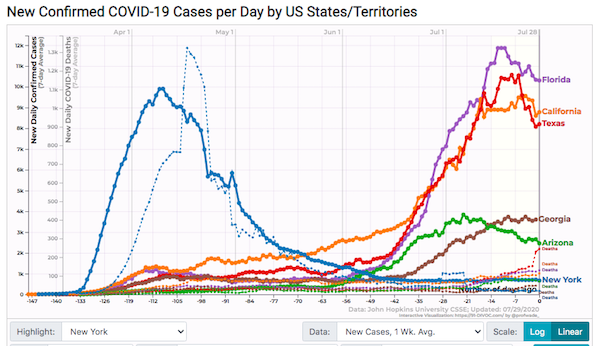 Here is the aggregate United States death rate, so the problem states are combined together. If you compare chart one (dotted line) and this chart, you can see that New York — possibly because clinical practice had not yet learned through experience — is still the outlier: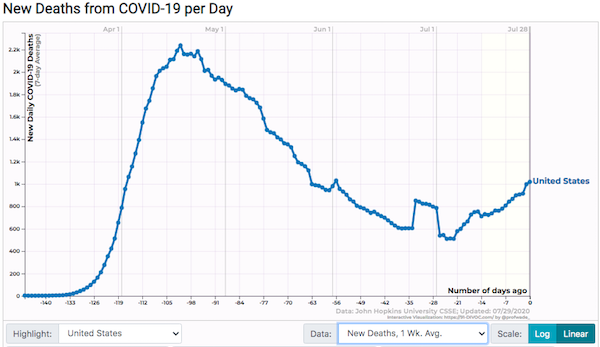 Politics
"But what is government itself, but the greatest of all reflections on human nature?" –James Madison, Federalist 51
"They had one weapon left and both knew it: treachery." –Frank Herbert, Dune
"They had learned nothing, and forgotten nothing." –Charles Maurice de Talleyrand-Périgord
The electoral map. July 17: Georgia, Ohio, ME-2 move from Leans Republican to Toss-up. Continued yikes. On July 7, the tossup were 86. Only July 17, they were 56. Now they are 91. This puts Biden at 278, i.e. over 270. July 28: Still no changes.
So, taking the consensus as a given, 270 (total) – 204 (Trump's) = 66. Trump must win 66 from the states in play: AZ (11), FL (29), MI (16), NC (15), PA (20), and WI (10) plus 1 to win not tie = 102. 102 – 66 = 36. So if Trump wins FL, MI, NC, and PA (29 + 16 + 15 + 20 = 80), he wins. That's a heavy lift. I think I've got the math right this time!
2020
Biden (D)(1): "Biden says he'll name a running mate next week" [Axios]. "Biden has pledged to name a woman as his running mate, and last week told MSNBC that among the finalists are 'four Black women.'" • I can't wait.

BIden (D)(2): Lee Carter is correct on what Biden said:

Joe Biden just issued a statement calling for the arrest of anarchists, simply for BEING anarchists, which is very explicitly not illegal.

It should also be noted that Biden and Trump have now joined together in openly calling for the political persecution of the same people. https://t.co/kwXRpYoDDI

— Lee J. Carter (@carterforva) July 28, 2020

So the real issues for liberal Democrats in the Federal response to the protests are poor optics and a sloppy process, not substance. Who knew?

Bloomberg (D)(1): "Mike Bloomberg Promised to Spend Big Against Trump. What Happened?" [NY1]. "When former Mayor Michael Bloomberg dropped out of the presidential race in March, he was expected to continue pouring huge sums of money into the effort to defeat President Trump. Almost five months later, he's done little to support Joe Biden. About two weeks after his concession speech, Bloomberg abruptly dropped plans to create his own Super PAC and laid off hundreds of staffers who'd been promised jobs through November. Several of them filed lawsuits. Instead, Bloomberg donated $18 million and office space to the Democratic National Committee. He's also given more than $11 million to the House Majority PAC in support of House Democrats. And his gun reform group, Everytown for Gun Safety, announced last week it was spending $15 million in eight key states, but mostly on legislative races. Assuming Bloomberg does put his immense wealth to work helping Biden, there are questions of when, where, how and how much. If the Bloomberg team has answers, they aren't sharing them publicly for now."

Cuomo (D)(1): "The Financing of Hudson Yards Is Worse Than Its Architecture" [HyperAllergic]. "Development projects as large as Hudson Yards need to find their capital somewhere, but nobody expected the $20 billion superblock to skim $1.2 billion in public funds from impoverished areas through a legal loophole. On Friday, Citylab reported that the affluent neighborhood acquired this money through the EB-5 visa program, which is designed to help alleviate urban poverty…. And despite Hudson Yards's status as the most expensive real estate project in American history, it qualified as what public officials call a targeted employment area (TEA) eligible for financing due to a certain unemployment threshold 150 percent of national unemployment." • They don't call it the "Empire State" for nothing, I guess….
Impeachment
"The underbelly of impeachment: A tangle of principles, politics and personalities" [Politico]. ""A Case for the American People," by Norm Eisen — an architect of the House Democrats' impeachment strategy —isn't shy about its conclusions: Eisen believes in his bones that Trump is a recidivist criminal who must be ousted to save the republic. He also believes the Democrats who engineered Trump's impeachment are heroes on par with the founders. The book is, at bottom, an effort to convey those conclusions — and Eisen's centrality to the impeachment effort — to the wider world." • The liberal Democrat leadership decided that RussiaGate was a non-starter, after three years of hysteria… These are the Adams', Madisons, Franklins, Hamiltons of our time? Really?
Realignment and Legitimacy
"Barbie launches "Campaign Team" doll set featuring a Black Barbie running for office" [CBS]. "Mattel announced a new Barbie 2020 "Campaign Team" set on Tuesday, featuring four dolls who each have roles within the campaign and election process. The set, which aims to "expose girls to public leadership roles and pique their interest in shaping the future," consists of a candidate, campaign manager, campaign fundraiser and voter doll, according to a Mattel press release. The diverse collection of dolls features a Black Barbie as the candidate." • Good, I guess. Where are the donor dolls?

* * *

"Election Fraud & Other Illusions" [Progressive Insider (MN)]. Kudos to MN for digging this up. This post has three themes: Exit polling, an assault on Theodore Soares ("TDMS Research") and his methodology, and a series of arguments against paper ballots. The third is worth reading, the second is beyond my skillset, but the first is interesting: 'According to the UN, exit poll discrepancies exceeding 4% signify election fraud.' This statement may sound reasonable to those not familiar with exit polling or statistics, but in truth? The statement is false and very misleading. We have scoured through the United Nation's documents on elections and standards, and no statement like this exists at the UN. Nor would one expect it to; even a basic understanding of statistics and polling does not support such an out-of-context assertion. We've not been able to find the original source of this 'UN' claim, but it appears to be part of a larger disinformation campaign. A campaign which appears to be targeted toward sowing discord and inflaming anger among the supporters of losing candidates — based on the viral popularity of these memes they are succeeding." (There's no About page for the site, but they have gotten posts from the Chair of Democrats Abroad, so I assume they're legit.)

"Evidence-Based Elections: Create A Meaningful Paper Trail, Then Audit" (PDF) [Andrew W. Appel and Philip B. Stark, Georgetown Law Review]. "Society wants evidence that election outcomes are correct (e.g., the candidate actually selected by the voters wins the election), even if the computers have been hacked. The only known practical way to have trustworthy ballots to audit, even if the computer software has been hacked, is to have paper ballots, marked with the voters' choices, that are manually interpretable, accountable, auditable, and re-countable."
Stats Watch
At reader request, I added some business stats back in. Please give Econintersect click-throughs; they're a good, old-school blog that covers more than stats. If anybody knows of other aggregators, please contact me at the email address below.
Housing: "June 2020 Pending Home Sales Again Has A Significant Improvement" [Econintersect]. "The National Association of Realtors (NAR) seasonally adjusted pending home sales index had a second month in a row of significant recovery from coronavirus shutdown – and the index is now well into expandion…. So far, the recovery is well beyond my expectations of a lackluster recovery. It is almost like the pandemic never happened."
* * *
Manufacturing: "Intel 'Stunning Failure' Heralds End of Era for U.S. Chip Sector" [Bloomberg]. "Intel Corp.'s decision to consider outsourcing manufacturing heralds the end of an era in which the company, and the U.S., dominated the semiconductor industry. The move could reverberate well beyond Silicon Valley, influencing global trade and geopolitics. The Santa Clara, California-based company has been the largest chipmaker for most of the past 30 years by combining the best designs with cutting-edge factories, several of which are still based in the U.S. Most other U.S. chip companies shut or sold domestic plants years ago, and had other firms make the components, mostly in Asia. Intel held out, arguing that doing both improved each side of its operation and created better semiconductors. That strategy is in tatters now, with the company's factories struggling to keep up with the latest 7-nanometer production process." • Oy.
Concentration: "Amazon's Monopoly Tollbooth" [Institute for Local Self-Reliance]. "Amazon keeps an average of 30 percent of each sale made by independent sellers on its site, up from 19 percent just five years ago. Seller fees netted Amazon almost $60 billion in 2019, nearly double the $35 billion in revenue from AWS, Amazon's massive cloud computing division. Since 2014, Amazon's revenue from seller fees has grown almost twice as fast as its overall sales. Seller fees now account for 21 percent of Amazon's total revenue. Amazon is extracting more from sellers by tying their ability to generate sales on its site to their willingness to buy additional Amazon services, including its fulfillment and advertising services. Amazon's high fees make it nearly impossible for sellers to sustain a profitable business. Most fail. Yet Amazon has no risk of running out of sellers; its monopoly ensures there's an endless stream of people, both here and abroad, willing to try."
* * *
Today's Fear & Greed Index: 64 Greed (previous close: 63 Greed) [CNN]. One week ago: 65 (Greed). (0 is Extreme Fear; 100 is Extreme Greed). Last updated Jul 28 at 11:59am. Solid greed.
The Biosphere
"Mysterious seed packets sent from China showing up at homes in Colorado [ABC Denver]. "The Colorado Department of Agriculture is warning about mysterious packets of seeds being sent to residents across the state. The packets appear to be sent from China and officials warn there is no indication as to what plants grow from the seed… According to officials in Colorado, the seeds and concerns are, in fact, very real. 'People are getting seeds,' said Cheryl Smith, an export certification specialist with the Colorado Department of Agriculture. 'They are getting unsolicited seeds in the mail that appear to be from China.' The department fielded hundreds of calls in the past week from Colorado residents saying they received mysterious packets of seeds as well. Officials say anyone who is sent packets seeds should leave them sealed." • I Googled the phone number on the package label; it seems to be a Chinese e-commerce site. Sounds like a clerical error to me.
Health Care
"Pfizer Says Covid Could Endure, Sees Long-Term Need for Shot" [Bloomberg]. "There has been a growing sense that a one-time vaccine regimen may not be enough to ward off Covid-19 forever. It isn't clear how long coronavirus antibodies can protect people from the disease, and early trials haven't yet yielded proof that a shot could prevent infection for an extended period of time. Pfizer said it expects that a Covid-19 vaccine could, like the flu shot, be an inoculation that is needed regularly to be effective." • "There has been a growing sense…." Note lack of agency.
"When will enough doses of FDA-approved COVID-19 vaccine(s) to inoculate 25 million people be distributed in the United States?" [Good Judgment]. These are the "superforecasters":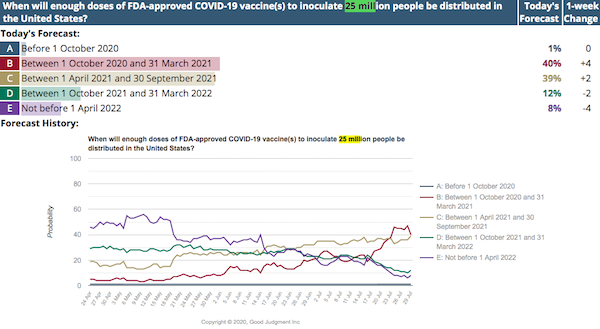 Hence affecting 2020 only negatively,
Police State Watch
""Defendant Shall Not Attend Protests": In Portland, Getting Out of Jail Requires Relinquishing Constitutional Rights" [Pro Publica]. "Federal authorities are using a new tactic in their battle against protesters in Portland, Oregon: arrest them on offenses as minor as "failing to obey" an order to get off a sidewalk on federal property — and then tell them they can't protest anymore as a condition for release from jail. Legal experts describe the move as a blatant violation of the constitutional right to free assembly, but at least 12 protesters arrested in recent weeks have been specifically barred from attending protests or demonstrations as they await trials on federal misdemeanor charges…. It could not be learned who drafted the orders barring the protesters from joining further demonstrations. The documents reviewed by ProPublica were signed by a federal magistrate in Portland. Magistrates have broad authority to set the terms of release for anyone accused of a crime."
"From the Start, Federal Agents Demanded a Role in Suppressing Anti-Racism Protests" [New York Times]. This is interesting: "Privately, domestic intelligence agents are uncertain about the root causes of those actions. Another internal government memo, from Department of Homeland Security intelligence officers, indicated that even as federal agents in camouflage deployed to quell the unrest in Portland, the administration had little understanding of what it was facing….. The memo tried to put the recent conflict into historical context, describing how 'anarchist extremists' have committed crimes in the Pacific Northwest for years and asserting that 'sustained violence against government personnel and facilities' had longstanding roots. But even as it laid out a timeline of violence extending back to 2015, the intelligence briefing, dated July 16, admitted, 'We have low confidence in our assessment' when it comes to the present day. 'We lack insight into the motives for the most recent attacks,' it read." • Fire, ready, aim….
"The Present Belongs to Crowds" [The New Yorker]. "[P]ublic policy that has amounted to crowd control on a large scale. Postwar development in New York and other cities expressly invited white people out to the suburbs, and confined blacks to public-housing projects, largely segregated public schools, and neighborhoods where police applied stop-and-frisk strategies not used elsewhere. Highways, irrigation, and air-conditioning hastened the settlement of the South and West, enabling large numbers of people to live in formerly remote places. The sprawl of cities as "metropolitan areas" wound up concentrating the population as well as distributing it….. With almost Marxian symmetry, the profit-making power of crowds, which the pandemic put a halt to, was swiftly reclaimed as political power through the Black Lives Matter movement. The protests of the past month have shown that, now as ever, the most immediate and dramatic way for people in a free society to register discontent and call for change is by massing in the streets." • They cannot say "class." Ever.
Sports Desk
"Baseball's Stadium Workers Are Getting Peanuts From the Billionaire Owners" [The Nation]. "She is one of the roughly 24,000 food service workers who sell beer, peanuts, and hot dogs and staff the luxury suites at the 30 MLB stadiums throughout the country. When baseball shut down in March, these workers—along with another approximately 15,000 workers who help park cars, clean the stadiums, sell caps and T-shirts, show fans to their seats, and provide security—lost their jobs. Many of those who were lucky enough to have health insurance—and many did not—lost that as well. Major league players are playing again and being paid a pro-rated salary, but the stadium workers have been left in the lurch. Fans have been banned from stadiums, so there will be no need for most of the workers who normally staff the games. 'I'm in serious debt,' Walker explained. 'My bills are piling up. I ran out of my medicine for diabetes and a heart problem.'" • The clock is ticking…
Guillotine Watch
Woke insurance:
…………………… pic.twitter.com/XU2bpT45R6

— Emily Leedham (@Emily_Leedham_) July 25, 2020
Class Warfare
"Uber and Lyft Drivers Win Ruling on Unemployment Benefits" [New York Times]. "Drivers for Uber and Lyft won a key victory on Tuesday in their continuing effort to be treated like other workers when a federal judge in New York ruled that the state must….In her ruling, Judge LaShann DeArcy Hall appeared to come down firmly on the side of drivers in this broader debate, citing 'an avoidable and inexcusable delay in the payment of unemployment insurance.'"
"CARES Act 2: The Line Between Rich & Poor in America" [Barry Ritholtz, The Big Picture]. "Congress is wrestling with where to draw the line that determines who qualifies for economic assistance. How wealth is distributed, and who is poor or rich is not well understood – either by Congress or the rest of the country. With eviction and foreclosure moratoriums now lapsed, they better figure it out quickly."
"A look at the Americans who believe there is some truth to the conspiracy theory that COVID-19 was planned" [Pew Research].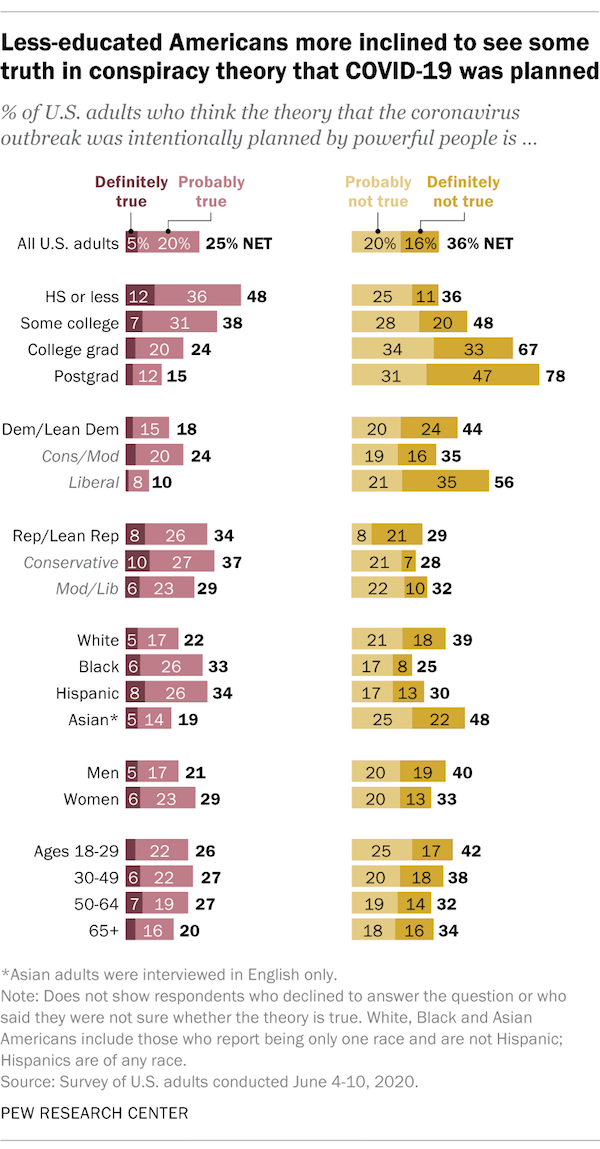 You can look at this chart in at least two ways: One is to mock the rubes for their gullibility and ignorance. The other is to ask yourself whether there might be a reason why the back-row kids (less educated) might not think the front-row kids (more educated) might not have their interests completely at heart….
"A Culture Canceled" [Chris Arnade, American Compass]. "The current debates over cancel culture are odd because few involved in them have been canceled, or risk being canceled, while entire institutions are indeed being canceled. Institutions that serve and amplify the interests of the working class, such as local newspapers, unions, and churches. The death of local journalism is at least acknowledged by those involved in the debate as a problem. They are rightly concerned that smaller local newspapers being replaced by far away conglomerates hurts "left-behind" communities since it closes a forum where their issues could be heard, elevated, and addressed. Getting less attention is the death of churches and unions. Lower income neighborhoods are littered with boarded up versions of both, a result of America's embrace of a noxious mix of centralized economic power and de-centralized personal freedom…. With these institutions dying the working class has fewer places to turn when frustrated or dealing with a problem…. Not being listened to, not having a place to turn, not knowing anybody who can help you, is frustrating as hell, and partly why populism is surging, both in elections and in the streets. It is also why so many people are now embracing conspiracy theories, the intellectual Hail Mary pass thrown by the desperate." • Yep.
"Americans are converting more used school buses into tiny homes during the pandemic" [USA Today]. "Sales of the used, bright yellow vehicles, called "skoolies" by their owners, have risen in some markets during the recession as more Americans shift toward a nontraditional, more affordable and socially distanced way to live. People such as Kettner and her husband transform them into one-of-a-kind homes. 'Bus and RV conversions have been around for decades, but it has increased due to the quarantine and social distancing,' says Mike Curtis, general manager at National Bus Sales Inc., an Oklahoma-based, coast-to-coast dealer of shuttles, vans and school buses."
News of the Wired
There Is No Alternative:
Antarctica, the confusing continent. pic.twitter.com/RywSapP551

— Interesting Maps (@lnterestingMaps) July 29, 2020
"Deeply, Deeply Diseased" [The Bitter Southerner]. "Slowly and steadily, in the years since their 2017 launch, the Trillbillies have cultivated a strong following…. In their time on the air, they've interviewed luminaries such as Sturgill Simpson, Nick Offerman, and any number of leftist thinkers. They've also presented some of the most intelligent, biting pontification on national and regional politics the South has to offer as well as plenty of uproarious, brain-smoothening gags, in the best possible sense, along the way. Using the South — and Appalachia, specifically — as a lens, the Trillbillies zero in on the failures of late-capitalism and the importance of class in American society. 'Our show is a good sneak peek into what younger and cusping on not-so-young people's lives are like under late-capitalism, but in a specific context,' [Tom] Sexton said." • As reades know, I'm a big Trillbillies fan.
Never heard of Mitch Hedberg:
* * *
Readers, feel free to contact me at lambert [UNDERSCORE] strether [DOT] corrente [AT] yahoo [DOT] com, with (a) links, and even better (b) sources I should curate regularly, (c) how to send me a check if you are allergic to PayPal, and (d) to find out how to send me images of plants. Vegetables are fine! Fungi and coral are deemed to be honorary plants! If you want your handle to appear as a credit, please place it at the start of your mail in parentheses: (thus). Otherwise, I will anonymize by using your initials. See the previous Water Cooler (with plant) here. Today's plant (AM):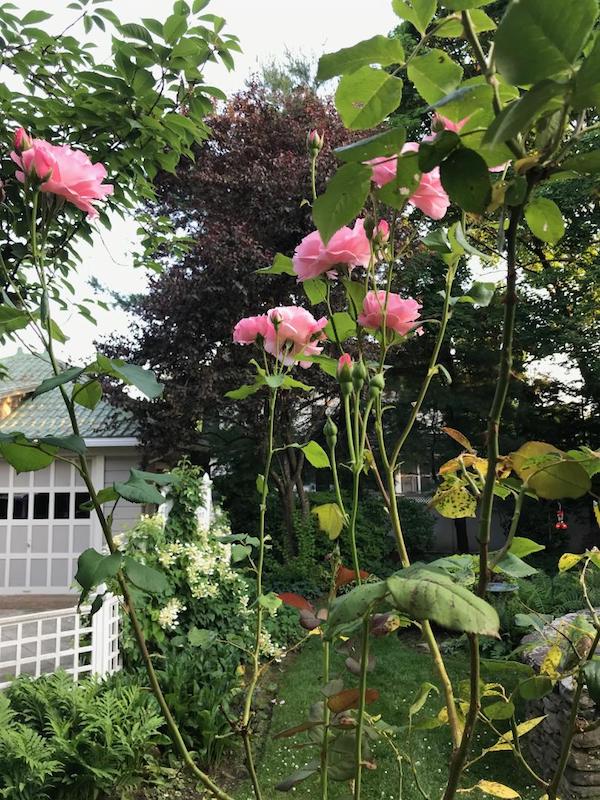 AM writes: "Focus on the roses in backyard. Climbing hydrangeas in the background."
* * *
Readers: Water Cooler is a standalone entity not covered by the annual NC fundraiser. So if you see a link you especially like, or an item you wouldn't see anywhere else, please do not hesitate to express your appreciation in tangible form. Remember, a tip jar is for tipping! Regular positive feedback both makes me feel good and lets me know I'm on the right track with coverage. When I get no donations for five or ten days I get worried. More tangibly, a constant trickle of donations helps me with expenses, and I factor in that trickle when setting fundraising goals:
Here is the screen that will appear, which I have helpfully annotated.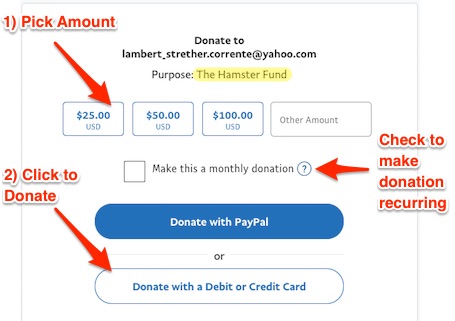 If you hate PayPal, you can email me at lambert [UNDERSCORE] strether [DOT] corrente [AT] yahoo [DOT] com, and I will give you directions on how to send a check. Thank you!

Original Source