Yves here. This analysis of Covid-19 transmission is clever as well as important, since the findings are dramatic. And of course, the exceptional US is the source of the data.
By Alexander Ahammer, Assistant Professor, Johannes Kepler University Linz, Martin Halla, Professor of Economics, University of Linz and Mario Lackner, Assistant Professor, University of Linz. Originally published at VoxEU
Social distancing is important to slow the community spread of COVID-19. This column studies the banning of mass gatherings, a comparably low-cost intervention. Exploiting exogenous variation in top-flight basketball and ice hockey games in the US, which arise due to the leagues' predetermined schedules, and the suspension of the 2019-20 seasons, it estimates the impact of indoor mass gatherings on COVID-19 mortality in affected US counties. The findings suggest that one additional mass gathering increased the cumulative number of COVID-19 deaths in affected counties by 9%.
Due to the lack of vaccines and effective antiviral drugs, countries have to rely on a set of non-pharmaceutical interventions (NPI) in response to the COVID-19 pandemic. One important public policy to promote physical distancing is to ban mass gatherings (Memish et al. 2019, Baldwin and Weder di Mauro 2020a). Such events may foster contagious disease transmission as a result of large crowds being in close contact, often for extended periods of time. A temporary mass gathering ban is relatively cheap and easy to implement compared to, for example, school or workplace closures (Baldwin and Weder di Mauro 2020b). In response to the spread of SARS-CoV-2, the pathogen leading to COVID-19, several prominent events had been cancelled, or postponed, even before widespread quarantine measures were enacted (McCloskey et al. 2020), including religious, cultural, and sporting events.
Evidence from Indoor Venues: NBA and NHL Games
In Ahammer et al. (2020), we quantify how National Basketball Association (NBA) and National Hockey League (NHL) games have contributed to the spread of COVID-19 in the US. Both leagues play exclusively in indoor venues, which present a high-risk setting for infectious disease transmission. Before play was suspended on 12 March, up to 12 games per league with an average audience of about 18,000 people were held each day. We analyse how much the number of games held between 1 March and 11 March has contributed to the community spread of COVID-19 in counties surrounding NBA and NHL venues.
Figure 1 NBA and NHL venues and adjacent countries in the US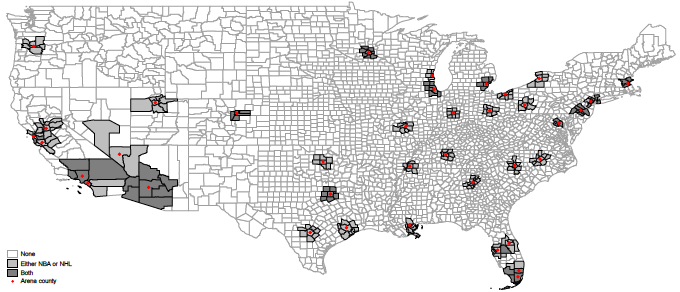 We use information on NBA and NHL games played between 1 March and 11 March. During this time span, 78 NBA games (about seven per day on average) and 57 NHL games (five per day on average) were played in US venues. Both leagues suspended all remaining games for the 2019/20 season indefinitely on March 12.  In our analysis, we focus on 38 counties which host either a NBA or a NHL venue, or both, and all their 204 neighbouring counties, which we call the 'perimeter' (see Figure 1). For all affected venue and perimeter counties, we collect information on COVID-19 cases and related deaths. We then relate the number of the cumulative number of games (NBA and NHL) between 1 and 11 March to the cumulative number of COVID-19 cases and deaths per one million population measured on different dates.
Empirical Identification Due to Pre-Defined Game Schedules
Since the game schedules were determined long before the first COVID-19 case became public, their spatial and temporal distribution should be unrelated to the initial spread of COVID-19 in the US. The first known case in the US was a man in Washington State who returned on 15 January 2020 from Wuhan. The 2019/20 NBA schedule had been released on 12 August 2019, the NHL schedule on 25 June 2019. Game schedules are not correlated with observable county characteristics and ticket sales did not systematically change until the NBA and NHL suspended play.
One Additional Mass Gathering Increased COVID-19 Deaths by 9%
Figure 2 displays our estimation results, where each estimate comes from a separate regression, with the dependent variable being measured on different days. A priori, we expect effects to be strongest around 3 weeks after the shutdown. This is precisely what we find. The effect of games starts to pick up around 28 March and increases at a decreasing rate since then. This is true for both cases and deaths. Furthermore, we see that cases respond earlier than deaths, which makes sense given the natural lag between diagnosis and death. Our estimates suggest that one additional indoor mass gathering between 1 and 11 March in the form of an NBA or NHL game increased the cumulative number of COVID-19 cases (measured on 30 April 2020) in affected counties by at least 243 per one million population (p<0.01), or 8.3%, and the number of COVID-19 deaths per million by 13 (p<0.01), or 8.9%. Our results are based on population-weighted regressions. Unweighted estimations provide similar conclusions.
Figure 2 Estimated effect of games on confirmed cases (top panel) and deaths per million population (bottom panel)
a) Confirmed cases per million population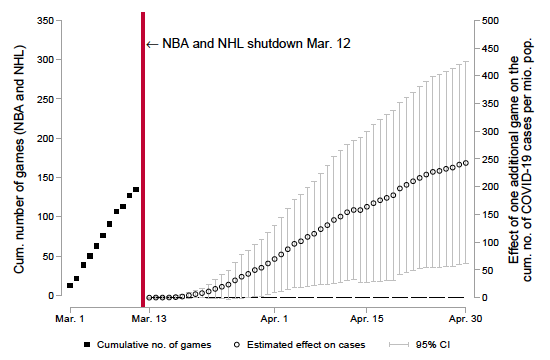 b) Deaths per million population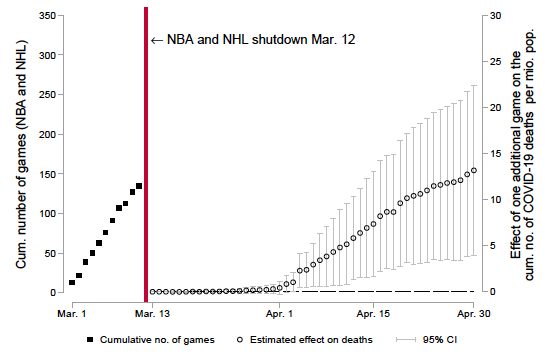 Effects Are Larger in Densely Populated Areas and in Colder Regions
We also explore the heterogeneity of effects across different counties (results not shown). We find that effects are stronger in areas with high population density and in counties with below-median temperatures. Both dimensions of treatment effect heterogeneity are in line with our expectation. First, if people live close to one another, the risk of transmission is greatly increased. Second, it is assumed the virus replicates more easily in lower-temperature conditions. We do not find different treatment effects across counties with different demographic compositions. This is surprising, given that early reports in the medical literature suggest that Black people tend to be affected more strongly by COVID-19 than other ethnic groups (Yancy 2020).
Policy Conclusions
We conclude that banning mass gatherings is an effective NPI to slow the spread of COVID-19. We suggest that public health officials recommend cancelling or postponing mass gatherings during COVID-19 and future pandemics. Our results do not speak to outdoor mass gatherings, where the risk of disease transmission may be lower. For example, recent evidence (Sabia et al. 2020) suggests that Black Lives Matter protests in the US did not contribute significantly to COVID-19 spread.
See original post for references

Original Source