By Lambert Strether of Corrente.
#COVID19
At reader request, I've added this daily chart from 91-DIVOC. The data is the Johns Hopkins CSSE data. Here is the site. Here are the bottom five of the top ten problem states: Tennessee, North Carolina, Alabama, Louisiana, and Illinois, with Georgia for comparison: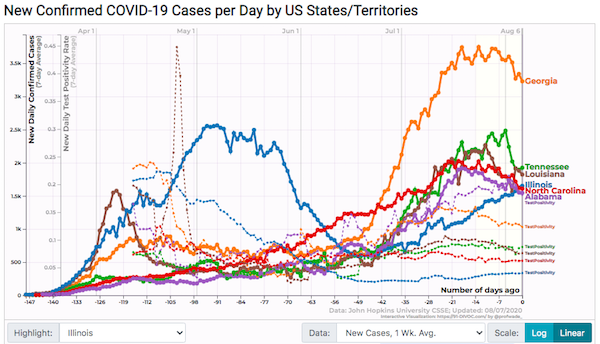 MS: "Over 100 students quarantined in Mississippi school district after several individuals tested positive for Covid-19" [CNN]. "Taylor Coombs, spokesperson for the Corinth School District, told CNN that six students and one staff member tested positive for the coronavirus. According to Coombs, 116 students that have been considered in "close contact" of a positive case have been sent home to quarantine for 14 days. The student population in the district is 2700…. In-person classes resumed in the district on July 27, according to the school calendar."
OH: Handy diagram:
A man with Covid-19 went to church in mid-June, then 91 other people got sick, including 53 who were at the service, according to Ohio's governor.

"It spread like wildfire, wildfire. Very, very scary," Gov. MIke De Wine said https://t.co/7v5S60YTRP

— CNN (@CNN) August 6, 2020
No similar diagram for the Lewis funeral…
Politics
"But what is government itself, but the greatest of all reflections on human nature?" –James Madison, Federalist 51
"They had one weapon left and both knew it: treachery." –Frank Herbert, Dune
"They had learned nothing, and forgotten nothing." –Charles Maurice de Talleyrand-Périgord
The electoral map. July 17: Georgia, Ohio, ME-2 move from Leans Republican to Toss-up. Continued yikes. On July 7, the tossup were 86. Only July 17, they were 56. Now they are 91. This puts Biden at 278, i.e. over 270. August 3: Still no changes.
So, taking the consensus as a given, 270 (total) – 204 (Trump's) = 66. Trump must win 66 from the states in play: AZ (11), FL (29), MI (16), NC (15), PA (20), and WI (10) plus 1 to win not tie = 102. 102 – 66 = 36. So if Trump wins FL, MI, NC, and PA (29 + 16 + 15 + 20 = 80), he wins. That's a heavy lift. I think I've got the math right this time!
2020
Biden (D)(1): "DNC Delegates Call Biden Foreign Policy Team 'A Horror Show' And Ask For New Hires" [HuffPo]. "[A] new letter that's being circulated among delegates to the Democratic National Convention is raising alarm bells about the circle of advisers who would likely form Biden's foreign policy team if he becomes president. A widely circulated message promoting the letter, which is already signed by more than 275 delegates — almost all of whom were pledged to Sen. Bernie Sanders (I-Vt.) — says Biden's current circle is 'a horror show' of advisers with track records of supporting 'disastrous' U.S. military interventions."

Trump (R)(1): "Here Are the Billionaires Funding Trump's Voter Suppression Lawsuits" [ReadSludge]. "In more than a dozen states, including battlegrounds like Wisconsin and Michigan, the Republican National Committee (RNC) has initiated or joined lawsuits to block states from expanding vote-by-mail systems or to oppose Democratic lawsuits in states that have resisted putting universal vote-by-mail systems in place. The lawsuits are financed by a $20 million litigation budget that the Republicans have amassed for fighting Democrats on voting issues…. At least 17 of the 24 billionaire donors to the RNC legal fund are among the top 400 wealthiest American households as ranked by Forbes magazine, including the following: Kelcy Warren, CEO of natural gas and propane pipeline giant Energy Transfer Partners, net worth $4.3 billion; Stephen Schwarzman, CEO of The Blackstone Group private equity firm, net worth $17.7 billion; and Charles Schwab, net worth $7.7 billion. Two more top donor families, those of Fertitta brothers Lorenzo and Frank III, fall just outside the top 400 richest Americans, with net worth around $1.6 billion apiece."

* * *

Marquita Bradshaw:

"Marquita Bradshaw Scores Upset Victory In Tennessee Democratic Senate Primary" [Associated Press]. "The race to succeed retiring U.S. Sen. Lamar Alexander in November will feature a matchup between a Republican candidate endorsed by President Donald Trump and a Black activist who pulled off an astonishing upset victory over the Democratic establishment's choice — with ." • First Cori Bush, now Marquita Bradshaw. Holy moley! I must say, that in 2020 the left — at least below the Presidential level — isn't doing too shabbily at all! More: "Bradshaw, a single mother, has said she has been "one job away from middle class and one job-loss away from poverty." She said she was once under-employed, riddled with student loan debt and without adequate health insurance. Then she experienced a foreclosure and bankruptcy. With a platform that favors increasing the minimum wage to $15 per hour, adopting the Green New Deal, expanding Medicare and requiring universal background checks for gun purchases, she spent around $5,800 through March, the last time she reported any campaign finance activity, records show. Now she faces a candidate who spent $9.6 million through mid-July." • Here's hoping Bradshaw (and Bush) are more like Stokely than John Lewis.

"Who is Marquita Bradshaw, the Memphis woman who just won the Democratic nomination for US Senate?" [Memphis Commercial Appeal]. "Bradshaw, a Memphian, got her start as an environmental activist. She's the founder of Youth Terminating Pollution and spoke out against what became the Memphis Defense Depot Superfund Site in South Memphis… As an organizer, she's continued that environmental activism and pushed for communities to understand the impacts of pollution on communities of color. She is the environmental justice chair for the Memphis Chapter of the Sierra Club…. How did she win, spending about $25,000 during a pandemic that precluded most forms of retail politics? Volunteers, Zoom calls and organizing principles. And she plans on continuing that strategy in the general election." • Hopefully the Sierra Club is less supine in the Border states (making me think, yet again, what a missed opportunity Charles Booker was in another Border state. If the left had started pushing a month earlier…).

"Marquita Bradshaw wins Tennessee's Democratic US Senate primary" [Tennessean]. "The Memphis Democrat faced four challengers: Robin Kimbrough, James Mackler, Gary Davis and Mark Pickrell. Bradshaw won the race with 35.5% of the vote. Kimbrough had 26.6% and Mackler had 23.8%. Davis and Pickrell trailed with each winning less than 10% of the vote. … Bradshaw beat out a better-known and better-funded challenger. Previously, Mackler ran briefly in 2018 for former U.S. Sen. Bob Corker's seat until former Gov. Phil Bredesen joined the race. He bowed out and endorsed Bredesen. This time around, Mackler received Bredesen's endorsement and had already been running a campaign aimed at the two leading Republican candidates. He had the backing of the Democratic Senatorial Campaign Committee." • Take that, DSCC.

* * *

"Viewpoint: Pro-Labor Candidates Are Upending New York Politics—But Where Are the Unions?" [Labor Notes]. An ugly picture:

At a candidate forum in Central Brooklyn for a New York state senate race, the moderator asked a simple yes or no question: "Do you support charter schools?"

It was no surprise that public school teacher, union member, and democratic socialist Jabari Brisport answered with a terse "nope"—unions rightly see charters as an effort to privatize and deunionize the teaching profession.

It's also sadly not much of a surprise that his opponent, sitting Democratic Assemblywoman Tremaine Wright, answered with a "yes." Charter schools are backed by deep-pocketed corporate interests, many of them major donors to the Democratic establishment. During the primary campaign, Wright received $7,500 from Democrats for Education Reform, a pro-charter group funded by the likes of Walmart heiress Alice Walton and hedge fund titan Dan Loeb.

The real surprise is that the statewide teachers union (NYSUT), which is largely controlled by its New York City local, the United Federation of Teachers (UFT), decided to endorse Assemblywoman Wright, the candidate who explicitly opposes the union's own legislative agenda, over one of its own members.

Brisport still won the Democratic primary for the 25th senate district convincingly—without his union's support—even defeating Assemblywoman Wright in her own assembly district. And he's hardly the only example of a pro-labor candidate winning without official labor support.
Our Famously Free Press
"Facebook Fired An Employee Who Collected Evidence Of Right-Wing Pages Getting Preferential Treatment" [Buzzfeed]. " In another recent Workplace post, a senior engineer collected internal evidence that showed Facebook was giving preferential treatment to prominent conservative accounts to help them remove fact-checks from their content. sThe company responded by removing his post and restricting internal access to the information he cited. On Wednesday the engineer was fired, according to internal posts seen by BuzzFeed News." • If Facebook were smaller — i.e., broken up (no, I'm not sure how) — it could just be a venue with a point of view.
Realignment and Legitimacy
"Letter From An Angry Middle-American Vet" [The American Conservative]. Several letters, actually. This one caught my eye: "Personally, I favor a 'let our erring sisters go in peace' approach. [But] US urban areas can be cut off from each other at least at ground level and possibly even besieged to an extent. US cities are vulnerable in ways that country areas are not, especially since a civil war would cut them off of energy and food supplies unless shipped from overseas. Also, the urban population of the US by and large does not own arms and is less likely to have experienced military training," • Big discussion of what "civil war" would actually look like. And it's interesting that such a discussion took place.
Stats Watch
At reader request, I added some business stats back in. Please give Econintersect click-throughs; they're a good, old-school blog that covers more than stats. If anybody knows of other aggregators, please contact me at the email address below.
Employment Situation: "July 2020 BLS Jobs Situation – Employment Grew 1,763,000 But Still Down 12,572,000 Year-to-Date" [Econintersect]. "The headline seasonally adjusted BLS job growth showed a very good job gain but still under expectations, with the unemployment rate improving from 11.1% to 10.2 %… [R]eaders are advised that the basis of the BLS numbers are from the middle of July (which are extrapolated to the end of the month). Still, these numbers are much better than ADP estimated on Wednesday."
Wholesale Sales: "June 2020 Headline Wholesale Sales and Inventories Remain In Contraction But Significantly Improved" [Econintersect]. "The headlines say wholesale sales were up month-over-month with inventory levels remaining very elevated. Our analysis shows a small decline in the rate of growth for the rolling averages… This was a good recovery from the coronavirus infection but still, the rolling averages declined."
Leading Indicators: "31 July 2020 ECRI's WLI Improvement Continues But Remains In Contraction" [Econintersect]. "Improved but remains in contraction."
* * *
"A Monthly Peek into Americans' Credit During the COVID-19 Pandemic" [Liberty Street Economics]. Key takeaways: "1. Growth in Household debt balances has stalled—mainly due to a decline in credit card balances…. 2. Foreclosures have screeched to a halt…. 3. The CARES Act provided forbearances on mortgage payments, but the uptake on forbearances has been mixed and varies by type of mortgage…. 4. Delinquency rates are declining as troubled borrowers opt for forbearance…. 5. Nearly all student loan borrowers were rolled into forbearance and troubled borrowers' were given a (temporary) fresh start… 6. Mortgage refinances have surged, as mortgage interest rates touched historic lows. Refinancing is an attractive option for homeowners." • Better than HAMP…
* * *
Today's Fear & Greed Index: 71 Greed (previous close: 73 Greed) [CNN]. One week ago: 65 (Greed). (0 is Extreme Fear; 100 is Extreme Greed). Last updated Aug 7 at 12:00pm. Solid greed. Starting to get dull. A year ago? 25, Extreme Fear. I don't even remember what that was about.
The Biosphere
"A Historian of Economic Crisis on the World After COVID-19" (interview) [Adam Tooze, New York Magazine]. Tooze: "So what in January 2020 seemed to me like distinct preoccupations — when you're a "climate political economy" person, you spend your time thinking about capitalism and Exxon, not epidemiology and wet markets — these things were in fact profoundly related. So, for example, those of us working on climate political economy had been developing this scenario we call the "climate Minsky moment" — a market collapse triggered by a sudden devaluation of key assets as a result of climate change and/or of a governmental response to climate change. Well, in a sense, this is precisely what COVID triggered in March. We saw a huge revaluation in assets, not as a result of the epidemic per se, but as a result of the reaction to the epidemic by business actors and national governments. As a historian of the early 20th century, I think I had been predisposed to understand the Anthropocene as a war of attrition. But it turns out this challenge also has an element of blitzkrieg: In a timescale of days, it can mess with you irrevocably. And you could find yourself in a nearly untenable position if you do not act wisely on a timeline of hours. That's a game changer. It means we need a whole different approach to the problem. And it's not a matter of resources. It's a question of alertness, of speed of reaction." • This interview is so wide-ranging it's hard to know where to file it; but I put it here, because I think Covid has crowded out my climate links. Well worth a read!
"BP Walks Away From the Oil Supermajor Model It Helped Create" [Bloomberg]. "Just six months after taking the helm, Looney has put meat on the bones of his plans to make BP compliant with the Paris accord on climate change, saying he'll cut dividends in half, shrink oil and gas output by 40% over the next decade and spend as much as $5 billion a year building one of the world's largest renewable-power businesses. Where Browne created a global model, Looney's strategy shows the oil industry is splitting in two. On one side of the Atlantic, BP, Shell and Total are trying to make themselves going concerns for a low-carbon age, diluting their fossil-fuel businesses with plans to build significant revenues from renewable energy. Exxon and Chevron — insulated from the pressure applied by European investors and politicians — are charting a different course: keep pumping as profitably as possible and hand the cash back to investors. Like Big Tobacco, they're increasingly courting shareholders willing to put returns above the harm their product causes." • Leave it in the ground!
Health Care
"Chloroquine and COVID-19: A western medical and scientific drift?" (letter) [European Journal of Internal Medicine (Detroit Dan)]. "The countries of the South use hydroxychloroquine and chloroquine on a massive scale, just as they used them before for malaria, or still use them now for systemic lupus erythematosus and rheumatic diseases. And, as more than 2 billion people at least have used this treatment, they have the greatest difficulty in believing that this product has become, by 2020, an extremely toxic product… A total of 4.6 billions of people live in countries where chloroquine or hydroxychloroquine are recommended for COVID-19. When there is such a tension in the analysis of the data, one has to be careful… Many recent publications are characterized by a great heterogeneity of therapeutic strategies and the very common lack of clear diagnostic criteria, as for example in the last study published in the New Engl J Med on prophylaxis [10], where only 20 COVID tests were performed for 821 patients. This shows a drift in the scientific publications which sometimes leads to the retraction of the work, or sometimes to its radical questioning in this period of extreme tension around chloroquine. In practice, it is necessary to avoid drawing conclusions too quickly without an exhaustive research of the work carried out before concluding." • Lots of references, too.
"Work on hydroxychloroquine delayed promising studies of convalescent plasma" [NBC]. "Robust scientific studies on convalescent plasma, a potentially promising COVID-19 treatment, have gotten off to a slow start in the U.S., in part because some researchers were more focused on enrolling their sickest patients in other trials, including some for hydroxychloroquine. 'You always have that hindsight and say, oh man, we should have put our efforts into something else,' said Dr. Todd Rice, an associate professor of medicine at Vanderbilt University Medical Center. Early on in the pandemic, Vanderbilt was involved in multiple clinical trials, including those on remdesivir and hydroxychloroquine. Even though the hospital system had also developed a randomized, placebo-controlled trial for convalescent plasma, Rice said, the other trials took priority. While remdesivir was found to be beneficial to patients with COVID-19, the disease caused by the coronavirus, a number of large clinical trials on hydroxychloroquine ultimately failed to show any benefit." • I think "some researchers" is doing a lot of work, there. Subject to corrections from medical research mavens, I'm not sure how fungible research skills really are, or whether the worldwide net of medical research has been affected at all. Finally, see the link above; are we really saying that a medicine given to two billion people isn't worthy of study? I'm not one to push too heavily on cognitive bias in "Western medicine," but the slant toward the patentable and profitable solutions preferred by Big Pharma , toward testing in hospital settings, and toward large, randomized, controlled trials only (see Tricia Greenhalgh) does seem evident to this would-be critical thinker.
* * *
"COVID-Induced Anxiety: Some Tips for Staying Sane During Insane Times" [DoctoredTales]. "I recently posted on Twitter about COVID-19 and the feeling of impending devastation that healthcare workers are facing. I compared that feeling to the anxiety of watching a tsunami as it inches towards the shore. The hundreds of responses I received have moved me and changed my thinking. I received notes from soldiers describing similar feelings prior to deployment, from firemen and women attesting to the same before entering a burning building, and from patients describing a similar fear while waiting for the results of a biopsy. This helped me realize that we are not the first, nor the last, of humankind to face such formidable times, and we are certainly better equipped than our ancestors. The strength of my fellow citizens helped brace me for the coming challenge, and strengthened my resolve to go to work with steady hands." • With tips. Concluding: "While there are certainly dark and unprecedented days ahead, perseverance might be the most underrated of human qualities. And I am certain that together, we will persevere."
"How the Pandemic Might Be Hurting Your Eyes" [Bloomberg]. "The combination of 30 million Americans out of work and tens of millions more working from home exploded the number of hours people have been glued to a screen…. The pandemic spike in television, streaming and even social media 'doomscrolling' may be here for awhile. And all that additional screen-time? Well, it could be bad for you. The LED light emitted from most screens exposes your eyes to high levels of 'blue light,' which can disrupt sleep patterns and lead to "computer vision syndrome.'… Exposure to blue light before bedtime can make it harder to get to sleep, possibly through suppressing the production of melatonin. This is especially the case for close-proximity devices such as laptops and mobile phones. Dry eye can also be a problem. The Mayo Clinic suggests adding moisture to the air, taking breaks during longer tasks, positioning your computer screen below eye level and using artificial tears. (Experts remain divided on whether blue light glasses are effective.)" • "Artificial tears" is a little too on-the-nose for the political class…
"How Music Could Become a Crucial Part of Your Sleep Hygiene" [Time]. "n the midst of a pandemic, sleep has never been more important—or more elusive. Studies have shown that a full night's sleep is one of the best defenses in protecting your immune system. But since the spread of COVID-19 began, people around the world are going to bed later and sleeping worse; tales of terrifying and vivid dreams have flooded social media…. [A]nother unlikely sedative has also seen a spike in usage around bedtime: music…. And since the impacts of the coronavirus have upped the anxiety of daily life, artists' streams and wellness app downloads have soared, forming bedtime habits that could prove lasting. At the same time, scientists are diving deeper: in September 2019, the National Institute of Health awarded $20 million to research projects around music therapy and neuroscience." • Musical interlude:
"How Travelers Are Beating Tough Flight Curbs in the Age of Covid" [Bloomberg]. There aren't enough cheerful examples to quote. So, this: "'We are not going to see a material recovery for international travel in the near future,' said Steven Kwok, associate partner of OC&C Strategy Consultants Ltd. Even after a vaccine is available, many will remain uncomfortable with long-haul flights, he said."
Police State Watch
"Informant on NYPD Payroll Drove Protester to Attack" [Daily Beast]. "The next day, the confidential informant once again picked up Trapp in his car. NYPD officers tailed the vehicle, as the informant recorded their conversation with Trapp. According to the affidavit, Trapp showed the informant his backpack, which reportedly contained a 'scissor-like tool that could be used to sever a vehicle's brake lines.' The surveillance team watched as Trapp and the informant approached a marked NYPD van parked in the Sunset Park area of Brooklyn. The informant stood nearby, pretending to be Trapp's 'lookout,' while Trapp crawled underneath the vehicle in an alleged attempt to disable the brakes. It was all captured on video by both the surveillance team and the informant." • An enormous police operation surrounding this one hapless simp..
"Three Homeland Security Flights Circled Portland Protesters. Here Are Their Flight Paths" [Willamette Week]. "Flight tracker data shows that on at least three occasions, airplanes owned by Homeland Security circled for hours over Portland protests—on the evenings of July 22, 28 and 29. Since July 16, DHS has restricted flights of all nondesignated aircraft within the airspace directly above Portland for 'special security reasons.' The restrictions remain in place through Aug. 16. The planes made repeated, concentric circles over the city for hours, in a technique consistent with 'dirtboxing'—when a circling plane equipped with Digital Receiver Technology, a DRT box, or a cell site simulator mimics a cellphone tower, effectively intercepting the signals of nearby cellphones. This allows government agents to retain cell phone data and track locations of those in radio range. (DHS did not respond to WW's questions about the type of surveillance conducted.)" • "Special security reasons."
"Stop using 'officer-involved shooting'" [Columbia Journalism Review]. "The anatomy of the phrase is worth exploring. "Officer-involved shooting" is a noun-phrase. In more technical terms, it is a 'deverbal' noun—a noun or phrase derived from a verb, which is where the problem arises: If you don't have a verb, no one is doing anything, so it's impossible to assign agency. A noun phrase strips the subject and object of agency…. A recent AP story, published July 2, avoids the passive voice and decisively links subject with verb: 'A Wisconsin police officer shot and killed a Black man on Thursday.' The headline is also unambiguous: 'Wisconsin officer shoots Black man brandishing knives.' Such examples are a reminder that as journalists, we serve readers best when we tell stories straight, at the sentence level." • Includes a good history of the phrase.
New of the Wired
"Power restored to all customers following massive outage in Manhattan" [WABC]. "The loss of power stretched from 5th Avenue to Hudson River, and around 30th-72nd Streets starting shortly before 7:00 p.m, and about 72,000 customers were affected. All had their power back by about midnight." • Not many, and Yves was on the Upper East Side. Still, one can't help thinking this is one more reason she got out just in time…
* * *
Readers, feel free to contact me at lambert [UNDERSCORE] strether [DOT] corrente [AT] yahoo [DOT] com, with (a) links, and even better (b) sources I should curate regularly, (c) how to send me a check if you are allergic to PayPal, and (d) to find out how to send me images of plants. Vegetables are fine! Fungi and coral are deemed to be honorary plants! If you want your handle to appear as a credit, please place it at the start of your mail in parentheses: (thus). Otherwise, I will anonymize by using your initials. See the previous Water Cooler (with plant) here. Today's plant (Kinnucan):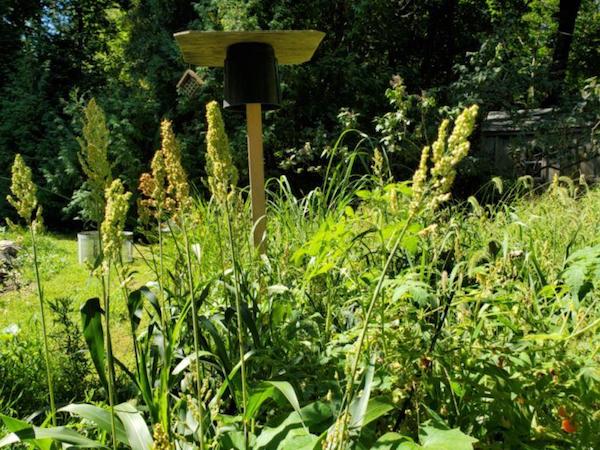 Kinnucan writes: "Last year, come springtime, I decided to plant some millet that was left over from winter bird feeding as ground cover around my vegetables. Never having seen millet on the hoof before, I didn't know what to expect, but figured it might grow maybe two feet tall. As you can see, things didn't work out as expected. If you look closely about a third of the way in from the right, you can see a tomato plant being mugged by the millet." Not sure what's going to happen when that millet goes to seed…
* * *
Readers: Water Cooler is a standalone entity not covered by the annual NC fundraiser. So if you see a link you especially like, or an item you wouldn't see anywhere else, please do not hesitate to express your appreciation in tangible form. Remember, a tip jar is for tipping! Regular positive feedback both makes me feel good and lets me know I'm on the right track with coverage. When I get no donations for five or ten days I get worried. More tangibly, a constant trickle of donations helps me with expenses, and I factor in that trickle when setting fundraising goals:
Here is the screen that will appear, which I have helpfully annotated.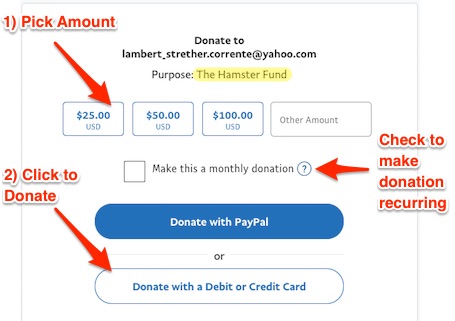 If you hate PayPal, you can email me at lambert [UNDERSCORE] strether [DOT] corrente [AT] yahoo [DOT] com, and I will give you directions on how to send a check. Thank you!

Original Source