Jerri-Lynn here. Like other people around the world, Americans are eschewing flying in response to the COVID-19 pandemic. Wolf has been following the carnage in the airlines sector, and I have featured some of his posts before (see Wolf Richter: The Chilling Things Delta Said about the Airline Business, the 90% Collapse in Q2 Revenues, and Why Some Demand Destruction May Be "Permanent"). Airline expert Hubert Horan has also weighed in on the situation (see Hubert Horan: Can Collateralizing Frequent Flyer Programs Help Save the US Airlines?; .Hubert Horan: Can Collateralizing Frequent Flyer Programs Help Save the US Airlines?; and Hubert Horan: The Airline Industry Collapse Part 3 – Recovery Expectations Were Always Dreadfully Wrong).
I don't think demand will snap back, even if on the most panglossian scenario we see a viable vaccine soon – particularly for the key business-expense-account segment, as Wolf mentions below.
The airline sector is only past of the story. I also linked to an article in links today on the decimation in NYC restaurants, as well as another link on the decision of major chains to pull out of NYC. I think those stories are more a national harbinger than a regional story. Alas, the NYC I know and love – and I speak as a resident here – may be no more.
Although short, there's food for thought in Wolf's post.
By Wolf Richter, editor of Wolf Street. Originally published at Wolf Street
The best day – meaning the least catastrophically worst day – in terms of air passengers entering to security zones at airports to board flights during the Pandemic wasn't yesterday, as the financial media wanted to have us think, but July 2, when the count of TSA airport security screenings was down by only -63.4% from the same weekday in the same week last year, and on July 3, when the count was down by only -67.1% from a year earlier. That was over the extended Independence Day travel weekend.
Now it's peak summer travel season.  Yesterday's TSA screenings – Sunday being a peak travel day – reached 831,789, the highest during the Pandemic. But it's peak travel season and Sunday is one of the peak travel days, so last year on that Sunday, the TSA performed 2.65 million screenings, and this Sunday's was down by -68.6% from Sunday a year ago. And the year-over-year decline has remained roughly in the same range since the beginning of July: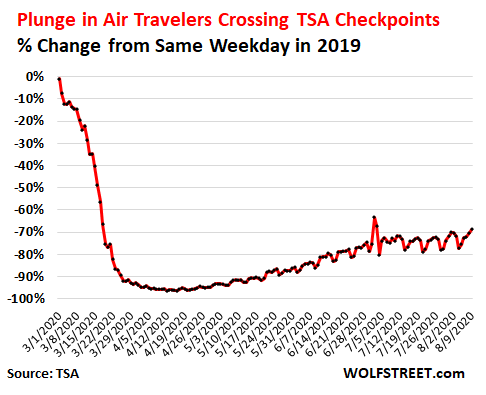 People are traveling to go on vacation. But they're driving. All kinds of lodgings near or in national parks are booked. People want to get out and do stuff, and they have the stimulus money and the extra $600 a week in federal unemployment insurance. Early indications are that they're driving more for vacation purposes than they did last year. That's the big thing. But flying is still an iffy proposition for most people.
The seven-day moving average of the daily TSA screenings, which irons out the day-to-day ups and downs, has remained about the same since its best days since the beginning of July – "best" meaning least catastrophically down days. This indicates that the recovery of passenger volume has stalled since the beginning of July and is still terrible, terrible, terrible for the airlines: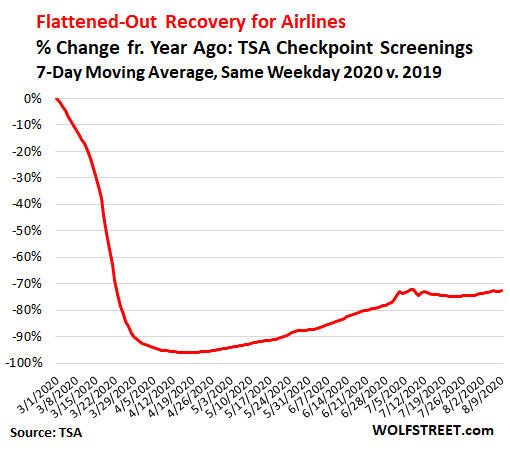 And since last Monday, Boeing [BA] has jumped 13%. Boeing is going to be kept out of bankruptcy no matter what.
That's what it really boils down to for the airlines: Hopes for another $25 billion, mostly in gifts from taxpayers.
Americans will gradually fly more, but it will take years before passenger traffic in the US recovers to levels before the Pandemic. It took years after 9/11 and after the Financial Crisis before air passenger traffic was back to the old normal.
But this time, the damage to the industry is a lot more profound. And the lucrative business-expense-account travel segment may have permanently changed, and might not fully recover even in the years to come. Airlines have acknowledged as much and are preparing for it, and they're trying to trim down to a size that allows them to survive in this environment – but any series of $25-billion gifts sent their way is welcome.
And the stock market loves bailouts and hates the effects of capitalism where you could actually lose some or all of your investment when something goes awry.

Original Source