By Lambert Strether of Corrente.
#COVID19
At reader request, I've added this daily chart from 91-DIVOC. The data is the Johns Hopkins CSSE data. Here is the site.
Here again is the Midwest: Illinois, Indiana, Iowa, Kansas, Michigan, Minnesota, Missouri, Nebraska, North Dakota, Ohio, South Dakota, and Wisconsin. Illinois still rising: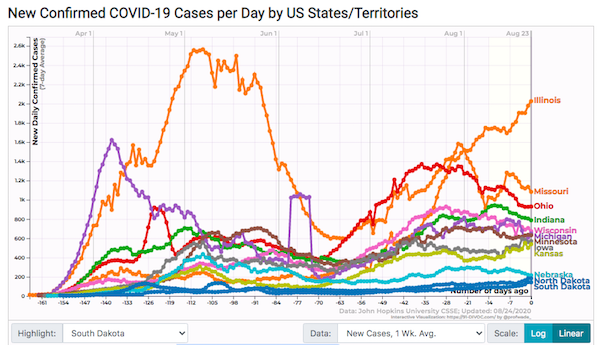 I left out positivity, becaue the chart becomes unreadable if I include it. Interesting spike in Missouri; I wonder if it's a reporting problem at the state level, since they seem to be cropping up all over.
Sturgis:
Can't wait to see what this looks like in a couple of weeks. Jeez…#COVID19 https://t.co/oeu7ANG2VT

— Yo Semite #BlueMAGA Survivor🌹🌻 (@LeftwardSwing) August 22, 2020
Vegas (via):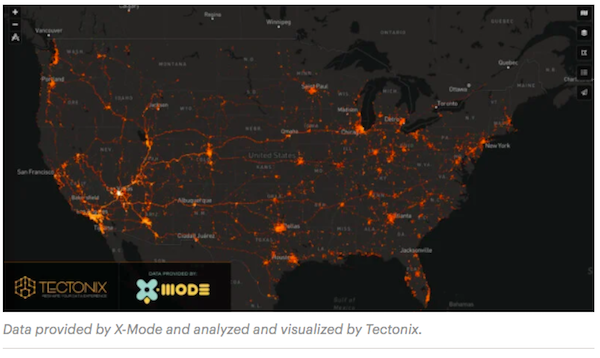 Politics
"But what is government itself, but the greatest of all reflections on human nature?" –James Madison, Federalist 51
"They had one weapon left and both knew it: treachery." –Frank Herbert, Dune
"They had learned nothing, and forgotten nothing." –Charles Maurice de Talleyrand-Périgord
The electoral map. July 17: Georgia, Ohio, ME-2 move from Leans Republican to Toss-up. Continued yikes. On July 7, the tossup were 86. Only July 17, they were 56. Now they are 91. This puts Biden at 278, i.e. over 270. August 18: Still no changes. (Last change August 10.) Despite the sturm and drang, and the polls, the consensus on the electoral college remains the same: Biden ahead, Trump within striking distance.
So, taking the consensus as a given, 270 (total) – 204 (Trump's) = 66. Trump must win 66 from the states in play: AZ (11), FL (29), MI (16), NC (15), PA (20), and WI (10) plus 1 to win not tie = 102. 102 – 66 = 36. So if Trump wins FL, MI, NC, and PA (29 + 16 + 15 + 20 = 80), he wins. That's a heavy lift. I think I've got the math right this time!
2020
* * *

Biden (D)(1): "Biden says he is willing to 'shut down' US to contain Covid-19" [Financial Times]. "Democratic presidential candidate Joe Biden said he would 'shut down' the country if elected president to stop the spread of coronavirus if scientists recommended it.  'I will be prepared to do whatever it takes to save lives because we cannot get the country moving, until we control the virus,' said Mr Biden in an interview with ABC to be aired on Sunday evening. 'That is the fundamental flaw of this administration's thinking to begin with. In order to keep the country running and moving and the economy growing, and people employed, you have to fix the virus, you have to deal with the virus.' When asked if he would be willing to shut the country down if that was recommended by scientists, Mr Biden replied: 'I would shut it down, I would listen to the scientists.'" • Biden's quote, which Yves brought to my attention, presumes that "the scientists" are unanimous in their views; but science doesn't work like that (and the record of experts on COVID, and in policy-making generally, is far from unblemished.) I believe that Biden's idea stems from Andy Slavitt: "We are always four to six weeks from being able to do what countries around the world have done… 6. Instead of 50% lockdown (which is what we did in March and April), let's say it's a 90% lockdown. Meaning most of the Americans who couldn't stay home in April because they were picking crops or driving trucks or working in health care would stay home with us." Slavitt heads the anti-MedicareForAll lobbying organization USofCare. It's possible we should listen to Slavitt on a shutdown (Slavitt's avocation) and not on health care policy (his vocation). What we should be doing is applying our critical thinking skills to science, and not making arguments from authority about "the scientists."

Trump (R)(1):

Despite biggest ever job gains and a V shaped recovery, Joe Biden said, "I would shut it down", referring to our Country. He has no clue!

— Donald J. Trump (@realDonaldTrump) August 22, 2020

In essence, a two-month shutdown would bring wage labour, and non-speculative capital accumulation, to a halt for two months. In order to make that work — if we define "work" as minimizing human suffering, or, more concretely, avoiding bread lines, riots, and other forms of mass distress — we would need universal concrete material benefits for two months; that's what the working class would need to replace its lost wages (and businesses would need to replace their lost revenues). I don't think the political class is prepared to countenance that, simply because such a policy would raise too many awkward questions. But anything less, and you have workers breaking quarantine to feed their families (and of course this leaves out how to feed the country, say, given our optimized, no-slack supply chain). Not sure where a "clue" is to be had, in this case.
* * *
–>
Democratic National Convention
"What we learned about Joe Biden during his nimble 4-day convention" [Politico]. "What was missing from the big speeches — with the notable exception of Bernie Sanders — was a clear articulation of the specific policies Biden would pursue to combat the pandemic and recession. Biden filled in those gaps clearly. He discussed, , infrastructure, education, health care, climate change, and tax policy. He gave a detailed list of actions he would take to stop the spread of Covid-19. Overall this was a nimble speech that responded to the dramatically changed circumstances of the last few months, when Biden transformed from being the leader of a faction within his party to the leader of the most diverse electoral coalition in modern politics." • The writer must have seen a different speech; "some" is doing a lot of work, there. And I dunno about a Biden "coalition." Coaltions are supposed to have or at least promise some durability, to last more than one election. Of course, being in power soothes a lot of wounds. But it's dubious that will happen in this case; after the Obama Alumni Association grabs the political appointments, everybody else will be out on K Street or NGO-land. Not a good prospect for the left in either case.

"Biden Should Reject The Harris-Yates Model of Justice" [Jonathan Turley]. "One of the Democratic convention speakers was former deputy attorney general Sally Yates, widely viewed as the leading candidate for attorney general in a Biden administration. She was presented as the personification of a new Justice Department's commitment to the rule of law. Yates declared: 'I was fired for refusing to defend President Trump's shameful and unlawful Muslim travel ban.' The problem is, she wasn't. She was fired for telling an entire department not to defend a travel ban that ultimately was upheld as lawful. I was highly critical of the travel ban, particularly in the failure to exempt lawful residents. However, I also said Trump's underlying authority likely would be found constitutional. Despite revisions tweaking its scope and affected countries, opponents insisted it remained unlawful and discriminatory. They continued to litigate on those same grounds all the way to the Supreme Court, where they lost two years ago….Yates was due to retire from Justice within days when she engineered her own firing. It made her an instant heroine and allowed her to denounce Trump at this week's convention for "trampl[ing] the rule of law, trying to weaponize our Justice Department." But that's precisely what she did when she ordered an entire department not to assist the recently elected president – a move which, at the time, even Trump critics described as troubling."
Stats Watch
At reader request, I added some business stats back in. Please give Econintersect click-throughs; they're a good, old-school blog that covers more than stats. If anybody knows of other aggregators, please contact me at the email address below.
Coincident Indicators: "July 2020 CFNAI Super Index Moving Average Index Suggests Economic Growth Again Improved" [Econintersect]. "The economy's rate of growth again improved based on the Chicago Fed National Activity Index (CFNAI) 3 month moving (3MA) average – and the economy is now above the historical trend rate of growth…. This index is likely the best coincident indicator of the U.S. economy. A coincident indicator shows the current state of the economy. The economy has slowed from its rate of growth in 2018 but now has moved above territory associated with recessions [a level below -0.7 indicates a recession is likely underway]. The single month index which is not used for economic forecasting, and unfortunately is what the CFNAI headlines. Economic predictions are based on the 3-month moving average. The single month index historically is very noisy and the 3-month moving average would be the way to view this index in any event."
Trucking: "July 2020 Trucking Still In Contraction Year-over-Year" [Econintersect]. "Headline data for the American Trucking Association (ATA) and the CASS Freight Index show that truck volumes show the year-over-year growth deep in contraction…. The CASS index is deeply in contraction year-over-year whilst the ATA index is less in contraction year-over-year. The CASS index is inclusive of rail, truck, and air shipments. The ATA truck index is inclusive of only trucking industry member movements (ATA's tonnage data is dominated by contract freight)."
* * *
The Bezzle: "Inside the get-rich-quick scheme that cost Amazon sellers thousands — and then got them banned" [ReCode]. "Amazon is not responsible for its merchants' investments. But the popularity and complexity of the Amazon marketplace provides fertile ground for such schemes targeting its sellers. Nearly 2 million small and mid-sized merchants like Christensen now sell products on Amazon, and they account for 60 percent of the company's gross retail sales. They are a huge part of the platform's retail success. But while Amazon does provide some education for new sellers, its vast and competitive platform has created an ecosystem of experts and opportunists alike promising all sorts of help to mom-and-pop sellers with dreams of e-commerce glory. Some of these offers are worth the money. But others are unhelpful — or worse, harmful for the sellers they lure in…. At the same time, the story of the duped sellers also refocuses attention on some of the obstacles all sellers face on Amazon's highly automated marketplace, which can take away their livelihoods suddenly and with little explanation…. On the occasions that sellers even get a response from an Amazon seller support representative, the feedback is typically scripted or vague and rarely explains the specifics of a suspension unless you happen to get an especially helpful rep on the phone, she said. ." • Lovely. One of the things I've been watching for, as the United States descends to Third World levels, is for corruption to appear, not at elite levels — that's a given, at this point — but at "street level," as a pervasive and normalized social relation. Here it is. (And bribery would be one reason for Amazon employees to put up with the horrific working environment.)
Concentration: "Industry Concentration May Help Explain Divergent Business Cycles" [St Louis Federal Reserve]. "U.S. states experience significantly different growth rates, and sometimes they may not even be in the same phase of the business cycle at the same time…. Since 1990, U.S. employment in construction, professional and business services, and manufacturing tends to be the most responsive to national expansions and recessions, the authors found. Many states in the Southeast and the eastern part of the Midwest have relatively high employment shares of sensitive industries. The figure below shows states' shares of employment in these three sensitive industries…. Conversely, employment in government, education and health care, and utilities tends to be the least responsive. Such lower sensitivity is most notable in the Northeast, Gascon and Haas found, adding that this may subdue these states' responses to fluctuations in the national economy." • With handy map. I should probably filed this under Realignment and Legitimacy….
* * *
Today's Fear & Greed Index: 71 Greed (previous close: 69 Greed) [CNN]. One week ago: 70 (Greed). (0 is Extreme Fear; 100 is Extreme Greed). Last updated Aug 24 at 12:29pm.
Rapture Index: Closes even on Earthquakes, Beast Government [Rapture Ready]. Record High, October 10, 2016: 189. Current: 182. (Remember that bringing on the rapture is a good thing.)
The Biosphere
"History-making California blazes — worst likely yet to come" [CalMatters]. "Dry lightning storms and gusty winds forecasted to slam the Bay Area through Tuesday could exacerbate the fires' spread and start new ones, stretching already overworked firefighting crews to the limit. And California hasn't yet entered the prime of its fire season — which is likely to worsen as climate change takes its toll on the Golden State." • Climate change and lots and lots of bad decisions, especially (?) about real estate development.
Health Care
A press release from Hong Kong university:
#JustIn: #HKU's microbiology team issued a press release suggesting the 33-year-old IT patient, who came back from #Spain, is the world's first #Covid19 reinfected patient.#Covid19#coronavirus

— Lilian Cheng (@cwylilian) August 24, 2020
More context:
3) according to the peer reviewed paper, accepted by CLINICAL INFECTIOUS DISEASES (link still pending), the patient was a young adult who was infected 4.5 months after initial #COVID19. The two #SARSCoV2 coronaviruses are from very different lineages/clades—I.e. not descendants. pic.twitter.com/deQ7Tz7lIV

— Eric Feigl-Ding (@DrEricDing) August 24, 2020
Black Injustice Tipping Point
"Video shows police in Wisconsin shooting a Black man in the back 7 times as he gets into a car" [Business Insider]. "At least one police officer in Wisconsin shot a Black man in the back seven times Sunday afternoon after officers were called to a domestic incident, according to multiple reports. Video shared widely on social media shows the confrontation between officers from the Kenosha Police Department and a man named in local media as Jacob Blake. A statement from the department confirmed a police shooting had taken place. It said the victim was given first aid at the scene and then flown to a hospital, where he was in serious condition. Protests began in the city not long after, despite a curfew order being put in place."
"More protests planned after video captures Wisconsin police shooting of Black man" [CBC]. "Police shot a Black man in the back multiple times in Kenosha, Wis., as his three sons watched on Sunday, his family's lawyer said, sparking a night of unrest during which protesters hurled firebombs and bricks at law enforcement officers…. Crowds gathered at the scene, set fires and threw bricks and Molotov cocktails at police, prompting authorities to impose a curfew. On Monday morning Kenosha County announced on Twitter that its courthouse and administration building would be closed due to damage from the night's unrest."
"In photos: The aftermath of civil unrest in Kenosha after shooting" (photo gallery) [Kenosha News]. • No banks, as usual.
Hmm:
5. (Tie) Treeshade mechanic/Lady who "sells plates"
4. Old couple with perfect yard
3. Funeral home owner
2. Anyone who "marched with Dr. King"
1. Preacher known as Re'umm" ___ (if they are called "reverend" or "pastor" it doesn't count. That's just a nigga with a church.)

— michaelharriot (@michaelharriot) August 22, 2020
"Returning to our roots: Black Americans are redefining relationship to the land with gardening, farming" [USA Today]. "Brionna Jimerson tends to her garden in Brooklyn, New York City, two 5-by-8-foot raised beds of fresh fruits and vegetables. Her connection to cultivating the land runs deep. She learned from her paternal grandmother, Lula Mae Cole, who grew up on the Cherry Grove Plantation in Natchez, Mississipppi, in a family of sharecroppers. Jimerson says she is already reaping produce after her "panic reaction" of planting seeds when the coronavirus pandemic first began. The social media editor culls inspiration from other Black women in agriculture, including Black Girls Farm and Black Girls Gardening (which she calls 'the mothership'), and says her ultimate goal is to own a 'garden market or … system that can sustain a small community.' 'So many (enslaved people) were from West Africa and made to work the land,' Jimerson says. 'There is something inherently powerful about being able to produce and cultivate something with your own two hands.'"
Police State Watch
Alert reader TS from West Virgina posted this tweet:
Me trying to report an assault on a 16-year-old girl buy a confederate militia person.

Kafka would be proud. pic.twitter.com/UczoCsPOFJ

— Homestead Ted (@tedstein) August 22, 2020
"Cops Have Repeatedly Attacked and Obstructed Street Medics During BLM Rebellion" [Truthout]. "Dozens of reports of police arresting medics and destroying their property have arisen since the revolt began in late May. In Minneapolis, Minnesota, police assaulted medics at their tent in a Kmart parking lot on May 31. 'We announced ourselves as medics,' one medic told Unicorn Riot. 'They began to launch rubber bullets and tear gas into our facility where there were no other protesters in that area, exclusively medics and those who had been wounded…' Police forced them out, occupied the space and slashed all tires in the parking lot."
"Who Opposes Defunding the N.Y.P.D.? These Black Lawmakers" [New York Times]. "Laurie Cumbo, a Black councilwoman from Brooklyn who is majority leader, compared calls to defund the police to 'colonization' pushed by white progressives. Robert Cornegy Jr., a Black councilman also from Brooklyn, called the movement 'political gentrification.' This divide has widened in big cities across the United States, including in Minneapolis after Mr. Floyd was killed at the hands of the police. Mayor Ras Baraka of Newark, N.J., called defunding the police a "bourgeois liberal" solution for addressing systemic racism. At the heart of the dispute in New York City is the impact of police officers in neighborhoods that have higher rates of discriminatory policing. The issue came into focus in the weeks leading to the July 1 deadline to pass the city's budget, as Council leaders pledged to cut police funding by $1 billion in response to the wave of protests after Mr. Floyd's death. But a fissure opened when it became clear during negotiations that passing a budget with the $1 billion in cuts meant reducing police presence on the streets and eliminating school safety agents."
Games
"Ubisoft Family Accused of Mishandling Sexual Misconduct Claims" [Bloomberg (Basil Pesto)]. "Five brothers started Ubisoft Entertainment SA in 1986 and since then the video game company has survived seven generations of game consoles, four recessions, a hostile takeover bid from France's largest media conglomerate, and a global pandemic. Ubisoft is one of the world's largest game publishers, the maker of blockbuster series such as Assassin's Creed and Far Cry, and the Guillemot family still maintains effective control. Now they face a new crisis: allegations of widespread sexual misconduct at the company. … In interviews with Bloomberg Businessweek, many employees detailed an atmosphere that was hostile toward women, often describing the Paris headquarters as a frat house. … The image of Ubisoft as a family business was a source of inspiration for many employees over the years. But others say the dynamic facilitated a culture in which longtime staff, especially Hascoët and his team, were given agency to misbehave."
Screening Room
One of my favorite movies, His Girl Friday, is set within a mayoral contest and considers the role of the press:
My Top Five Political Movies:

Bob Roberts
Election
In the Loop
Burn After Reading
Office Space

— Matt Stoller (@matthewstoller) August 22, 2020
Good to see Burn After Reading in the mix. I forget which NC reader posted this clip, but it's a long-time favorite of mine, in "Everything is like CalPERS" mode:
"What do we learn, Palmer?" What indeed. "Good. Great!"
Class Warfare
"North Dakota Oil Workers Are Learning to Tend Wind Turbines—and That's a Big Deal" [Bill McKibben, The New Yorker]. "Large chunks of Joe Biden's energy plan are devoted to helping labor make this transition, and one hopes that those trends will continue, because the environmental and economic logic of clean energy is growing steadily more obvious. In many ways, it produces jobs at least as good as those in the oil fields, where boom-and-bust cycles make stability hard…. The new industries, at their core, are much simpler than the old, and as a result they're going to relentlessly undercut established ways. Every forecast shows rapid growth in the world's electricity demand, even as we near (or perhaps have already passed) peak oil. Instead of finding a distant pool of petroleum and fracking the subsurface geology to make it flow, instead of shipping the crude to a refinery, and then to a gas station, and instead of pumping it into a car tank whose pistons must then explode it in small bursts to power a ton of sheet metal down a road—instead of all that, you can let the wind turn a blade, take the resulting power down a wire and into a battery, and run a far simpler motor of a car, or a bus or a train."
News of the Wired
Krazy Kat:
What an incredible panel: pic.twitter.com/rBZXfSRYY4

— Vincent Alexander (@NonsenseIsland) August 23, 2020
What were we thinking:
If you're feeling jaded and a bit depressed at the state of the world right now, just remember in the 1970s humanity genuinely believed they could spread peace and goodwill throughout the universe by sending aliens unsolicited naked pictures and a mix tape. pic.twitter.com/vrr3tDzqOh

— Stephen Campbell (@EddSteve74) August 22, 2020
On 2020:
Who knows what the future holds but saving Sid in particular was like clawing something back out of this past very very bad year full of death and loss. Felt like if Sid could survive there was hope for the future. I don't want so speak too soon but for now it's good. pic.twitter.com/ntTfvJ5rxI

— 10,000 Motivated Rats (@bombsfall) August 21, 2020
* * *
Readers, feel free to contact me at lambert [UNDERSCORE] strether [DOT] corrente [AT] yahoo [DOT] com, with (a) links, and even better (b) sources I should curate regularly, (c) how to send me a check if you are allergic to PayPal, and (d) to find out how to send me images of plants. Vegetables are fine! Fungi and coral are deemed to be honorary plants! If you want your handle to appear as a credit, please place it at the start of your mail in parentheses: (thus). Otherwise, I will anonymize by using your initials. See the previous Water Cooler (with plant) here. Today's plant (Basil Pesto):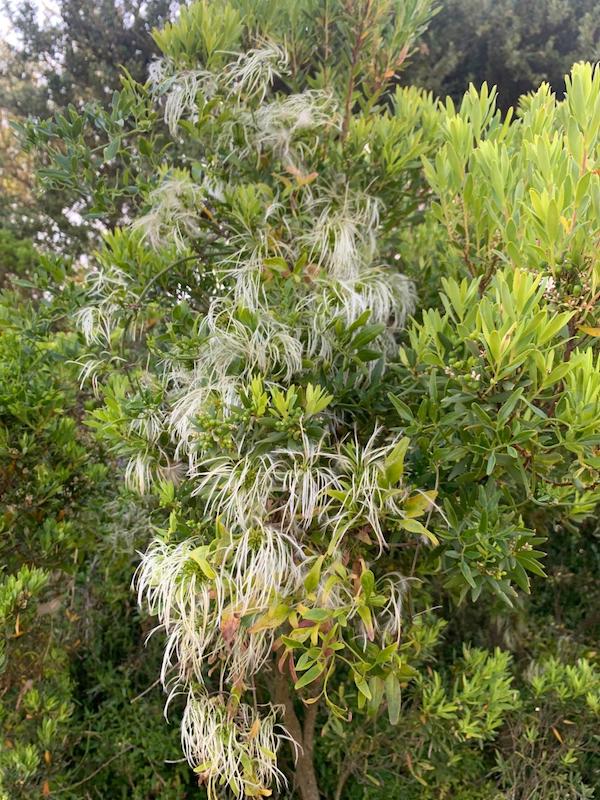 Basil Pesto writes, from Australia: "An hour south of Melbourne, on the south coast. No idea what these are but was struck by them all the same." Readers?
* * *
Readers: Water Cooler is a standalone entity not covered by the annual NC fundraiser. So if you see a link you especially like, or an item you wouldn't see anywhere else, please do not hesitate to express your appreciation in tangible form. Remember, a tip jar is for tipping! Regular positive feedback both makes me feel good and lets me know I'm on the right track with coverage. When I get no donations for five or ten days I get worried. More tangibly, a constant trickle of donations helps me with expenses, and I factor in that trickle when setting fundraising goals:
Here is the screen that will appear, which I have helpfully annotated.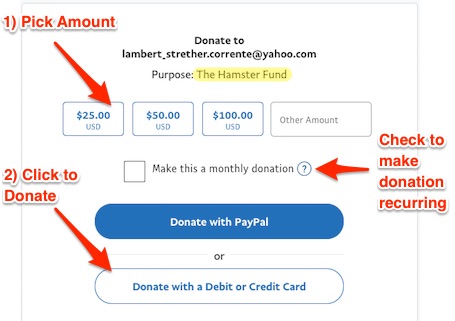 If you hate PayPal, you can email me at lambert [UNDERSCORE] strether [DOT] corrente [AT] yahoo [DOT] com, and I will give you directions on how to send a check. Thank you!

Original Source