By Lambert Strether of Corrente.
#COVID19
At reader request, I've added this daily chart from 91-DIVOC. The data is the Johns Hopkins CSSE data. Here is the site.
Here again is the Midwest: Illinois, Indiana, Iowa, Kansas, Michigan, Minnesota, Missouri, Nebraska, North Dakota, Ohio, South Dakota, and Wisconsin: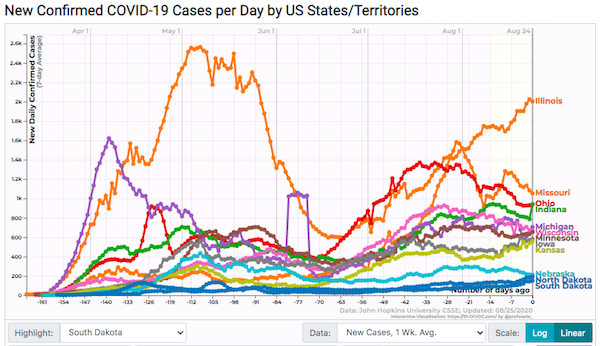 I left out positivity, becaue the chart becomes unreadable if I include it. Interesting spike in Missouri; I wonder if it's a reporting problem at the state level, since they seem to be cropping up all over.
And here is the EU, which we haven't looked at for awhile.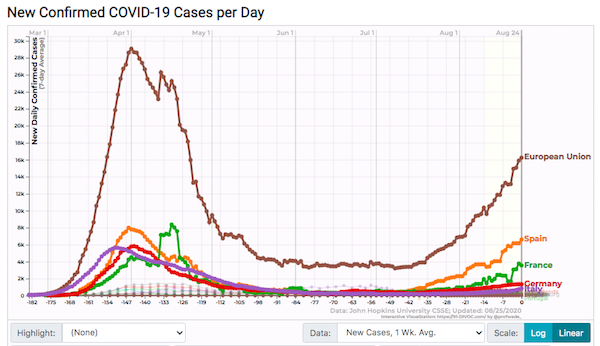 I can't add the US for comparison, because then the EU gets all smushed together at the bottom of the chart. Still, that steady rise is concerning.
ME: "Maine CDC now links 53 COVID-19 cases to Millinocket wedding reception" [Press-Herald]. "The number of COVID-19 cases connected to a wedding reception in Millinocket continues to climb, with state health officials saying on Saturday that they could trace 53 confirmed cases of coronavirus to the reception. That's up from 32 confirmed cases on Friday. The Maine Center for Disease Control and Prevention said Saturday that investigators identified secondary and tertiary transmission of the virus, which means that it has spread to people who did not attend the Aug. 7 wedding reception but had close contact with individuals who were present at the event (secondary cases) and close contacts of the secondary cases. Big Moose Inn, which hosted the event, was cited for an "imminent health hazard," which carries no fine but can bring harsher penalties if state officials determine the venue violated health rules again. The wedding reception had 65 people, more than the state maximum of 50 for indoor gatherings. Maine health officials have said the investigation into the wedding reception continues, including to what extent attendees were wearing masks or not wearing masks, and whether they were instructed by the Big Moose Inn to do so. Under Maine's emergency orders to combat the spread of the coronavirus, establishments are required to enforce mask wearing in indoor public places."
NC: "Records from before reopening show experts warned UNC of COVID-19 outbreaks" [Daily Tar Heel]. "Students, faculty and staff are saying they expected UNC to close due to COVID-19 spikes before the announcement Monday that undergraduate courses would shift to remote learning — and documents obtained by The Daily Tar Heel show that the administration received warning months ago from top medical professionals at the University….. University leaders defended their decision to reopen at an emergency Faculty Executive Committee Monday evening, with Provost Bob Blouin saying: 'I do not apologize for trying.'"
Colleges: "'Frats Are Being Frats': Greek Life Is Stoking the Virus on Some Campuses" [New York Times]. "The concerns over Greek life come amid reports of virus outbreaks at fraternities and sororities across the country. Universities are struggling with how to prevent tightly packed sorority and fraternity houses from turning into coronavirus clusters…. 'The frats are being frats: They are having their parties,' Lamar Richards, a U.N.C. sophomore, said."
Politics
"But what is government itself, but the greatest of all reflections on human nature?" –James Madison, Federalist 51
"They had one weapon left and both knew it: treachery." –Frank Herbert, Dune
"They had learned nothing, and forgotten nothing." –Charles Maurice de Talleyrand-Périgord
The electoral map. July 17: Georgia, Ohio, ME-2 move from Leans Republican to Toss-up. Continued yikes. On July 7, the tossup were 86. Only July 17, they were 56. Now they are 91. This puts Biden at 278, i.e. over 270. August 18: Still no changes. (Last change August 10.) Despite the sturm and drang, and the polls, the consensus on the electoral college remains the same: Biden ahead, Trump within striking distance.
So, taking the consensus as a given, 270 (total) – 204 (Trump's) = 66. Trump must win 66 from the states in play: AZ (11), FL (29), MI (16), NC (15), PA (20), and WI (10) plus 1 to win not tie = 102. 102 – 66 = 36. So if Trump wins FL, MI, NC, and PA (29 + 16 + 15 + 20 = 80), he wins. That's a heavy lift. I think I've got the math right this time!
2020
Biden (D)(1);

An interesting dynamic in latest CBS poll:

Only 5% of Republicans say they're voting for Joe Biden.

Right now that's lower than the 8% of Republicans who voted for Obama in 2008, 6% of Republicans who voted for Obama in 2012, and 7% of Republicans who voted for Hillary Clinton. pic.twitter.com/gIblOm1kJB

— Waleed Shahid (@_waleedshahid) August 25, 2020

Interesting, but this is a national poll; what matters is which Republicans in which districts. Further, in a close race, every little bit helps.

Trump (R)(1): "How Trump betrays the working people who elected him" [Katrina vanden Heuvel, WaPo]. "This week, the real question is whether Trump can con his own followers once more. At their convention, Democrats focused on Trump's lack of character and competence. But as despair rises, Trump's "violation of norms" or the fact that, as his sister Maryanne Trump Barry said, he has 'no principles,' aren't his greatest weaknesses. His true vulnerability is that he has betrayed those who brought him to power. Over the next 70 days, Democrats must make certain that reality doesn't get drowned out." • It is true that while the Eighth Circle of Hell covers Fraud, the Ninth and lowest covers Betrayal. But Hell is crowded. By contrast–

Trump (R)(2): "Trump's Fights Are Their Fights. They Have His Back Unapologetically." [New York Times]. "In lengthy interviews over the last several weeks, a cross-section of Trump voters said they believed he had succeeded on issues like hardening the Southern border, appointing conservative judges, taking on China and putting "America first." Many said the president's grievances were their grievances, too. They believed kneeling during the national anthem was un-American, and they were appalled at what they viewed as liberals' minimizing of violence that at times grew out of the protests over the killing of George Floyd. At the same time, Trump voters dismissed as irrelevant aspects of the president's behavior that critics say make him historically unfit for office. All politicians lie, many said; as for the president's suggestion that he might not accept the election results, supporters said voters should judge his actions, not his loose talk or tweets. 'I didn't vote for Trump because I wanted him to be my best friend,' Ms. Schenkel said. 'I wanted to make a change and a difference.' 'If he thinks it's the right thing, he doesn't care who's going to get mad at him,' she added. 'I think he's very misunderstood.' … She grades the president highly on having met his promises, including slowing the flow of undocumented immigrants and building a strong economy before the virus struck. Other Trump supporters outlined myriad reasons for wanting to re-elect him, ranging from the pragmatic, like a new job made possible by the administration's policies, to a gut-level attraction to his hard-nosed personality. His supporters related 'aha' moments in their upbringing when they realized they were conservatives, which they spoke of as nonnegotiable beliefs woven into their identity, like opposition to abortion." • It just struck me that perhaps Arnade's back-row kids don't concern themselves with "identity" because they never left home; they know who they are. PMCs, who are mobile in the credential-seeking and deployment, are far more, well, fragile.

* * *

"Susan Rice says she is '100 percent' sure Russia will interfere in elections" [The Hill]. Rice: "We need to be worried not only about Russian disinformation — its activity on social media which is constant, aimed at misleading and dividing and instilling fear and hatred between and among Americans — but we need to be concerned also about what efforts it might make again to infiltrate our voting systems, and corrupt either our voting rolls or even potentially the voting count itself." • Thankfullly, we have experts to consuilt….
Realignment and Legitimacy
"Black, Latino lobbyists bristle at progressives pushing corporate K Street ban on Biden" [The Hill]. "A battle is brewing on K Street over an effort by progressives to ensure a Biden administration is devoid of any former Wall Street executives or corporate lobbyists. Black and Latino lobbyists say a ban of that sort would end up shutting out minorities and could make the administration less diverse if Democrats win back the White House." • There it is.

"Weakness is provocative" [Interfluidity]. "Less frequently discussed than all of that is how weak first-past-the-post voting is, with respect to resisting corruption. And weakness, Republican politicians eternally remind us, is provocative. Single-winner, first-past-the-post elections are often described as "winner-takes-all". That means that in a close election, the leverage, the "ROI", associated with stealing a small edge can be huge. If the ultimate margin of victory of an election is likely to be within 2%, you only have to manipulate, suppress, or steal 2% of the vote to win 100% of the power. Then we are "shocked, shocked" that political entrepreneurs with an interest in the outcome (not necessarily of the parties themselves, it could be Russia!) do play for such edges. But that's only true for close elections, right? Yes, that's right. But because single-winner, first-past-the-post voting yields a two-party system, we should expect that the most consequential elections will frequently be evenly matched. The two parties are strategic actors, and they want to win a struggle for power. [1] When either party's strategy leaves it losing that struggle by a clear margin, that strategy will change, one way or another, even by poaching aspects of the other party's identity if necessary. (Consider the realignment of the Democrats when 12 years out of power in 1992, or Republicans' adoption of Dixiecrats.) With party institutions more eager to contend for power than they are devoted to any fixed ideology or constituency, a 50/50 divide is the equilibrium, the attractor." • This is well worth reading in fully.

"The Non-Voter" [American Compass]. "Each election there are three choices and the winner is always not voting…. Not voting is about a justified cynicism forged from a lifetime of being screwed over by the status quo, and little is more status quo than sporting a 'I voted' sticker. In their minds, and from their experiences, voting has no clear upside. Nothing is going to change. And it comes with downside, both explicit and implicit. Voting means entering institutions that have given them problems. From schools, where they were tested, measured, and prodded endlessly, only to be then ignored, scolded, or demeaned. To municipal buildings where they were taxed, fined, or charged…. Voting means getting further entangled with a bureaucracy that has done nothing but tangled them up. Hell, it might even come with jury duty. They can't do that because they are working two jobs and got kids to care for." • Also worth reading in full.
Stats Watch
At reader request, I added some business stats back in. Please give Econintersect click-throughs; they're a good, old-school blog that covers more than stats. If anybody knows of other aggregators, please contact me at the email address below.
Housing: "S and P CoreLogic Case-Shiller 20 City Home Price Index June 2020 Year-over-Year Growth Slows" [Econintersect]. "The non-seasonally adjusted S and P CoreLogic Case-Shiller home price index (20 cities – although only 19 cities this month) year-over-year rate of home price growth declined from 3.7 % to 3.5 %. The index authors stated, 'More data will be required to understand whether the market resumes its previous path of accelerating prices, continues to decelerate, or remains stable.' … All home price indices are now showing home price growth is slowing year-over-year. Most of the blame for this should be laid at the feet of the pandemic which has altered daily lives."
* * *
Retail: "Big-box retailers loom larger than ever on the U.S. consumer landscape. Nearly six months into the coronavirus pandemic, big-box retailers are emerging as business winners" [Wall Street Journal]. "Walmart, Amazon, Target, Home Depot, Lowe's and Costco Wholesale accounted for 29.1% of all U.S. retail sales in the second quarter, according to Customer Growth Partners, up from 25.6% in the same period a year ago. The big retailers were allowed to remain open, and critical factors in their growth included that they had already invested their online businesses, had large supply networks to restock and sophisticated transportation networks that include dedicated fleets. That advantage isn't likely to fade. Experts say a winnowing out of the sector is likely to continue as the economy picks up steam, with big retailers leapfrogging smaller competitors."
Supply Chain: "Work-from-home requirements are magnifying cybersecurity threats across the corporate world, raising new threats across supply chains. Packaged-foods giant Kraft-Heinz has seen attempted email attacks jump 10% to 15% since the pandemic began… with callers posing as employees or suppliers to gather information that could help them launch more sophisticated attacks" [Wall Street Journal]. "A Kraft Heinz official says callas may pretend to be a supplier who needs to confirm account credentials to process payment. With around half the U.S. workforce now working remotely, makeshift workplaces that depend on laptops, Zoom meetings and other porous technology are proving inviting targets."
Finance: "Hedge Fund Collects $3 Billion in Bet on Wildfire Insurance Claims" [Insurance Journal]. "Baupost Group, the hedge fund run by Seth Klarman, received more than $3 billion in July from its bet on insurance claims against PG&E Corp. connected to a series of deadly California wildfires, according to people with knowledge of the matter. The payout yielded Baupost's biggest profit generator last month and represented a sizable markup from what the firm had anticipated, it told investors Thursday. The fund bought $6.8 billion of subrogation claims against PG&E, court documents show. Baupost acquired some of the claims at about 35 cents on the dollar, Bloomberg previously reported, so its profit on the trade could have approached $1 billion. But the gains were partly offset by losses on the firm's equity holdings in the utility company, one of the people said, asking not to be identified because the information is private."
* * *
Today's Fear & Greed Index: 74 Greed (previous close: 72 Greed) [CNN]. One week ago: 70 (Greed). (0 is Extreme Fear; 100 is Extreme Greed). Last updated Aug 25 at 11:57am.
The Biosphere
"Ancient megadrought may explain civilization's 'missing millennia' in Southeast Asia" [Science]. "A megadrought that lasted more than 1000 years may have plagued Southeast Asia 5000 years ago, setting up dramatic shifts in regional civilizations, suggests a new study of cave rocks in northern Laos. The researchers believe the drought began when the drying of the distant Sahara Desert disrupted monsoon rains and triggered droughts throughout the rest of Asia and Africa. For years, archaeologists studying mainland Southeast Asia—an area encompassing modern-day Cambodia, Laos, Myanmar, Malaysia, Thailand, and Vietnam—have been puzzled by what they call "the missing millennia," a period from roughly 6000 to 4000 years ago with little evidence of human settlements. University of Pennsylvania archaeologist Joyce White, a co-author on the new paper, says she and others long thought this was because researchers hadn't yet pinpointed where people of the era lived. Now, she believes the settlements could be missing because a megadrought devastated their populations and drove them to find water elsewhere." • Yikes….
Health Care
"To Test Spread of Coronavirus, These Scientists Put on a Concert" [New York Times]. "[V]olunteers in an elaborate study by a team at Martin Luther University Halle-Wittenberg called Restart 19. Each attendee, outfitted with a digital location tracker and hand disinfectant laced with fluorescent dye, were carefully positioned on seats as part of one of the first experiments by scientists to track the risks of coronavirus infection posed by large, indoor events. Researchers hope to use their results to determine which elements of events like this pose the greatest risk for transmission and help create guidelines for limiting such dangers and safely restarting live performances around the world…. 'We know the personal contacts at the concert are risky, but we don't know where they happen,' [Dr. Stefan Moritz] said. 'Is it at the entrance? Is it at the bleachers?' Dr. Moritz concluded that the best way to bring in reliable data would be to stage an actual concert…. Dr. Moritz said that . Scientists have recently confirmed that the virus can remain suspended in the air, possibly for hours in closed environments. 'It's so weird what happens with these movements of air,' he said. 'Things you wouldn't expect.' To simulate the spread of aerosols in the arena on Saturday, staff used a smoke machine to emit a cloud of fog into the rafters. It drifted upward before moving into a spiral shape and spreading toward the audience." • Important! (And it should be possible to scale this testing out to any interior space, both when they are being architected, and after they have been constructed.)
"Starbucks Cafe's Covid Outbreak Spared Employees Who Wore Masks" [Bloomberg]. "After a woman with the coronavirus visited a Starbucks cafe north of Seoul this month, more than two dozen patrons tested positive days later. But the four face mask-wearing employees escaped infection. The Aug. 8 outbreak in the South Korean city of Paju is another example of how rapidly the SARS-CoV-2 virus can spread in confined, indoor spaces — as well as ways to minimize transmission. With health authorities around the world still debating the evidence around face masks, the 27-person cluster linked to the air-conditioned coffee outlet adds more support for their mandatory use to help limit the spread of the Covid-19-causing virus." • Unfortunately, one must remove one's mask to drink coffee — the purpose for which one goes to Starbucks — so masks as such aren't really the answer here. (Of course, one could get one's coffee to go, but that's hardly the point of a café.) So I hope somebody is thinking very hard about aerosol transmission, HVAC — and also humidity.
"New drool-based tests are replacing the dreaded coronavirus nasal swab" [Science]. "First, a technician pushes a pencil-length swab to the very back of your nasal passages. Then you pay $100 or more, and wait days for an answer. But faster, cheaper, more pleasant ways to test for the novel coronavirus are coming online. This month, the U.S. Food and Drug Administration granted emergency use authorization for two tests that sample saliva instead of nasal fluid, and more innovations are likely after FDA relaxed rules to allow new tests to be adopted more quickly. One candidate was announced last week: an experimental test, potentially faster and cheaper, that analyzes saliva in a new way…. On 4 August, the Yale team posted a preprint on medRxiv that said its saliva test agreed with swab results 94% of the time, at a cost of as little as $1.29 per sample, roughly 1/100 as much as commercial swab-based tests. On 15 August, FDA granted emergency approval for the SalivaDirect test, so that other FDA-approved labs can use the protocol. Last week, the agency extended approval to the UIUC test given its similarity to the Yale test. UIUC is now using its saliva test to test all 60,000 students, faculty, and staff twice a week, so they can isolate infected individuals as quickly as possible. "Testing saliva makes sense scientifically, and it makes sense logistically," Hergenrother says." • Notice how a protocol allowed test development to scale out rapidly.
"Overrun with COVID-19, one nursing home managed to dodge the worst" [Pittsburgh Post-Gazette (a different chris)]. "The tiny nursing home was being overrun with COVID-19: over the next few days, 27 residents tested positive, along with two dozen staff members…. Remarkably, everyone recovered from the virus at Quality Life Services-Mercer, including a 101-year-old man, defying the odds stacked against a group of elderly people, most with chronic health problems who have the highest mortality rates…. Elias Shattahi, an infectious disease specialist at Sharon Regional Medical Center, 13 miles from the Mercer nursing home, said how well an elderly COVID-19 patient fares turns on chronic health conditions they may have, including such things as high blood pressure, advanced age and dementia. But he was flummoxed by what happened at Quality Life Services. 'I can not explain it,' said Dr. Shattahi…. 'That's a million-dollar question.'"
Class Warfare
"What 'Capitalism' Is and How It Affects People" [Teen Vogue]. "Capitalism is defined as an economic system in which a country's trade, industry, and profits are controlled by private companies, instead of by the people whose time and labor powers those companies. The United States and many other nations around the world are capitalist countries, but capitalism is not the only economic system available…. The kind of impact that capitalism has on your life depends on whether you're a worker or a boss. …. There are many forms of socialism, but at its core, socialism is an economic system in which a whole community — not just bosses or private companies — control the means of production equally…. In a capitalist country, the focus is on profits over anything else; in a socialist country, the public is seen to be more important, and social welfare is a major priority." • "Editor's note: This piece was originally published on April 10, 2018" (when we linked to it). Hmm…
News of the Wired
"Challenge to scientists: does your ten-year-old code still run?" [Nature]. "Although computation plays a key and ever-larger part in science, scientific articles rarely include their underlying code, Rougier says. Even when they do, it can be difficult for others to execute it, and even the original authors might encounter problems some time later. Programming languages evolve, as do the computing environments in which they run, and code that works flawlessly one day can fail the next." • So, another layer to the reproducibility crisis…..
How? How?
It turns out herding cats is surprisingly easy…pic.twitter.com/HDh9Va3Pt5

— Larry the Cat (@Number10cat) August 25, 2020
* * *
Readers, feel free to contact me at lambert [UNDERSCORE] strether [DOT] corrente [AT] yahoo [DOT] com, with (a) links, and even better (b) sources I should curate regularly, (c) how to send me a check if you are allergic to PayPal, and (d) to find out how to send me images of plants. Vegetables are fine! Fungi and coral are deemed to be honorary plants! If you want your handle to appear as a credit, please place it at the start of your mail in parentheses: (thus). Otherwise, I will anonymize by using your initials. See the previous Water Cooler (with plant) here. Today's plant (AM):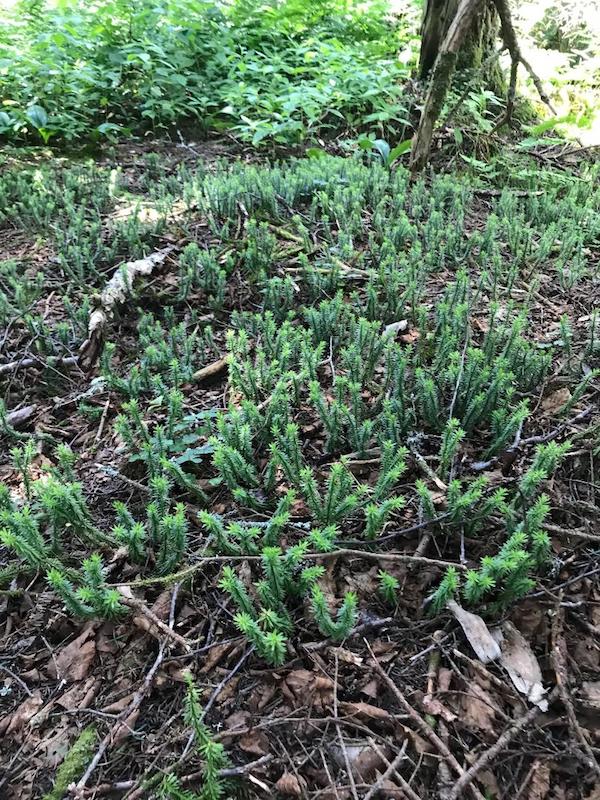 AM writes: "In the woods on the backside of Killington, from the Bucklin Trailhead. Lots of these little spiky things."
* * *
Readers: Water Cooler is a standalone entity not covered by the annual NC fundraiser. So if you see a link you especially like, or an item you wouldn't see anywhere else, please do not hesitate to express your appreciation in tangible form. Remember, a tip jar is for tipping! Regular positive feedback both makes me feel good and lets me know I'm on the right track with coverage. When I get no donations for five or ten days I get worried. More tangibly, a constant trickle of donations helps me with expenses, and I factor in that trickle when setting fundraising goals:
Here is the screen that will appear, which I have helpfully annotated.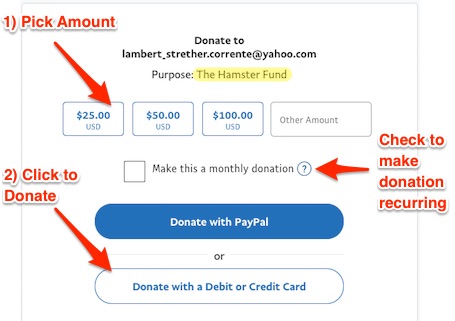 If you hate PayPal, you can email me at lambert [UNDERSCORE] strether [DOT] corrente [AT] yahoo [DOT] com, and I will give you directions on how to send a check. Thank you!

Original Source