By Lambert Strether of Corrente.
Patient readers, I tried to do a pantry clearout on Politics, including Convention reporting, but for some reason it went extremely slowly (and that's why the rest of Water Cooler is thin, today). I'll add some more material shortly. –lambert
#COVID19
At reader request, I've added this daily chart from 91-DIVOC. The data is the Johns Hopkins CSSE data. Here is the site.
Here again is the Midwest: Illinois, Indiana, Iowa, Kansas, Michigan, Minnesota, Missouri, Nebraska, North Dakota, Ohio, South Dakota, and Wisconsin: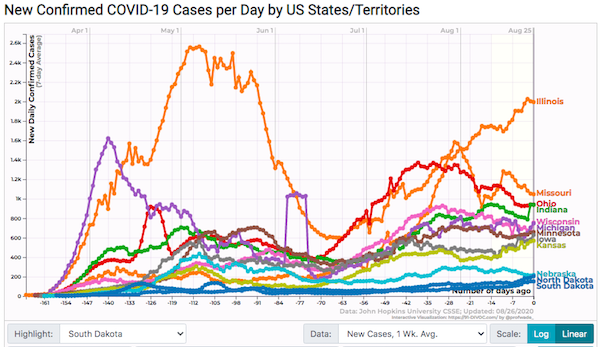 I left out positivity, becaue the chart becomes unreadable if I include it. Interesting spike in Missouri; I wonder if it's a reporting problem at the state level, since they seem to be cropping up all over.
And here are the United States regions: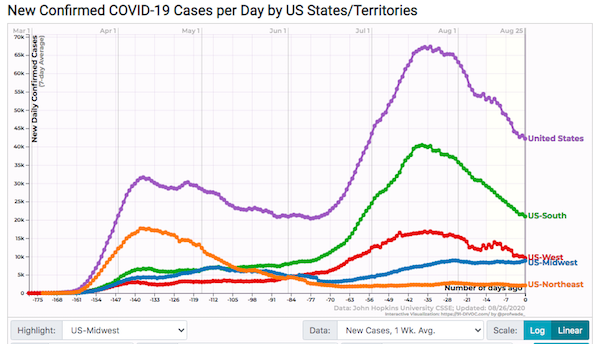 Politics
"But what is government itself, but the greatest of all reflections on human nature?" –James Madison, Federalist 51
"They had one weapon left and both knew it: treachery." –Frank Herbert, Dune
"They had learned nothing, and forgotten nothing." –Charles Maurice de Talleyrand-Périgord
The electoral map. July 17: Georgia, Ohio, ME-2 move from Leans Republican to Toss-up. Continued yikes. On July 7, the tossup were 86. Only July 17, they were 56. Now they are 91. This puts Biden at 278, i.e. over 270. August 18: Still no changes. (Last change August 10.) Despite the sturm and drang, and the polls, the consensus on the electoral college remains the same: Biden ahead, Trump within striking distance.
So, taking the consensus as a given, 270 (total) – 204 (Trump's) = 66. Trump must win 66 from the states in play: AZ (11), FL (29), MI (16), NC (15), PA (20), and WI (10) plus 1 to win not tie = 102. 102 – 66 = 36. So if Trump wins FL, MI, NC, and PA (29 + 16 + 15 + 20 = 80), he wins. That's a heavy lift. I think I've got the math right this time!
2020
Biden (D)(1): "Biden's Grief Versus Trump's Grievances" [The Nation]. "America, indeed the entire world, is in a season of death. Every day, hundreds of Americans die from Covid-19. Given this reality, it's not surprising that the Democrats have had a death-haunted convention. Indeed, one of the main qualities of Democratic presidential nominee Joe Biden repeatedly touted in the convention was his ability to comfort the grieving." • Lordy. Maybe comfort flyover, where life expectancy has been declining for several years?
* * *
–>
Republican National Convention
"What Trump needs out of his convention" [National Journal]. "The Republican National Convention will offer the president an opportunity to recalibrate his own muddled message and redefine Joe Biden to the public. So far, Trump hasn't been successful on that front, but the convention will be one of his last, best opportunities to shift the political narrative in his favor. Here's how the Republican Party can help him do that this week: 1. Focus on the party, not the president…. 2. Explain what a second Trump term would look like…. 3. Neutralize his biggest weakness: Handling the pandemic….. 4. Capitalize on the Democrats' glaring silence on violent crime." On the last point: "A recent Pew Research Center survey found that dealing with violent crime is now the fifth-most important issue for votes, with 59 percent listing it as "very important" to their vote in November. For context, it's nearly as important to Americans as the coronavirus, which ranks fourth with 63 percent listing it as a top issue." • Property values! Kenosha and Portland are waiting to be exploited:

"The rioting has to stop… it's showing up in the polling, it's showing up in focus groups." Don Lemon pic.twitter.com/xiFsowHbhb

— JohnWMarxII (@JohnWMarxII) August 26, 2020

(Also, quite the chyron.)

"4 takeaways from the second night of the Republican National Convention" [WaPo]. "'We all know Donald Trump makes no secrets about how he feels about things,' [Melania Trump] said. 'Total honesty is what we as citizens deserve from our president. Whether you like it or not, you always know what he's thinking. And that is because he's an authentic person who loves this country and its people and wants to continue to make it better.' One of the biggest applause lines of her speech came when she sent a message to Trump's critics, saying, 'If you tell him it cannot be done, he just works harder.' 'He's what is best for our country,' she said."

"Guess who's NOT speaking at the RNC" [Business Insider]. "Who's not at the RNC? Just about every Republican who mattered for the last 25 years." • They became Democrats!

"Despite Trump's Success, Little Mention Of Judges At Convention" [NPR]. "In not quite four years in office, President Trump has appointed 203 judges to lifetime appointments on the federal bench — and that's not including his two Supreme Court justices. 'I think the transformation of the federal judiciary is President Trump's biggest accomplishment,' said Mike Davis, former nominations counsel on the Senate Judiciary Committee who now runs the Article III Project, which advocates for judicial nominees. 'President Trump has absolutely delivered on his promise.'"
Realignment and Legitimacy
"West Wing cast will revisit 'Hartsfield's Landing' episode for streaming special" [Entertainment Weekly]. "It's time to walk down memory lane — or, in this case, Hartsfield's Landing. The West Wing creator Aaron Sorkin announced on Tuesday that the original cast of the political drama will come together for a special featuring a theatrical stage presentation of season 3's "Hartsfield's Landing" episode. It will air this fall on HBO Max in support of When We All Vote, a nonprofit, nonpartisan organization co-chaired by Michelle Obama." • I'm loving it: A paywalled West Wing to promote voting awareness. It's like a poll tax! (Here is The West Wing Thing podcast on Hartsfield's Landing.)

"The Lost Republicans" [The American Conservative]. "Trump's presidency has been a failure in most regards, but very few actual Republican voters want to return to the pre-Trump status quo — nor should they. Still, the fact that the zombie Reaganites that Trump defeated and displaced deserved it does not make Trump a successful president. Owning the libs and pissing off the media — that can be fun, but it's not the same as governing with competence and effectiveness. The weirdest thing is that for the GOP to become a party that actually could get some populist agenda items accomplished and enacted into law, Trump might have to lose to clear the way for serious, focused, steady politicians who know how to pass laws, not just tweet and emote and cause pointless chaos. As Alberta points out, as long as he's here, Trump is kryptonite to Republican lawmakers. They all know how nuts he is, but they also know that the base loves him, so they don't dare resist. To be fair to these Washington lawmakers, in a democracy, it's awfully hard to be an elected representative who stands against the views of the people who sent you to Congress." • Republicans fear their base…

"Small-time scams are dissolving America from the inside" [The Week]. "QAnon is rooted in cryptic online posts by a purported government employee that are then interpreted by an ersatz cult priesthood of D-list online media celebrities. As Brandy Zadrozny and Ben Collins write at NBC News, these livestreamers and YouTubers pushed the Q narrative to a broader audience, with the semi-deliberate intention of getting attention and money for themselves through Patreon, merchandise sales, and direct donations (indeed, one of them may in fact be the author of Q). The strategy 'proved to be the key to QAnon's spread and the originators' financial gain.' Lately, QAnon loonies have barged into anti-sex trafficking and crunchy wellness online spaces, turning them towards Trump, soliciting donations, and hawking quack remedies and other merch. A huge set of #SavetheChildren rallies planned to take place soon nationwide are similarly a thinly-disguised veneer covering QAnon maniacs. In this they are following a long tradition of other right-wing grifters." • There doesn't seem to have been a lot of investigation into who or what the "purported government employee" is. That would seem to be a key topic for investigative reporting.
Stats Watch
At reader request, I added some business stats back in. Please give Econintersect click-throughs; they're a good, old-school blog that covers more than stats. If anybody knows of other aggregators, please contact me at the email address below.
Durable Goods: "Headline Durable Goods New Orders Improved Again In July 2020" [Econintersect]. "The headlines say the durable goods new orders improved for the third month. Our analysis shows the rolling averages improved…. The data this month was above expectations – however, the previous month was revised down."
Recession: "The U.S. Is Battling Two Recessions, Not Just One" [Bloomberg]. "The U.S. is in a very odd situation. Even as the official unemployment rate falls, the health of the underlying labor market is deteriorating as the coronavirus pandemic drags on. The country is in the middle of two simultaneous downturns — a short-term seizure caused by fear of coronavirus and a longer-term slump that will look more like a traditional recession. Unfortunately, the latter is just beginning. The good news is that more Americans returned to work in June, continuing the trend that began in May…. A deeper, more lasting recession is brewing — one that won't be as acute, but which has the potential to last much longer. One reason is business closures. Lack of demand during the pandemic will simply make a lot of businesses vanish…. A second reason is sheer pessimism…. A third factor will be a shift in the industrial mix of the U.S. economy. Businesses such as movie theaters could be headed for the scrap heap, and many colleges are set to suffer as well. This is not a normal reason for a recession, and it could create a supply shock that partially negates the deflationary effect of falling demand, while adding to unemployment…. These patterns are already showing up in the labor market data. The number of temporarily unemployed people is falling, but the number of permanently unemployed people is rising…. This slowly building recession will be all the more dangerous because it's so sneaky…. The good thing about traditional recessions is that we know how to fight them; we just have to be ready and willing to do so." • Important!
* * *
Debt: "Debt Relief And The CARES Act: Which Borrowers Benefit The Most?" [Liberty Street Economics]. "To summarize, we have investigated who may benefit (and the expected forbearance amounts) from the various debt relief provisions in the CARES Act. We find that while student debt relief may be expected to reach a larger share of borrowers in majority Black neighborhoods, the dollar value of expected student debt relief per borrower will be perceptibly less in low income, majority Black, and majority Hispanic neighborhoods. Unlike student debt relief, mortgage relief may be concentrated in high income and majority white neighborhoods, both in terms of dollar amounts and share of borrowers that will be potentially assisted. It is worth emphasizing that in this post we have outlined who may benefit from the mortgage and student debt relief provisions of the CARES Act. In other words, we have focused on the supply of this relief to different neighborhoods. Who will actually benefit and the amount of relief obtained will be determined by a combination of supply and demand factors. Since, low income and majority minority neighborhoods have been affected more negatively by this pandemic, residents in these neighborhoods may have the highest take-up rate. Moreover, mortgage benefits are not automatic; mortgagors must actively seek out these benefits by contacting servicers and proving financial hardship. Thus, ultimately, who actually benefits and by how much will be determined by a combination of factors, a topic we will continue to study."
Tech: "If you think Mozilla pushed a broken Firefox Android build, good news: It didn't. Bad news: It's working as intended" [The Register]. "An update to the Android flavor of Firefox left fuming punters thinking a bad experimental build had been pushed to their smartphones. In fact, this was a deliberate software release… What's happened is this: the last stable version of Firefox for Android was version 68, released in 2019. For over a year, Mozilla has been working on an overhaul of its browser in a project code-named Fenix. Moz has slowly rolled out the result of its work to netizens in preview and beta form – and since the end of July, as a proper release: version 79. This new stable version is what appeared on people's devices. As well as changes to the user interface and many new features that have thrown some users, it is also missing support for all extensions." • Well, it is free. Nevertheless.
Tech: "A Chrome feature is creating enormous load on global root DNS servers" [Ars Technica]. • This is entertaining, but complicated, and I can't excerpt it properly. What it looks like to me is that Google's programmers ended up hijacking the commons to solve a programming problem they were unable to address ("Hopefully, the issue will soon be resolved—and the world's root DNS servers will no longer need to answer about 60 billion bogus queries every day").
* * *
Today's Fear & Greed Index: 74 Greed (previous close: 73 Greed) [CNN]. One week ago: 68 (Greed). (0 is Extreme Fear; 100 is Extreme Greed). Last updated Aug 26 at 11:59am.
The Biosphere
"Don't Call It a Honeybee Comeback Yet" [Bloomberg]. "Since hitting a low point in 2008, beset by the apocalyptic-sounding colony collapse disorder, America's honeybees have been on the comeback trail. The number of colonies the U.S. Department of Agriculture counts is back up to almost 3 million, a level last seen in the early 1990s…. Most losses last winter were attributed not to colony collapse disorder but to more mundane causes such as starvation and pests. Honeybees seem to have become generally more vulnerable, with two oft-fingered culprits being the varroa mite, a parasite originally from Asia that first appeared in the U.S. in the late 1980s, and the widespread use of neonicotinoid pesticides by U.S. farmers starting in the late 1990s."
Police State Watch
"'I've just killed somebody': Two dead, one injured on the streets of Kenosha as dramatic videos capture gunman shooting at BLM protesters during clashes with militias guarding gas stations after wave of looting" [Daily Mail]. The best aggregation I can find; the Daily Mail is, in fact, good at this sort of thing. There's an excellent sequence of photos with captions, showing the shooting and the shooter. Here's something distinctly odd: "Despite appearing to hand himself in, police said early Wednesday they were still looking for the gunman." One wonders if the shooter was a militia member, and if so, whether they were deputized.
Noble sentiments:
The owners of this car dealership in Kenosha say they have sustained hundreds of thousands of dollars in damage in the last 2 nights of protests & that insurers say they don't cover this type of destruction. "But if it actually gets justice, sure burn it 20 times" they tell me pic.twitter.com/1M7spwpTWm

— Aleem Maqbool (@AleemMaqbool) August 25, 2020
Games
It's a big world!
clicked around randomly on Facebook and ended up on a livestream of a Bangladeshi gamer playing PubG with 1,000+ people watching. She has a bit of a radio DJ sort of semi-polished style. The future is going to be very interesting pic.twitter.com/aM2wp6nkSo

— visa is making youtube videos (@visakanv) August 26, 2020
Groves of Academe
Too cynical?
This was always the plan. pic.twitter.com/hMg87JHeqw

— Eric Stoller (@EricStoller) August 19, 2020
Class Warfare
"Genetic data show how a single superspreading event sent coronavirus across Massachusetts — and the nation" [WaPo]. "None of the biotech at the meeting noticed the uninvited guest. They had flown to Boston from across the globe for the annual leadership meeting of the drug company Biogen, and they were busy catching up with colleagues and hobnobbing with upper management. For two days they shook hands, kissed cheeks, passed each other the salad tongs at the hotel buffet, never realizing that one among their number carried the coronavirus in their lungs. By the meeting's end on Feb. 27, the infection had infiltrated many more people: a research director, a photographer, the general manager for the company's east division. They took the virus home with them to the Boston suburbs, Indiana and North Carolina, to Slovakia, Australia and Singapore…. Now, a sweeping study of nearly 800 coronavirus genomes, conducted by no less than 54 researchers at the Broad Institute, Massachusetts General Hospital, the Massachusetts Department of Public Health and several other institutions in the state, has found that viruses carrying the conference's characteristic mutation infected hundreds of people in the Boston area, as well as victims from Alaska to Senegal to Luxembourg. As of mid-July, the variant had been found in about one-third of the cases sequenced in Massachusetts and 3 percent of all genomes studied thus far in the United States." • I filed this story under "Class Warfare" because, again, it's worth noting that however one may dislike, say, maskless Sturgis motorcyclists, they were did not bring the virus here.
"A Street-Wise Philosopher Explains What It Means To Be Homeless Amid the Pandemic" [Smithsonian]. "[Alexander] has lived on various heating grates in Southwest D.C. for almost all of his homeless life, which is why he introduced himself as 'Alexander the Grate,' when he and I first met in 1983. Several years ago, he told me this: 'The bottom line is that the urban homeless in Washington, D.C., don't create structures. We can't because of the restrictions. Rather, we impose ourselves into the interstices of the infrastructure.'… Even more troubling for Alexander, however, are the closings of the Smithsonian museums—all of which were once his primary hangouts during the day, and even many evenings for after-hours programs. 'I am losing some of my social integrity,' Alexander admits, fearful that he may return to 'a constant state of vanity, vapidity, emptiness, futility, melancholy, ennui, uselessness and sloth,' which was his condition when living in SROs (single-room occupancy hotels) in the early 1980s before he moved to the grates." • Well worth a read.
News of the Wired
"An asteroid will pass extremely close to Earth the day before the election" [CBS News]. "An asteroid is due to pass extremely close to Earth, just ahead of Election Day in November. But there's no reason to worry — NASA says this space rock poses no risk to our planet…. 'Asteroid 2018VP1 is very small, approx. 6.5 feet, and poses no threat to Earth!,' NASA Asteroid Watch tweeted Sunday. 'It currently has a 0.41% chance of entering our planet's atmosphere, but if it did, it would disintegrate due to its extremely small size.'" • And if NASA turns out to be wrong–
News you can use:
Helpful checklists 🗒 if you need to evacuate 👇

/1#CZULightningComplexFire #CaliforniaWildFire #BayAreaFires #BayArea pic.twitter.com/ZClqIamMOu

— Irene #stayhome Koehler (@irenekoehler) August 23, 2020
I love that on the "15-minute warning" list, #9 is "Checkbook, bills to pay." This is America!
* * *
Readers, feel free to contact me at lambert [UNDERSCORE] strether [DOT] corrente [AT] yahoo [DOT] com, with (a) links, and even better (b) sources I should curate regularly, (c) how to send me a check if you are allergic to PayPal, and (d) to find out how to send me images of plants. Vegetables are fine! Fungi and coral are deemed to be honorary plants! If you want your handle to appear as a credit, please place it at the start of your mail in parentheses: (thus). Otherwise, I will anonymize by using your initials. See the previous Water Cooler (with plant) here. Today's plant (farragut):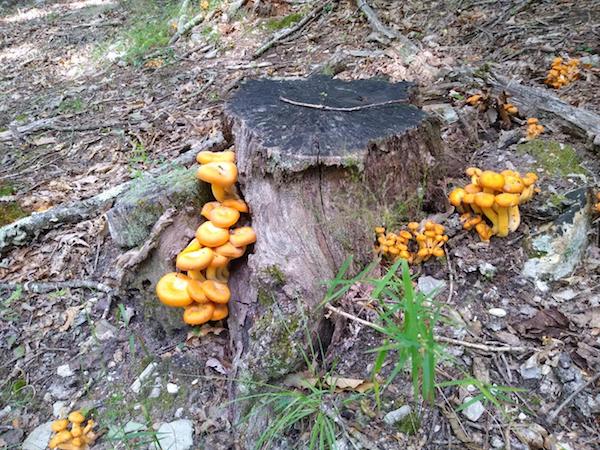 farragut writes: "I believe this is the Jack-O-Lantern mushroom (Omphalotus illudens), growing in deep shade near our house in the Appalachian mountains of Virginia, elevation ~2500 feet. The day after I took this picture, the entire batch had been eaten by a local critter!"
* * *
Readers: Water Cooler is a standalone entity not covered by the annual NC fundraiser. So if you see a link you especially like, or an item you wouldn't see anywhere else, please do not hesitate to express your appreciation in tangible form. Remember, a tip jar is for tipping! Regular positive feedback both makes me feel good and lets me know I'm on the right track with coverage. When I get no donations for five or ten days I get worried. More tangibly, a constant trickle of donations helps me with expenses, and I factor in that trickle when setting fundraising goals:
Here is the screen that will appear, which I have helpfully annotated.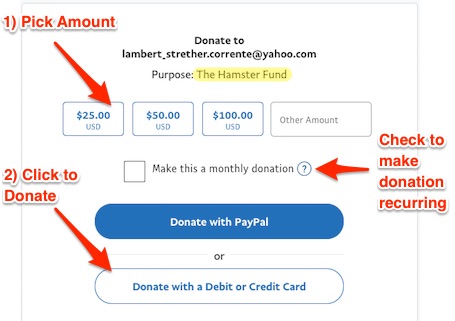 If you hate PayPal, you can email me at lambert [UNDERSCORE] strether [DOT] corrente [AT] yahoo [DOT] com, and I will give you directions on how to send a check. Thank you!

Original Source