The End of Oil Is Near SIerra Club
Norway oil fund chief drama has exposed weaknesses in country's model FT
Green swans: Why climate change is unlike any other financial risk In The Black (periol). The BIS and accounting standards material is interesting.
Will We Ever Listen To The Warnings? David Sirota, Too Much Information
UN-backed climate fund faces wave of abuse allegations from staff FT
How the shadow of slavery still hangs over global finance The Conversation
California Wildfires
California Fires Live Updates: Firefighters Make Progress in 'Marathon' Battle NYT

Yes, climate change is almost certainly fueling California's massive fires MIT Technology Review

US Media Can't Think How to Fight Fires Without $1-an-Hour Prison Labor FAIR
Caixin Reveals Details of Chinese Developers at Centre of LA Bribery Scandal Caixin
Lobbyist agrees to plea deal in L.A. City Hall corruption case LA Times
Mauritius
This Devastating Spill Is a Big Problem for Oil Bloomberg

Plages souillées: pas de baignade avant 6 mois? L'Express (Colonel Smithers). Google translation.
#COVID19
Currently trending on South Korea's social media: Where's the no-masker? pic.twitter.com/I7oDWlYjkO

— Sam Kim (@samkimasia) August 25, 2020
Lex in-depth: why rescue finance will slow recovery for businesses FT
China?
Trump administration weighs accusing China of 'genocide' over Uighurs Politico

GM Sells 15,000 Low-Cost EVs For China In First 20 Days Jalopnik (Re Silc).

Our schools couldn't afford that many basketballs:

China's kindergarten game: Cooperation. pic.twitter.com/2vxAsEetHm

— ShanghaiPanda (@thinking_panda) August 23, 2020

Except the private ones, of course.
Syraqistan
A Hidden Tycoon, African Explosives, and a Loan from a Notorious Bank: Questionable Connections Surround Beirut Explosion Shipment OCCRP

Palestine deleted Mondoweiss
Africa declared free of wild polio in 'milestone' BBC
UK/EU
Germany to Push Greece and Turkey to Resume Talks on Energy Clash Bloomberg
New Cold War
Trump Transition
In reversal, Trump kills huge Alaskan gold mine. Here's why Science

Terminating payroll tax could end Social Security benefits in 2023, chief actuary warns NBC
Republican National Convention
Republicans sought to strike a hopeful tone on Day 2 of their convention USA Today

Speaker removed from RNC program after tweeting anti-Semitic conspiracy theory CNN
Brandy Zadrozny and Ben Collins on QAnon and disinformation Columbia Journalism Review
2020
Big Brother Is Watching You
Customs and Border Protection Paid $476,000 to a Location Data Firm in New Deal Vice

Activists find camera inside mysterious box on power pole near union organizer's home FOX13
Police State Watch
Inside The Seething White Heart Of The Blue Lives Matter Movement Gothamist
Health Care
Preparing for the Next Pandemic Hopkins Bloomberg Public Health Magazine
Black Injustice Tipping Point
Impressive:

The Wisconsin Department of Corrections building was set on fire during the second night of unrest in Kenosha. Reduced to rubble and ashes. This video was recorded before bulldozers were brought in. @cbschicago pic.twitter.com/x0voJ2xF4I

— Vi Nguyen (@ViNguyen) August 25, 2020

The Burning House The Nation. "Rather than create a nation of homeowners, the housing programs of the Great Society, which relied on public-private ventures that almost always benefited the private interests, only helped to intensify racial disparities." Oh, Lordie, public-private partnerships.
Failed State
The Case for Climate Action: Building a Clean Economy for the American People (PDF) Senate Democrats' Special Committee on the Climate Crisis. The final two paragraphs:

Imagine if the political polarities on climate change suddenly reversed. Imagine if the big trade associations were led by the science and the economics of climate change, not by fossil fuel money. Imagine how quickly Congress could act if powerful trade associations like the U.S. Chamber of Commerce and National Association of Manufacturers became advocates for serious pro-climate policies. Imagine if the powerful banking, agricultural, financial services, technology, and consumer products lobbies came in and demanded real climate action.

Corporate America need not imagine this. Corporate America can make it happen. When it decides to show up.

Legal Interventions to Address US Reductions in Life Expectancy JAMA.

Age-based, geographic, and socioeconomic status disparities collectively diminish average life expectancy. Midlife "diseases of despair" (eg, suicides, drug overdoses, and alcohol-related conditions), firearm violence, and obesity also are contributing factors for reduced life expectancy, especially in rural counties, the industrial Midwest, and Appalachia. Stated simply, poorer, less-educated individuals in the US live considerably shorter lives. This pattern of inequality has been highlighted further during the COVID-19 pandemic.

Complete, across-the-board failure by the political class in its entirety at the most basic, material level. Or overwhelming success, depending.
Class Warfare
How to End America's Loneliness Epidemic Blloomberg
Antidote du jour (RM):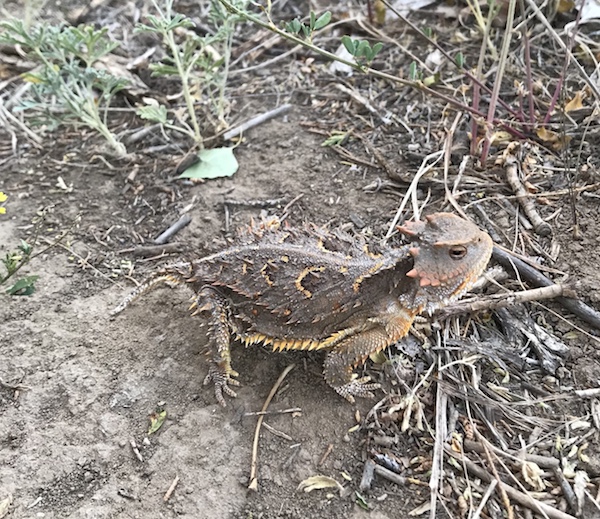 RM writes: "My daughter sent me this from Mesa Verde, Colorado where she works."
Bonus antidote:
See yesterday's Links and Antidote du Jour here

Original Source