By Lambert Strether of Corrente.
#COVID19
At reader request, I've added this daily chart from 91-DIVOC. The data is the Johns Hopkins CSSE data. Here is the site.
Here again is the Midwest: Illinois, Indiana, Iowa, Kansas, Michigan, Minnesota, Missouri, Nebraska, North Dakota, Ohio, South Dakota, and Wisconsin: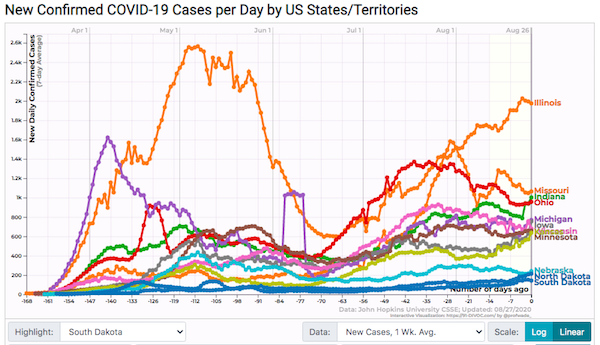 I left out positivity, becaue the chart becomes unreadable if I include it. Interesting spike in Missouri; I wonder if it's a reporting problem at the state level, since they seem to be cropping up all over.
I thought I'd revisit Southeast Asia: Here are China, Phillippines, Indonesia, South Korea, Australia, and (all crammed together at the bottom) New Zealand, Malaysia, Hong Kong, Australia, and Thailand. (I didn't do Laos and Cambodia because I don't think their health care systems are adequate to do reporting.)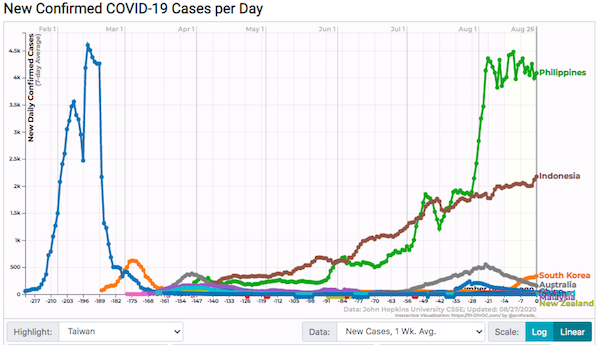 You see why South Korea is worried, but holy moley, Philippines! I thought that steep curve had to be a reporting artifact until I added China (a much larger country, needless to say).
Politics
"But what is government itself, but the greatest of all reflections on human nature?" –James Madison, Federalist 51
"They had one weapon left and both knew it: treachery." –Frank Herbert, Dune
"They had learned nothing, and forgotten nothing." –Charles Maurice de Talleyrand-Périgord
The electoral map. July 17: Georgia, Ohio, ME-2 move from Leans Republican to Toss-up. Continued yikes. On July 7, the tossup were 86. Only July 17, they were 56. Now they are 91. This puts Biden at 278, i.e. over 270. August 18: Still no changes. (Last change August 10.) Despite the sturm and drang, and the polls, the consensus on the electoral college remains the same: Biden ahead, Trump within striking distance.
So, taking the consensus as a given, 270 (total) – 204 (Trump's) = 66. Trump must win 66 from the states in play: AZ (11), FL (29), MI (16), NC (15), PA (20), and WI (10) plus 1 to win not tie = 102. 102 – 66 = 36. So if Trump wins FL, MI, NC, and PA (29 + 16 + 15 + 20 = 80), he wins. That's a heavy lift. I think I've got the math right this time!
2020
Biden (D)(1): "Positivity on Biden hits high after the DNC takes center stage" [CNN]. • Two interesting word clouds, from data after the Democrat National Convention. Biden's

Trump's:

Even if this does reflect liberal Democrat control of the commanding heights of the media, it still looks sketchy for Trump; I mean, it's hard to imagine being tagged with "coronavirus" is good. On the other hand, the words associated with Biden are guazy and insubstantial, suggesting that it may still be possible for the Trump campaign to define him (and I can't imagine calling Biden a "socialist" will do that; fire whoever had that idea immediately).

Biden (D)(2): "Bush, McCain and Romney presidential staffers unite behind effort to elect Joe Biden" [Politico]. "Several dozen former staffers from Sen. Mitt Romney's (R-Utah) presidential campaign, the George W. Bush administration and the campaign and Senate staff of former Sen. John McCain (R-Ariz.) have signed on to an effort to elect Joe Biden. For the Romney and McCain staffers, they're working to elect the same man they tried to defeat in 2012 and 2008, respectively." •. The Great Assimilation™ continues….

Biden (D)(3): "Pelosi: 'I don't think there should be any debates' between Biden and Trump" [USA Today]. "'I wouldn't legitimize a conversation with him, nor a debate in terms of the presidency of the United States,' she said, though she acknowledged that the Biden campaign had a different view on the debates. Pelosi called Trumps's conduct during his 2016 debates with Democratic nominee Hillary Clinton 'disgraceful.' … Asked later Thursday on MSNBC about Pelosi's comments, Biden said 'as long as the (Commission on Presidential Debates) continues down the straight and narrow as they have, I'm going to debate him.' 'I'm gonna be a fact-checker on the floor when I'm debating him,' he said." • "Fact-checker"… Anybody remember Biden's debate withi Sanders?

Sanders (D)(1): "Bernie Sanders Responds to RNC's Attempts to Paint Biden as a Socialist: 'If Only That Were True…'" [Mediaite]. "The Sanders team went on to list examples of government subsidies and tax breaks given to the Trump family, fossil fuel companies, and Amazon, as well as bailouts given to Wall Street following lobbying by White House economic adviser and 'high priest of unfettered capitalism' Larry Kudlow, before quoting Martin Luther King: 'This country has socialism for the rich, and rugged individualism for the poor.'"

* * *

MA: "LGBTQ Victory Fund denounces digital ads, push poll attacking Alex Morse's sexuality" [MetroWeekly]. "The LGBTQ Victory Fund has denounced campaign tactics directed at gay Massachusetts congressional candidate Alex Morse, including digital ads from a third-party group and a push poll referencing recent allegations from the College Democrats of Massachusetts that Morse had pursued sexual relationships with gay college students. Victory Fund slammed the 'homophobic narrative' surrounding the attacks, saying they were 'orchestrated political attacks meant to weaponize' Morse's sexuality. According to the Victory Fund, multiple residents in Massachusetts' 1st Congressional District received phone calls from interviewers conducting a 'push poll' in which respondents were asked if they would still support Morse if he had 'sent sexually explicit emails to college-aged students.'" • Wait, what? Neal is a liberal Democrats, and I thought that [x] gay was an important identity to them, not merely pragmatically but because of deeply held social justice principles. Did I not get the memo?

MA: "Republican Gov. Baker Wades Into Democratic Primary To Endorse Rep. Neal" [WGBH]. "Republican Gov. Charlie Baker is stepping into a Democratic Party primary race to support Springfield Rep. Richard Neal, a powerful figure in D.C. politics facing a challenge from Holyoke Mayor Alex Morse. 'Congressman Neal has been a powerful voice for all in the 1st District and the Commonwealth is a better place because of his hard work. I'm looking forward to working with him now more than ever as we fight and come back from this pandemic,' Baker tweeted ahead of an appearance in Springfield with Neal and Mayor Domenic Sarno, announcing redevelopment plans for the city. Baker, who has an 83 percent approval rating among Democrats according to a July poll from MassINC, described himself as a 'pragmatic and practical' Republican this week when asked how he felt about the Republican National Convention that's nominated President Donald Trump for re-election. Baker has had participated in the party convention." • The Great Assimilation™ once more!

KS: A final thread on the Coleman affair by Ryan Grim, whose reporting I have really appreciated lately, not least for its uniqueness:

I know we all wanna move on, but I want to linger on the Kansas situation for a last moment, b/c there are a few important principles being overlooked. One is about accountability and redemption, the other how quickly we reach conclusions. A couple thoughts:

— Ryan Grim (@ryangrim) August 27, 2020
* * *
–>
Republican National Convention
"Even as president, Donald Trump takes a familiar stance: The political outsider" [USA Today]. "After nearly four years in the world's most powerful post, Donald Trump will formally accept the Republican nomination for president at his convention Thursday, taking a familiar stance. As an outsider. He'll do that despite speaking from the South Lawn of the White House and leveraging displays of presidential power unprecedented at any other modern political convention. During his tenure, he has appointed two justices to the Supreme Court and named more than 200 judges to the federal bench. He's issued executive orders that stretch the powers of his office. But he still rails against what he believes is a 'Deep State' working against him at the Food and Drug Administration and other government agencies, even though they are headed by officials he appointed. He accuses political elites, especially Democrats, of ignoring the concerns of his core supporters. He says the news is fake and the polls showing him trailing Joe Biden are wrong. He derides the record of President Barack Obama, out of office for nearly four years. He downplays the crisis of COVID-19 and blames others for the nation's stumbling response to it during his watch. Being an outsider is part of Trump's appeal. It's also part of his problem. Defiance is his brand, a trait that has hardened his support among his base. But a reelection campaign is typically a referendum on how the president has performed in office. Since 2016, Trump hasn't expanded his standing; he has lost ground. His job approval rating, at 43.9% in the RealClearPolitics.com running average, is below the 46.1% of the vote he carried in 2016." • I still think that if a (colorable) vaccine appears, the Covid "curves" are on the downturn in all regions, and the economy seems to have revived (manufacturing seems unexpectedly better), Trump has a real shot. There's also the possibility of a foreign policy "October surprise," although one effect of the pernicious practice of early voting may be to devalue that tactic. (Worth noting that if Obama had gotten the UAE to recognize Israel, the campaign for his second Nobel would be drowing out everything else.) And that's leaving out the enormous wild card of the protests/riots.
Stats Watch
At reader request, I added some business stats back in. Please give Econintersect click-throughs; they're a good, old-school blog that covers more than stats. If anybody knows of other aggregators, please contact me at the email address below.
Employment Situation: "22 August 2020 Initial Unemployment Claims Remain Over One Million" [Econintersect]. "Market expectations for weekly initial unemployment claims (from Econoday) were 925 K to 1,100 K (consensus 987 K), and the Department of Labor reported 1,006,000 new claims. The more important (because of the volatility in the weekly reported claims and seasonality errors in adjusting the data) 4 week moving average moved from 1,175,250 (reported last week as 1,175,750) to 1,068,000…. Job's loss since the start of the pandemic is now 58,689,000. Many in this number are now employed or have dropped out of the workforce as the all programs continuing claims number is 27,017,232]." • A second round of hysterisis?
Rail: "Rail Week Ending 22 August 2020 – Intermodal Continues To Improve" [Econintersect]. "Week 34 of 2020 shows same week total rail traffic (from same week one year ago) contracted according to the Association of American Railroads (AAR) traffic data. Total rail traffic has been mostly in contraction for over one year – and now is recovering from a coronavirus pandemic…. Total rail traffic has two components – carloads and intermodal (containers or trailers on rail cars). Container exports from China are now recovering, container exports from the U.S. declined and remains deep in contraction. This week again intermodal was in expansion year-over-year and continues to strengthen."
GDP: "Second Estimate 2Q2020 GDP Growth Marginally Improves But Remained Deep In Contraction" [Econintersect]. "The second estimate of second-quarter 2020 Real Gross Domestic Product (GDP) 'improved' from the advance estimate's negative 32.9% to negative -31.7%… The coronavirus lockdown is the reason for the decline – and pushed GDP into contraction. No doubt the U.S. economy is in a recession."
* * *
Manufacturing: "It is hard to see an end to the bad news at Rolls-Royce" [Financial Times]. "The group, which relies to a large extent on pay-as-you-fly contracts, has been floored by the pandemic that has grounded long-haul air travel. Rolls-Royce's net debt, excluding leasing liabilities, in the first half matched the underlying operating loss of £1.7bn and, by its own reckoning, will double by the year end. Cash will continue to drain out for at least the next 18 months. The outflow could top £4bn in 2020, the company says…. The company has plenty of liquidity — £8.3bn including £2bn in loans backed by the UK government. But its balance sheet looks messy. It plans to ditch businesses worth about £2bn, which will help. The group is also cutting about 9,000 jobs and plans to shrink its sites in Derby, Singapore and Germany. Ominously, it says it is also looking at additional measures and is continuously reviewing funding options. Note to shareholders: brace yourselves for a cash call."
* * *
Today's Fear & Greed Index: 76 Extreme Greed (previous close: 74 Greed) [CNN]. One week ago: 70 (Greed). (0 is Extreme Fear; 100 is Extreme Greed). Last updated Aug 27 at 12:42pm. First transition into Extreme Greed in quite a while.
The Biosphere
"Hurricane Laura Brings 'Catastrophic Storm Surge' And Fearsome Winds To Gulf Coast" [NPR]. "The hurricane made landfall as a Category 4 storm, crossing over Cameron, La., roughly 35 miles east of the Texas border. Laura has since weakened, but the National Hurricane Center warns that 'a life-threatening storm surge with large and destructive waves will continue within the Storm Surge Warning area this morning.' The dangerous surge of water could reach communities up to 40 miles inland from the coast, and it's expected to take days before floodwaters fully recede. Only one other storm is known to have hit Louisiana with as much raw power: Last Island in 1856, which also had 150 mph winds."
"Hurricane Laura has weakened into a Category 1 storm" [CNN]. "Hurricane Laura is now a Category 1 storm, according to the National Hurricane Center. Laura made landfall overnight in Louisiana as a powerful Category 4 hurricane, but it has been weakening as it travels northward through Louisiana. However, earlier today, Ken Graham, the director of the National Hurricane Center, said that Laura is expected to remain a hurricane until it nearly reaches Arkansas. 'We expect Hurricane Laura to still be a hurricane even when you get up to Shreveport, right on the Arkansas border,' he said on CNN this morning."
"Laura is Katrina on fossil fuel steroids" [Heated]. "Laura is also targeting areas populated by vulnerable communities. It's heading for a city "largely home to Black and Latinx families, nearly 23 percent of whom are immigrants." It's happening during a pandemic, where families are already struggling financially, emotionally, and with their health. Many cannot afford to leave. Laura is also taking direct aim at America's petrochemical hub, an area with more than 60 high-risk petrochemical plants and oil refineries, and 49 hazardous waste sites. This is the ultimate feedback loop. Our environmental crises now fuel themselves." • And here's a view of NOLA from a strategic point of view (which Scott, Lincoln, and Grant shared):
One of my favorite answers from the Katrina era of "why does New Orleans need to exist?" framed as "what would be the most devastating place to drop a nuke?"https://t.co/aYAvjx9SeG pic.twitter.com/sAmuZ6ZnsQ

— Ashoka Rajendra (@ashokaraj_) August 27, 2020
* * *
"Nature Is Intentionally Beautiful" [Post Carbon Institute]. "While it seems to start as a strategy for mate attraction, the production of beauty can persist when mating is not an issue. This is notable, for example, in the case of bird songs. Even though males ramp up their singing during mating season, birds of many species continue making their music throughout the year and appear to enjoy doing so; they even appear to enjoy the songs of their rivals. Moreover, investment in display can proceed to such extremes that it leads to "aesthetic decadence," contributing to a species' decline and even extinction. When the males and females of a given species come to agree that only a particularly extravagant display—one whose costs impair the species' survival abilities—is a requirement for mate choice, then attraction can truly become fatal. The fossil record probably holds plenty of examples." • Including fossil fuels? And the linked to in this article, this–
"Darwin's Endless Forms Most Beautiful: What's Musical about Biology and Why Does That Matter?" [Resilience]. This whole piece is excellent, but let me pull out this one metaphor: "[A murmuration of starlings], says [in Cecil Sharp's classic 1905 study, English Folksong], is a faithful picture "of the way in which a folk song is evolved. Of the innumerable changes made by individual singers, only those that win general approval are perpetuated; the rest, being ignored, pass into oblivion." Even more importantly, Sharp insists that the causes which lead to variation for the starling may be simply reflexive or accidental—for example, the result of "waywardness" or "a search for food." Likewise, he says, "the changes which singers introduce into the words or melodies of their songs proceed from many causes—forgetfulness, chance, accident and what not; but very rarely, if ever, from a definite and conscious desire to improve." Then in the next paragraph he gives us a pithy formulation. His view of folk song as a systemic interaction of individual and group and his emphasis on unconscious creation, leads to his summary with a distinctly Darwinian sound: "The individual, then, invents; the community selects." This is how his "Evolution" chapter had begun, with a claim that music in general evolves in culture through continuity, variation and selection—more Darwin. (Sharp, 1905, 21-41)
Health Care
"COVID-19 Is Transmitted Through Aerosols. We Have Enough Evidence, Now It Is Time to Act" [Time]. "It is critical to have a clear physical description of the ways in which COVID-19 is transmitted, so that individuals and institutions are able to visualize it and will understand how to protect themselves. Contrary to public health messaging, I, together with many other scientists, believe that a substantial share of COVID-19 cases are the result of transmission through aerosols. The evidence in favor of aerosols is stronger than that for any other pathway, and officials need to be more aggressive in expressing this reality if we want to get the pandemic under control." • This is a must-read, and a good summary of the aerosol controversy (which is a controversy because, well, CDC and WHO are, in my considered opinion, wrong. Showing the vacuity of "listen to the science." Science, after all, advances through conflict. Quite the opposite of the "unity" mindset.)
Black Injustice Tipping Point
What did we expect (1):
Rancid lawlessness has been happening in the white collar world for twenty years with no handcuffs so it's not a surprise to see it everywhere else. The trickle down theory works apparently.

I mean Elon Musk openly committed securities fraud.

— Matt Stoller (@matthewstoller) August 26, 2020
What did we expect (2):
donald rumsfeld on looting in 2003, for the property defender in your life pic.twitter.com/enMvWtQr9N

— better build back bee 🐝✌🏾 (@Vanessa_ABee) August 27, 2020
Sports Desk
"The NBA Had It Coming" [The Atlantic]. "The impenetrability of the NBA bubble appeared to provide a foolproof solution to the stops and starts (due to the coronavirus pandemic) that had shortened Major League Baseball's season and forced several major college-football conferences to cancel their season…. But on Sunday, after police in Kenosha, Wisconsin, shot 29-year-old Jacob Blake multiple times in the back, and a video of the incident taken by a witness went viral, the bubble's relative peace was upended. In the protests that followed in Kenosha, a gunman killed two people and wounded a third. On Monday night, the Lakers' LeBron James, the league's highest-profile star, retweeted the news of Blake's shooting and wrote, in part, "This shit is so wrong and so sad!! Feel so sorry for him, his family and OUR PEOPLE!! We want JUSTICE." On Wednesday, shortly before James tweeted, "FUCK THIS MAN!!!! WE DEMAND CHANGE. SICK OF IT," the Milwaukee Bucks, the team favored to win the NBA title, didn't take the floor for Game 5 of their playoff series against the Orlando Magic. Instead, they remained in the locker room as the Magic warmed up. When game time arrived, the Bucks, stirred by the violence in a city a short drive from their home arena, refused to play…. Despite language in the collective-bargaining agreement between the players' association and the league that specifically prohibits strikes, NBA players had gone on strike. … Where the strike will ultimately lead, or how long it will last, no one seems to know." • Maybe other people will start getting ideas…
News of the Wired
One of the refreshing things about Twitter is art bots:
Mitchell Crew, 1983 #americanart #neoexpressionism pic.twitter.com/sslFC6G5z4

— Jean-Michel Basquiat (@artistbasquiat) August 27, 2020
* * *
Readers, feel free to contact me at lambert [UNDERSCORE] strether [DOT] corrente [AT] yahoo [DOT] com, with (a) links, and even better (b) sources I should curate regularly, (c) how to send me a check if you are allergic to PayPal, and (d) to find out how to send me images of plants. Vegetables are fine! Fungi and coral are deemed to be honorary plants! If you want your handle to appear as a credit, please place it at the start of your mail in parentheses: (thus). Otherwise, I will anonymize by using your initials. See the previous Water Cooler (with plant) here. Today's plant (AB):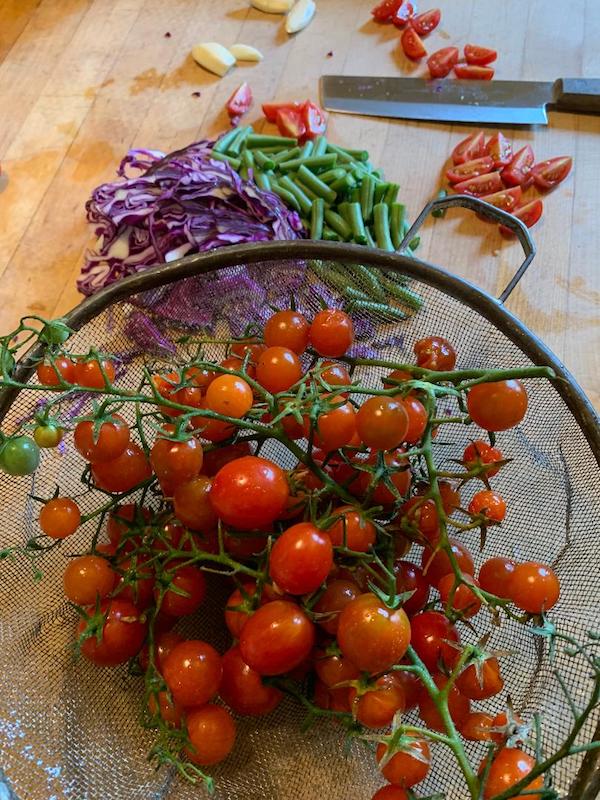 AB: "Our tomatoes taste as good as they look." Tomato season!
* * *
Readers: Water Cooler is a standalone entity not covered by the annual NC fundraiser. So if you see a link you especially like, or an item you wouldn't see anywhere else, please do not hesitate to express your appreciation in tangible form. Remember, a tip jar is for tipping! Regular positive feedback both makes me feel good and lets me know I'm on the right track with coverage. When I get no donations for five or ten days I get worried. More tangibly, a constant trickle of donations helps me with expenses, and I factor in that trickle when setting fundraising goals:
Here is the screen that will appear, which I have helpfully annotated.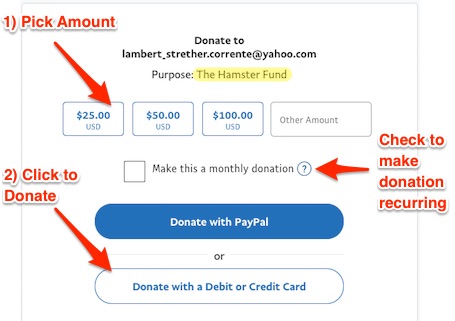 If you hate PayPal, you can email me at lambert [UNDERSCORE] strether [DOT] corrente [AT] yahoo [DOT] com, and I will give you directions on how to send a check. Thank you!

Original Source