By Lambert Strether of Corrente.
#COVID19
At reader request, I've added this daily chart from 91-DIVOC. The data is the Johns Hopkins CSSE data. Here is the site.
Here again is the Midwest: Illinois, Indiana, Iowa, Kansas, Michigan, Minnesota, Missouri, Nebraska, North Dakota, Ohio, South Dakota, and Wisconsin: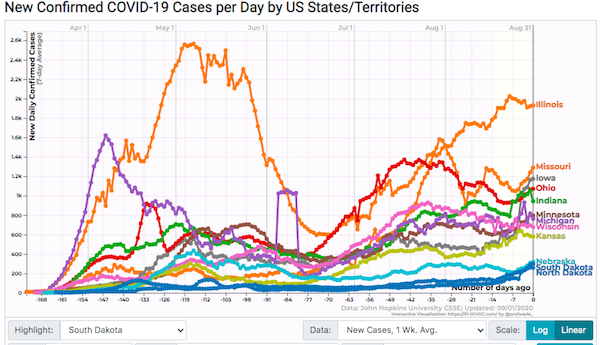 Still better with Illinois and Indiana, but the rest of the Midwest moving up in unison is a little concerning.
I left out positivity, becaue the chart becomes unreadable if I include it. Interesting spike in Missouri; I wonder if it's a reporting problem at the state level, since they seem to be cropping up all over.
Here's the global leaderboard: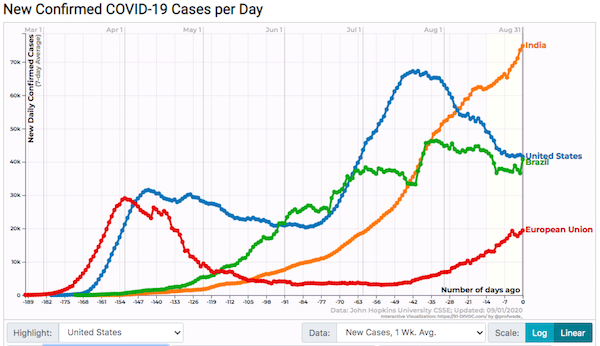 * * *
"Monitoring the Coronavirus Outbreak in Metro Areas Across the U.S." [New York Times]. • From that article, college towns:
almost all of the fastest-growing COVID outbreaks in the US are in college towns pic.twitter.com/UJjZvv3wxW

— Antifa's FOIA Officer (@lib_crusher) August 30, 2020
FL: "Florida Department of Health claims number of COVID-19 cases in schools is confidential" [NEWS4 Jax]. "The Duval County Health Department told Duval County Public Schools (DCPS) officials Tuesday they needed to get permission from the state level in order to tell parents and the community how many cases are in its schools. On Friday, after multiple requests for answers, the Florida Department of Health said the information about the number of COVID-19 cases in schools was 'confidential.' …. Healthcare law experts who spoke to News4Jax have denied that the statute cited by Florida health officials applies to school systems. The Florida Department of Health did not respond to questions asking if or when it will give school districts approval to publish the data. The health officials also didn't give a specific date for when they plan to release the updated copy of the data themselves."
FL: "COVID-19 turned their Miami Springs nursing home into a death trap. The virus killed 52" [Miami Herald]. "Early in the pandemic, Florida was determined to keep a lid of secrecy on the spread of COVID-19 in long-term care facilities. The state refused to identify homes where positive tests had occurred until the Miami Herald and other news organizations banded together and filed a public records lawsuit. As for Fair Havens specifically, multiple workers said they weren't initially told which residents had COVID-19, or given the proper PPE (a claim Fair Havens disputes). There also wasn't adequate training, inspection reports confirm. 'They didn't want to say anything to the personnel working there,' [nursing assistant Niurka Solano] said, a sentiment shared by others who worked there. As of the beginning of May, the facility's infection control nurse did not keep a surveillance map of infections within the facility, according to an inspection report." • "Fair Havens." "Never eat at a place called 'Mom's'."
IA: "Ames, Iowa City COVID Outbreaks Are Worst In The World" [Iowa Starting Line]. "Iowa's exploding COVID-19 outbreaks at state universities in Ames and Iowa City are now disasters that can only be fully measured on a global scale. Ames holds the distinction this morning as the worst coronavirus outbreak in the entire United States, while Iowa City is at third on the list [Update: on Monday, Iowa City climbed to the number two spot in the list, while Ames remained at the top]. The per capita rates are worse than any individual country in the world, and appear to surpass any state in some of the other currently hardest-hit countries."
IL: "COVID-19's true toll in Illinois is likely higher than reported. A closer look at 'excess deaths' in 2020." [Chicago Tribune]. "The official COVID-19 death toll in Illinois may not account for at least 1,000 fatalities — and potentially far more — that could be attributable to the pandemic, according to a Tribune analysis of federal data. Through July 25, Illinois had officially recorded 7,397 COVID-19 deaths. But public health experts say that for a fuller picture of the pandemic's toll, it's important to look at so-called excess deaths — or deaths beyond the number that would typically occur during a given time period. Examining excess deaths can help capture both COVID-19 cases that went uncounted and the greater numbers of deaths from conditions exacerbated by the pandemic, such as untreated heart attacks or fatal drug overdoses. 'There is an excess mortality, even though we're doing our best to capture all these COVID-19 deaths," said Dr. Ponni Arunkumar, Cook County's chief medical examiner. 'Just .'" • Yep.
NY: "Here's the check: Restaurants serve NY $2B lawsuit" [The Real Deal]. "More than 300 restaurants are seeking class-action status for a lawsuit against the city and state, demanding they fork over $2 billion for banning indoor dining, Crain's reported…. The lead plaintiff in the suit is the Queens restaurant Il Bacco, which sits just 500 feet from the Nassau County border, where indoor dining is allowed at 50 percent capacity. 'According to Gov. Cuomo, it is dangerous to eat at [Il Bacco] in Little Neck, Queens, but it is safe to dine indoors a few hundred feet east,' says the suit. New York City is the only area of the state where indoor dining is not allowed. The lawsuit — filed the same day that New Jersey announced indoor dining will resume at 25 percent capacity — argues that there is no scientific evidence for the restriction."
OH: "Ohio's coronavirus cases drop after statewide mask order, dramatically so in some counties" [Cleveland.com]. • Handy chart:
Ohio's coronavirus cases drop after statewide mask order, dramatically so in some counties – trust science https://t.co/ZNohIJtVOt

— joecimperman (@joecimperman) August 28, 2020
The unbiquitous "trust science"… That thinking is so sloppy and bad.
Politics
"But what is government itself, but the greatest of all reflections on human nature?" –James Madison, Federalist 51
"They had one weapon left and both knew it: treachery." –Frank Herbert, Dune
"They had learned nothing, and forgotten nothing." –Charles Maurice de Talleyrand-Périgord
The electoral map. July 17: Georgia, Ohio, ME-2 move from Leans Republican to Toss-up. Continued yikes. On July 7, the tossup were 86. Only July 17, they were 56. Now they are 91. This puts Biden at 278, i.e. over 270. August 18: Still no changes. August 31: Indiana moves from Likely to Safe Republican. Despite the sturm and drang, and the polls, the consensus on the electoral college remains the same: Biden ahead, Trump within striking distance.
So, taking the consensus as a given, 270 (total) – 204 (Trump's) = 66. Trump must win 66 from the states in play: AZ (11), FL (29), MI (16), NC (15), PA (20), and WI (10) plus 1 to win not tie = 102. 102 – 66 = 36. So if Trump wins FL, MI, NC, and PA (29 + 16 + 15 + 20 = 80), he wins. That's a heavy lift. I think I've got the math right this time!
Time to restore the election countdown:
2020
Biden (D)(1): "The Left Case Against Supporting Joe Biden in the General Election:" [Benjamin Studebaker (Deschain)]. "Joe Biden loves to tell us that "nothing will fundamentally change". If nothing changes, another Democrat will normalise what Trump has done and frustrate the American people into voting for someone even more right-wing. Look at what's happened with Bush. He's more popular than ever before. In the 00s, we recognised that Bush was nuts…. The Democrats are a big part of how we got to where we are. And if we think that the Republicans are authoritarian nationalists, it is the Democrats who have encouraged them to become that way. The ordinary American cannot look to the Democrats to resist the ravenous elite. They look to the nationalist firebrands of the right because there is nothing else on the menu….We [the left] can oppose the Trump administration in its second term. But if it's Biden, we'll be stuck defending him as he slugs the ordinary American in the face. The American people won't forget the black eye we've given them, and they'll vote for the leaders who will be the death of us."

Biden (D)(2): "Voting in a De-Facto Military State" [Patrick Lawrence, Consortium News (pjay)]. On foreign policy:

Biden promises a straight-ahead return to the policies that prevailed under Obama and Obama's predecessors: a reclamation of "global leadership," a renewed emphasis on interventions we justify, per usual, by casting ourselves as humanity's archangels…. Team Biden's foreign policy advisers are vast in number. Foreign Policy counts more than 2,000 of them, organized into 20 working groups covering specific issues — arms control, defense, intelligence, humanitarian missions, and so on —and geographies: Europe, the Middle East, East Asia. These people come from consultancies, think tanks, the State Department, academia. There is a heavy layer of Obama administration holdovers and, of course, Pentagon bureaucrats, some quite senior.

Trump (R)(1): "Why Trump Commands So Much Loyalty From His Base" [Counterpunch]. "Willing to overlook his lies, improprieties, and corruption, Trump's voters have a transactional relationship with the president that is practical, powerful, and surprisingly instructional to the rest of us…. Trump's presidency has meant very clear-cut things to specific (but overlapping) communities, movements, and demographics. He offers his anti-abortion supporters a radical transformation of the judiciary from lifetime federal judgeships to Supreme Court seats. To his anti-immigrant base, he has shown he is willing to go to any lengths to keep out migrants and refugees, going as far as separating children from parents and even deporting them into the hands of their abusers. To racist suburban white people, he is making good on a promise to keep Black and Brown people out of their neighborhoods. To law enforcement, their families, and supporters, he has promised to uphold police autonomy and immunity from prosecution. And on and on. Examined through the lens of such far-reaching promises that Trump has either kept his word on or aggressively pursued, it is no wonder that enough Americans are supporting him so as to make the election competitive. Trump has shown his base that he is willing to go as far as it takes to please them, including violating norms, pushing the boundaries of laws, and even breaking them. Such fealty is rare in a politician, let alone in a president. Trump offers his base clear-cut policies while his campaign hopes that voters look past his character flaws… In contrast, the 2020 Democratic presidential nominee Joe Biden offers his voters few specific policies or sweeping changes, and his campaign hopes the Democratic Party base focuses mostly on his character, personality, and words and connects with him on a personal level." • If I could get #MedicareForAll out of Biden, I'd be as transactional as all get out, and I'd overlook Biden's massive and obvious character flaws, as well as his horrid record.

* * *

"DNC Pours All Campaign Funding Into New York, California To Win Popular Vote By Even Greater Margin Than 2016" [The Onion]. • Actually, they're not doing this. Yet.
* * *
–>
Realignment and Legitimacy
No:

— Mel B. (@coldbrewedtool) August 31, 2020
Stats Watch
At reader request, I added some business stats back in. Please give Econintersect click-throughs; they're a good, old-school blog that covers more than stats. If anybody knows of other aggregators, please contact me at the email address below.
Manufacturing: "August 2020 ISM and Markit Manufacturing Surveys Continue To Improve" [Econintersect]. "The ISM Manufacturing survey improved and remains in expansion. The Markit PMI manufacturing index also improved and remains in expansion…. Based on these surveys and the district Federal Reserve Surveys, one would expect the Fed's Industrial Production index growth rate to be slightly better than last month. Overall, surveys do not have a high correlation to the movement of industrial production (manufacturing) since the Great Recession. No question these surveys suggest the economy is no longer in recession." • "The economy" is doing a lot more work there than it normally does, considering the massive restructuring in favor of monopolies that's underway.
Leading Indicators: "22 August 2020 New York Fed Weekly Economic Index (WEI): Index Declined But Remains On A Recovery Trend" [Econintersect]. "The New York Fed's Weekly Leading Index (WLI) continues to show an economy that is marginally worse than seen during the Great Recession. However, this index remains on a recovery trend…. This data set should be considered a high-frequency coincident indicator on a par with the Aruoba-Diebold-Scotti Business Conditions Index produced by the Philly Fed – and both show conditions caused by the coronavirus pandemic are already worse than the Great Recession. However, the Aruoba-Diebold-Scotti Business Conditions Index is improving whilst the WLI is still declining. Logic would say with the partial reopening of the economy – the Aruoba-Diebold-Scotti Business Conditions Index seems to be correct." • 63 days…
* * *
Debt: "Credit Card Firms Split on Fate of Consumers While U.S. Cuts Aid" [Bloomberg]. "A fissure is forming in the U.S. credit card industry: Are consumers about to go bankrupt or bounce back? On one side, risk-management pioneer Capital One Financial Corp. is reining in credit lines to reduce its exposure. On the other, the nation's largest card issuer, JPMorgan Chase & Co., is rolling out a new card designed for travelers and diners — the ultimate countercyclical bet. Those moves are just the tip of a debate unfolding inside the industry as Congress deadlocks over extending $600 weekly checks to millions of unemployed Americans. In some corners, worries are mounting that households will struggle to make ends meet, max out their credit and default. But some banks see an opportunity to attract people who are still doing fine.
Retail: "AirAsia to Charge Passengers Who Check In at Airport Counters" [Bloomberg]. "AirAsia's Chief Operations Officer Javed Malik said the move is aimed at encouraging customers to use the other check-in means and minimize physical contact between guests and staff during the coronavirus pandemic. Fees will be waived for passengers with reduced mobility and premium travelers, as well as those affected by flight disruptions or airport kiosk outages, AirAsia said. The charges apply to airport counters in Malaysia, Vietnam, Brunei, Cambodia, Laos, as well as Kaohsiung in southern Taiwan and Hawaii's capital Honolulu." • Go long social distancing (and, I suppose, kiosk manufacturing. Though I'd like to know how the fomites on those touch screens are cleaned. How do we know this isn't a whole new vector of transmission?).
Manufacturing: "Boeing seeks to cut production costs of 787-8 to boost sales" [Leeham News and Analysis]. "The 787-9 and 787-10 are high margin aircraft Boeing counted on to reduce the billions of dollars in deferred production and tooling costs. At one time, this exceeded $32bn. The early program difficulties resulted in the production and parts of the -8 to be substantially different than the -9/10, which have 95% commonality. The -8 was only 30% common. In 2018, Boeing changed the -8's tail to be virtually identical to the -9/10. The change boosted commonality to about 40%, LNA was told at the time. The key is to get as many parts of the 787-8 to be common with the 787-9 and -10 as possible. During 2019 only six 787-8s were built against 122 787-9/-10. The economics of building six parts per year versus 122 makes the 787-8 a low margin product… Why hasn't this been done already? With a production of a 787-8 every two months, the investment of revising the thousands of documents and procedures to bring the 787-8 up to the -9/-10 build standard wasn't a wise investment. The post-COVID market changes this." • Boeing paid for the 787's "early program difficulties" with the 737-MAX. Now it's still paying.
* * *
Today's Fear & Greed Index: 75 Extreme Greed (previous close: 75 Greed) [CNN]. One week ago: 73 (Greed). (0 is Extreme Fear; 100 is Extreme Greed). Last updated Sep 1 at 12:51pm. Our greed is not really that extreme. Can't we get 'er into the mid-80s, at least?
The Biosphere
"How SUVs conquered the world – at the expense of its climate" [Guardian]. "The rise of the SUV as the world's pre-eminent car has been so rapid that the consequences of this new status – the altered patterns of urban life, air quality, pedestrian safety, where to park the things – are still coming into focus. But it's increasingly clear that SUVs' most profound impact is playing out within the climate crisis, where their surging popularity is producing a vast new source of planet-cooking emissions. Last year, the International Energy Agency made a finding that stunned even its own researchers. SUVs were the second largest cause of the global rise in carbon dioxide emissions over the past decade, eclipsing all shipping, aviation, heavy industry and even trucks, usually the only vehicles to loom larger than them on the road." • They're obese and vicious-looking. Good job, America, or rather, "Good job, American automobile executives, who should rot in hell next to the cigarette executives." I hate those things.
"A burning chemical plant may be just the tip of Hurricane Laura's damage in this area of oil fields and industry" [Phys.org]. "Hurricane Laura's damage will reveal itself over the coming days. The storm passed directly over the large Hackberry oil field, located in a sensitive marsh environment south of Lake Charles. The area includes thousands of active and abandoned wells and associated infrastructure, such as storage tanks and pipelines…. Chemical plants often operate under emergency rules that relax regulations during and immediately after severe storms…. The failure of storage systems designed to keep the chemicals from reacting with air or water often produces the most dramatic releases. The Arkema chemical fire during Hurricane Harvey and this chlorine gas release are examples of these high-visibility failures. People living near the Arkema plant sued, saying the chemicals caused respiratory problems and contaminated their water. The absence of plant workers during the storm can exacerbate these issues, and small problems can become large ones in the absence of any intervention."
"DIY Firefighting In California" [NPR]. "While multiple historic fires blazed, it became clear that there's a shortage of firefighters, airplanes and firetrucks to combat them. The state is doing what it can, but many calls for help have gone unanswered. It's been a similar story over the past few years. It's why Californians are increasingly taking matters into their own hands — creating a growing market for DIY firefighting. As California entered this fire season, people began trying to sell used firetrucks on the Bay Area's Craigslist. One Craiglister posted a 1975 GMC firetruck for $7,000 or best offer. 'Save yourself from a disaster,' they wrote. A man named Paul posted a 1982 Ford firetruck for $15,000. He assures it's 'in good working order.' But there's a catch: 'for pick up in North Dakota.' That's a 30-hour drive away. A company called Vans From Japan has gotten into a business you might call firetruck arbitrage. You know, buying firetrucks in one place and making a profit by selling them in another place where they're more valuable. The Sacramento-based company has a whole fleet of tiny firetrucks imported from Japan that it's trying to sell on Craigslist." • Maybe I should file this under Failed State instead…
"He turned his concrete patio in East L.A. into an edible garden with fruit trees" [Los Angeles Times]. "Ken Sparks is a sentimental gardener. The Ohio native's East L.A. garden is filled with more than 50 types of fruit trees and plants, some of which pay homage to his family and reflect the diversity of his hometown of Twinsburg. 'I have little pieces of home in my garden,' said Sparks, 37, as he identified water lilies and an heirloom beefsteak begonia from his grandmother's garden. 'One of the things that keep me grounded is my garden. It reminds me of my family, and of Ohio.' His terraced backyard is primarily concrete, but he has managed to transform the hardscape into something alive and soft with chickens, a butterfly garden and a surplus of organic vegetables that he has planted in raised beds installed on top of concrete." • This sounds lovely. (Let us also remember that those who don't own property may find gardening harder than those who do. I was lucky!)
"Flat-Earthers Have a Wild New Theory About Forests" [The Atlantic]. "A bizarre new theory has turned the flat earth upside down. The flat earth is still flat, but now it's dotted with tiny imitations of the truly enormous trees that once covered the continents, and which in our deforested age we can hardly even remember….. 'They make us think that this is a forest,' he tells us, 'when you are actually looking at thirty-meter bushes. After watching this video, you will reverse your concept of forests by 360 degrees.' This isn't a forest at all: only a diminished imitation. Thousands of years ago, a cataclysmic event destroyed 99% of the Earth's biosphere, and when it happened, it took away the real forests. Real trees are nothing like their stunted cousins, the miserable perishing scraps of wood that we see today; they were truly vast, hundreds of kilometers tall, magical organisms that sustained a total living ecology of the flat earth. These things were the anchor of a beautiful world that has now vanished forever. And how does he know? Because everywhere around us, we can see their stumps."
"An Open Letter to Parents For Future" [Ecological Survival]. "Our efforts as concerned parents are crucial because we are in a unique position to help. We share our children's fear and anger about the crisis, and therefore understand the urgent need for a rational response. But, unlike them, we have had sufficient time to gain the knowledge and experience required to determine what this response should be. Thus, although the young must organizationally lead the drive to sustainability, we must be its primary strategists." • Hmm. I wonder what your children think about that.
Health Care
"The Most American COVID-19 Failure Yet" [The Atlantic]. "Contact tracing, the last two-thirds of health wonks' "test-trace-isolate" mantra, was supposed to get us out of the pandemic…. In the United States, this whole process is failing, allowing Aunt Sally to continue roaming about town, infecting others and spreading COVID-19. There is no national contact-tracing program in the U.S., and contact tracers who work for the 40 local health departments in areas with the most coronavirus cases have reached just a fraction of the patients who have tested positive, a Reuters investigation found earlier this month. In Maryland, 25 percent of those called by contact tracers don't pick up. At one point in Miami, contact tracers were able to reach only 17 percent of the infected. In Houston, New Jersey, and California's Inland Empire, half of the people reached by contact tracers won't cooperate. In Philadelphia, a third of COVID-19 patients claimed they had no contacts. Philadelphia is one of the country's most densely populated cities; it's hard to believe that a third of the people who got sick there had no contact with their fellow Philadelphians." • Well worth a read. I'll comment only that any program designer who thought people would pick up a phone call from an unknown number didn't understand the country. Who would be demented enough to do that? Calls like that are from marketers or, worse, debt collectors (not to mention immigration or various forms of compliance). Anybody who I want to reach me already knows how to reach me, and I know what their number is.
"HHS bids $250 million contract meant to 'defeat despair and inspire hope' on coronavirus" [Politico]. • I wonder if they'll use Marcie's firm.
Influenza advice from 1918:
Plus ça change…
News of the Wired
"Burning Man 2020 is Happening!" [Burning Man]. "The Multiverse is an endlessly expanding virtual Burning Man. Intrepid adventurers are invited to co-create eight Universes, a virtual Temple, and (coming soon!) a globally distributed Man Burn. It takes a community. A Multiverse doesn't just emerge from the ether. We'd like to extend our gratitude and appreciation to all the people who coded, designed, crafted, planned, and stayed up long nights, inspired by the unlimited possibilities of Burning Man culture." • This website is super ugly.
Owww! My eyes!!
a beautiful himbo angel, look at him 🥰 he's reading an empty book sleeve, an inspiration to himbos everywhere https://t.co/gFr4jfn5VV

— ladies.ladies.ladies.ladies (@VaVaGloom) August 31, 2020
* * *
Readers, feel free to contact me at lambert [UNDERSCORE] strether [DOT] corrente [AT] yahoo [DOT] com, with (a) links, and even better (b) sources I should curate regularly, (c) how to send me a check if you are allergic to PayPal, and (d) to find out how to send me images of plants. Vegetables are fine! Fungi and coral are deemed to be honorary plants! If you want your handle to appear as a credit, please place it at the start of your mail in parentheses: (thus). Otherwise, I will anonymize by using your initials. See the previous Water Cooler (with plant) here. Today's plant (CH):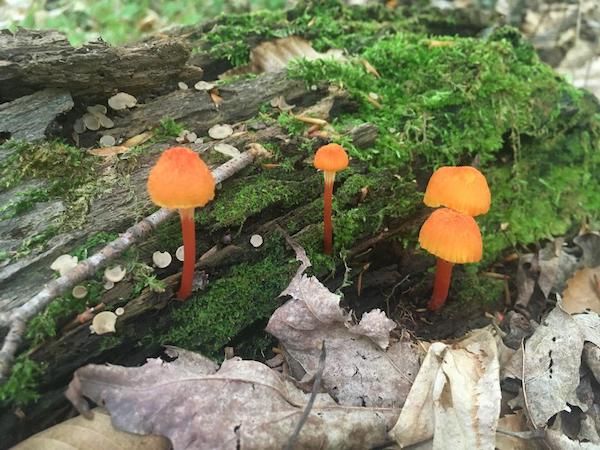 CH writes: "Sharing with you a few mushrooms on moss found during a hike." They seem to be… glowing.
* * *
Readers: Water Cooler is a standalone entity not covered by the annual NC fundraiser. So if you see a link you especially like, or an item you wouldn't see anywhere else, please do not hesitate to express your appreciation in tangible form. Remember, a tip jar is for tipping! Regular positive feedback both makes me feel good and lets me know I'm on the right track with coverage. When I get no donations for five or ten days I get worried. More tangibly, a constant trickle of donations helps me with expenses, and I factor in that trickle when setting fundraising goals:
Here is the screen that will appear, which I have helpfully annotated.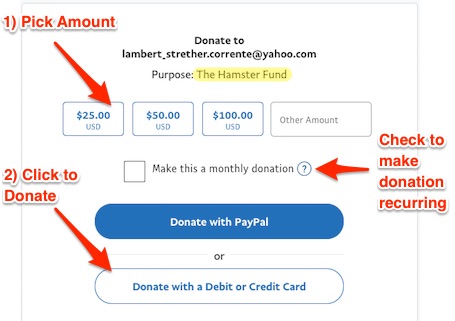 If you hate PayPal, you can email me at lambert [UNDERSCORE] strether [DOT] corrente [AT] yahoo [DOT] com, and I will give you directions on how to send a check. Thank you!

Original Source