Recall that in the press reporting on l'affaire Meng, CalPERS in its spin to the press was remarkably open how it intended to bury the matter and not inform the board that its highest-paid officer might have violated the California Political Reform Act. From Bloomberg on August 8:
But she [Frost} planned to discipline him — either by cutting his incentive pay or possibly by placing a formal letter into his file.
Institutional Investor confirmed that Meng also believed that his case had been settled before the press uproar…and recall again that since the board had not been informed, it almost certainly implies that the plan was to keep the board in the dark. From Institutional Investor:
It was actually in April that the disclosure issues first came to light internally at CalPERS, when a compliance team flagged a violation: a $70,000 investment in shares of Blackstone Group, which Meng owned at the same time the pension fund made new investments in the firm, according to a Bloomberg report. A former colleague of Meng's tells Institutional Investor that the then-CIO told this person at the time that an internal investigation had been done and that the issue was resolved.
Needless to say, keeping the board in the dark is a well-established pattern under CalPERS CEO Marcie Frost, with the support and approval of her general counsel Matt Jacobs. From Frost's calendar for June 14, 2017, we can see she had a discussion of a "1090 Issue":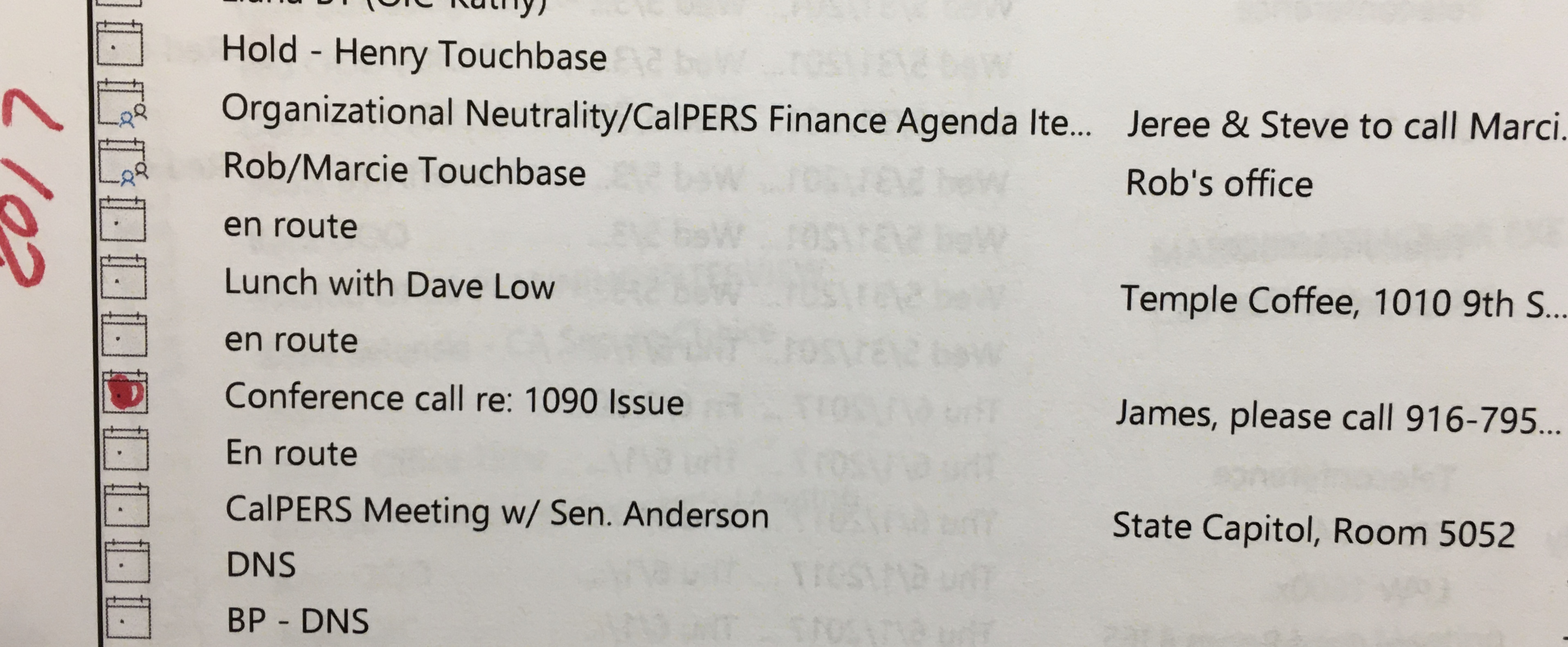 1090 is a criminal section of the California Government Code on financial conflicts of interest; the penalties are listed in the sections immediately following1:
ARTICLE 4. Prohibitions Applicable to Specified Officers

1090. (a) Members of the Legislature, state, county, district, judicial district, and city officers or employees shall not be financially interested in any contract made by them in their official capacity, or by any body or board of which they are members. Nor shall state, county, district, judicial district, and city officers or employees be purchasers at any sale or vendors at any purchase made by them in their official capacity.

(b) An individual shall not aid or abet a Member of the Legislature or a state, county, district, judicial district, or city officer or employee in violating subdivision (a).

(c) As used in this article, "district" means any agency of the state formed pursuant to general law or special act, for the local performance of governmental or proprietary functions within limited boundaries.
Recall that the Ben Meng conflict of interest with his ownership of Blackstone and Carlyle shares did not rise to the criminal conflict of interest level.2 whatever this 2017 matter was, it was far more serious.
JJ Jelincic, who was on the board in 2017, states that no criminal conflict of interest matter was discussed with the board that year. So either Frost informed then board president Rob Feckner, who chose to keep the matter secret from the full board, or Frost didn't make any disclosure.
Needless to say, this lapse raises the further question of what else CalPERS staff is hiding from the board.
While CalPERS does give quarterly compliance report to the Risk & Audit Committee, if you look at the document, you can see, as the table below illustrates, they are entirely about process and keep the board in the dark about the substance and seriousness of allegations. This example comes from a 2019 report, but if you look at more recent quarterly compliance reports, they all follow the same format: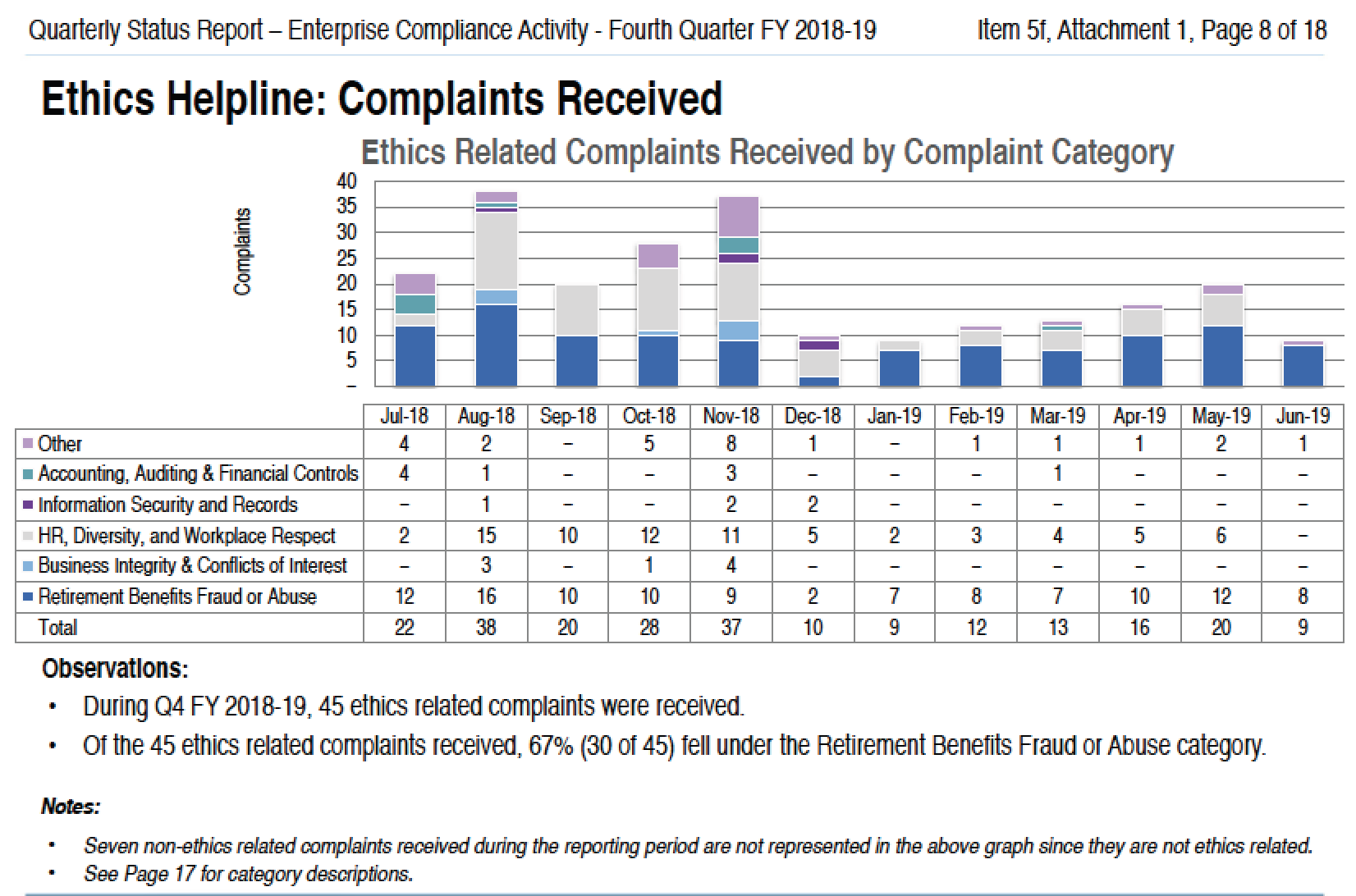 Note that in the footnote, CalPERS staff directs the board's attention to the number of complaints, which gives you no clue about that the matters are or more important, there severity. And highlighting that most are about benefit fraud flatters the staff, since it implies that most abuses are outside parties trying to take advantage of CalPERS, and not problems within CalPERS. The board would have no way of knowing it there had been an allegation of something as serious as embezzlement, kickbacks, or a rape from this report.
A final, and obvious problem is the unseriousness of the complaints hotline. A basic rule of compliance is that you don't design an oversight process to report to people who may be part of the problem. Inherently deficient processes like that lead you to JP Morgan London Whale and Wells Fargo fake accounts scandal type outcomes. No one who is interested in career advancement and has an ounce of common sense would ever report a serious violation to this sort of complaint line unless they were afraid they were going to be scapegoated.
If CalPERS actually cared about having an effective complaint process, the hotline would go to the board, say via an outside consultant engaged by a law firm in case CalPERS might feel the need to take legal action. The compliance reports and the obviously defective complaints process offers further proof that CalPERS board isn't interested in doing its job of minding a $400 billion store.
_____
1 Note that the criminal penalties sections also discuss certain exemptions, but it is hard to imagine that any were applicable if the matter had been escalated to Marcie Frost and she felt compelled to make calls about it.
2 Meng did not fall afoul of Government Code 1090 due to his income being so high that he fell into the exemption in 1091.5:
1091.5. (a) An officer or employee shall not be deemed to be interested in a contract if his or her interest is any of the following:

(1) The ownership of less than 3 percent of the shares of a corporation for profit, provided that the total annual income to him or her from dividends, including the value of stock dividends, from the corporation does not exceed 5 percent of his or her total annual income, and any other payments made to him or her by the corporation do not exceed 5 percent of his or her total annual income.

Original Source