By Lambert Strether of Corrente.
#COVID19
At reader request, I've added this daily chart from 91-DIVOC. The data is the Johns Hopkins CSSE data. Here is the site.
Here again is the Midwest: Illinois, Indiana, Iowa, Kansas, Michigan, Minnesota, Missouri, Nebraska, North Dakota, Ohio, South Dakota, and Wisconsin: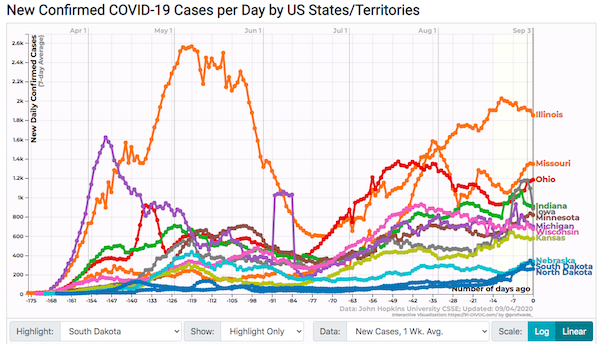 Illlinois and poor Iowa looking better….
And at reader request, Midwest positivity: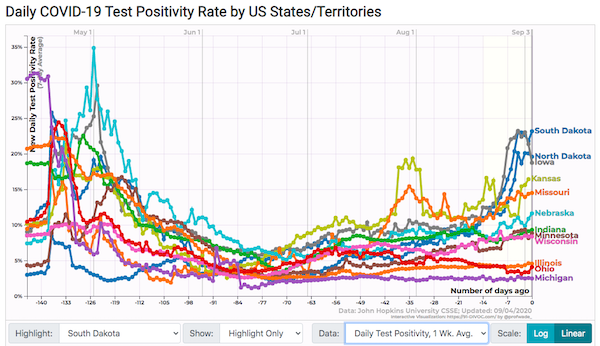 Politics
"But what is government itself, but the greatest of all reflections on human nature?" –James Madison, Federalist 51
"They had one weapon left and both knew it: treachery." –Frank Herbert, Dune
"They had learned nothing, and forgotten nothing." –Charles Maurice de Talleyrand-Périgord
The electoral map. July 17: Georgia, Ohio, ME-2 move from Leans Republican to Toss-up. Continued yikes. On July 7, the tossup were 86. Only July 17, they were 56. Now they are 91. This puts Biden at 278, i.e. over 270. August 18: Still no changes. August 31: Indiana moves from Likely to Safe Republican. Despite the sturm and drang, and the polls, the consensus on the electoral college remains the same: Biden ahead, Trump within striking distance.
So, taking the consensus as a given, 270 (total) – 204 (Trump's) = 66. Trump must win 66 from the states in play: AZ (11), FL (29), MI (16), NC (15), PA (20), and WI (10) plus 1 to win not tie = 102. 102 – 66 = 36. So if Trump wins FL, MI, NC, and PA (29 + 16 + 15 + 20 = 80), he wins. That's a heavy lift. I think I've got the math right this time!
Polling
https://www.ft.com/content/b3297609-e63b-4161-8287-7ab1179d0c40
Time to restore the election countdown:
A long time in politics!
2020
Biden (D)(1): "Joe Biden's Campaign Is Plodding and Forgettable and Winning" [Ross Barkan]. "Biden has run the most plodding and forgettable presidential campaign in recent memory. For many blinkered liberals, to even suggest Biden needs to articulate a clear, affirmative vision is to offer yourself up to the MAGA horde. Though the former vice president has been smart at times to physically remain in isolation, due to both COVID-19 and the reality that unscripted interactions inevitably lead to strange verbal gaffes, we are reaching a point where he will have to engage and attempt, perhaps, to form a coherent, forward-looking argument for his candidacy. This does not mean simply explaining, once more, why Trump is so awful and why he is a threat to American democracy. It does not mean releasing occasional, well-intentioned policy platforms, hoping voters see them on his website. It means, instead, doing what all winning campaigns have done: offering a compelling vision for a presidency that can be understood, and easily summarized, by average people. For good and ill, this is what victorious campaigns tend to do. Barack Obama, George W. Bush, and Bill Clinton all did it. Even Trump—"Make America Great Again!" "Build the Wall!—engaged in a version of this messaging in 2016. A campaign must answer a simple question: what do you hope to do for us? Biden, puttering ahead, hasn't done this yet, not in a way beyond releasing policy papers to newspaper reporters…. Democrats will have to start thinking about wielding power again." • Again?

Biden (D)(2): "'Words Matter': Details From Joe Biden's Private Kenosha Talk" [Patch]. "Biden spoke about expanding mandatory rehabilitation for drug users. 'They've gotta go to mandatory rehab. That way it's not part of their record, if they finish it. We shouldn't be putting anybody in jail for that.'" • Not the Crime Bill, but pretty far from legalizing marijuana, too.

Biden (D)(3): "Team Biden eyes a trillion-dollar January stimulus" [Axios]. "Many of Biden's economic advisers served in the Obama administration and know what it's like to inherit an economic crisis on day one. They feel that the 2009 stimulus package — the $787 billion American Recovery and Reinvestment Act — was woefully inadequate. And they're determined not to make the same mistake twice." • I would like to know who "they" are, and whether "they" have shared their views in public. I would also like to know if the Lincoln Project, the Blue Dogs think, and Nancy "PayGo" Pelosi think.

Trump (R)(1): "Presidential race tightens in Minnesota as Trump plows resources into state" [The Hill]. "Minnesota Democrats believe Biden is in a better position than Clinton. But they acknowledge that the same cultural trends that helped Trump turn Wisconsin, Michigan and Pennsylvania red have forced Democrats to play defense in the state for the first time in decades. 'It's realistic that a Republican could win here for the first time in a long time, but Trump is not the favorite in Minnesota by any means and having one or two good polls doesn't make it a toss-up yet,' said Todd Rapp, a veteran Democratic operative in the state. 'Trump will get trounced in the Twin Cities and I don't know that there are enough votes in the rural parts of the state to make up for it. But I tell you what, plenty of things could happen in the next two months to make my confidence waver.' Biden leads Trump by 5.3 points in Minnesota, according to the RealClearPolitics average. Trump fell short to Clinton in Minnesota by only about 40,000 votes in 2016."
Stats Watch
At reader request, I added some business stats back in. Please give Econintersect click-throughs; they're a good, old-school blog that covers more than stats. If anybody knows of other aggregators, please contact me at the email address below.
Employment Situation: "August 2020 BLS Jobs Situation – Employment Grew 1,371,000 But Still Down 11,697,000 Year-to-Date" [Econintersect]. "Employment recovery from the coronavirus continues. However, readers are advised that the basis of the BLS numbers are from the middle of August (which are extrapolated to the end of the month). Still, these numbers are much better than ADP estimated on Wednesday…. The economically intuitive sectors were mixed for economic growth. The rate of further recovery will be dependant on the coronavirus effects." • The permanently unemployed though….
Income: "USDA Says Farm Income Is Increasing, Gov. Payments Are A Record" [Farm Journal]. "According to USDA, net cash-farm income is forecast to increase $4.9 billion (4.5 percent) to $115.2 billion in 2020. Inflation-adjusted net cash farm income is forecast to increase $4.0 billion (3.6 percent) from 2019, which would be 5.7 percent above its 2000-19 average ($109.0 billion)." • That should help the Republicans in the Midwest…
Leading Indicators: "28 August 2020 ECRI's WLI Improvement Continues And Is Finally In Expansion" [Econintersect]. "ECRI's WLI Growth Index which forecasts economic growth six months forward improved and squeaked into expansion this week."
Rail: "Rail Week Ending 29 August 2020 – August Total Movements Down 5.8% Year-Over-Year" [Econintersect]. "Total rail traffic has two components – carloads and intermodal (containers or trailers on rail cars). Container exports from China are now recovering, container exports from the U.S. declined and remains deep in contraction. This week again intermodal was in expansion year-over-year and continues on a strengthening trendline. However, carloads remain deep in contraction."
* * *
Tech: "Amazon's top UK reviewers appear to profit from fake 5-star posts" [Financial Times]. "Amazon is investigating the most prolific reviewers on its UK website after a Financial Times investigation found evidence that they were profiting from posting thousands of five-star ratings. Justin Fryer, the number one-ranked reviewer on Amazon.co.uk, reviewed £15,000 worth of products in August alone, from smartphones to electric scooters to gym equipment, giving his five-star approval on average once every four hours. Overwhelmingly, those products were from little-known Chinese brands, who often offer to send reviewers products for free in return for positive posts. Mr Fryer then appears to have sold many of the goods on eBay, making nearly £20,000 since June." • Man's reach must exceed his grasp, or what's a Heaven for? –Robert Browning
Tech: "Five Eyes nations start new club for competition regulators and paint target on digital giants" [The Register]. "The nations of the five eyes alliance – Australia, Canada, New Zealand, the UK and the USA – have started a new club that will see their respective competition agencies 'share intelligence, case theories and investigative techniques to better coordinate investigations across international borders.' The new club operates has the roll-off-the-tongue name 'Multilateral Mutual Assistance and Cooperation Framework for Competition Authorities' but will go by 'MMAC'…. None of the regulators have named any specific organisation or investigation that spurred the creation of the new club, but all five nations have expressed different degrees of frustration with the likes of Google and Facebook."
Mr Market: "US tech shares slide for second day" [Financial Times]. "US technology stocks extended a market sell-off into a second session on Friday, led by further strong selling of stocks such as Apple that had rallied sharply in recent months….. The heavy weighting of tech stocks meant that even the broader S&P 500 was down sharply, by around 2.5 per cent, brushing off early optimism from a US employment report that showed the world's largest economy added 1.4m jobs in August. The figure met economists' expectations and contributed to a notable improvement in the unemployment rate, to 8.4 per cent from 10.2 per cent in July."
Mr. Market: "Nasdaq Plunge Is Victory Lap for a Stable of Stock Naysayers" [Bloomberg]. "Bearish investors took a victory lap as high-flying stocks such as Zoom Video Communications Inc., Tesla Inc. and Apple Inc. dragged the Nasdaq 100 lower, after the index had rallied in 11 of the past 13 sessions. While the correction was abrupt, it was overdue given how crowded the megacap tech trade had become, according to Wells Fargo Investment's Sameer Samana. And with market attention likely to turn to the upcoming U.S. presidential election after the holiday weekend, traders are likely trimming risk, he said."
Today's Fear & Greed Index: 59 Greed (previous close: 60, Greed) [CNN]. One week ago: 77 ( Extreme Greed). (0 is Extreme Fear; 100 is Extreme Greed). Last updated Sep 4 at 12:42pm. The downdraft continues.
The Biosphere
"Industrial waste can turn planet-warming carbon dioxide into stone" [Science]. "At Gahcho Kué, Dipple's team bubbled a mix of CO2 and nitrogen gas simulating diesel exhaust through a grayish green slurry of crushed mine waste in water. Over 2 days, the slurry acquired a slight rusty hue—evidence that its iron was oxidizing while its magnesium and calcium were sucking up CO2 and turning it into to carbon-based minerals. The CO2-hungry waste from the diamond mine is an exotic deep-earth rock, shot up to the surface in the volcanic eruptions that bring up diamonds. But a wide array of rock and mudlike wastes from mining, cement and aluminum production, coal burning, and other large-scale industrial processes share a similar affinity for the greenhouse gas. Known as alkaline solid wastes, these materials have a high pH, which causes them to react with CO2, a mild acid. And unlike other schemes for drawing excess CO2 from the atmosphere, these reactive rocks can both capture the gas and store it, locked away permanently in a solid mineral. 'The potential is real,' Dipple says. 'It will make an important contribution to lowering CO2.'"
"Deep-Sea Mining: How to Balance Need for Metals with Ecological Impacts" [Scientific American]. "Slashing humanity's reliance on fossil fuels will require billions of kilograms of metal: a single wind turbine can contain more than a metric ton of copper, and electric car batteries demand heaps of cobalt, nickel and manganese. Most of these metals now come from terrestrial mines—often at the cost of deforestation, water pollution and human rights abuses. But a vast trove of metals on the deep-sea floor could soon provide an alternative source…. Proponents say deep-sea mining can avoid a few of the ills of land-based extraction and cut the costs of renewable technology. But some scientists caution against jumping from exploration to exploitation too quickly, given how little we know about the deep-sea environment and the life it supports. 'I generally don't think it's possible for us to objectively assess all the risks involved right now,' says Jeff Drazen, a marine biologist at the University of Hawaii at Manoa. "This is the poorest-described ecosystem on the planet.'"
"UMBC study reveals gender bias in bird song research and impact of women on science" [UMBC]. "A revolutionary group of scientists has been rethinking for two decades how we understand bird song, with women leading the way. Several of these scientists are from UMBC, and their latest research has revealed findings not just about birds, but about bird researchers. Elaborate bird song had been considered mostly a male trait for centuries, famously discussed by Charles Darwin. But Karan Odom, Ph.D. '16, biological sciences, published a landmark paper on female bird song in 2014 that helped change that viewpoint. Odom's study found that as many as 70 percent of female birds sing. Her extensive research also established firmly that both sexes almost certainly sang in the common ancestor of all bird species—a radical idea in ornithology." • Some bird song:
Morning chorus grow daily as birds establish territory. New season, new life. A favorite time of the year. Welcomed by bird song as I step outside, bringing me peace. 20 sp in 10 min w/o raising bins. RWBL & COGR not up yet. How many can you hear? #birds #birdsrule #birding pic.twitter.com/OijBF8rZTz

— Cindy Songbird (@Songbird5212) March 30, 2019
Does anybody know a source of daily bird songs?
Health Care
"DNA Firm With History of Errors Botched Nursing-Home Covid Tests" [Bloomberg]. "Botched Covid-19 tests from a single Massachusetts laboratory led to about 300 flawed and misleading results at nursing homes across the state, a casualty of the nationwide rush to get diagnostics to the public after initial attempts to supply them went awry. The spate of false results from Orig3n Inc., a consumer DNA-testing company that pivoted to coronavirus detection during the pandemic, cost some nursing homes tens of thousands of dollars, reduced levels of available staff and sent panic rippling through employees and residents. After the erroneous results came to light, Orig3n was told by Massachusetts health officials to suspend testing Aug. 8, according to a person familiar with the matter. Incorrect test results can arise for a variety of reasons, including sample contamination, pressure to process tests quickly and lack of vetting and validation. What was unusual about Orig3n's case, said Davey Smith, head of the Division of Infectious Diseases and Global Public Health at the University of California, San Diego, was that it didn't catch the surge in positives itself before sending out results." • I guess it's good that's unusual….
"Health officials worry nation not ready for COVID-19 vaccine" [Associated Press]. "With only about half of Americans saying they would get vaccinated, according to a poll from AP-NORC Center for Public Affairs Research, it also will be crucial to educate people about the benefits of vaccination, said Molly Howell, who manages the North Dakota Department of Health's immunization program. The unprecedented pace of vaccine development has left many Americans skeptical about the safety of COVID-19 immunizations; others simply don't trust the federal government. 'We're in a very deep-red state,' said Ann Lewis, CEO of CareSouth Carolina, a group of community health centers that serve mostly low-income people in five rural counties in South Carolina. 'The message that is coming out is not a message of trust and confidence in medical or scientific evidence."" • Let's not blame the deplorables for everything, mkay–
"Sociodemographic Predictors of Vaccination Exemptions on the Basis of Personal Belief in California" [American Journal of Public Heatlh]. "Personal belief exemptions are more common in areas with a higher percentage of White race and higher income." And–
"Vaccines and Wealth: Another Take on the Unvaccinated" [University of Michigan School of Public Health]. "Unvaccinated children are more likely to be uninsured, live below the poverty level, and reside in rural areas… Yet, several studies indicate that vaccine refusal thrives in affluent communities that have access to vaccinations. Individuals who refrain from vaccinations cluster in geographic regions, such as specific counties and schools. In 2014 to 2015, vaccine exemptions for school children were most prevalent in areas of high socioeconomic status. Research consistently indicates that vaccine exemptions are concentrated in wealthy areas, clustered particularly around private schools." • Somebody needs to ask Fauci, Azar, and Redfield about "Personal belief exemptions" immediately.
Riots and Protests
"Federal agent feels like he 'never really came back' from Portland" [Duffel Blog]. "He may have returned to El Paso, but US Border Patrol Agent (BPA) Ken Greggs says he doesn't feel like he ever truly came home from his harrowing 27-day deployment to Portland, Oregon. 'Every time I hear a leaf blower, it's like I'm right back inside that courthouse,' Greggs said. 'I still hear the drum circles when I close my eyes.'" • In objective terms, just looking at the numbers…. "Greggs" is right.
I ran into this tune in my perambulations, I forget why:
Seems like a good plan that could solve a lot of problems (lyrics; but where's the outrage?).
Sports Desk
"PSU football doctor clarifies comments on percentage of COVID-positive athletes with myocarditis" [Centre Daily Times]. "During a State College Area school board of directors meeting on Monday night, Wayne Sebastianelli — Penn State's director of athletic medicine — made some about the link between COVID-19 and myocarditis, particularly in Big Ten athletes. Sebastianelli said that cardiac MRI scans revealed that approximately a third of Big Ten athletes who tested positive for COVID-19 appeared to have myocarditis, an inflammation of the heart muscle that can be fatal if left unchecked…. CORRECTION: Penn State Health later clarified that the 30-35% figure pertaining to COVID-19-positive Big Ten athletes verbally shared with Dr. Wayne Sebastianelli by a colleague was actually published at the lower rate of 15%. He was unaware of that when he made his comments at the State College school board meeting, a spokesperson said." • Oh, so one-in-ten at the very lowest. So that's alright then.
Class Warfare
"Unexpected victory in bagging area: Apple must pay shop workers for time they spend waiting to get frisked" [The Register]. "A three-judge panel in California has ruled [PDF] that Apple Store staffers should be paid for time spent waiting to undergo the iGiant's bag checks. It's the latest turn in a class action Apple has been battling for seven years, fending off retail workers that asked to be paid for up to 45 minutes spent at the end of their shift waiting to be searched." • That's ridiculous. Genius at the Bar, petty thief on your way out the door. Good job, Apple. (And why didn't Tim Cook have the courage of his convictions and institute a cavity search?)
"White professor at George Washington University admits she lied about being Black" [CBS]. "A White history professor at George Washington University on Thursday admitted to falsely claiming a Black identity. Jessica A. Krug said in a Medium post that she is actually White and Jewish, but that she has 'built her life on a violent anti-Black lie.' Krug wrote that, throughout her adult life, she claimed to have North African, African American and Caribbean heritage. She called her actions the 'very epitome of violence, of thievery and appropriation, of the myriad ways in which non-Black people continue to use and abuse Black identities and cultures.' 'For the better part of my adult life, every move I've made, every relationship I've formed, has been rooted in the napalm toxic soil of lies,' wrote Krug, who is originally from the suburbs of Kansas City." • Not clear to me why a declaration of racial identity is verboten while a declaration of gender identity is not. In any case, Krug was Person of the Day on the Twitter, never a good thing.
News of the Wired
"The Unfaithful Guy/Jealous Girlfriend Meme Couple Has an Entire Story on Shutterstock" [Did You Know?]. " "This is another shining example of human creativity at its best, and it all started with the 'jealous girlfriend' stock photo that serves as the foundational image for what seems like a million memes." This one: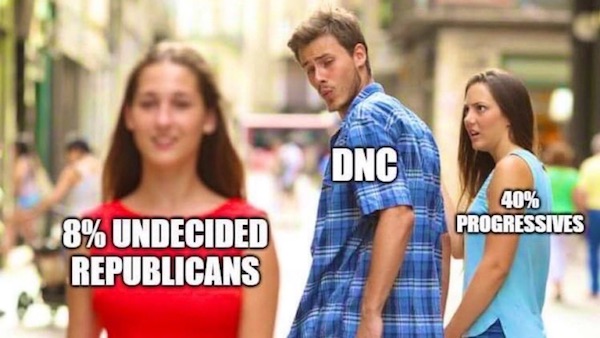 I like it because it's dialectical. But that seems not to be the subtext….
"Dawn of the topological age?" [Physics Today]. • Above my paygrade. I think this is about spooky action at a distance, but sciene at the threshold of engineering.
* * *
Readers, feel free to contact me at lambert [UNDERSCORE] strether [DOT] corrente [AT] yahoo [DOT] com, with (a) links, and even better (b) sources I should curate regularly, (c) how to send me a check if you are allergic to PayPal, and (d) to find out how to send me images of plants. Vegetables are fine! Fungi and coral are deemed to be honorary plants! If you want your handle to appear as a credit, please place it at the start of your mail in parentheses: (thus). Otherwise, I will anonymize by using your initials. See the previous Water Cooler (with plant) here. Today's plant (TH):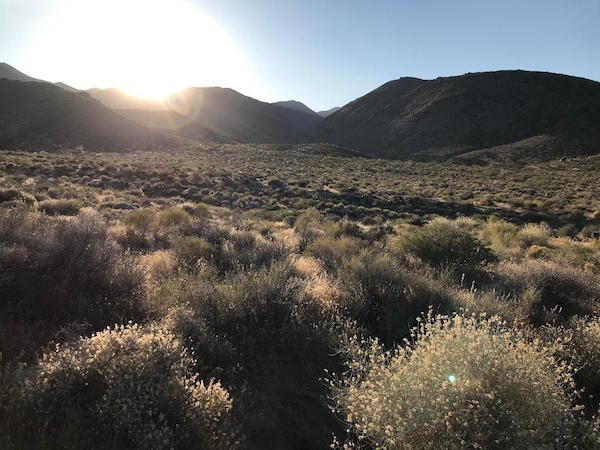 TH: "A little lens flare here, spotlighting the only plant with blooms in the whole bloomin' desert." And used to good effect!
* * *
Readers: Water Cooler is a standalone entity not covered by the annual NC fundraiser. So if you see a link you especially like, or an item you wouldn't see anywhere else, please do not hesitate to express your appreciation in tangible form. Remember, a tip jar is for tipping! Regular positive feedback both makes me feel good and lets me know I'm on the right track with coverage. When I get no donations for five or ten days I get worried. More tangibly, a constant trickle of donations helps me with expenses, and I factor in that trickle when setting fundraising goals:
Here is the screen that will appear, which I have helpfully annotated.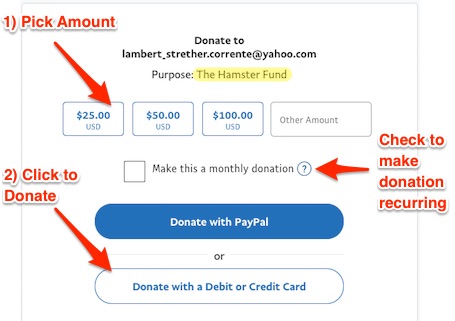 If you hate PayPal, you can email me at lambert [UNDERSCORE] strether [DOT] corrente [AT] yahoo [DOT] com, and I will give you directions on how to send a check. Thank you!

Original Source