By Lambert Strether of Corrente.
#COVID19
At reader request, I've added this daily chart from 91-DIVOC. The data is the Johns Hopkins CSSE data. Here is the site.
Here again is the Midwest: Illinois, Indiana, Iowa, Kansas, Michigan, Minnesota, Missouri, Nebraska, North Dakota, Ohio, South Dakota, and Wisconsin: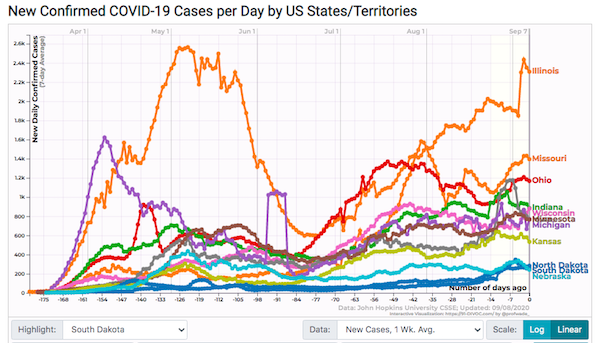 Oy, Illinois; the spike is said to be a data backlog, but that doesn't say the cases aren't real.
Here is positivity: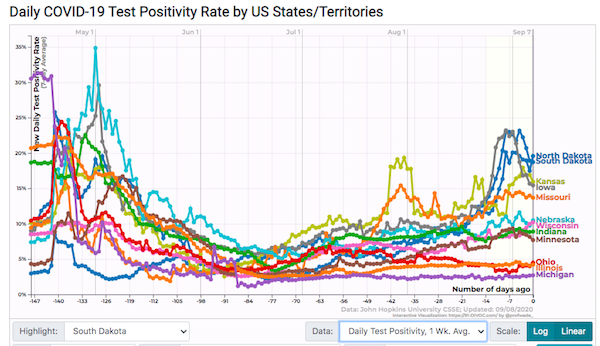 Here's the global leaderboard: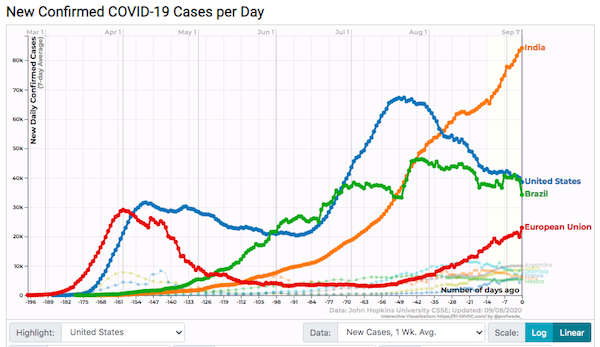 * * *
Politics
"But what is government itself, but the greatest of all reflections on human nature?" –James Madison, Federalist 51
"They had one weapon left and both knew it: treachery." –Frank Herbert, Dune
"They had learned nothing, and forgotten nothing." –Charles Maurice de Talleyrand-Périgord
The electoral map. July 17: Georgia, Ohio, ME-2 move from Leans Republican to Toss-up. Continued yikes. On July 7, the tossup were 86. Only July 17, they were 56. Now they are 91. This puts Biden at 278, i.e. over 270. August 18: Still no changes. August 31: Indiana moves from Likely to Safe Republican. Despite the sturm and drang, and the polls, the consensus on the electoral college remains the same: Biden ahead, Trump within striking distance.
So, taking the consensus as a given, 270 (total) – 204 (Trump's) = 66. Trump must win 66 from the states in play: AZ (11), FL (29), MI (16), NC (15), PA (20), and WI (10) plus 1 to win not tie = 102. 102 – 66 = 36. So if Trump wins FL, MI, NC, and PA (29 + 16 + 15 + 20 = 80), he wins. That's a heavy lift. I think I've got the math right this time!
Time to restore the election countdown:
2020
Biden (D)(1): "If I were Joe Biden's digital director" [Alice Marshall, Medium]. "I never see pictures of happy volunteers posing in their Biden T shirts making phone calls for Biden. Nor do I ever see Tweets about phone bank work for Biden…. if I were the Biden campaign I would regularly release numbers of how many phone calls are being made. This would demonstrate widespread enthusiasm for the candidacy. I would also encourage volunteers to post pictures of themselves wearing their Biden gear. I would most especially encourage supporters to post pictures of their dogs sporting the Biden dog collars. Dogs are irresistible click bait. I would also encourage volunteers to post about their experience phone banking. My sister tells me that the one advantage of the pandemic shut down is that people are home when you call them." • Oddly, if any of that is being done, I'm not seeing it either.

Biden (D)(2): "Biden is on track to lose the Electoral College" [John Ellis, Boston Globe]. "You can feel the change in the press coverage. The tone of the commentary and analysis has gone from up-tempo to downbeat. 'Biden's doing well' has been replaced by 'Biden's in trouble.' Last Thursday put a punctuation mark on the shift. A Change Research poll was posted at CNBC.com. The top-line national number had Biden comfortably ahead. But in the six 'battleground states,' Biden's lead, statistically speaking, had evaporated. What all the pros know is that the president 'under-polls.' 'People don't want to admit they're voting for Trump,' said one pollster. Bloomberg News recently ran a story saying the same thing. If Trump under-polling is a matter of fact, then the races in the six battleground states, the ones that will decide the outcome in November, are dead heats. That's a long way from where the president stood a month ago." • Cook Political Report, below, makes the same "2 percent stronger" point in more nuanced language.

Biden (D)(3): "In Final Stretch, Biden Defends Lead Against Trump's Onslaught" [New York Times]. "A presidential campaign long muffled by the coronavirus pandemic will burst into a newly intense and public phase after Labor Day… Private polls conducted for both parties during and after their August conventions found the race largely stable but tightening slightly in some states… No president has entered Labor Day weekend — the traditional kickoff of the fall campaign — as such a clear underdog since George Bush in 1992…. the possibility of a knockout in the Sun Belt is enticing to Democrats." • Sun Belt readers? What do you think?

Biden (D)(4): "Nobel laureates endorse Joe Biden for US president" [Physics World]. "Democratic Representative Bill Foster of Illinois, the only physicist in Congress, organized the open letter [here] saying it would be an 'important' development for the Biden campaign. He says that 'a core group' of laureates decided on which issues to raise in the letter. Foster, who received the endorsement of 31 laureates when he ran for Congress in 2007, says that when he started calling the laureates to back the intiative, 'it was like pushing at an open door'. He adds that 'there was a lot of enthusiasm because of the difference [the laureates] perceive in the scientific understanding' between the two candidates. Foster believes that the letter reflects the view of much of the US scientific community. 'They recognize the harm being done by ignoring science in public policy,' he says. 'And it's not only science; it's logic and integrity. The scientific community wants to get to a situation in which they trust people's word.'"

Trump (R)(1): "How Trump Is Losing His Base" [Stanley Greenberg, The American Prospect]. "In 2016, a white working-class revolt enabled Trump to win men by an unimaginable 48 points and women by 27. But disillusionment was real in the midterms: The Republican House margin dropped 13 points across the white working class. In the new poll, Trump lost a further 6 points with white working-class women, where Biden only trailed Trump by 8 points (52 to 44 percent). While Trump has been throwing a lot of red meat to his base, white working-class men have not been dislodged from their trajectory, as Trump's margin eroded another 4 points. These are mostly low-wage families, many with children raised by a single parent. . That was a big part of why they voted for Donald Trump in 2016: so he could end Obamacare and its costly mandate, and deliver affordable health insurance for all. When he failed to do so, many voted against the Republicans in the midterms. But the pandemic was the perfect storm. I have never seen such a poignant discussion of the health and disability problems facing families and their children, the risks they faced at work, and the prospect of even higher health care and prescription drug costs. The final straw was a president who battled not for the 'forgotten Americans,' but for himself, the top one percent, and the biggest, greediest companies. That is why most in the Zoom focus groups pulled back from President Trump. Three-quarters of these voters supported Trump in 2016, but less than half planned to vote for him now. Even those who still supported him did not push back when other participants expressed anger with his doing nothing about health care, fostering hatred and racism, dividing the country, siding with the upper classes, and having no plan for COVID-19. This is a life-and-death issue for them, as much as nearly any other group in American society. . Like lots of other working people, they are looking for a leader who will make big changes in health care, fight for working people over big business, and unite the country to defeat the current economic and public-health crisis." • Thanks, Obama! "Fundamentally, nothing will change." Hawley 2024!

* * *

"With Two Months To Go, a Steady Presidential Race" [Cook Political Report]. "First, the good news for the president: he's not trailing as badly as he was back in July and August. On July 1, the FiveThirtyEight model put Biden's lead at almost 10 points (9.5 percent). On August 1, Biden's lead was 8.3 percent. Trailing your opponent by seven points just two months out from an election is less than ideal for an incumbent president. But, at least Trump is no longer in free fall. That's good news as well for the House and Senate candidates — in traditionally red areas who were watching their own races tighten with Trump's summer plunge. The question going forward is if this trend line toward a more competitive national contest will continue (Trump trailed Biden by a more modest 4 points in the FiveThirtyEight model in early March), or if the race has plateaued at Biden +7/+8." And this cautionary note: "[T]he best way to think of the national polls is that they can help get us in the right neighborhood, but not necessarily to the correct address. The bigger the margin for Biden, the less important that we get the exact address. For example, a seven or eight-point margin may not be enough to put Georgia or Texas into Biden's column. But, it's enough to get him the states he needs to hit 270. The closer the margin is to four points (like we saw back in March), the less helpful the national polls become. And, the more we should just assume a close contest for the Electoral College." • Yep.

This seems odd (hat tip, alert reader JM):

Can any readers shed some light?
* * *
–>
Realignment and Legitimacy
"Who Gets to Vote in Florida?" [The New Yorker]. "Six months after Amendment Four passed, the Republican-dominated legislature approved a law dictating that ex-felons could vote only if they first paid all the fines, restitution, and fees imposed at their sentencing. The law may affect as many as seven hundred and seventy thousand Florida residents, about half of whom are Black. In many cases, the totals came to thousands of dollars. The burden was not just large but uncertain: state officials testified that they had no way of knowing how much money felons owe, or whether they have paid; those calculations would take six years or so to complete. The legislation gutted Amendment Four, but DeSantis claimed that he was merely enforcing the language that voters had approved. 'The amendment does not apply to a felon who has failed to complete all the terms of his sentence,' he maintained."
Stats Watch
At reader request, I added some business stats back in. Please give Econintersect click-throughs; they're a good, old-school blog that covers more than stats. If anybody knows of other aggregators, please contact me at the email address below.
Small Business Optimism: "August 2020 Small Business Optimism Rebounds, Exceeding Historical Average" [Econintersect]. "The NFIB Optimism Index increased 1.4 points in August to 100.2, a reading slightly above the historical 46-year average. Seven of the 10 Index components improved, two declined, and one was unchanged. The NFIB Uncertainty Index increased two points in August to 90, the second-highest reading since 2017…. As reported in NFIB's monthly jobs report, job creation plans increased three points to a net 21%, an unprecedented recovery from April's reading of 1%. Construction job growth continues to be strong but owners in the sector are having a particularly hard time finding skilled employees. The manufacturing sector's employment remained strong but not as strong as seen in previous months. The service sector is the missing link and the key to stronger job growth going forward."
Debt: "June 2020 Loan Performance: Serious Delinquencies Spike as Financial Pressures Build for Homeowners" [Econintersect]. "Loan Performance Insights Report for May 2020 shows on a national level, 7.1% of mortgages were in some stage of delinquency (30 days or more past due, including those in foreclosure). This represents a 3.1-percentage point increase in the overall delinquency rate compared to June 2019, when it was 4%…. "Three months into the pandemic-induced recession, the 90-day delinquency rate has spiked to the highest rate in more than 21 years," said Dr. Frank Nothaft, chief economist at CoreLogic. 'Between May and June, the 90-day delinquency rate quadrupled, jumping from 0.5% to 2.3%, following a similar leap in the 60-day rate between April and May.'"
* * *
Retail: "Amazon bans foreign sales of "mystery" seeds in U.S." [CBS]. ""Moving forward, we are only permitting the sale of seeds by sellers who are based in the U.S.," the company said in a statement. Sellers who don't comply with the restrictions could have their account shut down." • More on the Chinese seeds and "brushing" at NC here.
Commodities: "There are still some embers burning in the cooling coal market. Rising natural gas prices and limited supply are pushing some utilities to increase their use of coal…. giving a bit of a boost to a market that's been in a retreat" [Wall Street Journal]. "U.S. regulators estimate that coal's long-declining share of electricity generation will tick up to 22% in 2021 from 18% this year. The share for natural gas-fired power will decline to 35% from 40%, a reversal that shows how sensitive the cutthroat natural-gas market is to shifts in prices and supply. Still, it will do little to salvage a coal business that remains bleak for transportation companies."
Shipping: "A surprisingly robust peak season is taking shape at U.S. seaports. Container imports are flowing back into the U.S. in bigger volumes…. as U.S. retailers rush to restock while consumer spending remains strong and shipping lines push capacity back into commercial trade lanes" [Wall Street Journal]. "The growth is accelerating at both the Atlantic and Pacific gateways but appears stronger recently on the West Coast, where retailers have faster access to domestic distribution channels primed for e-commerce. The surge comes after several retailers reported that stock shortages limited their sales growth as coronavirus-driven lockdowns wound down and shoppers opened their wallets. The demand is driving freight rates to new multi-year highs, boosting an unexpectedly strong financial year for shipping lines."
Manufacturing: "The latest trend in RV'ing: Getting way off the grid" [CNN]. "[A] lot of campers these days are enjoying the seclusion of "boondocking," or camping away from traditional campsites. And away from all those other campers. 'You drive around. You find yourself a spot, you don't have any services of any sort,' said Amanda Watson who's been living in a 1998 Safari motorhome with her husband for eight years. 'That's what I consider boondocking.'… It's a trend that has spawned numerous small startup companies, like Opus, Polydrops and EarthRoamer, to make trailers and recreational vehicles designed for venturing far from paved — or even unpaved — roads. Traditional RV companies, like Winnebago and Airstream, have also taken notice and are now turning out trailers and camping rigs with bigger, knobbier tires and more ground clearance to clamber over rocks and ruts." • Just what the wilderness needs.
Tech:
Overheard at my mom's house just now:

"Ok google, how old is Serena?": 38

"Ok google, how old is Venus?": Venus is 4.503 billion years old.

— Briahna Joy Gray (@briebriejoy) September 7, 2020
The Bezzle: "Elon Musk's growing empire is fueled by $4.9 billion in government subsidies" [Los Angeles Times]. "Tesla Motors Inc., SolarCity Corp. and Space Exploration Technologies Corp., known as SpaceX, together have benefited from an estimated $4.9 billion in government support, according to data compiled by The Times. The figure underscores a common theme running through his emerging empire: a public-private financing model underpinning long-shot start-ups. A looming question is whether the companies are moving toward self-sufficiency — as Dolev believes — and whether they can slash development costs before the public largesse ends. Tesla and SolarCity continue to report net losses after a decade in business, but the stocks of both companies have soared on their potential; Musk's stake in the firms alone is worth about $10 billion. (SpaceX, a private company, does not publicly report financial performance.) Musk and his companies' investors enjoy most of the financial upside of the government support, while taxpayers shoulder the cost."
Employment Situation: "The jobs report is great. But America needs more economic stimulus" [American Enterprise Institute]. "Needless to add, the unusual degree of political uncertainty that we are now experiencing in the run-up to the November elections, will hardly be a source of economic support. That would seem to constitute yet another reason why after celebrating today's better than expected unemployment numbers, policymakers should focus their attention on the strong headwinds that still confront this recovery. Maybe then they will put aside their political differences and reach a political compromise on a new stimulus program that the economy so sorely still seems to need." • The AEI… The Democrats would seem to be pushing on an open door, then.
* * *
Today's Fear & Greed Index: 56 Greed (previous close: 60 Greed) [CNN]. One week ago: 76 (Extreme Greed). (0 is Extreme Fear; 100 is Extreme Greed). Last updated Sep 8 at 12:04pm. Roller coaster!
Rapture Index: Closes down one on Earthquakes. "The lack of major quakes has downgraded this category." [Rapture Ready]. Record High, October 10, 2016: 189. Current: 182. (Remember that bringing on the rapture is a good thing.)
The Biosphere
"'Green' billionaires behind professional activist network that led suppression of 'Planet of the Humans' documentary" [The Grayzone]. "'Planet of the Humans' crossed another bright green line by taking aim at the self-proclaimed climate justice activists themselves, painting them as opportunists who had been willingly co-opted by predatory capitalists. The filmmakers highlighted the role of family foundations like the Rockefeller Brothers Fund in cultivating a class of professional activists that tend toward greenwashing partnerships with Wall Street and the Democratic Party to coalitions with anti-capitalist militants and anti-war groups. Bill McKibben, the founder of 350.org and guru of climate justice activism, is seen throughout 'Planet of the Humans' consorting with Wall Street executives and pushing fossil fuel divestment campaigns that enable powerful institutions to reshuffle their assets into plastics and mining while burnishing their image. McKibben has even called for environmentalists to cooperate with the Pentagon, one of the world's worst polluters and greatest exporters of violence, because 'when it speaks frankly, [it] has the potential to reach Americans who won't listen to scientists.' Perhaps the most provocative critique contained in 'Planet of the Humans' was the portrayal of full-time climate warriors like McKibben as de facto lobbyists for green tech billionaires and Wall Street investors determined to get their hands on the whopping $50 trillion profit opportunity that a full transition to renewable technology represents. Why have figures like Google CEO Eric Schmidt, Michael Bloomberg, Virgin's Richard Branson, and Tesla founder Elon Musk been plowing their fortunes into climate advocacy? The documentary taunted those who accepted these oligarchs' gestures of environmental concern at face value." • Oh, those liberal Democrat NGOs….
Hello, Colorado:
Welp pic.twitter.com/XuUiQVBcHX

— Adam Gaylord ☕🧙‍♂️🐧🥃 (@AuthorGaylord) September 7, 2020
Joys of beekeeping, a thread:
only one of this group of little boys i can hear playing outside is big enough to read the sign aloud saying to stay away from the beehives but they're all big enough apparently to know the f-word. "FUCKING bees?? they'll fucking sting us! let's fucking go!"

— elizabeth (@spindlypete) September 2, 2020
Health Care
Fax:
The UK"s NHS remains among the world's biggest operators of fax machines (8200 in 2018). Plan to create a unified digital system of patients' records was abandoned a decade ago, after $12.5bn was spent on it. No further attempts have been made.https://t.co/ssrNSNuETy pic.twitter.com/ioblVJtXV3

— Adam Tooze (@adam_tooze) September 6, 2020
"Why a Vibrator Was My Best Quarantine Purchase" [Teen Vogue]. "Sure, buying a vibrator can be scary but with the right environment and emotional support, it might just be the best thing to buy on a random night during the quarantine."
Protests and Riots
"Demonstrations & Political Violence In America: New Data For Summer 2020" [Armed Conflict Location & Event Project]. "The US Crisis Monitor — a joint project between ACLED and the Bridging Divides Initiative (BDI) at Princeton University — collects real-time data on these trends in order to provide timely analysis and resources to support civil society efforts to track, prevent, and mitigate the risk of political violence in America. With supplemental data collection extending coverage back to the week of Floyd's killing in May, the dataset now encompasses the latest phase of the Black Lives Matter movement, growing unrest related to the health crisis, and politically motivated violence ahead of the November general election. These data reveal that the United States is in crisis. It faces a multitude of concurrent, overlapping risks — from police abuse and racial injustice, to pandemic-related unrest and beyond — all exacerbated by increasing polarization. This report maps these trends with a view toward the upcoming election, when these intersecting risks are likely to intensify."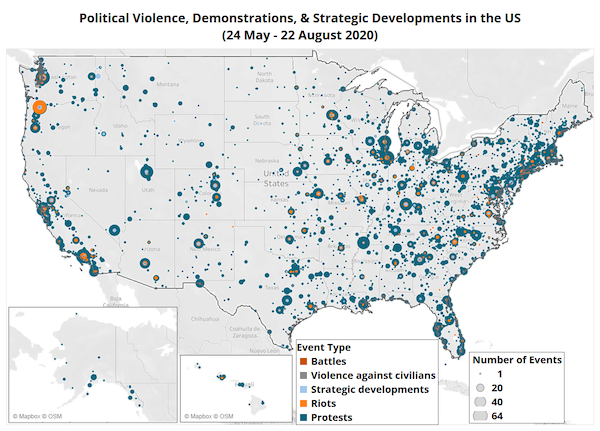 It looks like this project would be able to differentiate between riots and protests, which is something I would like to be able to do. However, I can't find the presumably interactive map where this and other screen dumps come from, after poking around the site for awhile (this dashboard, at "US Crisis Monitor," looks like the closest thing, and it doesn't seem right). Can readers assist?
Groves of Academe
"University Administrators Are Lobbying for Protection From COVID Lawsuits" [Jacobin]. "Back in April, with the COVID-19 pandemic peaking in New York, Purdue University president Mitch Daniels made headlines with a letter suggesting that his school should reopen in the fall. 'It is a huge and daunting problem, but the Purdue way has always been to tackle problems, not hide from them,' Daniels wrote….. But while Daniels was publicly expressing confidence in Purdue's safety plans, the university was busy lobbying Congress on "institutional liability during pandemic response," records show. Purdue was among many schools working in Washington to inoculate themselves from COVID-related lawsuits as they geared up to reopen their campuses in the face of the historic threat posed by the highly contagious virus…. The moves to reopen schools and the concurrent push for protection from lawsuits are happening as college towns have experienced significant COVID-19 outbreaks." • Because of course they are.
"The Pandemic Is No Excuse to Surveil Students" [Zeynep Tufekci, The Atlantic]. "Mandatory COVID-19 apps could result in an even worse outcome than that of tracking athletes—whom universities may be able to coerce more effectively because many athletes need their scholarships—because public health rests on trust and cooperation. Knowing that they are being tracked, some students will no doubt let their phone "sleep" peacefully in their bed while they party elsewhere. If a few get sick, they may hide it, for fear of having their tech trickery found out. This is an extra challenge with the college-student cohort because many of them either experience COVID-19 as a mild illness or are completely asymptomatic, but still seem to transmit the virus efficiently, unlike young children. Universities will likely be hindered in their crucial contact-tracing efforts as students will be inclined to lie. The end result will be more surface-level surveillance, but less useful information—and worse public-health outcomes. Excessive surveillance often backfires in this way."
Class Warfare
"With so many out of work, it's a Labor Day like no other" [Editorial Board, Philadelphia Inquirer]. "The pandemic-induced recession is a dual crisis: an economic crisis and a crisis of despair. By responding swiftly to the former, lawmakers at every level of government can have a positive impact on the latter. The first step is to replace lost wages — Congress can do that by issuing another round of stimulus checks and extending the enhanced unemployment benefits — both provisions of the HEROES act. In addition, lawmakers in D.C. and Harrisburg need to create health insurance bridges to remove the stress that a loss of a job means loss of healthcare — a terrifying prospect especially in a pandemic. In addition, the state and city should look to pass laws that require businesses that re-open to offer laid off employees their job back before they rehire anyone else."
News of the Wired
A fine madness:
I will let out a bit of a secret.

I have been running a full IBM System/370 Mainframe on a $20 Raspberry Pi Zero for ~5 months.

Thousands of lines of COBOL and HLASM running flawless.

Tested an entire bank's mainframe COBOL on it. pic.twitter.com/pVvuNQ9jG7

— Soldier of FORTRAN – 💀 M▼INFR▼MES 💀 (@mainframed767) September 4, 2020
Sherman and Grant are pretty good! Thread:
Civil War generals as Muppets a definitive thread:

— Cecily Zander (@CNZander) September 7, 2020
"John Doe's Answer and Objection to Tro and Injunction" (PDF) [Arizona Board of Regents vs. John Doe aka "asa_covid.parties"] "Defendant is not liable to plaintiff because defendant was entirely engaged in protected First Amendment activities and the Instagram account in question is clearly a parody engaged in rude, offensive, and hyperbolic behaviors. Only a fundamentally stupid person who is wayyy behond retarded would ever think this was a legitimate ASU account posting legitimate ASU statements and information." • John Doe will go far. I do wonder if there are serious issues raised by the case, underneath the transgressive posturing.
News you can use:
35 Awesome Passwords That Will Make You Unhackable pic.twitter.com/Fc0pLElA8b

— ThugCrowd (@thugcrowd) September 5, 2020
* * *
Readers, feel free to contact me at lambert [UNDERSCORE] strether [DOT] corrente [AT] yahoo [DOT] com, with (a) links, and even better (b) sources I should curate regularly, (c) how to send me a check if you are allergic to PayPal, and (d) to find out how to send me images of plants. Vegetables are fine! Fungi and coral are deemed to be honorary plants! If you want your handle to appear as a credit, please place it at the start of your mail in parentheses: (thus). Otherwise, I will anonymize by using your initials. See the previous Water Cooler (with plant) here. Today's plant (DH):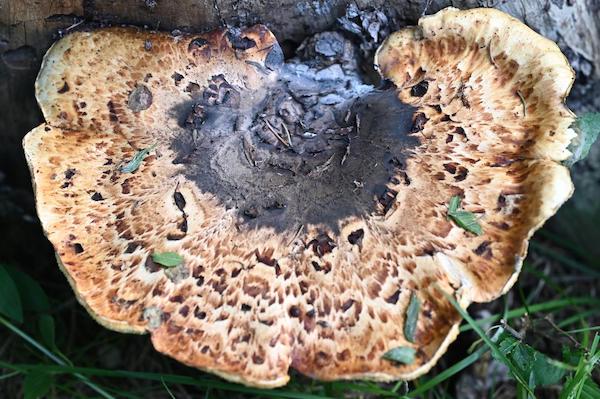 DH: "I do not know the identification of this fungus attached to a dead tree stump, but enjoy!"
* * *
Readers: Water Cooler is a standalone entity not covered by the annual NC fundraiser. So if you see a link you especially like, or an item you wouldn't see anywhere else, please do not hesitate to express your appreciation in tangible form. Remember, a tip jar is for tipping! Regular positive feedback both makes me feel good and lets me know I'm on the right track with coverage. When I get no donations for five or ten days I get worried. More tangibly, a constant trickle of donations helps me with expenses, and I factor in that trickle when setting fundraising goals:
Here is the screen that will appear, which I have helpfully annotated.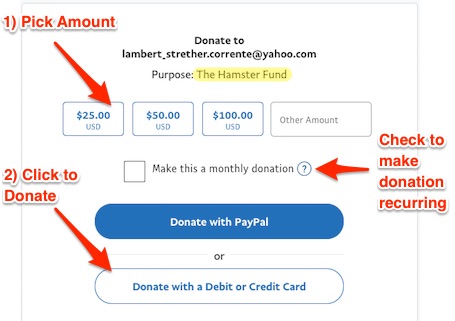 If you hate PayPal, you can email me at lambert [UNDERSCORE] strether [DOT] corrente [AT] yahoo [DOT] com, and I will give you directions on how to send a check. Thank you!

Original Source