By Lambert Strether of Corrente.
Patient readers, I got my 9/11 links all tangled up with my 2020 links, and so stumbled about for a bit. More shortly! –lambert
#COVID19
At reader request, I've added this daily chart from 91-DIVOC. The data is the Johns Hopkins CSSE data. Here is the site.
Here are the United States regions (with positivity):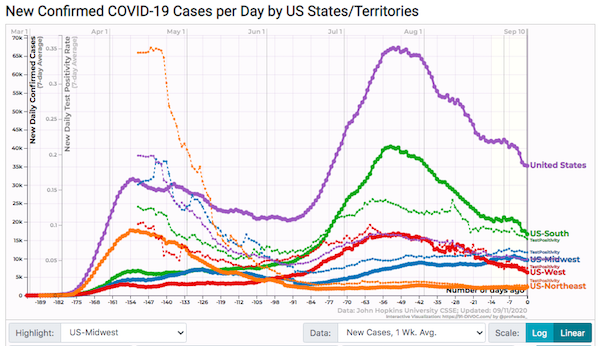 Again, if the curves continue like this for another couple weeks — which they may not — I'll conclude we dodged a bullet on school re-openings, horrid anecdotes aside. And the Midwest looks a lot better in the aggregate.
And here are world regions: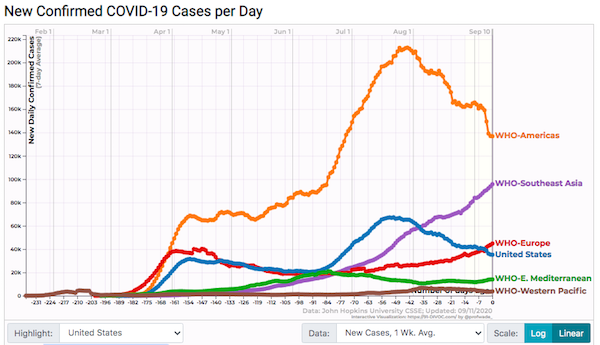 Monroe Doctrine not looking so good, here.
* * *
Politics
"But what is government itself, but the greatest of all reflections on human nature?" –James Madison, Federalist 51
"They had one weapon left and both knew it: treachery." –Frank Herbert, Dune
"They had learned nothing, and forgotten nothing." –Charles Maurice de Talleyrand-Périgord
The electoral map. July 17: Georgia, Ohio, ME-2 move from Leans Republican to Toss-up. Continued yikes. On July 7, the tossup were 86. Only July 17, they were 56. Now they are 91. This puts Biden at 278, i.e. over 270. August 18: Still no changes. August 31: Indiana moves from Likely to Safe Republican. September 9: No changes. Despite the sturm and drang, and the polls, the consensus on the electoral college remains the same: Biden ahead, Trump within striking distance.
So, taking the consensus as a given, 270 (total) – 204 (Trump's) = 66. Trump must win 66 from the states in play: AZ (11), FL (29), MI (16), NC (15), PA (20), and WI (10) plus 1 to win not tie = 102. 102 – 66 = 36. So if Trump wins FL, MI, NC, and PA (29 + 16 + 15 + 20 = 80), he wins. That's a heavy lift. I think I've got the math right this time!
Time to restore the election countdown:
Here, however, is an early voting calendar.
* * *
2020
Trump (R)(1): "Trump's Strength With Military Households Persists in Wake of Atlantic Report" [Morning Consult]. "Morning Consult daily tracking conducted Sept. 6-8 found Trump leading Biden by 10 percentage points, 52 percent to 42 percent, among 2,711 likely voters in military households — those who said they are, or live with, an active-duty service member or veteran. But his advantage with the group has decreased since the 2016 election, when he won military-affiliated voters by 18 points, 57 percent to 39 percent, according to Morning Consult exit polling…. With fewer undecided voters this year, Biden is currently polling 7 points ahead of where Clinton was with likely voters in military households at a comparative point in the race four years ago. His standing is consistent with his average deficit to Trump among the group since The Associated Press first reported the Russian bounty program at the end of June. Trump's strength with the demographic has proven durable."

* * *

"The Neglect of Latino Voters" [The Atlantic]. "During the Democratic primary, Latino groups praised the Sanders campaign's outreach strategy as a model for other candidates. Early in the campaign, Sanders's team placed staff and poured historic amounts of cash into California, Nevada, and Texas, in an attempt to show the campaign's cultural competency and commitment to Latino communities. But Biden's campaign has repeated some of the same mistakes as past presidential candidates, ramping up its outreach only in the past three months after Latino leaders scathingly criticized its primary strategy. The Biden campaign has hired new staff, rolled out its agenda for the Latino community, and announced new ad buys in key states that will "micro-target" Latinos based on ethnicity (and even music taste). The campaign has also tried to capitalize on Kamala Harris's support among Latinos in California, debuting a Spanish-language ad highlighting Biden's selection of Harris as his running mate….. Biden's investment comes as the Trump campaign more aggressively courts conservative Latino support with digital and TV advertising that paints Biden as incompetent, radical, and antibusiness." We'll see, I suppose…
9/11
Readers know I'm not big on anniversaries. And I was far away in Philly when I turned on the TV and saw the Twin Towers burning. But 9/11 seems a little bigger this year, so herewith (and more shortly):

"Cheney Waits Until Last Minute Again To Buy Sept. 11 Gifts" [The Onion]. "'No,' Cheney continued. 'No, 9/11 is about the warm feeling you get when you help an elderly woman cross the street and then whisper to her that the terrorists can strike at any moment. 9/11 is about the satisfaction of telling people to do things and then them doing it—not because they want to, but because they are afraid to do otherwise. 9/11 is about removing Saddam Hussein from power. But most of all, 9/11 is about love.'" • Oh.

"Listen to [9/11 week] Bush Did 9/11 (Part 1) from TrueAnon on Apple Podcasts" (podcast) [TrueAnon]. • A re-upload from earlier this year and the first of a multi-part podcast. I wouldn't take anything causal from this, but the podcasters are really fun, the atmosphere of the time is captured very well, and there are thumbnail portraits of a lot of the players, some well-known, some not.
Realignment and Legitimacy
"Re-Appraising "The West Wing": A Multi-Season Hyperreal Clinton Sobriquet-Cum-Apologia For ThermidoR" [Counterpunch]. "The West Wing is the cornerstone of a hyperreal simulation and simulacrum created by the conglomeration of NBCUniversal and Warner Bros. Television to obfuscate the neoliberal Thermidor within the Democratic Party that has taken place in the past half century. The interplay between the nonfiction simulation on its news broadcast platforms and the simulacrum on its fictional broadcasts creates a wraparound ideological assault that hinders the base constituencies of the Democratic Party from recognizing the leadership superstructure's abandonment of the Keynesian social contract and their targeted evisceration of the welfare state. This particular serial had antecedents, no doubt, but what Aaron Sorkin created here was a text functioning in multiple dimensions so to maintain the hegemony of the neoliberal status quo during the consolidation of its Thermidor. French cultural and media philosopher Jean Baudrillard wrote "Today it's not just about buying signs of power, it's about controlling the code — the process of signification. The elite are not separated from the rabble by purchasing power alone, but by their exclusive and privileged access to signs — and by being at the top end," a perfect description of how this program operates within the larger simulation/simulacra system." • Whoever is operating QAnon has read their Baudrillard…
Stats Watch
At reader request, I added some business stats back in. Please give Econintersect click-throughs; they're a good, old-school blog that covers more than stats. If anybody knows of other aggregators, please contact me at the email address below.
Inflation: "August 2020 CPI: Year-over-Year Inflation Rate Grows to 1.3%" [Econintersect]. "According to the BLS, the Consumer Price Index (CPI-U) year-over-year inflation rate was 1.3 % year-over-year (up from the reported 1.0 % last month)…. The index for used vehicles was the reason for the month-over-month increase of the CPI-U. Medical care services cost inflation changed from 5.9 % to 5.3 % year-over-year."
Rail: "Rail Week Ending 05 September 2020 – Improvement This Week Mostly Due To Holiday Mismatch" [Econintersect]. "Week 36 of 2020 shows same week total rail traffic (from same week one year ago) grew according to the Association of American Railroads (AAR) traffic data. Total rail traffic has been mostly in contraction for over one year – and now is recovering from a coronavirus pandemic. This week's improvement was mostly due to a holiday mismatch. Total rail traffic has two components – carloads and intermodal (containers or trailers on rail cars). Container exports from China are now recovering, container exports from the U.S. declined and remains deep in contraction. This week again intermodal continued in expansion year-over-year and continues on a strengthening trendline. However, carloads remain deep in contraction."
* * *
Retail: "A Covid Mystery: the Terrified, Treat-Yourself Consumer" [Bloomberg]. "At the moment, we need all the dopamine we can get. Perhaps, that's why we are mashing the "buy" button so hard and so often. A day doesn't go by of late without another boffo shopping report beating expectations. At a frenetic pace, we are snatching up cars, homes, home improvement gear, laptops, flowers, treadmills, guns, golf clubs, and video games, to name but a few categories. Best Buy can't keep up with gadget demand. Nintendo just posted a historic billion-dollar profit. And Target sales tripled in the recent quarter. Congress, the Federal Reserve, and a wave of stimulus money has financed much of this spending spree. Pent-up demand is no doubt playing a part as well. When it became clear the zombie apocalypse wasn't nigh, we suddenly needed a new deck and a Stihl chainsaw, Recession be damned. Consumer spending rose 2% in July, according to data released Friday, its third consecutive monthly increase. Meanwhile, consumer confidence is at a six-year low, an incongruous data point that suggests there's something deeper and weirder going on. Specifically, the entire notion of discretionary spending is in flux."
Tech: "Facebook Announces New Campus Pages To Connect College Students Amid Coronavirus" [Forbes]. "Facebook launched a new 'Facebook Campus' feature Thursday that aims to connect college students with their campus communities, returning the social network to its initial college-only roots as students across the country contend with virtual learning and decreased opportunities for face-to-face socializing amid the continuing Covid-19 pandemic." • Facebook invents Facebook!
* * *
Today's Fear & Greed Index: 56 Greed (previous close: 59 Greed) [CNN]. One week ago: 60 (Greed). (0 is Extreme Fear; 100 is Extreme Greed). Last updated Sep 11 at 12:37pm. Where is the Greed of yesterweek?
The Biosphere
"Cascading Risks of COVID-19 Resurgence During an Active 2020 Atlantic Hurricane Season" [JAMA]. "Population protection from hurricane hazards revolves around evacuation and sheltering (ie, transporting and gathering people together in groups). In contrast, effective approaches to slow the spread of COVID-19 are physical distancing and stay-at-home orders (ie, separating and keeping people apart). The inherent incompatibility of these strategies can exacerbate harm in 2 ways. First, when COVID-19 is actively circulating in the community, citizens may fail to heed evacuation orders, increasing the risk of severe injuries and drowning from direct exposure to hurricane hazards that will require emergency rescues and care in already over-full health care facilities. Second, based on the evolving understanding of the transmissibility of COVID-19, asymptomatic persons who are infected and actively shedding virus may transmit COVID-19 to others during the course of evacuation and sheltering because community members are placed in close proximity in congregate or household settings, and may remain confined indoors for an extended duration." • What do readers in on the Gulf and East Coasts think?
Health Care
"China Starts Testing Covid-19 Nasal Spray Vaccine" [Bloomberg]. "The newest Covid-19 vaccine candidate to start human testing is the first where volunteers won't get a painful injection. Instead, they'll receive a spray through the nose. China on Wednesday approved phase I human testing for the nasal spray vaccine, which is co-developed by researchers at Xiamen University and Hong Kong University, as well as by vaccine maker Beijing Wantai Biological Pharmacy Enterprise Co. Intranasal spray has previously been developed as a vaccine for the flu and is recommended for use among children and adults who want to avoid the more common needle injection. While it is not the most frequent choice for delivery, scientists around the world are working to develop sprays as an alternative to muscle jabs for all sorts of vaccines."
"Speak softly to scatter fewer coronavirus particles, say researchers" [Straits Times]. "More quiet zones in high-risk indoor spaces, such as hospitals and restaurants, could help to cut coronavirus contagion risks, researchers have said, after a study showed that lowering speaking volume can reduce the spread of the disease. In efforts to rein in transmission, , scientists said on Wednesday (Sept 9), in an advance copy of a paper detailing their study. 'The results suggest that public health authorities should consider implementing 'quiet zones' in high-risk indoor environments, such as hospital waiting rooms or dining facilities,' wrote the six researchers from the University of California, Davis." • Another victory for introverts…
Thought leader leading… where?
It is the right time to examine employer based health care. It no longer fits with who we are.

Thanks @USofCare. Let's tie health to existence not employment. https://t.co/9v5wVFpLqn

— Andy Slavitt @ 🏡 (@ASlavitt) September 9, 2020
Since Slavitt opposes #MedicareForAll, it's hard to know what his alternative is. Something overly complicated, presumably means-tested, with complex eligibility requirements, and preserving a role for the health insurance companies. I know! Germany — but without the regulation part!
Screening Room
"The people freaking out about 'Cuties' should try it. They might find a lot to like." [Alyssa Rosenberg, WaPo]. "This is very much a film about what happens to kids when their parents aren't physically or emotionally present in their lives. It's highly skeptical of social media platforms and what sexualized mainstream culture teaches children about what behavior is normal or desirable. Though its characters post provocative dance videos and wear revealing costumes, "Cuties" doesn't present their actions as liberated or admirable: Instead, the movie repeatedly shows other characters reacting with sadness or disgust when these girls try to act like grown women." • Rosenberg gives a shout-out specifically to–
"Pretty Babies" [Rod Dreher, The American Conservative]. "The film centers around Amy, an 11-year-old girl living in immigrant housing in Paris. Her family is from Senegal, and are devout Muslims. When the film opens, her father has gone back to Senegal, and her mother is awaiting his return. We discover that he has gone to their homeland to take a second wife. Amy watches her mother grieve this, and try to be okay with it, because it is permitted in their traditional Islamic culture. An older Senegalese woman in the community, her "auntie," is an enforcer of tradition. A Muslim would no doubt see this film differently, but I sympathized strongly with Amy's rebellion against this cruel culture. The problem is that Amy has nobody to talk to about it. She falls in with some bad girls at school — bratty, highly sexualized kids who have formed an amateur dance troupe (The Cuties), and are trying to win a competition. Amy eventually wins acceptance in the group, and steals her cousin's smartphone so she can become part of their culture. In what I think is the most important part of this movie — a theme that a better film could explore without descending into the filth it ostensibly criticizes — is the role that technology plays in corrupting these girls. There is no dirty old man who trains these kids to dress and act like sluts. They self-exploit through the smartphone and social media. Here's a scene from when Amy is just beginning to hang out with the Cuties. They are in the girls' bathroom at school. The Cuties are watching hardcore porn on a smartphone, and commenting on it in revolting detail."
Black Injustice Tipping Point
"The Racial Disparity in Unemployment Benefits" [The RAND Blog]. "Unemployment insurance—as 40 million Americans have started to discover during the pandemic shutdowns—is not a single public program, but a set of 53 distinct programs. Each state (plus the District of Columbia, Puerto Rico, and the Virgin Islands) has its own method for defining a worker's past earnings, its own formula for determining how much of that income will be replaced by unemployment insurance, and its own cap on benefits. It's the federal government's intention that at the end of all those calculations states replace about half of a worker's lost wages. So a worker earning $50,000 a year, at 50 percent replacement, should get $481 per week. This is no problem in Massachusetts, the most generous state, where benefits are capped at $823. But in Mississippi, the least generous state, the cap is $235. Instead of getting 50 percent replacement, that worker would get 24 percent. This drastic state variation is where the difference between the Black and white benefit comes from. The Black population in the United States—and by extension, the Black labor force—is not evenly distributed across the country. Six states have a near-zero percentage of the country's Black workforce: Maine, South Dakota, Idaho, Vermont, Wyoming, and Montana. Another dozen states have fewer than 0.5 percent each. On the other hand, one in four Black workers lives in just three states: Texas (8.5 percent), Florida (8.1 percent), and Georgia (8.0 percent). Black workers are less financially supported in unemployment than white workers simply by virtue of where they live. The problem is that, overall, the states with more Black workers have less generous unemployment benefits…. That Black workers live in less generous states is not an accident of modern policymaking. The reason unemployment is administered by states at all—unlike Social Security, which is federally operated—dates back to the New Deal in the 1930s." •
"That was no typo: The median net worth of black Bostonians really is $8" [Boston Globe]. "The median net worth for non-immigrant African-American households in the Greater Boston region is $8, according to "The Color of Wealth in Boston," a 2015 report by the Federal Reserve Bank of Boston, Duke University, and the New School. This Spotlight seven-part series — which began Sunday — tackles the city's most vexing question: Does Boston deserve its racist reputation?" • I'm guessing yes.
Class Warfare
A reader throws this mailing from Stephanie Bastek, DC DSA (Stomp Out Slumlords), over the transom:
We got some pretty incredible news from Park 7 today—a rent forgiveness offer that is the most robust we've seen yet!! This is a vindication of our entire vision for the pandemic—Chris Donatelli caved to this because of economic disruption, the rent strike, the threat of unrest, protests at his house, the rally, and all the insanely bad press he's been getting because of this tenant movement we're building. But we also can't underplay the importance of the federal eviction moratorium (which we won for the same reasons!!), which truly forced landlords to confront the weakness of their position. They're practically begging us for the rent. We have flipped the tables on them, and this is a really. big. deal.

We're going to meet with the Park 7 tenants to talk through this and what moves they want to make—conditions and management's treatment are still a huge bone of contention—but goddamn does this feel glorious. I don't think this is either the last or the best payment plan we'll see, but for now, here are the highlights:

* all rent payments through December 2020 are doubled, and can be partial (so $1500 knocks out $3000 of the balance, but $100 knocks out $200 as well)

* allows partial payments and doesn't have a hard start date

* if tenants pay their rent on time and in full through February 2021,

any remaining balance is totally wiped out (!?!)

* requires no documentation or proof from anyone, just happens automatically

* doesn't preclude a rent strike starting March 2021 either 😎

I'll keep seeing you in the streets
Are readers aware of similar efforts, successful or not, in their own areas?
"Marx, Race, and Neoliberalism" [Adolph Reed, New Labor Forum]. "Race is a taxonomy of ascriptive difference, that is, an ideology that constructs populations as groups and sorts them into hierarchies of capacity, civic worth, and desert based on 'natural' or essential characteristics attributed to them. Ideologies of ascriptive difference help to stabilize a social order by legitimizing its hierarchies of wealth, power, and privilege, including its social division of labor, as the natural order of things. Ascriptive ideologies are just-so stories with the potential to become self-fulfilling prophecies. They emerge from self-interested common sense as folk knowledge: they are 'known' to be true unreflectively because they seem to comport with the evidence of quotidian experience. They are likely to become generally assumed as self-evident truth, and imposed as such by law and custom, when they converge with and reinforce the interests of powerful strata in the society. Race and gender are the most familiar ascriptive hierarchies in the contemporary United States."
"It's High Time We Tell the Truth about the Evils of Marx and Marxism" [National Review]. "As for my insults and dismissals of an infantile, deadly ideology, I plead doubly guilty, again without apology. Let us say this candidly: Marxism is obviously unworkable and astonishingly asinine on its face. It's about time we stop hemming and hawing and hand-wringing and say so. Why treat with kid-gloves something so ridiculous and destructive and deadly? Let's finally admit and shout at the top of our lungs that Marx's ideology doesn't merely 'distort markets,' but creates mass poverty, despair, and death. Let's quit treating it like just another belief system and show it for the evil that it is." • Not like capitalism!
News of the Wired
"Did Megaproject Research Pioneer Behavioral Economics? The Case of Albert O. Hirschman" (PDF) [Bent Flyvbjerg, in The Oxford Handbook of Megaproject Management (2017)]. "' In the world of civic projects, the first budget is really just a down payment. If people knew the real cost from the start, nothing would ever be approved. The idea is to get going. Start digging" (Brown 2013). Willie Brown here expresses the essence of : If people knew the real costs and difficulties from the start, nothing would ever be approved. Therefore it is good they don't know, because we need to get things going, to start digging. This point of view is also the oldest and most common justification of why low-balled cost estimates and optimistic business cases are considered acceptable in large projects (Flyvbjerg 2009). Following this idea, a certain amount of ignorance – Hirschman called it "providential ignorance" (Alacevich 2014: 157) – is desirable when beginning new projects, because without it projects would not get started. And starting projects is good, according to both Hirschman and Brown."
* * *
Readers, feel free to contact me at lambert [UNDERSCORE] strether [DOT] corrente [AT] yahoo [DOT] com, with (a) links, and even better (b) sources I should curate regularly, (c) how to send me a check if you are allergic to PayPal, and (d) to find out how to send me images of plants. Vegetables are fine! Fungi and coral are deemed to be honorary plants! If you want your handle to appear as a credit, please place it at the start of your mail in parentheses: (thus). Otherwise, I will anonymize by using your initials. See the previous Water Cooler (with plant) here. Today's plant (JU):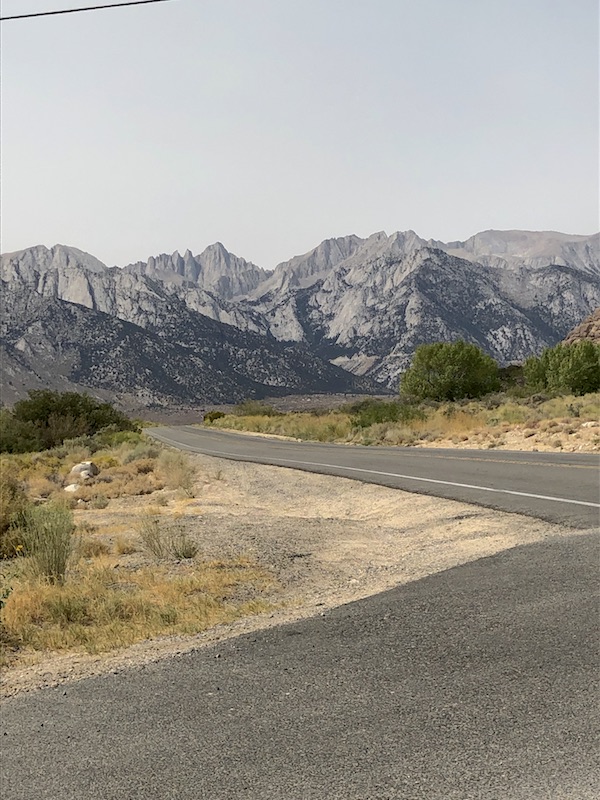 JU writes: "It's all about the whims of the winds in a wildfire and the west side of the Sierra sucks, but luck was with us in the far east as the view of Mt Whitney (center peak) and surrounding cirque had quite a crispness that was unexpected in the summer where we took up smoking. We didn't quite drive as fast as Bogart in High Sierra, no need to rush as the road to the portal was closed except for those fetching one of around 20 cars, waiting for backpackers to come down from on high."
* * *
Readers: Water Cooler is a standalone entity not covered by the annual NC fundraiser. So if you see a link you especially like, or an item you wouldn't see anywhere else, please do not hesitate to express your appreciation in tangible form. Remember, a tip jar is for tipping! Regular positive feedback both makes me feel good and lets me know I'm on the right track with coverage. When I get no donations for five or ten days I get worried. More tangibly, a constant trickle of donations helps me with expenses, and I factor in that trickle when setting fundraising goals:
Here is the screen that will appear, which I have helpfully annotated.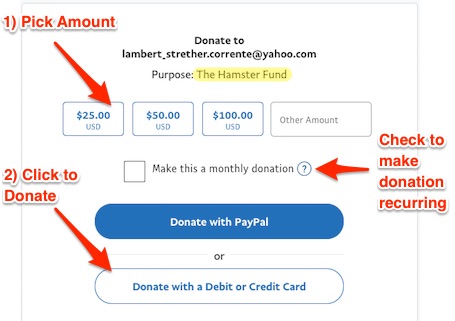 If you hate PayPal, you can email me at lambert [UNDERSCORE] strether [DOT] corrente [AT] yahoo [DOT] com, and I will give you directions on how to send a check. Thank you!

Original Source