By Lambert Strether of Corrente.
Readers, I got a late start on Water Cooler for reasons that I assume are now obvious. (The Tip Jar is to your right). The politics section is almost devoid of content, which I will remedy shortly. –lambert
Bird Song of the Day
I have yet to master the search function at Macauley Library. I was hoping for your typical red robin, but I got one from Tanzania. Well, why not? Pretty to wake up to, though!
#COVID19
At reader request, I've added this daily chart from 91-DIVOC. The data is the Johns Hopkins CSSE data. Here is the site.
Here are the United States regions: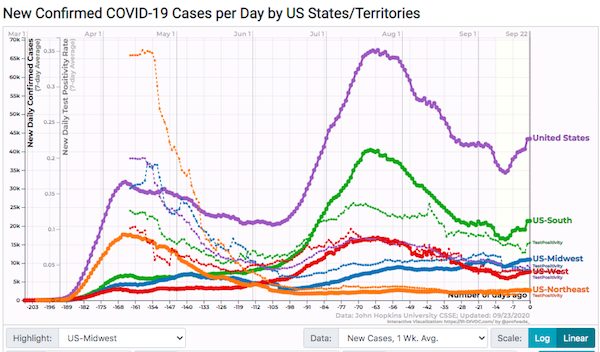 If current trends continue, we could be where we were August 1 in 30 days — the election now being 42 days out.
Here are the Swing States as I conceive them (see below):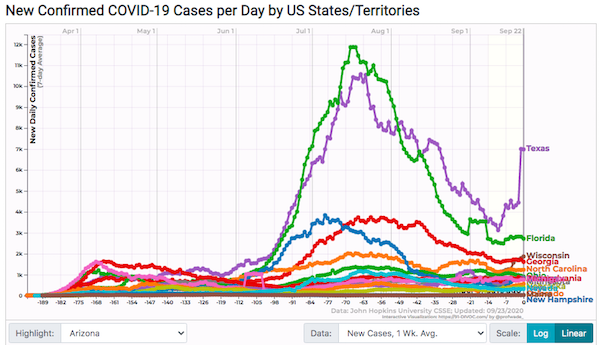 Sorry for all the states jammed together at the bottom of the chart, but if one of those states is yours, that's good news, right? (I tried the log version, but it just doesn't convey the spikiness visually, and the spikiness is the point. I also did not include a separate positivity chart, because it was unreadable.) As alert reader anon suggested yesterday, the Texas spike is indeed "a data reporting anomaly" (says the Times).
Politics
"But what is government itself, but the greatest of all reflections on human nature?" –James Madison, Federalist 51
"They had one weapon left and both knew it: treachery." –Frank Herbert, Dune
"They had learned nothing, and forgotten nothing." –Charles Maurice de Talleyrand-Périgord
The electoral map. July 17: Georgia, Ohio, ME-2 move from Leans Republican to Toss-up. Continued yikes. On July 7, the tossup were 86. Only July 17, they were 56. Now they are 91. This puts Biden at 278, i.e. over 270. August 18: Still no changes. August 31: Indiana moves from Likely to Safe Republican. September 9: No changes. September 14: No changes. September 21: No changes. Biden still at 278, Trump increases to 187, 73 are tossups. 187 + 73 = 260, so…. MI, WI, MN looking pretty tempting! For all the sturm and drang, and the polls, the consensus on the electoral college remains remarkably static: Biden ahead, Trump within striking distance. Of course, if Trump is still in striking distance on Election Day, that will count as a loss. Maybe.
The election countdown:
Here is an early voting calendar. Maybe we'll have a whole series of October surprises, since election day is gradually being devalued as an event.
And here are mail-in voting ruies, which naturally differ state by state.
UPDATE Here are is an enormous spreadsheet on voting equipment, so you can check your own jurisdiction (hat tip, UserFriendly. I should really aggregate these onto a map…).
* * *
2020
Here is my list of Swing States, with votes in the Electoral College and selected ballot initiatives in parentheticals):

Arizona (11) (marijuana; taxes(=)
Colorado (9) (taxes, lottery, abortion, paid medical leave)
Florida (29) (minimum wage)
Georgia (16) (declaratory relief)
Iowa (6) (Constitional convention)
Maine-02 (1) (vax)
Michigan (16) (privacy)
Minnesota (19)
Nebraska-02 (1) (payday lending; gambling)
Nevada (6) (marriage)
New Hampshire (4)
North Carolina (15)
Ohio (18)
Pennsylvania (20)
Texas (38)
Wisconsin (10) (crime victims)

Inspired by the thread starting with Arizona Slim's comment here, I went to Ballotpedia and added selected, hopefully hot button, ballot initiatives, because sometimes they affect turnout. If you live in a swing state, please comment if I got the hot buttons wrong!

MN: A beautiful big tent:

Ad for Rep. Collin Peterson (D-Minnesota), who holds a district Trump won 2:1, says he "led the fight for President Trump's trade bill and the farm bill" and was "the only Democrat to vote against impeaching Trump." Calls Ilhan Omar comparison "laughable." #mn07 pic.twitter.com/h1hUfFzSFW

— Greg Giroux (@greggiroux) September 23, 2020

See, it's OK to love Trump when there are extenuating circumstances. Like your team jersey.

* * *

Biden (D)(1): "The Meatsack Candidacy and Theories of the Election" [Mike the Mad Biologist]. "Let's suppose, for discussion's sake, that Biden does win. What would this mean for the consulting class?… But Biden is essentially running a 'meatsack candidacy.' Trump is a historically unpopular figure, and has horrifically mismanaged both a pandemic response and the economic response to said pandemic. Biden's strategy is essentially to fill a sack with meat, tie up the sack, paint "NOT TRUMP" on its side, and then count on enough people ranging from conservatives for whom abortion isn't a strict litmus test (an unspoken, but defining characteristic of Never Trumpers) to leftists who oppose a second Trump term to vote out Trump…. So suppose Biden wins. What does this mean for how Democrats run campaigns?" • My answer to this has been that future Democrat campaigns will ignore policy, and be driven by team spirit ("party loyalty"), fear, and hate, reinforced by constant classlighting, amplified by Democrat control of the commanding heights in the press and the intelligence community, and all very much playing to the mass anxieties of "predatory precarity" in the Democrats' PMC base. Oh, and identity politics — in essence, an offer for select "voices" to join the PMC, or at least aspire to — as outlined by Brooklyn persona non grata Adolph Reed. So if "the left" wishes to campaign using a different theory of change, there is a way forward. If they are allowed to take it. Or force open the path. Note that to the extend "the left" wishes to "push Biden left," that is the power they must build. And it is precisely that power that liberal Democrats will never freely give them, as the 2016 and 2020 campaigns clearly show. So, optimism!

* * *
Stats Watch
At reader request, I added some business stats back in. Please give Econintersect click-throughs; they're a good, old-school blog that covers more than stats. If anybody knows of other aggregators, please contact me at the email address below.
There are no statistics of note today.
* * *
Shipping: "Container rates are on fire. How can you invest in that?" [Freight Waves]. "Containers have wrestled the ocean-shipping headlines away from tankers and bulkers as stratospheric China-to-California box rates approach $4,000 per forty-foot equivalent unit (FEU). Container shipping, declares a glowing new report by Fearnleys Securities, is "The Unsung Hero." How can investors expose themselves to this historic trans-Pacific rate spike? Can box stocks woo tanker and bulker shareowners? And what do the curiously low prices of some container equities say about sentiment toward a U.S. recovery? FreightWaves interviewed four shipping analysts to delve into these questions. Their responses highlight significant differences between investing in container shipping versus bulk commodity shipping." • People who like this sort of thing will find this the sort of thing they like.
Shipping: "The only money-making business for major passenger airlines these days is cargo. Just four of the world's 30 largest passenger carriers by revenue reported profits in the second quarter… and all are based in export-heavy Asia markets that are seeing a surge in demand for electronic components and personal protective medical equipment" [Wall Street Journal]. "It's a stark sign of the upheaval in the global airline industry, which has been staggered by the enormous downturn in travel under the coronavirus pandemic. The four profitable airlines last quarter were South Korea's Korean Air and Asiana Airlines and Taiwan's EVA Airways and China Airlines. They're among many carriers that are flying passenger jets as virtual freighters."
Shipping: "Cass sees freight trends accelerate sequentially in August" [Freignt Waves]. "Cass Information Systems' (NASDAQ: CASS) August report showed further sequential gains in the freight markets with shipments increasing 8% and expenditures climbing 9.9% from July. Data for the month echoes other recent bullish trends and commentary from the trucking sector, showing that April was the bottom for volumes with continual improvement in freight demand since. Cass' expenditures index shows freight payments troughed in May, improving each month after. 'This supports what we have heard from public carriers across all modes, and we believe the trend of 'better' has continued here in September. Expect the Cass Index to move back closer to year-ago levels in the coming months, although we think it will stay in negative territory until 2021,' commented the report's author, Stifel Financial equity research analyst David Ross."
Tech: Which face will Twitter choose as, er, representative, and which will it crop out?
At first, I didn't understand what this was; you need to click on the pictures.

When your blood stops boiling afterwards, understand that humans build algorithms, humans have biases—>computers can have biases. https://t.co/8mVbzSlQLA

— George Gantsoudes #BLM (@Peds_Ortho) September 20, 2020
There's a ton of these floating out on the Twitter. Try it yourself!
Honey for the Bears: "One of the financial mechanisms that helps keep commodities shipments keep moving is seizing up. Companies are seeing a severe cutback in trade-credit insurance…. presenting a new challenge for metals suppliers even as they try to take advantage of recovering raw materials demand" [Wall Street Journal]. "Suppliers take out the insurance in case customers don't pay, while banks use it to insure deals they finance. But insurers have become wary of metals because of challenges in sectors like the automotive and aviation industries that use the raw materials in factories. Credit insurance is less prevalent in the U.S. than in Europe, but some $600 billion in American sales were covered by credit insurance last year. Brokers say insurers now are turning down more requests while premiums are soaring and payouts are mounting in a strained economy." • "Wary of… industries that use the raw materials in factories." Oh.
* * *
Today's Fear & Greed Index: 49 Neutral (previous close: 52 Neutral) [CNN]. One week ago: 56 (Greed). (0 is Extreme Fear; 100 is Extreme Greed). Last updated Sep 23 at 1:51pm. Mr. Market still on the couch.
The Biosphere
Quite right. Let no organic matter leave the property:
Don't strip material out of your yard this fall. Let plants mulch in place. Leave all the stubble and leaves that animals live in. Get diverse local perennials and trees into the ground for next year. pic.twitter.com/GV3F3R3D0k

— Dr. Ryan Gott 🏳️‍🌈🐞🌱 (@Entemnein) September 22, 2020
Health Care
"Covid-19: An open letter to the UK's chief medical officers" [British Medical Journal]. "We write to express our grave concern about the emerging second wave of covid-19…. c) The goal of "herd immunity" rests on the unproven assumption that re-infection will not occur. We simply do not know whether immunity will wane over months or years in those who have had covid-19…. d) Despite claims to the contrary from some quarters, there are no examples of a segmentation-and-shielding policy having worked in any country.Notwithstanding our opposition to a policy of segmentation-and-shielding, we strongly support measures that will provide additional protection to those in care homes and other vulnerable groups." • There is a lot of food for thought in this letter; well worth a read.
Water
"Erin Brockovich says US is now in a water crisis far worse than people realize" [The Hill]. "Instead, Brockovich has created a Community Healthbook to allow individuals and community groups to "report and review health related concerns and community environmental issues by geographic area and health related topic." • Enabling citizen science! Super constructive!
Police State Watch
"'It seems systematic': Doctors group finds 115 cases of head injuries from crowd control weapons during nationwide protests" [USA Today]. "At least 115 people were injured this summer when police shot them in the head or neck with so-called "less-lethal" projectiles at protests over racial injustice and police brutality, according to a report published Monday… The sheer number of incidents in those two months was shocking, said Dr. Rohini Haar, the lead investigator for the analysis and an emergency physician in Oakland, California. ',' Haar said. 'It seems like there needs to be a reckoning with the use of force in protests.'" • Well, I should hope so. I mean, we don't want cops shooting people in the head randomly….
Black Injustice Tipping Point
"Entrenched racist culture at heart of Portsmouth's police department, officers and former chief say" [Virginian-Pilot]. "Time and again a group of mostly white officers have pushed back against modernization, worked to oust chiefs, stifled the careers of minority and female officers and sought retribution on anyone seen as a threat to their "good-ol'-boy" system of racial intimidation, according to eight Black officers who recently spoke to The Virginian-Pilot. That view is shared by former Portsmouth Police Chief Tonya Chapman, who also detailed numerous racist incidents that occurred while she was in charge…. Officers who talked with The Pilot, however, said the system has been kept in place with the help of some current and former city council members who wanted to stay in the good graces of the department's Fraternal Order of Police, which, the officers said, consistently blocked change." • Given what we know about Breonna Taylor, we should also be looking at property development…
"Officer involved in Breonna Taylor shooting sends email to colleagues ahead of expected announcement" [The Hill]. "'DO NOT give the pencil pushers at the top, you know the ones who are too scared to hold the line, a reason to open investigations on you. The same ones that couldn't make decisions to save their lives,' [Jon Mattingly, one of the Louisville Metro Police Department (LMPD) officers involved in the fatal shooting of Breonna Taylor] stated in the letter. 'We need leaders that lead from the front and not in a room under a desk. Do what you need to do to go home you your family. Just do it with dignity and make sure you can justify your actions because everything down there is recorded.'" • Not a confidence builder….
Our Famously Free Press
"Matt Taibbi is a cancel culture hypocrite" [Yasha Levine, Immigrants as a Weapon]. (This preview has my token as a free newsletter subscriber, which is why you can see it at all. Levine is always worth reading.) "It was painful to watch Matt — the supposed heir to Hunter S. Thompson — groveling like this in real time. But I could sort of understand why he went that way." • A distressing read, especially since I enjoy listening to Taibbi. Personally, I think cancel culture is turning into "I don't like that tweet so I'm gonna call your boss and get you fired." Like everything else idpol-related — #MeToo, especially — the rot sets in pretty fast…
Guillotine Watch
"The luxury air business is booming — as many Californians struggle to breathe" [Los Angeles Times]. "For buyers at the upper reaches of the real estate market, peace of mind can be purchased in the form of deluxe air filtration systems that keep the world at bay. Carl Gambino, a luxury real estate agent with Compass in Los Angeles, said that his clients had started bringing up clean air as a must-have amenity in the last year." • Well, at least they're not selling gulps of oxygen on the street. That was my picture.
Class Warfare
"Misery on Main Street: COVID-19 takes a grim toll on America's small businesses" [NBC]. "[Small businesses] are vital to the American economy. They employ 60 million people, almost half the nation's private-sector workforce, and create prosperity for U.S. families. They generate tax revenues that fund public safety, schools, parks and other municipal services and bring local color to their communities…. But misery has swept through Main Street, thanks to COVID, dealing body blows to owners, workers, landlords and town budgets. And although the Paycheck Protection Program supplied almost $700 billion to help small businesses crushed by COVID, many merchants' operations — and futures — remain in peril. Even in late 2019, before the virus hit and when the economy was thriving, small businesses were ill-equipped to deal with setbacks. Federal Reserve Bank of New York research from April showed only one in five healthy small firms had sufficient cash reserves to continue normal operations if they experienced a two-month revenue loss. So it was no surprise that 1.4 million small businesses either closed or suspended operations in the three months that ended in June 2020, according to figures from Oxxford Information Technology Ltd. " • It's almost like under capitalism, there are meant to be only two classes, and small businesses on a human scale just aren't meant to survive. Speaking of which–
"Stop Waiting for Capitalism to Cure Inequality" [Bloomberg]. "[C]apitalism's invisible hand hasn't made the market more efficient when it comes to eliminating racial barriers. Anyone who'd been paying attention was well aware that progress over the past few decades had been scant. White men still dominated the top jobs and made the most money, and Black workers in particular had been left behind." • Yes, if only the "top jobs" "looked like America" "fundamentally, nothing would change."
"Richest Farms Reap Bulk of U.S. Agriculture Aid, Study Shows" [Bloomberg]. "In the 2018-2019 crop years, more than half of about $23 billion in payments from the Market Facilitation Program went to the top 10% of farms, according to the Environmental Working Group, a critic of agribusiness subsidies. The funds are meant to offset harm from the U.S.-China trade war. 'We aren't really helping people who need the help,' EWG analyst Anne Schechinger said in an interview. 'Small farms don't have a lot of assets to fall back on during hard times and then they are the ones most likely to actually go out of business.'" • In other words, a rake-off for the American gentry? I'd be shocked if that were true.
"Wokies are the establishment" [Redline]. "If you have managed to convince massive corporations that they should re-educate themselves and their staff, paint themselves rainbow, and cancel any dissenters when these same companies refuse to even pay their factory workers a living wage, you are not the oppressed one. I doubt very much if Marx would consider the validation of the identities of wealthy, university-educated, bourgeois brats a priority over the struggle of the proletariat."
1619 project continues in the news:
Can the @nytimes's #1619project get any more dishonest? They appear to have edited their own website to remove the claim that 1619 was America's "true founding" some time between August 2019 and @nhannahjones's denial today that she ever intended to claim that. pic.twitter.com/3oQtLJDcQd

— Phil Magness (@PhilWMagness) September 18, 2020
See the thread for Hannah-Jones' response…
News of the Wired
The world of fashion:
if i bought this dress i like in two colors i can give one to brian to give back to me for christmas and forget i saw it and then it's like i'm giving HIM a gift… the gift of one less gift he has to buy me …?

— elizabeth (@spindlypete) September 23, 2020
* * *
Readers, feel free to contact me at lambert [UNDERSCORE] strether [DOT] corrente [AT] yahoo [DOT] com, with (a) links, and even better (b) sources I should curate regularly, (c) how to send me a check if you are allergic to PayPal, and (d) to find out how to send me images of plants. Vegetables are fine! Fungi and coral are deemed to be honorary plants! If you want your handle to appear as a credit, please place it at the start of your mail in parentheses: (thus). Otherwise, I will anonymize by using your initials. See the previous Water Cooler (with plant) here. Today's plant (JM):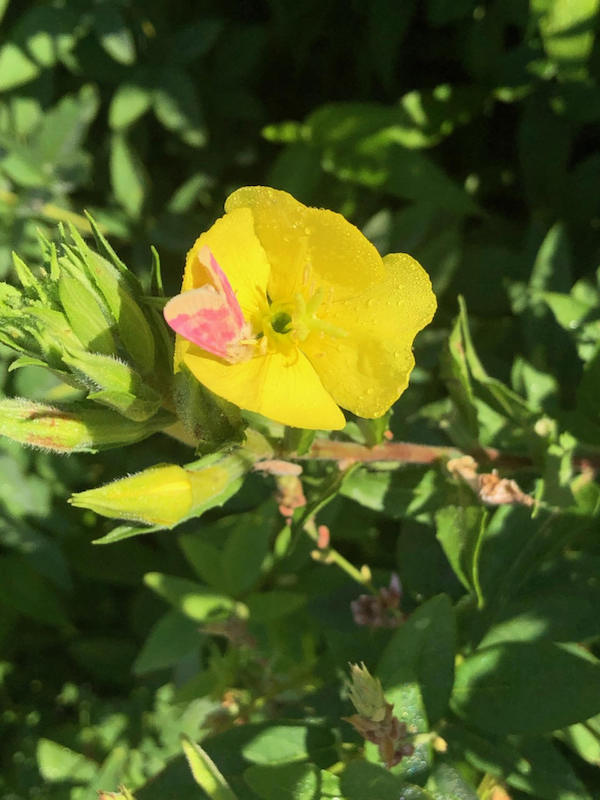 JM writes: "Primrose moth (Schinia florida), resting in a wild Evening Primrose flower. This small moth, which has a wingspan of about 3 cm, does not pollinate the plant. It does drink the nectar of the Evening Primrose flower and lays its eggs on the plant. When the caterpillars are born, they feed on the plant." Co-evolution!

Original Source