This is Naked Capitalism fundraising week. 1305 donors have already invested in our efforts to combat corruption and predatory conduct, particularly in the financial realm. Please join us and participate via our donation page, which shows how to give via check, credit card, debit card, or PayPal. Read about why we're doing this fundraiser, what we've accomplished in the last year, and our current goal, expanding our reach.
Patient readers, I'll have more in a bit, especially on the debate (though what I have should be sufficient to spark discussion). I also watched the debate today, having only listened yesterday, and I have some thoughts on that. I'm late because after stupidly upgrading to a *.0 version of iOS, I discovered that the genius programmers from Cupertino have botched email again, this time by butchering out the Send function. Something one expects an email program to do.
By Lambert Strether of Corrente.
Bird Song of the Day
What a busy, gossipy little creature!
#COVID19
At reader request, I've added this daily chart from 91-DIVOC. The data is the Johns Hopkins CSSE data. Here is the site.
Here are the United States regions: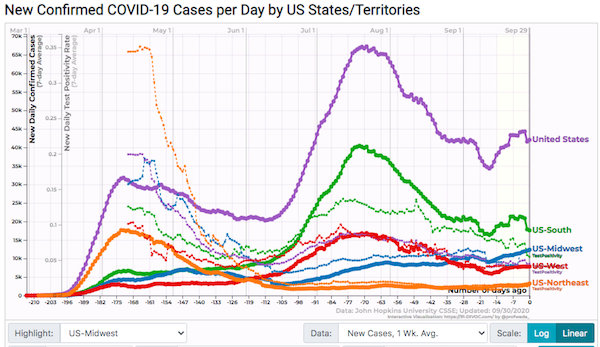 Flattening continues… I would say that the South dropping is Texas getting its data under control.
Here are the Swing States as I conceive them (see below):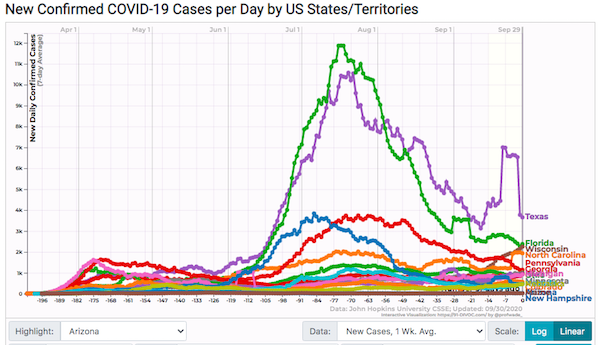 Both Wisconsin worrisome, North Carolina flattening.
ND: "North Dakota's Virus Outbreak Is as Bad as Florida's in July" [Bloomberg]. "In North Dakota, the seven-day average of new cases climbed to a record 413, according to data compiled by Johns Hopkins University and Bloomberg News. That's about 54 daily cases per 100,000 residents. By comparison, Florida's July 15 peak was about 55 cases per 100,000. Deaths are climbing, too, but they typically appear in the data weeks after cases."
TX: "COVID-19 exposed the failure to learn lessons from prior pandemics" [Houston Chronicle]. "During the past 12 years, the federal government slashed funding for emergency preparedness by more than half. State spending didn't close the gaps. Epidemiologists scrambling to trace the spread quickly were overwhelmed — not just in smaller, rural health departments but in Houston, the fourth-largest city in the nation and home to the biggest medical complex in the world. In only six months, COVID-19 crippled not only Texas but the country and the world as well. Many of the dire consequences — nearly 206,000 deaths in the U.S., 15,884 in Texas and a hobbled economy — can be blamed on a lack of preparation and a fumbled response, public health officials said. The chaos that accompanied the federal and state response to COVID-19 was not only foreseeable, according to public health officials who saw their budgets cut year after year. It was preventable. We were warned."
Politics
"But what is government itself, but the greatest of all reflections on human nature?" –James Madison, Federalist 51
"They had one weapon left and both knew it: treachery." –Frank Herbert, Dune
"They had learned nothing, and forgotten nothing." –Charles Maurice de Talleyrand-Périgord
The electoral map. July 17: Georgia, Ohio, ME-2 move from Leans Republican to Toss-up. Continued yikes. On July 7, the tossup were 86. Only July 17, they were 56. Now they are 91. This puts Biden at 278, i.e. over 270. August 18: Still no changes. August 31: Indiana moves from Likely to Safe Republican. September 9: No changes. September 14: No changes. September 21: No changes. September 22: Ohio moves from Toss-up to Leans Republican. September 25: Ohio moves from Leans Republican to Toss-up. For all the sturm and drang, and the polls, the consensus on the electoral college remains remarkably static: Biden ahead, Trump within striking distance. Of course, if Trump is still in striking distance on Election Day, that will count as a loss. Maybe.
The election countdown:
Here is an early voting calendar. Maybe we'll have a whole series of October surprises, since election day is gradually being devalued as an event.
And here are mail-in voting ruies, which naturally differ state by state.
NEW "2020 General Election Early Vote Statistics" [U.S. Elections Project (SlayTheSmaugs)].
"How to Vote in 2020: Everything You Need to Know" [Bloomberg]. "Casting a ballot in the U.S. isn't always easy, with a complex web of varying state rules governing how and when you can vote. The Covid-19 pandemic has introduced even more complexity in 2020, as many states have made significant changes to allow for more early voting or voting by mail. More changes could come as lawsuits in several states wind their way through the courts. That's why Bloomberg News is answering these critical questions so you'll know what you need to do to make sure your vote is counted in the 2020 election."
Here are is an enormous spreadsheet on voting equipment, so you can check your own jurisdiction (hat tip, UserFriendly. I should really aggregate these onto a map…).
* * *
The Debates
"The debate was a mud-wrestling match — and Biden won" [The Spectator]. "Time and again, Biden turned to the camera, not to his opponent, and spoke directly to American voters in a clear, calm voice. He was appealing directly to undecided voters, renouncing the most extreme elements of his party's platform. It's unclear if that stance will hurt him with progressives and socialists in his party, as Trump said it would during the debate. More likely, their white-hot hatred for Trump will overwhelm their coolness for Biden. Trump entered the debate as an underdog, trailing roughly six to eight points in polls of 'likely voters' in swing states. Facing that uphill slog, he couldn't come on stage and sit on a lead. Not that Donald Trump would ever do that. He lives to attack, and attack he did. Unfortunately for the President, the way he attacked failed to pin down his opponent and actually hurt Trump. By repeatedly interrupting Biden, talking past the agreed time-limits (when Biden did not), and attacking the moderator, Fox News's Chris Wallace, Trump underscored what so many independent voters find objectionable about him…. Trump's problem was a characteristic one. He was determined to win every contested issue, to respond to every attack on him or his record, even if he had to interrupt his opponent or the moderator to do it…. The goal isn't to win each point, it is to win the match. That's why chess grandmasters sometimes sacrifice a pawn. . It did this time." ¨• Zing!

* * *

"Donald Trump & Joe Biden 1st Presidential Debate Transcript 2020" [Rev]. • From that transcript, there are two issues that I mentally flagged:

The Public Option (Biden)

Chris Wallace: (13:06) Sir, you'll be happy. I'm about to pick up on one of your points to ask the Vice President, which is, he points out that you would like to add a public option to Obamacare.

Vice President Joe Biden: (13:17) Yes.

Chris Wallace: (13:17) And the argument that he makes and other Republicans make is that that is going to end private insurance.

Vice President Joe Biden: (13:23) It is not.

Chris Wallace: (13:25)

If I start asking the question.

President Donald J. Trump: (13:26) That's not what your party says, by the way. Chris Wallace: (13:29)

And it will end private insurance and create a government takeover of health.

Vice President Joe Biden: (13:32) It does not. It's only for those people who are so poor they qualify for Medicaid they can get that free in most States, except Governors who want to deny people who are poor Medicaid. Anyone who qualifies for Medicaid would automatically be enrolled in the public option. The vast majority of the American people would still not be in that option. Number one. Number two.

President Donald J. Trump: (13:57) Joe, you agreed with Bernie Sanders, who's far left, on the manifesto, we call it. And that gives you socialized medicine.

Vice President Joe Biden: (14:04)

Look, hey. President Donald J. Trump: (14:05)Are you saying you didn't agree?

Vice President Joe Biden: (14:06) I'm not going to listen to him. The fact of the matter is I beat Bernie Sanders.

President Donald J. Trump: (14:10) Not by much.

On health care policy: This is just bizarre (and I'm not going to check Biden's website because a candidate should be able to describe his own policy in his own words, or his own staffers' words). First, the public option is an option. Automatic enrollment, not being optional, makes no sense. Second, a means-tested public option that is in essence a Medicaid buy-in is like no public option I've ever heard of. Third, apparently Biden's so-called public option is apparently geography-tested besides being means-tested: It will only apply in the 12 states that did not join ObamaCare's Medicaid expansion. Fourth, why not just legislate Medicare expansion, if that is the goal, instead of this kludgy workaround? Biden's odd version of the public option will no doubt increase coverage somewhat, but at the cost of even more complexity and hence no decrease in cost, leaving ObamaCare as vulnerable to assault as ever.

On Trump's interruptions: They seem strategic in that they are designed to drive a wedge between Sanders voters and Biden. (Trump's mention of the "manifesto" is lazy and sloppily ill-prepared. What he is doing is accepting the false hype of public option advocates that it will be both cheaper and better than private plans, and so will outcompete them. This of course assumes good faith on the part of the drafters of the public option legislation, a dubious proposition at best.

The Proud Boys (Trump)

Again from the transcript:

Chris Wallace: (41:33)

You have repeatedly criticized the vice president for not specifically calling out Antifa and other left wing extremist groups. But are you willing tonight to condemn white supremacists and militia group and to say that they need to stand down and not add to the violence in a number of these cities as we saw in Kenosha and as we've seen in Portland.

President Donald J. Trump: (41:57)

Sure, I'm will to do that.

Chris Wallace: (41:59)

Are you prepared specifically to do it.

President Donald J. Trump: (42:00)

I would say almost everything I see is from the left wing not from the right wing.

Chris Wallace: (42:04)

But what are you saying?

President Donald J. Trump: (42:06)

I'm willing to do anything. I want to see peace.

Chris Wallace: (42:08)

Well, do it, sir.

Vice President Joe Biden: (42:09)

Say it, do it say it.

President Donald J. Trump: (42:10)

What do you want to call them? Give me a name, give me a name, go ahead who do you want me to condemn.

Chris Wallace: (42:14)

White supremacist and right-wing militia.

President Donald J. Trump: (42:18)

Proud Boys, stand back and stand by. But I'll tell you what somebody's got to do something about Antifa and the left because this is not a right wing problem this is a left wing.

Vice President Joe Biden: (42:28)

He's own FBI Director said unlike white supremacist, Antifa is an idea not an organization-

President Donald J. Trump: (42:35)

Oh you got to be kidding me.

Vice President Joe Biden: (42:36)

… not a militia. That's what his FBI Director said.

First, Wallace's "Why will you not condemn_______?" demand the oldest gotcha trick in the book, but I can't say that Trump handled it especially well, given the online reaction. What I heard, after Wallace's demand, was Trump's "Sure, I'm will[ing] to do that." After back and forth, where Wallace demands specifics, and Trump rightly demands a name, we get the key pasage from Trump: "Proud Boys, stand back and stand by" (which keys off Wallace's original "they need to stand down." Still, it's not every day a right wing militia gets a name-check from the President of the United States!x

[More shortly].
Stats Watch
At reader request, I added some business stats back in. Please give Econintersect click-throughs; they're a good, old-school blog that covers more than stats. If anybody knows of other aggregators, please contact me at the email address below.
Employment Situation: "September 2020 ADP Employment Gains 749,000" [Econintersect]. "ADP reported non-farm private jobs growth at 749,000 which was within expectations. A quote from the ADP authors: 'The labor market continues to recover gradually.' Last month's employment gain was revised upward. It will be interesting to see what the BLS says is jobs growth."
Manufacturing: "September 2020 Chicago Purchasing Managers Barometer Surges to 62.4 in September" [Econintersect]. "The Chicago Business Barometer improved from 51.2 to 62.4…. The Fed manufacturing surveys were all in expansion this month."
GDP: "Third Estimate 2Q2020 GDP 'Improves' to -31.4%" [Econintersect]. "The third estimate of second-quarter 2020 Real Gross Domestic Product (GDP) improved from -31.7% to -31.4%…. The coronavirus lockdown is the reason for the decline – and pushed GDP into contraction. No doubt the U.S. economy was in a recession."
* * *
Retail: "Some of the biggest business at some retail stores this year has been in liquidating the inventory. Retail bankruptcies, liquidations and store closings in the U.S. reached a record in the first half of 2020…. as the pandemic accelerated big industry trends including the shift to online shopping" [Wall Street Journal]. "A report by professional-services firm BDO USA says 18 retailers filed for chapter 11 protection in the first six months of a tumultuous year, and 11 more entered bankruptcy from July to mid-August. That puts this year on pace to rival 2010, when 48 retailers filed for bankruptcy in the wake of the financial crisis. The upheaval is roiling supply chains from suppliers to manufacturers and consumer outlets. Retailers announced nearly 10,000 store closings from January to mid-August, and analysts expect as many as 25,000 stores to close by the end of the year." • I hate to use the word "carnage"….
Retail: "Costco Wholesale is zeroing in on working capital and inventory levels as it adjusts to upheaval in consumer purchasing under the pandemic. The members-only retailer has been bringing in new suppliers for highly-sought products… after it struggled in the early months of lockdowns to keep shelves filled with popular items like sanitizing wipes and baking yeast" [Wall Street Journal]. "Overall inventory levels rose 7% to $12.2 billion in the year ended Aug. 30 compared with the prior year, slower than the 12% growth in overall revenue…. At the same time, accounts payable—the amount of money the company owes to its suppliers—rose by 21% to $14.2 billion, as the company sold inventory faster than planned."
Tech:
LOOK MA, NO HANDS: New owner of Tesla Model X relaxes in the passenger seat as the high-tech vehicle seemingly drives itself down a North Carolina highway.

"Current Autopilot features require active driver supervision," the company says. https://t.co/AsfaYoCgLt pic.twitter.com/P8JA5bgnh4

— ABC News (@ABC) September 29, 2020
What could go wrong?
Mr. Market: "Why Are Markets So Calm About the Second Wave?" [John Authers, Bloomberg (DD)]. Deck: "Evidence is building that herd immunity may be closer than many had predicted." A bunch of proxies that seem pretty thin, to me, then: "During the first wave in the spring, the U.S. Deep South was largely spared. The only city to suffer a serious outbreak was New Orleans, which went ahead with its huge annual Mardi Gras festival. The rest of Louisiana was relatively unaffected. Once the second wave hit, however, it was the reverse. New Orleans saw only a minor tick up in infections, and was the state's least-affected parish. This at least gives some circumstantial support to the notion that the initial outbreak helped the city develop enough herd immunity to avoid a second wave." And: "Another interesting test case is the very different and dispersed state of Idaho. The county of the Sun Valley ski resort kept accepting tourists into late March. It's easy to identify it on the following chart — and also to see that it went on to be by far the least affected county when the rest of the state suffered its first wave later in the summer." And the caveat, since this is not a work of epidemioloy but Mr. Market whispering: "It's far too soon to say that the case for herd immunity having arrived already has been proved. A second major outbreak in a place that has already had one would do fatal damage to the theory. But every scientific development is eagerly gobbled up by the investment community. If you want an explanation for why the second wave is being received so much more calmly than the first, these ideas have much to do with it." • If the reason the "second wave" is less deadly than the first is that we slaughtered the old folks early ("heterogeneity"), well, everything's going according ot plan…
* * *
.
Today's Fear & Greed Index: 49 Neutral (previous close: 49 Neutral) [CNN]. One week ago: 52 (Neutral). (0 is Extreme Fear; 100 is Extreme Greed). Last updated Sep 29 at 12:15pm. Still stuck in neutral!
The Biosphere
"Water on Mars: discovery of three buried lakes intrigues scientists" [Nature]. "Two years ago, planetary scientists reported the discovery of a large saltwater lake under the ice at Mars's south pole, a finding that was met with excitement and some scepticism. Now, researchers have confirmed the presence of that lake — and found three more….. The lakes are spread over about 75,000 square kilometres — an area roughly one-fifth the size of Germany. The largest, central lake measures 30 kilometres across, and is surrounded by 3 smaller lakes, each a few kilometres wide…. [T]he prospect that these lakes are remnants of Mars's wet past remains an exciting possibility. 'There may have been a lot of water on Mars,' says Pettinelli. "And if there was water, there was the possibility of life.'"
Health Care
"'Game Changing' 15-Minute Covid-19 Test Cleared in Europe" [Bloomberg]. "Becton Dickinson and Co.'s Covid-19 test that returns results in 15 minutes has been cleared for use in countries that accept Europe's CE marking, the diagnostics maker said Wednesday. The test is part of a new class of quicker screening tools named for the identifying proteins called antigens they detect on the surface of SARS-CoV-2. Becton Dickinson expects to begin selling the test, which runs on the company's cellphone-sized BD Veritor Plus System, in European markets at the end of October. It will likely be used by emergency departments, general practitioners and pediatricians." • Not for consumers, then. Sadly.
Police State Watch
"Police union makes financial-only counter-offer" [Chicago Sun-Times]. "The Fraternal Order of Police is demanding a 17% pay raise over four years — and half that amount for officers who are allowed to live outside the city — in a financial-only deal that includes none of the 40 disciplinary reforms demanded by Mayor Lori Lightfoot." • Who's running the city, anyhow?
Class Warfare
"How Amazon hid its safety crisis" [Reveal News]. "But a new cache of company records obtained by Reveal from The Center for Investigative Reporting – including internal safety reports and weekly injury numbers from its nationwide network of fulfillment centers – shows that company officials have profoundly misled the public and lawmakers about its record on worker safety. They reveal a mounting injury crisis at Amazon warehouses, one that is especially acute at robotic facilities and during Prime week and the holiday peak – and one that Amazon has gone to great lengths to conceal. With weekly data from 2016 through 2019 from more than 150 Amazon warehouses, the records definitively expose the brutal cost to workers of Amazon's vast shipping empire – and the bald misrepresentations the company has deployed to hide its growing safety crisis…. Amazon's injury rates have gone up each of the past four years, the internal data shows. In 2019, Amazon fulfillment centers recorded 14,000 serious injuries – those requiring days off or job restrictions. The overall rate of 7.7 serious injuries per 100 employees was 33% higher than in 2016 and nearly double the most recent industry standard." • Good reporting, with a guide to individual hell-holes warehouses.
"Disney To Lay Off 28,000 Workers From Theme Parks, Cruise Lines" [HuffPo]. "Disney announced Tuesday that it plans to lay off 28,000 employees from its Parks, Experiences and Products segment ― which includes Disneyland in California and Disney World in Florida ― as the coronavirus crisis continues to wreak economic havoc nationwide. About 67% of the layoffs will affect part-time employees, Disney Parks Chairman Josh D'Amaro said in a statement. Those affected range from salaried employees to nonunion hourly workers within the company's theme parks, resorts, cruise ships, vacation experiences and consumer products divisions…. D'Amaro blamed California officials for refusing to "lift restrictions that would allow Disneyland to reopen." The office of California Gov. Gavin Newsom (D) said it is working on new guidelines that would allow the state's theme parks to reopen but hasn't yet provided a timeline, The Los Angeles Times reported last week."
"Who is Hispanic?" [Pew Research]. "Only 23% of U.S. adults who self-identify as Hispanic or Latino have heard of the term Latinx, and just 3% say they use it to describe themselves, according to a bilingual survey of U.S. Hispanic adults the Center conducted in December 2019. Awareness and use vary across subgroups, with young Hispanics ages 18 to 29 among the most likely to have heard of the term – 42% say they have heard of it, compared with 7% of those ages 65 or older. Use is among the highest for Hispanic women ages 18 to 29 – 14% say they use it, compared with 1% of Hispanic men in the same age group who say they use it." • You'll never put any diversity consultant's kids through college with that kind of performance, Latinexes. Get with the program!
Predatory precarity, a thread:
i know what the *right* answer is — absolutely, because fuck that, don't punish a person for things out of their control, open the gate for as many people as i can, etc.

OTOH i also have to consider if i dilute my academic "brand" too much those letters become useless

— Hellhole, is it me you're looking for? 🔥🕳️ (@JamminJava4) September 28, 2020
News of the Wired
Chaser:
He should have recorded the preceding dialogue he crafted to make it work:

— <concerned, earnest tone> "Uncle, I need to talk to you."

— "What is it?"

— <head slightly down> "No, please come sit with me."

Top notch. Took me a week to appreciate it. 😂 😂

— Glenn Greenwald (@ggreenwald) September 30, 2020
Shot:
Bom dia com alegria! @ggreenwald 🤣🤣🤣 pic.twitter.com/be0hBt5LZl

— David Miranda (@davidmirandario) September 30, 2020
* * *
Readers, feel free to contact me at lambert [UNDERSCORE] strether [DOT] corrente [AT] yahoo [DOT] com, with (a) links, and even better (b) sources I should curate regularly, (c) how to send me a check if you are allergic to PayPal, and (d) to find out how to send me images of plants. Vegetables are fine! Fungi and coral are deemed to be honorary plants! If you want your handle to appear as a credit, please place it at the start of your mail in parentheses: (thus). Otherwise, I will anonymize by using your initials. See the previous Water Cooler (with plant) here. Today's plant (Re Silc):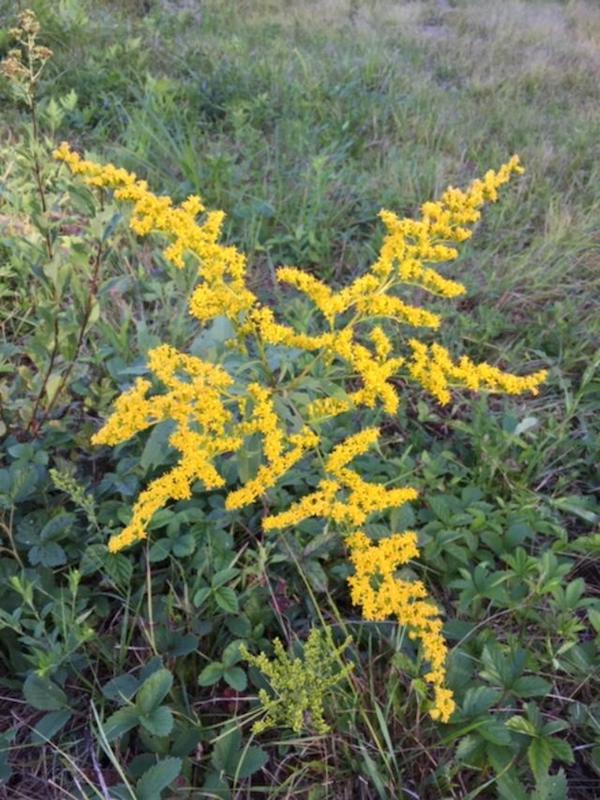 Hopefully pollinators are going crazy!

Original Source