This is Naked Capitalism fundraising week. 1412 donors have already invested in our efforts to combat corruption and predatory conduct, particularly in the financial realm. Please join us and participate via our donation page, which shows how to give via check, credit card, debit card, or PayPal. Read about why we're doing this fundraiser, what we've accomplished in the last year, and our current goal, more original reporting.
Cast Your Votes for Fat Bear Week's Chunky Champion Smithsonian
Providing decent living with minimum energy: A global scenario Science Direct. Interesting.
Silent witnesses: what do three corpses have to do with a corruption case? FT
FAA administrator flies MAX in next step to recertification Leeham News and Analysis
WTO to Let EU Levy $4 Billion in Boeing/Airbus Dispute Industry Week
California task force will consider paying reparations for slavery Los Angeles Times
Newsom vetoes bill to provide rehiring protections for workers laid off amid COVID-19 pandemic Los Angeles Times. Of relevance:
Congress to the working class: pic.twitter.com/pwRkPBAapR

— 💜🧡🤍 (@marie_chellie) September 26, 2020
#COVID19
Epidemiology and transmission dynamics of COVID-19 in two Indian states (PDF) Science. Extremely important. From the Discussion: "Our findings provide insight into the epidemiology of COVID-19 in resource-limited populations based on comprehensive surveillance and contact tracing data from the Indian states of Tamil Nadu and Andhra Pradesh. Our analysis suggests substantial variation in individuals' likelihood of transmitting: …. While the role of children in transmission has been debated (36, 37), we identify high prevalence of infection among children who were contacts of cases around their own age; this finding of enhanced infection risk among individuals exposed to similar-age cases was also apparent among adults." Here is a summary; and a second summary. And of the same study–

Largest COVID-19 contact tracing study to date finds children key to spread, evidence of superspreaders Princeton Environmental Institute. "Lead researcher Ramanan Laxminarayan, a senior research scholar in PEI, said that the paper is the first large study to capture the extraordinary extent to which SARS-CoV-2 hinges on 'superspreading,' in which a small percentage of the infected population passes the virus on to more people. The researchers found that 71% of infected individuals did not infect any of their contacts, while a mere 8% of infected individuals accounted for 60% of new infections."

HKU mechanical engineering study reveals airborne transmission of COVID-19 opportunistic in nature and poor indoor ventilation plays a role in transmission (press release) The University of Hong Kong. From July, still germane. Here is a long video on the same topic from the scientist, Yuguo Li:

One in Seven Dire COVID Cases May Result from a Faulty Immune Response Scientific American. A review of the literature.

CDC's credibility is eroded by internal blunders and external attacks as coronavirus vaccine campaigns loom WaPo. Testing, masking, data, and aerosol guidance blunders are not minor. Absent that series of debacles, all of which are systemic, as we say, in origin, the CDC would be in a much stronger position politically, even if the way it's being held to account now is extremely ugly. (The article includes the PMC solution, which is, naturally, to insulate PMC performance from accountability in the political realm altogether with a magic board that assures its "independence.")

Community Health Workers and Covid-19 — Addressing Social Determinants of Health in Times of Crisis and Beyond NEJM

Surviving The Waves Of A Pandemic Storm: How To Fix The Supply Chain Flaws Exposed By COVID-19 Health Affairs

How to fix public health weaknesses before the next pandemic hits WaPo.

The common denominator is from clinical records and public health monitoring in ways that provide evidence on how to control the virus while minimizing the disruption to the economy and society. Electronic medical records — envisioned as a boon for public-health surveillance, providing data that could be readily analyzed — turn out to be much better for billing than for the exchange of data.

Because of course they did. (On standardized data systems, see NC here and here.)

A time for choosing: Masks or freedom? Twila Brase, Alpha News
China?
Hong Kong police officers, staff recognised in honours list for efforts during city's anti-government protests South China Morning Post

Explainer: How Beijing's security law transformed Hong Kong – month 3 Hong Kong Free Press

The new centre of dissent: Britain becomes hub for Hong Kong activists Guardian

* * *

China manufacturing data shows small rebound in September Macau Business but China's manufacturing activity surges in September, affirming its path to economic recovery Business Insider and China's manufacturing PMI rises in September Xinhua

China, Food Security and Geopolitics The Diplomat

Surging Prices Turn Pork Into Luxury Holiday Gift in China Bloomberg

At Milan Fashion Week, Brands Double Down On China Jing Daily (J-LS).

U.S. Aims to Boost Taiwan's Role Funding Global Infrastructure Bloomberg
Tokyo Stock Exchange paralysed by hardware glitch in worst-ever outage Reuters
55 years of impunity: How Indonesia is going backwards after the 1965 genocide Jakarta Post
Filipinos make up 4% of nurses in the US, but 31.5% of nurse deaths from COVID-19 Business Insider
Force majeure: Apparel buyers' deadly weapon The Daily Star
India
Occupation without End The Baffler
Syraqistan
The killing fields of Libya's Tarhuna Middle East Eye
UK/EU
Millions at risk of being blocked from Covid tests FT. "[T]heir identity cannot be verified by a credit-checking company contracted by the government to prevent the abuse of the public testing system."

Deloitte selling contact tracing services to local UK health officials Guardian. Comment: "So private contractors set up a parallel contact tracing system, outside of public health, and now another private contractor is selling councils the chance to 'integrate it' back into the public health system. Have I got that right?"

Warren Mosler, Bill Mitchell, Patricia Pino, Chris Cook: Modern Monetary Theory and the economics of an independent Scotland (podcast) The MMT Podcast
New Cold War
RussiaGate
DNI Letter Supports Allegation That Hillary Clinton Created 'Russiagate' Moon of Alabama
Rescuing US Intelligence Project Syndicate
Alex Younger: 'The Russians did not create the things that divide us — we did that' FT. Outgoing MI6 head.
Trump Transition
'One more serious try' on COVID-19 relief yields progress but no deal The Hill. Still not getting why Pelosi didn't take the lowball trillion or so that the Administration was offering — simply to relieve working class suffering, if for no other reason — and then go pedal to the medal after the inevitable Blue Wave in November gives them control of the Senate in addition to the House. Which is inevitable, right?
2020
The Politics That Led to the "Worst Debate" Black Agenda Report

Why Liberals Hate Leftists Caitlin Johnstone, Medium

Centrism:

"Human sacrifice was a bloody and barbaric tradition – but could stopping it altogether be why the rains aren't coming?" – bronze age opinion columnist

— Tom Whyman (@HealthUntoDeath) September 29, 2020
Health Care
Investors Extracted $400 Million From a Hospital Chain That Sometimes Couldn't Pay for Medical Supplies or Gas for Ambulances Pro Publica

For the first time, drug makers and PBMs must jointly face an insulin price fixing lawsuit STAT
Assange
Your Man in the Public Gallery: Assange Hearing Day 21 Craig Murray
Big Brother Is Watching You
Palantir Grabs $21 Billion Valuation, but Debut Comes With a Hiccup WSJ

Scars, Tattoos, And License Plates: This Is What Palantir And The LAPD Know About You Buzzfeed
Gunz
Court OK's $800M settlement for MGM Resorts, Vegas victims ABC
Class Warfare
Sara Nelson: the union boss fighting to 'put workers first' FT. On the other hand, industrial unions aren't much good if their industry disappears…

Lies, Money And Cheating: The Deeper Story Of The College Admissions Scandal NPR

The Radical History of Corporate Sensitivity Training The New Yorker
How the "Sixth Sense" Shapes the Skeleton Weizmann Institute
What I Learned From Spending Almost 2 Months of the Pandemic Living With My Elderly Parents Time
Antidote du jour (via):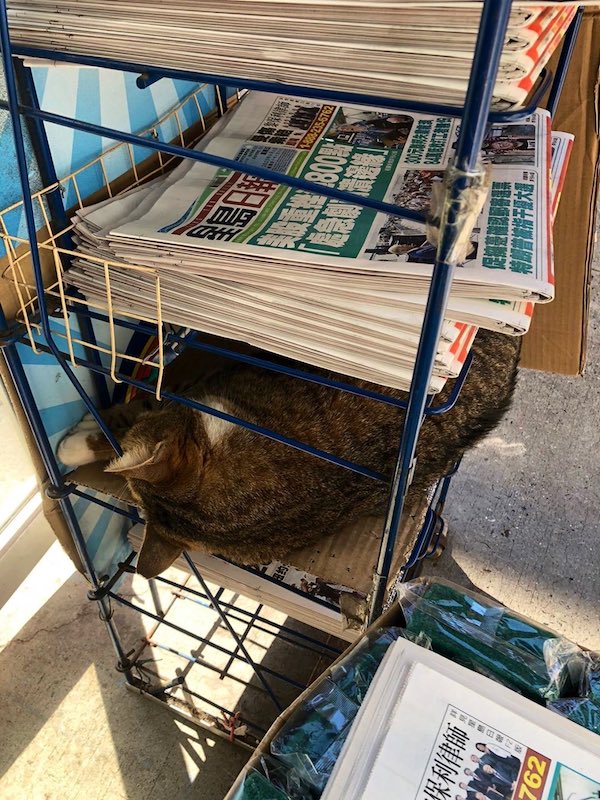 See yesterday's Links and Antidote du Jour here.

Original Source