This is Naked Capitalism fundraising week. 1479 donors have already invested in our efforts to combat corruption and predatory conduct, particularly in the financial realm. Please join us and participate via our donation page, which shows how to give via check, credit card, debit card, or PayPal. Read about why we're doing this fundraiser, what we've accomplished in the last year, and our current goal, more original reporting.
By Lambert Strether of Corrente
Bird Song of the Day
Seems appropriate, especially since crows have consciousness…
#COVID19
At reader request, I've added this daily chart from 91-DIVOC. The data is the Johns Hopkins CSSE data. Here is the site.
Here are the United States regions: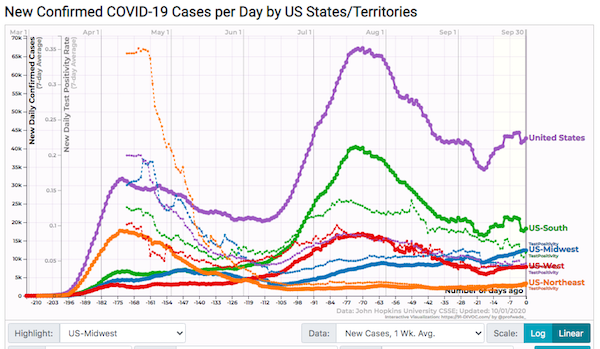 Flattening continues… Except for that unsightly uptick.
Here are the Swing States as I conceive them (see below):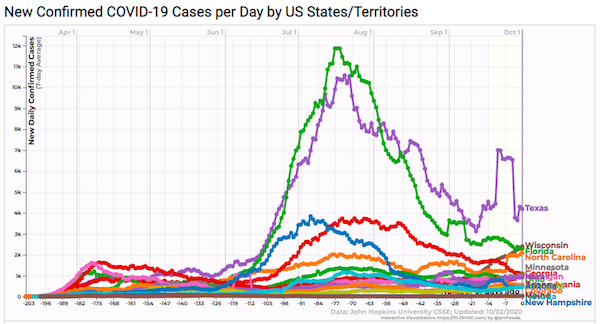 Texas bounces (more data woes?), Wisconsin continues steady rise.
Politics
"But what is government itself, but the greatest of all reflections on human nature?" –James Madison, Federalist 51
"They had one weapon left and both knew it: treachery." –Frank Herbert, Dune
"They had learned nothing, and forgotten nothing." –Charles Maurice de Talleyrand-Périgord
The electoral map. July 17: Georgia, Ohio, ME-2 move from Leans Republican to Toss-up. Continued yikes. On July 7, the tossup were 86. Only July 17, they were 56. Now they are 91. This puts Biden at 278, i.e. over 270. August 18: Still no changes. August 31: Indiana moves from Likely to Safe Republican. September 9: No changes. September 14: No changes. September 21: No changes. September 22: Ohio moves from Toss-up to Leans Republican. September 25: Ohio moves from Leans Republican to Toss-up. For all the sturm and drang, and the polls, the consensus on the electoral college remains remarkably static: Biden ahead, Trump within striking distance. Of course, if Trump is still in striking distance on Election Day, that will count as a loss. Maybe.
The election countdown:
Here is an early voting calendar. Maybe we'll have a whole series of October surprises, since election day is gradually being devalued as an event.
And here are mail-in voting ruies, which naturally differ state by state.
NEW "2020 General Election Early Vote Statistics" [U.S. Elections Project (SlayTheSmaugs)].
"How to Vote in 2020: Everything You Need to Know" [Bloomberg]. "Casting a ballot in the U.S. isn't always easy, with a complex web of varying state rules governing how and when you can vote. The Covid-19 pandemic has introduced even more complexity in 2020, as many states have made significant changes to allow for more early voting or voting by mail. More changes could come as lawsuits in several states wind their way through the courts. That's why Bloomberg News is answering these critical questions so you'll know what you need to do to make sure your vote is counted in the 2020 election."
Here are is an enormous spreadsheet on voting equipment, so you can check your own jurisdiction (hat tip, UserFriendly. I should really aggregate these onto a map…).
* * *
The Debates
"Trump Fails to Impress Voters at First Debate Against Biden" [Morning Consult]. "Biden exceeded expectations for the debate: A Morning Consult/Politico poll conducted ahead of the event found Biden narrowly favored to triumph in the moderated discussion, with 44 percent of voters saying they expected Biden to perform best, compared with 41 percent who said they expected Trump to do better." • Handy chart:

"Debates panel says changes under consideration 'to ensure a more orderly discussion'" [The Hill]. "The Commission on Presidential Debates [CPD] sponsors televised debates for the benefit of the American electorate. Last night's debate made clear that additional structure should be added to the format of the remaining debates to ensure a more orderly discussion of the issues. The CPD will be carefully considering the changes that it will adopt and will announce those measures shortly," the group said in a statement." • The CPD is a nonprofit established under the joint sponsorship of the Democratic and Republican duopoly. Whether the CPD "sponsors televised debates for the benefit of the American electorate" is open to question. I think the entire process should be handed back to the League of Women Voters, who used to sponsor them.

"Democrats see fundraising boom following wild debate between Trump and Biden" [CNBC]. "The Democratic fundraising website ActBlue processed close to $8 million between 9 p.m. and 11 p.m. ET, according to the site's live ticker. By 9:30 a.m. ET Wednesday, it showed that, since the start of the debate, at least $25 million had gone through the site to various campaigns and committees up and down the ballot…. As of early Wednesday, the Trump campaign, the Republican National Committee and a representative for GOP donation website WinRed had not announced fundraising hauls. They did not return CNBC's requests for comment on how much they brought in over similar time periods."
2020
Biden (D)(1): "Democratic nominee Joe Biden tests negative for coronavirus after potential exposure, Trump's diagnosis" [CNBC]. "Democratic nominee Joe Biden has tested negative for the coronavirus, hours after President Donald Trump had revealed he tested positive." • One test is not dispostive, of course.

Biden (D)(2): A pre-debate message to Pelosi:

It's debate night, so I've got my earpiece and performance enhancers ready. pic.twitter.com/EhOiWdjh1b

— Joe Biden (@JoeBiden) September 29, 2020

Only $12 a pint, so if you amortize the $24,000 fridge…. Come on, man.

Biden (D)(3): An a message in the debate:

The "I am the Democratic Party" line is another (understandably) eclipsed element of the debate. A bit of a "l'etat, c'est moi" vibe.

— Steve Randy Waldman (@interfluidity) September 30, 2020

Well, so much for all those Task Forces….
Realignment and Legitimacy
"Can an Algorithm Help Solve Political Paralysis?" [Scientific American]. "'If you believe an ideal democracy involves informed deliberation among a representative group of people, the current electoral system fails on both counts," says [Brett] Hennig, who has a Ph.D. in astrophysics. He believes something called 'citizens' assemblies' offer a better way to elicit policies in line with people's real interests—with a little help from an algorithm. Hennig explains citizens' assemblies using simple logic: society is made up of people who are young and old, rich and poor, and mostly in between, so decisions governing it should more directly involve a group proportionally representing these kinds of characteristics. But because many ordinary citizens may lack technical knowledge of the issues at hand, citizens' assemblies invite these individuals to make decisions in a 'deliberative environment'—in which they can consult experts to "reduce the effect of biases, misleading information and ignorance" when learning about a problem and assessing possible solutions, Hennig says. From there, these citizens collaboratively craft recommendations for policy makers to consider…." • The algorithm looks like a sophisticated form of sortition. Can readers knowledgeable in statistics comment?

"Amerikan Musik: Fascism Ascendant in the USA" [NIna Illingworth]. • A collection of Illingworth's post with an introduction to her ouvre. I disagree with Illingworth's thesis, partly because whatever else the Proud Boys may be [NSFW], they are not the "mass-based party of committed nationalist militants" that Robert Paxton considers a requirement for full-grown, fifth-stage fascism, and partly because I have not thought through the implications of my view that fascism first developed in the America, in the Reconstruction South. Nevertheless, Illingworth is always worth reading and you should watch her.

"2020 Is Tumbling Toward 1917" [The American Conservative]. "But are we really so safe? In June, the great Russian literature professor Gary Saul Morson told The Wall Street Journal that America was starting to feel eerily familiar. 'It's astonishingly like late 19th-, early 20th-century Russia, when basically the entire educated class felt you simply had to be against the regime or some sort of revolutionary,' he said. Even the moderate Kadet Party could not bring itself to condemn terrorism against the czar, any more than a modern Democrat could condemn Black Lives Matter: 'A famous line from one of the liberal leaders put it this way: 'Condemn terrorism? That would be the moral death of the party." Today, the Resistance is already signaling that they won't accept a Trump victory in November any more than they accepted one in 2016. After the last election, they attempted a soft coup by means of the Russiagate scandal and impeachment. What kind of coup will come next? By looking at the Russian precedent, we can evaluate the risk that this country might enact our own distinctively American version of 1917—and how close we have come to it already." • Whatever else the Resistance might be, they're not Bolsheviks. Indeed, if we accept Corey Robin's definition of conservatism — "a meditation on lost power" — then the Resistance is conservative, with the lost power being the PMCs perceived right to rule, as expressed in Trump's election.

"Inside the Dangerous Mission to Understand What Makes Extremists Tick—and How to Change Their Minds" [Time]. • Must we psychologize everything?

You can check in any time you like:

I don't think people understand how truly fucked and incestuous the Democratic power elite of California is. All down the line—depraved individualshttps://t.co/xmndigH4Kp

— TrueAnon Pod (@TrueAnonPod) September 27, 2020
Stats Watch
At reader request, I added some business stats back in. Please give Econintersect click-throughs; they're a good, old-school blog that covers more than stats. If anybody knows of other aggregators, please contact me at the email address below.
Leading Indicators: "25 September 2020 ECRI's WLI Modestly Declined" [Econintersect]. "ECRI's WLI Growth Index which forecasts economic growth six months forward declined but remains in expansion."
Consumer Sentiment: "Final September 2020 Michigan Consumer Sentiment Improves" [Econintersect]. "The final University of Michigan Consumer Sentiment for September came in at 80.4, up from the preliminary of 78.9, up from August's 74.1, and up from July's final of 72.5…. Surveys of Consumers chief economist, Richard Curtin, makes the following comments: "Consumer sentiment continued to improve in late September, with the Sentiment Index reaching its highest level in six months. The gains were mainly due to a more optimistic outlook for the national economy."
Manufacturing: "August 2020 Headline Manufacturing New Orders Improve" [Econintersect]. "US Census says manufacturing new orders improved month-over-month with unfilled orders shrinking modestly. Our analysis shows the rolling averages improved but remain in contraction. According to the seasonally adjusted data, the increase was widespread except for transport (civilian aircraft, ships and boats) which significantly contracted."
Employment Situation: "September 2020 BLS Jobs Situation – Employment Grew 661,000 But Still Down 9,859,000 Year-to-Date" [Econintersect]. "The headline seasonally adjusted BLS job growth continues to show a very good job gain but on the low side of expectations, with the unemployment rate improving from 8.4 % to 7.9 %. Employment recovery from the coronavirus continues. However, readers are advised that the basis of the BLS numbers are from the middle of September (which are extrapolated to the end of the month). There was significant layoffs/furloughs announced late in September."
"Unemployment Insurance Data Dashboard" [The Century Foundation]
* * *
Travel: "CDC extends cruise ship 'no sail' order through October" [NBC]. "Cruise ships will be barred from sailing in U.S. waters for at least another month, the Centers for Disease Control and Prevention announced late Wednesday, extending its "no sail" order through October. That's a far shorter extension than what the CDC originally proposed to the White House coronavirus task force, which was that cruise ships should not sail until at least February…. The revised order mirrors actions taken by a trade organization representing the cruise industry, the Cruise Lines International Association, which announced over the summer that its members would suspend U.S. operations until at least Oct. 31."
The Bezzle: "Uber Freight is getting new funding and fresh direction as its parent company copes with broader upheaval in its core business. Greenbriar Equity Group is leading a $500 million investment round in the truck brokerage arm of Uber Technologies… in an agreement that values the digital-freight business at $3.3 billion" [Wall Street Journal]. "The transaction comes as Uber pushes to cut costs in a ride-hailing business that has staggered under the pandemic and to complete a $2.65 billion all-stock deal to acquire Postmates. Uber has said it is looking at all of its businesses, and it's adding two partners from transport and logistics-focused Greenbriar to Uber Freight's board under the new investment. Uber Freight has grabbed market share with its load-matching app, but it lost $49 million in the second quarter on $211 million in gross revenue and the unit's growth rate has slowed." • I wish the rest of us could lose metric f*cktons of cash and get handed even more, like Uber does. It must be nice.
Manufacturing: "America's troubled aerospace supply chains are tilting a bit more to the Southeast. Boeing is ending production of its 787 Dreamliner in the Seattle area after more than a decade…. and consolidating assembly of the popular wide-body jet in South Carolina next year. The aircraft maker is taking a reduced manufacturing operation from Everett, Wash., after slashing production because of the pandemic-driven drop in travel" [Wall Street Journal]. "The action will bring more manufacturing to the North Charleston, S.C., site along with deliveries of high-value aircraft parts. It isn't clear how the shift will affect Boeing's heavily unionized workforce in the Puget Sound region. Efforts to organize Boeing's workforce in the right-to-work state of South Carolina haven't succeeded. Boeing still produces wide-body 767s, 777s and 747s in Everett, but those assembly lines are slowing, with the 747 program set to end in 2022." • The message to the workforce is clear: Doing quality work won't help you. I don't know if that's a message that Boeing wants to be sending, but then I'm not a pencil-necked MBA performing a controlled flight into terrain.
Concentration: "The top of the K" [I'm Late to This]. "'m not all that sure describing this recovery as K-shaped is anything other than a re-statement of the economy we were already living with before the pandemic. Haves and have nots and the way policy shapes the divergence between these two classes in America has been a consistent theme for the last few decades and it seems to be the world we're barreling towards living in after this crisis ends, too. We choose to support some areas, leave others for dead, and call it the market system when the dust settles."
* * *
.
Today's Fear & Greed Index: 41 Fear (previous close: 41 Fear) [CNN]. One week ago: 48 (Neutral). (0 is Extreme Fear; 100 is Extreme Greed). Last updated Oct 2 at 1:16pm. Trump's case of Covid put Mr. Market in fear.
Health Care
"'Crazy Fast' Vaccine Race Has Drug Companies Pushing Their Limits" [Bloomberg]. "Now, no less than four Covid vaccines are hurtling toward the finish line in the U.S. Moderna and Pfizer Inc., along with its German partner BioNTech SE, are leading the pack with vaccines that require two doses, while a single-shot vaccine from Johnson & Johnson began a late-phase trial last week. 'This is beyond unprecedented," says Otto Yang, a viral immunologist at UCLA. "It is crazy fast.' There may never have been anything like this pedal-to-the-metal race in the history of vaccines. But will they work? And will enough people take them, especially amid the political turmoil surrounding their development? Safety problems are unlikely, but not unheard of." • I think that fast is good. But I also think, as I have said, that the first batches should be tested on the electeds in Congress, the political appointees in the Executive Branch, and the President. I don't think I had K Street on there. I should add K Street.
"This Overlooked Variable Is the Key to the Pandemic" [Zeynep Tukekci, The Atlantic]. "There's something strange about this coronavirus pandemic. Even after months of extensive research by the global scientific community, many questions remain open…. I've heard many explanations for these widely differing trajectories over the past nine months—weather, elderly populations, vitamin D, prior immunity, herd immunity—but none of them explains the timing or the scale of these drastic variations. But there is a potential, overlooked way of understanding this pandemic that would help answer these questions, reshuffle many of the current heated arguments, and, crucially, help us get the spread of COVID-19 under control…. By now many people have heard about R0—the basic reproductive number of a pathogen, a measure of its contagiousness on average. But unless you've been reading scientific journals, you're less likely to have encountered k, the measure of its dispersion. The definition of k is a mouthful, but it's simply a way of asking whether a virus spreads in a steady manner or in big bursts, whereby one person infects many, all at once. After nine months of collecting epidemiological data, we know that , meaning that it tends to spread in clusters, but this knowledge has not yet fully entered our way of thinking about the pandemic—or our preventive practices…. The now-famed R0 (pronounced as "r-naught") is an average measure of a pathogen's contagiousness, or the mean number of susceptible people expected to become infected after being exposed to a person with the disease…. This highly skewed, imbalanced distribution means that an early run of bad luck with a few super-spreading events, or clusters, can produce dramatically different outcomes even for otherwise similar countries." • This article is worth reading in full; I'm not sure I extracted it properly. "Over-dispersion" would seem to be confirmed by the study I posted in Links yesterday: "71% of infected individuals did not infect any of their contacts, while a mere 8% of infected individuals accounted for 60% of new infections."
"Ophthalmology and COVID-19" [JAMA]. " In the first preliminary study of characteristics of ocular findings among 38 patients hospitalized with COVID-19 in Hubei province, China, Wu et al1 reported conjunctivitis in 12 (38%). Virus material also was detected on swabs of the conjunctiva among 2 of 11 patients (18%) tested for COVID-19 in this manner…. These findings meant that all health care workers needed to consider not only respiratory transmission of severe acute respiratory syndrome coronavirus 2 (SARS-CoV-2) from the nose and mouth but ocular transmission as well….. In another recent epidemiologic investigation, Zeng et al8 noted at the beginning of the pandemic in Hubei province in China that among 276 patients admitted to a hospital with laboratory-confirmed COVID-19, the proportion of patients who reported routinely wearing eyeglasses was lower than in the general population. These findings suggest a hypothesis that eyeglasses may be acting as a barrier that could reduce the frequency with which people touch their eyes."
She's right:
yesterday i went to the pharmacy to pick up my migraine medication. my doctor prescribed 10 pills. but my insurance would only pay for 9. i watched the pharmacist take the pill bottle in the back and remove a single pill before giving me the medicine. this system sucks lmao

— Elizabeth Bruenig (@ebruenig) October 1, 2020
Guillotine Watch
"When a $38,000 Chair You Can't Use Is a Bargain" [Bloomberg (GP)]. "'There's been a collectible design market for a while, but I think it's really spread and extended since 2010,' says Mélanie Courbet, the owner of Les Ateliers Courbet, a design gallery in New York. 'In some ways it follows the art market's expansion, but there's also more appreciation for design. People are educated about it and exposed to it.' Le Gaillard says his business has grown about 20% annually for the past decade. And amid the pandemic, 'the art and design collector market has stayed steady-ish,' Courbet says. "The established, blue-chip segment of the collector market seems to have done pretty well under the circumstances.'" • I wonder what Christopher Alexander*, say, would think of this chair: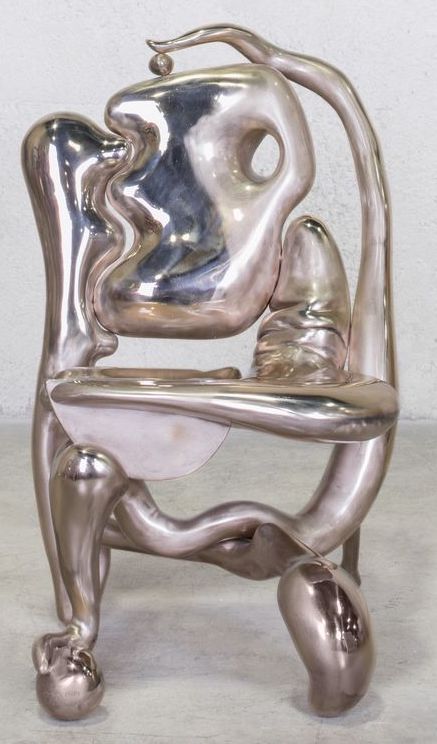 NOTE * Or Tom Lehrer: "They didn't have a sofa, so they offered him… the chair."
Class Warfare
Mass movement v. cooperatives (federated). Very interesting thread from Black Socialists. Here's the start:
"I think we tend to use the term 'Left' too loosely.

Everybody left of Reagan ain't 'Left.'

Basic self-determination, the means of production being in the hands of the workers, should be the criteria of recognizing an ideology as 'Left.'" pic.twitter.com/598sDoPZCh

— Black Socialists in America (@BlackSocialists) March 24, 2019
"Local Residents Express Concern Over Homeless Shelter Being Built On Their Planet" (podcast) [The Topical]. • And back here on Earth 1–
Listen for the word "class." The whole thing is only 1:29–
This a garbage country filled with garbage people who will literally make it illegal to make them feel bad about it pic.twitter.com/zcuejZDWeC

— 👮🏻‍♂️ Pigs are treyf 🚫 (@JewishWorker) October 1, 2020
Property values…..
News of the Wired
History major totally makes good:
I'm pretty excited because yours truly was involved. This is a real thing that actually happened. And here is the proof from the closing credits I'll probably print out and hang on my wall… pic.twitter.com/e5Hk0e5LL0

— Mike Duncan (@mikeduncan) October 1, 2020
* * *
Readers, feel free to contact me at lambert [UNDERSCORE] strether [DOT] corrente [AT] yahoo [DOT] com, with (a) links, and even better (b) sources I should curate regularly, (c) how to send me a check if you are allergic to PayPal, and (d) to find out how to send me images of plants. Vegetables are fine! Fungi and coral are deemed to be honorary plants! If you want your handle to appear as a credit, please place it at the start of your mail in parentheses: (thus). Otherwise, I will anonymize by using your initials. See the previous Water Cooler (with plant)
here. Today's plant (Vlad):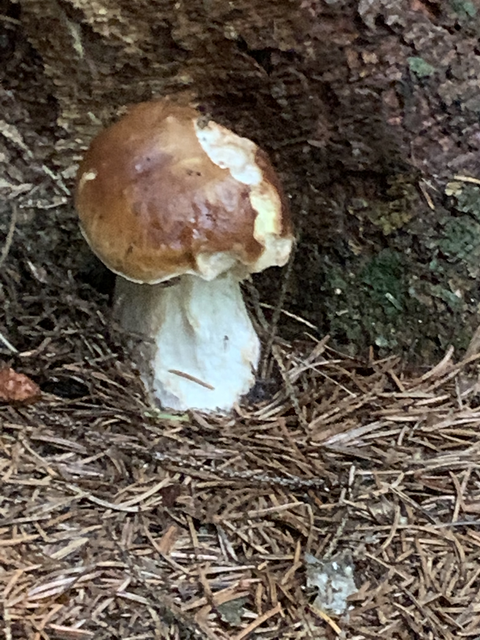 Vlad writes: "Boletus edulis aka cep, porcini, etc.. Very good in all sort of dishes :)" I should probably advise you not to go picking mushrooms in the woods unless you are absolutely certain what you are doing…

Original Source