This is Naked Capitalism fundraising week. 1571 donors have already invested in our efforts to combat corruption and predatory conduct, particularly in the financial realm. Please join us and participate via our donation page, which shows how to give via check, credit card, debit card, or PayPal. Read about why we're doing this fundraiser, what we've accomplished in the last year, and our current goal, more original reporting.
By Lambert Strether of Corrente
Bird Song of the Day
Duck!
#COVID19
At reader request, I've added this daily chart from 91-DIVOC. The data is the Johns Hopkins CSSE data. Here is the site.
Here are the United States regions: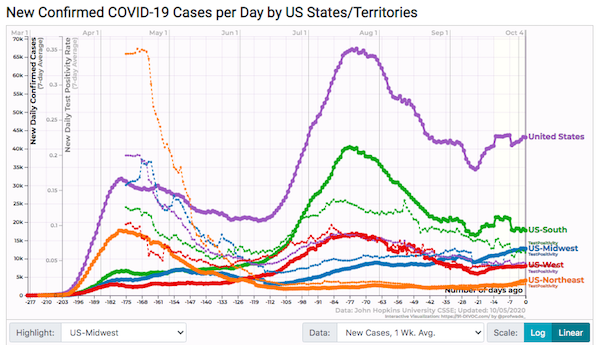 Concerning, steady rise in the Midwest….
Here are the Swing States as I conceive them (see below):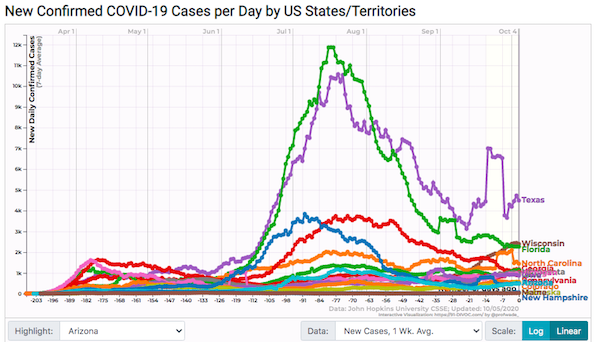 Texas bounces (more data woes?), Wisconsin continues steady rise…
91-DIVOC has a new chart on the Big 10 schools: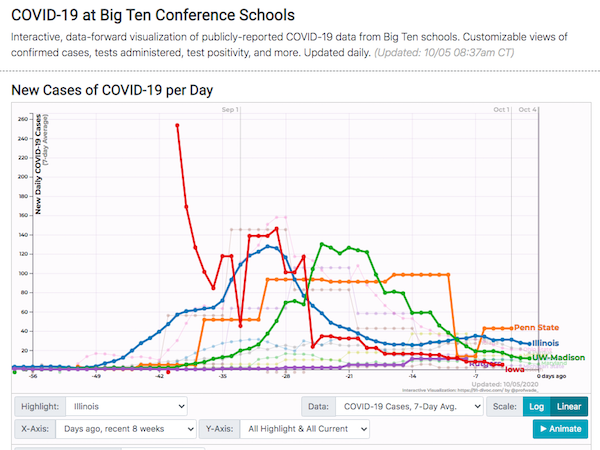 What a variation! Quite a story here, no doubt, for somebody to write….
MA: "The state once used this measure to calculate coronavirus test positivity. Here's what it says now" [Boston Globe]. "The state's closely watched daily COVID-19 data dashboard highlights a measure that simply divides the number of positive tests by the number of total tests administered. Every day on Page 2 of its report, the state recalculates a weekly average, summing the number of positive tests for the past seven days and dividing them by total tests administered. That measure has held steady at roughly 1 percent for weeks. But the overall number of negative tests each day has dramatically increased due to a relatively recent surge in the repeated testing of asymptomatic people, such as students on college campuses. That has played a role in driving this rate down. A different story emerges when you remove the repeated tests from the equation and show the rate of positive tests per people tested, rather than positive tests per total tests administered. The seven-day rate of positive tests per people tested, according to data available elsewhere on the state's website, has been climbing since late August, reaching 3.2 percent in recent days." • So the students came back, and…
OR: "Coronavirus in Oregon: 220 new cases, four deaths; state identifies six schools with cases" [Oregon Live]. "Since it began: Oregon has reported 33,509 confirmed or presumed infections and 559 deaths, among the lowest totals in the nation. To date, 684,235 Oregonians have been tested." • Since Federalism, modified rapture, has enabled an enormous natural experiment in Covid policy, it would be nice if a study appeared summarizing the lessons learned to date. I haven't seen such a study, but did I miss it? Readers?
Politics
"But what is government itself, but the greatest of all reflections on human nature?" –James Madison, Federalist 51
"They had one weapon left and both knew it: treachery." –Frank Herbert, Dune
"They had learned nothing, and forgotten nothing." –Charles Maurice de Talleyrand-Périgord
The electoral map. July 17: Georgia, Ohio, ME-2 move from Leans Republican to Toss-up. Continued yikes. On July 7, the tossup were 86. Only July 17, they were 56. Now they are 91. This puts Biden at 278, i.e. over 270. August 18: Still no changes. August 31: Indiana moves from Likely to Safe Republican. September 9: No changes. September 14: No changes. September 21: No changes. September 22: Ohio moves from Toss-up to Leans Republican. September 25: Ohio moves from Leans Republican to Toss-up. September 30: Iowa moves from Leans Republican to Toss-up. . For all the sturm and drang, and the polls, the consensus on the electoral college remains remarkably static: Biden ahead, Trump within striking distance. Of course, if Trump is still in striking distance on Election Day, that will count as a loss. Maybe.
The election countdown:
Here is an early voting calendar. Maybe we'll have a whole series of October surprises, since election day is gradually being devalued as an event.
And here are mail-in voting ruies, which naturally differ state by state.
NEW "2020 General Election Early Vote Statistics" [U.S. Elections Project (SlayTheSmaugs)].
"How to Vote in 2020: Everything You Need to Know" [Bloomberg]. "Casting a ballot in the U.S. isn't always easy, with a complex web of varying state rules governing how and when you can vote. The Covid-19 pandemic has introduced even more complexity in 2020, as many states have made significant changes to allow for more early voting or voting by mail. More changes could come as lawsuits in several states wind their way through the courts. That's why Bloomberg News is answering these critical questions so you'll know what you need to do to make sure your vote is counted in the 2020 election."
Here are is an enormous spreadsheet on voting equipment, so you can check your own jurisdiction (hat tip, UserFriendly. I should really aggregate these onto a map…).
* * *
2020
Lambert here: Despite liberal Democrat triumphalism, note the changes in the Electoral College map above. National polls are meaningless with respect to actual election results, as one would think liberal Democrats and the press would have realized in 2016.

Trump's Case of Covid

"Meadows: Decision on Trump's discharge to be made later today" [NBC]. "White House chief of staff Mark Meadows told NBC News on Monday morning that a decision on whether to discharge President Trump from the hospital 'will be made later today between the president and his medical team.' In an interview on Fox News, Meadows said he was 'optimistic' that Trump would be released, but that the president's doctors will perform an evaluation sometime late morning, and then Trump, in consultation with the doctors, will make a decision." • Stoller:

Trump's tweeting obsessively again. He's probably going to be fine.

mdash; Matt Stoller (@matthewstoller) October 5, 2020

"UNLOCKED: The F**k It List (w/ special guest Aaron Thorpe)" [Trillbilly Worker's Party]. • A hilarious play-by-play of the media coverage since the news broke.

"Why the White House's testing-only strategy to shield Trump from Covid-19 fell short" [Stat!] This is good reporting, unsurprisingly not from the mainstream: "By and large, the administration's only precaution has been the frequent use of Abbott's ID Now diagnostic test: West Wing staffers, guests, and reporters have been required to take rapid Covid-19 tests upon entering White House grounds, but little else. Aides have frequently appeared maskless, even in cramped indoor spaces. Though epidemiology experts had cast doubt on the White House's testing-only strategy since long before Trump's positive test, health secretary Alex Azar doubled down on the Trump family's testing-only strategy during a congressional hearing on Friday. 'Now, the first family and the protective aspect around the president is a different situation than the rest of us because of the protocols around the first family," said Azar, the administration's top health official. Other Americans, he added, should wear masks, practice social distancing, and wear face coverings." • The key point: "Beyond highlighting the limitations of testing as a sole preventive strategy, Trump's positive test also calls attention to the unreliability of the diagnostic tests themselves. For months, the White House has relied on Abbott's ID Now Covid-19 tests, which return results within five to 15 minutes of sample collection… Those tests have been criticized for their high detection limit — in other words, they only return positive results if individuals tested submit samples with large amounts of viral material. As a result, it's possible that early in the course of an infection, or as an infection is waning, the test could return a result even if its subject is still contagious." • And more from KHN on the tests used–

"Inside the Flawed White House Testing Scheme That Did Not Protect Trump" [Kaiser Health News]. "The White House has been using a new antigen test from Abbott Laboratories to screen its staff for COVID-19, according to two administration officials. The test, known as BinaxNOW, received an emergency use authorization from the Food and Drug Administration in August. It produces results in 15 minutes. Yet little is independently known about how effective it is. According to the company, the test is 97% accurate in detecting positives and 98.5% accurate in identifying those without disease. Abbott's stated performance of its antigen test was based on examining people within seven days of COVID symptoms appearing."

"The White House hoped testing would keep the coronavirus out — but it didn't" [CNBC]. "Public health specialists, including Assistant Secretary for Health Adm. Brett Giroir, who leads the U.S. testing effort, have long emphasized that testing alone is not a public health intervention. It should be implemented, they've said, alongside strategies like masking, social distancing, washing of hands and the quarantining of suspected patients." • The truly weird thing about all of this is that Trump is, in fact, if not an obsessive hands-washer, at least a concerned one. Politico, "The Purell presidency: Trump aides learn the president's real red line": 'He asks visitors if they'd like to wash their hands in a bathroom near the Oval Office. He'll send a military doctor to help an aide caught coughing on Air Force One. And the first thing he often tells his body man upon entering the Beast after shaking countless hands at campaign events: 'Give me the stuff' — an immediate squirt of Purell. Two and a half years into his term, President Donald Trump is solidifying his standing as the most germ-conscious man to ever lead the free world. His aversion shows up in meetings at the White House, on the campaign trail and at 30,000 feet. And everyone close to Trump knows the president's true red line. 'If you're the perpetrator of a cough or of a sneeze or any kind of thing that makes you look sick, you get that look,' said a former Trump campaign official. 'You get the scowl. You get the response of — he'll put a hand up in a gesture of, you should be backing away from him, you should be more considerate and you should extricate yourself from the situation.' The president's admitted germaphobia has been a fixture throughout his career — from real-estate deal rooms to casino floors — and it's now popping up in more public ways." • Purell cannot claim efficacy against Covid because of FDA restrictions, but Canada lists PURELL®Advanced Hand Rub Gel as "accepted under Covid-19 interim measures.'" • Here is Zeyneb Tufecki on WHO Guidelines:

This is WHO's page for the public. It has many paragraphs on the use of hand-sanitizers but doesn't say *even once* that ventilation is important or outdoors is safer than indoors. WHO guidelines maintain the fiction that mere three feet is enough indoors. https://t.co/FMJEyoGmAN pic.twitter.com/gBkU5Ihva7

— zeynep tufekci (@zeynep) October 5, 2020

So, if you believe in droplet transmission (Trump avoids people who cough), and you believe in hand-washing with hand-sanitizers (Trump uses them obessively), you don't believe in aerosols (WHO doesn't), you believe three feet of social distancing is enough (WHO does), and you don't believe in widespread public use of masks (WHO doesn't), then you can (1) follow "the science" and (2) behave as Trump did, even (3) adding a redundant layer with frequent testing. Since I think that the aerosol paradigm has overthrown the droplet paradigm, and therefore believe that masking and attention to ventilation are critical, I think Trump's behavior is as wrong as it can be. But the yammering and frothing and stamping in the press is absolutely not helpful in determining what actually happened.

* * *

Biden (D)(1): The Great Assimilation™ continues:

It is one thing for @JoeBiden#39;s campaign to not reject ex-MI Governor Rick Snyder#39;s endorsement.

It is an ENTIRELY different thing for them to actively be promoting and publicizing it. Absolutely shameful. #FlintWaterCrisis pic.twitter.com/NShC3ViqX7

mdash; Jordan (@JordanChariton) September 3, 2020

Obama drank that glass of Flint water, so everything's OK, right? It's like Michelle accepting candy from Bush.

Realignment and Legitimacy

"Will You Leave the Country if Trump Is Re-elected?" [New York Times]. "This is what Donald Trump has brought to — a place where begin to wonder if country is finished, a time where would rather begin to start over somewhere else than continue to live this way." • "Us," "we," "our," "we." One subtle aspect of the stunning lack of self-awareness in this piece is that it's not our country even for those who stay. We live in an oligarchy, so it's the oligarchs' country. Unless you identify with the oligarchs, of course. (Note that I have objections to emigrating, far from it; but I'd hope to be a little more clear-eyed about my reasons for doing so than this writer is.)

"Wilderness of Mirrrors" [The Intercept]. Ancient history: "[Veteran CIA officer Cleveland Cram] was assigned to investigate a debacle. The Counterintelligence Staff, created in 1954, had been headed for 20 years by James Jesus Angleton, a legendary spy who deployed the techniques of literary criticism learned at Yale to find deep patterns and hidden meanings in the records of KGB operations against the West. But Angleton was also a dogmatic and conspiratorial operator whose idiosyncratic theories paralyzed the agency's operations against the Soviet Union at the height of the Cold War, and whose domestic surveillance operations targeting American dissidents had discredited the CIA in the court of public opinion. In December 1974, CIA Director William Colby fired Angleton after the New York Times revealed the then-unknown counterintelligence chief had overseen a massive program to spy on Americans involved in anti-war and black nationalist movements, a violation of the CIA's charter." • This 2018 article is worth reading, since there is no particular reason to believe that the CIA has changed either its thirst for domestic operations or its Loony Tunes Hall of Mirrors mentality. As the brain damage inflicted on teh populace from RussiaGate shows. Angelton was as crazy as a shithouse rat.

Stats Watch

At reader request, I added some business stats back in. Please give Econintersect click-throughs; they're a good, old-school blog that covers more than stats. If anybody knows of other aggregators, please contact me at the email address below.

* * *

Mr. Market: "Global stocks rise after Trump's doctor said he could leave hospital soon" [CNN]. "Global markets and US stock futures are rising after Trump's physicians said that the president could be discharged from Walter Reed National Medical Center as early as Monday. A quick recovery could ease some of the huge uncertainty surrounding the US election with just four weeks left in the campaign."

* * *.

Today's Fear Greed Index: 43 Fear (previous close: 40 Fear) [CNN]. One week ago: 49 (Neutral). (0 is Extreme Fear; 100 is Extreme Greed). Last updated Oct 5 at 12:28pm.

Rapture Index: Closes unchanged [Rapture Ready]. Record High, October 10, 2016: 189. Current: 181. (Remember that bringing on the rapture is a good thing.)

Guillotine Watch

Dude from Austin gentrifying a ghost town:

Watching a youtube series that#39;s just a guy from Austin who bought a ghost town that was once a mining site, and all I can think is that this is a horror movie and he just doesn#39;t realize it.

Dude#39;s just hopping into abandoned mineshafts unaware that a broken leg will kill him.

mdash; grimm (@mugrimm) October 3, 2020

"Business ethics guru accused of cheating shareholders" [Financial Times]. • This article should be more exciting than it is. This strikes me as odd, or maybe not: "[Dov Seidman's LRN] provides ethical advice and compliance training to dozens of blue-chip businesses, which have included pharmaceuticals company Pfizer, media conglomerate Viacom, and Altria, the maker of Marlboro cigarettes. The New York Times Company has been a client, and the paper's star columnist Thomas Friedman has called Mr Seidman his 'teacher and friend.'" • The cigarette maker and The Moustache of Understanding aside, the model seems to be that businessmen are fundamentally amoral, and can acquire ethics, for a fee, from an outside vendor. What would their mothers say?

Class Warfare

"Coronavirus can afflict the powerful. Yet food workers remain the most vulnerable." [The Jeff Bezos Daily Shopper™]. • Everything's going according to plan!

"'There was nothing to help me': how the pandemic has worsened opioid addiction" [Guardian]. • Everythiing's going according to plan!

News of the Wired

Accurate:

No Person except a natural born Citizen shall be eligible to the Office of President; neither shall any person be eligible who has not attained to the Age of 35 Years, and been 14 Years a Resident, and have a Name containing at Least two Numerals and one Special Character

mdash; Pinboard (@Pinboard) October 3, 2020

* * *Readers, feel free to contact me at lambert [UNDERSCORE] strether [DOT] corrente [AT] yahoo [DOT] com, with (a) links, and even better (b) sources I should curate regularly, (c) how to send me a check if you are allergic to PayPal, and (d) to find out how to send me images of plants. Vegetables are fine! Fungi and coral are deemed to be honorary plants! If you want your handle to appear as a credit, please place it at the start of your mail in parentheses: (thus). Otherwise, I will anonymize by using your initials. See the previous Water Cooler (with plant) here. Today's plant (AF):

AF writes: "Every year I like to try something new in my vegetable garden. This year I added Marina Di Chioggia pumpkin. Johnny's Seeds said this pumpkin is a favorite in Venice and used for ravioli and gnocchi. This one might have been picked too early but I was so drawn to the colors and textures. Can't wait to cook it up and see how it tastes!" 'Tis the season!
Original Source