This is Naked Capitalism fundraising week. 1732 donors have already invested in our efforts to combat corruption and predatory conduct, particularly in the financial realm. Please join us and participate via our donation page, which shows how to give via check, credit card, debit card, or PayPal. Read about why we're doing this fundraiser, what we've accomplished in the last year, and our current goal, more original reporting.
By Lambert Strether of Corrente
Patient readers, Trump's case of Covid has completely thrown me off my plan to cover more stories at the state level (as opposed to national punditry and polling) both yesterday and today. I'm now going to go back and add that in. So a pantry clearout awaits. –lambert
Bird Song of the Day
I love the caption: "Display calls heard near the beginning, middle and end of the recording, amidst the marsh's dawn chorus, splash of a beaver tail, and take-off of a duck." Bitterns are said to boom, but if I'm right, I'm hearing more of a gulp "near the beginning, middle and end." Lovely dawn music, though!
#COVID19
At reader request, I've added this daily chart from 91-DIVOC. The data is the Johns Hopkins CSSE data. Here is the site.
Here are the United States regions: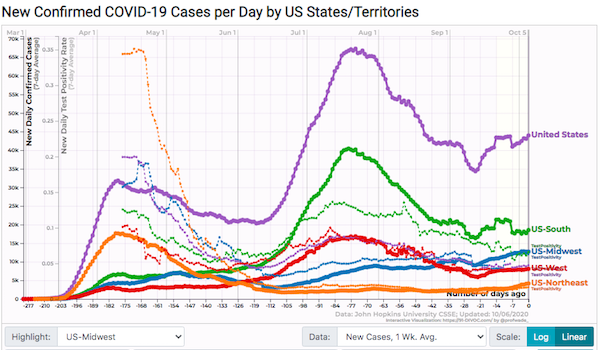 Slight but unmistakable rise in all regions now. Ugh.
Here are the Swing States as I conceive them (see below):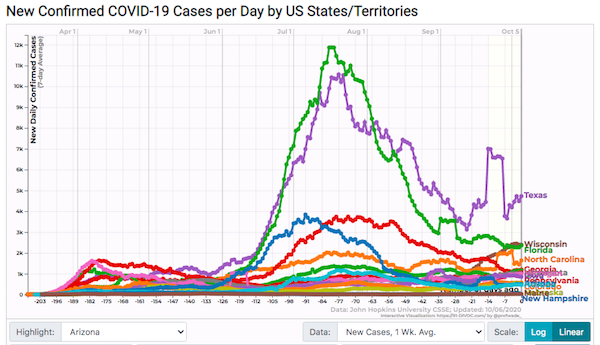 Texas bounces (more data woes), Wisconsin continues steady rise…
Politics
"But what is government itself, but the greatest of all reflections on human nature?" –James Madison, Federalist 51
"They had one weapon left and both knew it: treachery." –Frank Herbert, Dune
"They had learned nothing, and forgotten nothing." –Charles Maurice de Talleyrand-Périgord
The electoral map. July 17: Georgia, Ohio, ME-2 move from Leans Republican to Toss-up. Continued yikes. On July 7, the tossup were 86. Only July 17, they were 56. Now they are 91. This puts Biden at 278, i.e. over 270. August 18: Still no changes. August 31: Indiana moves from Likely to Safe Republican. September 9: No changes. September 14: No changes. September 21: No changes. September 22: Ohio moves from Toss-up to Leans Republican. September 25: Ohio moves from Leans Republican to Toss-up. September 30: Iowa moves from Leans Republican to Toss-up. October 3: Indiana moves from Safe to Likely Republican; Iowa moves from Toss-up to Leans Republican. For all the sturm and drang, and the polls, the consensus on the electoral college remains remarkably static: Biden ahead, Trump within striking distance. Of course, if Trump is still in striking distance on Election Day, that will count as a loss. Maybe.
The election countdown:
Here is an early voting calendar. Maybe we'll have a whole series of October surprises, since election day is gradually being devalued as an event.
And here are mail-in voting ruies, which naturally differ state by state.
NEW "2020 General Election Early Vote Statistics" [U.S. Elections Project (SlayTheSmaugs)].
"How to Vote in 2020: Everything You Need to Know" [Bloomberg]. "Casting a ballot in the U.S. isn't always easy, with a complex web of varying state rules governing how and when you can vote. The Covid-19 pandemic has introduced even more complexity in 2020, as many states have made significant changes to allow for more early voting or voting by mail. More changes could come as lawsuits in several states wind their way through the courts. That's why Bloomberg News is answering these critical questions so you'll know what you need to do to make sure your vote is counted in the 2020 election."
Here are is an enormous spreadsheet on voting equipment, so you can check your own jurisdiction (hat tip, UserFriendly. I should really aggregate these onto a map…).
* * *
2020
Lambert here: After being stuck in neutral for some time, the 270toWin map — based on consensus among pundits — is starting to move, with this the second change in two days, and the movement is not good for Trump. 27 days is a long time in politics, but it looks to me like Trump is running out of runway. His last debate performance didn't cause Biden to slip a cog, the Durham Report won't drop 'til after the election, the economy is slipping without a stimulus, a colorable claim of having made a vaccine is looking less and less likely, and early voting makes October Surprises less decisive. It is true that Trump's return from the hospital creates enormous narrative opportunity, but we don't know the outcome yet (beyond reinforcing everybody's priors). Brunch awaits!

Trump's Case of Covid

"Moment Trump appears to gasp for air after tearing off mask on return to the White House: Biden leads critics accusing Trump of downplaying COVID by telling America 'don't be afraid of the virus'" [Daily Mail]. "Trump, 74, as he stood on the White House balcony, with one doctor saying he was 'clearly in some distress with his breathing'… Biden, 77, said on Monday night that the president was 'responsible' for his COVID-19 infection and blasted the president's 'macho' attitude of avoiding mask-wearing. 'Anybody who contracts the virus by essentially saying, masks don't matter, social distancing doesn't matter, I think is responsible for what happens to them,' Biden said after Trump posed without a face covering. 'What is this macho thing, 'I'm not going to wear a mask?' What's the deal here? Big deal, does it hurt you? Be patriotic for god's sake! Take care of yourself, but take care of your neighbors,' the Democratic nominee said."

* * *

My timeline was full of theorizing about what dexamethasone was doing to Trump, so here is the basic information I could find. More welcome from readers!

"COVID-19 Treatment Guidelines" [National Institutes of Health]. "The Randomised Evaluation of COVID-19 Therapy (RECOVERY) trial, a multicenter, randomized, open-label trial in hospitalized patients with COVID-19, showed that the mortality rate was lower among patients who were randomized to receive dexamethasone than among those who received the standard of care.1 This benefit was observed in patients who required supplemental oxygen at enrollment. No benefit of dexamethasone was seen in patients who did not require supplemental oxygen at enrollment… [T]he COVID-19 Treatment Guidelines Panel (the Panel) recommends using dexamethasone 6 mg per day for up to 10 days or until hospital discharge, whichever comes first, for the treatment of COVID-19 in hospitalized patients who are mechanically ventilated (AI) and in hospitalized patients who require supplemental oxygen but who are not mechanically ventilated (BI)." • And on the RECOVERY trial–

"Role of corticosteroid in the management of COVID-19: A systemic review and a Clinician's perspective" [Journal of Diabetes and Metabolic Syndrome]. From the Results section: "Of the 5 studies (4 retrospective studies and 1 quasi-prospective study) conducted for evaluating the role of corticosteroids, 3 studies have shown benefit, while 2 studies shown no benefit and there was a suggestion of significant harm in critical cases in one sub-study. RECOVERY trial is the only randomized controlled trial that has shown a significant reduction of death by 35% in ventilated patients and by 20% amongst patients on supplemental oxygen therapy with the dexamethasone, although no benefit was observed in mild cases."

"Dexamethasone in the management of covid-19" (PDF) [British Medical Journal]. "Unresolved questions remain, however. RECOVERY investigators did not explore optimal type of corticosteroid nor timing, dose, or duration of giving this drug class. The dose of dexamethasone used was roughly half the functional corticosteroid dose used to prevent treatment induced acute respiratory distress syndrome in moderate or severe pneumocystis pneumonia. Even though dexamethasone worked, it is not clear whether corticosteroids are the best option for all patients in the second phase of the illness or whether treatment may be less beneficial for some subsets, such as people with diabetes…. Virological measures such as viral load were not reported and would be helpful in future studies as they may ultimately guide treatment decisions, including timing." • Here is a thread on dexamethasone that seems to be knowledgeable:

So Trump is now also receiving dexamethasone. @WHO guidelines very clear that it is to be used only "in patients with severe and critical #COVID19". Guidelines incl. "conditional recommendation not to use corticosteroid therapy in patients with non-severe #COVID19". pic.twitter.com/BuAl5sUdyQ

— Kai Kupferschmidt (@kakape) October 4, 2020

(Most of the press coverage on Trump and dexamethasone is the well-worn liberal Democrat trope that Republicans are insane, but with medicalese.)

"Trump's Covid-19 antibody treatment was partly developed using Singaporean blood plasma" [South China Morning Post]. "One of the two antibodies used in an experimental treatment for US President Donald Trump was developed using blood samples from three patients in Singapore, according to a report by Asian Science Magazine published on Monday The science and technology publication noted that Trump had on Friday received a 'high dose' of an experimental antibody therapy known as REGN-COV2 developed by American biotechnology company Regeneron….. Trump received the antibody cocktail before he was admitted to the Walter Reed National Military Medical Center, and while he was there for three days, he was also given multiple doses of the antiviral drug, Remdesivir and a steroid dexamethasone, usually used to treat inflammation in people who have severe cases of Covid-19…. Dr Jonathan Reiner, a professor of medicine at George Washington University, told CNN: 'The president might be the only patient on the planet ever to receive this particular combination of medicines.'"

* * *

Biden (D)(1): "Biden promises to make Roe v. Wade the 'law of the land' if Amy Coney Barrett gets confirmed on the Supreme Court and overturns the 1973 abortion ruling" [Daily Mail]. • Only possible with Democrats having a filibuster-proof majority in the Senate plus the House, obviously. From 2019, a timeline of Biden's views on abortion.

Trump (R)(1): "Trump on Twitter: 'Don't be afraid of COVID … I feel better than I did 20 years ago!'" [Concord Monitor]. • Commentary:

'I feel better than I did 20 years ago' pic.twitter.com/UB1buLCNmk

— Toby Earle (@TobyonTV) October 5, 2020

Trump (R)(2): "Trump's Covid Debacle" [Rod Dreher, The American Conservative]. "I have mentioned in this space — and I write about inLive Not By Lies— how the Imperial Russian government's botched handling of the 1891-92 famine was a key turning point in the Russian Revolution of 1917. Why? Because it badly shook the confidence of the Russian people in their government's competence. Marxist radicals never really got much traction with the broader Russian public until the famine debacle made people wonder if the system really could be counted on to keep them safe. People began to wonder if maybe the radicals were onto something in their critique of the regime. The Tsarist establishment lost a great amount of credibility with the public, and never, of course, got it back. Trump's failures on Covid, epitomized by his own failure to manage his exposure with regard to White House staffers and supporters, come at a time of historic loss of public faith in institutions. …[W]e are living in an era of great insecurity because of this loss of trust — and Millennials and Generation Z are the most dramatically affected by it…. [T]he fear, anxiety, and eagerness for protection running rampant among Millennials and Gen Z are exactly the things that Hannah Arendt observed as present in pre-totalitarian Russia and Germany. What Trump has done with his own Covid diagnosis is a monumental act of self-sabotage. What he is helping to sabotage is more than his own administration and re-election campaign, I fear."

* * *

About that stimulus:

Bleak but possible scenario I hear from ppl:

1/ No stimulus deal by Nov. 3

2/ Biden wins, Trump loses interest in deal w/ Congress. So: No additional stimulus until Jan. 20 at earliest

3/ New wave of cases Nov-Feb causes severe economic damage just as DC is most paralyzed

— Jeff Stein (@JStein_WaPo) October 6, 2020

If Biden believes he can legislate Roe v. Wader, that means he thinks the Democrats will control both the House and the Senate. In that case, there's absolutely no reason for Pelosi not to take the trillion or so on offer, and bump it up in January. No reason, of course, except to deny the Republicans a legislative success.

* * *

"More than 4 million Americans have already voted, suggesting record turnout" [Reuters]. • Good if you think politics is a team sport; not so good if you think democracy requires candidates and their campaigns to be judged in their entirety.

MN: O'Keefe has form:

BREAKING: Liban Osman tells FOX 9 he was offered $10,000 by phony Project Veritas & James O'Keefe "insider" Omar Jamal to say he was collecting ballots for Rep. Ilhan Omar. https://t.co/HMnhq2UqAS

— Zachary Petrizzo (@ZTPetrizzo) October 6, 2020

NY: The Great Assimilation™ continues:

I suppose it was only a matter of time.

Amy McGrath was the first Dem candidate for House or Senate to cut a pro-Trump tv commercial. It was only natural more Democrats would follow.

Max Rose (D-NY) is now running a commercial about how he stood with Trump against DeBlasio!

— Chris Richards 🐬🅰️ #UnitedLeft (@EclecticRadical) October 5, 2020

Stats Watch

At reader request, I added some business stats back in. Please give Econintersect click-throughs; they're a good, old-school blog that covers more than stats. If anybody knows of other aggregators, please contact me at the email address below.

Leading Indicators: "03 October 2020 New York Fed Weekly Economic Index (WEI): Index Little Changed Since End Of August" [Econintersect]. "The New York Fed's Weekly Leading Index (WLI) continues to show an economy that is below the worst seen during the Great Recession. However, this index remains on a recovery trend but the index is only marginally improved since the end of August."

Employment Situation: "August 2020 Headline JOLTS Job Openings Year-over-Year Growth Rate Declined" [Econintersect]. "The BLS Job Openings and Labor Turnover Survey (JOLTS) can be used as a predictor of future job growth, and the predictive elements show that the year-over-year growth rate of unadjusted private non-farm job openings year-over-year rate of growth declined and remains in contraction…. The unadjusted data this month remained well below average for the rate of growth seen since the beginning of 2019. However, the pandemic effects will drive this data, and forecasts using this data are simply guesses."

Trade: "August 2020 Trade Again Improved But The Trade Deficit Continues To Grow" [Econintersect]. "Trade data headlines show the trade balance grew with both imports and exports increasing…. The 3-month average rate of growth improved for imports and exports – but remains in contraction."

Housing: "August 2020 CoreLogic Home Prices: Home Price Appreciation Jumped to 5.9%" [Econintersect]. "CoreLogic's Home Price Index (HPI) home prices increased 5.9% in August 2020, compared with August 2019, and the gain was up nearly 1% compared to the prior month, when home prices increased 5.1% year over year." • If your assets are in housing or stocks, you're doing OK with Trump, still, amazingly enough.

* * *.

Today's Fear & Greed Index: 47 Neutral (previous close: 44 Fear) [CNN]. One week ago: 44 (Fear). (0 is Extreme Fear; 100 is Extreme Greed). Last updated Oct 6 at 1:09pm.

The Biosphere

"Amid COVID-19, Urban Growers Collective distributes nearly one million pounds of produce" [Chicago Reader]. "[Urban Growers Collective (UGC)] operates eight urban farms on 11 acres of land in Chicago, mostly on the south side, that are aimed at giving underserved and disinvested communities the healthy food they desperately need. And in keeping with its mission, UGC's farms help cultivate economic opportunities for the community alongside their produce production… 'Our biggest pivot was from affordable sales of produce to hunger relief,' says Erika Allen, who cofounded UGC with Laurell Sims in 2017. 'So, donating produce to folks in need as opposed to the economic development model that we've continued.'" • Impressive!

Health Care

"The percentage of Americans who say they would get a Covid-19 vaccine is falling, CNN poll finds" [CNN]. "If a Covid-19 vaccine were widely available at a low cost, 51% of respondents in the survey said they would try to get vaccinated, 45% said they would not try and 4% had no opinion, according to poll findings released on Monday…. The percentage of respondents in the poll who would try to get vaccinated appears to have fallen when compared with results in CNN polls from previous months." • So much for public health. Well done, all.

Screening Room

I leave this to your imaginations:

finally someone is bringing to the screen the sweltering eroticism of tolkein's original text https://t.co/RwJ1f2IYIQ

— I Had A Tweet Joe (@bombsfall) October 6, 2020

"The 100 Sequences That Shaped Animation" [New York Magazine]. " Animators continue to fool us into believing still images can move and breathe, and we in turn remain delighted to live between the frames." One example: "'Whoever's in charge here: Where's the scenery?' Daffy asks through a ruptured fourth wall after his background has turned into a blank white space. From there, the backdrops keep changing and Daffy keeps trying to adjust. But eventually everything goes haywire: The sound goes out, the frame collapses and nearly crushes Daffy, and even Daffy himself gets erased more than once by the butt end of a pencil that enters the frame, presumably via some God-like figure. Every person who worked on Duck Amuck matters, this short tells us, because every piece of a story, if altered or absent, transforms the narrative. That said, special shout-outs go to Mel Blanc for his signature, hilarious escalation of Daffy's exasperation and to legendary composer Carl Stalling for changing up the music with impeccable timing. The big twist is, once again, very Chuck Jones: Turns out it's Bugs Bunny, ever the stinker, who's been sitting at the drafting table and messing with Daffy the whole time. A lot of the works on this list are perfect cartoons, but seriously: This is a perfect cartoon." From YouTube:

Almost as old as I am, and yet very on-brand for gaslit 2020.

News of the Wired

How did I not know there was a Lovecraft bot:

Lovecraft predicted Limp Bizkit https://t.co/5cBbo2FuHM

— 👻 Tobias Harris' Contract 👻 (@tholzerman) October 5, 2020

* * *Readers, feel free to contact me at lambert [UNDERSCORE] strether [DOT] corrente [AT] yahoo [DOT] com, with (a) links, and even better (b) sources I should curate regularly, (c) how to send me a check if you are allergic to PayPal, and (d) to find out how to send me images of plants. Vegetables are fine! Fungi and coral are deemed to be honorary plants! If you want your handle to appear as a credit, please place it at the start of your mail in parentheses: (thus). Otherwise, I will anonymize by using your initials. See the previous Water Cooler (with plant) here. Today's plant (AM):

AM writes: "A view of the kitchen garden at Rough Point in Newport, the Doris Duke mansion, now open to the public, July 31. Possibly some squash blossoms in the foreground." Squash, the most vital of all vegetables. I love it when they climb trees.
Original Source