This is Naked Capitalism fundraising week. 1764 donors have already invested in our efforts to combat corruption and predatory conduct, particularly in the financial realm. Please join us and participate via our donation page, which shows how to give via check, credit card, debit card, or PayPal. Read about why we're doing this fundraiser, what we've accomplished in the last year, and our current goal, more original reporting.
By Lambert Strether of Corrente
Bird Song of the Day
Feeling like a bustard today. I wonder if the world of the dinosaurs sounded like this?
#COVID19
At reader request, I've added this daily chart from 91-DIVOC. The data is the Johns Hopkins CSSE data. Here is the site.
Here are the United States regions: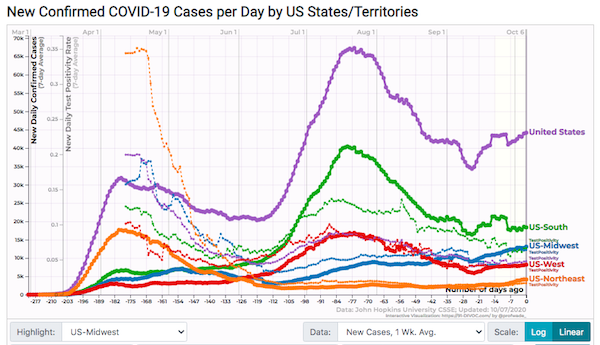 Unmistakable rise in all regions now. Ugh.
Here are the Swing States as I conceive them (see below):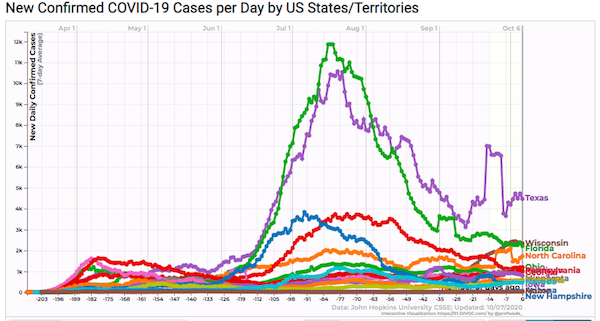 Texas bounces around (more data woes), Wisconsin continues steady rise…
Here's the global leaderboard, the top 25: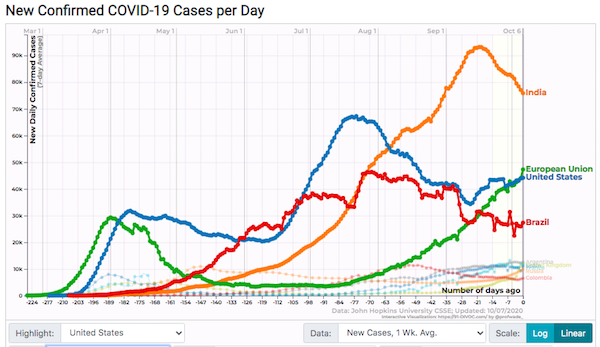 The EU is pretty disconcerting. No Asian countries at all in the top 25 except for the Philippines and Indonesia (though everybody seems to think Indonesia's reporting is terrible).
Politics
"But what is government itself, but the greatest of all reflections on human nature?" –James Madison, Federalist 51
"They had one weapon left and both knew it: treachery." –Frank Herbert, Dune
"They had learned nothing, and forgotten nothing." –Charles Maurice de Talleyrand-Périgord
The electoral map. July 17: Georgia, Ohio, ME-2 move from Leans Republican to Toss-up. Continued yikes. On July 7, the tossup were 86. Only July 17, they were 56. Now they are 91. This puts Biden at 278, i.e. over 270. August 18: Still no changes. August 31: Indiana moves from Likely to Safe Republican. September 9: No changes. September 14: No changes. September 21: No changes. September 22: Ohio moves from Toss-up to Leans Republican. September 25: Ohio moves from Leans Republican to Toss-up. September 30: Iowa moves from Leans Republican to Toss-up. October 3: Indiana moves from Safe to Likely Republican; Iowa moves from Toss-up to Leans Republican. For all the sturm and drang, and the polls, the consensus on the electoral college remains remarkably static: Biden ahead, Trump within striking distance. Of course, if Trump is still in striking distance on Election Day, that will count as a loss. Maybe.
The election countdown:
Here is an early voting calendar. Maybe we'll have a whole series of October surprises, since election day is gradually being devalued as an event.
And here are mail-in voting ruies, which naturally differ state by state.
NEW "2020 General Election Early Vote Statistics" [U.S. Elections Project (SlayTheSmaugs)].
"How to Vote in 2020: Everything You Need to Know" [Bloomberg]. "Casting a ballot in the U.S. isn't always easy, with a complex web of varying state rules governing how and when you can vote. The Covid-19 pandemic has introduced even more complexity in 2020, as many states have made significant changes to allow for more early voting or voting by mail. More changes could come as lawsuits in several states wind their way through the courts. That's why Bloomberg News is answering these critical questions so you'll know what you need to do to make sure your vote is counted in the 2020 election."
Here are is an enormous spreadsheet on voting equipment, so you can check your own jurisdiction (hat tip, UserFriendly. I should really aggregate these onto a map…).
UPDATE https://twitter.com/rmd1023/status/1312710174583533570?s=11
* * *
2020
Trump's Case of Covid

* * *

Here is my list of Swing States, with votes in the Electoral College and selected ballot initiatives in parentheticals):

Arizona (11) (marijuana; taxes(=)
Colorado (9) (taxes, lottery, abortion, paid medical leave)
Florida (29) (minimum wage)
Georgia (16) (declaratory relief)
Iowa (6) (Constitional convention)
Maine-02 (1) (vax)
Michigan (16) (privacy)
Minnesota (10)
Nebraska-02 (1) (payday lending; gambling)
Nevada (6) (marriage)
New Hampshire (4)
North Carolina (15)
Ohio (18)
Pennsylvania (20)
Texas (38)
Wisconsin (10) (crime victims)

Inspired by the thread starting with Arizona Slim's comment here, I went to Ballotpedia and added selected, hopefully hot button, ballot initiatives, because sometimes they affect turnout. If you live in a swing state, please comment if I got the hot buttons wrong!

I can't speak for the methodology, but the source comes recommended. Note the qualification:

In Pennsylvania, North Carolina, Florida, and Wisconsin, Trump is polling within 1 point of his 2016 polling margin at this point in time.

This is with fewer undecided voters and methodological revisions having been made by many pollsters. pic.twitter.com/pjFn2T7AOF

— Plural Vote 📊🗳📈 (@plural_vote) October 7, 2020

One obvious moral is that Democrats get a bump when they don't run a candidate who's actively hated. That's probably good for five or six states, at least.

* * *

FL: "Florida Governor Extends Deadline After Voter Registration Site Crashes" [National Public Radio]. "Florida Gov. Ron DeSantis has extended the state's deadline for Floridians to register to vote after the state's registration website crashed due to a heavy volume of traffic. The crash, which sparked outrage from Democrats, could have prevented thousands of potential voters from being able to participate in the Nov. 3 general election. The outage comes as the state is once again highly competitive in this fall's presidential race. Former Vice President Joe Biden campaigned Monday in Miami."

ME: "Sara Gideon and Susan Collins within 1 point in new BDN poll of Maine Senate race" [Bangor Dailly News]. "The results are closer than those in the last BDN poll conducted in August, when Gideon had a five-point lead among likely voters, though both are within the margin of error from each other. The poll also showed fewer undecided voters, with eight percent of voters saying they were still making up their minds down from 14 percent in August. Gideon has led in all independent public polling this year, with the margins varying widely…. Voting is already underway in Maine, with the first round of absentee ballots sent out last Friday and in-person absentee voting available in most towns."

MI: "Michigan allows limited early ballot processing, but counting still expected to stretch past election night" [Politico]. "Michigan Gov. Gretchen Whitmer signed a law allowing local clerks a limited window to process mail ballots ahead of Election Day, as election experts warn that the results of the 2020 election may take longer than usual to determine because of the time it takes to process and count absentee votes. The law, which passed out of the Republican-controlled legislature and was signed by the Democratic governor, allows election clerks whose jurisdiction contains at least 25,000 people to start processing — but not counting — mail ballots for 10 hours on Nov. 2, the day before Election Day."

PA: "Poll shows Biden with 12-point lead in Pennsylvania" [Axios]. "Biden's current lead is a significant improvement from his four-point lead in last month's Monmouth poll." • Seems like rather a lot.

PA: "In Pennsylvania, Catholic Voters Are Targeted By Both Sides" [NPR]. "The Trump and Biden campaigns this year are both targeting Catholics, with messages reflecting their differing judgments of how Catholic faith values might push swing voters in one direction or another. In the battleground state of Pennsylvania, it's a critical effort. Republicans hope opposition to abortion will drive Pennsylvania Catholics to support President Trump…. Catholics outnumber Evangelicals in Pennsylvania by a 2-to-1 margin. In 2016, Trump narrowly defeated Hillary Clinton in the state. This year, however, with Biden as his opponent, Trump is facing a lifelong Catholic and Pennsylvania native who regularly attends mass and carries a rosary… 'What we want to do is help people understand Joe Biden's character, his basic goodness, and [how he is] reaching out to people and trying to bring our country together,' says Kevin Hayes, cofounder of Pittsburgh Catholics4Biden." • Basic goodness…. s

PA: "Memory sticks used to program Philly's voting machines were stolen from elections warehouse" [Inquirer]. "A laptop and several memory sticks used to program Philadelphia's voting machines were stolen from a city warehouse in East Falls, officials confirmed Wednesday, setting off a scramble to investigate and to ensure the machines had not been compromised. Though it remains unclear when the equipment was stolen, sources briefed on the investigation said the items vanished this week. The laptop belonged to an on-site employee for the company that supplies the machines. It and the USB drives were the only items believed to have been taken. 'We are confident,' said Nick Custodio, a deputy to Lisa Deeley, chair of the city commissioners, who oversee elections, 'that this incident will not in any way compromise the integrity of the election.'" • [nods vigorously].

TX: "Harris County can't send mail-in ballot applications to all registered voters, Texas Supreme Court rules" [Texas Tribune]. "The elections administrator of the state's most populous county, an important Democratic stronghold, may not send out applications for mail-in ballots to all 2.4 million of the county's registered voters, the all-Republican Texas Supreme Court ruled Wednesday in a rebuke of County Clerk Chris Hollins, whose office has worked to expand voting options beyond what is available in a typical year…. But the state's highest civil court ruled Wednesday that Hollins may not put the applications in the mail. The documents can be accessed online and are often distributed by political campaigns, parties and other private organizations. But for a government official to proactively send them oversteps his authority, the court ruled."

TX: "DCCC gives Siegel Red to Blue nod in TX-10" [Texas Tribune]. "The DCCC is targeting 10 seats this November in Texas, and Siegel is the eighth candidate who has gotten the Red to Blue distinction. But he's one of the more significant recipients — the unabashedly progressive contender had a cool relationship with the committee during the primary, and while relations improved as he closed in on the nomination, some supporters still questioned why the group didn't more swiftly embrace him."

TX: "A bullish Biden campaign invades Trump territory" [Politico]. "Starting this week, a generation of voters in Texas will see something they've never witnessed before: a heavy rotation of presidential TV ads. In a move that would have been far-fetched even a few months ago, Joe Biden is set to spend $6.2 million on ads in the state over the next month — attempting to put the state in play for the first time in decades. The latest polling averages show President Donald Trump leading by only 2 to 3 points in Texas, and Biden's push there illustrates both how much the state has changed and how much the political environment is tilting against Trump less than a month from the Election Day." • We'll see if Biden visits. He has visited Pennsylvania and Florida.

TX "Biden makes $6M bet on Texas, ending drought for Democrats who've written off state for decades" [Dallas Morning News]. "Biden's ad buy shows up in data collected by Advertising Analytics, which tracks campaign spending. He could still back out, making this a rather elaborate feint, but Texas Democrats believe it's just the start. And the state party is simultaneously investing several million for ads aimed at Black and Latino voters — a coordinated assault on a state that Republicans long counted on as unassailable. Biden and Sen. Kamala Harris have yet to put Texas on their itineraries, though Texas activists remain hopeful as polls continue to show Trump mired in a tie with Biden, or barely ahead, in a state he won by 9 points four years ago. Until Monday, Biden had only deployed Texas allies in Texas. Harris's husband, Doug Emhoff, visited San Antonio and Edinburg, ending a decades-long streak of Texas being ignored by the national ticket."

* * *

Biden (D)(1): "Joe Biden Gettysburg Campaign Speech Transcript October 6" [Rev]. One reaction:

Biden 's speech should be known as the second Gettysburg address. https://t.co/BDLsXiIMpD

— Kelli Scott (@boycatforever) October 6, 2020

I linked to Biden's speech this morning, but I've linked to it again here because I'd like your reactions to it; I think I'm gonna have to put on my yellow waders for it. For example, Biden's theory of the CIvil War seems to be that it was caused by a lack of decorum. Understandable in a liberal Democrat, I suppose, but a little too much of the present moment, perhaps.

Biden (D)(2):

Is there any doubt the Biden camp will do 30-minute infomercials at the end à la Obama?

Obama infomercial in 2008 was watched by 33.5M

— Medium Buying (@MediumBuying) October 7, 2020

Biden (D)(3):

As president, I will:

– Implement nationwide mask mandates
– Ensure access to regular, reliable, and free testing
– Accelerate the development of treatments and vaccines

I won't waste any time getting this virus under control.

— Joe Biden (@JoeBiden) October 7, 2020

On masks: Biden's site is more equivocal: "Implement mask mandates nationwide by governors and mayors and by the American people to do what they do best: step up in a time of crisis. On free testing: It's hard to imagine a crueller policy than free tests without free treatment. You get the diagnosis, and can't afford to do anything about it! On vaccines: Needs to explain what's more accelerated than Project Warp Soeed, which really has been fast.

Biden (D)(4): "Biden Affirms: 'I Will Eliminate Your Student Debt'" [Forbes]. The headline is deceptive, You knew the plan is means-tested and has eligibility requirements, and so it does: 'I'm going to eliminate your student debt if you come from a family [making less] than $125,000 and went to a public university.' Biden also said, 'I'm going to make sure everyone gets $10,000 knocked off of their student debt' in response to economic hardships caused by the pandemic. Biden further proposed giving young people a $15,000 credit towards a downpayment on their first home. 'This is how people accumulate wealth*," he said. 'This is how people get started. We have to recognize you and advance you. You are the future.'" • $10,000 knocked off debt and $15,000 credit towards a downpayment on their first home is exactly what I had in mind with my barbell metaphor: The problem is so bad that never the weak, nor the less weak, can lift it. NOTE * A house is not wealth, if by wealth is meant capital, unless you're speculating with it.

Biden (D)(5): Forgotten nothing, learned nothing:

— Andrew Yang🧢🇺🇸 (@AndrewYang) October 7, 2020

Party like it's 2008!

Trump (R)(1): "Trump campaign discussing plans to appoint its own state electors, no matter the results: report" [Salon]. "[i]n 2000, the Supreme Court held in Bush v. Gore that the states 'can take back the power to appoint electors.' … According to a Sept. 23 article in The Atlantic, campaign advisers to Trump, in conjunction with Republican state leaders, are preparing to test this theory. Sources in the Republican Party, at both state and national levels, say that the campaign is considering a plan to 'bypass' the popular vote results and install its own electors in key battleground states where the legislatures are controlled by Republicans. Republicans control both legislative bodies in the six closest battleground states: Arizona, Florida, Michigan, North Carolina, Pennsylvania and Wisconsin. Of those six, both Arizona and Florida have Republican governors. After the national election, the plan goes, the Trump campaign would cry foul about rampant fraud and demand that state legislators ignore the ballot tabulations and choose their electors directly." • Here is the Loyola Law Review article that lays out the scenarios discussed in this article and at greater length in the Atlantic.

Trump (R)(2): "Eli Lilly says its monoclonal antibody cocktail is effective in treating Covid-19" [STAT]. "reducing levels of the virus that causes Covid-19 in patients, and also appears to prevent patients from visiting the emergency room or hospital. Lilly had previously released results for a similar treatment using one antibody, which experts viewed as promising. But the new results, of a combination of two antibodies, appear, based on limited data provided in a press release, to be more robust. The results also appear roughly similar to those Regeneron presented last week of its own cocktail of two monoclonal antibodies. Last Friday, President Trump was treated with the Regeneron monoclonal antibodies. Eli Lilly said that in a preliminary analysis the antibody combination reduced the amount of virus in nasal swabs of patients after 11 days. Key data, including the actual viral loads of patients and the makeup of the study population, were not included in the press release." • n = 112. Gottlieb is a former FDA Commissioner:

Credit to the Lilly team for making substantial, at risk investments in manufacturing for this promising Covid drug; they should be able to supply more than 1 million doses between now and the end of the year. https://t.co/MpJYaZ48UQ

— Scott Gottlieb, MD (@ScottGottliebMD) October 7, 2020

Perhaps I was wrong, Trump lucked out, and he has a colorable claim to a vaccine after all!

* * *

Apparently the economic message, even if the economics are miserably inadequate, still works:

This slide from @DavidShor hits the nail on the head of why direct messaging against Trump (@ProjectLincoln ads, etc.) is ineffective in swing states.

Dem messages that actually move votes: talking about education & majoritarian economic policies. pic.twitter.com/Kecb0tCKLt

— Dave Wasserman (@Redistrict) October 7, 2020

I thought voters were too racist to hear it. And that "economic anxiety" was something for the Acela class to mock. Oh well.
The Debates
I will have a live blog post up for the Vice Presidential debate in due course. Here's the set:

Good morning from inside the site of tonight's Pence-Harris vice presidential debate. pic.twitter.com/MIKbhO4u8w

— Geoff Bennett (@GeoffRBennett) October 7, 2020
RussiaGate
"'We Need to Take Away Children,' No Matter How Young, Justice Dept. Officials Said" [New York Times]. "The five U.S. attorneys along the border with Mexico, including three appointed by President Trump, recoiled in May 2018 against an order to prosecute all undocumented immigrants even if it meant separating children from their parents. They told top Justice Department officials they were "deeply concerned" about the children's welfare. But the attorney general at the time, Jeff Sessions, made it clear what Mr. Trump wanted on a conference call later that afternoon, according to a two-year inquiry by the Justice Department's inspector general into Mr. Trump's 'zero tolerance' family separation policy. 'We need to take away children,' Mr. Sessions told the prosecutors, according to participants' notes. One added in shorthand: 'If care about kids, don't bring them in. Won't give amnesty to people with kids.' , then the deputy attorney general, went even further in a second call about a week later, telling the five prosecutors that it did not matter how young the children were. He said that government lawyers should not have refused to prosecute two cases simply because the children were barely more than infants." • Did people name their dogs after Rosenstein too, or just Mueller?
Obama Legacy
"Mr. Obama Goes to Washington" [David Sirota, The Nation]. From June 8, 2006 (!): "Another area of retreat and equivocation for Obama is his role in party politics. He had previously said he didn't "want to be the kingmaker," because "it's never been sort of a role that I've aspired to in politics." Yet Obama forcefully intervened in a suburban Chicago Congressional primary on behalf of Iraq veteran Tammy Duckworth, the candidate handpicked by Democratic power brokers, against grassroots contender Christine Cegelis, who in 2004 garnered an astonishing 44 percent against GOP incumbent Henry Hyde and who almost beat Duckworth. Wasn't this the very kingmaking role he'd said he didn't want to be a part of?… Just as Ned Lamont's antiwar primary campaign against prowar Connecticut Senator Joe Lieberman was gaining momentum, Obama traveled to the state to endorse Lieberman. Like the Duckworth endorsement, Obama's move was timed to derail an insurgent, grassroots candidate. To progressives this may seem surprising, given Obama's progressive image. But remember, according to the New York Times it is Lieberman–one of the most conservative, prowar Democrats in Washington–who is 'Obama's mentor in the Senate as part of a program in which freshman senators are paired with incumbents.'" • So Obama has form. Elevating Biden over Sanders repeats his earlier patterns.
Realignment and Legitimacy
What will happen to the Never-Trumpers? David Frum has a long thread:

So just as democratic Spain had to rethink what it means to be "conservative" post-Franco, just as people in eastern Germany had to purge the old communists from democratic Left … so there's a mighty work to be done on the American center-right. 6/x

— David Frum (@davidfrum) October 6, 2020

No thought of purging the maniacs who got us into the Iraq War, of course.

Note on The Great Assimilation™. I don't have "You will be assimilated" in mind. Rather, I had in mind a passage like this from Naked Lunch. There may be others, but this is best I can find:

Later the boy [Lincoln Group] is sitting in a Waldorf with two colleagues dunking pound cake.

'Most distasteful thing I ever stand still for,' he says. 'Some way he make himself all soft like a blob of jelly and surround me so nasty [the Democrats]. Then he gets well all over like with green slime. So I guess he come to some kinda awful climax … I come near wigging with that green stuff all over me, and he stink like a old rotten cantaloupe.'

'Well it's still an easy score.'

The boy signed resignedly; 'Yes, I guess you can get used to anything. I've got a meet with him again tomorrow.'

I feel utter revulsion at Bush-era Republican war criminals slithering on board Biden's juggernaut. And all to avoid appealing to the working class, let alone expand the electorate by bringing in new voters. "Fundamentally, nothing will change" is a phrase Burroughs could have had a lot of fun with.

* * *

"What is ranked-choice voting and why one state is using it for the presidential election" [ABC]. "The state will be the first in the union to decide the presidential and congressional elections through a ranked-choice voting [RCV's] ballot. Unlike a traditional winner-take-all plurality ballot, ranked choice voters are asked to list their candidates in order of preference and the victor is decided through a process of elimination based on those rankings….. Christopher Hughes, the policy director for the Ranked Choice Voting Resource Center, told ABC News that the system has grown in popularity over the years, because it gives voters more choice and say in their elected officials. Hughes said voters who prefer third party candidates can still have their voices heard even if their candidate is eliminated in a ranked choice voting round. 'You don't have that excuse anymore that your vote doesn't count,' he said." • A strong point in RCV's favor is that both parties hated it, and did everything they could to make sure it never happened. (The article has the details, including an explanation of how the votes are counted to determine the winner.)
Stats Watch
At reader request, I added some business stats back in. Please give Econintersect click-throughs; they're a good, old-school blog that covers more than stats. If anybody knows of other aggregators, please contact me at the email address below.
Leading Indicators: "03 October 2020 New York Fed Weekly Economic Index (WEI): Index Little Changed Since End Of August" [Econintersect]. "The New York Fed's Weekly Leading Index (WLI) continues to show an economy that is below the worst seen during the Great Recession. However, this index remains on a recovery trend but the index is only marginally improved since the end of August."
Employment Situation: "Is The Labor Market Recovery Still Alive?" [Econintersect]. "The August labor report was revised higher from 1.371 million to 1.489 million jobs created, but private sector job creation was revised lower by 5,000 to 1.022 million. That means total government jobs created was revised higher from 344,000 to 467,000. That's a huge number. Backing that out shows private sector job creation looks fine in September compared to August….. The government was only expected to lose 6,000 jobs because of the census. It actually lost 34,000 from the census, but that wasn't the main reason jobs fell in the public sector. Instead, the losses came from local and state education which lost 291,000 and 49,000 jobs. Outside of education, local governments added 96,000 jobs. These losses in education are likely temporary which is good news. They were impacted by the late start to the school year."
* * *
Tech: "'Smart' male chastity device vulnerable to locking by hackers, researchers say" [Taipei Times]. "A security flaw in an Internet-connected male chastity device could allow hackers to remotely lock it — leaving users trapped, researchers have said. The Cellmate, produced by Chinese firm Qiui, is a cover that clamps on the base of the male genitals with a hardened steel ring, and does not have a physical key or manual override. The locking mechanism is controlled with a smartphone app via Bluetooth — marketed as both an anti-cheating and a submission sex play device — but security researchers have found multiple flaws that leave it vulnerable to hacking. 'We discovered that remote attackers could prevent the Bluetooth lock from being opened, permanently locking the user in the device. There is no physical unlock,' British security firm Pen Test Partners (PTP) said on Tuesday. 'An angle grinder or other suitable heavy tool would be required to cut the wearer free.'" • Yikes!
* * *
.
Today's Fear & Greed Index: 48 Neutral (previous close: 44 Fear) [CNN]. One week ago: 44 (Fear). (0 is Extreme Fear; 100 is Extreme Greed). Last updated Oct 7 at 12:07pm.
The Biosphere
"When Plants Go to War" [Nautilus]. Not with each other (though I would think that happens too). This is neat: "Plants also make use of underground networks to warn each other of impending danger. Many species have a symbiotic relationship with a soil-borne fungus, which penetrates the outer layers of a plant's roots, feeding off its carbon stores and helping it take up vital nutrients such as nitrogen and phosphorus in return. The fungus grows by sending out long, threadlike branches called hyphae, which colonize nearby plants, forming vast underground webs."
Health Care
"Can Convalescent Plasma Prevent Severe COVID-19? A Rigorous Trial Is Looking for Participants" [RealClearScience]. "Can the blood of people who have recovered from COVID-19 prevent severe disease in those who have been exposed or are newly infected? A prestigious team of researchers from Johns Hopkins University is trying to find out, and they need your help. The therapy is called convalescent plasma. As somebody fights off COVID-19, their immune system pumps out antibodies to neutralize the coronavirus. These remain in blood plasma once the infection has waned. As researchers have found out with diseases like measles and mumps, antibodies can be harvested from recovered individuals and given to sick people to aid their immune systems. The same could be true for COVID-19. Early studies published in the last six weeks show that convalescent plasma is safe, but despite promising signs, they have not conclusively demonstrated its effectiveness. What's needed is a large, randomized, placebo-controlled clinical trial, and with $35 million in funding from the U.S. Department of Defense, researchers at Johns Hopkins University are providing." • I thought plasma had been left for dead because Trump mentioned it, but I guess not.
Class Warfare
"I'm a software engineer at Uber and I'm voting against Prop 22" [TechCrunch]. "These experiences have made me realize a crucial factor in the gig economy: Uber works because it's cheap and it's quick. The instant gratification when we book a ride and a car shows up only minutes later gives us a sense of control. It's the most convenient thing in the world to go to your friend's house, the grocery store or the airport at the click of a button. But it's become clear to me that this is only possible because countless drivers are spending their personal time sitting in their cars, waiting to pick up a ride, completely unpaid. Workers are subsidizing the product with their free labor. I've decided to speak out against my employer because I know what it's like to work with no benefits. Before joining Uber, I worked a range of low-wage jobs from customer service at Disneyland to delivering pizza with no benefits. Uber is one of several large companies bankrolling California's Proposition 22. They've now contributed $47.5 million dollars to the campaign. At work, management tells us that passing Prop 22 is for the best because it is critical for the company's bottom line. Yet, a corporation's bottom line will not and should not influence my vote." • It would be nice if Harris gave voting against Proposition 22 a shout-out in tonight's debate. It would have been nicer if she'd joined a digital picket line.
"Encyclical Letter Fratelli Tutti of The Holy Father Francis On Fraternity And Social Friendship" [The Vatican]. From the section "Re-envisaging the social role of property":
119. In the first Christian centuries, a number of thinkers developed a universal vision in their reflections on the common destination of created goods.[91] This led them to realize that if one person lacks what is necessary to live with dignity, it is because another person is detaining it. Saint John Chrysostom summarizes it in this way: "Not to share our wealth with the poor is to rob them and take away their livelihood. The riches we possess are not our own, but theirs as well".[92] In the words of Saint Gregory the Great, "When we provide the needy with their basic needs, we are giving them what belongs to them, not to us".[93]

120. Once more, I would like to echo a statement of Saint John Paul II whose forcefulness has perhaps been insufficiently recognized: "God gave the earth to the whole human race for the sustenance of all its members, without excluding or favouring anyone".[94] For my part, I would observe that "the Christian tradition has never recognized the right to private property as absolute or inviolable, and has stressed the social purpose of all forms of private property".[95] The principle of the common use of created goods is the "first principle of the whole ethical and social order";[96] it is a natural and inherent right that takes priority over others.[97] All other rights having to do with the goods necessary for the integral fulfilment of persons, including that of private property or any other type of property, should – in the words of Saint Paul VI – "in no way hinder [this right], but should actively facilitate its implementation".[98] The right to private property can only be considered a secondary natural right, derived from the principle of the universal destination of created goods. This has concrete consequences that ought to be reflected in the workings of society. Yet it often happens that secondary rights displace primary and overriding rights, in practice making them irrelevant.
Biden is, IIRC, Catholic…
News of the Wired
Dulce et utile:
Selling a 540-year-old painting for a nearly $80 million profit would normally lead to $33 million capital gains tax bill. But the billionaire owner of Botticelli's "Young Man Holding a Roundel" found a way around that. https://t.co/7S0xtu06A5

— Businessweek (@BW) October 7, 2020
Holding a mirror up to nature:
The Masque of the Red Death by Charles Demuth https://t.co/lBHac8uXqm #barnesfoundation #charlesdemuth pic.twitter.com/oJEjIeDRo4

— Barnes Collection (@the_barnes_bot) October 6, 2020
* * *
Readers, feel free to contact me at lambert [UNDERSCORE] strether [DOT] corrente [AT] yahoo [DOT] com, with (a) links, and even better (b) sources I should curate regularly, (c) how to send me a check if you are allergic to PayPal, and (d) to find out how to send me images of plants. Vegetables are fine! Fungi and coral are deemed to be honorary plants! If you want your handle to appear as a credit, please place it at the start of your mail in parentheses: (thus). Otherwise, I will anonymize by using your initials. See the previous Water Cooler (with plant)
here. Today's plant (AM):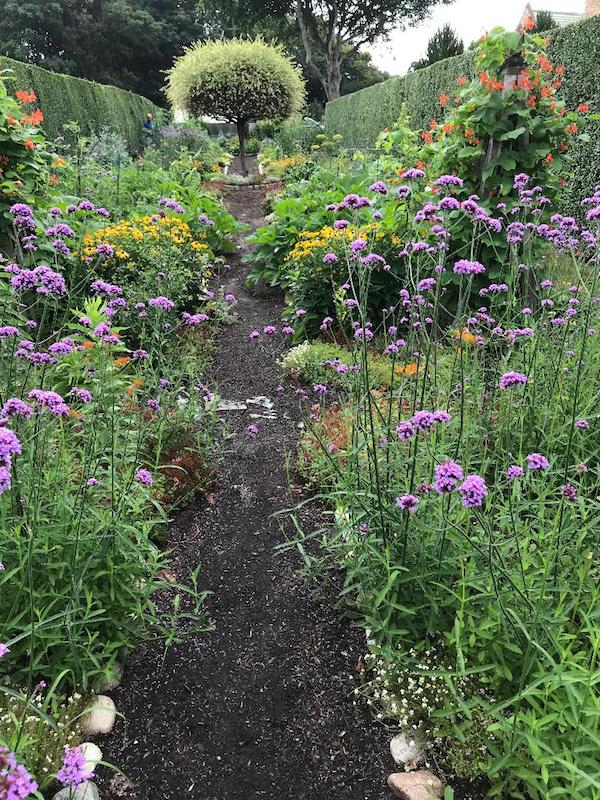 AM writes: "Reverse angle of the kitchen garden at Rough Point, the Doris Duke mansion, on July 31. Guess the rich have fancier vegetable gardens along with everything else." They do, but what an inviting path!

Original Source