This is Naked Capitalism fundraising week. 1781 donors have already invested in our efforts to combat corruption and predatory conduct, particularly in the financial realm. Please join us and participate via our donation page, which shows how to give via check, credit card, debit card, or PayPal. Read about why we're doing this fundraiser, what we've accomplished in the last year, and our final goal, hitting our dollar and donor targets.
Time: 9:00PM-10:30PM ET (no commercial breaks)
Place: Kingsbury Hall, Nancy Peery Marriott Auditorium, The University of Utah, Salt Lake City, UT
Host: The Commission on Presidential Debates (not a network)
Moderator: Susan Page, USA Today's Washington bureau chief.
Candidate line-up:
Mike Pence (Vice-President of the United States)
Kamala Harris (former Senator from California, Vice-Presidential candidate)
The topics will be selected by the moderator, and had not been revealed as of this afternoon.
The format will be similar to the widely panned first presidential debate between Trump and Joe Biden. It will be divided into nine segments of approximately 10 minutes each, and there will be no commercial breaks, according to the Commission on Presidential Debates. Unlike the presidential debate, topics are not being disclosed ahead of time.

The moderator will ask an opening question to Pence first, after which each candidate will have two minutes to respond, the commission said. Page will use the balance of the time in the segment for a deeper discussion of the topic.

Those "deeper discussions" led to the candidates interrupting each other and speaking over each other in the Trump-Biden debate, but Pence and Harris are more traditional debaters.

There will be no opening or closing statements. Pence and Harris will each be seated behind a desk.
On Covid:
There will be "a small number of ticketed guests" who will be tested before the debate, but they will be escorted out if they do not wear masks during the event, the commission said — an apparent nod to the Trump family's refusal to keep their masks on during the first debate.

Plexiglass is installed in front of each candidate's desk.

Harris' team had asked for the measure, which was mocked by Pence's spokeswoman, Katie Miller. "If Sen. Harris wants to use a fortress around herself, have at it," Miller said Monday.
Here is an image of the plexiglass set-up: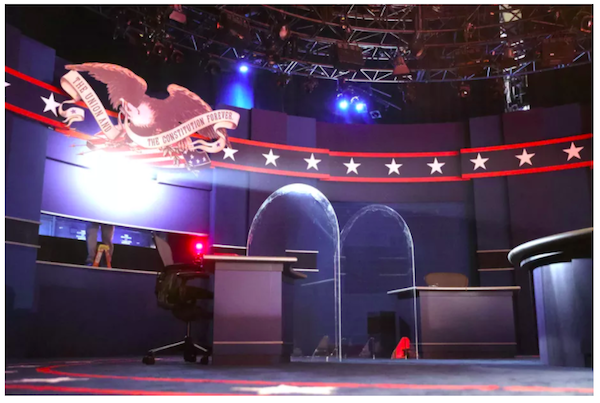 What seems clear to me, given aerosol transmission, is that the value of the plexiglass is purely symbolic. Miller's giving it the old college try, but everybody knows — or at least will think — that the plexiglass is there to protect Harris from Pence, not vice versa. I'm picturing Harris walking out as the debate starts, then spraying down her side of the plexiglass with Purell and wiping it with a cloth.
The debate will be carried by all major broadcast networks and will also be widely available on YouTube. NBC, ABC, Fox News, and C-Span are all carrying streams, with some of them beginning commentary in advance of the official start time.
The debate will also be streamed on C-SPAN (and a million other places).
Here is a drinking game, from the Washingtonian (not Taibbi). There is also a bingo card. Momala?
* * *
The Brookings Institute explains the stakes:
Vice presidential debates tend to be boring events focused on how best a candidate would help the president if elected and what types of policies an administration would pursue. In the background of these debates is always the recognition that either individual must be ready to become president, if their ticket succeeds. However, the 2020 race offers us the two oldest presidential nominees in American history. One of whom is currently battling a serious health crisis—President Donald Trump—and another who has dealt with series health challenges in the 1980s—former Vice President Joe Biden. Whether Mr. Trump is reelected or Mr. Biden wins next month, they will be sworn in during a deadly pandemic that has proved to be particularly dangerous to older men. And Americans will be watching the VP debate with renewed awareness that one of those two individuals could easily become president—not because they ran for the office but because they succeeded to the office.
I can't say I find either candidate especially appealing. I don't like either of their politics, if Harris in fact has any, and I don't like that Harris somehow got herself into the line of succession, and made herself the front-runner for two more Presidential cycles, after doing so badly in the primaries she had to drop out. (DNC to voters: "You'll eat the dog food and like it.") To be fair, they love her in the Hamptons and on the Vineyard, and that's what counts.
As with the previous Presidential debate, if Harris isn't knocked out, she wins.
* * *
As usual, this post does not update; readers may track the debate in real time in comments.
Please keep your comments as informative and analytical as possible. Write for the reader who hasn't seen the debate, and comes to this site in lieu of watching it on TV. There are no points at NC for knee-jerk, context-free one-liners ("Boo ____!" or "Yay!") that only those who are also watching can make sense of; that's for Facebook or Reddit.
I think it adds more value if you take a moment, use your critical thinking skills, then comment, and readers can discuss what you say. That way, those who cannot watch the debate — or can't stand to do so — can get a good idea of what really happened by reading what you write after the fact. This is what the NC commentariat is so very good at, after all. Last time, the times before that, and this time. Thank you!

Original Source