By Lambert Strether of Corrente
Patient readers, brunch ran a little late. More soon! –lambert UPDATE And then my mailer, as it does, decided not to send me my research, after behaving nicely for some days. Aaargh!
Bird Song of the Day
Such tiny little sounds! They ought to sound more like F-16s. Or Stukas.
#COVID19
At reader request, I've added this daily chart from 91-DIVOC. The data is the Johns Hopkins CSSE data. Here is the site.
Here are the United States regions: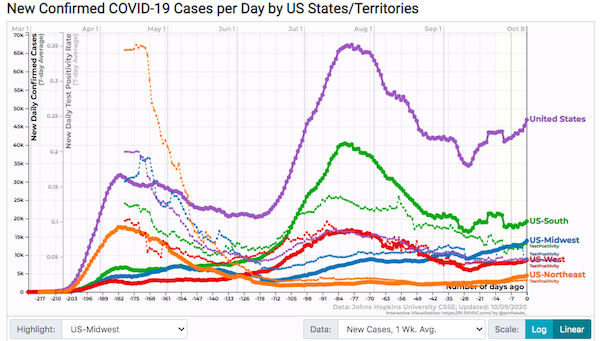 Unmistakable rise in all regions now. Ugh. Super-ugh.
Here are the Swing States as I conceive them (see below):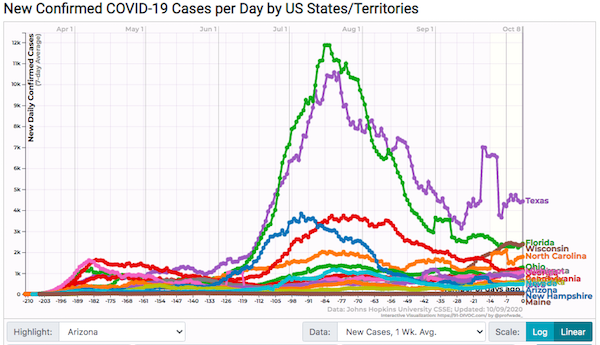 Looks like Texas has its data under control, Wisconsin continues steady rise…
Here are the larger European countries and the EU as a whole, with the United States for comparison: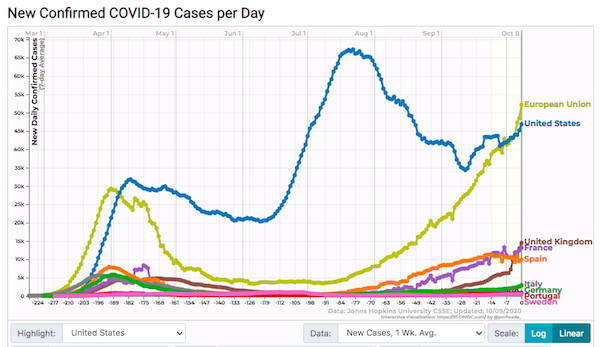 That's… concerning, and suggests that more than a change in leadership will be required to get the United States out of the woods.
–>
Politics
"But what is government itself, but the greatest of all reflections on human nature?" –James Madison, Federalist 51
"They had one weapon left and both knew it: treachery." –Frank Herbert, Dune
"They had learned nothing, and forgotten nothing." –Charles Maurice de Talleyrand-Périgord
The electoral map. July 17: Georgia, Ohio, ME-2 move from Leans Republican to Toss-up. Continued yikes. On July 7, the tossup were 86. Only July 17, they were 56. Now they are 91. This puts Biden at 278, i.e. over 270. August 18: Still no changes. August 31: Indiana moves from Likely to Safe Republican. September 9: No changes. September 14: No changes. September 21: No changes. September 22: Ohio moves from Toss-up to Leans Republican. September 25: Ohio moves from Leans Republican to Toss-up. September 30: Iowa moves from Leans Republican to Toss-up. October 3: Indiana moves from Safe to Likely Republican; Iowa moves from Toss-up to Leans Republican. October 6: Arizona moves from Toss-up to Leans Democratic; Iowa from Leans Republican to Toss-up; Indiana from Likely to Safe Republican; New Mexico from Likely to Safe Democratic. . I would say the election is no longer static.
The election countdown:
Here is an early voting calendar. Maybe we'll have a whole series of October surprises, since election day is gradually being devalued as an event.
And here are mail-in voting ruies, which naturally differ state by state.
NEW "2020 General Election Early Vote Statistics" [U.S. Elections Project (SlayTheSmaugs)].
"How to Vote in 2020: Everything You Need to Know" [Bloomberg]. "Casting a ballot in the U.S. isn't always easy, with a complex web of varying state rules governing how and when you can vote. The Covid-19 pandemic has introduced even more complexity in 2020, as many states have made significant changes to allow for more early voting or voting by mail. More changes could come as lawsuits in several states wind their way through the courts. That's why Bloomberg News is answering these critical questions so you'll know what you need to do to make sure your vote is counted in the 2020 election."
Here are is an enormous spreadsheet on voting equipment, so you can check your own jurisdiction (hat tip, UserFriendly. I should really aggregate these onto a map…).
UPDATE https://twitter.com/rmd1023/status/1312710174583533570?s=11
* * *
2020
The Debates

"The medical facts about Mike Pence's debate red eye" [The Hill]. • Remember Terry Schiavo? it's good to know that armchair diagnosis from video evidence is bipartisan!

Trump's Case of Covid

Swing States

House moves, mostly swing:

New at @CookPolitical: seven House rating changes, all in Democrats' direction. Read all about it in our new 7,000 word overview of the most competitive races ($). https://t.co/9HvHFZ6iU6 pic.twitter.com/0J5ni4DuAp

— Dave Wasserman (@Redistrict) October 8, 2020

Here is my list of Swing States, with votes in the Electoral College and selected ballot initiatives in parentheticals):

Arizona (11) (marijuana; taxes(=)
Colorado (9) (taxes, lottery, abortion, paid medical leave)
Florida (29) (minimum wage)
Georgia (16) (declaratory relief)
Iowa (6) (Constitional convention)
Maine-02 (1) (vax)
Michigan (16) (privacy)
Minnesota (10)
Nebraska-02 (1) (payday lending; gambling)
Nevada (6) (marriage)
New Hampshire (4)
North Carolina (15)
Ohio (18)
Pennsylvania (20)
Texas (38)
Wisconsin (10)

Inspired by the thread starting with Arizona Slim's comment here, I went to Ballotpedia and added selected, hopefully hot button, ballot initiatives, because sometimes they affect turnout. If you live in a swing state, please comment if I got the hot buttons wrong!

* * *

FL: "Florida's unemployment jumps as layoffs pick up again" [Sun-Sentinel]. "New unemployment claims among Floridians surged to 40,200 for the week ended Oct. 3 as airlines and other businesses tied to tourism laid off or furloughed more workers and the COVID-19 pandemic kept weighing heavily on hiring decisions…. A key problem facing hotel and restaurant owners and managements is an inability to project when visitors will return in force to Florida, particularly for the forthcoming tourism season. The Canadian border remains closed through Nov. 21, upsetting the travel plans of hundreds of thousands of visitors who annually visit Sun Belt states." • No Canadians? Short Speedos…

FL: "Dolphins sticking with 13K fans despite state OK for full capacity" [Pro Football Talk]. "A spokesperson for Florida Governor Ron DeSantis told Andy Slater of FoxSports640 that the Dolphins have a green light to open their stadium to full capacity. The Dolphins will be sticking with a 13,000-person limit for their October 25 home game against the Chargers. Dolphins CEO Tom Garfinkel said the team feels that's the right number "with positivity rates" where they currently are in the area. 'We'll continue to follow CDC guidelines and put everyone's safety first and monitor things as we go,' Garfinkel said."

* * *

"'Staggering numbers': Early voting is breaking records in 2020, fueled by a big mail-ballot lead for Democrats" [USA Today]. "More than 5.6 million people have voted early in the presidential election, vastly exceeding the pace of 2016 as Democrats amass a commanding lead in returned mail ballots. In the 2016 election, about 75,000 people had voted early one month from the election, across significantly fewer states that started early voting and reported their numbers, according to the United States Elections Project." • Even if early voting/vote-by-mail "works in Oregon," this is still an enormous load placed on an extremely creaky infrastructure. And there are plenty of lawyers out there–

"Political parties, outside groups pour resources into preelection legal fights" [MarketPlace]. "This year, an increasing share [of campaign money] is going to lawyers as political parties, candidates and outside groups all focused on the preelection legal fights all over the country over voter access, absentee and mail-in ballot rules and other changes to voting procedures related to the pandemic. According to the Standford-MIT Healthy Elections Project, there are more than 300 of these cases in 44 states. 'There are enormous stakes [ka-ching] about the future of the country,' said Carl Tobias, who teaches constitutional law at the University of Richmond, ;and especially in the next four years, [with questions of] who would be president, who would be in the Senate and have the Senate majority. And so both parties are pouring enormous resources into these elections, and especially in the states that are the battlegrounds.' The Republican National Committee said it's spending at least $20 million for election-related legal challenges around voter access nationwide." • Presumably, some of these cases will be consolidated on their way to the Supreme Court…

TN: "Tennessee Voices, Episode 97: Marquita Bradshaw, Democratic candidate for U.S. Senate" (video) [Tennessean]. I rarely feature videos without a transcript, but Bradshaw's story is so encouraging to me: "[Bradshaw] has never held public elected office before…. Bradshaw talked about being a single mom, living on working-class wages, experiencing job loss and filing bankruptcy because of medical debt. She said her campaign focuses on working people, labor rights and environmental justice. She was an early signatory to the Green New Deal and said while she encounters some Tennesseans who do not believe climate change exists, she engages them by talking about pollution and other environmental hazards. ." • Dammit. Is stonesy a word? (I was taught, long ago, that ballsy was sexist, but tha stones could represent ovaries, so "stones" was OK.) What if the parachute failed!
Realignment and Legitimacy
"House Democrats to unveil bill to create commission on 'presidential capacity'" [The Hill]. "Speaker Nancy Pelosi (D-Calif.) will unveil a bill on Friday with Rep. Jamie Raskin (D-Md.), a constitutional law expert, that would create a commission to determine whether a president is fit for office amid concerns over President Trump becoming sick with COVID-19. Pelosi's office announced Thursday that she and Raskin will formally introduce the bill at a news conference on Capitol Hill on Friday morning, hours after she hinted to reporters that 'we're going to be talking about the 25th Amendment.'" • I have not seen the bill. However, I have found Raskin's bill, H.R. 1987. Readers may be able to find weasel wording in it, but I did not. However, it's interesting as a change in the Constitutional Order, for two reasons. First, the role of the parties:

In other words, these two members, at least, could not be Indepedents, or members of the Green Party (or any other party).

Second, the role of professionals:

Credentialled, naturally:

(I'm not sure why a jury model of ordinary citizens, perhaps selected by sortition, wouldn't work here. To put this another way, the logic of this bill leads to the abolition of jury trials altogether in favor of expert testimony.)

So, in determining "Presidential Capacity," the two parties are enshrined in a constutional role. Likewise, credentialed professionals are enshrined in a Constitutional role. That seems very on-brand to me (and also open to challenge in the courts).

"How to Beat the Nazis in 2020" [The Atlantic]. "The argument against Golden Dawn, summed up by Thanasis Kampagiannis, one of the lawyers representing the plaintiffs in the case, was that the group was "a criminal conspiracy which emanates from the leadership of the organization."…. The investigation's impact on Golden Dawn is clear. It had openly sought to undermine democracy, yet it was largely using the tools of democracy that it was defeated—through the justice system, and at the ballot box. The party is financially broken, and in recent months has been forced to close dozens of offices across Greece. At least partly as a result, its electoral support has more than halved since it first entered Parliament, with Golden Dawn failing to meet the 3 percent support threshold required to win seats in 2019 legislative elections."

"Americans are more worried about their sons than their daughters" [Brookings Institution]. "But Americans are in general more worried about the prospects for boys than for girls, and for their own sons more than their own daughters, according to new data from the American Family Survey. Conservatives and men are most concerned about boys in general – but liberals are most worried about their own sons. These views may be influencing political trends, and in particular the growing partisanship gap between men and women." • The charts:

Completely Fascinating New Study: Liberals are…

– More worried about girls *in general* but
– More worried about their boys *in particular*,
compared to conservatives.

New from @RichardvReeves @BrookingsInst https://t.co/VmrvqUZpPT pic.twitter.com/1CEYigL7Nq

— Brad Wilcox (@WilcoxNMP) October 8, 2020
RussiaGate
"Barr tells Republicans Durham report won't be ready by election" [Axios]. "Barr is communicating that Durham is taking his investigation extremely seriously and is focused on winning prosecutions. According to one of the sources briefed on the conversations Barr said Durham is working in a deliberate and calculated fashion, and they need to be patient. The general sense of the talks, the source says, is that Durham is not preoccupied with completing his probe by a certain deadline for political purposes. • Should have gotten rolling earlier. The Republican narrative on this is worse than Banghazi, and that's saying something. (The administration should have used a parallel architecture, as with Operation Warp Speed. Pehaps Trump trusted Barr. The more fool he.)

"Trump, Barr at odds over slow pace of Durham investigation" [Associated Press]. From yesterday: "[M]uch of the uptick in tensions between Trump and Barr centers on the Justice Department's handling of the Durham probe. A senior administration official said Trump feels like he's given Barr wide latitude to advance the investigation, including declassifying documents related to Russia. In the absence of blockbuster findings, Trump is now moving to make documents public himself with his new acting head of intelligence." • But without a narrative, or a press willing to construct one, the documents are useless, except to historians.
Stats Watch
At reader request, I added some business stats back in. Please give Econintersect click-throughs; they're a good, old-school blog that covers more than stats. If anybody knows of other aggregators, please contact me at the email address below.
Wholesale Sales: "August 2020 Headline Wholesale Sales and Inventories Remain In Contraction Year-over-Year" [Econintersect]. "The headlines say wholesale sales were up month-over-month with inventory levels remaining very elevated. Our analysis shows improvement in the rate of growth for the rolling averages…. Our view is that this data set shows lower growth rate last month – but there was little further recovery from the pandemic-induced recession this month."
Rail: "Rail Week Ending 03 October 2020 – September Volumes Down Only 1% Year-over-Year" [Econintersect]. "Week 40 of 2020 shows same week total rail traffic (from same week one year ago) improved according to the Association of American Railroads (AAR) traffic data. Total rail traffic has been mostly in contraction for over one year – and now is slowly recovering from the coronavirus pandemic. Container exports from China are now recovering, container exports from the U.S. declined and remains deep in contraction. This week again intermodal continued in expansion year-over-year and continues on a strengthening trendline."
Leading Indicators: "02 October 2020 ECRI's WLI Marginally Improved" [Econintersect]. "ECRI's WLI Growth Index which forecasts economic growth six months forward marginally improved but remains in expansion….. In theory, this index is now indicating that in the second or third quarter of 2021 the economy should be in expansion year-over-year."
* * *
* * *
.
Today's Fear & Greed Index: 55 Neutral (previous close: 53 Neutral) [CNN]. One week ago: 40 (Fear). (0 is Extreme Fear; 100 is Extreme Greed). Last updated Oct 9 at 1:33pm.
Our Famously Free Press
"After the QAnon Ban, Who's Next?" [Matt Taibbi]. "Q ban pulls the curtain back on one of the more bizarre developments of the Trump era, the seeming about-face of the old-school liberals who were once the country's most faithful protectors of speech rights… Bring up bans of QAnon or figures like Alex Jones (or even the suppression or removal of left-wing outlets like the World Socialist Web Site, teleSUR, or the Palestinian Information Centre) and you're likely to hear that the First Amendment rights of companies like Facebook and Google are paramount. We're frequently reminded there is no constitutional issue when private firms decide they don't want to profit off the circulation of hateful, dangerous, and possibly libelous conspiracy theories. That argument is easy to understand, but it misses the complex new reality of speech in the Internet era. It is true that the First Amendment only regulates government bans. However, what do we a call a situation when the overwhelming majority of news content is distributed across a handful of tech platforms, and those platforms are — openly — partners with the federal government, and law enforcement in particular? In my mind, this argument became complicated in 2017, when the Senate Intelligence Committee dragged Facebook, Twitter, and Google to the Hill and essentially ordered them to come up with a 'mission statement' explaining how they would prevent the 'fomenting of discord.'" • "Fomenting discord" originates from Twitter's Sean Edgett and Facebook's Colin Stretch, but is reinforced by Senator Maizie Hirono at 02:00:34. I dunno. Surely the organs of state security won't use their authority arbitrarily….
Class Warfare
"How a Scrappy Group of Tech Workers Formed One of the Only Unions in the Industry" [KQED]. "It's not every day a worker in the tech sector will speak on the record, let alone two dozen of them. Companies like Google, Facebook and Apple make workers sign nondisclosure agreements, and typically demand employees run all media requests through their human resources departments. On top of that, workers who do make public remarks have no union to protect them from being fired if the company is unhappy with what they say. I once had an eyewitness at a fire in San Francisco decline to give a comment because he worked at Apple. As the apartment building burned in front of us, he told me he'd be uncomfortable commenting unless his managers signed off on the statement. But the story is different at Kickstarter, where over 24 current and former employees have given lengthy interviews about their experiences working for the crowdfunding platform." • This is really interesting, worth reading in full.
"The Politics of Pretension" [Washington Monthly]. "In his new book, the Harvard political philosopher Michael Sandel focuses on a third factor [driving the 2016 populist revolt]: elite smugness and self-dealing." Note that of smugness and self-dealing, only the second is economic hence verifiable. More: "Sandel focuses primarily on the left. For three decades, he writes, leading Democrats—including Bill Clinton (Yale Law '73), Hillary Clinton (Yale Law '73), and Barack Obama (Harvard Law '91)—embodied personally, and touted rhetorically, a brand of meritocracy hopelessly oblivious to what he calls the 'tyranny of merit'"… But Sandel is right to probe the dark things that can come from embracing meritocracy. Liberals have been overemphasizing their credentials and the economic success of their cosmopolitan metropolises. In doing so, they've forgotten that these markers are not good indicators of worth. The ability to obtain post-secondary degrees, particularly from elite institutions, is at least as much a reflection of one's class and race as it is of one's deservedness. The wealth and success of more liberal places has as much to do with an unequal system that allows existing wealth to concentrate as it does with the merit of those cities. Most progressives (especially those conscious of race) know this. But at the same time, they are willing to accept meritocratic trappings—like college degrees—as accurate predictors of worth, enabling the rise of snobbery among the progressive professional class. It allows them to justify self-dealing policies that benefit themselves. It's therefore no surprise that right-wing populism is on the rise." • Another word for "self-dealing" would be… "class consciousness"?
"'Great Polarization' May Be Next for World's Rich, UBS Says" [Bloomberg]. "The huge boost to the fortunes of technology and health-care billionaires during the coronavirus pandemic may be the beginning of a more permanent trend. The Covid-19 shock could act as a catalyst to spur increased opportunities for those who offer digital or other tech solutions, while the wealth of those in older industries may in turn suffer, UBS Group AG and PricewaterhouseCoopers said Wednesday in a report. 'Those that are the innovators and the disruptors, the architects of creative destruction in the economy, are still increasing their wealth,' the 2020 Billionaires Insights report found. 'The net wealth of billionaires in entertainment, financial services, materials and real estate sectors lagged the rest of the universe.'" • That's a damn shame.
News of the Wired
If you have a request for a map, this is the account for you:
I just realized I have a huge archive of maps. Anybody have a request? pic.twitter.com/PYIC7q2fnO

— MapPorn (@MapPornTweet) June 19, 2019
* * *
Readers, feel free to contact me at lambert [UNDERSCORE] strether [DOT] corrente [AT] yahoo [DOT] com, with (a) links, and even better (b) sources I should curate regularly, (c) how to send me a check if you are allergic to PayPal, and (d) to find out how to send me images of plants. Vegetables are fine! Fungi and coral are deemed to be honorary plants! If you want your handle to appear as a credit, please place it at the start of your mail in parentheses: (thus). Otherwise, I will anonymize by using your initials. See the previous Water Cooler (with plant)
here. Today's plant (JU):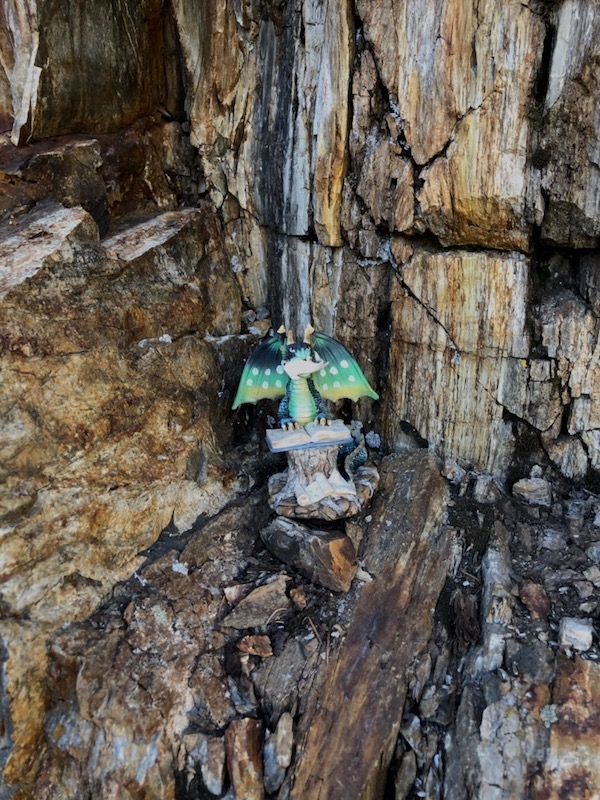 JU write: "Masked dragon spotted on Franklin Lakes trail." I love found objects like this. Who put the dragon there? Why? How long has it been there? Will whoever put it there come back and replace it? And so forth.
* * *
Readers: Water Cooler is a standalone entity not covered by the recently concluded and — thank you! — successful annual NC fundraiser. So if you see a link you especially like, or an item you wouldn't see anywhere else, please do not hesitate to express your appreciation in tangible form. Remember, a tip jar is for tipping! Regular positive feedback both makes me feel good and lets me know I'm on the right track with coverage. When I get no donations for five or ten days I get worried. More tangibly, a constant trickle of donations helps me with expenses, and I factor in that trickle when setting fundraising goals:
Here is the screen that will appear, which I have helpfully annotated.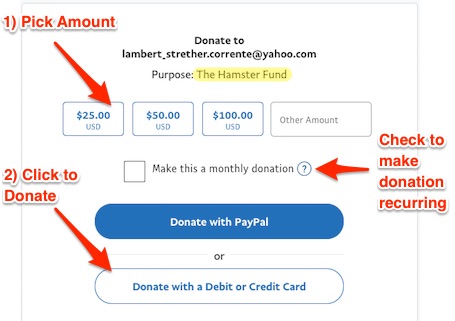 If you hate PayPal, you can email me at lambert [UNDERSCORE] strether [DOT] corrente [AT] yahoo [DOT] com, and I will give you directions on how to send a check. Thank you!

Original Source