The WTO issued a ruling in its biggest trade dispute ever: the tit for tat between Boeing and Airbus over government subsidies. Boeing started its action against Airbus in 2004; Airbus lodged its case against Boeing in 2005. Boeing won a ruling in its favor in 2019, permitting the US to impose tariffs on $7.5 billion of European goods; as we'll see, the US has already started levying charges. The EU win allows Europe to impose tariffs on $3.99 billion of specified US goods, including Boeing airplanes, although the EU needs to take an additional formal step to get rolling.
The extraordinarily attenuated process shows why WTO adjudications aren't a great way to stop trade abuses. And this timeline doesn't include appeals, which currently are a non-starter due to the Trump Administration refusing to appoint new WTO appellate judges.
The disparity between the amount of trade the US can subject to tariffs, $7.5 billion, versus the EU's $3.99 billion, means the US is being reported as having an advantage in settlement talks ("talks" also assumes a Biden win).
But the Wall Street Journal reports, in a pretty big detail that other accounts appear to have missed, that the EU can levy more in tariffs based on earlier decisions in its favor:
European officials say they can levy an additional $4 billion in tariffs based on a previous finding of other U.S. violations, which would be on top of the $3.99 billion awarded on Tuesday.
Ooops. Even though this $4 billion is outside the aircraft tit-for-tat cases, if the US doesn't have other WTO judgments against Europe in its favor (and I don't see any indication of that in the stories I've seen), it looks like a slight edge for the EU on a raw numbers basis.
And the US position is weakened a bit further by the 737-Max diminished state of Boeing, which means that aircraft tariffs would hurt Boeing more than similar tariffs applied to Airbus. The EU could impose 15% tariffs on the 737 Max right when Boeing hopes to deliver planes to buyers like Ryanair in 2021.
It would be nice to see a version of this chart that showed the nominal sales value of these orders and deliveries, but this gives an idea of the relative positions of the two manufacturers. From Defense Security Monitor on September 14: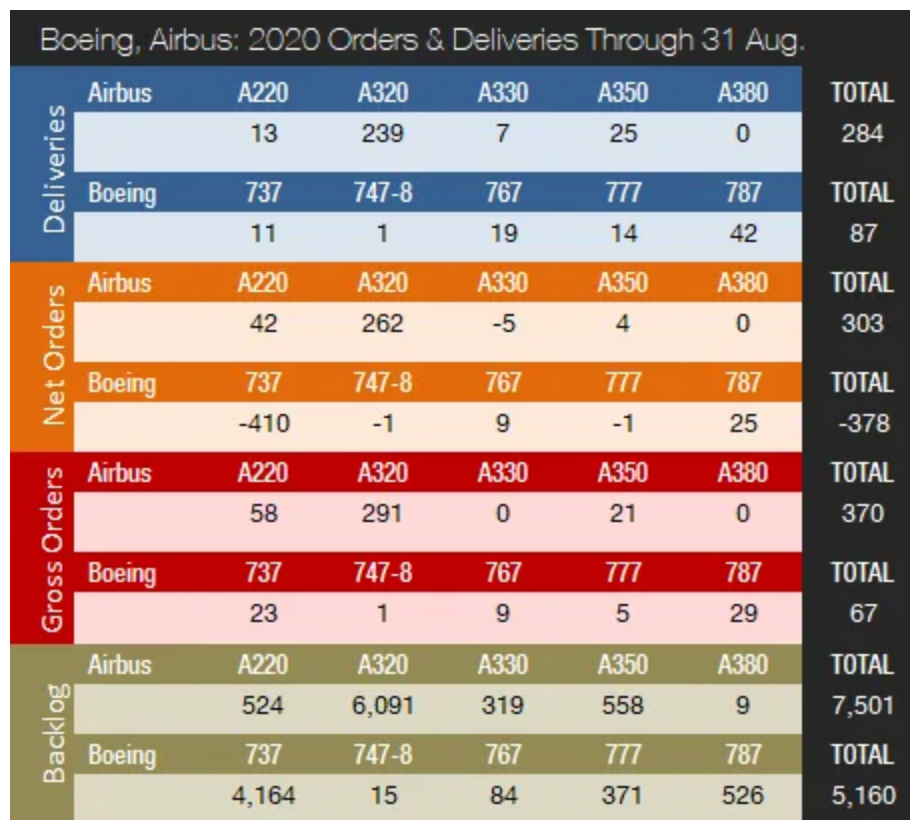 And from the body of the story:
At the end of August, Airbus reported a backlog of 7,501 jets, of which 6,615, or 88 percent, were A220 and A320ceo/neo family narrowbodies. This is 224 aircraft below the company's all-time backlog record of 7,725 aircraft set in January 2020. By the end of August 2020, Boeing's backlog (total unfilled orders before ASC 606 adjustment) was 5,160 aircraft, of which 4,164, or 81 percent, were 737 NG/MAX narrowbody jets. Boeing's all-time backlog high of 5,964 aircraft was set in August 2018. The number of Airbus aircraft to be built and delivered represents 8.7 years of shipments at the 2019 production level. In comparison, Boeing's backlog would "only" last 6.4 years at the 2018 level, which we use as a proxy for 2019 due to the severe drop in 737 MAX deliveries. This year to date, Boeing's book-to-bill ratio, calculated as net new orders divided by deliveries, is negative due to cancellations exceeding gross orders. Airbus' book-to-bill ratio is 1.07, thanks mainly to very strong order bookings in January. In 2019, Boeing's book-to-bill ratio was negative, while Airbus reported a book-to-bill of 0.89.
Lambert linked yesterday to Leeham News' take on Boeing's 20-year Current Market Outlook: Boeing's latest forecast raises more doubt than hope. Even Boeing isn't trying to pretend that conditions will improve soon.
Even the mainstream press concedes that Boeing has more to lose. From the New York Times:
The tariffs, when American companies are reeling from the coronavirus pandemic, would be especially painful for Boeing, which is already struggling from a pair of devastating crises. Boeing, like Airbus, announced plans this summer to cut more than 10 percent of its global work force amid a steep decline in travel, which has forced airlines to delay and scale back plans to buy planes. Both Boeing and Airbus plan to cut more than 30,000 jobs in all.
To state the obvious, this isn't a great time for Boeing and Airbus to be kicking each other in the teeth via tariffs. And even though the WTO rulings allow each party to levy charges on goods other than airplanes, they are listed first and presumably represent the biggest economic target. And the US has already hit US Airbus buyers with tariffs, which makes it well nigh impossible for the EU not to respond in kind, even if the intent is to bring the US to the table.
BOEING: The EU will immediately re-engage with the U.S. in a positive and constructive manner to decide on next steps. Our strong preference is for a negotiated settlement. Otherwise, we will be forced to defend our interests & respond in a proportionate way. #EUTrade @wto https://t.co/oQPjPmYm37

— Valdis Dombrovskis (@VDombrovskis) October 13, 2020
The Seattle Times and New York Times reports give the most background on the disputes. From the Seattle Times:
The WTO authorized the action against the U.S. in response to illegal government subsidies for Boeing. The parallel ruling allowed the U.S. to impose $7.5 billion in tariffs on EU goods for illegal subsidies to Airbus.

In October 2019, 15 years into the case, the U.S. finally slapped tariffs of 25% on a series of non-aerospace goods including European wine, whiskey and cheese and a 10% tariff on European-built Airbus jets. In March, the U.S. increased the tariff on imports of Airbus planes — though not those assembled in Mobile, Alabama — to 15%.
Note that the WTO doesn't regard subsidies per se as illegal; governments can subsidize production targeting domestic customers to their heart's content. The no-no is subsidies that confer a advantage in foreign trade.
The US objected to Airbus having gotten bargain-rate loans that allowed the European champion to move up from its below 25% market share in 1990 to being a competitive equal. The EU targeted the State of Washington's business and state occupation tax relief for Boeing. Even though the US has tried depicting the WTO ruling as invalid because Washington eliminated those WTO-offending gimmies in March, the WTO ruling against Boeing is based on the harm of those subsides from 2013 to 2015.
It isn't clear if the two sides can come to terms. If Trump unexpectedly wins in November, it's hard to see the Administration backing down, particularly with US Trade Representative Robert Lighthizer sounding as pugnacious and as unconcerned about accuracy as his boss. From the Journal:
U.S. Trade Representative Robert Lighthizer, the top U.S. trade negotiator, said the EU has "no lawful basis to impose tariffs" because the subsidies for Boeing have already been repealed. He suggested the U.S. would consider retaliating if Brussels moved forward with tariffs. "Any imposition of tariffs based on a measure that has been eliminated is plainly contrary to WTO principles and will force a U.S. response," he said.
But the Journal also reports that the two sides have been trying to de-escalate:
Both the U.S. and the EU have taken steps in recent months to defuse their dispute, which spawned a series of claims, WTO rulings, concessions and appeals that have colored broader trade relations between them and led to tariffs on goods ranging from cheese to industrial parts.

Boeing earlier this year stepped away from tax breaks provided by Washington state for 787 production. The company recently said it planned to end assembly of the plane in the state and move it to South Carolina. Airbus announced a deal in July with Spain and France to change some financial-support agreements.

Both sides now maintain they are in full compliance with WTO guidelines.
If Biden wins, even though his team would presumably prefer to come to an understanding with Europe, most observers expect his Administration to move slowly so as not to look soft on trade.
The New York Times, interestingly, depicts the current state of play as more contentious than the Journal does:
It remains to be seen whether the new tariffs will ultimately persuade the United States and Europe to come to a negotiated settlement that would lift the levies, or merely inflame relations and result in higher costs on businesses and consumers on both sides of the Atlantic. The European Union has repeatedly appealed to the United States to remove its tariffs, but American officials say Europe has not taken the necessary actions to stop its Airbus subsidies.

The tariffs will not go into effect immediately. The European Union needs to request authorization from the W.T.O. to impose the levies, which it can do at an Oct. 26 meeting at the earliest. The European Commission last year issued a preliminary list of American products that it could choose to tax, including aircraft, chemicals, citrus fruit, frozen fish and ketchup.
Regardless, aside from the EU possibly seeking WTO authorization sooner rather than later, no one expects anything to happen on this front until after the election. And optimists hope that going through a period of higher trade barriers will eventually lead to a reset and improved trade relations. But to quote a cynical colleague, "If you want a happy ending, watch a Disney movie."

Original Source