By Lambert Strether of Corrente
Well, it looks like I positioned myself properly with respect to the WiFi signal! –lambert
Bird Song of the Day
I had to poke around a little bit to find anything that sounded like a "gobble." Turkeys have numerous calls?
#COVID19
At reader request, I've added this daily chart from 91-DIVOC. The data is the Johns Hopkins CSSE data. Here is the site.
Here are the United States regions: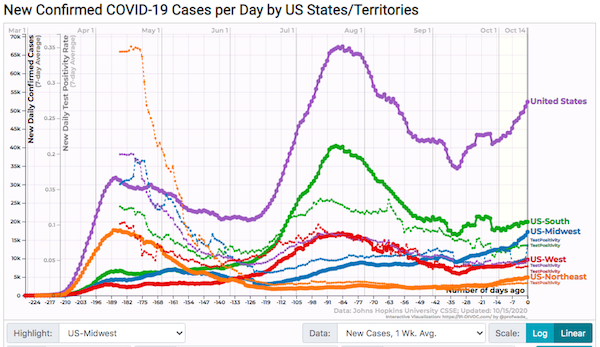 Unmistakable rise in all regions now, including the Northeast. Ugh. Super-ugh. Gonna be interesting to see what happens if the virus is really cranking in November or December, and the FDA says a vaccine is ready…
Here are the Swing States as I conceive them (see below):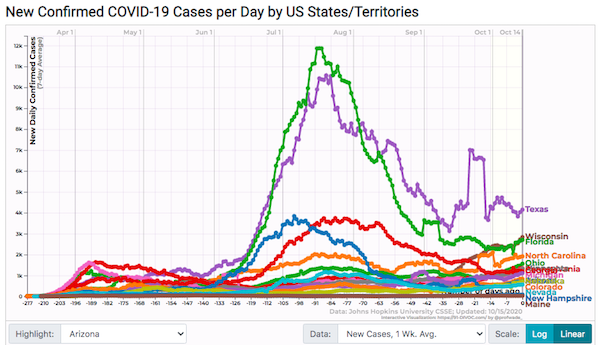 Unmistakable rise everywhere. Including Texas, in the past few days.
–>
College: "Off-campus "super-spreader" event linked to 125 virus cases at Monmouth University" [CBS]. "Through extensive contact tracing, the rise in cases was linked to a single event held about two weeks ago, Monmouth president Patrick Leahy wrote Friday. This event was held off-campus, although school officials did not specify what kind of event it was, only calling it a 'social gathering.'" • Which is ridiculous, since now we cannot add to our store of types of locations or social settings to avoid! College administrators are just the worst.
Politics
"But what is government itself, but the greatest of all reflections on human nature?" –James Madison, Federalist 51
"They had one weapon left and both knew it: treachery." –Frank Herbert, Dune
"They had learned nothing, and forgotten nothing." –Charles Maurice de Talleyrand-Périgord
The electoral map. July 17: Georgia, Ohio, ME-2 move from Leans Republican to Toss-up. Continued yikes. On July 7, the tossup were 86. Only July 17, they were 56. Now they are 91. This puts Biden at 278, i.e. over 270. August 18: Still no changes. August 31: Indiana moves from Likely to Safe Republican. September 9: No changes. September 14: No changes. September 21: No changes. September 22: Ohio moves from Toss-up to Leans Republican. September 25: Ohio moves from Leans Republican to Toss-up. September 30: Iowa moves from Leans Republican to Toss-up. October 3: Indiana moves from Safe to Likely Republican; Iowa moves from Toss-up to Leans Republican. October 6: Arizona moves from Toss-up to Leans Democratic; Iowa from Leans Republican to Toss-up; Indiana from Likely to Safe Republican; New Mexico from Likely to Safe Democratic. October 8: NE-2 moves from Toss-up to Leans Democratic. I would say the election is no longer static.
The election countdown:
Here is an early voting calendar. Maybe we'll have a whole series of October surprises, since election day is gradually being devalued as an event.
And here are mail-in voting ruies, which naturally differ state by state.
"2020 General Election Early Vote Statistics" [U.S. Elections Project (SlayTheSmaugs)].
"How to Vote in 2020: Everything You Need to Know" [Bloomberg]. "Casting a ballot in the U.S. isn't always easy, with a complex web of varying state rules governing how and when you can vote. The Covid-19 pandemic has introduced even more complexity in 2020, as many states have made significant changes to allow for more early voting or voting by mail. More changes could come as lawsuits in several states wind their way through the courts. That's why Bloomberg News is answering these critical questions so you'll know what you need to do to make sure your vote is counted in the 2020 election."
Here are is an enormous spreadsheet on voting equipment, so you can check your own jurisdiction (hat tip, UserFriendly. I should really aggregate these onto a map…).
"2020 General Election Early Vote Statistics" [U.S. Election Project].
"California Ballots Mailed and Returned Tracker" [Political Data]. • California only, sadly.
"State Fact Sheets" [Georgetown Universitty]. "[F]act sheets for all 50 states explaining the laws barring unauthorized private militia groups and what to do if groups of armed individuals are near a polling place or voter registration drive."
NEW "All the deadlines, rules, and voting hours to know when casting your ballot in the 2020 presidential election" [Business Insider]. "Here are 12 interactive graphics, charts, and maps Insider created to answer your most common questions about voting in 2020."
2020
Swing States

Here is my list of Swing States, with votes in the Electoral College and selected ballot initiatives in parentheticals):

Arizona (11) (marijuana; taxes(=)
Colorado (9) (taxes, lottery, abortion, paid medical leave)
Florida (29) (minimum wage)
Georgia (16) (declaratory relief)
Iowa (6) (Constitional convention)
Maine-02 (1) (vax)
Michigan (16) (oil and gas royalties; privacy)
Minnesota (10)
Nebraska-02 (1) (payday lending; gambling)
Nevada (6) (marriage)
New Hampshire (4)
North Carolina (15)
Ohio (18)
Pennsylvania (20)
Texas (38)
Wisconsin (10)

Inspired by the thread starting with Arizona Slim's comment here, I went to Ballotpedia and added selected, hopefully hot button, ballot initiatives, because sometimes they affect turnout. If you live in a swing state, please comment if I got the hot buttons wrong!

This is really important on the question of whether the election will be decided on Election Night (or shortly thereafter);

This analysis by @NYTnickc and graphs by @DeniseDSLu on when and how quickly Absentees will be processed and counted is gold. Everyone should print it and save it for election day. https://t.co/pLRmGToL1W

— John Anzalone (@JohnAnzo) October 13, 2020

Note that both FL and TX (which the Times does not count as swing, but I do) count absentee ballots before Election Day, and if Biden wins those two states on the night, it's most likely he wins, on the the night. Further to this–

"Election week? Maybe not: Arizona, Florida and others could give early indication of who is winning" [USA Today]. "Several battleground states – some accustomed to high-volume mail-voting and others that start processing absentee ballots weeks before Nov. 3 – are expected to have substantial shares of their votes counted and reported on election night and into the next morning. Those states include Florida, which begins processing mail ballots 22 days before the election; Arizona, which starts that process two weeks before the election; North Carolina, which started processing ballots on Sept. 29; and Texas. Although Texas is not among states that expanded mail-voting to all voters during the pandemic, its largest counties can begin processing absentee ballots 12 days before the election. Georgia, which did make mail-voting available to all voters, allows the processing of ballots to begin two weeks in advance. Ohio started processing mail ballots last week. In Iowa, counties can start opening the outer envelopes on absentee ballots the Saturday before Election Day."

"Here's What Could Go Right—or Very Wrong—on Election Night" [Bloomberg]. "Benjamin Ginsberg, a longtime Republican election lawyer, puts the odds of the 2020 presidential election ending up in an all-out legal brawl that lasts into January at less than 1%…. A strong victory by either candidate would leave little room for legal challenges."

FL: "Florida Could Seal Trump's Fate on Election Night" [Bloomberg]. "In 2016, Trump carried Florida by crushing Hillary Clinton among voters ages 65 and older, who, exit polls showed, supported him by a 17-point margin. But seniors are a group that's moved away from Trump during his presidency, and even more so with the onset of Covid-19. Early returns in senior-heavy Florida suggest they may vote in historic numbers. That would seem to be bad news for Trump, whose support among seniors in a recent Quinnipiac University poll has cratered. The Oct. 7 poll shows Biden winning seniors by 15 points (55% to 40%), up from a 3-point lead in early September. A senior surge in Florida that mirrors Quinnipiac's support level for Biden would probably mean that the nightmare scenario of a drawn-out, contested election won't happen and Trump's fate could be apparent on election night. Unlike some other states that don't start counting mail-in ballots until polls close, Florida counts them as they come in. "

TX: "Texas Republicans' last-minute challenge to drive-thru voting in Harris County dismissed by appeals court" [Texas Tribune]. "The Republicans argued that fear of contracting the coronavirus isn't enough under state election law to qualify for curbside voting. Their point was bolstered by a May ruling from the all-Republican state Supreme Court which said a lack of immunity to the coronavirus is not a disability that qualifies Texans to vote by mail. But Texas law differentiates between mail-in ballots — which must be requested ahead of time through an application under strict qualifications, like a disability — and curbside voting, which is requested onsite." • The tangle of state laws is a little ridiculous. Why isn't drive-thru voting legal everywhere, if there's a good process for it? Or illegal, for that matter.

* * *

Biden (D)(1): "Joe Biden Keeps Everyone Guessing on Wall Street Regulation" [Wall Street Journal]. "With polls showing Mr. Biden ahead nationally and in many swing states, progressives and Wall Street Democrats are jockeying to influence his potential administration, advising the campaign on policies and suggesting Cabinet and top regulatory officials…. Both Democratic factions say they expect that a Biden administration would approach financial regulation much as President Obama did." • Oh.

Trump (R)(1): "These 3 White Women Voted for Trump in 2016—Here's Why They've Flipped" [Vogue]. "Vogue spoke with three white female voters—a young professional, an executive approaching retirement, and a wife and mother in a conservative military community, all of whom requested anonymity—about why they voted for Trump in 2016…. Over the past four years, this is going to sound weird, because it goes against what I said previously, he really embarrassed me to be an American on a national and international stage. I traveled a lot for work. America used to be the biggest world power. Now we're a laughingstock….. I already voted for Joe Biden. My husband is high-risk, so we did absentee ballots. It felt really good. It wasn't a party issue. It was, "I got to vote for somebody who's not a bad guy." It's starting to feel like a dictatorship, where the guy living in the big house on the hill is just going to do what he wants to do. No matter what, this is a democracy…. Yes, I do like the economy piece, but I also care about professionalism. I care about the bedside manner. I care that when my president speaks, he's not offending masses of marginalized people. I couldn't even listen to Trump. He just was so ugly and not what I think of when I think of a leader, someone like Barack Obama or even George Bush. • Worth reading in full; there's a lot to unpack. (The women are social media manager, an HR executive, and an engineer.)

* * *

Grifters gotta grift:

The Lincoln Project convinced Democratic donors to part with $39,384,397 in Q3. It burned a staggering $13 million on operating expenditures, made $23.9M of IEs (mostly routed into its founders firms), and ended with $13.2M on hand. https://t.co/wvOXUYp7ed

— Rob Pyers (@rpyers) October 14, 2020
The Debates
"Dueling town halls represent high stakes for Trump" [The Hill]. "President Trump and Democratic presidential nominee Joe Biden will compete for the attention of millions of Americans on Thursday night in dueling televised town halls, with Trump's representing one of his few remaining opportunities to make his case to voters ahead of Election Day. The competing town halls will be held in lieu of the second presidential debate, which was scrapped last week after Trump objected to plans — put in place over concerns about the coronavirus pandemic and the president's personal battle with COVID-19 — to hold the event virtually. Biden will appear at an ABC News town hall, while Trump is set to participate in a town hall hosted by NBC News. Both events are scheduled to start at 8 p.m. EDT, meaning that both candidates will be competing for the same audience." • Split screen, sound down?
Our Famously Free Press
Lambert here: If social media can allow story after story sourced to anonymous officials from the intelligence community to appear on its platforms — most damp squibs with a short life cycle, as Taibbi points out — then they can allow a story from the New York Post on material said to be derived from Hunter Biden's laptop. Silicon Valley oligarchs are putting their thumb on the scales in this election in the most naked and obvious way — perhaps hoping Democrat will deep-six those pesky anti-trust proceedings? — and having done it once, they'll intensify. Oh, and this is the message I got on the Twitter when I tried to tweet the initial Post story from their Hunter Biden trove:

Potentially harmful. Potentially harmful? Does @jack think American voters are little children? Wait, don't answer that. In any case, for your reference, here is the latest from the Post's trove–

"Emails reveal how Hunter Biden tried to cash in big on behalf of family with Chinese firm" [New York Post]. "Hunter Biden pursued lucrative deals involving China's largest private energy company — including one that he said would be "interesting for me and my family," emails obtained by The Post show." • The difficulty here for the Trump campaign is that, at best, this means that the Biden clan is no different from the Trump clan (or the Clinton clan) at least in the level of virtue (if not quantitatively). "That makes me smart" is surely something Hunter could say about his business dealings. So I don't see win for Trump here — and this matters because I think he has no more runway — in the laptop material (subject to caveat about what the Post drops at 5:00PM Friday in time for the Sunday talkshows). However, the reaction of the social media platforms might well inflame his base — as it should! — and through the Streisand effect, mildly increase turnout. I must admit, however, that it's entertaining! But if Giuliani and Bannon and the rest of the crew involved in this think it's gonna tip the scale, I've got to disagree.

NC has already experienced liberal Democrat McCarthyism with WaPo's PropOrNot smear. That was no isolated incident, but a sign of a deeper tendency:

The last thing that surprises me is that Democrats like this are giddy about censorship. There's a huge authoritarian strain in US liberalism you're about to see vividly after the election.

Mark Zuckerberg is a wise, benevolent Daddy figure who will protect us all: he knows best https://t.co/okZYLVqCtJ

— Glenn Greenwald (@ggreenwald) October 14, 2020

"Opinion: The New York Post puts Twitter and Facebook in a no-win position" [Jon Healey, Los Angeles Times]. "Facebook, Twitter, YouTube and Google have accumulated such enormous audiences, many users (and policymakers) consider them to be the digital equivalent of the public square of yore — indispensible places to speak and be heard. Yet they are not public forums, they are privately operated networks with rules set by the owners to serve their business interests…. The episode makes it more likely that lawmakers will alter Section 230 of the Communications Decency Act, the federal law that says websites and services aren't liable for the content their users upload. It's a hugely important provision, one that was instrumental in the development of open platforms where content creators and publishers can find an audience for their work." • I'm sure that will go well. (Note there were none of these issues with the blogosphere, because although blogosphere readership did follow a power curve there were no giant monopolies and entrace was easy. It's the platforms that are the problem. Why not break them up?
Realignment and Legitimacy
"Government Of, By, and For the Elite" (interview) [Chris Arnade and J.D. Vance, American Compass]. Interviewer: Oren Cass. This one nugget from Arnade is interesting: "I think of Michael Lind's book [The New Class War] talking about how . The machine—I don't want to use the term "deep state" because I don't think that's fair, but—our ruling bureaucracy embraces free markets and austerity and all those things that drove people toward Trump. The irony is, Trump is a politician who defines himself by what he's against, and he was very fortunate to have Jeb Bush as his opposition in 2016, so that he could run against that consensus. Then the reality is, four years later, he ends up being basically a Jeb Bush conservative in how he legislates. So if he loses, I think that's why: He didn't deliver; he didn't fight the consensus, certainly not economically. I think that really matters. I want to keep emphasizing this because it's just something that it's really hard for me to communicate, how disinterested a lot of people are in this whole process because they don't really see a difference. The only difference they see is cultural, and that's why it's very frustrating." • Re: The underlined portion: I think Sanders would have faced what Trump faced: A professional services strike by the PMC. I suppose one way to look at 2020 is that the PMC achieved class consciousness — in and through the Democrat Party — in reaction to Clinton's defeat in 2016 (I use the word reaction quite deliberately). The interview as a whole is interesting, but both Arnade and Vance treat politics as bipolar — and it is, it is! — by confusing the Left and liberals.

On "militias":

The militia world is super flaky when it comes to translating online bluster into real life appearances. For example, an active Facebook group might have 30,000 members, but only 200 will actually commit to showing up to do something in person, and then only 20 ever show.

— JJ MacNab (@jjmacnab) October 14, 2020

McNab has been reporting on militias for years. Of course, a measured attitude like this doesn't lead to clicks.
Stats Watch
At reader request, I added some business stats back in. Please give Econintersect click-throughs; they're a good, old-school blog that covers more than stats. If anybody knows of other aggregators, please contact me at the email address below.
Employment Situation: "10 October 2020 Initial Unemployment Claims Worsen" [Econintersect]. "Market expectations for weekly initial unemployment claims (from Econoday) were 800 K to 845 K (consensus 833 K), and the Department of Labor reported 898,000 new claims. The more important (because of the volatility in the weekly reported claims and seasonality errors in adjusting the data) 4 week moving average moved from 858,250 (reported last week as 857,000) to 866,250."
Manufacturing: "October 2020 Philly Fed Manufacturing Survey Index Significantly Improved" [Econintersect]. "Overall, this report was better than last month's report as key elements improved…. This is a very noisy index which readers should be reminded of is sentiment-based. The Philly Fed historically is one of the more negative of all the Fed manufacturing surveys but has been more positive than the others recently."
Manufacturing: "October 2020 Empire State Manufacturing Index Declined" [Econintersect]. "The Empire State Manufacturing Survey index declined but remained in expansion…. Key elements improved. This is a better report than last month."
Inflation: "September 2020 Producer Price Final Demand Year-over-Year Growth Now Slightly In Expansion" [Econintersect]. "Year-over-year inflation pressures remain soft as this index is barely in expansion… The PPI represents inflation pressure (or lack thereof) that migrates into consumer price."
* * *
Bankrupticies: "Bankruptcies Show a Surprising Decline" [Bloomberg]. "When the Covid-19 recession hit it seemed certain that a wave of bankruptcy filings would follow, swamping the court system and possibly even leading to a systemic collapse. Oddly, though, there hasn't been any wave. By one key measure, bankruptcy filings have actually declined from last year. While Chapter 11 filings overall are up 21% from last year, that number has been swelled by a sharp increase in filings by companies that have multiple affiliates, each of which files separately, says Ed Flynn, a consultant to the American Bankruptcy Institute. Counting just parent companies and those with no affiliates, Chapter 11 filings are 28% lower for March 1 through Sept. 30 compared with the same period a year earlier, according to Flynn's calculations. 'It's kind of amazing,' he says….. [C}ompanies and households aren't as stressed at this stage as many economists and bankers expected them to be….. On other hand, bankruptcy filings aren't a perfect measure of hardship. Many companies are barely hanging on and could be forced to file soon if a new round of coronavirus relief isn't forthcoming. Also, many small businesses and low- to middle-income households go bust without ever showing up in federal bankruptcy court." • The last sentence is the key one, I think. If you only look at the top of the ladder, everything is great!
Commodities: "The reasons behind some food shortages during the pandemic can be found in a can of corn. Corn is a staple in the U.S. with a seemingly limitless supply, but… canned corn is among many consumer items that have thinned out drastically as stockpiling and supply chain disruptions have hit the market" [Wall Street Journal]. "Sweet corn has only a single planting season and those had already been set by the time the production shortfall became clear. Transportation problems then hit the market as harvesting began. Fleets that had shrunk last year couldn't handle the early surge in new demand and trucking companies began rejecting loads on existing contracts to take higher rates in the spot market, driving up shipping costs. Canned-corn brands plan to increase production, but retailers expect high demand this winter will cut deeper into their depleted inventories."
Shipping: "Port of LA files best September despite lagging exports" [Freight Waves]. "The Port of Los Angeles recorded its best September in the gateway's 114-year history last month. The 888,625 twenty-foot equivalent units (TEUs) processed, a 13.3% year-over-year increase, contributed to the third quarter becoming the single-best quarter on record, with more than 2.7 million TEUs moved… As volumes have returned after the height of the coronavirus pandemic, canceled — or blanked — sailings have ebbed… Imports in September totaled 471,795 TEUs, a 17% increase over the same month last year…. September exports totaled 130,297, about flat compared to 2019…. ',' Seroka said, noting that 281,434 empty container units were shipped back to China in September. 'This is more than double the amount of loaded exports that were shipped from the Port of Los Angeles in the month.'"
Supply Chain: "Cargo Cold Chain Born for Tuna Gears Up for Epic Vaccine Airlift" [Bloomberg]. "Before the pandemic swamped the world's supply chains, the typical cargo in a super-cold container might've been a load of freshly caught tuna bound for a sushi bar in Asia, or boxes of unripe bananas or pineapples headed for a supermarket. Even some medicinal cannabis travels in a deep chill. Enter Covid-19 and the global network of refrigerated transportation equipment — aka the cold chain — is undergoing an industry self-evaluation to prepare for unprecedented waves of vaccines. Billions of vials shipped at temperatures as low as -80 degrees Celsius will require mobile freezers, battery-powered coolers and insulated boxes packed with dry ice on an enormous scale. With vaccines, the key will be ensuring the extreme cold chain doesn't break on the journey. No easy feat as long as weather diverts planes, trucks break down, electrical power goes down, essential workers get sick and ice melts." • If I understand this correctly, the cold chain requirement is for the first vacchines to come out of the box only.
* * *
.
Today's Fear & Greed Index: 57 Greed (previous close: 56 Greed) [CNN]. One week ago: 53 (Neutral). (0 is Extreme Fear; 100 is Extreme Greed). Last updated Oct 15 at 11:55am
The Biosphere
"How Soils Can Help Solve the Climate Crisis" (Zoom webinar) [Pecan Street]. "Join us on Wednesday, October 21st for a conversation with experts from the soil sciences and regenerative agriculture about the potential of soil carbon sequestration. We'll discuss how soil carbon sequestration through regenerative farming practices can increase food production, raise farmer profitability, and drawdown atmospheric carbon. We'll also discuss the barriers to widespread adoption of regenerative farming and what Pecan Street and others are doing to overcome these barriers." • Could be of interest to the soil nerds among us.
"Airborne radioactivity increases downwind of fracking, study finds" [Guardian]. "The radioactivity of airborne particles increases significantly downwind of fracking sites in the US, a study has found. The Harvard scientists said this could damage the health of people living in nearby communities and that further research was needed to understand how to stop the release of the radioactive elements from under the ground. The radioactivity rose by 40% compared with the background level in the most affected sites. The increase will be higher for people living closer than 20km to the fracking sites, which was the closest distance that could be assessed with the available data. The scientists used data collected from 157 radiation-monitoring stations across the US between 2001 and 2017. The stations were built during the cold war when nuclear war was a threat. They compared data with the position and production records of 120,000 fracking wells…. Petros Koutrakis at the Harvard TH Chan School of Public Health in Boston, who led the study, said: '. People should not go crazy, but I think it's a significant risk that needs to be addressed.'"
Health Care
https://www.ft.com/content/3387ffe1-f9aa-4751-b6ac-e09f256d7966
https://www.longcovid.org/resources
https://www.nih.gov/news-events/news-releases/scientists-discover-genetic-immunologic-underpinnings-some-cases-severe-covid-19
* * *
Readers, feel free to contact me at lambert [UNDERSCORE] strether [DOT] corrente [AT] yahoo [DOT] com, with (a) links, and even better (b) sources I should curate regularly, (c) how to send me a check if you are allergic to PayPal, and (d) to find out how to send me images of plants. Vegetables are fine! Fungi and coral are deemed to be honorary plants! If you want your handle to appear as a credit, please place it at the start of your mail in parentheses: (thus). Otherwise, I will anonymize by using your initials. See the previous Water Cooler (with plant)
here. Today's plant (CM):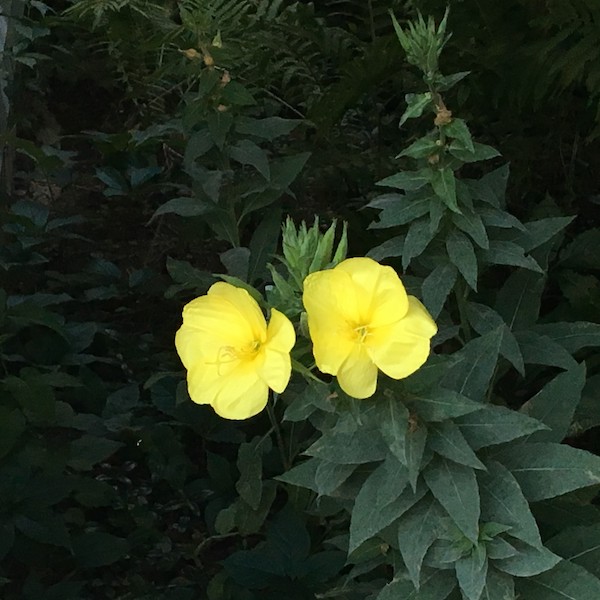 CM writes: "My evening primrose just appeared. Bird droppings and a sloping driveway combined to deposit seeds along the edges when it rained. When I skipped mowing due to a few weeks of drought they were able to bloom so I could realize what they were. While the plants are scraggly looking in broad daylight, I get a smile every time I look out in the evening or early morning and see the flowers. Even cloudy days get them open. Moonlit they are a special treat." The file was named "Early AM."
* * *
Readers: Water Cooler is a standalone entity not covered by the recently concluded and — thank you! — successful annual NC fundraiser. So if you see a link you especially like, or an item you wouldn't see anywhere else, please do not hesitate to express your appreciation in tangible form. Remember, a tip jar is for tipping! Regular positive feedback both makes me feel good and lets me know I'm on the right track with coverage. When I get no donations for five or ten days I get worried. More tangibly, a constant trickle of donations helps me with expenses, and I factor in that trickle when setting fundraising goals:
Here is the screen that will appear, which I have helpfully annotated.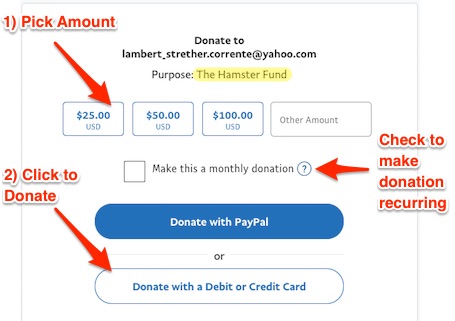 If you hate PayPal, you can email me at lambert [UNDERSCORE] strether [DOT] corrente [AT] yahoo [DOT] com, and I will give you directions on how to send a check. Thank you!

Original Source