Florida Cat Goes Viral After Bravely Staring Down Alligator Who Shows Up At Front Door Animal Rescue (David L)
Wild Predators Are Relying More on Our Food—and Pets Wired
Room-Temperature Superconductivity Achieved for the First Time Quanta Magazine (David L)
Proprietary Grapes Come With Draconian End User License Agreement Vice (resilc)
Digital Planet, Predicting US elections results every hour BBC World Service. Resilc:
First two are interesting sections
1. on the election betting market
2. on solar energy in rural Africa. Components are failing. Right to repair essential. Tthe cheapness of quality of all the components is a real weakness. I have Chicom solar lights on outdoor sculptures here in Vermont. Some work for years, some work for 3 months. Cannot be fixed after they break. More e-waste.
#COVID-19
Wars and Pandemics Produce the Same Sort of Lethal Government Bungling CounterPunch
Covid deaths in Europe, US exceed official tallies Agence France-Presse. Resilc: "What a shock."
Science/Medicine

Trump's 'Miracle Cure' for Covid Is a Logistical Nightmare Wired

Coronavirus: 'Long COVID' could be four syndromes affecting body at the same time – study Sky

Sudden irreversible hearing loss post COVID-19 BMJ. Not to worry, n=1.

UK/Europe

Macron announces curfew for Paris and 8 French cities Financial Times

The whole thing stinks.

This Government's incompetence, its cronyism, its ideological obsession with outsourcing and rip-off privatisation has undermined our NHS and put lives at risk.

Time to kick the profiteers out of the system and put local public health teams in charge. pic.twitter.com/ivqRy4WgOe

— Dan Carden MP (@DanCardenMP) October 14, 2020

Test & trace consultants are being paid £7,360 a DAY each: Fury as private sector company is handed cash equivalent of £1.5 million annual salary for coronavirus tracking Daily Mail (J-LS)

US

Finance/Economy

Change in Real GDP by State Barry Ritholtz

After two lost decades, U.S.'s weakest local economies may face worse from pandemic Reuters

Shaky U.S. Hospitals Risk Bankruptcy in Latest Covid Wave Bloomberg (furzy)
China?
Exclusive: Trump administration to consider adding China's Ant Group to trade blacklist – sources Reuters (resilc)

US appoints Tibet coordinator amid tensions with China Al Jazeera (furzy)

China braced for lose-lose scenario as US election fuels unease Financial Times
Thailand declares state of emergency and cracks down on demonstrators Financial Times. Hoo boy.
After months of largely peaceful protests, pro-democracy activists and Thai monarchy supporters clashed, throwing punches and bottles at each other pic.twitter.com/RwAz7GrEfc

— SCMP News (@SCMPNews) October 15, 2020
US lets Indonesia's Prabowo off the hook Asia Times
India
Telangana Rains: At Least 30 Dead; Hyderabad Receives Highest Rainfall in a Century The Wire (J-LS)
Brexit
Brexit Threatens to Become the Messiest of Messy Divorces: A Looming Disaster Der Spiegel

Brexit: What has happened since 31 January? BBC

EU court ruling threatens EU-UK data flows Politico. From last week. Too many people acting as if "of course this will be solved" when it isn't yet.
New Cold War
Is NASA Finally Done Paying Russia for Trips to Space? Gizmodo (Kevin W)
In Mexico, Cross-Border Fight Over Water Erupts New York Times (resilc). We warned over a decade ago that potable water was the world's most limited resource. Not hard to see that it would become a source of conflict.
Imperial Collapse Watch
The Pentagon's AI 'ghost fleet' is more than just scary — it's unwise Responsible Statecraft (resilc)
Supreme Struggle
2020
It's Not The Economy, Stupid. It's Your Identity Heisenberg Report (resilc). Wild, but a spurious correlation?
The other election: South Carolina and the battle for the US Senate Financial Times
The U.S. Shouldn't Be a 'Sleazy Offshore Principality' Atlantic
GOP Sen. Dan Sullivan Caught in Environmental Scandal Intercept
Visualized: A Breakdown of Amazon's Revenue Model Visual Capitalist (furzy)
Our Famously Free Press
With the U.S. importing more goods than it's exporting, shipments of American cotton, grain and hay are getting squeezed by a shortage of shipping containers https://t.co/L2EXGYfzmq

— Bloomberg (@business) October 15, 2020
Split-Second 'Phantom' Images Can Fool Tesla's Autopilot Wired (Chuck L)
U.S. states oppose settlement being negotiated by OxyContin maker Purdue and Justice Department: letter Reuters (resilc)
Why did Amnesty UK, Bellingcat and White Helmets sabotage Roger Waters webinar on corporate pollution? The Grayzone (Chuck L)
If CalPERS beats earnings targets, its next investment chief could take home $2.4 million SacBee
Class Warfare
For Rudolf Hilferding, Socialism Was About Freedom Jacobin (Chuck L)

The Pandemic Has Benefited One Group Of People: Billionaires HuffPost (UserFriendly)
Antidote du jour. Tracie H:
Spotted this beautiful German Shepherd in the back of this truck on a food stop in Phelan, California, on one of our three-hour weekend drives to the desert. I tried for a bit sharper image but just then my battery died. ☹ Aaugh! As Snoopy and his friends would say!!!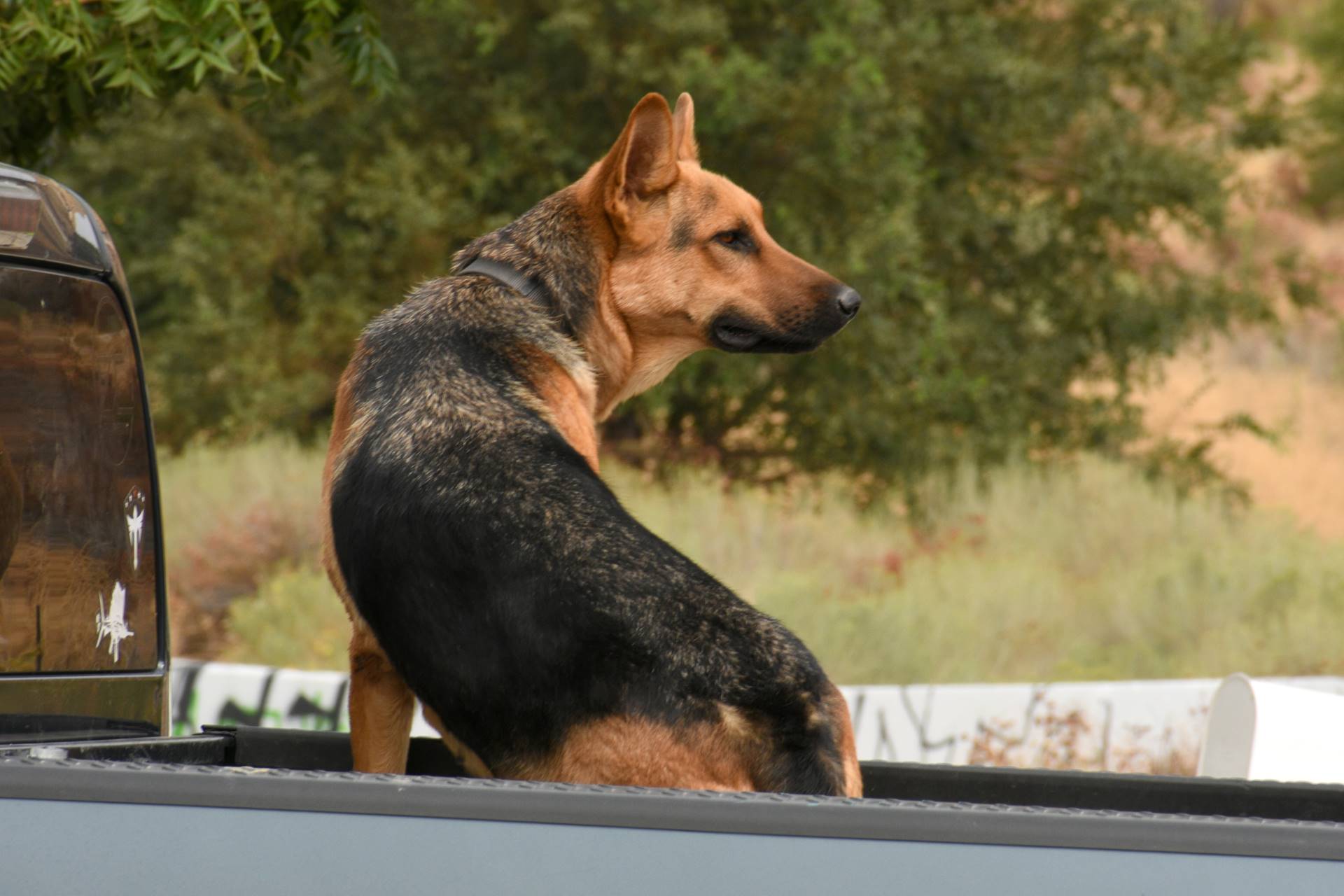 And a bonus, from guurst:
The title should be "Reservoir Bears" – but these things only come to one later. https://t.co/9I1YKXrBil

— Paul Tout (@adriawildlife) September 18, 2020
See yesterdays Links and Antidote du Jour here

Original Source