We have said for some time that Covid-19 is in charge, that the state of the economy is much more of a function of perception of risks than of lockdowns. Studies of cellphone data show that on a widespread basis, people started curtailing their movements before lockdowns were imposed earlier this year. In places where restaurants are open for indoor dining, sitdown meals are still way down. Most people are still avoiding air travel despite mounting evidence that it's not very risky.
But the flip side is that we are also seeing, dramatically, that there's been enough chafing at restrictions to produce alarming rises in Covid infection rates. Those that contend "Not to worry, death rates are lower" need to get a grip:
It's too early to speak with any confidence of death rates from this spike, since deaths usually occur three to four weeks after symptom onset. And if hospitals become overwhelmed (and they are already near capacity in some parts of the US), some will not get great or any care. Having said that, medical professionals do know more than they did six months ago about how to treat serious cases.

Evidence is mounting of all sorts of serious Covid impairment, from "long Covid" to heart, kidney, and lung damage, including in the young.

Monica Ramirez drove herself to the ER on a July afternoon. She was 30 weeks pregnant and she could not breathe.

She woke from a coma nearly 3 weeks later. In a different city. In a different hospital. Hooked up to a ventilator. And with her baby nearby. https://t.co/MPwn3jpeqR

— Los Angeles Times (@latimes) October 24, 2020

As we stressed in the first wave, a big reason for urgency in reducing infection rates is to protect medical professionals. As we saw then, when hospitals were overwhelmed, doctors of all sorts wound up getting impressed into Covid care. Doctors and nurses were more at risk of getting Covid due to encountering high levels of virus and working when exhausted.

Another reason for concern about high infection rates is that people avoid going to the ER, getting routine surgeries, and seeing their doctors. So missed or deferred care also has a health cost
It's distressing to see infection rates spiking in many parts of Europe, including Italy, with its disastrously high Covid-19 toll of the spring, had gotten contagion rates way down. This chart is from the Wall Street Journal: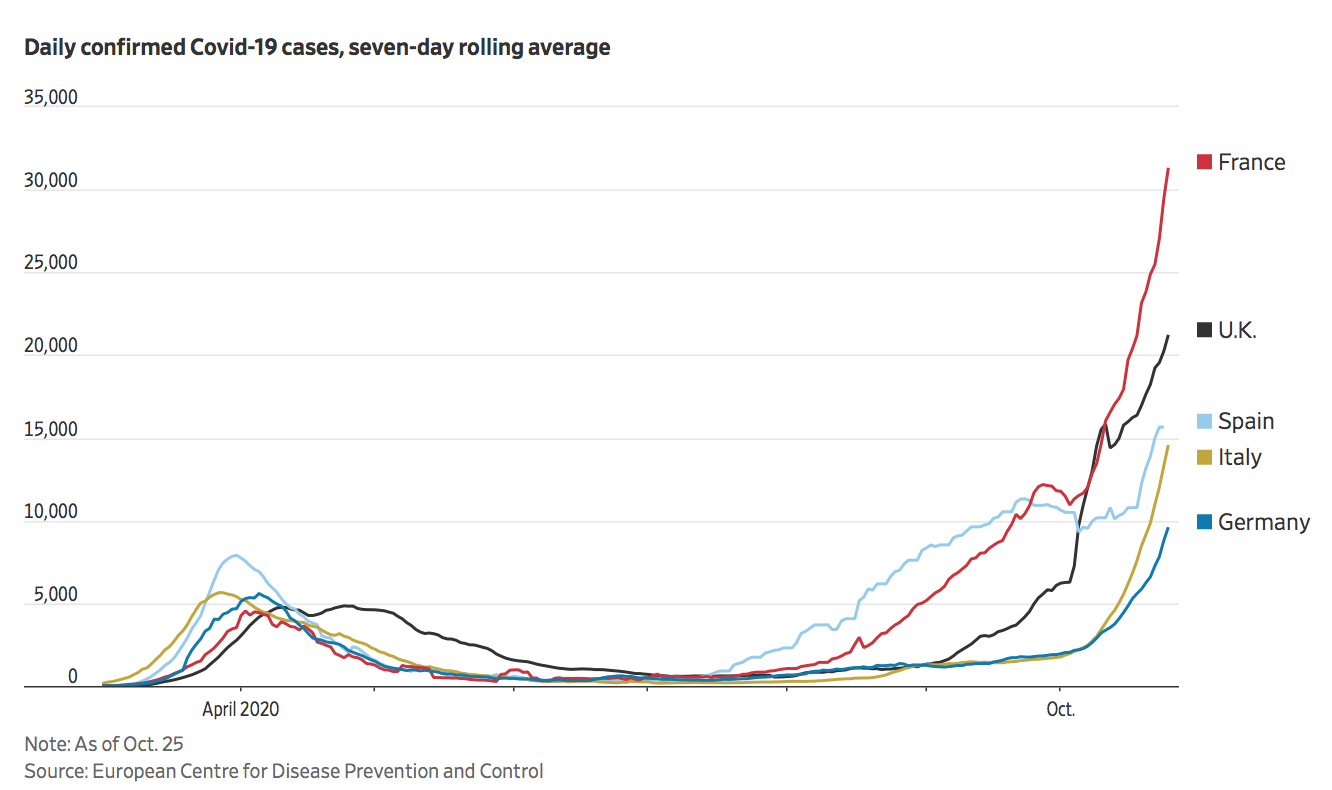 Europe map showing the week in each country when daily Covid-19 infections peaked @AFPgraphics pic.twitter.com/FnvfNyWDKb

— AFP news agency (@AFP) October 24, 2020
The per capita infection rate in Europe is now higher than in the US, even with our own spike underway. In France, it's more than three times higher than America's, too much of a difference to attribute to our lousy testing regime.
Not that things are going well here. See for instance Alabama, which looked flatish until the last two days. Most here blame the rise on football games: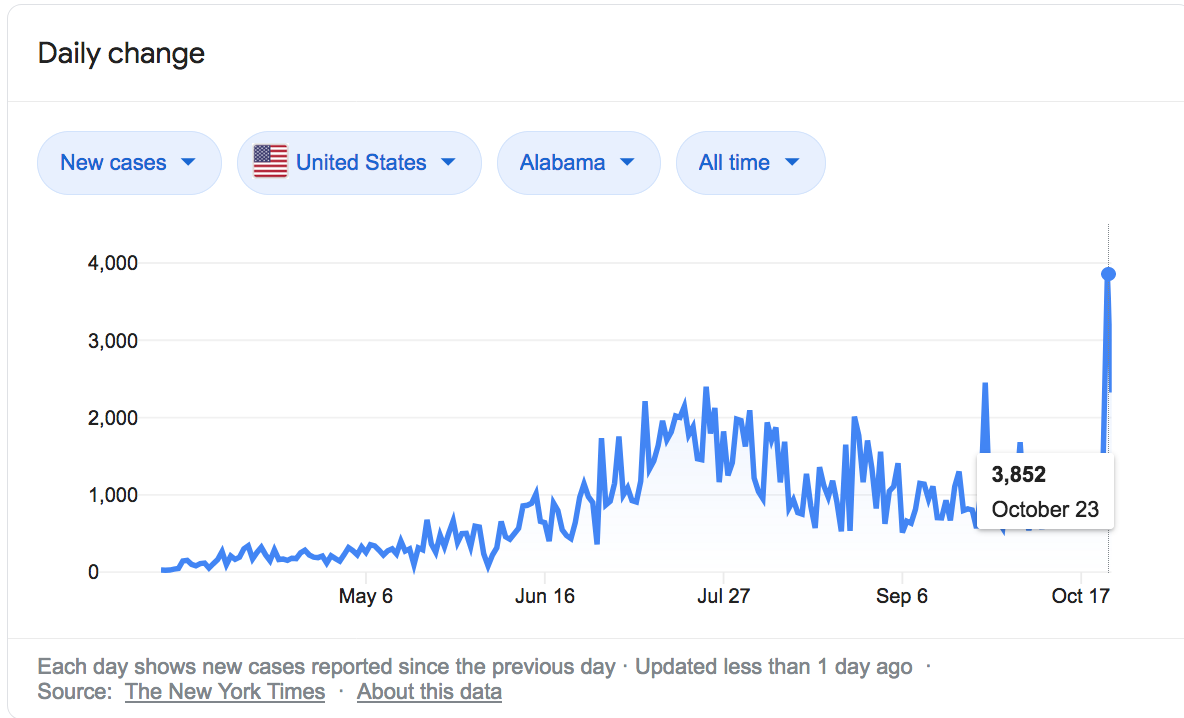 And worse, infection rates are rising before winter has set in. Winter means both more time inside with people in uncirculated/not well filtered air, and that indoor air is drier, which helps virus transmission.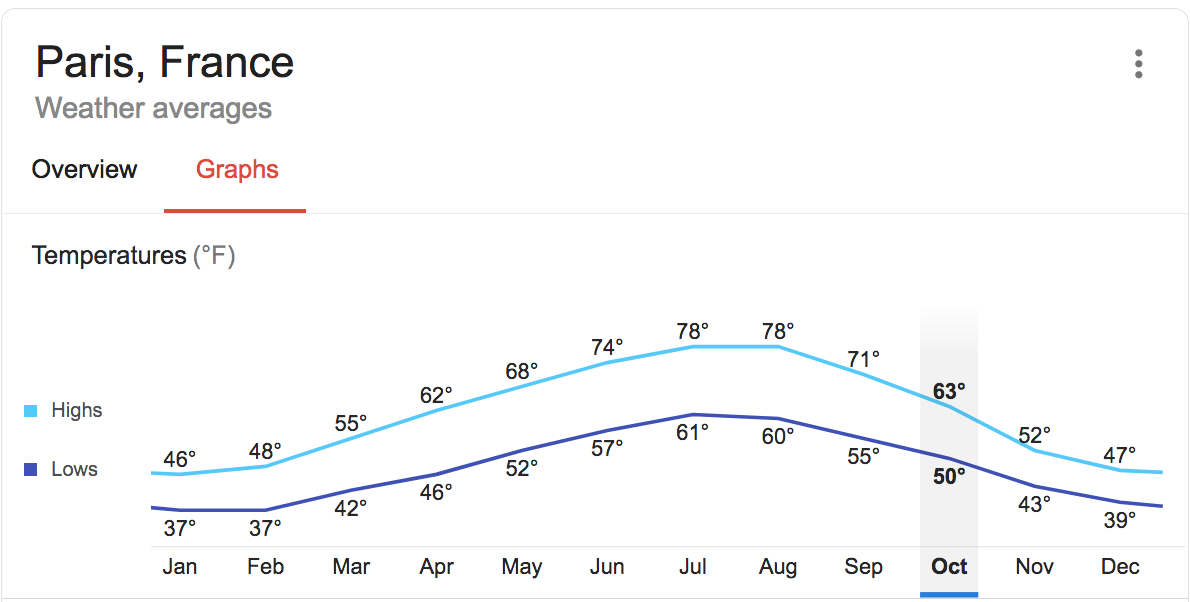 And we'd warned that contract tracing breaks down when infection levels rise:
Germany has the continent's best track-and-trace systems, but in parts of Berlin there are now too many cases to follow https://t.co/7pKI2hKTay

— The Economist (@TheEconomist) October 23, 2020
And the most afflicted countries are responding with new curbs. From the Financial Times:
Italy said it would introduce the harshest public health restrictions since the end of its first national lockdown in May as new coronavirus cases hit a fresh daily record. Spain announced a nationwide curfew and triggered emergency powers after the country's infection rate jumped by almost a third over the past week.

Giuseppe Conte, Italian prime minister, said that starting from Monday all bars and restaurants across the country would have to close by 6pm. Under the proposed measures, to remain in place for a month, schools and workplaces will remain open.

Gyms, swimming pools, theatres and cinemas will close, and Italians are "strongly recommended" not to leave their immediate areas apart from for studying, work or health reasons…

Spanish prime minister Pedro Sánchez said the nationwide curfew between 11pm and 6am would be imposed immediately, following requests by 10 of the country's 17 regions.

He said the government would activate a so-called state of alert — which grants the state emergency powers — to permit the curfew, allow territorial restrictions and ban meetings of more than six people across the country. He added that he would seek parliamentary approval this week from all of Spain's political parties to prolong the extraordinary legal order until May 9.
The infections in Italy this time are concentrated in the South, while the wave last spring was in the high-income North. Some locals are already up in arms. Again from the pink paper:
As Mr Conte held a government meeting on Saturday, a small group of protesters, some linked to neo-fascist groups, threw firecrackers at police in Rome's central Piazza del Popolo in the latest sign of public unrest triggered by the prospect of new restrictions.

The previous evening, violent protests had broken out in Naples after the governor of Campania, the region that contains the southern city, said a surge in cases there meant that his regional government would have to impose new lockdown measures….

On Saturday evening Mr De Luca appeared to roll back from his previous comments, saying there would be no full lockdown in Campania, but urged the national government to impose a "red zone" around Naples, stopping movement in and out of the city.
Politico's morning European newsletter adds:
Over in Sweden, Uppsala has gone into a voluntary lockdown.

Belgian whiplash: Meanwhile, Brussels inhabitants went from a few extra restrictions issued by the federal government Friday morning, to an effective standstill, including a curfew between 10 p.m. and 6 a.m. (effective today), issued by Brussels region premier Rudi Vervoort Saturday afternoon.
Last week, Ireland became the first country in Europe to reimpose a lockdown in the face of soaring cases.

Wales began a 17-day lockdown this weekend, shuttering all nonessential businesses and requiring people to remain home, with few exceptions. "If we do this now and if we then have a consistent set of national rules, to keep the transmission and the intensity of the virus at a lower level, then we can have a much more normal Christmas season for businesses," Vaughan Gething, the Welsh health minister, told BBC Radio Wales.
Did you see the toad hop out of Gething's mouth? Suffer now so we can pretend Covid isn't on during runup to Christmas? Get the virus down now so that Yuletide festivities will be "normal" for business…as in parties? Shopping for family feasts?
Sadly, people need to wrap their mind around acting as if Santa has delivered them a lump of coal, even for those whose finances are OK. Plan on tucking in with some favorite holiday cheer, and some good books, movies, and/or music. If you can sit before a fire, even better.
Or as a Financial Times reader put it:
The Point
This is not that hard.

Many countries in Asia have shown what needs to be done. Lock down for a month, test and track people methodically, wear masks, and limit mass gatherings. This goes a long way to getting the virus under control….

The insistence of protecting personal freedoms at all costs and ignoring the reality is leading all to pay a far heavier price than is necessary…
Yet we have managed to make it hard. Mask-wearing was already routine in most Asian countries as the polite/proper thing to do if you had a cold and went out in public. How requesting or requiring them triggered "don't tell me what to do" reflexes for such a nothingburger is beyond me.
And the elephant in the room, which the presumably well-off Financial Times commentor breezes past, is what do people do for income during that month of lockdown? In South Korea, which went the mandatory quarantine route instead, the government provided food and beverages, cleaning supplies, and even a place to stay if someone arriving from overseas couldn't isolate.
In the West, we've created a lose-lose, where many believe more lockdowns will kill the economy, yet consumers, particularly high income older consumers, will hole up lockdowns or not if they see the contagion rate as dangerous. And they have company, in the form of office workers who reject coming in on commuter trains and riding on elevators, and teachers who resist coming into poorly-ventilated classrooms in front of students not require to wear masks. In other words, uncoordinated self-protective measures will also dampen economic activity, with less likelihood of tamping down the disease than broader-scale measures. So pick your poison.

Original Source