By Lambert Strether of Corrente
Here is a Lesser Goldfinch, from alert reader Bryan SAMUEL.
#COVID19
At reader request, I've added this daily chart from 91-DIVOC. The data is the Johns Hopkins CSSE data. Here is the site.
Here are the United States regions: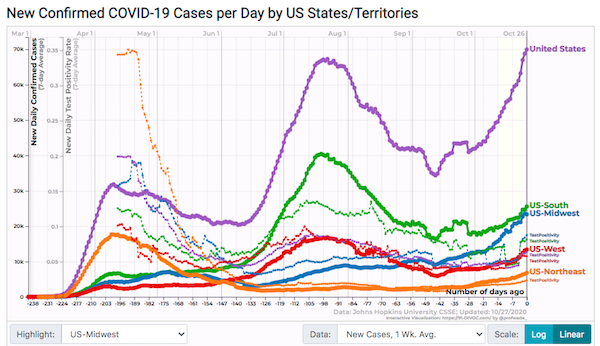 Still rising….
Here are the Swing States as I conceive them (see below):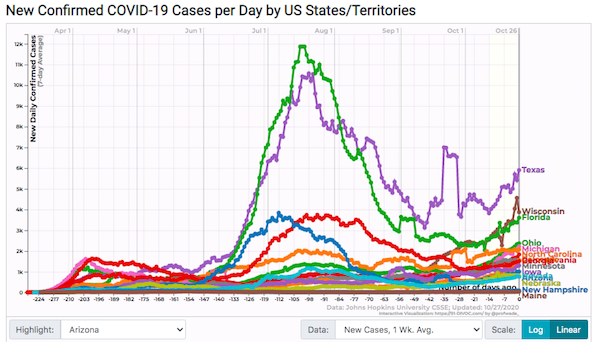 Unmistakable rise everywhere.
And a look at mortality and the death count, against the case count: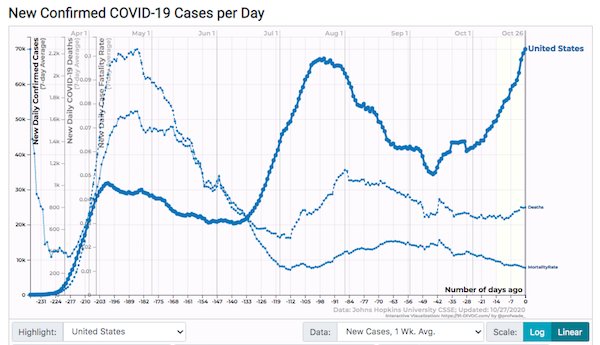 To me, it's good news that deaths and mortality don't correlate directly to confirmed cases; either medicine is getting better, or more resilient populations are being attacked, or both.
"Third wave of COVID-19 officially worse than the first two" [The Hill]. "With the U.S. recording an average of 68,954 new cases per day over a seven-day as of Sunday, it has surpassed the same figures recorded in April, during the first wave, and July, during the second wave…. 'What worries me is that in those areas of the country, which is a large country, heterogeneous in many ways, if you don't have the control now as we get towards the end of September, of getting such a low percentage that it is entirely manageable … when things change that work against you — and what works against you now is we're getting into a weather season where people will be spending more time indoors,' he stated. 'Those are things I get concerned about as we get into October and November and December.'"
Politics
"But what is government itself, but the greatest of all reflections on human nature?" –James Madison, Federalist 51
"They had one weapon left and both knew it: treachery." –Frank Herbert, Dune
"They had learned nothing, and forgotten nothing." –Charles Maurice de Talleyrand-Périgord
The electoral map. July 17: Georgia, Ohio, ME-2 move from Leans Republican to Toss-up. Continued yikes. On July 7, the tossup were 86. Only July 17, they were 56. Now they are 91. This puts Biden at 278, i.e. over 270. August 18: Still no changes. August 31: Indiana moves from Likely to Safe Republican. September 9: No changes. September 14: No changes. September 21: No changes. September 22: Ohio moves from Toss-up to Leans Republican. September 25: Ohio moves from Leans Republican to Toss-up. September 30: Iowa moves from Leans Republican to Toss-up. October 3: Indiana moves from Safe to Likely Republican; Iowa moves from Toss-up to Leans Republican. October 6: Arizona moves from Toss-up to Leans Democratic; Iowa from Leans Republican to Toss-up; Indiana from Likely to Safe Republican; New Mexico from Likely to Safe Democratic. October 8: NE-2 moves from Toss-up to Leans Democratic. October 13: Indiana moves from Likely to Safe Republican. October 16: Indiana moves from Safe to Likely Republican. October 19: No changes. October 21: NE-1 moves from Likely to Safe Republican. .
The election countdown:
Here is an early voting calendar. Maybe we'll have a whole series of October surprises, since election day is gradually being devalued as an event.
And here are mail-in voting ruies, which naturally differ state by state.
"2020 General Election Early Vote Statistics" [U.S. Elections Project (SlayTheSmaugs)].
"How to Vote in 2020: Everything You Need to Know" [Bloomberg]. "Casting a ballot in the U.S. isn't always easy, with a complex web of varying state rules governing how and when you can vote. The Covid-19 pandemic has introduced even more complexity in 2020, as many states have made significant changes to allow for more early voting or voting by mail. More changes could come as lawsuits in several states wind their way through the courts. That's why Bloomberg News is answering these critical questions so you'll know what you need to do to make sure your vote is counted in the 2020 election."
Here are is an enormous spreadsheet on voting equipment, so you can check your own jurisdiction (hat tip, UserFriendly. I should really aggregate these onto a map…).
"2020 General Election Early Vote Statistics" [U.S. Election Project].
"California Ballots Mailed and Returned Tracker" [Political Data]. • California only, sadly.
"Where's My Ballot?" [Alex Padilla]. "Tracking your vote-by-mail ballot—when it is mailed, received, and counted—has never been easier. The California Secretary of State is now offering Where's My Ballot?—a new way for voters to track and receive notifications on the status of their vote-by-mail ballot. Powered by BallotTrax, Where's My Ballot? lets voters know where their ballot is, and its status, every step of the way." • Ballottrax. Shoulda gone long….
"State Fact Sheets" [Georgetown Universitty]. "[F]act sheets for all 50 states explaining the laws barring unauthorized private militia groups and what to do if groups of armed individuals are near a polling place or voter registration drive."
All the deadlines, rules, and voting hours to know when casting your ballot in the 2020 presidential election" [Business Insider]. "Here are 12 interactive graphics, charts, and maps Insider created to answer your most common questions about voting in 2020."
2020
Swing States

Here is my list of Swing States, with votes in the Electoral College and selected ballot initiatives in parentheticals):

Arizona (11) (marijuana; taxes(=)
Colorado (9) (taxes, lottery, abortion, paid medical leave)
Florida (29) (minimum wage)
Georgia (16) (declaratory relief)
Iowa (6) (Constitional convention)
Maine-02 (1) (vax)
Michigan (16) (oil and gas royalties; privacy)
Minnesota (10)
Nebraska-02 (1) (payday lending; gambling)
Nevada (6) (marriage)
New Hampshire (4)
North Carolina (15)
Ohio (18)
Pennsylvania (20)
Texas (38)
Wisconsin (10)

Inspired by the thread starting with Arizona Slim's comment here, I went to Ballotpedia and added selected, hopefully hot button, ballot initiatives, because sometimes they affect turnout. If you live in a swing state, please comment if I got the hot buttons wrong!

* * *

AZ: "President Trump to return to the Valley Wednesday, days ahead of Election Day" [ABC15]. "Officials with the Trump campaign announced that the President will be in Goodyear and Bullhead City on Wednesday for a Make America Great Again rally." • Not Florida, Texas, Pennsylvania…..

FL: "Spanish-language disinformation intensifies among Florida Latinos, worrying Democrats" [NBC]. "A month ago, a caravan of angry protesters, honking their horns, rallied in front of Univision's headquarters, calling it 'mentiravision,' or 'lie-vision.' In a widely circulated video recorded by a protester, a Univision photographer is shouted at and asked why they don't air the truth. In a video from July with over half a million views on Facebook, a local Telemundo reporter in Miami is told, 'If it weren't for Facebook, if it weren't for social media, we would not be able to spread our message. We Hispanics feel we don't have a news source that tells the truth.'" • With a smooth segue into Russiaphobia around two-thirds of the way down….

FL: "Here's where the election stands in Florida: Biden cuts into Trump coalition, Trump strengthens base, dirty tricks" [Miami Herald]. "The makeup of who is voting is different this year in fascinating ways. Former Vice President Joe Biden is doing better among older Florida voters and with white suburban women, two groups that helped President Donald Trump defeat Hillary Clinton four years ago. Biden also holds a lead among younger voters who, although they are among the least reliable voters, are showing up in bigger numbers than ever. There are 1.1 million new Florida voters registered between the ages of 18-34 this year, and turnout among that age group is up a stunning 44%. Offsetting the Democrat's advantage is the number of new Republican voter registrations that have outnumbered new Democrats, bringing the parties numerically closer than any time in recent years. (The share of voters who have registered with neither party has shrunk.)" • Hardlly surprising; as I have remarked an inordinate number of times, liberal Democrats don't regard voter registration as a core party function.

IA: "Joe Biden will travel to Iowa Friday, underscoring close presidential race" [Des Moines Register]. "Further details were not yet available, but the last-minute visit underscores how competitive the race for president has become in Iowa." • And not Florida, Texas, Pennsylvania…..

MN: "How Minnesota has stepped into the presidential election center-stage" [London School of Economics USCentre]. "Trump's alternative paths to victory crisscross the state's rural counties where large majorities of white, non-college educated voters are ardent Trump supporters. . The question is whether they can deliver up the additional votes Trump needs to surpass Biden's total from the densely Democrat Twin Cities metropolitan area of Minneapolis and St. Paul. All things being equal, Trump needs 46,000 additional votes to take Minnesota's ten electoral college votes…. Trump's decisive challenge is to expand his electoral base in the counties adjacent to the Twin Cities. This task explains his sustained social media focus on the suburbs and claims that Biden would usher in an era of mounting social unrest and anarchy. Suburban voters threw majority support to Democratic congressional candidates in 2018, but the Trump campaign hopes that the unruly protests against the police killing of George Floyd can push the political pendulum toward a winning majority in Minnesota." • 

* * *

Biden (D)(2): Harris campaigns at a polling station:

We the people have the power at the ballot box. Thanks for a great day Ohio! pic.twitter.com/wWsSwTuD8n

— Kamala Harris (@KamalaHarris) October 25, 2020

Illegal in most states, certainly in Ohio.

Realignment and Legitimacy

"How I Became a Heretic to My Liberal Friends" [Tom Couser, Antiwar.com]. "How did I come to reject beliefs my liberal friends hold sacred? Well, to paraphrase an old commercial, I came by my heretical views the old-fashioned way: I earned them. I looked beyond the MSM to independent sources of news and commentary, reading widely and open-mindedly and thinking critically. Some of these sources publish reporting, others opinion; many are left-leaning; most oppose American foreign policy. I weighed them against one another, and the MSM, to assess their reliability. In short, I investigated American journalism – and found corporate media woefully misleading. I would say I found it unprofessional but, as a friend reminded me, the job of corporate journalism is to maximize profit; doing so is not conducive, to say the least, to challenging the dominant power structure and its ideology. My current morning routine is this…." • He's missing a source…

* * *

"These people":

If voting for trump is the only means these people have to register discontent with cultural change, something the presidency cannot control, then perhaps they should talk to a therapist about figuring out more effective coping mechanisms https://t.co/ZEMZoCJyfO

— Alex Yablon (@AlexYablon) October 26, 2020

Stats Watch

At reader request, I added some business stats back in. Please give Econintersect click-throughs; they're a good, old-school blog that covers more than stats. If anybody knows of other aggregators, please contact me at the email address below.

* * *

Commodities: "Nickel is starting to get the attention of commodities investors focused on the electric-car market. Prices for the metal are pushing higher this fall as sales of alternative-fuel vehicles turn upward again, but…. speculation about a possible run on supplies of the metal is unrealistic" [Wall Street Journal]. "Nickel is the latest metal to draw notice for its role in production of the lithium-ion batteries that power electric cars. Procurement worries over potential shortages have mostly centered on lithium and cobalt. But a big change in demand is unlikely to come for several years, and in the meantime the nickel market has become oversupplied as demand in China has slowed. A shortage could arise once batteries are cheaper than engines."

Shipping: "A top global logistics operator says the rush to distribute potential Covid-19 vaccines shouldn't break global shipping networks. Kuehne + Nagel International Chief Executive Detlef Trefzger says governments, logistics providers and pharmaceutical companies will have to coordinate their efforts, but… the transport capacity and cold-chain infrastructure should be in place to handle the surge in demand" [Wall Street Journal]. "Coronavirus vaccines remain in development, and operators including Kuehne + Nagel have been bracing their operations to handle doses that could stem the global pandemic. Some analysts say the rush once vaccines are authorized may challenge capacity-strained transport channels, but Mr. Trefzger expects the doses to move quickly. That's partly because the enormous numbers of doses needed would be shipped over several months, with priorities set for initial populations to be vaccinated as supply chain form for the long haul." • Assuming they work…

Tech: "Amazon has created fertile ground for bribery schemes, sellers say" [Vox]. "Last month, US federal authorities indicted six e-commerce consultants and former Amazon employees in a $100 million bribery scheme in which insiders allegedly accepted payments to help certain Amazon merchants on the platform and hurt others. …. [Top sellers] argued that the problem is much bigger than a few bad apples and that Amazon deserves scrutiny for creating the fertile ground for bribery schemes to blossom. The reason? Amazon's inability or refusal to consistently offer adequate support to its 1.7 million sellers when they have issues, especially when it comes to suspensions that Amazon hands down with little explanation and sometimes no warning… 'With Amazon, you are guilty until proven innocent,' said Eytan Wiener, the co-founder and chief operating officer of the large Amazon seller Quantum Networks, who was once suspended by Amazon in the UK and has helped other suspended sellers in the US. This reality — that Amazon sellers can have their livelihood snatched from them at any time — can benefit Amazon, too. . While these reps do not oversee account suspensions and can't directly reinstate a merchant, some large Amazon sellers pay the fee mainly so they have a person they can get on the phone in the event of a suspension or other severe penalty." • Thousands of dollars a month for customer supprt…. Quite a protection racket business model.

* * *.

Today's Fear & Greed Index: Blank again [CNN]. I find this a little disturbing.

Today's Fear & Greed Index: 48 Neutral (previous close: 66 Greed) [CNN]. One week ago: 61 (Greed). (0 is Extreme Fear; 100 is Extreme Greed). Last updated Oct 26 at 11:36am. Whoopsie!

Health Care

"Crucial Covid vaccine data expected from Pfizer this week now unlikely to come before U.S. election" [CNBC]. "Crucial coronavirus vaccine data expected from Pfizer this week now appears unlikely to come before the U.S. election on Nov. 3. On a call with investors Tuesday, Pfizer CEO Albert Bourla said that the company doesn't anticipate making any announcement on its trial until about a week after the data and safety monitoring board conducts its review of the company's phase three vaccine trial. The board, which will assess whether its trial with German drugmaker BioNTech has been successful, has not conducted an interim efficacy analysis yet, Pfizer said."

"Medicare and Medicaid to cover early Covid vaccine" [Politico]. "The Trump administration this week will announce a plan to cover the out-of-pocket costs of Covid-19 vaccines for millions of Americans who receive Medicare or Medicaid, said four people with knowledge of the pending announcement. Under the planned rule, Medicare and Medicaid will now cover vaccines that receive emergency use authorization from the Food and Drug Administration, the people said, which is a change from current policy. The regulations, which have been under development for weeks, are likely to be announced by the Centers for Medicare and Medicaid Services on Tuesday or Wednesday." • Liberal reaction (Spiro is Vice President for Health Policy, Center for American Progress)

Let's be clear about 2 things:
1. This does not cover the cost of administration.
2. Why is insurance being relied upon to pay for vaccines? Just buy them and distribute them for free! https://t.co/vMauPgAH7f

— Topher Spiro (@TopherSpiro) October 27, 2020

Re, #2: So, #MedicareForAll — for this one disease! (It's rather like Bush v. Gore: Good for one time only, not a precedent.)

"A large national outbreak of COVID-19 linked to air travel, Ireland, summer 2020 separator commenting unavailable" [Eurosurveillance]. From the abstract: "Air travel has accelerated the global pandemic, contributing to the spread of coronavirus disease (COVID-19) throughout the world. We describe an outbreak that demonstrates in-flight transmission, providing further evidence to add to the small number of published studies in this area. This study depicts the nature of transmission on board, despite implementation of non-pharmaceutical interventions. We demonstrate widespread in-country transmission as a result of imported infection and give recommendations to reduce the risk of importation, and to curtail onwards spread." Here is the spread diagram, and a seating chart of the aircraft:

✈️NEW flight report on corona transmission on flights:

13 people appear to have been infected on a 7-hr flight to Ireland this summer, leading to 59 cases as passengers visited friends & family. The plane was at 17% capacity & required masks.https://t.co/7XrxTz5DRe pic.twitter.com/GhyHV1nGWR

— Amy Maxmen (@amymaxmen) October 26, 2020

On the seating chart, unoccupied seats are blue. I'm not sure how whether this is an aircraft transmission case, or a close contact transmission case, or both. Perhaps epidemiologists in the readership can comment.

"Preventing the Spread of SARS-CoV-2 With Masks and Other "Low-tech" Interventions" [JAMA]. Authors include Fauci. ""low-tech" tools to prevent the spread of SARS-CoV-2 are essential, and it must be emphasized that these interventions will still be needed after a vaccine is initially available. Even if one or more vaccines have high efficacy and uptake in the population, it will take at least several months for enough people to be vaccinated to confer herd immunity on a population basis. Modalities in the combination prevention "toolbox" against the spread of SARS-CoV-2 include wearing masks, physical distancing, hand hygiene, prompt testing (along with isolation and contact tracing), and limits on crowds and gatherings. If a vaccine has only moderate efficacy, or if vaccine uptake is low, these other modalities will be even more critical. Wearing face coverings—masks—in the community setting to prevent the spread of SARS-CoV-2 is a key component of this combination approach." • Still straddling the — politicized among the scientists! — divide between droplets ("primarily transmitted") and aerosols ("also have been involved"). As readers know, I stan for aerosols. I have seen several observational studies on aerosols. I have seen some observational studies on fomites, transmitted by touch. I do not recall an observational study on droplets. Here again, perhaps epidemologists in the readership can set me straight.

News of the Wired

"Tom Lehrer Releases His All of Catchy and Savage Musical Satire Into the Public Domain" [Open Culture]. "Despite having retired from public life, Lehrer too lives on, and at 92 has taken action to assure his work a longer existence by releasing it into the public domain." • For those who came in late:

* * *Readers, feel free to contact me at lambert [UNDERSCORE] strether [DOT] corrente [AT] yahoo [DOT] com, with (a) links, and even better (b) sources I should curate regularly, (c) how to send me a check if you are allergic to PayPal, and (d) to find out how to send me images of plants. Vegetables are fine! Fungi and coral are deemed to be honorary plants! If you want your handle to appear as a credit, please place it at the start of your mail in parentheses: (thus). Otherwise, I will anonymize by using your initials. See the previous Water Cooler (with plant) here. Today's plant (AM):

AM writes: "From the grounds of Culzean Castle, near Maidens, Scotland, these trees are ready for Halloween. Cue the scary music!:

* * *

Readers: Water Cooler is a standalone entity not covered by the recently concluded and — thank you! — successful annual NC fundraiser. So if you see a link you especially like, or an item you wouldn't see anywhere else, please do not hesitate to express your appreciation in tangible form. Remember, a tip jar is for tipping! Regular positive feedback both makes me feel good and lets me know I'm on the right track with coverage. When I get no donations for five or ten days I get worried. More tangibly, a constant trickle of donations helps me with expenses, and I factor in that trickle when setting fundraising goals:

Here is the screen that will appear, which I have helpfully annotated.

If you hate PayPal, you can email me at lambert [UNDERSCORE] strether [DOT] corrente [AT] yahoo [DOT] com, and I will give you directions on how to send a check. Thank you!
Original Source