By Lambert Strether of Corrente.
Bird Song of the Day
Staggering to hear and see them in flight, though perhaps especially gratifying to see them leave, of one manages an office park with a water feature…
#COVID19
At reader request, I've added this daily chart from 91-DIVOC. The data is the Johns Hopkins CSSE data. Here is the site.
Here are the United States regions: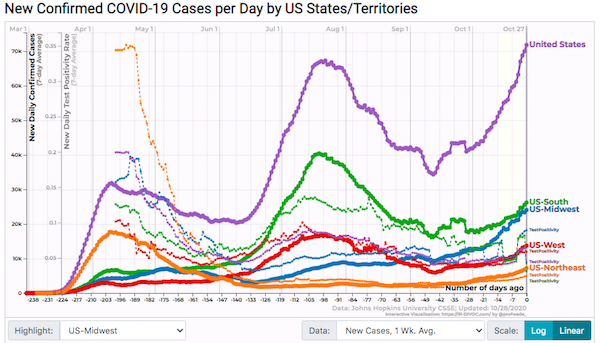 No change, sadly.
Here are the Swing States as I conceive them (see below):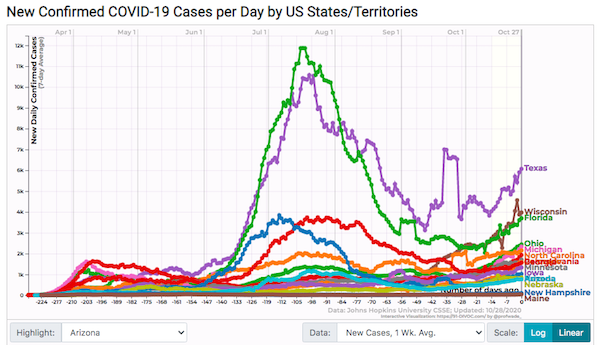 No change.
ME: "Maine sees largest single-day jump in new coronavirus cases since pandemic began" [Bangor Daily News]. "Another 87 coronavirus cases have been reported in Maine, health officials said Wednesday. It's the highest daily increase in new coronavirus cases Maine has seen since the pandemic began…. This latest surge in coronavirus cases comes amid an outbreak in Waldo County linked to Brooks Pentecostal Church and its Lighthouse Christian Academy that has infected at least 60 people, nearly half of whom did not attend an early October indoor fellowship meeting cited as the source of the outbreak. It comes as well amid rising case numbers in Washington County, where cases have more than doubled over the past week and health officials have yet to identify a clear source of transmission." • Happy dance premature….
Colleges: "Colleges need to look beyond stopping parties to safely reopen in spring 2021" [STAT]. "As colleges and universities reopened in the fall of 2020, many emerged as hot spots of Covid-19 transmission. The narrative that has emerged to explain this centers on irresponsible, party-going 20-somethings who refuse to listen to reason…. s colleges and universities reopened in the fall of 2020, many emerged as hot spots of Covid-19 transmission. The narrative that has emerged to explain this centers on irresponsible, party-going 20-somethings who refuse to listen to reason…. [T]hese findings paint a picture of why we are seeing outbreaks on college campuses. Colleges are importing students from around the country, and many arrive from communities with uncontrolled Covid-19 epidemics. When students arrive on campus, they enter congregate living situations in which it is hard to isolate and some are making behavioral choices likely to drive even further transmission." • This doesn't seem to be all that hard to understand — or to forsee. Our extremely well-paid college administrations have enormous authority in their institutions. They're the best and the brightest. What happened?
Politics
"But what is government itself, but the greatest of all reflections on human nature?" –James Madison, Federalist 51
"They had one weapon left and both knew it: treachery." –Frank Herbert, Dune
"They had learned nothing, and forgotten nothing." –Charles Maurice de Talleyrand-Périgord
The electoral map. July 17: Georgia, Ohio, ME-2 move from Leans Republican to Toss-up. Continued yikes. On July 7, the tossup were 86. Only July 17, they were 56. Now they are 91. This puts Biden at 278, i.e. over 270. August 18: Still no changes. August 31: Indiana moves from Likely to Safe Republican. September 9: No changes. September 14: No changes. September 21: No changes. September 22: Ohio moves from Toss-up to Leans Republican. September 25: Ohio moves from Leans Republican to Toss-up. September 30: Iowa moves from Leans Republican to Toss-up. October 3: Indiana moves from Safe to Likely Republican; Iowa moves from Toss-up to Leans Republican. October 6: Arizona moves from Toss-up to Leans Democratic; Iowa from Leans Republican to Toss-up; Indiana from Likely to Safe Republican; New Mexico from Likely to Safe Democratic. October 8: NE-2 moves from Toss-up to Leans Democratic. October 13: Indiana moves from Likely to Safe Republican. October 16: Indiana moves from Safe to Likely Republican. October 19: No changes. October 21: NE-1 moves from Likely to Safe Republican. .
The election countdown:
Here is an early voting calendar. Maybe we'll have a whole series of October surprises, since election day is gradually being devalued as an event.
And here are mail-in voting ruies, which naturally differ state by state.
"2020 General Election Early Vote Statistics" [U.S. Elections Project (SlayTheSmaugs)].
"How to Vote in 2020: Everything You Need to Know" [Bloomberg]. "Casting a ballot in the U.S. isn't always easy, with a complex web of varying state rules governing how and when you can vote. The Covid-19 pandemic has introduced even more complexity in 2020, as many states have made significant changes to allow for more early voting or voting by mail. More changes could come as lawsuits in several states wind their way through the courts. That's why Bloomberg News is answering these critical questions so you'll know what you need to do to make sure your vote is counted in the 2020 election."
Here are is an enormous spreadsheet on voting equipment, so you can check your own jurisdiction (hat tip, UserFriendly. I should really aggregate these onto a map…).
"2020 General Election Early Vote Statistics" [U.S. Election Project].
"California Ballots Mailed and Returned Tracker" [Political Data]. • California only, sadly.
"Where's My Ballot?" [Alex Padilla]. "Tracking your vote-by-mail ballot—when it is mailed, received, and counted—has never been easier. The California Secretary of State is now offering Where's My Ballot?—a new way for voters to track and receive notifications on the status of their vote-by-mail ballot. Powered by BallotTrax, Where's My Ballot? lets voters know where their ballot is, and its status, every step of the way." • Ballottrax. Shoulda gone long….
"State Fact Sheets" [Georgetown Universitty]. "[F]act sheets for all 50 states explaining the laws barring unauthorized private militia groups and what to do if groups of armed individuals are near a polling place or voter registration drive."
All the deadlines, rules, and voting hours to know when casting your ballot in the 2020 presidential election" [Business Insider]. "Here are 12 interactive graphics, charts, and maps Insider created to answer your most common questions about voting in 2020."
2020
Swing States

Here is my list of Swing States, with votes in the Electoral College and selected ballot initiatives in parentheticals):

Arizona (11) (marijuana; taxes(=)
Colorado (9) (taxes, lottery, abortion, paid medical leave)
Florida (29) (minimum wage)
Georgia (16) (declaratory relief)
Iowa (6) (Constitional convention)
Maine-02 (1) (vax)
Michigan (16) (oil and gas royalties; privacy)
Minnesota (10)
Nebraska-02 (1) (payday lending; gambling)
Nevada (6) (marriage)
New Hampshire (4)
North Carolina (15)
Ohio (18)
Pennsylvania (20)
Texas (38)
Wisconsin (10)

Inspired by the thread starting with Arizona Slim's comment here, I went to Ballotpedia and added selected, hopefully hot button, ballot initiatives, because sometimes they affect turnout. If you live in a swing state, please comment if I got the hot buttons wrong!

* * *

Biden (D)(1): "Norman Ornstein on President Biden" [Persuasion (stefan)]. "Biden is running as a president who will heal wounds, reach out to adversaries, and prove, as he has said repeatedly on the campaign trail, that there are sufficient Republicans in the Senate to have 'an epiphany,' and work with him to find bipartisan solutions to issues from healthcare to climate change to economic recovery. But we know the history here." • Some of us do, yes. Ornstein's recommendations: In the first 100, days, Biden should reform the filibuster, pass a stimulus/infrastructure bill, pass the public option, pass a voting rights act, and pass gun control. The concept seems to be that although the 2020 election was the Restoration to power of [genuflects] Obama's governing coalition, nevertheless Obama's 2009 approach should be abandoned (without so much as a "mistakes were made"). But even Frank Luntz knows that Democrats lost the 2010 midterns because their response to the Crash, and in particular the foreclosure crisis (where 10 million lost their homes) was piss poor, and not the result of Republican obstructionism, as Ornstein would have it. I don't see how Democrats can really, truly govern if they have no sense of their own history or, more subtly, mistake their manufactured talking points for history. (This is not snark; I'm genuinely puzzled and concerned.) Oh, and Ornstein says "a public option, à la Medicare." The essential thing about Medicare is that it's an eligibility-limited single payer program (albeit one with a bad case of neoliberal infestation). So I don't know what Ornstein means by "a la," because a jamming brochure labeled "Medicare" into a multi-payer system only adds complexity, and won't "bend the cost curve," which everybody agreed was the Holy Grail, back in 2009l. I spent so much time on Ornstein partly because the "100 days" is a genre we will see a lot more of, and partly because, being such an example of the "airtight consensus," it was hard to disentangle.

* * *
Realignment and Legitimacy
"After Trump, the Republican Party May Become More Extreme" [Stanley Greenberg, The Atlantic]. "You don't have to dig very deep to expose the Democrats' fissures. They are split fairly evenly between liberals to one side and moderates and conservatives to the other. The growing Millennial and Gen Z bloc will steer the party in a more liberal direction in the future, but Sanders won less than 30 percent of the primary vote. Justice Democrats, a progressive PAC founded by former Sanders campaign leaders, defeated some prominent Democrats in House primaries but fell short in others. At the moment, Republican defectors are decidedly more moderate. And the surging support for Democrats in the suburbs has swelled the centrist New Democrat Coalition in Congress, now larger than the Congressional Progressive Caucus." • Personally, I throw liberals, moderates, and conservatives into the Liberal bucket, and have a separate bucket for the Left, which Greenberg erases entirely (fascinatinly, he has the same agenda as Ornstein, so a consensus seems to be congealing). The dividing line is #MedicareForAll. Another dividing line ought to be, but is not, the Empire.

* * *

* * *

* * *
Stats Watch
At reader request, I added some business stats back in. Please give Econintersect click-throughs; they're a good, old-school blog that covers more than stats. If anybody knows of other aggregators, please contact me at the email address below.
There are no official stats of interest today.
* * *
Shipping: "Amazon seems to be hiring almost as fast as its sales are growing. The e-commerce behemoth plans to bring in 100,000 seasonal workers in the U.S. and Canada this year… adding to the heavy demand this year for workers to pack and deliver booming online consumer orders" [Wall Street Journal]. "Amazon has been adding tens of thousands of workers, and its world-wide workforce will be roughly one million after accounting for recent logistics, corporate and technology jobs and excluding the seasonal hires. Retailers including Walmart and Target have added hundreds of thousands of jobs this year and are adding more distribution workers for expected strong online shopping this season. UPS is hiring half as many seasonal workers as Amazon, but the company says it is depending more than ever on automation."
Manufacturing: "Key Airbus, Boeing supplier sees recovery in 2022" [Leeham News and Analysis]. 'A key supplier to Airbus and Boeing believes there will be a "significant upturn" in passenger traffic and aircraft demand in 2022, well before consensus. Hexcel provides composites and other materials for the Airbus A320 and A350 and Boeing 737 MAX. Quizzed on the earnings call, [Hexcel's CEO, Nick Stanage] elaborated: 'From our view people want to travel. People want to get out, go places, visit and as the borders open up as medical advances continue, as vaccines are released people are going to get back out travel. I believe there's a huge pent-up demand and even on the business side businesses need to get out visit customers visit sites do business. And I believe that's going to recover again as the epidemic and the understanding and the social distancing and the new processes and procedures gets confidence. So that's the big thing,' Stanage said. 'Second, if I look at what we're going through today the destocking, destocking is a one-time effect. Now granted, it's layered down by program and every production cut takes more destocking but it is one time and once it's done and you're right-sized, there is a tremendous upside opportunity once the growth comes back because the supply chain will be very lean.'"
Manufacturing: "Caterpillar reports a 54% drop in earnings in the third quarter amid lower equipment demand" [CNBC]. "Industrial machinery manufacturer Caterpillar on Tuesday reported a 54% drop in earnings in the third quarter as equipment sales declined across all regions and segments…. Caterpillar said the sales decline was primarily due to lower sales volume driven by lower end-user demand for equipment and services and the impact from decreases in dealer inventories."
Tech: "Facebook content moderators call for better treatment" [Agence France Presse]. "The current and former content moderators described stressful hours spent focused on torrents of hateful, disturbing posts with little regard given to their feedback or their well-being. They called for Facebook to find a way to make them and their colleagues full-time employees, complete with the benefits for which tech companies are renowned, instead of keeping them at arms-length by outsourcing the work. 'Facebook could fix most of its problems if it would move away from outsourcing, value its moderators, and build them into its policy processes,' said former content moderator Allison Trebacz. 'Moderators are the heart of Facebook's business – that's how they should be treated.'…. The bulk of that army of content moderators are contracted and their viewpoints — hard-won on the frontlines of the battle — are typically ignored, according to those who took part in the press briefing."
Tech: "Apple develops alternative to Google search" [Financial Times]. "The company's growing in-house search capability gives it an alternative if regulators block its lucrative partnership with Google…. Most significantly, iOS 14 nudged aside Google for certain search functions. Queries made in the search window accessed by swiping right from the iPhone's home screen — which Apple calls the 'Today View' — show an Apple-generated list of search suggestions rather than Google results. These results include 'autocomplete'-style suggestions generated by Apple, showing that it is learning from its 1bn users' most common queries…. [T]he sheer scale of the problem is daunting. 'Any reasonable search engine has to have 20bn-50bn pages in its active index,' [Neeva's co-founder Sridhar Ramaswamy]. When a user runs a query, the retrieval system must sift through vast troves of data then rank them in milliseconds." • I'll have to try the Today View. I'm sure it's terrible. (There's probably a market for the Google of ten years or so ago, before the crapification began. Idea: How about a simple list of blue links?)
The Bezzle: "Airbnb Fights Its 'Party House Problem'" [New York Times]. "[T]he 'party house problem' facing Airbnb [occurs] when guests who book its properties hold parties in them, something that appears to be happening more frequently in the coronavirus pandemic, as people look for places to socialize with bars closed and hotels appearing risky. In July, police officers in New Jersey broke up a party at an Airbnb with more than 700 people in attendance…. The party houses pose a risk to Airbnb's reputation and business as the $18 billion company prepares to go public this year. In many neighborhoods, people have been turned off by the rentals' noise and annoyances. Complaints about party houses across sites like Airbnb and Vrbo soared 250 percent between July and September compared with last year. Worse, the party houses raise safety issues. Between March and October, at least 27 shootings were connected to Airbnb rentals in the United States and Canada, according to a tally of local news reports by Jessica Black, an activist fighting short-term rentals…."
The Bezzle: "Thieves Steal 6 Million Medical Gloves from Florida Supplier" [New York Times]. "A shipping container holding more than six million medical gloves was stolen from a supplier in Florida on Sunday evening in a swift maneuver that left three hospital systems battling the pandemic without some of the crucial equipment that they were waiting for." • Reads like something that would happn in The Wire, in the Port of Baltimore. The whole operation took less than six minutes.
Entertainment: "Walt Disney World layoffs slash entertainment, leaving big shows in limbo" [Orlando Sentinel]. "Walt Disney World laid off entertainers from its highest-profile shows Tuesday night in what some described as a "bloodbath" as the scale of the layoffs rocked the Central Florida arts community. The deluge of pink slips showed the theme park has no foreseeable plans to remount marquee attractions such as "Festival of the Lion King" or "Finding Nemo: The Musical," both of which have been dark since COVID-19 shut the parks this spring. Even the cast of the venerable "Hoop-Dee-Doo Musical Revue" dinner show, which has run since 1974, wasn't immune from the latest round of Disney dismissals."
Mr. Market: "U.S. stocks tumble, Dow down more than 700 points, as COVID cases rise" [MarketWatch]. "Stocks tumbled Wednesday morning as a continued rise in COVID-19 cases in the U.S. and Europe heightened investor worries over the economic recovery…. "In 36 states, the hospitalization rate for the coronavirus increased by at least 5% over in the past seven days," said David Madden, market analyst at CMC Markets. 'Traders keep an eye on the hospitalization rates because the authorities want to ensure the health care services aren't overwhelmed — that can often be a trigger to bringing in tougher restrictions.'" • CDC: "Since the week ending September 26 (MMWR week 39), overall weekly hospitalization rates have increased, driven primarily by an increase in rates among adults aged 50 years and older." And CDC: "Five national forecasts predict a likely increase in the number of new hospitalizations per day over the next four weeks, two forecasts predict a likely decrease, and two forecasts are uncertain about the trend or predict stable numbers. For November 23, the forecasts estimate 2,300 to 13,000 new COVID-19 hospitalizations per day. State-level forecasts also show a high degree of variability, which results from multiple factors. Hospitalization forecasts use different sources of data for COVID-19 cases or deaths, with different limitations, and make different assumptions about social distancing."
* * *
.
Today's Fear & Greed Index: Blank again [CNN]. I find this a little disturbing, today too. I'll keep putting this up for a bit in the hope of stimulating CNN to fix this, somehow. Especially since Mr. Market is having a sad.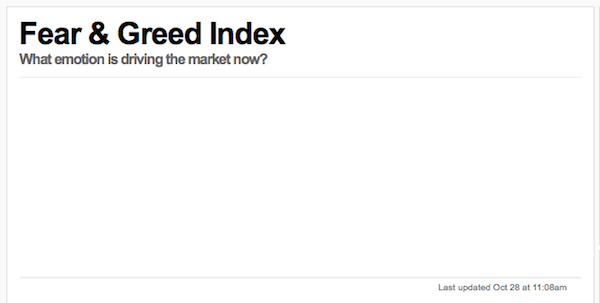 The Biosphere
"Wind-whipped Southern California wildfires prompt mass evacuations, injure two firefighters" [Reuters]. "The latest threats came amid what meteorologists called the strongest onslaught of extreme winds – and lowest humidity levels – yet documented during an already epic California wildfire season ranked as the worst on record in terms of acreage burned…. Southern California Edison reported shutting off electricity to 21,000 homes and businesses as a precautionary measure in the face of elevated fire risks posed by dangerous winds. Hundreds of miles away, the Pacific Gas and Electric Company (PG&E) said it had cut off power to more than 350,000 of its customers for the same reason."
Health Care
"Russia orders national mask mandate as coronavirus cases spike" [CBS]. • Obviously, Biden is a Russian stooge.
MMT
Symposium organized by Mark Blyth, therefore worth a listen:
From the introduction to the video:
In colonial British North America and the Early Republic United States, money was not seen as an arbitrary marker of value, but a product of the state used to shape markets and society as a whole. Americans took an experimental approach currency and monetary institutions: the colonies created some of the earliest first state-issued fiat currency, paper notes of widely varying value issued by thousands of banks and other institutions circulated in the Early Republic, and Americans even established and destroyed a national bank on two separate occasions. At the same time, money became the central political issue, through which Americans struggled to determine who had political power, who markets would benefit, and the kind of society they would be.
Zeitgeist Watch
Fun for the kiddies:
Man's Halloween decor so gruesome cops are called several times https://t.co/kSB0czaFJx pic.twitter.com/Fob0CeGZ3p

— Orlando Sentinel (@orlandosentinel) October 27, 2020
Guillotine Watch
An inspiration to us all:
After 2 weeks of multiple health screens and asking everyone to quarantine, I surprised my closest inner circle with a trip to a private island where we could pretend things were normal just for a brief moment in time. pic.twitter.com/cIFP7Nv5bV

— Kim Kardashian West (@KimKardashian) October 27, 2020
The staff, it seems, must be masked…
Class Warfare
"Mapping the New Politics of Care" [New Politics of Care]. "We propose a New Deal for Public Health, with a Community Health Corps of one million community health workers (CHWs), to attend to the health needs of America's residents. CHWs will help people get tested for COVID-19 and trace their contacts, but they will have to tackle more than that in the short term. They will have to take on the role of social workers, navigating the web of services that address the social and economic burdens of social distancing and isolation; they will also have to deliver food and medicine, supply rent assistance and protection from eviction, and offer child care and elder care. Beyond delivering comprehensive and holistic health-care services, CHWs are unique in their role as advocates of the people whom they serve. It is in this capacity as community members that CHWs are empowered to redress the health disparities that have multiplied for generations." • Like ObamaCare navigators, but with higher stakes? Why not just simplify the systems? • Here's a tweet the explains the project:
The @YaleGHJP and @c4sr_columbia at @YaleSPH, @YaleLawSch & @ColumbiaGSAPP are launching a new project today, Mapping the New Politics of Care to explore the vulnerabilities of our communities in the age of #COVID19 and how to respond to them. 1/ https://t.co/azu1KJviWz pic.twitter.com/jy34o3Chlm

— Gregg Gonsalves (@gregggonsalves) October 28, 2020
The page design is horrid, obscuring the most important deliveranble, the map, and requiring to scroll to make paragraphs appear, floating over the graphics, instead of simply allowing them to be read. There's also no About page.
News of the Wired
"Make America Trip Again" [Current Affairs]. "[P]sychedelics will not usher in the revolution. They are no substitute for political education and organizing. The insights brought on by the experience are not guaranteed to be true or useful. There are no shortcuts to justice or good politics. But psychedelics have unprecedented potential to make people's lives better. And if the left should be for anything, it should be for making people's lives better….. Will psychedelics save us? Not by themselves, no. There is no replacement for a robust social safety net, a humane criminal justice system, and economic justice. But the problems that face us are enormous, and we'll need all the help we can get." • An enormous article, with a long potted history of our insane drug policy. Surely, however, there is one single case study out there — not in the United States — of psychedelcis making a community better, beyond the individual experience of, well, consumption?
* * *Readers, feel free to contact me at lambert [UNDERSCORE] strether [DOT] corrente [AT] yahoo [DOT] com, with (a) links, and even better (b) sources I should curate regularly, (c) how to send me a check if you are allergic to PayPal, and (d) to find out how to send me images of plants. Vegetables are fine! Fungi and coral are deemed to be honorary plants! If you want your handle to appear as a credit, please place it at the start of your mail in parentheses: (thus). Otherwise, I will anonymize by using your initials. See the previous Water Cooler (with plant) here. Today's plant (Chuck Roast):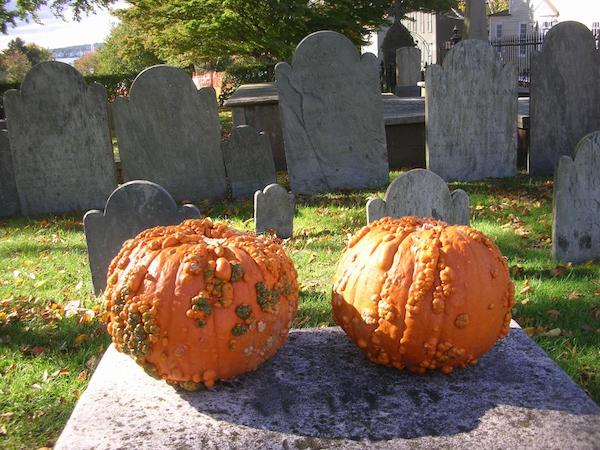 Chuck Roast writes: "Visual Voter's Guide to the Candidates for 2020 and Beyond."
* * *
Readers: Water Cooler is a standalone entity not covered by the recently concluded and — thank you! — successful annual NC fundraiser. So if you see a link you especially like, or an item you wouldn't see anywhere else, please do not hesitate to express your appreciation in tangible form. Remember, a tip jar is for tipping! Regular positive feedback both makes me feel good and lets me know I'm on the right track with coverage. When I get no donations for five or ten days I get worried. More tangibly, a constant trickle of donations helps me with expenses, and I factor in that trickle when setting fundraising goals:
Here is the screen that will appear, which I have helpfully annotated.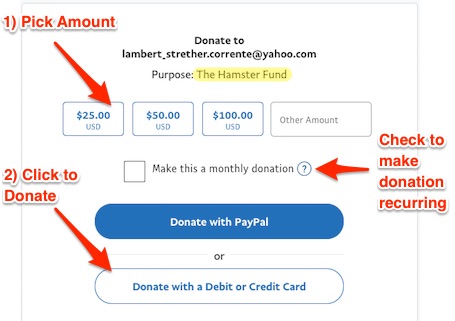 If you hate PayPal, you can email me at lambert [UNDERSCORE] strether [DOT] corrente [AT] yahoo [DOT] com, and I will give you directions on how to send a check. Thank you!

Original Source