By Lambert Strether of Corrente.
Bird Song of the Day
Dark wings, dark words?
#COVID19
At reader request, I've added this daily chart from 91-DIVOC. The data is the Johns Hopkins CSSE data. Here is the site.
Here are the United States regions: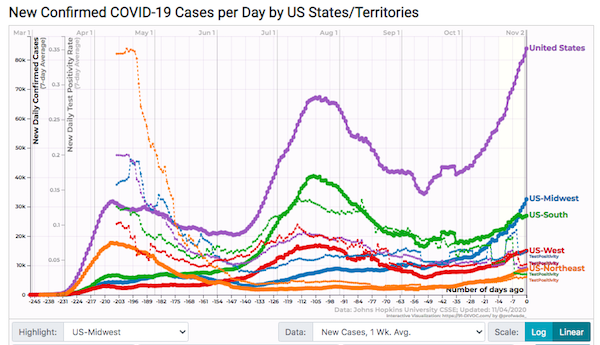 Still going up…
And here are the Swing States, for the last time: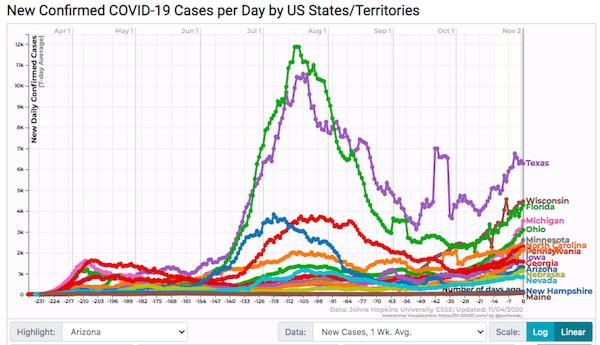 Interestingly, there seems to be no correlation between Covid and Red/Blue at all. TX has a terrible experience, goes Red; Wisconsin is on an upward curve with identical slope and goes Blue. (There may well be lingering infrastructural and cultural effects, especially depending on the populations hit, that show up politically in future years. We just don't know.)
Here is the United States v. select European countries: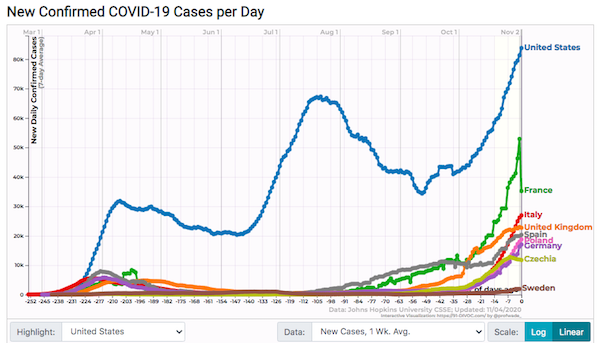 This is not adjusted for population; it's interesting to see France challenging the US in sheer numbers, for a few days.
Here is the United States vs. the same European countries, adjusted for population: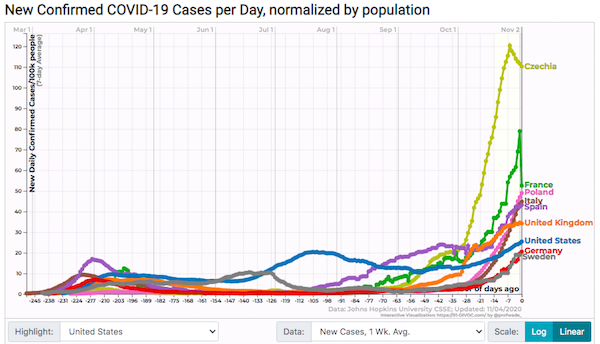 So, if the world were only made up of Western capitalist countries, the United States, right now, would be in the middle of the pack, which gives the lie to the concept that our only problem is leadership (as opposed to, say, political economy). The right comparison is not between Biden's plan and Trump's, well, approach, but between Biden's plan and Europe. What will Biden do that those governments, which one assumes have more State operational capability than we do, have not done?
Politics
"But what is government itself, but the greatest of all reflections on human nature?" –James Madison, Federalist 51
"They had one weapon left and both knew it: treachery." –Frank Herbert, Dune
"They had learned nothing, and forgotten nothing." –Charles Maurice de Talleyrand-Périgord
2020 Hot Takes
Readers, the 2020 election is an overly dynamic situation, so I'm going to collect the best hot takes I can find immediately. Then I can backfill with analysis, and the latest numbers, if I can get to them (possibly in UPDATEs). Please add comments! More to come. –lambert

Multiple computers!

Ive got multiple computers running on high speed internet but sixty years on, the vibe is very much this:
"Citizens gathered around the TV set to follow the tense JFK-Nixon returns in 1960″https://t.co/eM7vlVPNxs pic.twitter.com/Vg086LJQBE

— Adam Tooze (@adam_tooze) November 4, 2020

Still at it:

#BREAKING Joint statement from Canadian and Mexican foreign ministers calls on the UN to urgently intervene to stabilize the "rapidly deteriorating political and humanitarian situation in the US" and demands that any refugee camps be established on the US side of the border.

— gathara (@gathara) November 4, 2020

PTSD:

Its going to be impossible to get a table for brunch tomorrow.

— Astronaut 🦺🏴🏴‍☠️ (@AATAstronaut) November 4, 2020

Ya think?

I'm starting to think "nothing would fundamentally change" wasn't the best message

— David Sirota (@davidsirota) November 4, 2020

Forbidden love:

Maybe there are a lot of liberals who are closet Trump voters. This dark, secret passion they can never admit to publicly, like how all conservatives secretly love gay sex.

— Caitlin Johnstone ⏳ (@caitoz) November 4, 2020

Matty isn't wrong:

Lotta plywood for nothing.

— Matthew Yglesias (@mattyglesias) November 4, 2020

Optimism:

This is frankly a good outcome. Joe Biden will probably win power but the arrogant Dem establishment is humiliated.

Biden needs to do a good job, and he can realign the country.

— Matt Stoller (@matthewstoller) November 4, 2020

For the Democrat establishment to be humiliated, they have to feel humiliation. I'm not sure that's possible for them, since being humiliated requires the ability to self-reflect. Also, Narrator: "He didn't realign the country."

They did:

So Democrats lost to dead guy? https://t.co/StzvkmGhPx

— Esha (@eshaLegal) November 4, 2020

Wish I'd thought of this:

And this is the way it ends.
Not with a bang but with a WI/MI/PA.

— Will Roscoe (@Goodish_Will) November 4, 2020
2020 Democrats in Disarray
Why did Democrats lose this county? (1)

Zapata County, Texas is the second most Hispanic county in America.

In 2012, Obama won it by 43 points.

In 2016, Hillary won it by 33 points.

In 2020, Biden lost it by 5 points.

What a disaster.

— Gravel Institute (@GravelInstitute) November 4, 2020

Why did Democrats lose this county? (2)

Robeson County is the second-poorest in North Carolina and the most diverse—38% Lumbee, 32% white, 25% Black, 5% Latino—and it swung 14 points towards Trump. https://t.co/9dW7pOulV6

— Paul Blest (@pblest) November 4, 2020
2020
Sitrep: "What you need to know about the undecided swing states" [Politico]. "The three Rust Belt states that unexpectedly vaulted Donald Trump into the White House in 2016 — Michigan, Pennsylvania and Wisconsin — now represent the difference between his reelection and a one-term presidency. Together, they represent 46 electoral votes. If they were to fall in line for Joe Biden — as the trio did for the Democratic presidential nominee in seven consecutive elections before 2016 — they would make him the 46th president." • States in play are: Wisconsin (Biden 49.6, Trump 48.9 [95% counted]), Michigan (Biden 49.7, Trump 48.8 [94%]), Pennsylvania (Trump 53.5, Biden 45.4 [74%]), Georgia (Trump 50.5, Biden 48.3 [92%]), North Carolina (Trump 50.1, Biden 48.7 [95%]), Nevada (Biden 49.2, Trump 48.6 [86%]).

* * *

Biden (D)(1): "'This is my son, Beau, who a lot of you helped elect to the Senate': Joe confuses his two granddaughters and then introduces one of them as his dead son – and he could be US President in HOURS…" [Daily Mail]. • Don't worry. They loved President-in-Waiting Harris in the Hamptons.

Sanders (I)(1):

man… he called it WORD for WORD. pic.twitter.com/9uBn1Sm8xa

— hector (@onikasgivenchy) November 4, 2020

Trump (R)(1): "Election Night 2020: Trump Figures He'll Go To Bed Early And Check Election Results Tomorrow" (podcast) [The Topical].
Realignment and Legitimacy
"Experts" (1):

So how's that workin' out for ya?

"Experts" (2):

Remember back in 2004 when Kerry actually raised money for lawyers to fight election theft, and then when Bush actually stole Ohio, rolled over — and kept the money? Good times….
Stats Watch
At reader request, I added some business stats back in. Please give Econintersect click-throughs; they're a good, old-school blog that covers more than stats. If anybody knows of other aggregators, please contact me at the email address below.
Trade: "September 2020 Trade Data Shows Some Recovery" [Econintersect]. "Trade data headlines show the trade balance modestly improved with both imports and exports increasing…. The data in this series wobbles and the 3-month rolling averages are the best way to look at this series. The 3-month average rate of growth improved for imports and exports – but remains in contraction."
Employment Situation: "October 2020 ADP Employment Gains 365,000" [Econintersect]. "ADP reported non-farm private jobs growth at 365,000 which was within expectations. A quote from the ADP authors: ';The labor market continues to add jobs, yet at a slower pace.' … Last month's employment gain was revised upward. It will be interesting to see what the BLS says is jobs growth."
Employment Situation:
I know all eyes are either glazed or glued on the presidential, but the situation of state-level budgets and public services is going to be key whoever comes next. A WH-Congress stand-off will be disastrous. https://t.co/hFAduXK6K6 pic.twitter.com/Pk1o2qhB54

— Adam Tooze (@adam_tooze) November 4, 2020
I remember similar curves during the last Crash. Nobody seems to be noticing this, the same way they're not noticing the exploding homeless encampments…..
* * *
The Bezzle: "Nearly $1 billion worth of bitcoin linked to Silk Road black market is on the move, analysis shows" [CNBC]. "Nearly $1 billion worth of bitcoin with potential ties to the Silk Road online black market is on the move, according to London-based blockchain analysis firm Elliptic…. Elliptic, a firm that tracks the movement of dirty money in the cryptocurrency sphere, said Wednesday that it picked up on a transaction of funds believed to have originated from the site…. The company said that 69,369 bitcoins — worth about $950 million today, according to CoinDesk — had been moved out of a wallet that had the fourth-highest balance of any globally."
Manufacturing: "Bumpaa Face Masks Gain ISO Certification For SARS-COV-2" (press release) [Sourcing City News]. "Screenworks, which launched the Bumpaa™ brand in Summer 2020, is proud to announce that its face masks have passed the ISO method1 test on the SARS-CoV-2 virus (Covid-19). Since the garment screen print, embroidery and digital print service provider undertook a business pivot at the start of lockdown, the company has witnessed huge demand for the new range of products from its trade clients and beyond. – ViralOff. ViralOff technology effectively reduces viruses and bacteria on the product by over 99 per cent over two hours1. Having recently become the first in the world to pass the ISO method1 test on the Covid-19 virus, the Bumpaa face masks were directly tested immediately after and are now also ISO method certified against SARS-Cov-2. The treatment is designed to protect the mask fabric from harbouring viruses or bacteria. It does not interfere with the skin's natural bacterial flora and lasts for the product's lifetime. When the face covering is safely removed, if any virus or bacteria is present on the surface, 99 per cent will be safely deactivated within a maximum of two hours. . For best performance and sustainability, the products should be washed less, only when needed." • Fascinating data point, to me at least, since I believe masks and other forms of protection need to become fashionable apparel to really get traction. Go long this tech!
Mr. Market: "U.S. stocks roar higher even as Trump-Biden race goes into extra innings" [MarketWatch]. "For all the angst over the possibility of a dragged-out contest, markets may wind up being comfortable with the outcome, said Sam Stovall, chief investment strategist at CFRA. 'Familiarity is what Wall Street likes. Wall Street likes to be able to understand what's going on. It's uncertainty Wall Street doesn't like.' Legal challenges and extended uncertainty may even be priced in to the market, Stovall thinks, and the surge higher in the tech-heavy Nasdaq may point to investor relief that a solidly Democratic government won't be able to regulate big technology giants like Amazon.com Inc."
* * *
.
Today's Fear & Greed Index: 36 Fear (previous close: 30 Fear) [CNN]. One week ago: 35 (Fear). (0 is Extreme Fear; 100 is Extreme Greed). Last updated Nov 4 at 11:27am. • Greed and Fear on. NOTE For those who wonder if we should keep running it, readers asked for it back after I took it away. Also, I like having a quick insight, however shallow, into Mr. Market's psyche.
The Biosphere
"Once again, new Antarctic reserves fail to win backing" [Science]. "Delegates attending an international meeting meant to protect Antarctic ocean life dashed conservationists' hopes for new marine protected areas in the Southern Ocean. The Commission for the Conservation of Antarctic Marine Living Resources (CCAMLR) concluded Friday after a week of virtual negotiations among its 26 member nations. It declined to approve three proposals for marine protected areas near Antarctica. The commission, established in 1982 as part of the Antarctic Treaty System, is charged with conserving marine life around the southern continent and sustainably managing the region's fish stocks." • The article blames Russia and China. But now, because Science has gone into the politics business, I have to wonder if that's true, or whether Democrat Russophobia and warmongering has infected their editorial coverage.
Health Care
"A person hospitalized for COVID-19 was more than three times as likely to die in March vs. August — here's why" [MarketWatch]. "The main reason researchers think coronavirus patients are doing better is simply that there are now effective treatments for the virus that didn't exist in March. I am a practicing infectious disease doctor at the University of California, San Francisco, and I have witnessed these improvements firsthand. Early on, my colleagues and I had no idea how to treat this brand-new virus that burst onto the scene in late 2019. But over the spring, large studies tested different treatments for COVID-19 and we now use an antiviral called remdesivir and a steroid called dexamethasone to treat our hospitalized coronavirus patients. Along with these new treatments, physicians gained experience and learned simple techniques that improved outcomes over time, such as positioning a patient with low oxygen in a prone position to help distribute oxygen more evenly throughout the lungs. And as time has gone on, hospitals have become better prepared to handle the increased need for oxygen and other specialized care for patients with the coronavirus…. My own research proposes that social distancing and face coverings may reduce how much virus people are exposed to, overall leading to less severe cases of COVID–19. It is important to continue to follow public health measures to help us get through the pandemic. This will slow the spread of the virus and help keep people healthier until a safe and effective vaccine is widely available."
"Repeated cross-sectional sero-monitoring of SARS-CoV-2 in New York City" [Nature]. From the Abstract: "The first COVID-19 case in New York City (NYC) was officially confirmed on March 1st 2020 followed by a severe local epidemic…Our data suggest an earlier than previously documented introduction of SARS-CoV-2 into NYC and describe the dynamics of seroconversion over the full course of the first pandemic wave in a major metropolitan area." • Doesn't have a lot to do with scary beardos in Sturgis, does it?
Low tech is good:
Tampons to the rescue in place of expensive autosamplers. Slide from Megan Lott's presentation on #wastewater sampling for SARS-CoV-2 in Athens, GA. #COVID19 @lipp_lab pic.twitter.com/9dPV9xAn4P

— COVIDPoops19 (@COVIDPoops19) November 4, 2020
Creative! (And there's been a lot of creativity around testing and diagnosis lately, from sewage through medical dogs and coughing, etc. This is good, akin to the progress through experience in treatment that has been decreasing the death rate.)
The 420
"DC votes to decriminalize hallucinogenic mushrooms by wide margin" [The Hill]. "Voters in Washington, D.C., moved by a wide margin to decriminalize the growing, possession and noncommercial distribution of hallucinogenic mushrooms on Tuesday. More than 76 percent of voters supported Initiative 81 with just over 40 percent of precincts reporting, according to the district's Board of Elections. The ballot measure would direct D.C. Metropolitan Police to shift the "non-commercial planting, cultivating, purchasing, transporting, distributing, possessing, and/or engaging in practices with entheogenic plants and fungi" to among its lowest law enforcement priorities." • Good news, finally.
Our Famously Free Press
"Four ways Trump has meddled in pandemic science — and why it matters" [Nature]. • Nature, Science, I'm begging you: Please don't go here. It's most likely the case that you believe that "this is the most important election of our lifetime" — i.e., you're not going the New York Times route and selling your editorial integrity for clicks — but I don't want to have to put respected science publications in the same bucket as every other publication with a political axe to grind. Please, please, please keep electoral politics at arms length, or I'll have to start factoring politics into how I view what you print (and, more importantly, what you don't print). You're not going to be able to unring the bell.
Class Warfare
"'I wanted to meet a mate and have a baby without wasting time': the rise of platonic co-parenting" [Guardian]. "In a world where biological science and equal rights have diversified ways to start a family, platonic co-parenting – the decision to have a child with someone you are not romantically involved with and, in most cases, choose not to live with – remains a relatively new phenomenon. Well established in gay communities, along with egg and sperm donation, it is on the rise among heterosexual singles…. Now aged four, [one co-parents'] son spends every other weekend and one night a week at his dad's; the pair live within an hour's drive of each other. They go on family days out, and spend Christmas and birthdays together. Both describe their relationship now as one akin to best mates…. It is impossible to calculate how many children have been born this way; bigger websites unscientifically guess that they have been responsible for about 1,000 births each." • Interestingly, the couples seem to describe each other as "allies."
News of the Wired
On-Point Art Bots (1):
Mace, 1983 #newyorkart #basquiat pic.twitter.com/Hw0bQ2XV5W

— Jean-Michel Basquiat (@artistbasquiat) November 4, 2020
On-Point Art Bots (2):
Howdy Doody, 1981 #warhol #popart pic.twitter.com/FS312sfFOO

— Andy Warhol (@artistwarhol) November 4, 2020
Uncanny…
* * *
Readers, feel free to contact me at lambert [UNDERSCORE] strether [DOT] corrente [AT] yahoo [DOT] com, with (a) links, and even better (b) sources I should curate regularly, (c) how to send me a check if you are allergic to PayPal, and (d) to find out how to send me images of plants. Vegetables are fine! Fungi and coral are deemed to be honorary plants! If you want your handle to appear as a credit, please place it at the start of your mail in parentheses: (thus). Otherwise, I will anonymize by using your initials. See the previous Water Cooler (with plant) here. Today's plant (CM):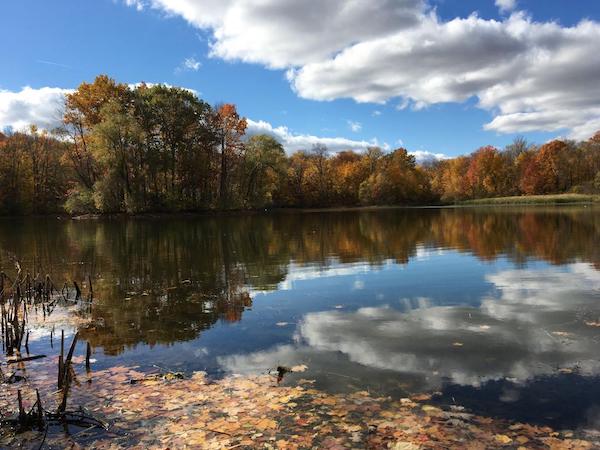 CM writes: "The attached was taken 2 days ago of a pond at Maybury State Park in Metro Detroit. The land used to house one of two state TB sanatoriums for this area and is about 400 acres. We had an unexpectedly pretty day and the park was full of people – big kids, little kids, families and couples. Many of whom were wearing masks around others and finding a spot in the leaves and trees to take photos. A large number of volunteers were busy repainting the stables and fences for a horse-riding concession. A very big-smile day." What still water can do for a photographer (and even the jet contrail is perfectly placed). For NC on ponds (!), see here.
* * *
Readers: Water Cooler is a standalone entity not covered by the recently concluded and — thank you! — successful annual NC fundraiser. So if you see a link you especially like, or an item you wouldn't see anywhere else, please do not hesitate to express your appreciation in tangible form. Remember, a tip jar is for tipping! Regular positive feedback both makes me feel good and lets me know I'm on the right track with coverage. When I get no donations for five or ten days I get worried. More tangibly, a constant trickle of donations helps me with expenses, and I factor in that trickle when setting fundraising goals:
Here is the screen that will appear, which I have helpfully annotated.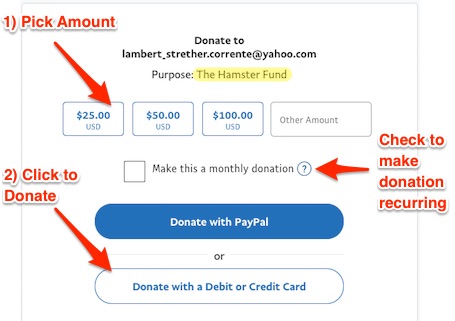 If you hate PayPal, you can email me at lambert [UNDERSCORE] strether [DOT] corrente [AT] yahoo [DOT] com, and I will give you directions on how to send a check. Thank you!

Original Source